Jim Shaw: The End Is Here
Natalie Bell, Dan Nadel, Tony Oursler, Massimiliano Gioni, Gary Carrion-Murayari
A long-overdue survey of an essential West Coast artist whose humorous works delve into America's underbelly and evolving counterculture. Over the past thirty years, Jim Shaw has become one of America's most visionary artists, moving between painting, sculpture, and drawings, while building connections between his own psyche and the larger political, social, and spiritual history of America. Shaw's imagery is mined from comic books, record covers, conspiracy magazines, obscure religious pamphlets, and other cultural refuse to produce a portrait of the American subconscious out of his personal obsessions.  
Shaw, along with fellow Michigan native Mike Kelley, moved to California in the 1970s to attend Cal Arts and was one of a number of notable artists to emerge from the school in the early 1980s. Shaw's work is distinguished by rigorous formal and structural analyses of neglected forms of vernacular culture. Accompanying a major exhibition, this is the first major monograph devoted to the entirety of the artist's unique, multifaceted career.
Joel-Peter Witkin: A Retrospective
Germano Celant
Few living photographers are as consistently controversial and provocative as Joel-Peter Witkin, whose work elicits hostility and admiration in equal measure. Shocking and compelling, the photographs in this retrospective collection reach to the outer limits of human nature. 100 full-page reproductions, printed in four colors.
Criterion Designs
The Criterion Collection
A lavishly illustrated coffee-table book celebrating thirty years of artwork from the Criterion Collection. The most exciting names in design and illustration today apply their talents to some of the most important and influential films of all time. This volume gathers highlights from designs commissioned by the Criterion Collection, featuring covers, supplemental art, and never-before-seen sketches and concept art plus a gallery of every Criterion cover since the collection's first laserdisc in 1984. From avant-garde experiments to big-budget blockbusters, cult favorites to the towering classics of world cinema, the depth and breadth of what film can be is on display in these striking images. Whether painstakingly faithful re-creations or bold reimaginings, the diverse designs collected here offer new ways for cinephiles and design aficionados alike to engage with the world's greatest filmmakers .

Complete list of featured artists:
Aesthetic Apparatus, Michael Allred, Eric Chase Anderson, Marian Bantjes, Michael Boland, Vera Brosgol, Evan Bryce, Art Chantry, Daniel Clowes, Tavis Coburn, Josh Cochran, Jorge Coelho, Darwyn Cooke, Béatrice Coron, Rodrigo Corral, Jordan Crane, Akiko Crowther, Fred Davis, Jack Davis, Paul Davis, Ian Dingman, David Downton, Ming Doyle, Laurent Durieux, Marcel Dzama, Marc English, Malika Favre, Gary Fernandez, Sean Freeman, John Gall, Robert Goodin, Geoff Grandfield, Turlo Griffin, Polly Guo, Sarah Habibi, Jason Hardy, Jaime Hernandez, Jessica Hische, Samuel Hiti, Human After All, Robert Hunt, Paul Jackson, Meredith Jenks, Rob Jones, Neil Kellerhouse, Victor Kerlow, Matt Kindt, Frank Kozik, Caitlin Kuhwald, Yann Legendre, Patrick Leger, Ron Lesser, Luba Lukova, Ha C. Ly, Andrew MacLean, Gregory Manchess, Benjamin Marra, David Merveille, F. Ron Miller, Scott Morse, Bill Nelson, Yuri Ono, Sean Phillips, David Plunkert, Paul Pope, Jesse Marinoff Reyes, Jim Rugg, Greg Ruth, Seth, Leanne Shapton, Jay Shaw, Yuko Shimizu, Bill Sienkiewicz, Eric Skillman, Sam Smith, Edward Sorel, Jhomar Soriano, Tyler Stout, Jillian Tamaki, Adrian Tomine, Riccardo Vecchio, Maurice Vellekoop, Ricardo Venâncio, Angie Wang, Barnaby Ward, Sam Weber, Kent Williams, Connor Willumsen, Ron Wimberly, George Wu, Lucien S. Y. Yang, Kate Zambrano, Danijel Zezelj, Vania Zouravliov
Icon
Arnie Fenner, Cathy Fenner
Icon
Arnie Fenner, Cathy Fenner
Frank Franzetta's paintings and illustrations have set the standard for fantasy artists for the past 50 years. His art continues to exert a tremendous influence over collectors of classic comic and sci-fi art, who pay record-setting auction prices for his original works. This lushly produced, large-format retrospective follows Frazetta's career from his apprenticeships at various publishers in the 1940s, to his 1950s breakthrough with the "Buck Rogers" and "Lil' Abner" series, to his powerfully erotic compositions for the works of Edgar Rice Burroughs and the famous "Conan" illustrations for Robert E. Howard.
Legacy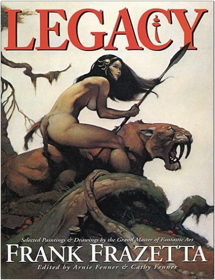 Arnie Fenner, Cathy Fenner
Frank Frazetta's paintings and illustrations have set the standard for fantasy artists for the past 50 years. This collection focuses on his influence in a variety of media and genres and on his place in 20th century art history. Coedited by Hugo Award-winning editor Arnie Fenner, it includes many of Frazetta's most memorable paintings as well as revised and previously unpublished works. The art is accompanied by the artist's own observations and commentary by a number of his contemporaries.
Testament
Arnie Fenner, Cathy Fenner
This final entry in Arnie and Cathy Fenner's Frazetta trilogy features 150 full-color paintings by the renowned artist and illustrator, ranging in subject matter from barbarian battles to erotica to religious art. Frank Frazetta's 50-year career is celebrated not only in these museum-quality reproductions of his art but also in photos from his personal archives, including shots of George Lucas visiting the Frazetta estate and Bo Derek posing for one of his alluring femme fatales. Comments and anecdotes by the artist and the editors, along with testimonials from graphic-art luminaries Dave Stevens, Bruce Timm, and Bernie Wrightson, flesh out this portrait of the artist.
H. R. Giger's Biomechanics
H. R. Giger
Swiss fantasist H.R.Giger conducts you through his diverse alien landscapes, inhabited by the spectral offspring of his vivid dreams and darkest nightmares.
H. R. Giger's Necronomicon
H. R. Giger
Blink: The Power of Thinking Without Thinking
Malcolm Gladwell
In his landmark bestseller The Tipping Point, Malcolm Gladwell redefined how we understand the world around us. Now, in Blink, he revolutionizes the way we understand the world within. Blink is a book about how we think without thinking, about choices that seem to be made in an instant-in the blink of an eye-that actually aren't as simple as they seem. Why are some people brilliant decision makers, while others are consistently inept? Why do some people follow their instincts and win, while others end up stumbling into error? How do our brains really work-in the office, in the classroom, in the kitchen, and in the bedroom? And why are the best decisions often those that are impossible to explain to others?In Blink we meet the psychologist who has learned to predict whether a marriage will last, based on a few minutes of observing a couple; the tennis coach who knows when a player will double-fault before the racket even makes contact with the ball; the antiquities experts who recognize a fake at a glance. Here, too, are great failures of "blink": the election of Warren Harding; "New Coke"; and the shooting of Amadou Diallo by police. Blink reveals that great decision makers aren't those who process the most information or spend the most time deliberating, but those who have perfected the art of "thin-slicing"-filtering the very few factors that matter from an overwhelming number of variables.
Medieval Monsters: Terrors, Aliens, Wonders
Sherry Lindquist, Asa Simon Mittman
Monsters possess transformative powers, rendering them at once profoundly dangerous and utterly fascinating. Medieval Monsters explores the cultural importance and rich variety of monstrosities in the art of the Middle Ages, with examples drawn from the Morgan Library & Museum's renowned collection of illuminated manuscripts. While presenting a lively array of strange beauties and frightful anomalies―demons and dragons, centaurs, and unicorns―the authors reveal how monsters played a central role in medieval societies. The volume has three sections. "Terrors" features familiar monsters such as demons, dragons, and hell-mouths. These fearful enemies are often depicted in battle with heroes―the fiercer the monster, the more powerful its victor. "Aliens" examines how groups of people were visualized as monstrous; women, Jews, Muslims, the poor, and the mentally ill were marginalized in medieval society, as reflected in their representation in art. "Wonders" presents monsters' fascinating ability to inspire wonder and awe. From centaurs to giants to grotesque hybrids, these beasts lack codified meanings, yet their strange beauty and frightful abnormality inspire us to marvel. A preface by award-winning fantasy fiction writer China Miéville argues for the enduring relevance of monsters in today's world.
Diableries: Stereoscopic Adventures in Hell
Brian May, Denis Pellerin, Paula Fleming
A devilish 1860s sensation - finally unleashed on the 21st century! In France, around 1860, from the loins of a traditional national fascination with all things diabolical, was born a new sensation - a series of visionary dioramas depicting life in a strange parallel universe called ENFER - Hell - communicated to an eager audience by means of stereoscopic cards, to be viewed in the stereoscopes which had already become popular in the 1850s. This 3-D phenomenon, which fascinated a nation for 40 years, is now yours to share. This book, the fruit of half a lifetime's study by three impassioned authors, brings every one of the published Diableries into the 21st century for the very first time. Some of them are so rare that at the time of writing there is no known complete collection of the originals of these masterpieces. But this book enables all but two of the 182 scenes to be enjoyed just as their creators intended, in magnificent 3-D, using the high-quality patent OWL stereoscopic viewer supplied.
Cargo in the Blood
Russell Mills
Lonely Planet Finland
Lonely Planet, Andy Symington, Catherine Le Nevez
#1 best-selling guide to Finland*

Lonely Planet Finland is your passport to the most relevant, up-to-date advice on what to see and skip, and what hidden discoveries await you. Hike through forests and fells, spectacular gorges and ravines, fizz over the snow behind a team of huskies on an overnight dog-sled safari, then change the pace with chic shopping at Helsinki's cutting-edge design stores; all with your trusted travel companion. Get to the heart of Finland and begin your journey now!

Inside Lonely Planet's Finland Travel Guide:Colour maps and images throughoutHighlights and itineraries help you tailor your trip to your personal needs and interestsInsider tips to save time and money and get around like a local, avoiding crowds and trouble spotsEssential info at your fingertips - hours of operation, phone numbers, websites, transit tips, pricesHonest reviews for all budgets - eating, sleeping, sight-seeing, going out, shopping, hidden gems that most guidebooks missCultural insights give you a richer, more rewarding travel experience - Sámi society & traditions, Finnish lifestyle & culture, history, design, literature, music, painting, sculpture, food & drink, outdoor activitiesOver 50 mapsCovers Helsinki, Turku & the South Coast, Aland Archipelago, Tampere & Hame, The Lakeland, Karelia, West Coast, Oulu, Kainuu & Koilllismaa, Lapland and more

The Perfect Choice: Lonely Planet Finland our most comprehensive guide to Finland, is perfect for both exploring top sights and taking roads less travelled. Looking for more extensive coverage? Check out Lonely Planet's Scandinavia guide.

Authors: Written and researched by Lonely Planet, Andy Symington, Catherin le Nevez.

About Lonely Planet: Since 1973, Lonely Planet has become the world's leading travel media company with guidebooks to every destination, an award-winning website, mobile and digital travel products, and a dedicated traveller community. Lonely Planet covers must-see spots but also enables curious travellers to get off beaten paths to understand more of the culture of the places in which they find themselves.

*Best-selling guide to Finland. Source: Nielsen BookScan. Australia, UK and USA
Wangechi Mutu: A Fantastic Journey
Trevor Schoonmaker
This richly illustrated full-color catalog accompanies the first major solo museum exhibition and most comprehensive survey of the artist Wangechi Mutu's work, on view at the Nasher Museum of Art at Duke University from March 21, 2013, through July 21, 2013, before traveling to the Brooklyn Museum. Born in Nairobi, Kenya, in 1972, and now based in Brooklyn, Mutu renders the complex global sensibility of the early twenty-first century through a distinctly hybrid aesthetic. She combines found materials and magazine cutouts with sculpture and painted imagery, sampling from sources and phenomena as diverse as African traditions, international politics, the fashion industry, and science fiction. In her work, Mutu marries poetic symbolism with sociopolitical critique to explore issues of gender, race, war, colonialism, and, particularly, the exoticization of the black female body.

The many images included in Wangechi Mutu: A Fantastic Journey highlight the most important and iconic works that Mutu has created since the mid-1990s, as well as portray new collages, drawings, videos, and site-specific installations. The catalog also offers an intimate look into her sketchbooks and includes an interview with the artist conducted by the exhibition's curator, Trevor Schoonmaker. Essays by Schoonmaker, the art historian Kristine Stiles, and the critic, musician, and producer Greg Tate are paired with an illustrated chronology of Mutu's work.

Publication of the Nasher Museum of Art at Duke University
Historic Photos of Tucson
Mike Speelman
The name Tucson originates from a Spanish word meaning Black Base,"" a reference to the mostly volcanic mountains on the west side of the city. From 1867 to 1879, Tucson was the capital of the Arizona Territory and the University of Arizona, located in Tucson, was founded in 1885. This book follows life, government, events and people important to Tucson history and the building of this unique city. Spanning over two centuries and two hundred photographs, this is a must have for any long-time resident or history lover of Tucson! ""
In the Shadow of No Towers
Art Spiegelman
For Art Spiegelman, the Pulitzer Prize-winning author of Maus, the terrorist attacks of September 11, 2001 were both highly personal and intensely political. In the Shadow of No Towers, his first new book of comics since the groundbreaking Maus, is a masterful and moving account of the events and aftermath of that tragic day.

Spiegelman and his family bore witness to the attacks in their lower Manhattan neighborhood: his teenage daughter had started school directly below the towers days earlier, and they had lived in the area for years. But the horrors they survived that morning were only the beginning for Spiegelman, as his anguish was quickly displaced by fury at the U.S. government, which shamelessly co-opted the events for its own preconceived agenda.

He responded in the way he knows best. In an oversized, two-page-spread format that echoes the scale of the earliest newspaper comics (which Spiegelman says brought him solace after the attacks), he relates his experience of the national tragedy in drawings and text that convey—with his singular artistry and his characteristic provocation, outrage, and wit—the unfathomable enormity of the event itself, the obvious and insidious effects it had on his life, and the extraordinary, often hidden changes that have been enacted in the name of post-9/11 national security and that have begun to undermine the very foundation of American democracy.
Theatre D'Amour
Carsten-Peter Warncke
This volume of late 16th and early 17th century love emblems—including mythological, allegorical, and even erotic prints—was amassed around 1620 by an unknown lover. These 143 folios are reproduced in their original size (25.3 x 18.5 cm), and are joined by an Introduction and accompanying descriptions by the author.