The Hire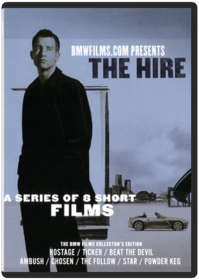 John Frankenheimer, Ang Lee, Wong Kar-wai, Guy Ritchie, Alejandro G. Iñárritu, John Woo, Joe Carnahan, Tony Scott
The Hire: A Series of 8 Films The 8 films included are: Hostage: Stars: Clive Owen. Director: John Woo Ticker: Stars: Clive Owen, Don Cheadle, F. Murray Abraham. Director: Joe Carnahan The driver rescues a mysterious messenger carrying an even more mysterious briefcase after an ambush on a rural highway. As a helicopter gunman relentlessly pursues them, a game of political intrigue plays out, with an unforeseen ending. Beat the Devil: Stars: Clive Owen, Gary Oldman, James Brown. Director: Tony Scott Decades ago, the legendary James Brown sold his soul to the devil for fame and fortune. Now he wishes to renegotiate. Hired to take Mr. Brown to a rendezvous with the devil (Gary Oldman), the driver soon finds himself entangled in fiendish plans. Ambush: Stars: Clive Owen, Tomas Milian. Director: John Frankenheimer Chosen: Stars: Clive Owen, Mason Lee. Director: Ang Lee The driver meets a ship carrying an eight-year-old Tibetan boy at a dark, deserted New York shipyard. But he's not the only one waiting. The Follow: Stars: Clive Owen, Mickey Rourke, Forest Whitaker. Director: Wong Kar-wai The cunning and tactics of trailing another car quickly evolve into a mystery rife with deceit, as The Driver is hired to follow a woman accused of cheating on her famous husband. Star: Stars: Clive Owen, Madonna. Director: Guy Ritchie The driver faces perhaps his most perplexing challenge: Coming face-to-face with a hugely talented and successful rock star. But beneath her beauty lies a problem she always gets what she wants. Powder Keg: Stars: Clive Owen, Stellan Skarsgard. Director: Alejandro González Iñárritu
Birdman or (The Unexpected Virtue of Ignorance)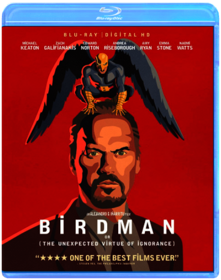 Alejandro G. Iñárritu
BIRDMAN or The Unexpected Virtue of Ignorance is a black comedy that tells the story of an actor (Michael Keaton) — famous for portraying an iconic superhero — as he struggles to mount a Broadway play. In the days leading up to opening night, he battles his ego and attempts to recover his family, his career, and himself.
The Revenant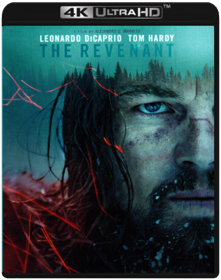 Alejandro G. Iñárritu
Leonardo DiCaprio gives an OSCAR® WINNING performance in OSCAR® WINNER Alejandro G. Iñárritu s cinematic masterpiece. Inspired by true events and the winner of 3 OSCARS®, The Revenant follows the story of legendary explorer Hugh Glass (DiCaprio) on his quest for survival and justice. After a brutal bear attack, Glass is left for dead by a treacherous member of his hunting team (Tom Hardy). Against extraordinary odds, and enduring unimaginable grief, Glass battles a relentless winter in uncharted terrain. This boldly original (Calvin Wilson, ST. LOUIS POST-DISPATCH) epic adventure captures the extraordinary power of the human spirit in an immersive and visceral experience unlike anything you have ever seen (Jake Hamilton, FOX-TV).