El Topo
Alejandro Jodorowsky
It was the landmark cult film that began the whole Midnight Movie phenomena of the counterculture crazy 1970s. EL TOPO was the most talked about, most controversial quasi-Western head trip ever made, transforming the way risk-taking audiences, seeking mainstream Hollywood alternatives, watched edgy underground films. Classic Americana and avant-garde European cinema sensibilities meet Zen Buddhism and the Bible as master gunfighter and cosmic mystic El Topo (played by writer/director Alejandro Jodorowsky) must defeat his four sharp-shooting rivals on an ever-increasingly bizarre path to allegorical self-enlightenment and surreal resurrection.
The Holy Mountain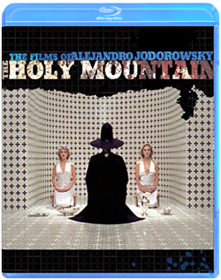 Alejandro Jodorowsky
The Alchemist (Alejandro Jodorowsky) assembles together a group of people from all walks of life to represent planets in the solar system. The occult adept s intention is to put the recruits though strange mystical rites and divest them of their worldly baggage before embarking on a trip to Lotus Island where they ascend The Holy Mountain to displace the immortal gods who secretly rule the universe. The big budget follow-up to Alejandro Jodorowsky's El Topo, The Holy Mountain premiered at the 1973 Cannes Film Festival, causing riots to break out in response to Jodorowsky s flood of sacrilegious imagery, existential symbolism and spiritual quest for entitlement pitting illusion against truth. Visually and viscerally, the film is a masterwork that benefitted greatly from a labor intensive 2K scan restoration, which enhanced The Holy Mountain's color palate from its initial release.
Jodorowsky's Dune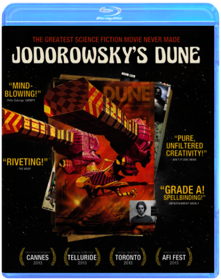 Frank Pavich
In 1975, director Alejandro Jodorowsky began work on his most ambitious project yet. Starring his own 12-year-old son alongside Orson Welles, Mick Jagger, David Carradine and Salvador Dalí, featuring music by Pink Floyd and art by some of the most provocative talents of the era, including H.R. Giger and Jean "Moebius" Giraud, Jodorowsky's adaptation of the classic sci-fi novel DUNE was poised to change cinema forever. Through interviews with legends and luminaries including H.R. Giger (artist, ALIEN), Gary Kurtz (producer, STAR WARS EPISODES IV ' V) and Nicolas Winding Refn (director, DRIVE), and an intimate and honest conversation with Jodorowsky, director Frank Pavich's film finally unearths the full saga of 'The Greatest Movie Never Made'.