Camille 2000
Radley Metzger
A child of the sixties sexual revolution, beautiful, sensuous Marguerite (Daniel Gaubert) is addicted to sex and money. She is kept by a wealthy man, has a string of young lovers and hosts wild orgies in her luxurious villa. When she falls in love with the handsome bachelor Armand (Nino Castelnuova), he insists on absolute fidelity. Known by her reputation, Armand's controlling father soon intervenes, triggering a tragic turn of events. From Radley Metzger, the essential director of elegant erotic arthouse, comes the dazzling new 2000 version of Alexandre Dumas "The Lady of the Camellias."
Daughter of Dracula
Jesús Franco
In the early 1970s, cult filmmaker Jess Franco inspired by the Hammer horror films being made in the UK revisited the iconic monsters of yesteryear, placing them in the castles and crypts of the Spanish countryside, and bracketing the thrills with scenes of frank eroticism. Daughter of Dracula was inspired by Sheridan LeFanu s Carmilla (which was also the source of Hammer s lesbian vampire trilogy), but as one might expect, Franco s version was unlike any treatment the story had yet received. When the nude body of a murdered woman washes onto the beach, a police inspector (Alberto Dalbés) and a reporter (Fernando Bilbao) focus their attention on the castle of Count Max Karlstein (composer Daniel White) and his niece (Britt Nichols, The Demons), a beautiful woman who appears to be wrestling with an ancestral curse.

Bonus Features: English Subtitles, Audio commentary by film historian Tim Lucas, Alternate safe footage (less sexually explicit), Original heatrical trailer
The Demons
Jesús Franco
Female Vampire
Jesús Franco
Countess Irina (Lina Romay) lives on the island of Madeira, Portugal, where she must drain the ''life force'' of men and women for her own survival. One of her lovers/victims is a poet (Jack Taylor) who believes the undead countess is meant for him. Prolific exploitation director Jess Franco filmed this influential erotic chiller — which established Romay (who Franco later married) as an erotic and horror film icon — on location on Madeira. ENGLISH DUBBED (also includes original French w/ English Subtitles) BONUS FEATURES: Two complete versions of the film: a ''horror version'' (72 mins) and an ''erotic version'' (104 min), Interview with Jess Franco, Alternate title sequence and more.
Sugar Cookies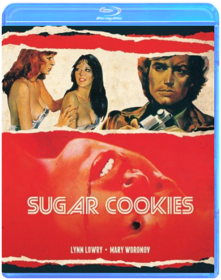 Theodore Gershuny
Lynn Lowry (Shivers, The Crazies, Score) and Mary Woronov (Death Race 2000, Eating Raoul) star in one of the most unique psychological thrillers of the 70s, Theodore Gershuny's SUGAR COOKIES.

After the mysterious death of erotic film actress Alta (Lynn Lowry) while in the company of sleazy sex-film producer Max (George Shannon), her manipulative agent Camilla (Mary Woronov) begins searching for a 'perfect replacement.' After discovering a young, aspiring actress, Julie (also Lynn Lowry), Camilla and Max slowly groom her into a mirror image of Alta, but as Julie begins to become more aware of the sinister motives of her new caretakers, she also starts fearing for her own life.

Written and produced by Lloyd Kaufman (The Toxic Avenger), SUGAR COOKIES is a blisteringly erotic Hitchcockian thriller from New York's outrageous underground film scene. Featuring Andy Warhol regular Ondine and Monique van Vooren (Flesh for Frankenstein), as well as an early appearance from sexploitation superstar Jennifer Welles, Vinegar Syndrome is proud to present this forgotten gem of early 70's exploitation cinema newly restored in 4K from its original camera negative and on blu-ray for the very first time.

Director: Theodore Gershuny
91 minutes / 1971 / Color / 1.85:1

Bonus Features:
1. New 4K Restoration from the 35mm Camera Negative
2. New video interview with Writer & Producer, Lloyd Kaufman
3. New video interview with Star Lynn Lowry
4. Interview with Star Mary Woronov
5. Original Theatrical Trailers
Fugitive Girls
Stephen C. Apostolof
Vinegar Syndrome specializes in the masterful restoration and distribution of cult, horror, and erotic films from the 1960s-90s.

Vinegar Syndrome proudly presents AC Stephen's FUGITIVE GIRLS, the fourth release in our Limited Edition Sexploitation Signature Series. This Blu-ray/DVD combo is strictly limited to 2,500 units.

Beautiful Sheila (Donna Young) is implicated in a fatal liquor store shooting committed by her boyfriend. Sent to an all-female work camp, she quickly finds herself at the mercy of four other violent and lust crazed prisoners who force her into their daring escape plan. Once on the outside, the five fugitives embark on a brutal and sex filled rampage across the countryside, while making their way to a mystery site rumored to have a buried suitcase full of money!

Director AC Stephen's most accomplished film, FUGITIVE GIRLS is a quick paced hybrid of action and sexploitation, which co-stars the beautiful Rene Bond and Tallie Cochran, and featuring a typically jaw-dropping screenplay from Ed Wood (who also appears in the film!). Long available only in poor quality bootlegs or heavily censored versions, Vinegar Syndrome brings this drive-in classic to Blu-ray totally uncut and uncensored and newly restored from its camera negative.

Bonus Features:
1. Newly scanned and restored in 2k from the 35mm original camera negative
2. Limited Edition of 2,500 units
3. Commentary track with: Frank Henenlotter (Exploitation filmmaker) and Rudolph Grey (Ed Wood biographer)
4. Archival audio interview with Tallie Cochrane (actress), moderated by Casey Scott
5. Original theatrical trailer
6. Original promo trailer
7. English SDH Subtitles
How to Seduce a Virgin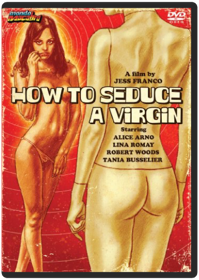 Jesús Franco
The beautiful Countess Martine de Bressac is released from the expensive asylum where she was incarcerated after castrating her former lover. She returns to her luxurious villa on the coast and goes at once down into her private underground dungeon. It's here that she indulges herself in the perverse sexual practices that give her life meaning, surrounded by the bizarre human statues of her previous victims. Her husband, Charles, feeds his wife's sick fantasies, aware that she is his meal ticket to a life of luxury. He announces that he has a new game for her - they will befriend and seduce the young and virginal daughter of a rich neighbor. But things do not go exactly as planned… Games of decadence and debauchery lead to mayhem and murder. From cult director Jess Franco. His most outrageous film. First ever US release.

Bonus Features:
Brand new transfer from film negativeInterview with writer Alain PetitIntroduction by critic Stephen ThrowerNewly created optional subtitlesExtensive production notesMondo Macabro previews
Lorna the Exorcist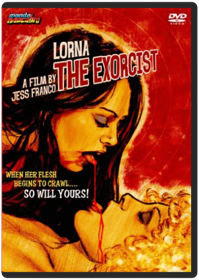 Jesús Franco
Patrick, a rich businessman, celebrates his daughter Linda's 18th birthday by taking her and his wife to a famous casino resort in the south of France, where, 20 years earlier, he had won the money that enabled him to start his business and begin his rise to the top. At the casino he meets the beautiful and mysterious Lorna, whom he first encountered that night 20 years ago. She reminds him that he made a promise to her back then. She is the power behind his success and now she has returned to claim her reward - his daughter, Linda. A masterpiece of transgressive horror from Jess Franco.
Downtown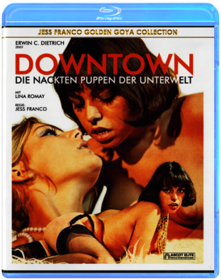 Jesús Franco
Germany released, Blu-Ray/Region A/B/C : it WILL NOT play on regular DVD player. You need Blu-Ray DVD player to view this Blu-Ray DVD: LANGUAGES: German ( Dolby Digital 5.1 ), German ( DTS-HD Master Audio ), English ( Subtitles ), WIDESCREEN (1.78:1), SPECIAL FEATURES: Interactive Menu, Photo Gallery, Scene Access, Trailer(s), Uncut, SYNOPSIS: A private eye who's over his head in debt takes on a job snapping photos of his client's rich husband in bed with another woman. But when the husband winds up with three bullet holes that seem to have come from the private eye's own gun, he's got to prove he's not the murderer meanwhile getting tangled deeper in a web of deceit, lies, and steamy night club dancers! ...Downtown (1975) ( Downtown - Die nackten Puppen der Unterwelt ) ( Down town )
Exorcism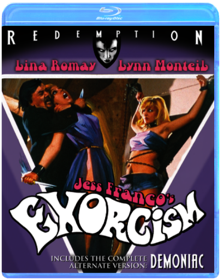 Jesús Franco
A former Catholic priest, who was tossed from the priesthood for his way-too-liberal beliefs, now writes S&M articles for a French magazine. Having been a witness to Black Masses complete with phony sacrifices, he deems himself judge and sets out to kill those people he feels are destined to spend eternity in Hell. ENGLISH DUBBED (also French w/ English Subtitles)
Barbed Wire Dolls
Jesús Franco
From the fevered minds of maverick exploitation filmmaker Jess Franco and notorious Swiss genre movie producer Erwin C. Dietrich, comes BARBED WIRE DOLLS! Barbed Wire Dolls is one of the most outrageous entries in the "Women-in-Prison" film cannon. In it, Franco favorite and lifelong muse Lina Romay stars as the wide-eyed Maria, an unfortunate young woman who kills her father (played by Franco) in self defense after he attempts to rape her. She is tried, sentenced and shipped off to what is perhaps the grisliest, greasiest and most depraved women's penitentiary in screen history where, at the hands, fingers and fists of psychotic lesbian warden Monica Swinn, she and her fellow inmates are subjected to an endless onslaught of perverse psychological and sexual abuse. Graphic sex, Sapphic erotica, copious amounts of female nudity and offensively staged scenes of genital humiliation are the order of the day in this sleazy Franco masterpiece that is offset by a romantic, evocative score by composer Peter Baumgartner and Franco regular Daniel White. Get ready to enter the shocking world of BARBED WIRE DOLLS! Starring: Lina Romay, Monica Swinn, Paul Muller, Ramon Ardid Runtime: 81 Mins. Color: HD 1080p Aspect Ratio: Widescreen Sound Options: 5.1 Surround Rating: Not Rated Production Date: 1976 Format: Blu-ray Disc Region Code: REGION FREE Special Features: Audio Interview: Director Peter Strickland on the films of Jess Franco Vintage VHS Franco Trailer reel!
Doriana Grey
Jesús Franco
Alex deRenzy's Babyface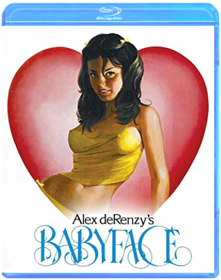 Alex deRenzy
Priscilla is a tease, flirting with every man she meets. When her mother catches her with Dan, a dockhand, Priscilla accuses the man of attacking her, resulting in a shoot out from which he's left for dead. However, Dan is quickly rescued by two women, who put him to work at an all male brothel with an exclusively female clientele. Becoming fast friends with the other 'studs', Dan soon finds a new home, that is, until he's warned about the notorious 'nutcracker'.

Acclaimed filmmaker Alex deRenzy's dark social satire, BABYFACE, remains one of the director's most controversial and often censored films. Featuring an all star cast, including Amber Hunt and Paul Thomas, as well as a haunting performance from Molly Seagrim, Vinegar Syndrome brings this landmark film to Blu-ray, fully uncut and restored from long lost 35mm vault elements.

Bonus Features:
1. Scanned and restored in 2k from 35mm vault elements
2. Extensive audio interview with actress Molly Seagrim
3. "Parochial Passion Princess" a short film by Alex deRenzy
4. Reversible cover artwork
Blue Rita
Jesús Franco
Love Camp
Jesús Franco
Love Letters of a Portuguese Nun
Jesús Franco
Fascination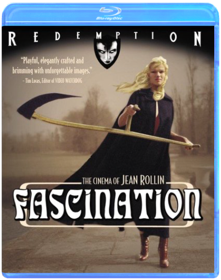 Jean Rollin
The masterpiece of renowned French filmmaker Jean Rollin, FASCINATION follows a swaggering thief who hides out in a lavish chateau, holding the occupants at gunpoint. When night falls, he realizes that these two maids are not only deadlier than he imagined, but are gatekeepers to a ring of women with a thirst for blood.

BONUS FEATURES: Original Theatrical French Trailer, Deleted Sex Scenes (16 min), Short Subject Documentary: ''Virgins & Vampires'' (24 min), Trailers for The Nude Vampire, Lips of Blood, Shiver of the Vampires & The Iron Rose.
Erotic Symphony
Jesús Franco
SINFONIA EROTICA - The lost masterpiece from Jess Franco & the Marquis de Sade now in HD for the first time ever!

At the close of the '70s, eminent auteur Jess Franco (SHE KILLED IN ECSTASY) revisited the works of the Marquis de Sade to create what EuroSleaze historians have called one of the most sexually daring and boldly creative films of his entire career.

When an unstable noblewoman (a fearless performance by Lina Romay) returns to her lavish estate, she will find herself - along with her libertine husband, his male lover, and a young nun with a craving for violation - trapped in a web of unholy hungers and decadent perversions. Susan Hemingway of TWO FEMALE SPIES WITH FLOWERED PANTIES co-stars in this sonata of artsy depravity - featuring a score by Franco and Franz Liszt - now transferred in 4k from an uncut 35mm print donated by The Instituto de la Sexualidad Humana in Madrid.

Special Features:

Jess Franco on First Wife Nicole Guettard - Interview with Director Jess Franco.
Stephen Thrower on Sinfonia Erotica - Interview with the author of "Murderous Passions - The Delirious Cinema of Jesus Franco."
Emmanuelle Exposed
Jesús Franco
Art of Love
Walerian Borowczyk
1983 arty adult film by director Walerian Borowczyk. Hailed by Vincent Canby of the New York Times, The Art Of Love is Borowczyk's final film of his Immoral Trilogy . A lushly bizarre erotic tale, The Art Of Love is set in Rome, 8 A.D., where the poet Ovid watches over an epoch of forbidden seduction and unnatural acts among maidens, centurions, servant girls and the occasional farm animal. Borowcxyk's film is now fully restored including the Roman Orgy sequence and presented uncut and uncensored for the first time ever in America.
Cecilia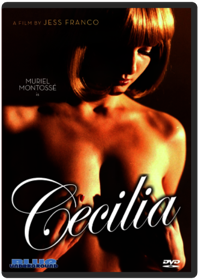 Jesús Franco
The Key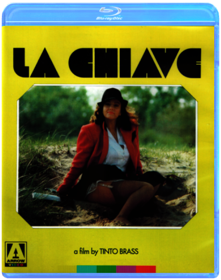 Tinto Brass
United Kingdom released, Blu-Ray/Region B : it WILL NOT play on regular DVD player, or on standard US Blu-Ray player. You need multi-region Blu-Ray player to view it in USA/Canada: LANGUAGES: English ( Dolby Digital 2.0 ), Italian ( Dolby Digital 2.0 ), English ( Subtitles ), WIDESCREEN (1.78:1), SPECIAL FEATURES: Blu-Ray & DVD Combo, Booklet, Interactive Menu, Photo Gallery, Scene Access, Special Edition, Trailer(s), SYNOPSIS: In 1940, a couple celebrate the 20th anniversary of their wedding, but neither of them is fully satisfied with the sexual side of their relationship. Nino (Frank Finlay) and Teresa Rolfe (Stefania Sandrelli) both keep secret diaries in which they reveal their wildest fantasies - Nino wants his far younger wife to become less inhibited and to this end he tries to engineer an affair between her and their daughter's fiancane, Laslo. ...The Key ( 1983 ) ( La chiave ) (Blu-Ray & DVD Combo)
Macumba Sexual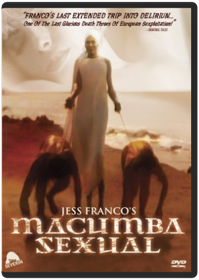 Jesús Franco
Night has a Thousand Desires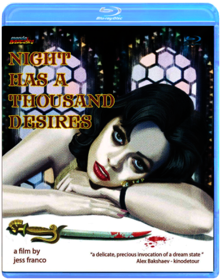 Jesús Franco
In this surreal and sensuous mystery/noir, Lina Romay (The Female Vampire, Lorna the Exorcist) plays Irina, a partner in a male-female mind reading act. At night she experiences vivid and charged dreams which end in murder. It seems that the people whose minds she reads are being killed off one by one.

In the 1980s, after the death of the Spanish dictator, Jess Franco returned to his native country and made a series of films in which he was given almost total freedom. Night Has A Thousand Desires is one of the most artistically successful of these films. It's filled with familiar Franco touches - artful cinematography, atmospheric locations, naked women, an avant-garde soundtrack - and it features one of Lina Romay's most committed performances. This world Blu-ray premier includes a number of exclusive extra features.

Special Features:Interview with writer Stephen ThrowerEurotika! Documentary on Jess Franco
Golden Temple Amazons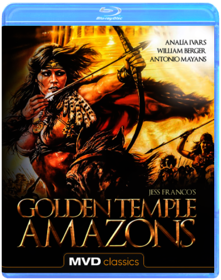 Jesús Franco
A tribe of Amazons is zealously guarding a mysterious fortress built on top of a gold mine. Uruck and his cruel, sadistic mistress Rena rule the tribe. Some 15 years ago an explorer discovered their golden temple, and the Amazons who were intent on protecting their secret slaughtered both him and his wife. However, their daughter, Liana, was spared and grew up in the jungle, raised by tribesmen. Now a beautiful girl, Liana (roaming the jungle half-naked) finds out the fate of her parents and sets out to avenge them. An entertaining film containing large amounts of nudity and sadism. Directed by Jess Franco.
Frivolous Lola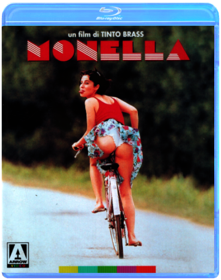 Tinto Brass
Monamour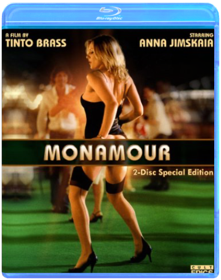 Tinto Brass
Tinto Brass' Monamour, is the love-story of a Venetian girl and a Frenchman in the beautiful city of Mantua. Dario, her husband is too busy to notice his wife's sexual drifting, when her adultery "born out of neglect and frustration" starts on the day she meets a tall dark stranger in a museum. An intoxicating mix of lies, betrayal and fantasy follows Marta into her personal diary where every emotion and passion is recorded.
Starring Anna Jimskaia and Max Parodi (Cheeky!), along with a line of stars of Tinto's previous erotic films. Now in high-definition, the film has never looked better!

Disc 2 includes the bonus film, Kick the Cock. "Kick the Cock" is an old Dutch saying; meaning "Peek in the Kitchen," or something shocking and extreme, exactly what we can expect of Tinto Brass; the director and co-star, along with newcomer Angelita Franco.
Kick the Cock premiered at the Venice Film Festival in 2008, and won "Best short film" at a Fetish Film Festival in Germany in 2009 and is now presented for the first time as a worldwide premiere on DVD and Blu-ray.

Special features include:
-New High-definition Master
-The Making of "Monamour" -The Making of "Kick the Cock"
-Comic strip by Franco Saudelli
-Venice Film Festival Premiere with Tinto Brass (Circuito Off 2008, Media Group TV)
-Spanish Dance by Angelita Franco -Trailers