Walerian Borowczyk - Short Films and Animation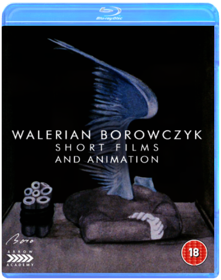 Walerian Borowczyk
United Kingdom released, Blu-Ray/Region A/B/C : it WILL NOT play on regular DVD player. You need Blu-Ray DVD player to view this Blu-Ray DVD: LANGUAGES: French ( Dolby Digital 2.0 ), French ( Dolby Linear PCM ), French ( Mono ), English ( Subtitles ), SPECIAL FEATURES: 2-DVD Set, Black & White, Blu-Ray & DVD Combo, Booklet, Documentary, Interactive Menu, Remastered, Scene Access, SYNOPSIS: For the first decade of his career, Walerian Borowczyk exclusively made short films, initially in his native Poland, but then mostly in France, where he settled permanently in the late 1950s. This disc includes the vast majority of the shorts that he made between 1959 and 1984, apart from ones that were originally intended to accompany specific features. Far from being prentice work or optional extras, the shorts include many of his greatest films, such as the cut-out Astronauts, the reverse-motion Renaissance and the extraordinary Angels Games, a one-off masterpiece of the macabre that would alone establish Borowczyk as one of the cinema s most innovative artists. In 1967, Borowczyk made his feature debut, a grotesque and surreal fantasy about the physically and temperamentally mismatched couple Mr & Mrs Kabal. Made with a tiny production team at a time when animated feature films were far scarcer than they are now, it s almost the polar opposite of a Disney film, with angular, mainly monochrome graphics bringing the Kabals universe to startlingly vivid life. Both this and all the short films are presented in brand new high-definition restorations from original 35mm elements. ...Walerian Borowczyk (Short Films & Animation Collection) ( Le concert de M. et Mme. Kabal (Concert of Mr. & Mrs. Kabal) / L'encyclopedie de grand-maman en
Camille 2000
Radley Metzger
A child of the sixties sexual revolution, beautiful, sensuous Marguerite (Daniel Gaubert) is addicted to sex and money. She is kept by a wealthy man, has a string of young lovers and hosts wild orgies in her luxurious villa. When she falls in love with the handsome bachelor Armand (Nino Castelnuova), he insists on absolute fidelity. Known by her reputation, Armand's controlling father soon intervenes, triggering a tragic turn of events. From Radley Metzger, the essential director of elegant erotic arthouse, comes the dazzling new 2000 version of Alexandre Dumas "The Lady of the Camellias."
Obsessions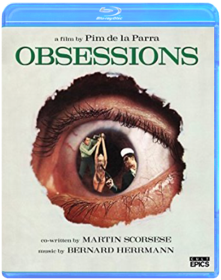 Pim de la Parra
The obscure film OBSESSIONS (aka A HOLE IN THE WALL) was directed by Dutch artsploitation auteur Pim de la Parra and co-produced by longtime collaborator Wim Verstappen (BLUE MOVIE). This gritty, psychedelic Hitchcockian mystery, which is notable for being the first Dutch film shot in English-language, starts in a savagely brutal fashion. When a bloody painting of Vincent van Gogh falls from a wall and exposes a makeshift peephole, student protagonist Nils Janssen (played by the film's German co-producer Dieter Geissler) becomes an unwitting witness to a gruesome sex crime next door. When his young fiancée Marina (Alexandra Stewart of Truffaut's DAY FOR NIGHT), an enterprising journalist, tells him about a report of a murder that she is writing, he naturally wonders if it's the very same killing.

This classic exploitation film was the birth of auteur cinema in Holland, and inspired legendary filmmakers such as Paul Verhoeven to make their start in the industry. Originally distributed in over 100 countries, the film remained unreleased in the U. S. (and France) until now. Perhaps most notably, the film was co-written by a young Martin Scorsese, who shot the legendary erotic dream sequence for his first feature WHO'S THAT KNOCKING AT MY DOOR (1968) in Amsterdam, that same year. Additionally, the film also stars legendary Dutch filmmaker Fons Rademakers (MIRA, THE ASSAULT), is edited by Henry Rust (CHILDREN OF PARADISE) and scored by Hitchcock composer Bernard Herrmann (TAXI DRIVER, SISTERS). OBSESSIONS is a curious cultural hybrid where late-1960s Dutch exploitation and classic Hollywood Hitchcock collide in a provocative and revolutionary fashion. Hitchcock, Scorsese & Sex. Made in Holland.

Special Features:New HD Transfer (from original 35mm film)Introduction by director Pim de La Parra (HD, 2017)Introduction by actor/producer Dieter Geissler (HD, 2016)Interview with Pim de La Parra (HD, 2017)Interview with Dieter Geissler (HD, 2016)Interview with Martin Scorsese (Volkskrant, 2017)Scorpio Films (Excerpt from Parradox documentary, HD 2010)Original Dutch Theatrical Trailer (HD)Script notes by Martin ScorseseObsessions photo video gallery
The Lickerish Quartet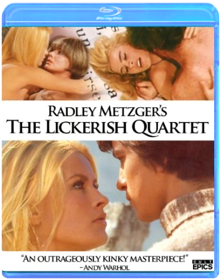 Radley Metzger
An aristocratic family become obsessed with a striking young blonde actress while watching a stag film. After a visit at a carnival they meet her in person and invite her back to their seaside mansion (the Castle of Balsorano in Italy's Abruzzi Mountains). The blonde takes turns seducing the family members, where she unlocks each of their fantasies, family secrets and hidden desires. THE LICKERISH QUARTET is Radley Metzger's magnum opus, a delirious surreal erotic fantasy, stylish and elegant.
Hands of the Ripper
Peter Sasdy
An infant girl watches in horror as her father, the infamous Jack the Ripper , brutally murders her mother. Years later, young Anna (Angharad Rees) is now under the care of a fake psychic and has been forced into prostitution. At the end of a séance one evening, a woman is mysteriously killed. Dr. John Pritchard (Eric Porter) suspects Anna is the murderer but cannot understand how she could do this unspeakable act. Using new Freudian psychoanalysis techniques, Pritchard experiments on Anna and discovers a shocking secret. The spirit of the Ripper is alive and well, and may be possessing his own daughter! Can this evil be stopped before it's too late?
Completely restored in high-definition and released uncut for the first time on Blu-ray in the U.S., HANDS OF THE RIPPER is a film widely recognized as one of the most gruesome Hammer horror films ever made.
Bonus FeaturesTHE DEVIL'S BLOODY PLAYTHING: POSSESSED BY HANDS OF THE RIPPER FeaturetteSLAUGHTER OF INNOCENCE: THE EVOLUTION OF HAMMER GORE Motion Still GalleryU.S. Television IntroductionOriginal Theatrical Trailer and TV SpotsHANDS OF THE RIPPER - Motion Still GalleryIsolated Music & Effects Audio Track
The Telephone Book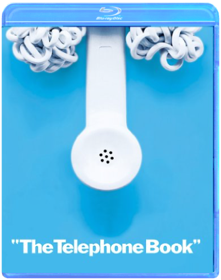 Nelson Lyon
A major, though forgotten, work from New York's underground film scene of the late 60s and early 70s, Nelson Lyon's The Telephone Book tells the story of Alice, a sex-obsessed hippie who falls in love with the world's greatest obscene phone caller and embarks on a quest to find him. Her journey introduces her to an avant-garde stag filmmaker, a manipulative psychiatrist, a lesbian housewife, and more. Photographed in high-contrast black-and-white, and punctuated with a remarkable, surreal color animated sequence, The Telephone Book is one of the greatest cult films you've probably never heard of.

Bonus Features:
1. Restored in 2K from a 35mm archival print
2. Commentary track by Producer Merv Bloch
3. Two theatrical trailers
4. Radio spots
4. Still gallery
Vampyros Lesbos
Jess Franco
From Jess Franco, the filmmaker The Vatican called the most dangerous director in the world, comes the most celebrated movie of his legendary career: Stunning Soledad Miranda stars as a vixen vampire who lures women to a Mediterranean island to satisfy her insatiable lust for female flesh and blood. It's a mind-bending odyssey of surreal erotica and 70s EuroHorror, featuring the psycho-sexadelic soundtrack that remains a global phenomenon. Ewa Strömberg (SHE KILLED IN ECSTASY), Dennis Price (VENUS IN FURS), Paul Muller (NIGHTMARE CASTLE) and Franco himself co-star in this landmark cult classic, now remastered in HD and featuring all-new Extras filmed with the director shortly before his death. Experience Franco's masterpiece like you ve never seen or heard it before!

Special Features:German TrailerVampyros Jesús: Interview with Writer/Director Jess FrancoSublime Soledad: Interview with Soledad Miranda Historian Amy BrownStephen Thrower on Vampyros Lesbos: Interview with Author of Murderous PassionsThe Delirious Cinema Of Jess FrancoJess Is Yoda ClipAlternate Spanish Language Version Bootleg
The Last House on the Left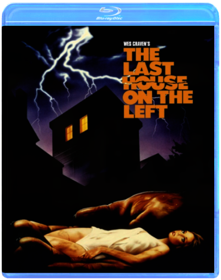 Wes Craven
MARI, SEVENTEEN, IS DYING. EVEN FOR HER THE WORST IS YET TO COME!

The directorial debut of Wes Craven, the man behind such horror favorites as A Nightmare on Elm Street, The Hills Have Eyes and Scream, The Last House on the Left justly retains its reputation as one of the most harrowing cinematic experiences of all time, nearly half a century on from its original release.

On the eve of her 17th birthday, Mari and friend Phyllis set off from her family home to the big city to attend a concert by shock-rockers Bloodlust. Attempting to pick up some marijuana on the way, the pair run afoul of a group of vicious crooks, headed up by the sadistic and depraved Krug (David Hess). Gagged and bound, the young women are bundled into a car trunk and driven to the woods, where the gang subject them to a terrifying ordeal of sexual humiliation, torture and murder.

Unleashed on an unsuspecting public in 1972, The Last House on the Left shocked audiences with its graphic and unflinching portrayal of interpersonal violence, paving the way for a whole host of cheap imitators looking to capitalize on its success. It is Wes Craven's original alone, however, that remains one of the true watershed moments in horror (and indeed, film) history.

3-DISC LIMITED EDITION CONTENTS Three cuts of the film newly restored in 2K from original film elementsOriginal Uncompressed Mono AudioOptional English subtitles for the deaf and hard of hearing6 x lobby card reproductionsDouble-sided poster featuring original and newly commissioned artworkReversible sleeve featuring original and newly commissioned artworkLimited edition 60 page perfect-bound book featuring new writing on the film by author Stephen Thrower

DISC ONE [BLU-RAY] – THE UNRATED CUT High Definition Blu-ray (1080p) presentation of the Unrated VersionIsolated score newly remastered from the original 17.5" magnetic tracksBrand new audio commentary by podcasters Bill Ackerman and Amanda ReyesArchival audio commentary with writer/director Wes Craven and producer Sean S. CunninghamArchival audio commentary with stars David Hess, Marc Sheffler and Fred LincolnArchival introduction to the film by Wes CravenStill Standing: The Legacy of The Last House on The Left – archival interview with Wes CravenCelluloid Crime of the Century – archival documentary featuring interviews with Wes Craven, Sean S. Cunningham, actors David Hess, Fred Lincoln, Jeramie Rain, Marc Sheffler and Martin KoveScoring Last House on the Left – archival interview with actor/composer David HessIt's Only a Movie: The Making of The Last House on the Left – archival documentaryForbidden Footage – the cast and crew of Last House on the film's most controversial sequencesJunior's Story – a brand new interview with actor Marc ShefflerBlood and Guts- a brand new interview with makeup artist Anne PaulThe Road Leads to Terror - a brand new featurette revisiting the film's original shooting locationsDeleted Scene - Mari Dying at the LakeExtended Outtakes and Dailies , newly transferred in HDTrailers, TV Spot & Radio SpotsImage Galleries

DISC TWO [BLU-RAY] – THE KRUG & COMPANY & R-RATED CUTS High Definition Blu-ray (1080p) presentation of the Krug and Company and R-rated cuts of the filmThe Craven Touch – brand new featurette bringing together interviews with a number of Wes Craven's collaborators, including Sean S. Cunningham, composer Charles Bernstein, producer Peter Locke, cinematographer Mark Irwin and actress Amanda WyssEarly Days and 'Night of Vengeance' – filmmaker Roy Frumkes remembers Wes Craven and Last House on the LeftTales That'll Tear Your Heart Out – excerpts from an unfinished Wes Craven shortQ&A with Marc Sheffler from a 2017 screening of the film at The American CinemathequeKrug Conquers England - archival featurette charting the theatrical tour of the first ever uncut screening of the film in the UK

DISC THREE [CD] – 'THE LAST HOUSE ON THE LEFT' ORIGINAL MOTION PICTURE SOUNDTRACK CD featuring the complete, newly remastered film score
What?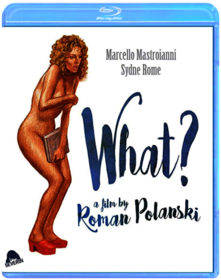 Roman Polanski
Roman Polanski described it as the ribald adventures of an innocent girl. More than four decades after its controversial release, it remains the most butchered, debated and least-seen film of the Oscar-winning director's entire career. The succulent Sydne Rome stars as an oft-naked American girl lost inside a Mediterranean villa inhabited by priests, pianists, perverts and a pimp (a deliciously bizarre performance by Marcello Mastroianni) while indulging in madcap acts that even include ping-pong. Hugh Griffith (Tom Jones), Romolo Valli (Boccaccio 70) and Polanski himself co-star in this surreal and sexy comedy, now finally restored to its original running time from a vault print reportedly stolen from the wine cellar of producer Carlo Ponti!

Special Features:Featurette: Sydne In Wonderland - Interview With Star Sydne RomeFeaturette: Memories Of A Young Pianist - Interview With Composer Claudio GizziFeaturette: A Surreal Pop Movie - Interview With Cinematographer Marcello GattiTheatrical Trailer
Pets
Raphael Nussbaum
Bonnie is a beautiful young girl who ran away from home to Los Angeles, only to meet up with a strange rich playboy art collector Victor Stackman. Victor collects painting, statue, and even live exotic animals. Bonnie doesn't know that Victor wants her as one of his collections! Based on a play by Richard Riech and directed by Raphael Nussbaum, PETS is one of those lost drive-in films that will likely gain a cult following in 2009. Starring drive-in star Candice Rialson star of HOLLYWOOD BOULEVARD, Ed Bishop of TV's UFO, and Joan Blackman of TV's PEYTON PLACE.
Sugar Cookies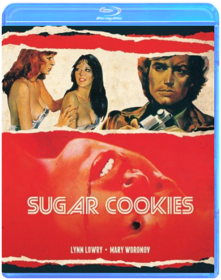 Theodore Gershuny
Lynn Lowry (Shivers, The Crazies, Score) and Mary Woronov (Death Race 2000, Eating Raoul) star in one of the most unique psychological thrillers of the 70s, Theodore Gershuny's SUGAR COOKIES.

After the mysterious death of erotic film actress Alta (Lynn Lowry) while in the company of sleazy sex-film producer Max (George Shannon), her manipulative agent Camilla (Mary Woronov) begins searching for a 'perfect replacement.' After discovering a young, aspiring actress, Julie (also Lynn Lowry), Camilla and Max slowly groom her into a mirror image of Alta, but as Julie begins to become more aware of the sinister motives of her new caretakers, she also starts fearing for her own life.

Written and produced by Lloyd Kaufman (The Toxic Avenger), SUGAR COOKIES is a blisteringly erotic Hitchcockian thriller from New York's outrageous underground film scene. Featuring Andy Warhol regular Ondine and Monique van Vooren (Flesh for Frankenstein), as well as an early appearance from sexploitation superstar Jennifer Welles, Vinegar Syndrome is proud to present this forgotten gem of early 70's exploitation cinema newly restored in 4K from its original camera negative and on blu-ray for the very first time.

Director: Theodore Gershuny
91 minutes / 1971 / Color / 1.85:1

Bonus Features:
1. New 4K Restoration from the 35mm Camera Negative
2. New video interview with Writer & Producer, Lloyd Kaufman
3. New video interview with Star Lynn Lowry
4. Interview with Star Mary Woronov
5. Original Theatrical Trailers
Fugitive Girls
Stephen C. Apostolof
Vinegar Syndrome specializes in the masterful restoration and distribution of cult, horror, and erotic films from the 1960s-90s.

Vinegar Syndrome proudly presents AC Stephen's FUGITIVE GIRLS, the fourth release in our Limited Edition Sexploitation Signature Series. This Blu-ray/DVD combo is strictly limited to 2,500 units.

Beautiful Sheila (Donna Young) is implicated in a fatal liquor store shooting committed by her boyfriend. Sent to an all-female work camp, she quickly finds herself at the mercy of four other violent and lust crazed prisoners who force her into their daring escape plan. Once on the outside, the five fugitives embark on a brutal and sex filled rampage across the countryside, while making their way to a mystery site rumored to have a buried suitcase full of money!

Director AC Stephen's most accomplished film, FUGITIVE GIRLS is a quick paced hybrid of action and sexploitation, which co-stars the beautiful Rene Bond and Tallie Cochran, and featuring a typically jaw-dropping screenplay from Ed Wood (who also appears in the film!). Long available only in poor quality bootlegs or heavily censored versions, Vinegar Syndrome brings this drive-in classic to Blu-ray totally uncut and uncensored and newly restored from its camera negative.

Bonus Features:
1. Newly scanned and restored in 2k from the 35mm original camera negative
2. Limited Edition of 2,500 units
3. Commentary track with: Frank Henenlotter (Exploitation filmmaker) and Rudolph Grey (Ed Wood biographer)
4. Archival audio interview with Tallie Cochrane (actress), moderated by Casey Scott
5. Original theatrical trailer
6. Original promo trailer
7. English SDH Subtitles
Score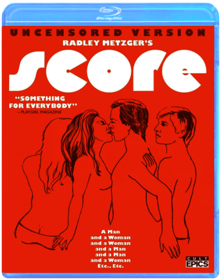 Radley Metzger
Having explored heterosexual obsessions in the critically acclaimed "Camille 2000" and "The Lickerish Quartet", erotic cult director Radley Metzger goes all the way in "SCORE," a tale of a happily married swinging couple (Claire Wilbur and Gerald Grant),
The Beast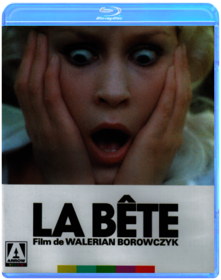 Walerian Borowczyk
THE BEAST

Once upon a time in the 18th century a beast lived in the woods of an aristocratic estate. And this beast, possessed of a giant phallus and an insatiable lust, set upon the beautiful young lady of the house. Two centuries later, the tale of the beast would return in the dreams of an American heiress contracted to carry the male descendant of the same crumbling aristocratic family and their secret.
Dolemite
D'Urville Martin
Dolemite (Rudy Ray Moore), the baddest pimp in town, has just been released from prison, ready to take revenge on notorious gangster Willie Green (D'Urville Martin), who set him up on a phony drug charge and stole his club, The Total Experience.

With the help of his friend Queen Bee (Lady Reed) and their band of Kung Fu fighting vixens, Dolemite takes on every "rat soup eatin' motherf#%*er" in South Central.

Acclaimed comedian Rudy Ray Moore's outrageously funny and action packed blaxploitation classic makes its worldwide blu-ray debut, fully restored in 2k from a recently discovered 35mm negative and loaded with extras, including a new making-of documentary by Elijah Drenner and a historical commentary track from Moore's biographer Mark Murray, featuring interviews with Moore as well as co-stars Jerry Jones, Lady Reed, John Kerry, cinematographer Nick Von Sternberg and more!

Bonus Features:
1. Scanned & restored in 2k from 35mm negative
2. "I, Dolemite" making-of documentary
3. "Lady Reed Uncut" featurette
4. "Locations: Then & Now" featurette
5. Multiple framing options: the intended 1.85:1 widescreen version & an alternate full frame "boom mic" version
6. Historical commentary track by Rudy Ray Moore's biographer, Mark Jason Murray
7. Original theatrical trailer for both DOLEMITE & THE HUMAN TORNADO
8. Original cover artwork by Jay Shaw
9. Reversible cover artwork
10. English SDH Subtitles
The Hot Nights of Linda
Jess Franco
When writer/director Jess Franco died in April 2013, cinema lost its legendary master of Euro-Cult. Now in memory of his extraordinary 50+ year career, Severin is proud to present one of his most notorious slabs of uber-sleaze: Alice Arno (of JUSTINE DE SADE fame) stars as a secretary sent to the seaside estate of a depraved millionaire, his nymphomaniac daughter (Franco's beloved muse Lina Romay), her invalid cousin (Catherine Lafferiere of EXORCISM) and their grunting houseboy. But when her day's work ends, a nightmare of depraved new duties will begin! Paul Muller (BARBED WIRE DOLLS) co-stars in this Uncle Jess jaw-dropper packed with incest, lesbianism, sadism and murder, restored from a 35mm print discovered in a Barcelona bordello, loaded with Bonus Features and presented in high definition for the first time ever in America! Bonus Features: Hot Nights - Exclusive Interview with director Jess Franco; Jess and Lina talk LINDA - Exclusive Interview with Director Jess Franco and Star Lina Romay; Fantasticfest Lifetime Achievement Award Presentation to Jess Franco; NIGHTMARE USA/BEYOND TERROR Author Stephen Thrower on LINDA; Out-takes; Trailer
The Image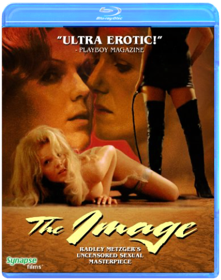 Radley Metzger
From highly acclaimed director Radley Metzger, The Image (aka The Punishment of Anne / The Mistress And The Slave) is a fascinating study of the sadomasochistic relationship between a man, a young girl, and an older woman. Jean (Carl Parker, Score), meets his old friend Claire (Marilyn Roberts) at a party and is introduced to the young, seductive Anne (Mary Mendum). Jean discovers the two women have a master/slave relationship and gets seduced into their perverse sexual games. Based on the classic novel "L'Image" from Catherine Robbe-Grillet (under the pseudonym of Jean de Berg), this masterpiece of cinema is hailed by critics as one of the best erotic films ever made. Beautifully photographed with highly explicit imagery and provocative situations, The Image will titillate, arouse and shock you like no other film you've ever seen. Newly remastered in high definition and created directly from the original 35mm camera negative, this version of The Image is presented uncut and uncensored with a newly remixed 5.1 surround soundtrack.
Thundercrack!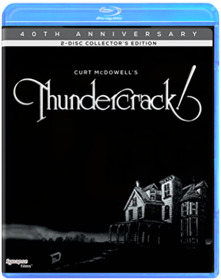 Curt McDowell
YEARS IN THE MAKING! THE HIGHLY-ANTICIPATED RESTORATION OF THE UNDERGROUND FILM CLASSIC THUNDERCRACK! WILL FINALLY BE UNLEASHED TO THE PUBLIC!

Witness if you dare... THUNDERCRACK!... the world's only underground kinky art horror film. With the initial setup of an atmospheric gothic tale a dark and stormy night breakdown featuring a creepy old house on the hill it quickly turns eerie and different. A tour de force of underground filmmaking with a plot beyond description, this film fully exposes itself with amazing dialogue and trash-noir lighting through which to peer at the pickles, the puke and the polymorphs.

In 1975, Curt McDowell and writer/actor George Kuchar created the utterly brilliant THUNDERCRACK!, a film not recommended for those with tender sensibilities. A true cult classic that has shocked, excited and amazed audiences worldwide for 40 years, this presentation is the first ever official North American video release!

Special Features:Rare archival interview segments with director Curt McDowell presented as audio commentaryBLU-RAY EXCLUSIVE Bonus Feature - IT CAME FROM KUCHAR (87 minutes): Directed by Jennifer Kroot, documentary about the twin underground filmmakers George and Mike KucharBLU-RAY EXCLUSIVE: An additional BONUS DVD loaded with fun additional extras! Rare interviews, short films, THUNDERCRACK! audition footage, outtakes and MORE!
Obsession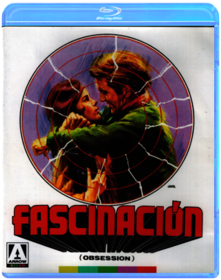 Brian De Palma
United Kingdom released, Blu-Ray/Region A/B/C : it WILL NOT play on regular DVD player. You need Blu-Ray DVD player to view this Blu-Ray DVD: LANGUAGES: English ( Dolby Digital 5.1 ), English ( Dolby Linear PCM ), English ( DTS-HD Master Audio ), English ( Mono ), English ( Subtitles ), WIDESCREEN (2.35:1), SPECIAL FEATURES: Booklet, Cast/Crew Interview(s), Documentary, Featurette, Interactive Menu, Scene Access, Short Film, Special Edition, Trailer(s), SYNOPSIS: High melodrama, creeping insanity and barely contained delirium abound in this dizzying tribute to the high tension thrillers of Alfred Hitchcock from director Brian De Palma (Carrie, Scarface, Dressed to Kill). Michael Courtland is a Southern gentleman who seems to have everything - A successful business, a beautiful wife and an adoring young daughter - until a botched kidnapping tears his world apart leaving him widowed, bereaved and bereft. Years later on a trip to Italy, he meets a woman with an uncanny resemblance to his late wife but all is not how it appears as a twisted conspiracy threatens to unhinge his mental shackles, sending him to the knife edge of MADNESS! A master class in mounting unease and clammy palmed claustrophobia, Obsession is a classic 70s thriller with an evil twist that will leave you speechless. SCREENED/AWARDED AT: Oscar Academy Awards, ...Obsession ( 1976 )
The Witch Who Came From the Sea
Matt Cimber
MOLLY REALLY KNOWS HOW TO CUT MEN DOWN TO SIZE!!!

Representing something of an anomaly in the career of director Matt Cimber (whose other credits include such blaxploitation fare as The Candy Tangerine Man) The Witch Who Came from the Sea is an unnerving journey into madness and murder starring Millie Perkins (The Diary of Anne Frank).

Molly (Perkins) experiences violent fantasies in which she ties muscular men up before bloodily dispatching them with a razor. But when a news report announces the shocking double-murder of two football players which strongly echoes one of Molly s most recent depraved flights of fancy, the fantasy starts to bleed into reality literally.

Written by Perkins late husband Robert Thom (Death Race 2000), The Witch Who Came from the Sea features early cinematography from DOP Dean Cundey, who would go on to expand his genre credentials with his work on Escape from New York and The Thing.

DIRECTOR-APPROVED SPECIAL EDITION CONTENTS 2K restoration from original vault materialsHigh Definition Blu-ray presentationOriginal Mono AudioEnglish subtitles for the deaf and hard of hearingIntroduction to the film by Nightmare USA author Stephen ThrowerAudio commentary with producer-director Matt Cimber, actress Millie Perkins and director of photography Dean CundeyTides and Nightmares brand new making-of documentary featuring interviews with Cimber, Perkins, Cundey and actor John GoffA Maiden s Voyage archive featurette comprising interviews with Cimber, Perkins and CundeyLost at Sea director Cimber reflects on his notorious cult classicReversible sleeve featuring original and newly-commissioned artwork by The Twins of Evil
Alex deRenzy's Babyface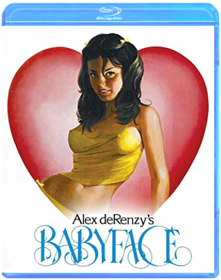 Alex deRenzy
Priscilla is a tease, flirting with every man she meets. When her mother catches her with Dan, a dockhand, Priscilla accuses the man of attacking her, resulting in a shoot out from which he's left for dead. However, Dan is quickly rescued by two women, who put him to work at an all male brothel with an exclusively female clientele. Becoming fast friends with the other 'studs', Dan soon finds a new home, that is, until he's warned about the notorious 'nutcracker'.

Acclaimed filmmaker Alex deRenzy's dark social satire, BABYFACE, remains one of the director's most controversial and often censored films. Featuring an all star cast, including Amber Hunt and Paul Thomas, as well as a haunting performance from Molly Seagrim, Vinegar Syndrome brings this landmark film to Blu-ray, fully uncut and restored from long lost 35mm vault elements.

Bonus Features:
1. Scanned and restored in 2k from 35mm vault elements
2. Extensive audio interview with actress Molly Seagrim
3. "Parochial Passion Princess" a short film by Alex deRenzy
4. Reversible cover artwork
Sex World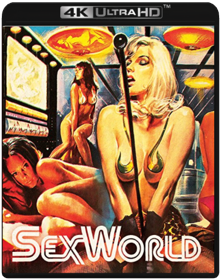 Anthony Spinelli
Suspiria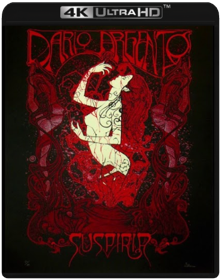 Dario Argento
Quick Shipping !!! New And Sealed !!! This Disc WILL NOT play on standard US DVD player. A multi-region PAL/NTSC DVD player is request to view it in USA/Canada. Please Review Description.
The Pretty Peaches Trilogy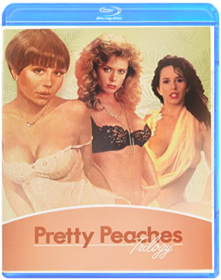 Alex DeRenzy
This is a region free 2-disc Blu-ray set. Master of underground cinema, Alex DeRenzy, created a classic with his 1978 film, PRETTY PEACHES. A decade later, he made two sequels, each with its own unique take on 'Peaches.' Now, enjoy all three films in the trilogy fully uncut, uncensored, widescreen and restored on Blu-ray for the first time!

PRETTY PEACHES:
After attending her father's wedding, Peaches crashes her jeep in the forest only to wake up with complete amnesia. She is quickly rescued by two manipulative men who hope to sell her back to her family for a hefty ransom. Alex deRenzy's acclaimed classic stars Desiree Cousteau and Juliet Anderson in their screen debut, along with Joey Silvera, John Leslie, and Paul Thomas.

PRETTY PEACHES 2:
Young Peaches is curious about sex. Her boyfriend can't teach her and her mother won't so, on the advice of her father, she hits the road to visit crazy uncle Howard and his most peculiar family...

PRETTY PEACHES 3:
Peaches is feeling that her life in the trailer park is empty. On the advice of her lesbian doctor, she travels to San Francisco seeking spiritual enlightenment but soon finds herself engulfed in the bizarre world of a sex obsessed traveling Evangelist.
Stay As You Are
Alberto Lattuada
STAY AS YOU ARE directed by Alberto Lattuada, is an erotic drama about the impossible love between an older man and a young girl. It tells the controversial story of an architect, Roué Giulio Marengo (Marcello Mastroianni), who is unhappy in his marriage, and starts a romance with the young and beautiful girl Florentine (Nastassja Kinski.) When he finds out thru his wife that she may be his daughter, he has to make a decision.

STAY AS YOU ARE (original title COSI COME SEI) was the first major film for Nastassja Kinski, one year before her breakthrough with Polanski's Tess. Cult Epics is proud to present for the first time ever on Blu-ray STAY AS YOU ARE, an unforgettable classic. Featuring an original Score by Ennio Morricone.

Special Features:Original Motion Picture SoundtrackTrailersOptional English language or Italian language with English subtitles
Taboo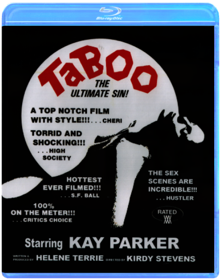 Kirdy Stevens
Two Female Spies with Flowered Panties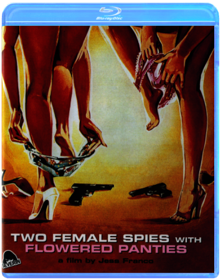 Jess Franco
In this long-unseen shocker from "one of filmdom's most provocative creators" (The A.V. Club), the legendary Jess Franco (VAMPYROS LESBOS) pushes the limits of psycho-insanity like never before: Lina Romay (BARBED WIRE DOLLS) and Lynn Monteil (of Jean Rollin's ZOMBIE LAKE and Franco's SADOMANIA) star as a pair strippers released from prison to work undercover for the U.S. government. What follows is a deranged mélange of audacious international politics that will leave even the most obsessive Franco fanatics slack-jawed in astonishment. Olivier Mathot (CANNIBAL TERROR), Joëlle Le Quément (WOMEN BEHIND BARS) and Claude Boisson (DEVIL HUNTER) co-star in this Euro-rarity, now restored uncut in HD and loaded with exclusive Bonus Materials from the Franco archives.

Special Features:Bonus DVD Disc, Opalo de Fuego Included!Two Cats In The Canaries: An Interview With Director Jess FrancoFilmmaker Donald Farmer Interviews Longtime Franco Composer Daniel WhiteStephen Thrower On TWO FEMALE SPIESLocation Out-takesTheatrical Trailer
Double Exposure
William Byron Hillman
Vinegar Syndrome specializes in the masterful restoration and distribution of cult, horror, and erotic films from the 1960s-90s.

Michael Callan stars as Adrian Wilde, a prolific photographer whose specialty is shooting nude models for men's magazines. His life starts to unravel when he begins to experience strange and almost lifelike dreams in which he murders the very women he's been photographing. What's more is that he soon discovers that they might not be dreams after all. Has he started to lose touch with reality; is he a calculated killer attempting to create an unbelievable alibi; or is something much more sinister and deadly afoot...

Co-starring Joanna Pettet (Welcome to Arrow Beach) and Seymour Cassel (Killing of a Chinese Bookie), and featuring atmospheric, scope photography by R. Michael Stringer, DOUBLE EXPOSURE is a slick and suspenseful psychological mystery fused with slasher and giallo elements. Inspired by director William Bryon Hillman's 1974 film, The Photographer, but taking a much darker and more violent approach, Vinegar Syndrome brings this distinctly original horror obscurity to Blu-ray, newly restored from its original 35mm camera negative.

Bonus Features:
1. Newly scanned and restored in 2k from 35mm original camera negative
2. Commentary track with Director William Byron Hillman
3. "Exposing Double Exposure" Interview with Cinematographer R. Michael Stringer
4. "Staying on Task" Interview with Script Supervisor Sally Stringer
5. Isolated score by Composer Jack Goga
6. Original theatrical trailer
7. Promotional still gallery
8. Reversible cover artwork by Derek Gabryszak
9. English SDH Subtitles
Liquid Sky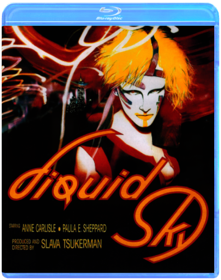 Slava Tsukerman
Item is brand new & sealed.
Screwballs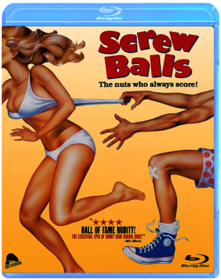 Rafal Zielinski, Roger Corman
THE RAUNCHIEST 80s SEX COMEDY OF THEM ALL

Now On DVD For The First Time Ever!

When legendary exploitation king Roger Corman decided to release the ultimate horny teen comedy, he delivered the most outrageous and hilarious boobs-and-balls epic of the decade! Welcome to Taft & Adams High, where the entire student body including campus virgin Purity Busch, chronic masturbator Melvin Jerkovski, repressed Principal
Stuckoff and blonde bombshell Bootsie Goodhead all must rise to the challenges of freshman breast exams, bikini cheerleader attacks, inappropriate uses of bowling ball holes and much more. Co-screenwriter Linda Shayne, Nanci Chambers of JAG, and Russ Meyer bosom goddess Raven DeLaCroix co-star in this infamous drive-in smash, now loaded with exclusive new Bonus Features that take you deep inside the skin-tastic classic that DVD Talk says makes PORKY S look like Proust!

EXTRAS:
Audio Commentary with Director Rafal Zielinski
CAST & CREW INTERVIEWS: Director Rafal Zielinski, Co-Writers Linda Shayne & Jim Wynorski, Star Kent Deuters and Special FX Artist Gerald Lukaniuk
Interview with Canuxsploitation Scholar Paul Corupe
Mr. Skin Talks Sex Comedies of the '80s
Deleted Scenes
Theatrical Trailer
The Perils of Gwendoline in the Land of the Yik-Yak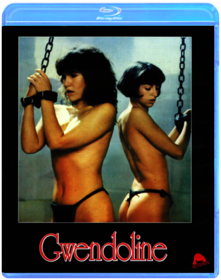 Just Jaeckin
BASED ON THE KINKY COMICS THAT SHOCKED THE WORLD - UNCUT, UNCENSORED & UNRATED FOR THE FIRST TIME EVER IN AMERICA!

Video vixen Tawny Kitaen made her movie debut as the virgin adventuress on a provocative odyssey to find her lost father. But even if she can endure the scorching torment of the desert and steamy hungers of the jungle, will she survive her final ordeal at the hands - and more - of the warrior women of Yik Yak?

Brent Huff and French sex kitten Zabou co-star in this erotic cult classic directed by Just Jaeckin (EMMANUELLE, THE STORY OF O), now fully restored from French vault materials and featuring scenes never-before-seen in America!
Threads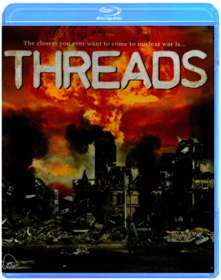 Mick Jackson
Limited Edition of Only 3500 with a Lenticular Cover

The Movie That Shook the World Restored In HD For The First Time Ever.

In September 1984, THREADS was aired on the BBC and shocked tens of millions of UK viewers. Four months later, it was broadcast in America and became the most watched basic cable program in history. After more than three decades, it remains one of the most acclaimed and shattering made–for–television movies of all time. Reece Dinsdale (Coronation Street), David Brierly (Doctor Who) and Karen Meagher, in a stunning debut performance star in this "graphic and haunting" (People Magazine) docudrama about the effects of a nuclear attack on the working –class city of Sheffield, England as the fabric of society unravels. Directed by Mick Jackson (THE BODYGUARD, TUESDAYS WITH MORRIE) from a screenplay by novelist/playwright Barry Hines (Ken Loach s KES) and nominated for seven BAFTA Awards, "The most terrifying and honest portrayal of nuclear war ever filmed" (The Guardian) has now been fully restored from a 2K scan for the first time ever.

SPECIAL FEATURES:

Audio Commentary with Director Mick Jackson, Moderated by Film Writer Kier–La Janisse and Severin Films' David Gregory
Audition For the Apocalypse: Interview with Actress, Karen Meagher
Shooting the Annihilation: Interview with Director of Photography, Andrew Dunn
Destruction Designer: Interview with Production Designer, Christopher Robilliard
Interview with Film Writer, Stephen Thrower
US Trailer
Miranda
Tinto Brass
While waiting years for her MIA husband to return, Miranda continues to manage their pension in a serene country village. Into this picture enter a bartender, and old fascist council, a young truck driver, and an American ex-soldier, who all soon come to be Miranda's admirers. Serena Grandi, for playing the lead role in this wildly popular film, was voted the sexiest woman in Italy. An erotic comedy that followed Tinto Brass' Caligula and The Key.

SPECIAL DVD FEATURES
- Exclusive 10 minute Interview with director Tinto Brass
- Photo gallery
- Trailers
- Filmographies
- Scene selection
- Widescreen - Enhanced for 16x9
- Dual layer
Sex Murder Art: The Films of Jorg Buttgereit
Jorg Buttgereit
Cult Epics presents Sex Murder Art: The Films of Jorg Buttgereit, a collection of his four horror underground films; the necrophilia classics Nekromantik & Nekromantik 2, the death and suicide anthology Der Todesking (The Death King) and the premiere of the serial killer film Schramm on Blu-ray. Includes exclusive Soundtrack CD's of the films and a 40-page booklet containing interviews and photos with Jorg Buttgereit and collaborators. Fully Uncut & Uncensored versions.

Special Features:New Director's Approved HD TransfersTwo versions of NekromantikExclusive Introductions for each film by Jorg ButtgreitQ&A with Jorg ButtgereitAudio CommentariesThe Making OfsFeaturettesStill Photo GalleriesJorg Buttgereit TrailersDocumentary: Corpse F*****g ArtShort films: Hot Love, A Moment of Silence at the Grave of Ed Gein, Horror Heaven, Bloody Excess in the Leaders Bunker, My FatherMusic Video: Half Girl by Jorg ButtgereitOriginal Motion Picture SoundtracksLive Concert of Nekromantik 2BD Exclusive new art design by Silver FeroxExclusive CD Soundtrack of Nekromantik & Der TodeskingExclusive CD 2 Soundtrack of Nekromantik 2 & SchrammBD Exclusive 40-page perfect-bind booklet with Interviews & exclusive photos
Love Rites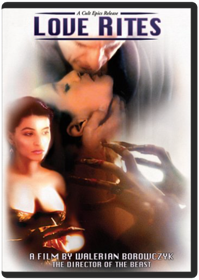 Walerian Borowczyk
The last film by the great Walerian Borowczyk, about the terrors of seduction. When Hugo (Mathieu Carriere) meets Myriam (Marino Pierro), a prostitute who picks up her clients on the Paris Metro, he soon becomes obsessed with her sultry beauty and follows her to a flat owned by the mysterious Sara Sand, where he consumates his passion. Suddenly he finds the rules of the game have changed as Myriam is now in charge of hs body and his soul. A macabre love poem from the Director of "The Beast" and Immoral Tales".

Extras:
Includes Two Versions of the Film:
Side A The Director's Cut
Side B The Complete Version
Photo Gallery
Liner Notes
Stormy Monday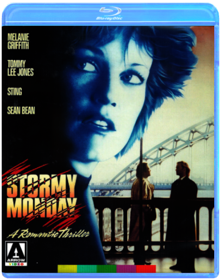 Mike Figgis
In 1988, Mike Figgis (Internal Affairs, Leaving Las Vegas) made his feature directorial debut with Stormy Monday, a taut, noir-influenced gangster movie that drew on his key formative influences, including his youth in the Newcastle of the late '50s and early '60s, and the city's vibrant jazz scene.

Sean Bean (Ronin) plays Brendan, a young loafer taken under the wing of jazz club owner Finney (Sting, Quadrophenia), who's under pressure from American mobster Cosmo (Tommy Lee Jones, The Fugitive) to sell up in exchange for a cut of a local land development deal. Brendan just wants to earn an honest crust, but his burgeoning relationship with Cosmo's ex-lover Kate (Melanie Griffith, Body Double) threatens to drag him into the middle of the impending showdown…

A romantic crime thriller with genuine heart, Stormy Monday features striking, rain-drenched cinematography by 13 time Academy Award Nominee Roger Deakins (The Big Lebowski, No Country for Old Men) and a seductive jazz score provided by the director himself. Presented here for the first time in high definition in the US, there has never been a better time to discover one of this iconic filmmaker's most assured and uniquely haunting efforts.

SPECIAL EDITION CONTENTS High Definition Blu-ray (1080p) and Standard Definition DVD presentationsOriginal stereo audio (uncompressed on the Blu-ray Disc)Optional English subtitles for the deaf and hard of hearingAudio commentary with Mike Figgis, moderated by critic Damon WiseNew video appreciation by critic Neil Young, and a ''then and now'' tour of the film's Newcastle locationsTheatrical trailerReversible sleeve featuring original and newly commissioned artwork by JaceyFIRST PRESSING ONLY: Booklet featuring new writing by critic Mark Cunliffe
Society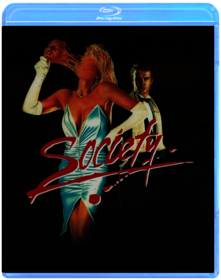 Brian Yuzna
IT IS A MATTER OF GOOD BREEDING. REALLY.

After producing Stuart Gordon's hit Re-Animator, Brian Yuzna (Bride of Re-Animator, Return of the Living Dead III) turned his hand to directing with 1989's Society, and gave birth to one of the ickiest, most original body horror shockers of all time.

Teenager Bill Whitney (Billy Warlock) has always felt like the odd one out in his wealthy, upper-class Beverly Hills family. For some reason, he just doesn't seem to fit in. But his sense of alienation takes a sinister turn when he hears an audio recording of his sister's coming-out party, which seems to implicate his family and others in a bizarre, ritualistic orgy. And then there are the strange things he's been seeing - glimpses of people with their bodies contorted impossibly out of shape... Is Bill going mad or is there something seriously amiss in his neighborhood?

Packing stomach-churning grue and thought-provoking social commentary in equal measure, Society is a biting horror satire which culminates in one of the most gag-inducing "climaxes"' in all of horror history.

DIRECTOR-APPROVED CONTENTS: Newly remastered 2K digital transfer of the film, approved by director Brian YuznaHigh Definition Blu-ray (1080p) and Standard Definition DVD presentationOriginal Stereo 2.0 audio (uncompressed PCM on the Blu-ray)Optional English SDH subtitles for the deaf and hard of hearingBrand new audio commentary by YuznaGovernor of Society a brand new interview with YuznaThe Masters of the Hunt a brand new featurette including interviews with stars Billy Warlock, Devin DeVasquez, Ben Meyerson and Tim BartellThe Champion of the Shunt new featurette with FX artists Screaming Mad George, David Grasso and Nick Benson2014 Q&A with Yuzna, recorded at Celluloid Screams FestivalBrian Yuzna in conversation backstage at the Society world premierePersecution Mania Screaming Mad George music videoReversible sleeve featuring original and newly-commissioned artwork by Nick PercivalCollector s booklet featuring new writing on the film by critic Alan Jones, illustrated with original archive stills and posters
Frankenhooker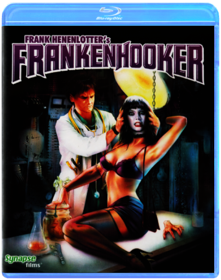 Frank Henenlotter
A New Jersey mad doctor rebuilds his girlfriend with body parts from exploded hookers.
The Flesh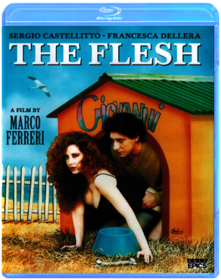 Marco Ferreri
THE FLESH (La Carne) is a romantic black comedy about a divorced piano player named Paolo (Sergio Castellitto) who meets and falls in love with a most beauteously busty woman (bombshell Francesca Dellera), who uses her special powers to turn the man into her slave. The film depicts the oftentimes torturous nature of desire and the power of women in a cinematic work where Francesca becomes a symbolic representation of male desire, with her voluptuous figure and sex appeal being intoxicating to Paolo. While he is completely taken by his desire for Francesca, she eventually gets bored with him and decides to leave. Unfortunately for Francesca, Paolo loves her and has no intention of allowing her to go.

Francesca Dellera was once named in real-life, "the most beautiful woman in the world." She began her career with Tinto Brass' Capriccio, but it was not until her role in La Carne, when premiered at Cannes, that she received international acclaim. Directed by Italian maestro Marco Ferreri, who is best known for such classics as Tales of Ordinary Madness and Le Grand Bouffe, THE FLESH is presented by Cult Epics for the first time in High-definition with exclusive bonus features and a limited edition slipcase with newly commissioned art by Gilles Vranckx.

Special Features:New HD Transfer (from original 35mm film)Behind the Scenes of The FleshInterview with Marco Ferreri, Francesca Dellera & Sergio CastellittoCannes Film Festival 1991Original Theatrical TrailerThe Flesh Lobby Cards photo galleryOriginal art & Slipcase with newly commissioned artwork by Gilles Vranckx - limited to first 3000 copies
Paprika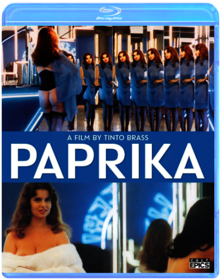 Tinto Brass
A young country girl (voluptuous Deborah Caprioglio) comes to town and takes a job in a brothel in order to help her fiancée get the money to start his own business. In her new found work of pleasure, the innocent girl's life slowly turns into sleaze and degradation and she becomes a professional prostitute named Paprika, a nick-name given to her by the madam of the establishment.
Tinto Brass personal and faithful adaptation of John Cleland's Fanny Hill, is a sexy comedy from the 90s, at the height of his erotic career. Cult Epics presents the US premiere of PAPRIKA in a new High-definition transfer, Uncut and Uncensored version for the first time on Blu-ray & DVD with a newly produced Featurette among other bonus features. Original Score by Riz Ortolani (Cannibal Holocaust, Django Unchained).

Special Features:New Restored High-definition TransferHD TrailersLobby Card Video Gallery
Jack Frost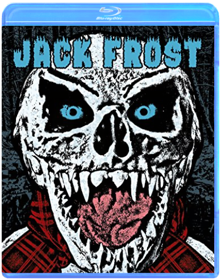 Michael Cooney
On his way to be executed, the vehicle containing notorious serial killer Jack Frost collides with a hazardous chemical truck, turning Jack into a snow covered mutant and unleashing him on the unsuspecting town of Snomonton, 'The Snowman Capitol of the Midwest'. Jack immediately takes advantage of his newfound freedom and blizzardy abilities to seek revenge on the bungling Sheriff, played by Christopher Allport (TO LIVE AND DIE IN L.A.), that accidentally ended his cross-country killing spree. On his way to the Sheriff, Jack terrorizes the snow-man themed town and murders its residents in a variety of winterized ways. Can the residents of Snomonton fight back against the psychopath snowman from Hell or will they all end up in a snow-covered grave?

Co-starring the beautiful Shannon Elizabeth (AMERICAN PIE) in one of her most infamous and revealing roles, and featuring colorful cinematography by Dean Lent (BORDER RADIO), director Michael Cooney's staple of video stores and late night TV, is a gleefully gory horror comedy and is coming to Blu-ray for the first time, fully restored in 2k from Vinegar Syndrome.

Bonus Features:
1. Scanned and restored in 2k from 35mm vault elements
2. Commentary track with Director Michael Cooney
3. Video introduction from Director Michael Cooney
4. Video interview with Lead Actor Scott MacDonald
5. Video interview with Director of Photography Dean Lent
6. 5.1 DTS-HD Surround Sound
7. Cover artwork by Chris Garofalo
8. Reversible cover art
9. English SHD Subtitles
Pig / 1334
Rozz Williams, Nico B.
Pig (1998) - When this film was made it became the inspiration of a new genre: torture film. Involves graphic violence with no use of special effects. 1334 (2011) - 13 years later a follow up was made, an underground ghost story which is based on true occurrences. 1334 is an apocalyptic vision of what is there after death.
Cheeky!
Tinto Brass
Will you be able to endure the sexy hilarity as Carla visits London? She's a big hit with everyone except her boyfriend Matteo, who seethes with jealousy. With her skimpy skirt conveniently blowing in the wind, Carla attracts the attention of one and all. As she is having adventures with her real-estate agent Moira and Moira's ex-husband Marion, Matteo jets over to put her in line. But finding himself surrounded by free-lovers in Hyde Park who remind him of his dalliances, he soon mends his ways.
The Happiness of the Katakuris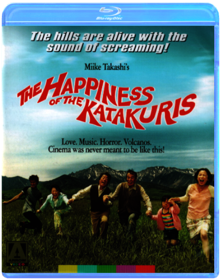 Takashi Miike
From Takashi Miike, the prolific director of such shocking hits including Audition and Ichi the Killer comes "The Sound of Music meets Dawn of the Dead"!

The Katakuris are a family trying to run a peaceful country inn but with a lack of guests there is much excitement for their first visitor, until they wind up dead! As each guest in turn dies in strange circumstances the family agree to hide the bodies but will the coverups come back to haunt them...

In The Happiness of the Katakuris scenes of grotesque stop motion animation, surreal musical numbers and zombies combine to make one of the finest horror-comedies ever made.
Pulse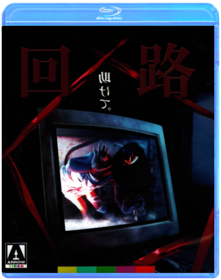 Kiyoshi Kurosawa
Award-winning filmmaker Kiyoshi Kurosawa delivered one of the finest entries in the "J-Horror" cycle of films with this moody and spiritually terrifying film that delivers existential dread along with its frights. Setting his story in the burgeoning internet and social media scene in Japan, Kurosawa's dark and apocalyptic film foretells how technology will only serve to isolate us as it grows more important to our lives.

A group of young people in Tokyo begin to experience strange phenomena involving missing co-workers and friends, technological breakdown, and a mysterious website which asks the compelling question, "Do you want to meet a ghost?" After the unexpected suicides of several friends, three strangers set out to explore a city which is growing more empty by the day, and to solve the mystery of what lies within a forbidden room in an abandoned construction site, mysteriously sealed shut with red packing tape.

Featuring haunting cinematography by Junichiro Hayashi (Ring, Dark Water), a dark and unsettling tone which lingers long after the movie is over, and an ahead-of-its-time story which anticipates 21st century disconnection and social media malaise, Pulse is one of the greatest and most terrifying achievements in modern Japanese horror, and a dark mirror for our contemporary digital world.

SPECIAL EDITION CONTENTS: High Definition digital transferHigh Definition Blu-ray (1080p) and Standard Definition DVD presentationsOriginal 5.1 audio (DTS-HD on the Blu-ray)New optional English subtitle translationNew interview with writer/director Kiyoshi KurosawaNew interview with cinematographer Junichiro HayashiThe Horror of Isolation: a new video appreciation featuring Adam Wingard & Simon Barrett (Blair Witch, You re Next)Archive Making of documentary, plus four archive behind-the-scenes featurettesPremiere footage from the Cannes Film FestivalCast and crew introductions from opening day screenings in TokyoTrailers and TV SpotsReversible sleeve featuring original and newly commissioned artwork by Tommy Pocket

FIRST PRESSING ONLY:Illustrated collector s booklet featuring new writing on the film by critic Chuck Stephens
Black Angel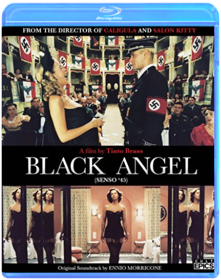 Tinto Brass
In 1945 Italy, Livia (stunning Anna Galiena), the bored wife of an Italian official, recalls the taboo affair she has been having with a much younger Nazi lieutenant (Gabriel Garko). The elation of her middle-aged sexual awakening is soon diminished when she discovers that her lover's intentions are far from honest. Ashamed and betrayed, she must make the difficult decision to resolve her devastating erotic entanglement. Tinto Brass reminds us why he is a master of his art. The lush and sentimental Ennio Morricone score beautifully complements the striking cinematography that contrasts the bliss of a woman's rediscovery with a society ravaged by war. This is Camillo Boito's 1882 novella Senso as only maestro-of-erotica Tinto Brass could tell it. Cult Epics is proud to release this contemporary classic drama on DVD for the first time in the US. Special Features: The Making Of Black Angel Backstage Promo Photo Video Gallery Motion Picture Soundtrack Theatrical Trailer
Private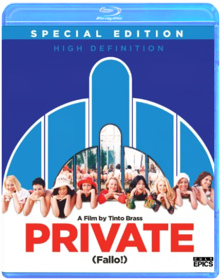 Tinto Brass
Six sexy stories of couples finding their joy in sharing with others! Directed by renowned filmmaker Tinto Brass, Private (aka DO IT) is an erotic comedy about erotically charged youthful couples who realize that nothing can bring them together as effectively as regular doses of fooling around.
Cult Epics presents the Special Edition; in new High-Definition including both the Italian language track and a newly mixed English language track.
Monamour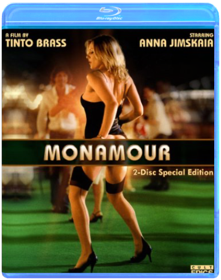 Tinto Brass
Tinto Brass' Monamour, is the love-story of a Venetian girl and a Frenchman in the beautiful city of Mantua. Dario, her husband is too busy to notice his wife's sexual drifting, when her adultery "born out of neglect and frustration" starts on the day she meets a tall dark stranger in a museum. An intoxicating mix of lies, betrayal and fantasy follows Marta into her personal diary where every emotion and passion is recorded.
Starring Anna Jimskaia and Max Parodi (Cheeky!), along with a line of stars of Tinto's previous erotic films. Now in high-definition, the film has never looked better!

Disc 2 includes the bonus film, Kick the Cock. "Kick the Cock" is an old Dutch saying; meaning "Peek in the Kitchen," or something shocking and extreme, exactly what we can expect of Tinto Brass; the director and co-star, along with newcomer Angelita Franco.
Kick the Cock premiered at the Venice Film Festival in 2008, and won "Best short film" at a Fetish Film Festival in Germany in 2009 and is now presented for the first time as a worldwide premiere on DVD and Blu-ray.

Special features include:
-New High-definition Master
-The Making of "Monamour" -The Making of "Kick the Cock"
-Comic strip by Franco Saudelli
-Venice Film Festival Premiere with Tinto Brass (Circuito Off 2008, Media Group TV)
-Spanish Dance by Angelita Franco -Trailers
Sin
Nico B.
From the Director of PIG and BETTIE PAGE DARK ANGEL comes the erotic, surreal, controversial film SIN. Three episodes, staged in the 1920-1940s, where each story tells the duality of a female protagonist; the belly/frolic dancer (with Angelita Franco of Tinto Brass Kick the Cock), the sculpture model versus the nun (with Caroline Pierce), the legless aristocrat and the nurse (with Dahlia Dark).

Inspired by early 19th century vintage erotica and surrealistic filmmaking, Nico B's exploration and discovery of the subliminal curse of destiny we call SIN. Super 8 silent film with a soundtrack by Claude Debussy. BD/DVD Combo Limited Edition features original Artwork and Booklet with Storyboards by artist Brian M. Viveros.

Special Features:New HD Transfer (from original Super 8 film)Nude Color Outtakes (HD)SIN Teasers (HD)Bonus: Super 8 short films by Nico B (HD)Booklet with original storyboard drawings by Brian M. Viveros (2005)
Sex in the Comics
Anthony Spinelli
Bibles, 8 pagers, or 'dirty' comic books? Well, we have all the answers in one of the weirdest, wildest, and most original sexploitation films ever created: SEX IN THE COMICS.

Take a visual journey through the history of adult cartoons, in this all-live oddity featuring Cyndee Summers, Rick Cassidy, Nina Fause, and many others! Learn the secrets of how the old 8-pagers came to be and witness live re-enactments of some of the craziest, funniest, and filthiest comic strips ever drawn.

Then, check out SEXTOONS: 80 minutes of erotic animation, from the 20s through the 70s, all of which you can be sure will never play on a Saturday morning! Lastly, enter THE FUNKY WORLD OF ADULT CARTOONS, where three friends witness a seemingly never-ending barrage of vintage adult cartoons.

Bonus Features:
1. Scanned & restored in 2k from 35mm and 16mm vault elements
2. Bonus feature: SEXTOONS (82 minutes)
3. Bonus feature: THE FUNKY WORLD OF ADULT CARTOONS (45 minutes)