Three Kings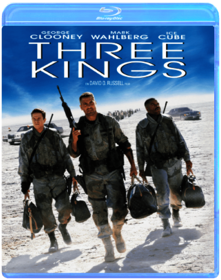 David O. Russell
Three Kings (BD)
I Heart Huckabees
David O. Russell
Dustin Hoffman and Lily Tomlin lead an all-star cast including Jude Law, Naomi Watts and Mark Walhberg in this outrageous comedy from director/co-writer David O. Russell (Three Kings). Kindhearted but confused activist Andrew Markovski hires a pair of screwball "existential detectives" (Hoffman and Tomlin) to help him find the meaning of life. All the while, a sexy, French author (Isabelle Huppert) is trying to throw a wrench in their plan by seducing andrew's mind and body.
The Fighter
David O. Russell
Academy Award® Nominees Mark Wahlberg (The Departed), Christian Bale (The Dark Knight) and Amy Adams (Doubt) star in this "remarkable" film*. Based on a true story, two brothers, against all the odds, come together to train for a historic title bout that has the power to reunite their fractured family and give their hard-luck town what it's been waiting for: pride. Micky Ward (Wahlberg) is a struggling boxer long overshadowed by his older brother and trainer, Dicky (Bale), a local legend battling his own demons. Their explosive relationship threatens to take them both down - but the bond of blood may be their only chance for redemption. *Joe Morgenstern, THE WALL STREET JOURNAL
American Hustle
David O. Russell
The con is one when scam artists and lovers Irving Rosenfeld (Christian Bale) and Sydney Prosser (Amy Adams) are entrapped by ambitious FBI agent Richie DiMaso (Bradley Cooper) and coerced into participating in a major sting operation which hinges on snaring politician Carmine Polito (Jeremy Renner) and his associates. Complicating matters is Irving's wife Rosalyn (Jennifer Lawrence), who could bring the whole operation crashing down around them all. From the director of Silver Linings Playbook and The Fighter, AMERICAN HUSTLE is outrageously entertaining and one of the most acclaimed films of the year.