300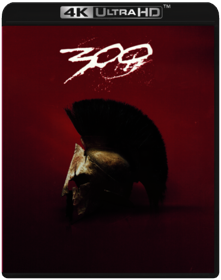 Zack Snyder
The epic graphic novel by Frank Miller (Sin City) assaults the screen with the blood, thunder and awe of its ferocious visual style faithfully recreated in an intense blend of live-action and CGI animation. Retelling the ancient Battle of Thermopylae, it depicts the titanic clash in which King Leonidas (Gerard Butler) and 300 Spartans fought to the death against Xerxes (Rodrigo Santoro) and his massive Persian army. Experience history at swordpoint. And moviemaking with a cutting edge.
Game of Thrones - Season 1
Tim Van Patten, Brian Kirk, Daniel Minahan, Alan Taylor
Game of Thrones: The Complete First Season (Digital Copy+BD)
Dredd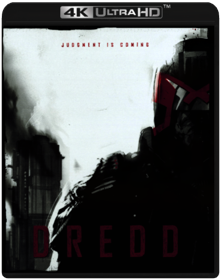 Pete Travis
Available for the first time on 4K Ultra HD Combo Pack comes the popular comic book character Judge Dredd, who is brought to life in this high-octane, sci-fi action movie starring Karl Urban.
Game of Thrones - Season 2
Alan Taylor, Alik Sakharov, David Petrarca, David Nutter, Neil Marshall
Based on the best-selling book series by George R.R. Martin, Game of Thrones is an epic drama set in the grounded fantasy continent of Westeros, where ambitious men and women of both honor and ill-repute live in a land where summers and winters can last years. Season 2 plays out against the backdrop of a fast-approaching winter – the season of the white raven. In King's Landing, the coveted Iron Throne is occupied by cruel young Joffrey, counseled by his conniving mother Cersei and uncle Tyrion, who has been appointed Hand of the King. But the Lannister hold on the Throne is under assault on many fronts. There's Robb Stark, son of the slain Lord of Winterfell, Ned Stark, who seeks autonomy in the North and has taken Cersei's brother Jaime prisoner in battle; Daenerys Targaryen, who looks to shore up her depleted power in the east through three newborn dragons; Stannis Baratheon, eldest brother of the late King Robert, who rejects Joffrey's legitimacy and aligns with a powerful priestess to raise a naval attack; and Stannis' brother Renly, who has maintained his own claim since fleeing King's Landing. In the meantime, a new leader is rising among the wildlings North of the Wall, adding new perils for Jon Snow and the order of the Night's Watch. With tensions and treaties, animosity and alliances, Season 2 of Game of Thrones is a thrilling journey through a riveting, unforgettable fictional landscape.

Note on Boxed Sets: During shipping, discs in boxed sets occasionally become dislodged without damage. Please examine and play these discs. If you are not completely satisfied, we'll refund or replace your purchase.

Note on Subtitles:

DVD Subtitles - English, French, Latin Spanish, Brazilian Portugese, Complex Chinese, Korean, and Thai.

Blu-ray Subtitles - English SDH, French, Latin Spanish, Castilian Spanish, Brazilian Portugese, Polish, Dutch, Danish, Finnish, Norwegian, and Swedish.
Game of Thrones - Season 3
Daniel Minahan, David Benioff, Alex Graves, Alik Sakharov, Michelle MacLaren, David Nutter
In the third season of the hit HBO drama series Game of Thrones, the Lannisters are barely holding onto power after a savage naval onslaught from Stannis Baratheon, while stirrings in the North threaten to alter the overall balance of power in Westeros. Robb Stark, King in the North, is facing major calamity in his efforts to build on his victories over the Lannisters while beyond the Wall, Mance Rayder and his huge army of wildlings continue their inexorable march south. Across the Narrow Sea, Daenerys Targaryen - reunited with her three fast-maturing dragons - attempts to raise an army to sail with her from Essos, in hopes of eventually claiming the Iron Throne.
Game of Thrones - Season 4
D. B. Weiss, Alex Graves, Michelle MacLaren, Alik Sakharov, Neil Marshall
Game of Thrones is one of HBO's signature series and a huge runaway hit for the network. This year, a plethora of compelling storylines will play out to their inevitable, and bloody, conclusions. As the season begins, encouraged by the Red Wedding slaughter in the Riverlands that wiped out many of their Stark nemeses, the Lannisters' hold on the Iron Throne remains intact … but can they survive their own egos as well as new and ongoing threats from the south, north and east? While an unbowed Stannis Baratheon continues to rebuild his army in Dragonstone, a more immediate danger comes from the south, as Oberyn Martell, the Lannister-loathing "Red Viper of Dorne," arrives at King's Landing to attend Joffrey's wedding to Margaery Tyrell, and perhaps act on an ulterior agenda. In the north, a depleted Night's Watch seems overmatched against the inexorable Wall advances of Mance Rayder's army of wildlings, which in turn is being trailed by an even more formidable foe: the undead White Walkers. If that's not enough, Daenerys Targaryen, accompanied by her fierce trio of dragons and Unsullied army, is poised to "liberate" Meereen, the largest Slaver City in the east, which could provide her with an imposing force to execute her ultimate plan: to sail to Westeros and reclaim the Iron Throne the Lannisters usurped from her family.
Game of Thrones - Season 5
Michael Slovis, Mark Mylod, Jeremy Podeswa, Miguel Sapochnik, David Nutter
Game of Thrones - Season 6
Jeremy Podeswa, Daniel Sackheim, Jack Bender, Mark Mylod, Miguel Sapochnik
The complete sixth season of the HBO medieval fantasy drama based on the bestselling novel series 'A Song of Ice and Fire' by George R.R. Martin. The programme follows the battle between the Starks and the other noble families of the Seven Kingdoms of Westeros to gain control of the Iron Throne. In this season, Tyrion (Peter Dinklage) attempts to rule Meereen while Daenerys (Emilia Clarke) is held captive by a Dothraki tribe, Bran (Isaac Hempstead Wright) learns more about his powers from the Three-eyed Raven (Max von Sydow), the High Sparrow (Jonathan Pryce) becomes more powerful by influencing King Tommen (Dean-Charles Chapman) and the Stark and Bolton armies meet on the battlefield. The episodes are: 'The Red Woman', 'Home', 'Oathbreaker', 'Book of the Stranger', 'The Door', 'Blood of My Blood', 'The Broken Man', 'No One', 'Battle of the Bastards' and 'The Winds of Winter'.