Roadracers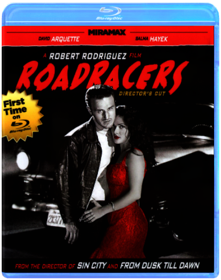 Robert Rodriguez
Acclaimed director Robert Rodriguez delivers more action-packed thrills with Roadracers, the story of a rockin' rebel named Dude (David Arquette), racing through life with a fast car, a loud guitar, a sexy girlfriend (Salma Hayek) and a big mouth. But when a confrontation ends with deadly threats, Dude finds himself speeding head-on toward a showdown that will settle the score for good. With hot stars and an energetic style all its own, Roadracers is fast-paced entertainment that never slows down.

Special Feature(s): Director's Commentary; 10-minute Film School with Robert Rodriguez
Desperado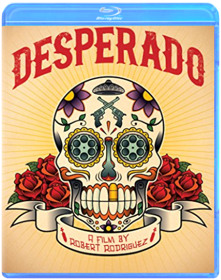 Robert Rodriguez
Desperado Limited Edition SteelBook Blu-ray. Region A, B & C Blu-ray.
Four Rooms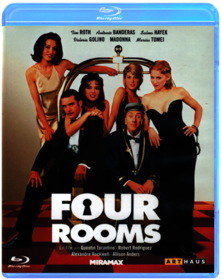 Quentin Tarantino, Allison Anders, Alexandre Rockwell, Robert Rodriguez
Don't miss the fun in this hilariously sexy comedy that has Antonio Banderas (THE MASK OF ZORRO), Madonna (EVITA), and a sizzling all-star cast checking in for laughs! It's Ted the Bellhop's (Tim Roth — PULP FICTION) first night on the job ... and the hotel's very unusual guests are about to place him in some outrageous predicaments! It seems that this evening's room service is serving up one unbelievable happening ... after another! Also featuring Academy Award(R) winner Marisa Tomei (1992 Best Supporting Actress, MY COUSIN VINNY), FOUR ROOMS is a wild night of highly original comedy entertainment you'll enjoy ... without reservations!
From Dusk Till Dawn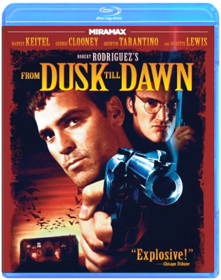 Robert Rodriguez
Its nonstop thrills when George Clooney (The American) and Quentin Tarantino (Pulp Fiction) star as the Gecko brotherstwo dangerous outlaws on a wild crime spree. After kidnapping a father (Harvey Keitel, Little Fockers) and his two kids (including Juliette Lewis, Due Date), the Geckos head south to a seedy Mexican bar to hide out in safety. But when they face the bars truly notorious clientele, theyre forced to team up with their hostages in order to make it out alive! From Robert Rodriguez and Quentin Tarantino, the creators of Grindhouse, From Dusk Till Dawn is explosive action entertainment!
Once Upon a Time in Mexico
Robert Rodriguez
Leaping back into action, gun-slinging, guitar-toting hero "El Mariachi" is back in town in ONCE UPON A TIME IN MEXICO, as writer/director Robert Rodriguez delivers the epic final chapter of his pulp Western trilogy. Now remastered in high definition for Blu-ray™ starring Antonio Banderas, Salma Hayek, Johnny Depp, Mickey Rourke, Eva Mendes, Danny Trejo, Enrique Iglesias, Rubén Blades and Willem Dafoe, ONCE UPON A TIME IN MEXICO is a full-frontal assault.
Sin City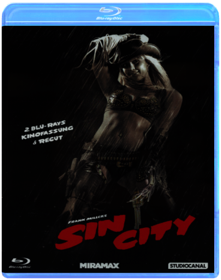 Frank Miller, Robert Rodriguez, Quentin Tarantino
If ever a movie was meant to be experienced in high definition, Frank Miller's Sin City is guilty on all counts! A groundbreaking masterpiece of mayhem, Sin City roars to life with both barrels blazing in this Blu-ray disc set that includes the restored theatrical feature and the unrated, recut extended release. Plus, get in on the action with explosive new bonus feature: "Kill 'em Good Interactive Comic Book" and "Cine-Explore." Robert Rodriguez (Desperado, From Dusk Till Dawn), Frank Miller (The Spirit) and Quentin Tarantino (Kill Bill 1 and Kill Bill 2, Pulp Fiction) direct an amazing cast of big-screen favorites (Bruce Willis, Jessica Alba, Mickey Rourke, Clive Owen, Brittany Murphy, Benicio Del Toro, Rosario Dawson and more!) in this acclaimed and visually stunning hit that's straight from the pages of Miller's hip series of Sin City graphic novels. Strap yourself in as a staggering sensory onslaught hits you right where you live. From the stylized, razor-sharp clarity of the unique, high definition visuals to the throbbing, phenomenally intense sounds of bullets spraying and bones crunching, this awesome, mind-bending excursion into a sexy, twisted funhouse of cops, killers, hookers and hit men will tease, tantalize and thrill you as never before in Blu-ray disc high definition. Starring: Bruce Willis, Jessica Alba, Clive Owen, Brittany Murphy, Josh Hartnett, Mickey Rourke, Rutger Hauer, Elijiah Wood
Grindhouse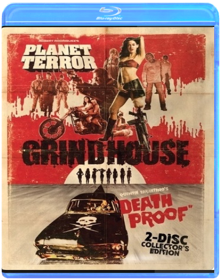 Robert Rodriguez, Quentin Tarantino, Rob Zombie, Edgar Wright, Eli Roth, Jason Eisener
Grindhouse: Planet Terror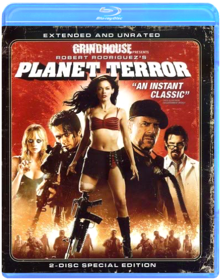 Robert Rodriguez
Director Robert Rodriguez (Sin City) is back with a rip-roaring, zombie-infested rollercoaster of a movie that sure as hell keeps you hanging on for the ride (Peter Travers, Rolling Stone). Rose McGowan, Freddy Rodriguez, Bruce Willis, and an all-star cast fight for their lives in the ultimate showdown between an army of flesh-eating mutants and a motley group of rag-tag survivors. Featuring one of the most memorable screen heroines ever and the now-legendary mock Machete trailer, Planet Terror is as total blast funny, gory and over the top (Christy Lemire, Associated Press).
Machete
Robert Rodriguez
From director Robert Rodriguez (Grindhouse, Sin City) comes an action- packed, cutting-edge serving of carnage asada...with killer deleted scenes that deliver more guns, more girls and more Machete action! Set up, double-crossed and left for dead, Machete (Danny Trejo) is an ass-kicking ex-Federale who lays waste to anything that gets in his path. As he takes on hitmen, vigilantes and a ruthless drug cartel, bullets fly, blades clash and the body count rises. Any way you slice it, vengeance has a new name—Machete.