The Terror
Roger Corman
In one of his first-ever roles, a young Jack Nicholson stars as Lt. Andre Duvalier, a soldier in Napoleon's army in 19th century France, separated from his regiment. He awakens on a beach to the sight of a strange woman who leads him to the gothic, towering castle that serves as home to eerie Baron Von Leppe (Boris Karloff). But, as Duvalier soon discovers, nothing is what it seems in this ghastly, haunted mansion of death!This underground favorite was made in classic Roger Cormanfashion, making the most of his resources to bring yet another film to life on aminimal budget for his producers at American International Pictures.Short on time himself (there were more movies to be made!), Cormanleft it to a few of the aspiring directors within his crew (among them, Jack Hill, a young Francis Coppola, and even Jack Nicholson taking a turn behind the camera for a few scenes) to help see the film to completion. The Terror would go on to become a drive-in favorite and late-night TV staple, also appearing under the titles The Terror, Lady Of The Shadows and The Castle of Terror.
The Shooting & Ride in the Whirlwind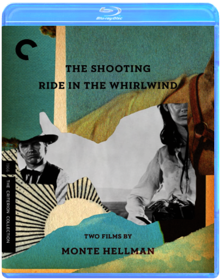 Monte Hellman
Criterion 734/735 (2014 First Printing)
The Women in Cages Collection
Jack Hill
Pam Grier (Jackie Brown) joins a group of sexy, young female prisoners in their struggle against a sadistic warden in Big Doll House. This shockingly real film is perhaps one of the most influential of all women-in-prison films! Also starring Judy Brown, Roberta Collins (Death Race 2000) and Sid Haig (House Of 1,000 Corpses). Directed by Jack Hill (Spider Baby, Foxy Brown).

Innocent Carol Jeffries (Jennifer Gan, Naked Angels) is framed by her drug-dealing boyfriend and ends up in a tough prison in the Philippines jungle in Women In Cages. She must face off against the sadistic warden, Alabama (Grier), who takes great pleasure in alternately seducing and torturing her prisoners. Also starring Judy Brown and Roberta Collins. Directed by Gerry De Leon (Mad Doctor Of Blood Island).

Inside the hellish women's prison called The Big Bird Cage, inmates like Terry (Anitra Ford, The Price Is Right) struggles to survive. They get their chance to escape when scheming revolutionary Blossom (Pam Grier) engineers a prison break . . . from the outside in. Also starring Carol Speed (Abby). Directed by Jack Hill.
Death Race 2000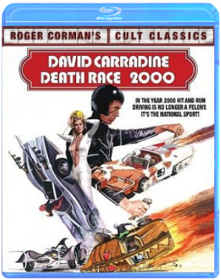 Paul Bartel
Piranha
Joe Dante
While searching for missing teenagers, novice skip tracer Maggie McKeown (Heather Menzies) and local town boozer Paul Grogan (Bradford Dillman) stumble upon a top-secret Army laboratory conducting genetic research on piranha fish for the purpose of developing biological warfare. When the deadly eating machines are accidently released from the compound, they are soon headed downstream and consuming everything, and anything, in their path.

Bonus Features:

* New Anamorphic Widescreen Version (1.85:1)

* Audio Commentary With Director Joe Dante and Producer Jon Davison

* Behind-the-Scenes Footage

* The Making of Piranha Featurette With New Interviews From Roger Corman, Joe Dante, Dick Miller, Belinda Balaski and Many More

* Bloopers and Outtakes

* Piranha Trailer With Commentary by Producer Jon Davison Courtesy of Trailers From Hell

* Stills Gallery With Photos and Posters From Around the World

* Behind-the-Scenes Stills Gallery Featuring Photos From Phil Tippetts Personal Collection

* Additional Scenes From the Network Television Version

* Radio and TV Spots

* New World Trailers
StarCrash
Lewis Coates
Prepare yourself for a vintage science fiction adventure film you will never forget, as the sultry Stella Star (Caroline Munro) and her alien sidekick Akton (Marjoe Gortner) team up with robot lawman Elle (Judd Hamilton) on a high adventure to save the universe. It is a cosmic mash-up of daring escapes, wild special effects, beautiful women in sexy space bikinis and nonstop action on a dozen alien worlds. Roger Corman presents the ultimate European space opera, a colorful and dazzling chase through the galaxy that will blast you through the blackness of a hundred million nights!

Kicked into hyperspace by a maelstrom of ingenious low-budget special effects and the talents of Academy Award winning composer John Barry, the film was a smash hit in 1979 when the wild and humorous sci-fi adventure hit theatres. For over 30 years the film has gained a massive cult following, inspiring devoted legions of Crashers, fan clubs and more. Now, for the first time on Blu-ray, the film is presented in a deluxe two-disc special edition.
Galaxy of Terror
Bruce D. Clark, James Cameron
For the first time on Blu-ray, this cult science fiction/horror film has been remastered in high definition for the best possible, most gruesome presentation!

The innermost fears of the mind become reality for the crew members of the Quest when they land on the barren planet Morganthus hoping to find the missing crew members of the starship Remus: only to discover something deadly waiting for them. Each member of the rescuing team must come face to face with their darkest fears or perish. The cast onboard the Quest includes Edward Albert (The House Where Evil Dwells), Erin Moran (Happy Days), Ray Walston (My Favorite Martian), Robert Englund (A Nightmare On Elm Street series), Zalman King (Blue Sunshine) and Sid Haig (House Of 1,000 Corpses).

The film also had its share of new and emerging talent behind the camera, including James Cameron (The Terminator, Aliens, Avatar), who did the production design, and Bill Paxton, who worked as a set decorator before later collaborating with Cameron in front of the camera as an actor.

Bonus Features:

* Commentary With Cast And Crew

* New Worlds: Producer Roger Corman, screenwriter Marc Siegler and director Bruce D. Clark discuss the origins of the film

* The Crew Of The Quest: Actors Robert Englund, Sid Haig, Taaffe O Connell and Grace Zabriskie discuss their experiences as crew members of the Quest

* Planet Of Horrors: A detailed look into the creation of the memorable sets of the film and alien landscapes

* Future King: Memories of co-production designer (and future visionary filmmaker) James Cameron from members of the cast and crew

* Old School: A journey into the complicated mechanical and makeup effects with artists Allan A. Apone, Douglas J. White, Alec Gillis and others

* Launch Sequence: Co-editor R.J. Kizer walks us through postproduction and a profile on composer Barry Schrader

* Theatrical Trailers

* Extensive Photo Galleries Including Posters, Production Sketches And Designs

* Original Screenplay (PDF)

* And More . . .
Forbidden World
Allan Holzman
Screwballs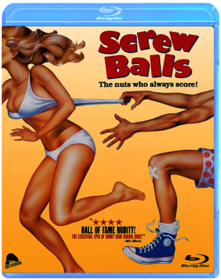 Rafal Zielinski, Roger Corman
THE RAUNCHIEST 80s SEX COMEDY OF THEM ALL

Now On DVD For The First Time Ever!

When legendary exploitation king Roger Corman decided to release the ultimate horny teen comedy, he delivered the most outrageous and hilarious boobs-and-balls epic of the decade! Welcome to Taft & Adams High, where the entire student body including campus virgin Purity Busch, chronic masturbator Melvin Jerkovski, repressed Principal
Stuckoff and blonde bombshell Bootsie Goodhead all must rise to the challenges of freshman breast exams, bikini cheerleader attacks, inappropriate uses of bowling ball holes and much more. Co-screenwriter Linda Shayne, Nanci Chambers of JAG, and Russ Meyer bosom goddess Raven DeLaCroix co-star in this infamous drive-in smash, now loaded with exclusive new Bonus Features that take you deep inside the skin-tastic classic that DVD Talk says makes PORKY S look like Proust!

EXTRAS:
Audio Commentary with Director Rafal Zielinski
CAST & CREW INTERVIEWS: Director Rafal Zielinski, Co-Writers Linda Shayne & Jim Wynorski, Star Kent Deuters and Special FX Artist Gerald Lukaniuk
Interview with Canuxsploitation Scholar Paul Corupe
Mr. Skin Talks Sex Comedies of the '80s
Deleted Scenes
Theatrical Trailer