Evil Dead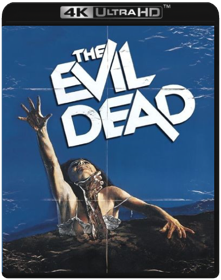 Sam Raimi
The Evil Dead, director Sam Raimi's (Darkman, Quick & The Dead, Army Of Darkness) first feature film, is a true cult classic in every sense of the word. Originally released in 1982, The Evil Dead tells the tale of a group of friends who go to a cabin in the woods, where they find an unspeakable evil lurking in the forest. They find the Necronomicon, the Book Of The Dead, and the taped translation of the text. Once the tape is played, the evil is released. One by one, the teens become deadly zombies. With only one remaining (Bruce Campbell), it is up to him to survive the night and battle The Evil Dead.
Evil Dead 2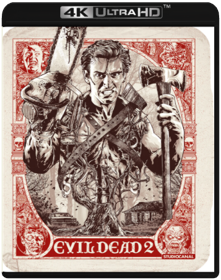 Sam Raimi
Ash (Bruce Campbell), the sole survivor of THE EVIL DEAD, returns to the same cabin in the woods and again unleashes the forces of the dead. With his girlfriend possessed by the demons and his body parts running amok, Ash is forced to single- handedly battle the legions of the damned as the most lethal – and groovy – hero in horror movie history! Welcome to EVIL DEAD II, director Sam Raimi's infamous sequel to THE EVIL DEAD and outrageous prequel to ARMY OF DARKNESS!
Darkman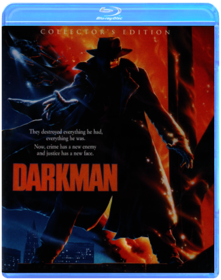 Sam Raimi
Liam Neeson (Taken) and Oscar winner Frances McDormand (Fargo) star in Darkman: the explosive, action-packed thriller from director Sam Raimi (The Spider-Man trilogy).

Dr. Peyton Westlake (Neeson) is on the verge of realizing a major breakthrough in the creation of synthetic skin when his laboratory is blown up by gangsters. Having been burned beyond recognition and forever altered by an experimental medical procedure, Westlake becomes known as Darkman, assuming alternate identities in his quest for revenge and a new life with his former love (McDormand).

Also Starring Colin Friels (Dark City), Larry Drake (Dr. Giggles), Danny Hicks (Evil Dead 2) and Nicholas Worth (Swamp Thing), Darkman is 'a frenetic funhouse ride that has you laughing and screaming at the same time' (The Washington Post)!
Army of Darkness
Sam Raimi
Trapped In Time. Surrounded By Evil. Low On Gas.

Bound in human flesh and inked in blood, the ancient "Necronomicon", (the Book of the Dead) unleashes unspeakable evil upon mankind in director Sam Raimi's (Darkman, Drag Me to Hell) outrageously hilarious third chapter in his Evil Dead Trilogy.

Back to do battle with the hideous "Deadites, ", Bruce Campbell returns to the role of Ash, the handsome, shotgun-toting, chainsaw-armed department store clerk from S-Mart's housewares division. Demonic forces time warp him, and his Oldsmobile, into England's Dark Ages, where he romances a beauty (Embeth Davidtz, The Amazing Spider-Man) and faces legions of the undead. Can Ash save the living from the evil dead, rescue his girlfriend, and get back to his own time?

Special Features Include:

DISC ONE (Theatrical Version – 81 min.) – 1080p High-Definition Widescreen (1.78:1), DTS-HD Master Audio 5.1 & 2.0

-Medieval Times: The Making Of "Army Of Darkness" Featuring Interviews With Star & Co-Producer Bruce Campbell, Actors Marcus Gilbert, Ted Raimi, Timothy Quill, Richard Grove, Bill Moseley, Patricia Tallman And Angela Featherstone, Director Of Photography Bill Pope, Editor Bob Murawski, Production Designer Anthony Tremblay, Composer Joseph Lo Duca, Costume Designer Ida Gearon, Special Make-Up Effects Artists Howard Berger, Tony Gardner, Robert Kurtzman, And Greg Nicotero, Performer And Effects Artist William Bryan, Mechanical Effects Artist Gary Jones, First Assistant Director John Cameron, Visual Effects Supervisor William Mesa, and Stunt Coordinator Christopher Doyle (96 min.)
-Original Ending
-Original Opening with Optional Commentary By Sam Raimi And Bruce Campbell
-Deleted Scenes with Optional Commentary By Sam Raimi And Bruce Campbell
-Theatrical Trailer
-TV Spots
-Home Video Promo

DISC TWO (Director's Cut – 96 min.) – 1080p High-Definition Widescreen (1.78:1), DTS-HD Master Audio 5.1 & 2.0

-Audio Commentary with Director Sam Raimi, Actor Bruce Campbell, and Co-Writer Ivan Raimi
-Additional Behind-The-Scenes Footage From KNB Effects (55 min.)
-Vintage "Creating The Deadites" Featurette (21 min.)
-Vintage "Making Of" Featurette
-Extended Interview Clips With Sam Raimi, Bruce Campbell, and Robert Tapert

DISC THREE (International Cut – 88 min.) – 1080p High-Definition Widescreen (1.78:1), DTS-HD Master Audio 5.1 & 2.0

-4K Scan Of The International Inter-positive
-Television Version With Additional Footage (90 min., Standard Definition (1.33:1), DTS-HD Master Audio 2.0)
-Theatrical Trailer
-Still Galleries With Rare Behind-The-Scenes Photos From Production Designer Anthony Tremblay, Visual Effects Supervisor William Mesa And Special Make-Up Effects Artists Tony Gardner, and KNB EFX, Inc. (Over 200 Stills)
-Still Gallery Of Props And Rare Photos From The Collection Of Super Fan Dennis Carter Jr.
-Storyboards For Deleted Or Alternate Scenes
-Vintage "The Men Behind The Army" Featurette (19 min.)
The Quick and the Dead
Sam Raimi
Drag Me to Hell
Sam Raimi
Christine Brown (Alison Lohman, Officer Downe) is on her way to having it all: a devoted boyfriend (Justin Long, Jeepers Creepers), a hard-earned job promotion, and a bright future. But when she has to make a tough decision that evicts an elderly woman from her house, Christine becomes the victim of an evil curse. Now she has only three days to dissuade a dark spirit from stealing her soul before she is dragged to hell for an eternity of unthinkable torment. Director Sam Raimi (The Evil Dead Trilogy, Darkman) returns to the horror genre with a vengeance in the film that critics rave is "the most crazy, fun and terrifying horror movie in years", (Owen Gleiberman, Entertainment Weekly)!