Art of Love
Walerian Borowczyk
1983 arty adult film by director Walerian Borowczyk. Hailed by Vincent Canby of the New York Times, The Art Of Love is Borowczyk's final film of his Immoral Trilogy . A lushly bizarre erotic tale, The Art Of Love is set in Rome, 8 A.D., where the poet Ovid watches over an epoch of forbidden seduction and unnatural acts among maidens, centurions, servant girls and the occasional farm animal. Borowcxyk's film is now fully restored including the Roman Orgy sequence and presented uncut and uncensored for the first time ever in America.
But Who Raped Linda?
Jesús Franco
When writer/director Jess Franco died in April 2013, cinema lost its legendary master of Euro-Cult. Now in memory of his extraordinary 50+ year career, Severin is proud to present one of his most notorious slabs of uber-sleaze: Alice Arno (of JUSTINE DE SADE fame) stars as a secretary sent to the seaside estate of a depraved millionaire, his nymphomaniac daughter (Franco's beloved muse Lina Romay), her invalid cousin (Catherine Lafferiere of EXORCISM) and their grunting houseboy. But when her day's work ends, a nightmare of depraved new duties will begin! Paul Muller (BARBED WIRE DOLLS) co-stars in this Uncle Jess jaw-dropper packed with incest, lesbianism, sadism and murder, restored from a 35mm print discovered in a Barcelona bordello, loaded with Bonus Features and presented in high definition for the first time ever in America! Bonus Features: Hot Nights - Exclusive Interview with director Jess Franco; Jess and Lina talk LINDA - Exclusive Interview with Director Jess Franco and Star Lina Romay; Fantasticfest Lifetime Achievement Award Presentation to Jess Franco; NIGHTMARE USA/BEYOND TERROR Author Stephen Thrower on LINDA; Out-takes; Trailer
Emmanuelle Exposed
Jesús Franco
Erotic Symphony
Jesús Franco
SINFONIA EROTICA - The lost masterpiece from Jess Franco & the Marquis de Sade now in HD for the first time ever!

At the close of the '70s, eminent auteur Jess Franco (SHE KILLED IN ECSTASY) revisited the works of the Marquis de Sade to create what EuroSleaze historians have called one of the most sexually daring and boldly creative films of his entire career.

When an unstable noblewoman (a fearless performance by Lina Romay) returns to her lavish estate, she will find herself - along with her libertine husband, his male lover, and a young nun with a craving for violation - trapped in a web of unholy hungers and decadent perversions. Susan Hemingway of TWO FEMALE SPIES WITH FLOWERED PANTIES co-stars in this sonata of artsy depravity - featuring a score by Franco and Franz Liszt - now transferred in 4k from an uncut 35mm print donated by The Instituto de la Sexualidad Humana in Madrid.

Special Features:

Jess Franco on First Wife Nicole Guettard - Interview with Director Jess Franco.
Stephen Thrower on Sinfonia Erotica - Interview with the author of "Murderous Passions - The Delirious Cinema of Jesus Franco."
Immoral Women
Walerian Borowczyk
From The Infamous Director Of IMMORAL TALES and THE BEAST
Now Uncut And Uncensored For The First Time Ever In America

Some have hailed him as a genius of joyous erotica, while others have condemned him as a monster of pornographic depravity. But in this controversial three-part feature by writer/director Walerian Borowczyk, women are mysterious and degenerate creatures who hunger for both extremes. In the first tale, Marina Pierro (of BEHIND CONVENT WALLS) stars as the muse whose rampant lusts enflamed the artists and clergy of ancient Rome. Then Gaëlle Legrand is a blossoming teen in 18th century France whose unnatural desire for her pet bunny leads to an act of depraved passion. Finally, a luscious young wife (former Disney child star Pascale Christophe) is abducted and raped before finding the ultimate ecstasy with her four-legged savior.

Severin Films is proud to present this notorious erotic epic - also known as THREE IMMORAL WOMEN and HEROINES OF EVIL - transferred from its original European negative materials with all of its scenes of daring sexuality now fully restored.
The Perils of Gwendoline in the Land of the Yik-Yak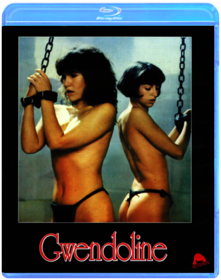 Just Jaeckin
BASED ON THE KINKY COMICS THAT SHOCKED THE WORLD - UNCUT, UNCENSORED & UNRATED FOR THE FIRST TIME EVER IN AMERICA!

Video vixen Tawny Kitaen made her movie debut as the virgin adventuress on a provocative odyssey to find her lost father. But even if she can endure the scorching torment of the desert and steamy hungers of the jungle, will she survive her final ordeal at the hands - and more - of the warrior women of Yik Yak?

Brent Huff and French sex kitten Zabou co-star in this erotic cult classic directed by Just Jaeckin (EMMANUELLE, THE STORY OF O), now fully restored from French vault materials and featuring scenes never-before-seen in America!
Private Collections
Just Jaeckin, Shûji Terayama, Walerian Borowczyk
The Three Masters Of International Erotica Come Together For One Provocative Collection... Uncut And Uncensored For The First Time Ever In America!
For legendary producer Pierre Braunberger (SHOOT THE PIANO PLAYER), it was the most enticing of challenges: Invite the three most controversial directors in modern erotic cinema to indulge their fantasies in one daring film. The result remains one of the most uniquely sensual motion pictures of our time.
In the first story from director Just Jaeckin (EMMANUELLE, GWENDOLINE), a castaway sailor is rescued by a tribe of succulent native women - led by the stunning Laura Gemser of BLACK EMANUELLE fame - who soon reveal their most unusual appetites. Then director Shuji Terayama (FRUITS OF PASSION) explores the haunting tale of a Japanese boy seduced by the riddle song of a village madwoman. And in the bold adaptation of a short story by De Maupassant, director Walerian Borowczyk (IMMORAL WOMEN, THE BEAST) reveals the torrid liaison between a Parisian gentleman, a Follie Bergere prostitute and an unexpected surprise that hides in the night.
Screwballs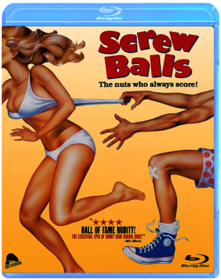 Rafal Zielinski, Roger Corman
THE RAUNCHIEST 80s SEX COMEDY OF THEM ALL

Now On DVD For The First Time Ever!

When legendary exploitation king Roger Corman decided to release the ultimate horny teen comedy, he delivered the most outrageous and hilarious boobs-and-balls epic of the decade! Welcome to Taft & Adams High, where the entire student body including campus virgin Purity Busch, chronic masturbator Melvin Jerkovski, repressed Principal
Stuckoff and blonde bombshell Bootsie Goodhead all must rise to the challenges of freshman breast exams, bikini cheerleader attacks, inappropriate uses of bowling ball holes and much more. Co-screenwriter Linda Shayne, Nanci Chambers of JAG, and Russ Meyer bosom goddess Raven DeLaCroix co-star in this infamous drive-in smash, now loaded with exclusive new Bonus Features that take you deep inside the skin-tastic classic that DVD Talk says makes PORKY S look like Proust!

EXTRAS:
Audio Commentary with Director Rafal Zielinski
CAST & CREW INTERVIEWS: Director Rafal Zielinski, Co-Writers Linda Shayne & Jim Wynorski, Star Kent Deuters and Special FX Artist Gerald Lukaniuk
Interview with Canuxsploitation Scholar Paul Corupe
Mr. Skin Talks Sex Comedies of the '80s
Deleted Scenes
Theatrical Trailer
She Killed in Ecstasy
Jesús Franco
The erotically charged follow up to the Jess Franco smash hit, Vampyros Lesbos. The enchanting Soledad Miranda stars as a woman intent on avenging the death of her lover, a doctor who committed suicide after his experiments on human embryos were condemned by the medical establishment. With an insatiable lust for vengeance, she sets out to kill those responsible for his suicide.
Threads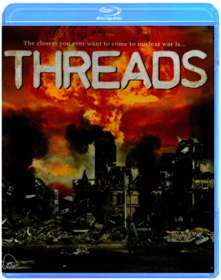 Mick Jackson
Limited Edition of Only 3500 with a Lenticular Cover

The Movie That Shook the World Restored In HD For The First Time Ever.

In September 1984, THREADS was aired on the BBC and shocked tens of millions of UK viewers. Four months later, it was broadcast in America and became the most watched basic cable program in history. After more than three decades, it remains one of the most acclaimed and shattering made–for–television movies of all time. Reece Dinsdale (Coronation Street), David Brierly (Doctor Who) and Karen Meagher, in a stunning debut performance star in this "graphic and haunting" (People Magazine) docudrama about the effects of a nuclear attack on the working –class city of Sheffield, England as the fabric of society unravels. Directed by Mick Jackson (THE BODYGUARD, TUESDAYS WITH MORRIE) from a screenplay by novelist/playwright Barry Hines (Ken Loach s KES) and nominated for seven BAFTA Awards, "The most terrifying and honest portrayal of nuclear war ever filmed" (The Guardian) has now been fully restored from a 2K scan for the first time ever.

SPECIAL FEATURES:

Audio Commentary with Director Mick Jackson, Moderated by Film Writer Kier–La Janisse and Severin Films' David Gregory
Audition For the Apocalypse: Interview with Actress, Karen Meagher
Shooting the Annihilation: Interview with Director of Photography, Andrew Dunn
Destruction Designer: Interview with Production Designer, Christopher Robilliard
Interview with Film Writer, Stephen Thrower
US Trailer
Two Female Spies with Flowered Panties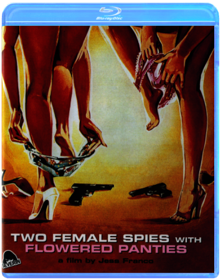 Jesús Franco
In this long-unseen shocker from "one of filmdom's most provocative creators" (The A.V. Club), the legendary Jess Franco (VAMPYROS LESBOS) pushes the limits of psycho-insanity like never before: Lina Romay (BARBED WIRE DOLLS) and Lynn Monteil (of Jean Rollin's ZOMBIE LAKE and Franco's SADOMANIA) star as a pair strippers released from prison to work undercover for the U.S. government. What follows is a deranged mélange of audacious international politics that will leave even the most obsessive Franco fanatics slack-jawed in astonishment. Olivier Mathot (CANNIBAL TERROR), Joëlle Le Quément (WOMEN BEHIND BARS) and Claude Boisson (DEVIL HUNTER) co-star in this Euro-rarity, now restored uncut in HD and loaded with exclusive Bonus Materials from the Franco archives.

Special Features:Bonus DVD Disc, Opalo de Fuego Included!Two Cats In The Canaries: An Interview With Director Jess FrancoFilmmaker Donald Farmer Interviews Longtime Franco Composer Daniel WhiteStephen Thrower On TWO FEMALE SPIESLocation Out-takesTheatrical Trailer
What?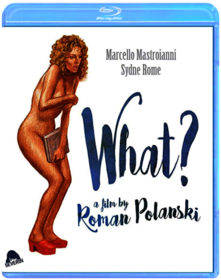 Roman Polanski
Roman Polanski described it as the ribald adventures of an innocent girl. More than four decades after its controversial release, it remains the most butchered, debated and least-seen film of the Oscar-winning director's entire career. The succulent Sydne Rome stars as an oft-naked American girl lost inside a Mediterranean villa inhabited by priests, pianists, perverts and a pimp (a deliciously bizarre performance by Marcello Mastroianni) while indulging in madcap acts that even include ping-pong. Hugh Griffith (Tom Jones), Romolo Valli (Boccaccio 70) and Polanski himself co-star in this surreal and sexy comedy, now finally restored to its original running time from a vault print reportedly stolen from the wine cellar of producer Carlo Ponti!

Special Features:Featurette: Sydne In Wonderland - Interview With Star Sydne RomeFeaturette: Memories Of A Young Pianist - Interview With Composer Claudio GizziFeaturette: A Surreal Pop Movie - Interview With Cinematographer Marcello GattiTheatrical Trailer