Faster, Pussycat! Kill! Kill!
Russ Meyer
FASTER PUSSYCAT, KILL! KILL! is the story of a new breed of SUPERWOMEN emerging out of the ruthlessness of our times. We are introduced to three BUXOM Go-Go girls: VARLA, ROSIE, and BILLIE, wildly dancing the Watusi before the leers, jeers and lecherous come-ons of their drooling all-male audience. The violence, implicit in the girls' tease, is quickly moved out of the microcosmic bar into the outside world as they literally let go of themselves, embarking on a wild, violent, deadly journey of vengeance on all men. VARLA, the outrageously abundant KARATE MASTER leader of the pack, breaks the arms and back of one man, runs her Porsche over two others, grinds a fourth, a muscleman, against a wall and, eventually, deliberately goes down the path of her own self-destruction, dragging her two BUXOTIC cohorts along with her.
Camille 2000
Radley Metzger
A child of the sixties sexual revolution, beautiful, sensuous Marguerite (Daniel Gaubert) is addicted to sex and money. She is kept by a wealthy man, has a string of young lovers and hosts wild orgies in her luxurious villa. When she falls in love with the handsome bachelor Armand (Nino Castelnuova), he insists on absolute fidelity. Known by her reputation, Armand's controlling father soon intervenes, triggering a tragic turn of events. From Radley Metzger, the essential director of elegant erotic arthouse, comes the dazzling new 2000 version of Alexandre Dumas "The Lady of the Camellias."
Love Camp 7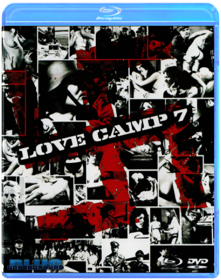 Lee Frost
The story of LOVE CAMP 7 is based on fact! During the darkest days of World War II, two young American WAC officers volunteer to infiltrate a Nazi Love Camp on a desperate rescue mission. Once inside, they are subjected to horrid humiliations at the hands of their captors. Can they survive long enough to complete their objective and escape with their lives intact?

Launching the Nazisploitation craze of the 1970s, LOVE CAMP 7 was the dream child of Writer/Producer/Star Bob Cresse (THE SCAVENGERS), Producer Dave Friedman (BLOOD FEAST), and Director/Cinematographer Lee Frost (THE BLACK GESTAPO). Blue Underground presents the original version of LOVE CAMP 7 in a brand-new 4K restoration from its recently discovered camera negative!

Special Features:NAZITHON: DECADENCE AND DESTRUCTIONTheatrical TrailerPoster & Still GalleryBONUS Collectable Booklet featuring The History of Nazi-Exploitation by Paolo Zelati
The Lickerish Quartet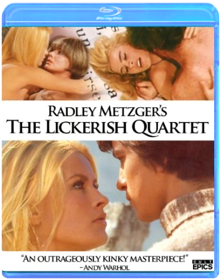 Radley Metzger
An aristocratic family become obsessed with a striking young blonde actress while watching a stag film. After a visit at a carnival they meet her in person and invite her back to their seaside mansion (the Castle of Balsorano in Italy's Abruzzi Mountains). The blonde takes turns seducing the family members, where she unlocks each of their fantasies, family secrets and hidden desires. THE LICKERISH QUARTET is Radley Metzger's magnum opus, a delirious surreal erotic fantasy, stylish and elegant.
The Telephone Book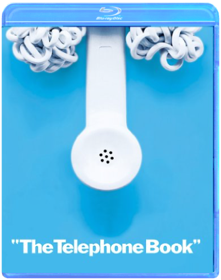 Nelson Lyon
A major, though forgotten, work from New York's underground film scene of the late 60s and early 70s, Nelson Lyon's The Telephone Book tells the story of Alice, a sex-obsessed hippie who falls in love with the world's greatest obscene phone caller and embarks on a quest to find him. Her journey introduces her to an avant-garde stag filmmaker, a manipulative psychiatrist, a lesbian housewife, and more. Photographed in high-contrast black-and-white, and punctuated with a remarkable, surreal color animated sequence, The Telephone Book is one of the greatest cult films you've probably never heard of.

Bonus Features:
1. Restored in 2K from a 35mm archival print
2. Commentary track by Producer Merv Bloch
3. Two theatrical trailers
4. Radio spots
4. Still gallery
Vampyros Lesbos
Jess Franco
From Jess Franco, the filmmaker The Vatican called the most dangerous director in the world, comes the most celebrated movie of his legendary career: Stunning Soledad Miranda stars as a vixen vampire who lures women to a Mediterranean island to satisfy her insatiable lust for female flesh and blood. It's a mind-bending odyssey of surreal erotica and 70s EuroHorror, featuring the psycho-sexadelic soundtrack that remains a global phenomenon. Ewa Strömberg (SHE KILLED IN ECSTASY), Dennis Price (VENUS IN FURS), Paul Muller (NIGHTMARE CASTLE) and Franco himself co-star in this landmark cult classic, now remastered in HD and featuring all-new Extras filmed with the director shortly before his death. Experience Franco's masterpiece like you ve never seen or heard it before!

Special Features:German TrailerVampyros Jesús: Interview with Writer/Director Jess FrancoSublime Soledad: Interview with Soledad Miranda Historian Amy BrownStephen Thrower on Vampyros Lesbos: Interview with Author of Murderous PassionsThe Delirious Cinema Of Jess FrancoJess Is Yoda ClipAlternate Spanish Language Version Bootleg
The Women in Cages Collection
Jack Hill
Pam Grier (Jackie Brown) joins a group of sexy, young female prisoners in their struggle against a sadistic warden in Big Doll House. This shockingly real film is perhaps one of the most influential of all women-in-prison films! Also starring Judy Brown, Roberta Collins (Death Race 2000) and Sid Haig (House Of 1,000 Corpses). Directed by Jack Hill (Spider Baby, Foxy Brown).

Innocent Carol Jeffries (Jennifer Gan, Naked Angels) is framed by her drug-dealing boyfriend and ends up in a tough prison in the Philippines jungle in Women In Cages. She must face off against the sadistic warden, Alabama (Grier), who takes great pleasure in alternately seducing and torturing her prisoners. Also starring Judy Brown and Roberta Collins. Directed by Gerry De Leon (Mad Doctor Of Blood Island).

Inside the hellish women's prison called The Big Bird Cage, inmates like Terry (Anitra Ford, The Price Is Right) struggles to survive. They get their chance to escape when scheming revolutionary Blossom (Pam Grier) engineers a prison break . . . from the outside in. Also starring Carol Speed (Abby). Directed by Jack Hill.
Eugenie
Jess Franco
...the story of her journey into perversion

Marie Liljedahl (the luscious star of INGA) is Eugenie, an innocent young woman taken to an island paradise where she is initiated into a world of pleasure and pain controlled by the sinister Dolmance (the legendary Christopher Lee). But when she surrenders to her own forbidden fantasies, Eugenie becomes trapped in a frenzy of drugs, sadomasochism and murder. Can a frightened girl in the grip of carnal perversion find sanctuary in the orgies of the depraved?

Jack Taylor (SUCCUBUS) and Maria Rohm (MARQUIS DE SADE'S JUSTINE) co-star in this legendary erotic classic from Jess Franco, the infamous director of VAMPYROS LESBOS and VENUS IN FURS. Based on the notorious novel 'Philosophy in the Boudoir' by the Marquis de Sade, this rarely seen shocker is presented completely uncut in a beautiful new 4K transfer, and remains one of the most controversial explorations of extreme sexuality in European cinema history!

EXTRAS:
* 'Perversion Stories' - Interviews with Director Jess Franco, Producer Harry Alan Towers, and Stars Marie Liljedahl & Christopher Lee
* 'Stephen Thrower on EUGENIE' - Interview with the author of 'Murderous Passions: The Delirious Cinema of Jesus Franco'
* Theatrical Trailer
* Poster & Still Gallery
* BONUS Collectable Booklet includes writing by author Stephen Thrower
* BONUS CD - EUGENIE Original Motion Picture Soundtrack by Bruno Nicolai
The Demoniacs
Jean Rollin
A group of shipwrecked sailors brutally rape two young women who accidentally stumble across them. After they escape, the women ultimately make a deal with the devil in exchange for the power to exact their bloody revenge. Contains footage not included in the original theatrical release.

BONUS FEATURES: Deleted Scenes, Cast & Crew Interviews, Theatrical Trailers. (bonus features are not rated and are subject to change without notice)
Flesh Gordon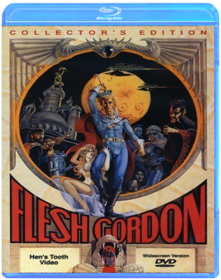 Howard Ziehm
Jason Williams, Suzanne Fields. Flesh Gordon, Dale Ardor and scientist Flexi Jerkoff travel to the planet Porno to save the Earth from Emperor Wang in this sexy spoof. Complete, uncut version restored from the original master. 1975/color/90 min/unrated/widescreen.
Fugitive Girls
Stephen C. Apostolof
Vinegar Syndrome specializes in the masterful restoration and distribution of cult, horror, and erotic films from the 1960s-90s.

Vinegar Syndrome proudly presents AC Stephen's FUGITIVE GIRLS, the fourth release in our Limited Edition Sexploitation Signature Series. This Blu-ray/DVD combo is strictly limited to 2,500 units.

Beautiful Sheila (Donna Young) is implicated in a fatal liquor store shooting committed by her boyfriend. Sent to an all-female work camp, she quickly finds herself at the mercy of four other violent and lust crazed prisoners who force her into their daring escape plan. Once on the outside, the five fugitives embark on a brutal and sex filled rampage across the countryside, while making their way to a mystery site rumored to have a buried suitcase full of money!

Director AC Stephen's most accomplished film, FUGITIVE GIRLS is a quick paced hybrid of action and sexploitation, which co-stars the beautiful Rene Bond and Tallie Cochran, and featuring a typically jaw-dropping screenplay from Ed Wood (who also appears in the film!). Long available only in poor quality bootlegs or heavily censored versions, Vinegar Syndrome brings this drive-in classic to Blu-ray totally uncut and uncensored and newly restored from its camera negative.

Bonus Features:
1. Newly scanned and restored in 2k from the 35mm original camera negative
2. Limited Edition of 2,500 units
3. Commentary track with: Frank Henenlotter (Exploitation filmmaker) and Rudolph Grey (Ed Wood biographer)
4. Archival audio interview with Tallie Cochrane (actress), moderated by Casey Scott
5. Original theatrical trailer
6. Original promo trailer
7. English SDH Subtitles
Golden Temple Amazons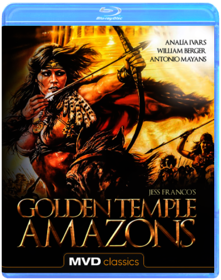 Jess Franco
A tribe of Amazons is zealously guarding a mysterious fortress built on top of a gold mine. Uruck and his cruel, sadistic mistress Rena rule the tribe. Some 15 years ago an explorer discovered their golden temple, and the Amazons who were intent on protecting their secret slaughtered both him and his wife. However, their daughter, Liana, was spared and grew up in the jungle, raised by tribesmen. Now a beautiful girl, Liana (roaming the jungle half-naked) finds out the fate of her parents and sets out to avenge them. An entertaining film containing large amounts of nudity and sadism. Directed by Jess Franco.
Downtown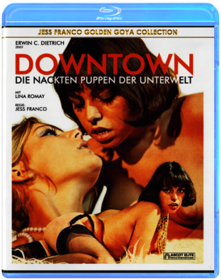 Jesus Franco
Germany released, Blu-Ray/Region A/B/C : it WILL NOT play on regular DVD player. You need Blu-Ray DVD player to view this Blu-Ray DVD: LANGUAGES: German ( Dolby Digital 5.1 ), German ( DTS-HD Master Audio ), English ( Subtitles ), WIDESCREEN (1.78:1), SPECIAL FEATURES: Interactive Menu, Photo Gallery, Scene Access, Trailer(s), Uncut, SYNOPSIS: A private eye who's over his head in debt takes on a job snapping photos of his client's rich husband in bed with another woman. But when the husband winds up with three bullet holes that seem to have come from the private eye's own gun, he's got to prove he's not the murderer meanwhile getting tangled deeper in a web of deceit, lies, and steamy night club dancers! ...Downtown (1975) ( Downtown - Die nackten Puppen der Unterwelt ) ( Down town )
Ilsa: She Wolf of the SS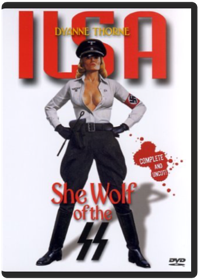 Don Edmonds
This notorious Canadian sexploitation cult classic is one of the most sick and sadistic features ever released to a general audience, and the only film that producer David F. Friedman, the king of sleaze himself, was so ashamed of that he removed his name from it. Statuesque, buxom blonde Dyanne Thorne is Ilsa, the ruthless commandant of a Nazi medical camp who subjects her patients (mostly naked women) through the most painful and brutal tortures she can think of to prove the superiority of the female sex to Nazi high command. At night she goes through the male prisoners like boy toys to be discarded and castrated the next day ("Once a prisoner has slept with me, he'll never sleep with another woman!"), until she meets a man she can't conquer in bed. It proves to be her downfall. Vamping it up with a corny German growl, Thorne leers with gargoylish delight at her latest diabolical tortures: grotesque, gangrenous infections, exploding sex toys, boiling alive, and a dinner centerpiece involving a naked girl, a noose, and a melting block of ice that leaves her dangling by meal's end. Directed with an artless bluntness and a cold cynicism, it's a brutal, nasty film, utterly tasteless yet perversely fascinating. It was reportedly shot in a week on sets left over from the sitcom Hogan's Heroes, and proved so successful that it spawned two official and one unofficial sequels.

Anchor Bay's restored print is letterboxed and reportedly restored. The DVD edition also features commentary by Thorne, producer Friedman, and director Don Edmunds, moderated by humorist Martin Lewis. —Sean Axmaker
Barbed Wire Dolls
Jess Franco
From the fevered minds of maverick exploitation filmmaker Jess Franco and notorious Swiss genre movie producer Erwin C. Dietrich, comes BARBED WIRE DOLLS! Barbed Wire Dolls is one of the most outrageous entries in the "Women-in-Prison" film cannon. In it, Franco favorite and lifelong muse Lina Romay stars as the wide-eyed Maria, an unfortunate young woman who kills her father (played by Franco) in self defense after he attempts to rape her. She is tried, sentenced and shipped off to what is perhaps the grisliest, greasiest and most depraved women's penitentiary in screen history where, at the hands, fingers and fists of psychotic lesbian warden Monica Swinn, she and her fellow inmates are subjected to an endless onslaught of perverse psychological and sexual abuse. Graphic sex, Sapphic erotica, copious amounts of female nudity and offensively staged scenes of genital humiliation are the order of the day in this sleazy Franco masterpiece that is offset by a romantic, evocative score by composer Peter Baumgartner and Franco regular Daniel White. Get ready to enter the shocking world of BARBED WIRE DOLLS! Starring: Lina Romay, Monica Swinn, Paul Muller, Ramon Ardid Runtime: 81 Mins. Color: HD 1080p Aspect Ratio: Widescreen Sound Options: 5.1 Surround Rating: Not Rated Production Date: 1976 Format: Blu-ray Disc Region Code: REGION FREE Special Features: Audio Interview: Director Peter Strickland on the films of Jess Franco Vintage VHS Franco Trailer reel!
Girls in the Night Traffic
Erwin C. Dietrich, Jess Franco
Germany released, Blu-Ray/Region A/B/C : it WILL NOT play on regular DVD player. You need Blu-Ray DVD player to view this Blu-Ray DVD: LANGUAGES: German ( Dolby Digital 2.0 ), German ( DTS 5.1 ), German ( DTS-HD Master Audio ), English ( Subtitles ), WIDESCREEN (1.78:1), SPECIAL FEATURES: Cast/Crew Interview(s), Interactive Menu, Photo Gallery, Scene Access, Trailer(s), Uncut, SYNOPSIS: GIRLS IN THE NIGHT TRAFFIC is the story of three high class hookers who sleep together and through a series of flashbacks recount their evening with their clients the night before including putting on a sex show and role playing as a corpse. One of them is kidnapped by a pimp posing as a photographer and she ends up in a weird prison. Her friends end up in the same prison to help her get revenge. ...Girls in the Night Traffic (1976) ( Mädchen im Nachtverkehr ) ( Wild Desire (World-wide )
Ilsa: Harem Keeper of the Oil Sheiks
Don Edmonds
Quick Shipping !!! New And Sealed !!! This Disc WILL NOT play on standard US DVD player. A multi-region PAL/NTSC DVD player is request to view it in USA/Canada. Please Review Description.
Ilsa: Harem Keeper of the Oil Sheiks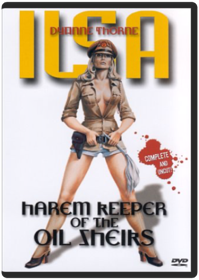 Don Edmonds
Despite the fact that Ilsa was killed at the conclusion of her notorious debut film, Ilsa, She Wolf of the SS, she returns (seemingly unaged) decades later as the strutting headmistress of a sadistic charm school for a power-mad sheik's harem of sex slaves. She masterminds a conspiracy to turn her trainees into veritable sex bombs—they explode upon orgasm—and auctions them off to her master's rivals. Meanwhile, a Henry Kissinger look-alike leads an investigation into the sheik's affairs with a couple of double agents, including one studly guy who tames Ilsa with his insatiable sexual prowess. Campier than the first film, it still offers its share of sick torture scenes and brutal violence (one man takes a hammer and chisel to a woman's bridgework to please her new master, who purrs, "I do not like the scrape of teeth"). Dyanne Thorne delivers an appropriately over-the-top performance, full of eye-rolling glares and German-inflected growling. Russ Meyer regular Haji and sex star Uschi Digard costar as harem slaves, and Tanya Boyd and Marilyn Join are delightfully memorable as Ilsa's well-oiled kung-fu-kicking Nubian sidekicks. Despite rumors to the contrary, Spalding Gray is not in this film and would surely appreciate it if people stopped saying he was. —Sean Axmaker
Salon Kitty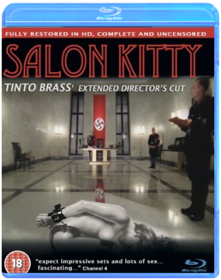 Tinto Brass
United Kingdom released, Blu-Ray/Region A/B/C : it WILL NOT play on regular DVD player. You need Blu-Ray DVD player to view this Blu-Ray DVD: LANGUAGES: English ( Dolby Digital 2.0 ), English ( Dolby DTS-HD Master Audio ), French ( Dolby Digital 2.0 ), German ( Dolby Digital 2.0 ), Italian ( Dolby Digital 2.0 ), English ( Subtitles ), WIDESCREEN (1.78:1), SPECIAL FEATURES: Anamorphic Widescreen, Cast/Crew Interview(s), Interactive Menu, Remastered, Scene Access, Trailer(s), Uncut, SYNOPSIS: Berlin, 1939: At the dawn of World War II, power-mad SS Officer Wallenberg (Helmut Berger of THE DAMNED) is ordered to find and train Germany's most beautiful women to work in the opulent brothel of Madam Kitty (Ingrid Thulin of CRIES AND WHISPERS). Here these Nazi nymphs will submit to the bizarre passions and carnal degradations of the Reich's highest-ranking men and women while Wallenberg secretly records their acts for blackmail. But when an innocent young prostitute (Teresa Ann Savoy of CALIGULA) uncovers the conspiracy, her revenge will ignite a holocaust of pain, pleasure and shocking sexual perversion. The story is true. The depravity is real. The film is SALON KITTY. ...Salon Kitty (1976) ( Madam Kitty )
The Slaves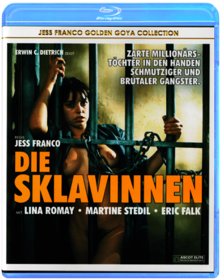 Jess Franco
Blue Rita
Jess Franco
The Devilish Sisters
Jess Franco
Ilsa: The Mad Butcher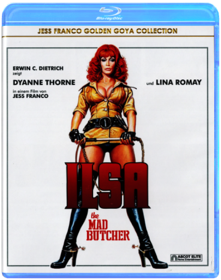 Jess Franco
Germany released, Blu-Ray/Region A/B/C : it WILL NOT play on regular DVD player. You need Blu-Ray DVD player to view this Blu-Ray DVD: LANGUAGES: English ( Dolby Digital 5.1 ), English ( DTS-HD Master Audio ), German ( Dolby Digital 5.1 ), German ( DTS-HD Master Audio ), Italian ( Dolby Digital 5.1 ), Italian ( DTS-HD Master Audio ), English ( Subtitles ), Japanese ( Subtitles ), WIDESCREEN (1.78:1), SPECIAL FEATURES: Cast/Crew Interview(s), Interactive Menu, Photo Gallery, Scene Access, Trailer(s), Uncut, SYNOPSIS: Ilsa (Dyanne Thorne) works as the warden in a psychiatric hospital for young women. Unbeknownst to her, patient Abby is actually the sister of Rosa, one of the hospital's other patients. Abby has lied in order to get herself admitted in order to find out what has become of her sister and to hopefully rescue her. However she is also unaware that Ilsa uses the hospital's inmates to create pornography, often against their will. Abby finds herself at the mercy of Juanna, Ilsa's lover and leader of several of the hospital's inmates. Juanna tries hard to make Abby respond to her advances, but soon begins to exploit Abby after she refuses to become Juanna's lover. ...Ilsa - The Mad Butcher ( Greta - Haus ohne Männer ) ( Wanda, the Wicked Warden (Greta the Torturer) )
Ilsa: The Wicked Warden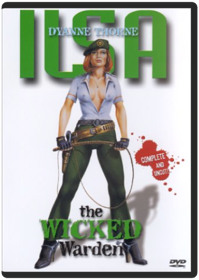 Jess Franco
Prolific Spanish sexploitation legend Jess Franco's entry into the Ilsa sweepstakes is actually a knock-off called Greta, the Mad Butcher. A red-tressed Dyanne Thorne is the (what else?) sadistic warden of a Latin American political prison posing as an institution for sexually disturbed women, but despite the name change she's still the arch, statuesque Joan Crawfordesque dominatrix with big hair, a bigger bust, and a Nazi growl. Franco muse Lina Romay is Greta's smoldering, often naked sex slave, a willing masochist who falls in love with a new prisoner (who just happens to be an undercover agent searching for her missing sister) and finally turns on Greta in a ferocious cannibalistic revolt. In between are the usual women-in-prison tropes (catfights, long showers, floggings, and electroshock interrogations) and a few new twists, including a perverted game of pincushion sex and a violent gang rape organized in the spirit of "experimental therapy." It doesn't quite reach the threshold of violent sadism established by Ilsa, She Wolf of the SS, but it's no Girl Scout picnic either. Franco brings his unique sensibility to the Ilsa genre and provides a modicum of craft to the film, making it by default the most accomplished of the otherwise bluntly directed series. —Sean Axmaker
Kentucky Fried Movie
John Landis
From the director of Animal House and the creators of Airplane and The Naked Gun comes the original madcap, most out-of-control spoof of all time. The one that started it all!! The Kentucky Fried Movie!

Featuring a cast of more than a few but less than a lot, this insane collection of comedy skits includes such now famous sketches as the Kung-Fu parody, "A Fistful of Yen", and the legendary "Catholic School Girls in Trouble." Enjoy the future of moviegoing with the "Feel-A-Round" theater experience. See notable and highly respected actor Donald Sutherland as the clumsiest waiter in motion picutre history. Watch such characters as Cleopatra Schwartz and Big Jim Slade tickle your funny bone until it has to be removed surgically!

Directed by John Landis and written by Jim Abrahams, David Zucker, and Jerry Zucker, and featuring appearances by ex-James Bond George Lazenby and The Incredible Hulk star Bill Bixby, The Kentucky Fried Movie is the cult classic you've been waiting for! It's a virtual guarantee (not an actual guarantee) that you will not find another film iwth as many side- splitting moments of pure unadulterated hilarity as The Kentucky Fried Movie.
Voodoo Passion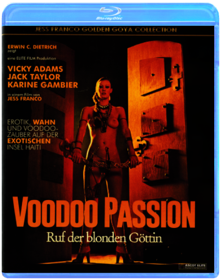 Jess Franco
Women in Cellblock 9
Jesus Franco
Germany released, Blu-Ray/Region A/B/C : it WILL NOT play on regular DVD player. You need Blu-Ray DVD player to view this Blu-Ray DVD: LANGUAGES: English ( Dolby Digital 5.1 ), English ( DTS-HD Master Audio ), French ( Dolby Digital 2.0 ), German ( Dolby Digital 5.1 ), German ( DTS-HD Master Audio ), Italian ( Subtitles ), WIDESCREEN (1.78:1), SPECIAL FEATURES: Interactive Menu, Photo Gallery, Scene Access, Trailer(s), Uncut, SYNOPSIS: Another sadistic women's prison film from the director of Ilsa, the Wicked Warden and Barbed Wire Dolls, this exploitation film posits a group of revolutionaries led by Karine Gambier thrown into a South American jail. Howard Vernon plays the staff torture specialist, Dr. Costa, who manages to extract information from Gambier, necessitating an escape by the women to warn their compatriots. Plenty of sex and violence is featured for the raincoat crowd, while Franco cultists will delight in Vernon's wonderfully sinister performance as the prison doctor. ...Women in Cellblock 9 ( Frauen für Zellenblock 9 ) ( Tropical Inferno (Women in Cell block Nine) )
Wicked Women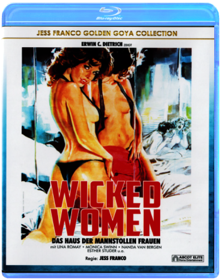 Jesus Franco
Germany released, Blu-Ray/Region A/B/C : it WILL NOT play on regular DVD player. You need Blu-Ray DVD player to view this Blu-Ray DVD: LANGUAGES: German ( Dolby Digital 5.1 ), German ( DTS-HD Master Audio ), Dutch ( Subtitles ), English ( Subtitles ), WIDESCREEN (1.78:1), SPECIAL FEATURES: Interactive Menu, Photo Gallery, Scene Access, Uncut, SYNOPSIS: Spending her holidays on the Swiss/Italian border, Margareta (Lina Romay) meets charming Sandra Mauro (Monica Swinn) and her husband. She agrees to stay in their house for the rest of her vacation, unaware that they are going to use her for smuggling diamonds over the border. There they get a little 'deeper' into knowing each other, but one night she awakens to strange noises and finds the couple brutally murdered in their living room. Margareta, deeply traumatized and unable to speak, is taken to Dr. Antonio's asylum. Antonio tries his very best to get her to speak and to reveal the events of the dreadful night. His attempts are not unselfish, since every member of the medical staff has already tried to be the first to find out where the missing diamonds are hidden. One night a mysterious black robbed person kills one of the nurses. Is this just a random attack or has somebody tried to get rid of a possible competitor. Only Margareta, who saw the killer, is able to uncover the mystery... ...Wicked Women (1978) ( Frauen ohne Unschuld ) ( Women Without Innocence )
Six Swedish Girls in a Boarding School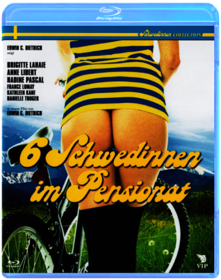 Erwin C. Dietrich
Germany released, Blu-Ray/Region A/B/C : it WILL NOT play on regular DVD player. You need Blu-Ray DVD player to view this Blu-Ray DVD: LANGUAGES: English ( Dolby Digital 5.1 ), English ( DTS-HD Master Audio ), German ( Dolby Digital 5.1 ), German ( DTS-HD Master Audio ), German ( Subtitles ), Italian ( Subtitles ), WIDESCREEN (1.85:1), SPECIAL FEATURES: Cast/Crew Interview(s), Featurette, Interactive Menu, Photo Gallery, Scene Access, Trailer(s), SYNOPSIS: In an exclusive private school for girls Miss Stein executes a stern rule. This is very necessary, because six blonde Swedes have been entrusted to her. But neither she nor the gymnastic trainer Mike succeed in keeping the scandinavian beauties off their increasingly crazy tricks. So it becomes inevitable, that the girls, educated in Sweden to free love, carry through their lovecrazy tricks with every man in the range of many miles, so far as they are able to drive their red bikes. Even the tight gymnastic teacher is not exempted... ...Six Swedes on a Campus (1979) ( Sechs Schwedinnen im Pensionat ) ( 6 Swedish Girls in a Boarding School )
Diamonds of Kilimandjaro
Jess Franco
An expedition consisting of members of a British family and an expert hunter penetrate deep into the jungles of darkest Africa. The team searches for treasure, and for Diana, an English girl who was lost in the jungles as a child. Diana is now a beautiful young woman who lives with a tribe of savage headhunters, the Mabutos. Sexy Katja Bienert stars as the naked goddess worshipped by the savage cannibals. Director Jess Franco takes the Tarzan concept and twists it into an amazing world of sex and cannibals.
Screwballs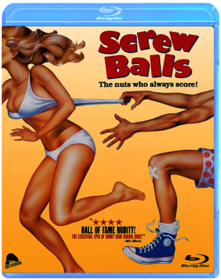 Rafal Zielinski, Roger Corman
THE RAUNCHIEST 80s SEX COMEDY OF THEM ALL

Now On DVD For The First Time Ever!

When legendary exploitation king Roger Corman decided to release the ultimate horny teen comedy, he delivered the most outrageous and hilarious boobs-and-balls epic of the decade! Welcome to Taft & Adams High, where the entire student body including campus virgin Purity Busch, chronic masturbator Melvin Jerkovski, repressed Principal
Stuckoff and blonde bombshell Bootsie Goodhead all must rise to the challenges of freshman breast exams, bikini cheerleader attacks, inappropriate uses of bowling ball holes and much more. Co-screenwriter Linda Shayne, Nanci Chambers of JAG, and Russ Meyer bosom goddess Raven DeLaCroix co-star in this infamous drive-in smash, now loaded with exclusive new Bonus Features that take you deep inside the skin-tastic classic that DVD Talk says makes PORKY S look like Proust!

EXTRAS:
Audio Commentary with Director Rafal Zielinski
CAST & CREW INTERVIEWS: Director Rafal Zielinski, Co-Writers Linda Shayne & Jim Wynorski, Star Kent Deuters and Special FX Artist Gerald Lukaniuk
Interview with Canuxsploitation Scholar Paul Corupe
Mr. Skin Talks Sex Comedies of the '80s
Deleted Scenes
Theatrical Trailer
The Perils of Gwendoline in the Land of the Yik-Yak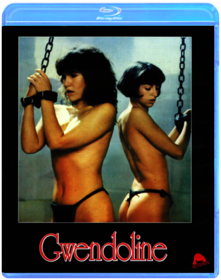 Just Jaeckin
BASED ON THE KINKY COMICS THAT SHOCKED THE WORLD - UNCUT, UNCENSORED & UNRATED FOR THE FIRST TIME EVER IN AMERICA!

Video vixen Tawny Kitaen made her movie debut as the virgin adventuress on a provocative odyssey to find her lost father. But even if she can endure the scorching torment of the desert and steamy hungers of the jungle, will she survive her final ordeal at the hands - and more - of the warrior women of Yik Yak?

Brent Huff and French sex kitten Zabou co-star in this erotic cult classic directed by Just Jaeckin (EMMANUELLE, THE STORY OF O), now fully restored from French vault materials and featuring scenes never-before-seen in America!
Reform School Girls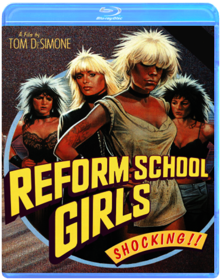 Tom DeSimone
REFORM SCHOOL GIRLS - DVD Movie
Black Angel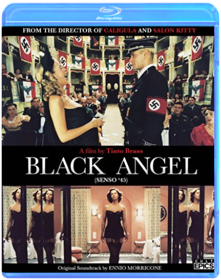 Tinto Brass
In 1945 Italy, Livia (stunning Anna Galiena), the bored wife of an Italian official, recalls the taboo affair she has been having with a much younger Nazi lieutenant (Gabriel Garko). The elation of her middle-aged sexual awakening is soon diminished when she discovers that her lover's intentions are far from honest. Ashamed and betrayed, she must make the difficult decision to resolve her devastating erotic entanglement. Tinto Brass reminds us why he is a master of his art. The lush and sentimental Ennio Morricone score beautifully complements the striking cinematography that contrasts the bliss of a woman's rediscovery with a society ravaged by war. This is Camillo Boito's 1882 novella Senso as only maestro-of-erotica Tinto Brass could tell it. Cult Epics is proud to release this contemporary classic drama on DVD for the first time in the US. Special Features: The Making Of Black Angel Backstage Promo Photo Video Gallery Motion Picture Soundtrack Theatrical Trailer