Pee-wee's Big Adventure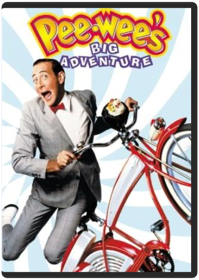 Tim Burton
Former animator Tim Burton (Beetlejuice, Edward Scissorhands, Ed Wood, Batman, Mars Attacks!) made his feature directorial debut with this delightful comedy, coscripted by the late Phil Hartman (who also appears briefly
Beetlejuice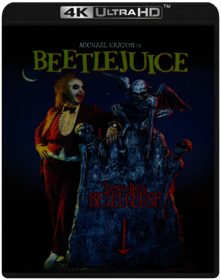 Tim Burton
Beetlejuice (BD)
Batman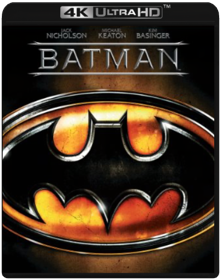 Bob Kane, Tim Burton
Batman Returns
Tim Burton
Gotham City faces two monstrous criminal menaces: the bizarre, sinister Penguin (Danny DeVito) and the slinky, mysterious Catwoman (Michelle Pfeiffer). Can Batman (Michael Keaton) battle two formidable foes at once? Especially when one wants to be mayor and the other is romantically attracted to Bruce Wayne? Like the groundbreaking 1989 original, Batman Returns is directed by the wizardly Tim Burton. And like the first blockbuster, it's a dazzling adventure that leaves you breathless. Special Features: • Commentary by Director Tim Burton • The Bat, the Cat and the Penguin Making-of Featurette • Shadows of the Bat: The Cinematic Saga of the Dark Knight Part 4: Dark Side of the Knight • Beyond Batman Documentary Gallery – 6 Featurettes: • Gotham City Revisited: The Production Design of Batman Returns • Sleek, Sexy and Sinister: The Costumes of Batman Returns • Making up the Penguin • Assembling the Arctic Army • Bats, Mattes and Dark Nights: The Visual Effects of Batman • Inside the Elfman Studio: The Music of Batman Returns • Souixsie and the Banshees Face to Face Music Video • The Heroes and The Villains Profile Galleries • Theatrical Trailer
The Nightmare Before Christmas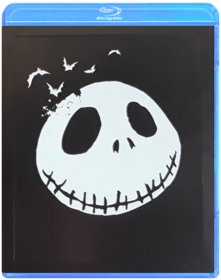 Henry Selick
This stop-motion animated fable was a big hit when it was released — not only at the box office, but critically. It was praised for its stunning originality and for the excellence of its execution. In addition, it was praised for being a completely absorbing fable that both grownups and children can enjoy, so long as the children are able to its handle scary bits (beginning perhaps at age seven or eight). In the story, Jack Skellington (voice of Chris Sarandon) is the Pumpkin King of Halloweentown, a realm of reality where the inhabitants make it their life's work to scare humans on Halloween. He's good at his work, and is very popular around town, but it all bores him. In a funk one day, he wanders into a wood where every tree is the doorway to realms serving one or another human holiday, and falls through the doorway into Christmas. There, he sees scenes of such glee and good will that he is overwhelmed. He returns to Halloweentown with the inspiration to persuade his fellow citizens to kidnap Santa and do Christmas in their own Halloweentown way — complete with snakes and shrunken heads. Despite strong arguments against this project by Jack's otherwise loyal girlfriend, Sally (voice of Catherine O'Hara), Santa (voice of Edward Ivory) is duly captured, and the townspeople prepare a very special Christmas for everyone. Jack is excited about the new plan, and at first doesn't notice that Sally isn't around much anymore. Meanwhile, Oogie Boogie (voice of Ken Page), a sinister opponent of Jack's, has re-kidnapped Santa and has captured Sally as well. Since Sally is the true love of Jack's life and (he eventually realizes) the only one who can be relied upon to tell him the truth in every circumstance, a confrontation with Oogie Boogie becomes inevitable. In addition to being a monumental work of animation (it took over 120 animators and many more technicians more than two years to film it), this show features ten very appropriate musical numbers by composer Danny El
Ed Wood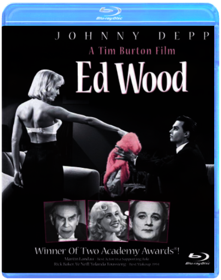 Tim Burton
Experience Tim Burton's acclaimed, true-life story of the wackiest filmmaker in Hollywood history, ED WOOD, for the first time on Blu-ray — complete with a new digital restoration, featuring enhanced picture and sound. Celebrated actor Johnny Depp stars as the high-spirited director who never let terrible reviews or hostile studio executives derail his big-screen dreams. With an oddball collection of showbiz misfits, Ed takes the art of bad moviemaking to an all-time low! Bill Murray, Sarah Jessica Parker, and Academy Award(R)-winner Martin Landau (Best Supporting Actor, 1994, ED WOOD) are hilarious in this warm and witty comedy. Relive every madcap moment like never before on Blu-ray!
Sweeney Todd: The Demon Barber of Fleet Street
Tim Burton
This film of a 19th century London barber who makes mince meat of his clients (literally!) stars Johnny Depp and Helena Bonham Carter and is directed by Tim Burton.