Walerian Borowczyk - Short Films and Animation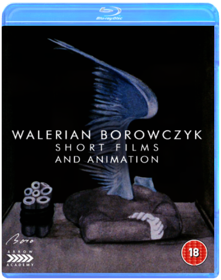 Walerian Borowczyk
United Kingdom released, Blu-Ray/Region A/B/C : it WILL NOT play on regular DVD player. You need Blu-Ray DVD player to view this Blu-Ray DVD: LANGUAGES: French ( Dolby Digital 2.0 ), French ( Dolby Linear PCM ), French ( Mono ), English ( Subtitles ), SPECIAL FEATURES: 2-DVD Set, Black & White, Blu-Ray & DVD Combo, Booklet, Documentary, Interactive Menu, Remastered, Scene Access, SYNOPSIS: For the first decade of his career, Walerian Borowczyk exclusively made short films, initially in his native Poland, but then mostly in France, where he settled permanently in the late 1950s. This disc includes the vast majority of the shorts that he made between 1959 and 1984, apart from ones that were originally intended to accompany specific features. Far from being prentice work or optional extras, the shorts include many of his greatest films, such as the cut-out Astronauts, the reverse-motion Renaissance and the extraordinary Angels Games, a one-off masterpiece of the macabre that would alone establish Borowczyk as one of the cinema s most innovative artists. In 1967, Borowczyk made his feature debut, a grotesque and surreal fantasy about the physically and temperamentally mismatched couple Mr & Mrs Kabal. Made with a tiny production team at a time when animated feature films were far scarcer than they are now, it s almost the polar opposite of a Disney film, with angular, mainly monochrome graphics bringing the Kabals universe to startlingly vivid life. Both this and all the short films are presented in brand new high-definition restorations from original 35mm elements. ...Walerian Borowczyk (Short Films & Animation Collection) ( Le concert de M. et Mme. Kabal (Concert of Mr. & Mrs. Kabal) / L'encyclopedie de grand-maman en
Theatre of Mr & Mrs Kabal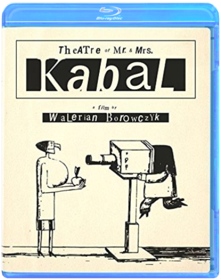 Walerian Borowczyk
Goto Isle of Love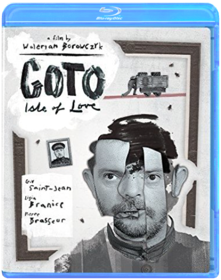 Walerian Borowczyk
A simpleton thief on Goto, an isolated island ruled by a barbaric dictator, climbs ranks from criminal to fly-catcher, dog-keeper and boot polisher, while himself and other islanders get caught up in throes of temptation, which threatens to change the fate of the island forever.

Blanche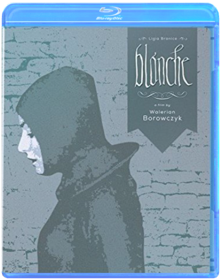 Walerian Borowczyk
Blanche is the young, pure, beautiful wife of the Master of the castle, in a secluded land. Every man is in love with her, including the King and his servant Bartolomeo, visiting the Master.

Immoral Tales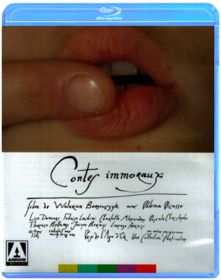 Walerian Borowczyk
Four erotic tales from in various historical eras. The first, 'The Tide', is set in the present day, and concerns a student and his young female cousin stranded on the beach by the tide, secluded from prying eyes. 'Therese Philosophe' is set in the nineteenth century, and concerns a girl being locked in her bedroom, where she contemplates the erotic potential of the objects contained within it. 'Erzsebet Bathory' is a portrait of the sixteenth-century countess who allegedly bathed in the blood of virgins, while 'Lucrezia Borgia' concerns an incestuous fifteenth-century orgy involving Lucrezia, her brother, and her father the Pope.

The Beast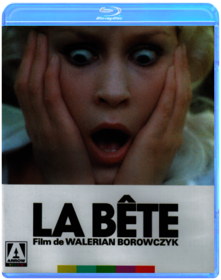 Walerian Borowczyk
THE BEAST

Once upon a time in the 18th century a beast lived in the woods of an aristocratic estate. And this beast, possessed of a giant phallus and an insatiable lust, set upon the beautiful young lady of the house. Two centuries later, the tale of the beast would return in the dreams of an American heiress contracted to carry the male descendant of the same crumbling aristocratic family and their secret.
Story of Sin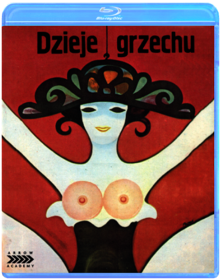 Walerian Borowczyk
The life of a beautiful, young and pious woman is thrown into chaos when her parents takes in a dashingly handsome lodger. Having embarked on a torrid affair, the lodger goes off to Rome to seek a divorce from his estranged wife.

Unable to live apart from her beloved, our hero leaves home only to fall prey to the infatuations and lusts of a band of noble admirers, unsavoury criminals and utopian do-gooders...

The only feature Walerian Borowczyk (The Beast, The Strange Case of Dr Jekyll and Miss Osbourne) made in his native Poland, Story of Sin transforms Stefan Zeromski s classic melodrama into a deliriously surrealistic meditation on l amour fou.

SPECIAL EDITION CONTENTS 2K restoration from the original film negativeHigh Definition Blu-ray (1080p) and Standard Definition DVD presentationsNew subtitle translationNew 2K restorations from the original negatives of Borowczyk s ground-breaking Polish shorts: Once Upon a Time (co-directed by Jan Lenica), Dom (co-directed by Lenica) and The SchoolNew introduction by poster designer Andrzej KlimowskiNew interview with Story of Sin lead actor Grazyna DlugoleckaNew interview featurette on Borowczyk's career in Poland by Daniel Bird (co-founder Friends of Walerian Borowczyk)New interview featurette on Borowczyk s innovate use of classical music in his films by writer and filmmaker David ThompsonReversible sleeve featuring original and newly commissioned artwork by Andrzej Klimowski

FIRST PRESSING ONLY: Fully illustrated collector s booklet featuring new and archival writing, including an exclusive interview with the producer of Story of Sin, director Stanislaw Rozewicz; a text by art historian and one-time Borowczyk collaborator, Szymon Bojko; and excerpts from Borowczyk s memoirs presented in English for the first time.
Behind Covent Walls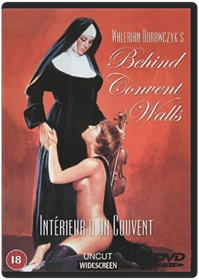 Walerian Borowczyk
Directed by Walerian Borowczyk. Starring Marina Pierro, Ligia Branice, Mario Maranzana.
Immoral Women
Walerian Borowczyk
From The Infamous Director Of IMMORAL TALES and THE BEAST
Now Uncut And Uncensored For The First Time Ever In America

Some have hailed him as a genius of joyous erotica, while others have condemned him as a monster of pornographic depravity. But in this controversial three-part feature by writer/director Walerian Borowczyk, women are mysterious and degenerate creatures who hunger for both extremes. In the first tale, Marina Pierro (of BEHIND CONVENT WALLS) stars as the muse whose rampant lusts enflamed the artists and clergy of ancient Rome. Then Gaëlle Legrand is a blossoming teen in 18th century France whose unnatural desire for her pet bunny leads to an act of depraved passion. Finally, a luscious young wife (former Disney child star Pascale Christophe) is abducted and raped before finding the ultimate ecstasy with her four-legged savior.

Severin Films is proud to present this notorious erotic epic - also known as THREE IMMORAL WOMEN and HEROINES OF EVIL - transferred from its original European negative materials with all of its scenes of daring sexuality now fully restored.
Love Rites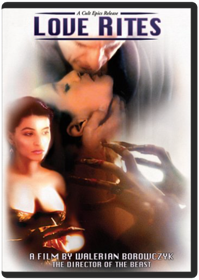 Walerian Borowczyk
The last film by the great Walerian Borowczyk, about the terrors of seduction. When Hugo (Mathieu Carriere) meets Myriam (Marino Pierro), a prostitute who picks up her clients on the Paris Metro, he soon becomes obsessed with her sultry beauty and follows her to a flat owned by the mysterious Sara Sand, where he consumates his passion. Suddenly he finds the rules of the game have changed as Myriam is now in charge of hs body and his soul. A macabre love poem from the Director of "The Beast" and Immoral Tales".

Extras:
Includes Two Versions of the Film:
Side A The Director's Cut
Side B The Complete Version
Photo Gallery
Liner Notes