Blood Simple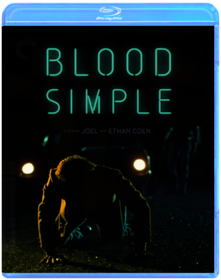 Ethan Coen, Joel Coen
Blood Simple (The Criterion Collection) [Blu-ray] [Blu-ray] [2016]
Raising Arizona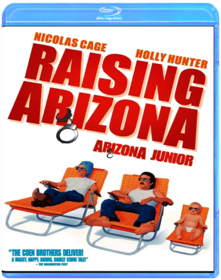 Joel Coen, Ethan Coen
Nicolas Cage, Holly Hunter and John Goodman lead an all-star cast in Ethan and Joel Coen's celebrated comedy. Once he decides to give up crime, a small-time robber (Cage) proposes to a pretty cop (Hunter). But when the newlyweds learn they can't conceive a baby, they decide to steal one from a couple who seem to have one to spare – since they just had quintuplets! With its outrageous plot, fast-paced action and even some wild pyrotechnics, Raising Arizona will forever have a place in the hearts of lovers – and film lovers – everywhere.
Miller's Crossing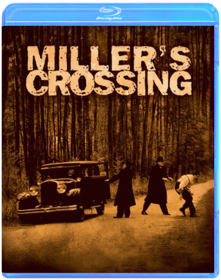 Joel Coen, Ethan Coen
Filmmakers Joel and Ethan Coen (Raising Arizona, Fargo) create a complex and graphic vision of gangsterism set during Prohibition and featuring a riveting rouges' gallery of killers and con men. Leo (Albert Finney), a likeable Irish gangster boss, rules an Eastern city along with Tom (Gabriel Byrne), his trusted lieutenant and counselor. But just as their authority is challenged by an Italian underboss (Jon Polito) and his ruthless henchman (J.E. Freeman), Leo and Tom also fall for the same woman (Marcia Gay Harden). Tom, caught in the jaws of a gangland power struggle, walks a deadly tightrope as he tries to control and manipulate its violent outcome.
Barton Fink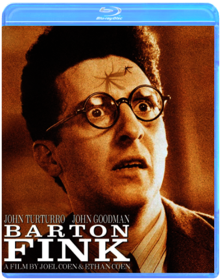 Joel Coen, Ethan Coen
The Hudsucker Proxy
Joel Coen, Ethan Coen
An ambitious but naive young man rapidly moves up the corporate ladder from the mailroom to the executive suite, unaware that he is part of the board of directors' nefarious scheme.

Paul Newman, Tim Robbins and Jennifer Jason Leigh star in filmmakers Joel and Ethan Coen's darkly comic look at big business. When the founder of Hudsucker Industries leaps to his death from the 44th floor boardroom window the board of directors panics. But there is a plan: install a complete imbecile as president of the company and devalue the stock so the board can acquire a controlling interest for themselves. But where can they find such a guileless patsy? Enter Norville Barnes. Fresh off the bus from Muncie, Indiana, as a graduate of the 1958 class of the Muncie College of Business Administration, Norville is ready to start at the bottom and work his way up to the top of the corporate world ... he just never imagined it would happen so quickly.
Fargo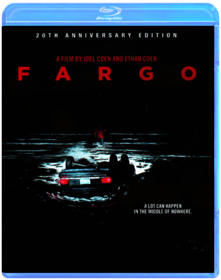 Joel Coen, Ethan Coen
In this seven-time Oscar-nominated film, things go terribly awry when small-time Minnesota car salesman Jerry Lundegaard (William H. Macy) hires two thugs (Steve Buscemi and Peter Stormare) to kidnap his wife so he can collect the ransom from his wealthy father-in-law. Once people start dying, the very chipper and very pregnant Police Chief Marge Gunderson (Frances McDormand) takes the case. Is she up for this challenge? You betcha.
The Big Lebowski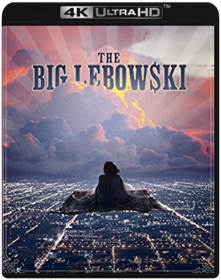 Joel Coen, Ethan Coen
From the Academy Award-winning Coen brothers, The Big Lebowski is a hilariously quirky comedy about bowling, a severed toe, White Russians and a guy named…The Dude. Jeff "The Dude" Lebowski doesn't want any drama in his life…heck, he can't even be bothered with a job. But, he must embark on a quest with his bowling buddies after his rug is destroyed in a twisted case of mistaken identity. Starring Jeff Bridges, John Goodman, Julianne Moore, Steve Buscemi, Philip Seymour Hoffman and John Turturro, experience the cultural phenomenon of The Dude in the "#1 cult film of all time!" (The Boston Globe)
O Brother, Where Art Thou?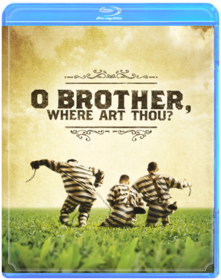 Joel Coen, Ethan Coen
George Clooney (The Perfect Storm) and John Turturro (Cars 2)embark on the adventure of a lifetime in this hilarious, offbeat road picture. And now, for the first time, this quirky gem shines more brightly than ever in Blu-ray High Definition! Fed up with crushing rocks on a prison farm in Mississippi, the dapper, silver-tongued Ulysses Everett McGill (Clooney) busts loose...except he's still shackled to two misfits from his chain gang: bad-tempered Pete (Turturro), and sweet, dimwitted Delmar (Tim Blake Nelson). With nothing to lose and buried loot to regain, the three embark on a riotous odyssey filled with chases, close calls, near misses and betrayal. Experience every unpredictable moment as it plays out in the crystal-clear sound and breathtaking picture quality of Blu-ray. Populated with strange characters, including a blind prophet, sexy sirens, and a one-eyed Bible salesman (John Goodman), O Brother, Where Art Thou? will leave you laughing at every outrageous and surprising twist and turn
The Man Who Wasn't There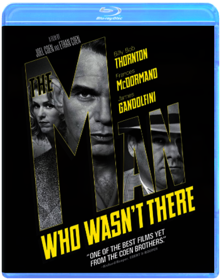 Joel Coen, Ethan Coen
2001 - The Man Who Wasn't There - DVD Video - Stars: Billy Bob Thornton, Frances McDormand, Michael Badalucco, Richard Jenkins, Scarlett Johansson, Jon Polito, Tony Shaloub, James Gandolfini - Director: Joel Coen - Written by Joel & Ethan Coen - A Coen Brothers Film - Special Features - Dolby Digital 5.1 - Rated R - Collectible
Intolerable Cruelty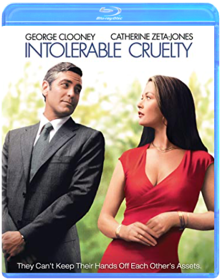 Joel Coen, Ethan Coen
No Country for Old Men
Joel Coen, Ethan Coen
UPC:786936750034
DESCRIPTION: Violence and mayhem erupt after a man stumbles upon a bloody crime scene, a stash of heroine and $2 million in cash in Miramax Films No Country For Old Men. Acclaimed filmmakers The Coen Brothers deliver their most viscerally compelling and ambitious film yet in this gripping crime saga in which money is as irresistible as bad choices are inevitable, and where every decision has potentially catastrophic consequences. Adapted from the novel by Pulitzer prize-winning author, Cormac McCarthy and starring an acclaimed cast led by Academy Award® winner Tommy Lee Jones, this mesmerizing game of cat and mouse will have you on the edge of your seat until the nail biting end.
Burn After Reading
Joel Coen, Ethan Coen
An all-star cast, including George Clooney, Brad Pitt, Frances McDormand, Tilda Swinton and John Malkovich, come together in this outrageous spy comedy about murder, blackmail, sex addiction and physical fitness! When a disc filled with some of the CIA's most irrelevant secrets gets in the hands of two determined, but dim-witted, gym employees, the duo are intent on exploiting their find. But since blackmail is a trade better left for the experts, events soon spiral out of everyone's and anyone's control, resulting in a non-stop series of hilarious encounters! From Joel and Ethan Coen, the Academy Award-winning directors of No Country For Old Men and The Big Lebowski, comes this brilliantly clever and endlessly entertaining movie that critics are calling, "smart, funny, and original" (Ben Lyons, E!).
A Serious Man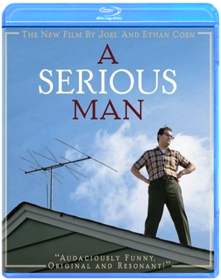 Coen Brothers
Academy Award®-winning directors Joel and Ethan Coen return to their comedy roots with this original and darkly humorous story about one ordinary man's quest to become a serious man. Physics professor Larry Gopnik (Michael Stuhlbarg) can't believe his life: His wife is leaving him for his best friend, his unemployed brother won't move off the couch, someone is threatening his career, his kids are a mystery and his neighbor is tormenting him by sunbathing nude. Struggling to make sense of it all, Larry consults three different rabbis and their answers lead him on a twisted journey of faith, family, delinquent behavior and mortality in the film critics rave is "seriously awesome!" (Michael Hogan, Vanity Fair)
Inside Llewyn Davis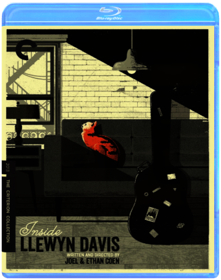 Ethan Coen, Joel Coen
INSIDE LLEWYN DAVIS follows a week in the life of a young folk singer as he navigates the Greenwich Village folk scene of 1961.LLEWYN DAVIS (OSCAR ISAAC) is at a crossroads. Guitar in tow, huddled against the unforgiving New York winter, he is struggling to make it as a musician against seemingly insurmountable obstacles-some of them of his own making. Living at the mercy of both friends and strangers, scaring up what work he can find, Llewyn's misadventures take him from the baskethouses of the Village to an empty Chicago club-on an odyssey to audition for a music mogul -and back again.
Hail, Caesar!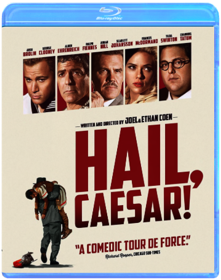 Joel Coen, Ethan Coen
Four-time Oscar-winning filmmakers Joel and Ethan Coen (No Country for Old Men,Fargo) write and direct Hail, Caesar!, an all-star comedy set during the latter years of Hollywood's Golden Age. Starring Josh Brolin, George Clooney, Alden Ehrenreich, Ralph Fiennes, Jonah Hill, Scarlett Johansson, Frances McDormand, Tilda Swinton, and Channing Tatum, Hail, Caesar! follows a single day in the life of a studio fixer who is presented with plenty of problems to fix.