Salon Kitty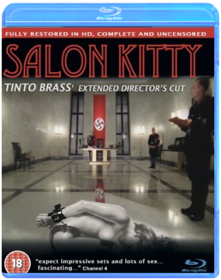 Tinto Brass
United Kingdom released, Blu-Ray/Region A/B/C : it WILL NOT play on regular DVD player. You need Blu-Ray DVD player to view this Blu-Ray DVD: LANGUAGES: English ( Dolby Digital 2.0 ), English ( Dolby DTS-HD Master Audio ), French ( Dolby Digital 2.0 ), German ( Dolby Digital 2.0 ), Italian ( Dolby Digital 2.0 ), English ( Subtitles ), WIDESCREEN (1.78:1), SPECIAL FEATURES: Anamorphic Widescreen, Cast/Crew Interview(s), Interactive Menu, Remastered, Scene Access, Trailer(s), Uncut, SYNOPSIS: Berlin, 1939: At the dawn of World War II, power-mad SS Officer Wallenberg (Helmut Berger of THE DAMNED) is ordered to find and train Germany's most beautiful women to work in the opulent brothel of Madam Kitty (Ingrid Thulin of CRIES AND WHISPERS). Here these Nazi nymphs will submit to the bizarre passions and carnal degradations of the Reich's highest-ranking men and women while Wallenberg secretly records their acts for blackmail. But when an innocent young prostitute (Teresa Ann Savoy of CALIGULA) uncovers the conspiracy, her revenge will ignite a holocaust of pain, pleasure and shocking sexual perversion. The story is true. The depravity is real. The film is SALON KITTY. ...Salon Kitty (1976) ( Madam Kitty )
Caligula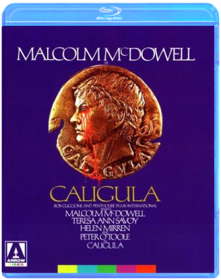 Bob Guccione, Giancarlo Lui, Tinto Brass
The decadent side of high definition! Before Rome... Before Gladiator... The most controversial film of all time as you've never experienced it before! Combining lavish spectacle and award-winning stars, this landmark production was shrouded in secrecy since its first day of filming. Now, this unprecedented edition presents a more revealing Caligula than ever before, with a high-definition transfer from negative elements and hours of never-before-seen bonus material!
Miranda
Tinto Brass
While waiting years for her MIA husband to return, Miranda continues to manage their pension in a serene country village. Into this picture enter a bartender, and old fascist council, a young truck driver, and an American ex-soldier, who all soon come to be Miranda's admirers. Serena Grandi, for playing the lead role in this wildly popular film, was voted the sexiest woman in Italy. An erotic comedy that followed Tinto Brass' Caligula and The Key.

SPECIAL DVD FEATURES
- Exclusive 10 minute Interview with director Tinto Brass
- Photo gallery
- Trailers
- Filmographies
- Scene selection
- Widescreen - Enhanced for 16x9
- Dual layer
Paprika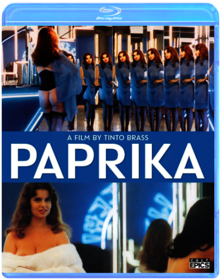 Tinto Brass
A young country girl (voluptuous Deborah Caprioglio) comes to town and takes a job in a brothel in order to help her fiancée get the money to start his own business. In her new found work of pleasure, the innocent girl's life slowly turns into sleaze and degradation and she becomes a professional prostitute named Paprika, a nick-name given to her by the madam of the establishment.
Tinto Brass personal and faithful adaptation of John Cleland's Fanny Hill, is a sexy comedy from the 90s, at the height of his erotic career. Cult Epics presents the US premiere of PAPRIKA in a new High-definition transfer, Uncut and Uncensored version for the first time on Blu-ray & DVD with a newly produced Featurette among other bonus features. Original Score by Riz Ortolani (Cannibal Holocaust, Django Unchained).

Special Features:New Restored High-definition TransferHD TrailersLobby Card Video Gallery
Cheeky!
Tinto Brass
Will you be able to endure the sexy hilarity as Carla visits London? She's a big hit with everyone except her boyfriend Matteo, who seethes with jealousy. With her skimpy skirt conveniently blowing in the wind, Carla attracts the attention of one and all. As she is having adventures with her real-estate agent Moira and Moira's ex-husband Marion, Matteo jets over to put her in line. But finding himself surrounded by free-lovers in Hyde Park who remind him of his dalliances, he soon mends his ways.
Black Angel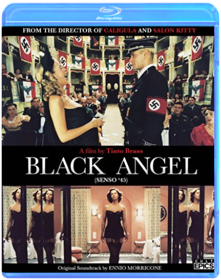 Tinto Brass
In 1945 Italy, Livia (stunning Anna Galiena), the bored wife of an Italian official, recalls the taboo affair she has been having with a much younger Nazi lieutenant (Gabriel Garko). The elation of her middle-aged sexual awakening is soon diminished when she discovers that her lover's intentions are far from honest. Ashamed and betrayed, she must make the difficult decision to resolve her devastating erotic entanglement. Tinto Brass reminds us why he is a master of his art. The lush and sentimental Ennio Morricone score beautifully complements the striking cinematography that contrasts the bliss of a woman's rediscovery with a society ravaged by war. This is Camillo Boito's 1882 novella Senso as only maestro-of-erotica Tinto Brass could tell it. Cult Epics is proud to release this contemporary classic drama on DVD for the first time in the US. Special Features: The Making Of Black Angel Backstage Promo Photo Video Gallery Motion Picture Soundtrack Theatrical Trailer
Private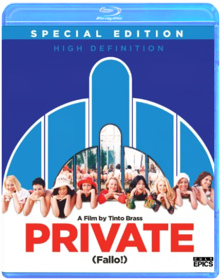 Tinto Brass
Six sexy stories of couples finding their joy in sharing with others! Directed by renowned filmmaker Tinto Brass, Private (aka DO IT) is an erotic comedy about erotically charged youthful couples who realize that nothing can bring them together as effectively as regular doses of fooling around.
Cult Epics presents the Special Edition; in new High-Definition including both the Italian language track and a newly mixed English language track.
Monamour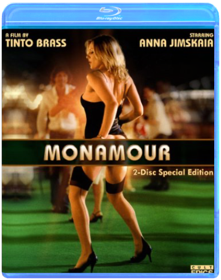 Tinto Brass
Tinto Brass' Monamour, is the love-story of a Venetian girl and a Frenchman in the beautiful city of Mantua. Dario, her husband is too busy to notice his wife's sexual drifting, when her adultery "born out of neglect and frustration" starts on the day she meets a tall dark stranger in a museum. An intoxicating mix of lies, betrayal and fantasy follows Marta into her personal diary where every emotion and passion is recorded.
Starring Anna Jimskaia and Max Parodi (Cheeky!), along with a line of stars of Tinto's previous erotic films. Now in high-definition, the film has never looked better!

Disc 2 includes the bonus film, Kick the Cock. "Kick the Cock" is an old Dutch saying; meaning "Peek in the Kitchen," or something shocking and extreme, exactly what we can expect of Tinto Brass; the director and co-star, along with newcomer Angelita Franco.
Kick the Cock premiered at the Venice Film Festival in 2008, and won "Best short film" at a Fetish Film Festival in Germany in 2009 and is now presented for the first time as a worldwide premiere on DVD and Blu-ray.

Special features include:
-New High-definition Master
-The Making of "Monamour" -The Making of "Kick the Cock"
-Comic strip by Franco Saudelli
-Venice Film Festival Premiere with Tinto Brass (Circuito Off 2008, Media Group TV)
-Spanish Dance by Angelita Franco -Trailers