Love Camp 7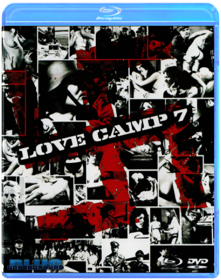 Lee Frost
The story of LOVE CAMP 7 is based on fact! During the darkest days of World War II, two young American WAC officers volunteer to infiltrate a Nazi Love Camp on a desperate rescue mission. Once inside, they are subjected to horrid humiliations at the hands of their captors. Can they survive long enough to complete their objective and escape with their lives intact?

Launching the Nazisploitation craze of the 1970s, LOVE CAMP 7 was the dream child of Writer/Producer/Star Bob Cresse (THE SCAVENGERS), Producer Dave Friedman (BLOOD FEAST), and Director/Cinematographer Lee Frost (THE BLACK GESTAPO). Blue Underground presents the original version of LOVE CAMP 7 in a brand-new 4K restoration from its recently discovered camera negative!

Special Features:NAZITHON: DECADENCE AND DESTRUCTIONTheatrical TrailerPoster & Still GalleryBONUS Collectable Booklet featuring The History of Nazi-Exploitation by Paolo Zelati
The Last House on the Left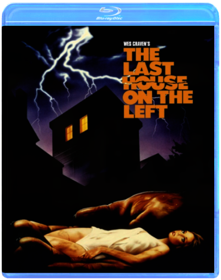 Wes Craven
MARI, SEVENTEEN, IS DYING. EVEN FOR HER THE WORST IS YET TO COME!

The directorial debut of Wes Craven, the man behind such horror favorites as A Nightmare on Elm Street, The Hills Have Eyes and Scream, The Last House on the Left justly retains its reputation as one of the most harrowing cinematic experiences of all time, nearly half a century on from its original release.

On the eve of her 17th birthday, Mari and friend Phyllis set off from her family home to the big city to attend a concert by shock-rockers Bloodlust. Attempting to pick up some marijuana on the way, the pair run afoul of a group of vicious crooks, headed up by the sadistic and depraved Krug (David Hess). Gagged and bound, the young women are bundled into a car trunk and driven to the woods, where the gang subject them to a terrifying ordeal of sexual humiliation, torture and murder.

Unleashed on an unsuspecting public in 1972, The Last House on the Left shocked audiences with its graphic and unflinching portrayal of interpersonal violence, paving the way for a whole host of cheap imitators looking to capitalize on its success. It is Wes Craven's original alone, however, that remains one of the true watershed moments in horror (and indeed, film) history.

3-DISC LIMITED EDITION CONTENTS Three cuts of the film newly restored in 2K from original film elementsOriginal Uncompressed Mono AudioOptional English subtitles for the deaf and hard of hearing6 x lobby card reproductionsDouble-sided poster featuring original and newly commissioned artworkReversible sleeve featuring original and newly commissioned artworkLimited edition 60 page perfect-bound book featuring new writing on the film by author Stephen Thrower

DISC ONE [BLU-RAY] – THE UNRATED CUT High Definition Blu-ray (1080p) presentation of the Unrated VersionIsolated score newly remastered from the original 17.5" magnetic tracksBrand new audio commentary by podcasters Bill Ackerman and Amanda ReyesArchival audio commentary with writer/director Wes Craven and producer Sean S. CunninghamArchival audio commentary with stars David Hess, Marc Sheffler and Fred LincolnArchival introduction to the film by Wes CravenStill Standing: The Legacy of The Last House on The Left – archival interview with Wes CravenCelluloid Crime of the Century – archival documentary featuring interviews with Wes Craven, Sean S. Cunningham, actors David Hess, Fred Lincoln, Jeramie Rain, Marc Sheffler and Martin KoveScoring Last House on the Left – archival interview with actor/composer David HessIt's Only a Movie: The Making of The Last House on the Left – archival documentaryForbidden Footage – the cast and crew of Last House on the film's most controversial sequencesJunior's Story – a brand new interview with actor Marc ShefflerBlood and Guts- a brand new interview with makeup artist Anne PaulThe Road Leads to Terror - a brand new featurette revisiting the film's original shooting locationsDeleted Scene - Mari Dying at the LakeExtended Outtakes and Dailies , newly transferred in HDTrailers, TV Spot & Radio SpotsImage Galleries

DISC TWO [BLU-RAY] – THE KRUG & COMPANY & R-RATED CUTS High Definition Blu-ray (1080p) presentation of the Krug and Company and R-rated cuts of the filmThe Craven Touch – brand new featurette bringing together interviews with a number of Wes Craven's collaborators, including Sean S. Cunningham, composer Charles Bernstein, producer Peter Locke, cinematographer Mark Irwin and actress Amanda WyssEarly Days and 'Night of Vengeance' – filmmaker Roy Frumkes remembers Wes Craven and Last House on the LeftTales That'll Tear Your Heart Out – excerpts from an unfinished Wes Craven shortQ&A with Marc Sheffler from a 2017 screening of the film at The American CinemathequeKrug Conquers England - archival featurette charting the theatrical tour of the first ever uncut screening of the film in the UK

DISC THREE [CD] – 'THE LAST HOUSE ON THE LEFT' ORIGINAL MOTION PICTURE SOUNDTRACK CD featuring the complete, newly remastered film score
The Demons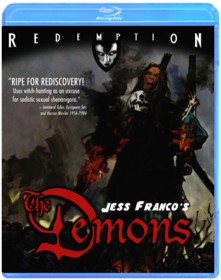 Jesús Franco
As the scarlet flames lick her pale and desperate face while the feeble body is eager to succumb, a vindictive unrepentant witch doomed by the Grand Inquisitor Jeffries and Lady de Winter to die at the stake vomits her last malignant and sulphurous curse to all those guilty of her ordeal. As a result, petrified and with the curse of demise upon the accusers' heads, Lord and Lady de Winter set out to trace the witch's dark bloodline, and in particular, her daughters Kathleen and Margaret who have been raised as Sisters in the Blackmoor convent since childhood. But within the nunnery's thick stone walls, rabid desire and evil possession govern, furthermore, only one daughter is the curse's true heir. Which one is granted the power of retribution?

Flesh for Frankenstein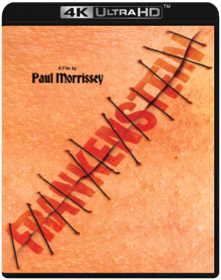 Paul Morrissey
The Texas Chain Saw Massacre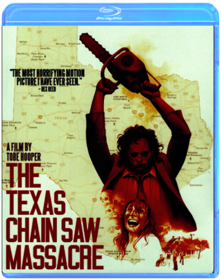 Tobe Hooper
It has been called grisly, sick, and perverse, , as well as raw, unshakeable, and the movie that redefined horror. It was attacked by churches, banned by governments, and acclaimed by only the bravest of critics. It stunned audiences worldwide and set a new standard in movie terror forever. Today writer-producer-director Tobe Hooper s dark, visionary tale remains unparalleled in its impact as perhaps the most frightening motion picture ever made.

To celebrate the 40th anniversary of this beloved horror classic, MPI Media Group presents the original restored film in an all-new 4k scan authorized by Tobe Hooper, featuring a dynamic new 7.1 surround sound mix and never-before-seen outtakes!
The Beast in Heat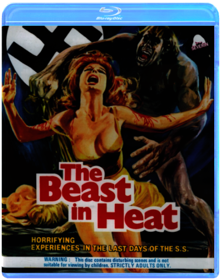 Luigi Batzella
The Gestapo's Last Orgy
Cesare Canevari
Rabid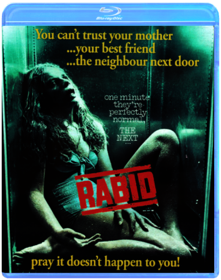 David Cronenberg
"David Cronenberg' underrated second film continues to develop his theme of body manipulation. ", Combustible Celluloid

With Rabid, acclaimed director David Cronenberg (The Fly, Dead Ringers, Naked Lunch) delivers a high-tension thriller filled with "zombified sluts and shock moments... an irresistible combination that Cronenberg handles well", (Almar Haflidason, BBC)!

After undergoing radical emergency surgery, Rose (former adult film star Marilyn Chambers in her first leading role in a mainstream film) develops an insatiable desire for blood. She searches out victims to satisfy her incurable craving, infecting them with an unknown disease which in turn swiftly drives them insane... and makes them equally bloodthirsty.

Follow the lovely but deadly Rose through her terrifying ordeal as victim by victim, the spreading circle of casualties grows... until no one can escape their grisly fate of becoming... Rabid.
Suspiria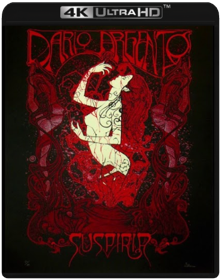 Dario Argento
Quick Shipping !!! New And Sealed !!! This Disc WILL NOT play on standard US DVD player. A multi-region PAL/NTSC DVD player is request to view it in USA/Canada. Please Review Description.
Evil Dead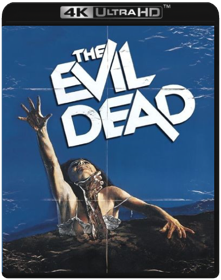 Sam Raimi
The Evil Dead, director Sam Raimi's (Darkman, Quick & The Dead, Army Of Darkness) first feature film, is a true cult classic in every sense of the word. Originally released in 1982, The Evil Dead tells the tale of a group of friends who go to a cabin in the woods, where they find an unspeakable evil lurking in the forest. They find the Necronomicon, the Book Of The Dead, and the taped translation of the text. Once the tape is played, the evil is released. One by one, the teens become deadly zombies. With only one remaining (Bruce Campbell), it is up to him to survive the night and battle The Evil Dead.
POSSESSION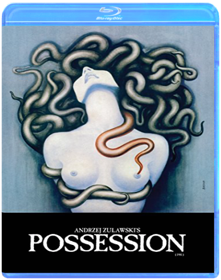 Andrzej Zulawski
DEEP-CUTTING CINEMA THAT REACHES THE SOUL
A spiral staircase movie, a never-ending metaphysical game of cat-and-mouse, a moral aspiration to the Heavens, a "spotlight" on God, a scornful detective movie, a horror movie and frightful, high-octane baroque work – Possession is all of that at once. It is a film that provokes, but it provokes intelligence above all – not just the merry continuation of our little social mechanisms.

Possession is a visionary, scathing attack on what could be called an "alien" from within. It is a movie that deliberately goes against the new "dominant ideology", and takes huge risks. This deep-cutting, biological cinema, delves into the guts to reach the soul. Through its fire, it revives something that a lot of contemporary movies have lost: emotion, and the prospect of the audience reacting, perhaps even throwing up (figuratively?) in front of a screen displaying their own fantasies.

AWARDS:
Cannes Film Festival (1981)
- Winner Best Actress, Isabelle Adjani
- Nominee Palme D'or

Cesar Awards, France (1982)
- Winner Best Actress, Isabelle Adjani

Sao Paulo International Film Festival (1981)
- Winner Critics Award

Fantasporto International Film Festival (1983)
- Winner Audience Jury Award - Special Mention
- Winner Best Actress, Isabelle Adjani
- Nominee Best Film

BLU-RAY DISC CONTENTS:
MONDO VISION presents the first ever North American Blu-ray release of Andrzej Zulawski's POSSESSION (1981) in an all new 2K digital transfer supervised and approved by the director. UNCUT & Fully Uncensored, this edition also marks the first ever release of the film in North America in its original Director's Cut.* The film is presented in the original aspect ratio of 1.66:1 along with an uncompressed mono audio soundtrack. This Dual Layer disc has been transferred and encoded using a high-frequency process which preserves as much of the detail and texture from the original film as is possible on the Blu-ray format.

DISC 1 : THE FEATURE FILM
Digitally Restored 1080p HD Transfer Approved by Director Andrzej Zulawski [124min]EXTRAS: [4Hr. 8 Mins.] [All extras except commentary come with Optional English Subtitles in White or Yellow]
The Other Side of The Wall: The Making of POSSESSION [52min]Audio Commentary with Director Andrzej Zulawski [124min]Video Interview with Director Andrzej Zulawski [36min]Video Interview with Translator Eric Veaux [22min]Theatrical Trailer [3min]More from Mondo Vision [11min] [collection of 4 trailers from Andrzej Zulawski films]1) La Femme Publique
2) L'important C'est Da'imer
3) La'mour Braque
4) Szamanka

PLUS :
24pg Booklet - Featuring an Essay by Daniel BirdPACKAGING:
This edition of POSSESSION features a fully illustrated matte laminated 6pp foldout Digipak with heavy-duty 400gsm Hardcover Slipcase with wrap-around Belt and a pull-out ribbon. It comes with a shipping weight of 1 pound (0.45kg) and the following dimensions:

In Inches: 7.6" (H) x 5.6" (W) x 0.7" (D)
In Millimeters: 194 (H) x 143 (W) x 18 (D)
H= Height W= Width D=Depth

Technical Details:
Run Time: 2 Hr. 4 Mins.
Audio Tracks:
1. Original English Mono [dts-HD Master Audio]
2. Audio Commentary
3. Unauthorized Alternate Audio *
Subtitles: English, French, Spanish (optional, in White or Yellow)
Image Format: 1.66:1 Original Aspect Ratio
Disc Type: Dual Layer BD-50
UPC: 091037398659
Catalog#: MVSE005

* This audio track features alternative music. It is not the director's approved version, and is included for completeness. Most notable is the addition of the piano theme during the subway miscarriage scene, and the removal of music during a pivotal scene. A handful of releases, including POSSESSION's first U.S. DVD release (ironically billed as the "Director's Cut") were issued only with this audio track. This additional music although composed by Andrzej Korzynski was never used by the director in the final cut of the film. It is strongly recommended to watch the film with the original director's approved audio.
Scanners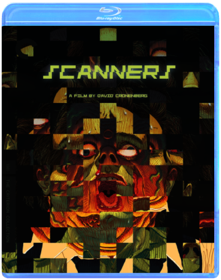 David Cronenberg
SCANNERS (BLU-RAY/DVD COMBO/1981/WS 1.78/3 DISC)HORROR
The Thing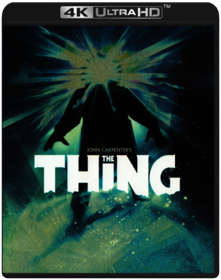 John Carpenter
Special Features Include:

-2K scan of the inter-positive supervised and approved by director of photography Dean Cundey
-4.1 created from the original 70MM Six Track Dolby Stereo soundtrack
-Audio Commentary with director of photography Dean Cundey
-Audio Commentary by director John Carpenter and actor Kurt Russell
-"The Men of Outpost 31:" Interviews with Keith David, Thomas Waites, Peter Maloney, and more
-"Assembling and Assimilation:" An interview with editor Todd Ramsay
-"Behind the Chameleon:" Interviews with visual effects artists Peter Kuran and Susan Turner, special make-up effects artist Rob Burman, and Brian Wade and more
-"Sounds from the Cold:" Interviews with supervising sound editor David Lewis Yewdall and special sound effects designer Alan Howarth
-"Between the Lines:" An interview with novelization author Alan Dean Foster
-"John Carpenter's The Thing: Terror Takes Shape:" A documentary on the making of THE THING featuring interviews with John Carpenter, Kurt Russell, special effects make-up designer Rob Bottin, legendary matte artist Albert Whitlock, and members of the cast and crew (80 minutes – SD)
-Outtakes (5 minutes - SD)

-Vintage featurettes from the electronic press kit featuring interviews with John Carpenter, Kurt Russell, and Rob Bottin (12 minutes - SD)
-Vintage featurettes "The Making of a Chilling Tale" and "The Making of THE THING" (1982 – 14 minutes - SD)
-Vintage Product Reel – contains a promotional condensed version of the film with additional footage not in the film (19 minutes - SD)

-Vintage Behind-the-Scenes footage (2 minutes - SD)
-Annotated Production Archive – Production Art and Storyboards, Location Scouting, Special Make-up Effects, Post Production (48 minutes - SD)
-Network TV Broadcast version of THE THING (92 minutes - SD)
-Teaser Trailer
-Theatrical Trailers (U.S. and German Trailer)
-TV spots
-Radio Spots
-Still Gallery (behind-the-scenes photos, posters and lobby cards)