The Moment of Truth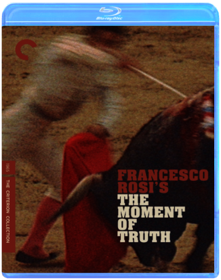 Francesco Rosi
The Moment of Truth, from director Francesco Rosi (Salvatore Giuliano) is a visceral plunge into the life of a famous torero—played by real-life bullfighting legend Miguel Mateo, known as Miguelin. Charting his rise and fall with a single-minded focus on the bloody business at hand, the film is at once gritty and operatic, placing the viewer right in the thick of the ring's action, as close to death as possible. Like all of the great Italian truth seeker's films, this is a not just an electrifying drama but also a profound and moving inquiry into a violent world—and perhaps the greatest bullfighting movie ever made.
Death Race 2000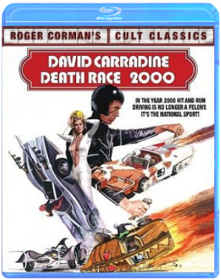 Paul Bartel
Rocky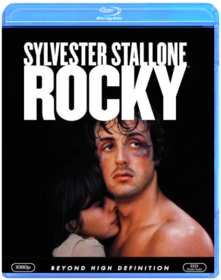 Richard Halsey, Scott Conrad, John G. Avildsen
Nominated* for 10 Academy Awards(r) and winner for Best Picture, it's the film that inspired a nation! Audiences and critics alike cheered this American success story of an "everyman" triumphing over all odds. Featuring a dynamic musical score, a thrilling fight sequence and four Oscar(r) - nominated* performances, this rousing crowd-pleaser will send spirits soaring. Fighting for love, glory and self-respect, Rocky(r) scores an exultant knockout! Rocky Balboa (Sylvester Stallone) is a Philadelphia club fighter who seems to be going nowhere. But whena stroke of fate puts him in the ring with a world heavyweight champion, Rocky knows that it's his one shot at the big time - a once-in-a-lifetime opportunity to go the distance and come out a winner! *1976: Actor (Stallone), Actress (Talia Shire), Supporting Actor (Burgess Meredith, Burt Young), Director (won), Original Screenplay, Original Song, Editing (won), Sound
Pumping Iron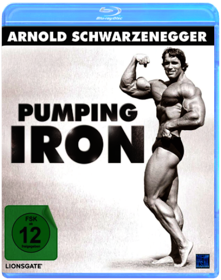 Various
Pumping Iron: 25th Year Anniversary (DVD)
All That Jazz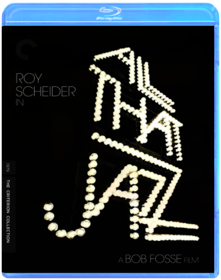 Bob Fosse
Criterion version of the iconic dance film . . .
Fast Company
David Cronenberg
The Legendary Drive-In Classic from the Director of THE FLY, SCANNERS and A HISTORY OF VIOLENCE

In between his horror hits RABID and THE BROOD, award-winning director David Cronenberg immersed himself in the gritty world of top-fuel dragsters to make what he considers to be one of the most important movies of his entire career. Genre icons William Smith (RED DAWN, MANIAC COP), John Saxon (ENTER THE DRAGON, A NIGHTMARE ON ELM STREET) and drive-in goddess Claudia Jennings (in her final role before her tragic death) star in this surprising story of a corporate-sponsored racing team and the explosive obsessions that speed them through lives of fast cars, fast cash and FAST COMPANY.

Due to a mysterious distribution snafu, FAST COMPANY was barely released in America and has remained virtually unseen anywhere in the world. Blue Underground is proud to present this action-packed drama in High Definition, transferred under the supervision of cinematographer Mark Irwin (SCREAM, VIDEODROME), remixed in room-rattling 7.1 DTS-HD and 7.1 Dolby TrueHD, and packed with nitro-burning Extras, including Cronenberg's two fascinating - and equally rare - early features, STEREO and CRIMES OF THE FUTURE.

EXTRAS:
Audio Commentary with Co-Writer/Director David Cronenberg
"Inside the Character Actor's Studio" - Interviews with Stars William Smith and John Saxon
"Shooting Cronenberg" - Interview with Director of Photography Mark Irwin
Theatrical Trailer
The Early Films of David Cronenberg: STEREO and CRIMES OF THE FUTURE
Enhanced for D-Box Motion Control Systems
Raging Bull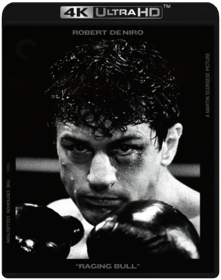 Martin Scorsese
Robert De Niro teams with director Martin Scorsese in this "extraordinarily compelling" (Leonard Maltin) film that introduced unflinching realism to stunned audiences in 1980. An "exceedingly violentas well as poetic" fight picture that maps "the landscape of the soul" (The New York Times),Raging Bull garnered eight Oscar® nominations* and won two, including Best Actor for De Niro. De Niro gives the performance of his career as Jake La Motta, a boxer whose psychological and sexual complexities erupt into violence both in and out of the ring. Joe Pesci and Cathy Moriarty are unforgettable as the brother who falls prey to Jake's mounting paranoia and jealousy, and the fifteen-year-old girl who becomes his most prized trophy. A "brilliantly photographed film of extraordinary power and rare distinction" (The Wall Street Journal), Raging Bullis filmmaking at its riveting best.
Dirty Dancing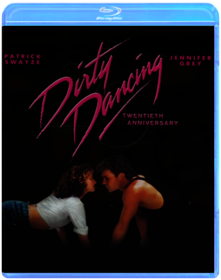 Emile Ardolino
As with Grease (1978) and Footloose (1984) before it, Dirty Dancing was a cultural phenomenon that now plays more like camp. That very campiness, though, is part of its biggest charm. And if the dancing in the movie doesn't seem particularly "dirty" by today's standards—or 1987's—it does take place in an era (the early '60s) when it would have. Frances "Baby" Houseman (Jennifer Grey, daughter of ageless hoofer Joel Grey) has been vacationing in the Catskills with her family for many years. Uneventfully. One summer, she falls under the sway (as it were) of dance instructor Johnny Castle (Patrick Swayze). Baby is a pampered pup, but Johnny is a man of the world. Baby's father, Jake (Law and Order's Jerry Orbach), can't see the basic decency in greaser Johnny that she can. It should come as no surprise to find that Baby, who can be as immature as her name, learns more about love and life—and dancing—from free-spirited Johnny than traditionalist Jake.

Dirty Dancing spawned two successful soundtracks, a short-lived TV series, and a stage musical. It may be predictable, but Grey and Swayze have chemistry, charisma, and all the right moves. It's a sometimes silly movie with occasionally mind-boggling dialogue—"No one puts Baby in a corner!"—that nonetheless carries an underlying message about tolerance and is filled with the kind of exuberant spirit that's hard for even the most cynical to resist. Not that they'd ever admit it. —Kathleen C. Fennessy
Gleaming the Cube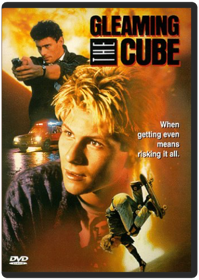 Graeme Clifford
To 16-year-old Brian, life is an empty pool and a skateboard, until his brother is found dead and it's declared a suicide. Determined to uncover the truth, Brian risks all as he crosses into a world of deceit, contraband, and murder. Special Features include: Cast and crew filmographies, trailer, behind the scene footage, film facts, and scene access. Christian Slater
Days of Thunder
Tony Scott
The Last Boy Scout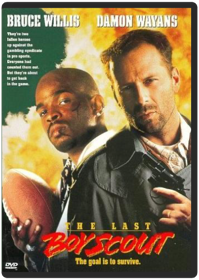 Tony Scott
A WORLD-WEARY PRIVATE INVESTIGATOR AND A FORMER PRO QUARTERBACK TEAM UP TO TRACK DOWN A HIGHLY-PLACED KILLER.
Cliffhanger
Renny Harlin
Sarah was an inexperienced climber. She trusted Gabe to rescue her. But something went wrong high above the valley floor...Sylvester Stallone, John Lithgow, Michael Rooker, Janine Turner and Ralph Waite star in this high-altitude avalanche of action: a non-stop adventure peak with suspense and capped with heart-quaking terror. For Rocky Mountain Rescue, the mission is almost routine: locate five climbers. With the woman he loves (Turner) and his best friend (Rooker), Gabe Walker (Stallone) braves the icy peaks only to discover that the distress call is really a trap set by merciless international terrorist Eric Qualen (Lithgow). Now millions of dollars and their own lives hang in the balance. Against explosive firepower, bitter cold, and dizzying heights, Walker must outwit Qualen in a deadly game of hide-and-seek.
H. R. Giger's Biomechanics
H. R. Giger
Swiss fantasist H.R.Giger conducts you through his diverse alien landscapes, inhabited by the spectral offspring of his vivid dreams and darkest nightmares.
The Basketball Diaries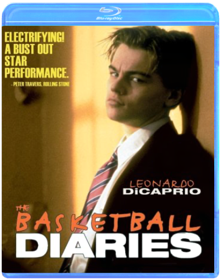 Scott Kalvert
Crime pays for the drug addiction of a high-school hoopster and three teammates in 1960s New York.
Happy Gilmore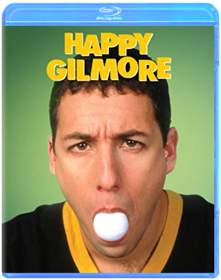 Dennis Dugan
Adam Sandler stars as Happy Gilmore in the over-the-top comedy that scores a hole in one for hilarity. After his dream of stardom on the hockey ice melts, Happy Gilmore discovers he has a gift that could bring him glory on the greens. Trouble is, with his hot head and hard-hitting drives, Happy doesn't just play golf…he destroys it. With the help of a retired golfer (Carl Weathers) and hot publicist (Julie Bowen), can Happy perfect his game and tame his temper to win the tournament prize money? With unforgettable appearances by Bob Barker, Christopher McDonald and Kevin Nealon, this comedy favorite features non-stop laughs that are par for the course!
Kingpin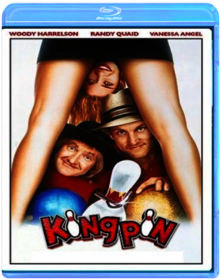 Bobby Farrelly, Peter Farrelly
The guys who brought you There's Something About Mary and Dumb and Dumber strike again with a gut-busting farce that's "just too funny" (Los Angeles Times)! Woody Harrelson, Randy Quaid and Vanessa Angel come up winners in this riotous, joke-a-second comedy with plenty of balls. Harrelson is Roy Munson, a pro bowler who seems destined for greatness, or as close to greatness as a bowler can get. But after a run-in with angry competitors, Roy finds himself sadder, wiser and minus his bowling hand! Years later, he meets the naive Ishmael (Quaid), an Amish bowling whiz. Together they set out for a million-dollar tournament in Reno, and along the way pick up Claudia (Angel), a sexy vixen with brains, attitude and really big...ideas. With her help, they make it to the tournament. But will Roy and Ishmael win the big match and score fame and fortune...or will all their hopes and dreams go barreling down the gutter?
Microelectronic Circuits
Adel S. Sedra, Kenneth C. Smith
Microelectronic Circuits, Fourth Edition is an extensive revision of the classic text by Adel S. Sedra and K. C. Smith. The primary objective of this text remains the development of the student's ability to analyze and design electronic circuits, both analog and digital, discrete and integrated. Fundamental developments in modern technology, particularly the increased emphasis on integrated circuits and the profusion of advances in digital electronics, require that engineers today be aptly equipped with knowledge of these concepts and techniques. In this edition, the authors present these concepts and techniques earlier on in the text and in greater detail than in previous editions.
Features
A Digital Electronics Emphasis
This edition fully integrates the fundamental concepts of digital electronics into the first five chapters, and also devotes two complete chapters (13 and 14) to digital electronics at the end of the text. These provide a complete introduction to both analog and digital principles for a modern introductory course on microelectronic circuits.
The MOSFET
The material on MOSFET has been entirely rewritten to reflect the shift toward integrated circuit technology and the vast number of changes in MOS IC design.
Device Physics...Just in Time
Sedra/Smith integrates device physics into the chapters as needed and where appropriate.
SPICE: Not just how, but why and when
SPICE has been incorporated not only at the end of the appropriate device chapters, but also at the end of most chapters throughout the text.
A Complete Support Package
New CD! Now with KC's Problems and Solutions, which contains 600 problems and solutions for student practice. Also includes Interactive Examples, EDN Design Ideas, and Electronics Workbench Multisim 6, with 30 demo circuits and 100 additional circuits for use with the full or student versions. The CD runs on Windows with minimal memory requirements.

** World Wide Web site http://www.sedrasmith.org with: * SPICE Models * Component Data Sheets * Worked examples with problem-solving hints * Free, downloadable circuits that use Electronics Workbench * Links to industry and academic sites of related interest
** SPICE, 2/e by Gordon Roberts and Adel Sedra (0-19-510842-6)
** Instructor's Manual with Transparency Masters (0-19-511769-7)
** Two-color Transparency Masters of 200 selected figures from the text (0-19-511770-0)
** KC's Problems and Solutions for Microelectronic Circuits, 4/e, by KC Smith (0-19-511771-9)
** Laboratory Explorations for Microelectronic Circuits, 4/e, by KC Smith (0-19-511772-7)
** PowerPoint Overheads available on CD-ROM (0-19-513980-1)and online at www.sedrasmith.org
Baseketball
David Zucker
From the director of Naked Gun comes a side-splitting comedy of professional sports. Starring Trey Parker & Matt Stone (South Park), as two guys who invent a game in their driveway that quickly becomes a national obsession and catapults them into the spotlight, BASEketball is a hilarious comedy about babes, brews and being number one. Critics call BASEketball "a comedy that is as smart as it is funny" and "absolutely, rolling in the aisles, hysterical!" Featuring a supporting cast of today's best-known talents, including Yasmine Bleeth, Jenny McCarthy, Robert Vaughn and Ernest Borgnine, as well as celebrity appearances by Reggie Jackson, Kareem-Abdul Jabbar, Dale Earnhardt, Al Michaels, Bob Costas, Dan Patrick and Kenny Mayne. BASEketball scores!
Advanced Engineering Mathematics, 8th Edition
Erwin Kreyszig
A revision of the market leader, Kreyszig is known for its comprehensive coverage, careful and correct mathematics, outstanding exercises, helpful worked examples, and self-contained subject-matter parts for maximum teaching flexibility. The new edition provides invitations - not requirements - to use technology, as well as new conceptual problems, and new projects that focus on writing and working in teams.
Any Given Sunday
Oliver Stone
Any Given Sunday Directors Cut (Blu-ray)
Embedded Microcomputer Systems: Real Time Interfacing
Jonathan W. Valvano
This book provides an in-depth discussion of the design, implementation and testing of embedded microcomputer systems. The book covers the hardware aspects of interfacing, advanced software topics (including interrupts), and a systems approach to typical embedded applications. This book stands out from other microcomputer systems books because of its balanced, in-depth treatment of both hardware and software issues important in real time embedded systems design. The book features a wealth of detailed case studies that demonstrate basic concepts in the context of actual working examples of systems. It also features a unique simulation software package on the bound-in CD-ROM (called Test Execute and Simulate, or TexaS, for short) — that provides a self-contained software environment for designing, writing, implementing, and testing both the hardware and software components of embedded systems.
Dogtown and Z-Boys
Stacy Peralta
Innovative Conceptual Design: Theory and Application of Parameter Analysis
Ehud Kroll, Sridhar S. Condoor, David G. Jansson
Conceptual design, along with need identification and analysis, make up the initial stage of the design process. Conceptual design encompasses the generation of concepts and their integration into system-level solutions, leading to a relatively detailed design. This innovative text is devoted to the crucial initial design stage and focuses on parameter analysis. This methodology helps identify critical issues, or parameters, of the design and proposes configuration-specific solutions. The authors present real-world case studies. The book will appeal to engineering students, as well as to practicing engineers, architects, and product development managers.
Just Enough UNIX
Paul K Andersen, Paul Andersen
Just Enough UNIX provides a quick and gentle introduction to the UNIX operating system. The fourth edition of this highly successful text reflects changes and updates to the UNIX curriculum that have taken place since the publication of the third edition. The book is written in a clear, straightforward style that avoids unnecessary jargon.

This short, yet comprehensive text covers the basics of UNIX. It can be used in both a freshman engineering course or to supplement other courses where the student needs to learn UNIX for the first time. The book is enhanced by strong pedagogical tools that will be very useful to those in the classroom, as well as those engaged in self-study.
The Brown Bunny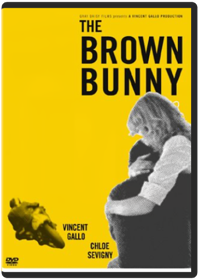 Vincent Gallo
The Brown Bunny is both a love story and a haunting portrait of a lost soul unable to forget his past. After finishing a motorcycle race in New Hampshire, Bud Clay (Vincent Gallo) loads his racing bike into the back of his van and begins a cross-country odyssey to Los Angeles, where he is to compete in another race. During his trip, he meets three very different women: Violet, a wholesome all-American gas station attendant; Lilly (Cheryl Tiegs), a fellow lost soul he connects with at a highway rest stop; and Rose, a Las Vegas prostitute. Throughout his journey, Bud can never escape his intense feelings for the love of his life, Daisy (Chloë Sevigny), so he plans to reconcile with her when he reaches Los Angeles. Arriving in Los Angeles, Bud checks into a motel before visiting the abandoned home he once shared with Daisy. He leaves a note, hoping she will turn up at his motel room . . .Building to a notorious climax, the film presents one of the frankest portrayals of male sexuality ever seen in American cinema.
Million Dollar Baby
Clint Eastwood
Million Dollar Baby (BD)
System Analysis, Design, and Development: Concepts, Principles, and Practices
Charles S. Wasson
* Written in a practical, easy to understand style, this text provides a step-by-step guide to System Analysis and Engineering by introducing concepts, principles, and practices via a progression of topical, lesson oriented chapters.* Each chapter focuses on specific aspects of system analysis, design, and development, and includes definitions of key terms, examples, author's notes, key principles, and challenging exercises that teach readers to apply their knowledge to real world systems.* Concepts and methodologies presented can be applied by organizations in business sectors such as transportation, construction, medical, financial, education, aerospace and defense, utilities, government, and others, regardless of size.* An excellent undergraduate or graduate-level textbook in systems analysis and engineering, this book is written for both new and experienced professionals who acquire, design, develop, deploy, operate, or support systems, products, or services.
Digital Design
Frank Vahid
While most popular digital design books present a perspective rooted in the 1970s and 1980s, Digital System Design takes the subject into the 21st century. It quickly moves through the low-levels of design, making a clear distinction between design and gate-level minimization. The book also emphasizes how one of the key uses of digital design today is to build high-performance alternatives to software in addition to glue logic. And it swiftly progresses to register-transfer-level (RTL) design since that is the level at which most digital design in practice today is performed.
Death Race
Paul W.S. Anderson
Welcome to the Death Race, where hardened convicts and smoking-hot navigators race tricked-out cars in the most twisted spectator sport on Earth! Sentenced to the world's most dangerous prison for a murder he did not commit, Jensen Ames (Jason Statham) has only one chance to get out alive - win the ultimate race to the death. Also starring Tyrese Gibson, Death Race is a "supercharged, sick and satisfying" (Nathan Lee, The New York Times) ride that will keep you pinned to your seat all the way to its insane, metal-crushing end!
The Art of Systems Architecting, Third Edition
Mark W. Maier
If engineering is the art and science of technical problem solving, systems architecting happens when you don't yet know what the problem is. The third edition of a highly respected bestseller, The Art of Systems Architecting provides in-depth coverage of the least understood part of systems design: moving from a vague concept and limited resources to a satisfactory and feasible system concept and an executable program. The book provides a practical, heuristic approach to the "art" of systems architecting. It provides methods for embracing, and then taming, the growing complexity of modern systems.

New in the Third Edition:

Five major case studies illustrating successful and unsuccessful practicesInformation on architecture frameworks as standards for architecture descriptionsNew methods for integrating business strategy and architecture and the role of architecture as the technical embodiment of strategyIntegration of process guidance for organizing and managing architecture projectsUpdates to the rapidly changing fields of software and systems-of-systems architectureOrganization of heuristics around a simple and practical process model

 A Practical Heuristic Approach to the Art of Systems Architecting

Extensively rewritten to reflect the latest developments, the text explains how to create a system from scratch, presenting invention/design rules together with clear explanations of how to use them. The author supplies practical guidelines for avoiding common systematic failures while implementing new mandates. He uses a heuristics-based approach that provides an organized attack on very ill-structured engineering problems. Examining architecture as more than a set of diagrams and documents, but as a set of decisions that either drive a system to success or doom it to failure, the book provide methods for integrating business strategy with technical architectural decision making.
The Engineering Design of Systems: Models and Methods
Dennis M. Buede
The ideal introduction to the engineering design of systems-now in a new edition The Engineering Design of Systems, Second Edition compiles a wealth of information from diverse sources to provide a unique, one-stop reference to current methods for systems engineering. It takes a model-based approach to key systems engineering design activities and introduces methods and models used in the real world. Features new to this edition include: The addition of Systems Modeling Language (SysML) to several of the chapters, as well as the introduction of new terminology Additional material on partitioning functions and components More descriptive material on usage scenarios based on literature from use case development Updated homework assignments The software product CORE (from Vitech Corporation) is used to generate the traditional SE figures and the software product MagicDraw UML with SysML plugins (from No Magic, Inc.) is used for the SysML figures This book is designed to be an introductory reference and textbook for professionals and students in systems engineering. It is also useful in related courses in engineering programs that emphasize design methods and models.
127 Hours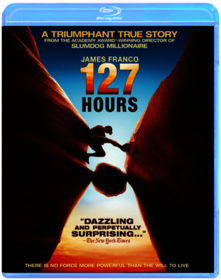 Danny Boyle
From Academy Award®-winning director Danny Boyle (Slumdog Millionaire) comes the powerfully uplifting true story of one man's struggle to survive against mountainous odds. Aron Ralston (James Franco) has a passion for all things outdoors. But when a falling boulder traps him in a remote Utah canyon, a thrill-seeker's adventure becomes the challenge of a lifetime. Over the next five days, Ralston embarks on a remarkable personal journey in which he relies on the memories of family and friends—as well as his own courage and ingenuity—to turn adversity into triumph!
Black Swan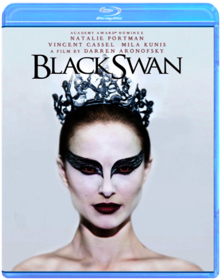 Darren Aronofsky
"You can't tear your eyes away" (Entertainment Weekly) from this "wicked, psychosexual thriller" (Daily Variety) starring Academy Award® Winner Natalie Portman and directed by Darren Aronofsky (The Wrestler). Portman delivers "the performance of her career" (Vanity Fair ) as Nina, a stunningly talented but dangerously unstable ballerina on the verge of stardom. Pushed to the breaking point by her driven artistic director (Vincent Cassel) and the threat posed by a seductive rival dancer (Mila Kunis), Nina's tenuous grip on reality starts to slip away – plunging her into a waking nightmare.
The Fighter
David O. Russell
Academy Award® Nominees Mark Wahlberg (The Departed), Christian Bale (The Dark Knight) and Amy Adams (Doubt) star in this "remarkable" film*. Based on a true story, two brothers, against all the odds, come together to train for a historic title bout that has the power to reunite their fractured family and give their hard-luck town what it's been waiting for: pride. Micky Ward (Wahlberg) is a struggling boxer long overshadowed by his older brother and trainer, Dicky (Bale), a local legend battling his own demons. Their explosive relationship threatens to take them both down - but the bond of blood may be their only chance for redemption. *Joe Morgenstern, THE WALL STREET JOURNAL
Moneyball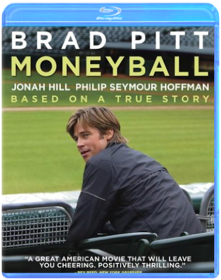 Bennett Miller
Oakland A's general manager Billy Beane (Brad Pitt) challenges the system and defies conventional wisdom when his is forced to rebuild his small-market team on a limited budget. Despite opposition from the old guard, the media, fans and their own field manager (Philip Seymour Hoffman), Beane - with the help of a young, number-crunching, Yale-educated economist (Jonah Hill) - develops a roster of misfits…and along the way, forever changes the way the game is played.
Systems Engineering Principles and Practice
Alexander Kossiakoff, William N. Sweet, Sam Seymour, Steven M. Biemer
The Bestselling Guide to the Engineering of Complex Systems, Now Thoroughly Updated

The first edition of this unique interdisciplinary guide has become the foundational systems engineering textbook for colleges and universities worldwide. It has helped countless readers learn to think like systems engineers, giving them the knowledge, skills, and leadership qualities they need to be successful professionals. Now, colleagues of the original authors have upgraded and expanded the book to address the significant advances in this rapidly changing field.

An outgrowth of the Johns Hopkins University Master of Science Program in Engineering, Systems Engineering: Principles and Practice provides an educationally sound, entry-level approach to the subject, describing tools and techniques essential for the development of complex systems. Exhaustively classroom tested, the text continues the tradition of utilizing models to assist in grasping abstract concepts, emphasizing application and practice. This Second Edition features: *

Expanded topics on advanced systems engineering concepts beyond the traditional systems engineering areas and the post-development stage *

Updated DOD and commercial standards, architectures, and processes *

New models and frameworks for traditional structured analysis and object-oriented analysis techniques *

Improved discussions on requirements, systems management, functional analysis, analysis of alternatives, decision making and support, and operational analysis *

Supplemental material on the concept of the system boundary *

Modern software engineering techniques, principles, and concepts *

Further exploration of the system engineer's career to guide prospective professionals *

Updated problems and references

The Second Edition continues to serve as a graduate-level textbook for courses introducing the field and practice of systems engineering. This very readable book is also an excellent resource for engineers, scientists, and project managers involved with systems engineering, as well as a useful textbook for short courses offered through industry seminars.
Simulation Modeling and Analysis
Averill Law
Since the publication of the first edition in 1982, the goal of Simulation Modeling and Analysis has always been to provide a comprehensive, state-of-the-art, and technically correct treatment of all important aspects of a simulation study. The book strives to make this material understandable by the use of intuition and numerous figures, examples, and problems. It is equally well suited for use in university courses, simulation practice, and self-study. The book is widely regarded as the "bible" of simulation and now has more than 155,000 copies in print and has been cited more than 14,000 times. The book can serve as the primary text for a variety of courses; for example:

A first course in simulation at the junior, senior, or beginning-graduate-student level in Engineering, Manufacturing, Business, or Computer Science. At the end of such a course, the students will be prepared to carry out complete and correct simulation studies, and to take Advanced Simulation courses.

A second course in simulation for graduate students in any of the above disciplines. After completing this course, the student should be familiar with the more advanced methodological issues involved in a simulation study, and should be prepared to understand and conduct simulation research.

An introduction to simulation as part of a general course in Operations Research or Management Science.
Everybody Wants Some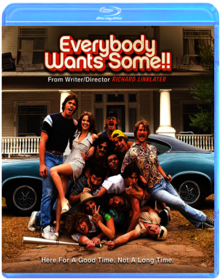 Richard Linklater