Cure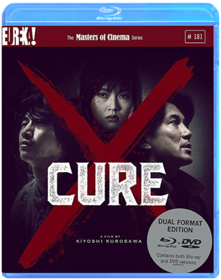 Kiyoshi Kurosawa
In the tradition of Seven and Silence of the Lambs comes this genuinely spine-tingling horror/thriller from one of Japan's most talked about filmmakers, Kiyoshi Kurosawa. Set in and around a bleak, decaying Tokyo, a series of murders have been committed by average, ordinary people who claim to have had no control over their horrifying actions. Following the only link—a mysterious stranger who had brief contact with each perpetrator/victim—detective Kenichi Takabe (Koji Yakusho, Shall We Dance, Warm Water Under A Red Bridge) places his own sanity on the line as he tries to end the wave of inexplicable terror.
Pulse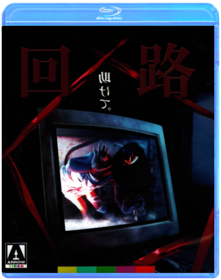 Kiyoshi Kurosawa
Award-winning filmmaker Kiyoshi Kurosawa delivered one of the finest entries in the "J-Horror" cycle of films with this moody and spiritually terrifying film that delivers existential dread along with its frights. Setting his story in the burgeoning internet and social media scene in Japan, Kurosawa's dark and apocalyptic film foretells how technology will only serve to isolate us as it grows more important to our lives.

A group of young people in Tokyo begin to experience strange phenomena involving missing co-workers and friends, technological breakdown, and a mysterious website which asks the compelling question, "Do you want to meet a ghost?" After the unexpected suicides of several friends, three strangers set out to explore a city which is growing more empty by the day, and to solve the mystery of what lies within a forbidden room in an abandoned construction site, mysteriously sealed shut with red packing tape.

Featuring haunting cinematography by Junichiro Hayashi (Ring, Dark Water), a dark and unsettling tone which lingers long after the movie is over, and an ahead-of-its-time story which anticipates 21st century disconnection and social media malaise, Pulse is one of the greatest and most terrifying achievements in modern Japanese horror, and a dark mirror for our contemporary digital world.

SPECIAL EDITION CONTENTS: High Definition digital transferHigh Definition Blu-ray (1080p) and Standard Definition DVD presentationsOriginal 5.1 audio (DTS-HD on the Blu-ray)New optional English subtitle translationNew interview with writer/director Kiyoshi KurosawaNew interview with cinematographer Junichiro HayashiThe Horror of Isolation: a new video appreciation featuring Adam Wingard & Simon Barrett (Blair Witch, You re Next)Archive Making of documentary, plus four archive behind-the-scenes featurettesPremiere footage from the Cannes Film FestivalCast and crew introductions from opening day screenings in TokyoTrailers and TV SpotsReversible sleeve featuring original and newly commissioned artwork by Tommy Pocket

FIRST PRESSING ONLY:Illustrated collector s booklet featuring new writing on the film by critic Chuck Stephens
Tokyo Sonata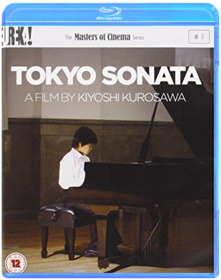 Kiyoshi Kurosawa
United Kingdom released, Blu-Ray/Region A/B/C : it WILL NOT play on regular DVD player. You need Blu-Ray DVD player to view this Blu-Ray DVD: LANGUAGES: Japanese ( Dolby Digital 2.0 ), Japanese ( Dolby TrueHD ), Japanese ( DTS-HD Master Audio ), English ( Subtitles ), WIDESCREEN (1.85:1), SPECIAL FEATURES: Blu-Ray & DVD Combo, Booklet, Cast/Crew Interview(s), Documentary, Interactive Menu, Making Of, Scene Access, Trailer(s), SYNOPSIS: Kiyoshi Kurosawa - the hugely acclaimed Japanese director famous for his groundbreaking, existential horror films such as Cure and Kairo (Pulse) - set Cannes alight in 2008 with this highly topical film: an eerie, poignant reflection on the mass uncertainty sweeping the world. When Ryuhei Sasaki (played by Teruyuki Kagawa) is unceremoniously dumped from his 'safe' company job, his family's happy, humdrum life is put at risk. Unwilling to accept the shame of unemployment, the loyal salaryman decides not to tell anyone, instead leaving home each morning in suit and tie with briefcase, spending his days searching for work and lining up for soup with the homeless. Outstanding performances; serene, elegant direction; and Kurosawa's trademark chills are evident as he ratchets up the unsettling atmosphere and the grim hopelessness of Sasaki's unemployment. SCREENED/AWARDED AT: Cannes Film Festival, ...Tokyo Sonata ( Tôkyô sonata ) (Blu-Ray & DVD Combo)
Creepy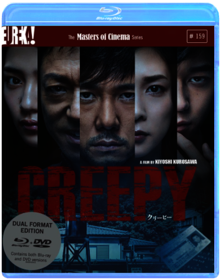 Kiyoshi Kurosawa
NOTICE: Polish Release, cover may contain Polish text/markings. The disk DOES NOT have English audio and subtitles.