Reservoir Dogs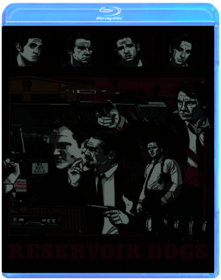 Quentin Tarantino
Four Perfect Killers. One Perfect Crime. Critically acclaimed for its raw power and breathtaking ferocity, it's the brilliant American gangster movie classic from writer-director Quentin Tarantino. They were perfect strangers, assembled to pull off the perfect crime. Then their simple robbery explodes into bloody ambush, and the ruthless killers realize one of them is a police informer. But which one?
Natural Born Killers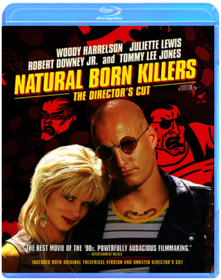 Oliver Stone
Pulp Fiction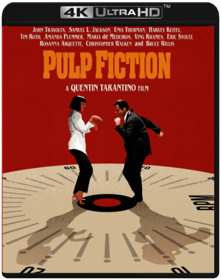 Quentin Tarantino
"Nothing less than a cultural phenomenon" (Moviemaker Magazine), Quentin Tarantino's PULP FICTION has been hailed by critics and audiences worldwide as a film that redefined cinema. Tarantino delivers an unforgettable cast of characters – including a pair of low-rent hit men (John Travolta and Samuel L. Jackson), their boss's sexy wife (Uma Thurman) and a desperate prizefighter (Bruce Willis) – in a wildly entertaining and exhilarating blend of crime-thriller-drama-comedy that is completely original and entirely unforgettable. Nominated for 7 Academy Awards® including Best Picture and Best Director, PULP FICTION packs the punch like an adrenaline shot to the heart.
Four Rooms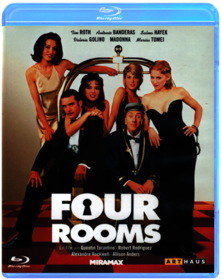 Quentin Tarantino, Allison Anders, Alexandre Rockwell, Robert Rodriguez
Don't miss the fun in this hilariously sexy comedy that has Antonio Banderas (THE MASK OF ZORRO), Madonna (EVITA), and a sizzling all-star cast checking in for laughs! It's Ted the Bellhop's (Tim Roth — PULP FICTION) first night on the job ... and the hotel's very unusual guests are about to place him in some outrageous predicaments! It seems that this evening's room service is serving up one unbelievable happening ... after another! Also featuring Academy Award(R) winner Marisa Tomei (1992 Best Supporting Actress, MY COUSIN VINNY), FOUR ROOMS is a wild night of highly original comedy entertainment you'll enjoy ... without reservations!
From Dusk Till Dawn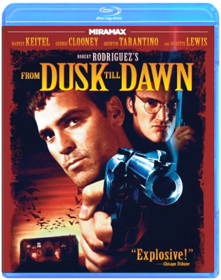 Robert Rodriguez
Its nonstop thrills when George Clooney (The American) and Quentin Tarantino (Pulp Fiction) star as the Gecko brotherstwo dangerous outlaws on a wild crime spree. After kidnapping a father (Harvey Keitel, Little Fockers) and his two kids (including Juliette Lewis, Due Date), the Geckos head south to a seedy Mexican bar to hide out in safety. But when they face the bars truly notorious clientele, theyre forced to team up with their hostages in order to make it out alive! From Robert Rodriguez and Quentin Tarantino, the creators of Grindhouse, From Dusk Till Dawn is explosive action entertainment!
Jackie Brown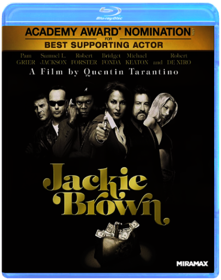 Quentin Tarantino
What do a stewardess, a gunrunner, a bailbondsman, an ex-con, a federal agent, and a beach bunny have in common? They're all chasing a half million dollars in cash! The question in this Tarantino hit is who's playing who and who will walk away with the goods?
Kill Bill - Volume 1
Quentin Tarantino
UPC:786936715545
DESCRIPTION: Kill Bill: Volume 1, the critically acclaimed film from groundbreaking writer and director Quentin Tarantino (Pulp Fiction, Jackie Brown), now packs even more of a punch in high definition on Blu-ray disc! Uma Thurman (Pulp Fiction), Lucy Liu (Charlie s Angels, Chicago) and Vivica A. Fox (Two Can Play That Game) star in this astonishing, action-packed motion picture about brutal betrayal and an epic vendetta. Four years after taking a bullet in the head at her own wedding, The Bride (Thurman) emerges from a coma and decides it s time for payback...with a vengeance! Determined to finish the kill-or-be-killed fight she didn t start, she hunts down her former boss, Bill (David Carradine), and the deadly squad of international assassins who perpetrated the bloody attack. END
Kill Bill - Volume 2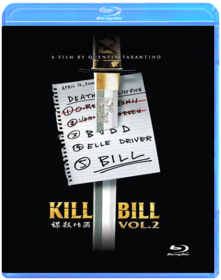 Quentin Tarantino
UPC:786936767148
DESCRIPTION:Kill Bill: Volume 2 is the must-see movie event that completes the action-packed quest for revenge begun by The Bride! Having already crossed two names from her Death List, The Bride is back with a vengeance and taking aim at Budd (Michael Madsen) and Elle Driver (Daryl Hannah), the only survivors from the squad of assassins who betrayed her four years earlier. It s all leading up to the ultimate confrontation with Bill, The Bride s former master and the man who ordered her execution! Experience the other half of the story in the acclaimed Kill Bill: Volume 2 even more mind-blowing on Blu-ray high definition! END
Sin City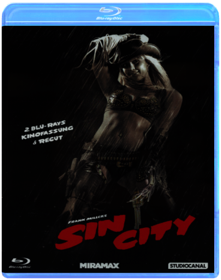 Frank Miller, Robert Rodriguez, Quentin Tarantino
If ever a movie was meant to be experienced in high definition, Frank Miller's Sin City is guilty on all counts! A groundbreaking masterpiece of mayhem, Sin City roars to life with both barrels blazing in this Blu-ray disc set that includes the restored theatrical feature and the unrated, recut extended release. Plus, get in on the action with explosive new bonus feature: "Kill 'em Good Interactive Comic Book" and "Cine-Explore." Robert Rodriguez (Desperado, From Dusk Till Dawn), Frank Miller (The Spirit) and Quentin Tarantino (Kill Bill 1 and Kill Bill 2, Pulp Fiction) direct an amazing cast of big-screen favorites (Bruce Willis, Jessica Alba, Mickey Rourke, Clive Owen, Brittany Murphy, Benicio Del Toro, Rosario Dawson and more!) in this acclaimed and visually stunning hit that's straight from the pages of Miller's hip series of Sin City graphic novels. Strap yourself in as a staggering sensory onslaught hits you right where you live. From the stylized, razor-sharp clarity of the unique, high definition visuals to the throbbing, phenomenally intense sounds of bullets spraying and bones crunching, this awesome, mind-bending excursion into a sexy, twisted funhouse of cops, killers, hookers and hit men will tease, tantalize and thrill you as never before in Blu-ray disc high definition. Starring: Bruce Willis, Jessica Alba, Clive Owen, Brittany Murphy, Josh Hartnett, Mickey Rourke, Rutger Hauer, Elijiah Wood
Death Proof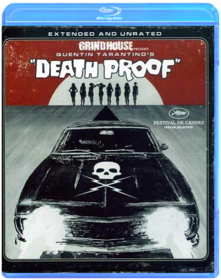 Quentin Tarantino
Director Quentin Tarantino delivers an adrenaline shot to the heart with Death Proof, "a tribute to balls-out pedal-to-the-metal car chases" (Pete Hammond, Maxim). Featuring exhilarating high-speed action, jaw-dropping stunts, and some of the most quotable lines since Pulp Fiction, Death Proof "goes faster, and funnier, than you thought possible...and then it goes further" (Ty Burr, Boston Globe). Kurt Russell stars as a sociopathic stuntman whose taste for stalking sexy young ladies gets him into big trouble when he tangles with the wrong gang of badass babes. Their confrontation escalates to a hair-raising, 18-minute automotive duel with one of the girls strapped to the hood of a thundering Dodge Challenger that "earns a place of honor among the great movie car chases" (Scott Foundas, LA Weekly).
Grindhouse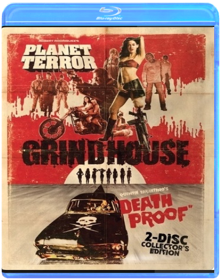 Robert Rodriguez, Quentin Tarantino, Rob Zombie, Edgar Wright, Eli Roth, Jason Eisener
Inglourious Basterds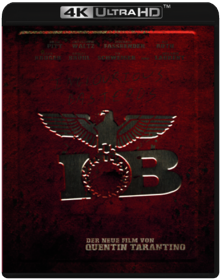 Quentin Tarantino
Brad Pitt takes no prisoners in Quentin Tarantino's high-octane WWII revenge fantasy Inglourious Basterds. As war rages in Europe, a Nazi-scalping squad of American soldiers, known to their enemy as "The Basterds," is on a daring mission to take down the leaders of the Third Reich. Bursting with "action, hair-trigger suspense and a machine-gun spray of killer dialogue" (Peter Travers, Rolling Stone), Inglourious Basterds is "another Tarantino masterpiece" (Jake Hamilton, CBS-TV)!
Django Unchained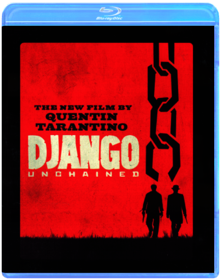 Quentin Tarantino
Set in the South two years before the Civil War, DJANGO UNCHAINED stars Academy Award ®-winner Jamie Foxx as Django, a slave whose brutal history with his former owners lands him face-to-face with a German-born bounty hunter Dr. King Schultz (Academy Award®-winner Christolph Waltz). Schultz is on the trail of the murderous Brittle brothers, and only Django can lead him to his bounty. The unorthodox Schultz acquires Django with a promise to free him upon the capture of the Brittles – dead or alive.

Success leads Schultz to free Django, though the two men choose not to go their separate ways. Instead, Schultz seeks out the South's most wanted criminals with Django by his side. Honing vital hunting skills, Django remains focused on one goal: finding and rescuing Broomhilda (Kerry Washington), the wife he lost to the slave trade long ago.

Django and Schultz's search ultimately leads them to Calvin Candie (Academy Award®-nominee Leonardo DiCaprio), the proprietor of "Candyland," an infamous plantation. Exploring the compound under false pretenses, Django and Schultz rouse the suspicion of Stephen (Academy Award®-nominee Samuel L. Jackson), Candie's trusted house slave. Their moves are marked, and a treacherous organization closes in on them. If Django and Schultz are to escape with Broomhilda, they must choose between independence and solidarity, between sacrifice and survival…
The Hateful Eight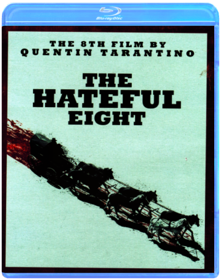 Quentin Tarantino
Blu-ray SteelBook packaging
The Hateful Eight - Extended Verion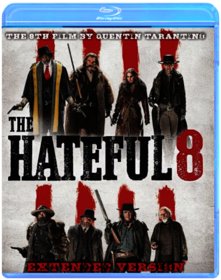 Quentin Tarantino
Once upon a Time in Hollywood
Quentin Tarantino
Quentin Tarantino's Once Upon a Time... in Hollywood visits 1969 Los Angeles, where everything is changing, as TV star Rick Dalton (Leonardo DiCaprio) and his longtime stunt double Cliff Booth (Brad Pitt) make their way around an industry they hardly recognize anymore. The ninth film from the writer-director features a large ensemble cast and multiple storylines in a tribute to the final moments of Hollywood's golden age.