Dazed and Confused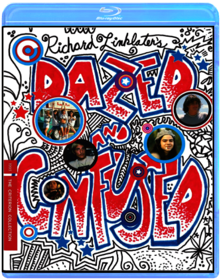 Richard Linklater
America, 1976. The last day of school. Bongs blaze, bell-bottoms ring, and rock and roll rules. Among the best teen films ever made, Dazed and Confused, directed by Richard Linklater (Slacker), eavesdrops on a group of seniors-to-be and incoming freshmen. A launching pad for a number of future stars, Linklater's first studio effort also features endlessly quotable dialogue and a blasting, stadium-ready soundtrack. Sidestepping nostalgia, Dazed and Confused is less about "the best years of our lives" than the boredom, angst, and excitement of teenagers waiting... for something to happen.
13 Conversations about One Thing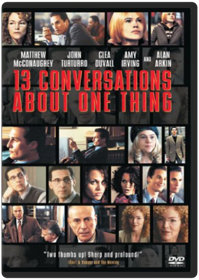 Jill Sprecher
Director Jill Sprecher's critically-acclaimed film assembles an all-star, ensemble cast in a fresh and whimsical look at the invisible, everyday and destiny-shaping miracles that we've come to call "fate." In five distinct New York tales, the lives of seemingly disparate characters - a public defender (Matthew McConaughey, Reign of Fire) whose life suddenly mirrors that of the criminals he prosecutes, a college professor (John Turturro, Mr. Deeds, Barton Fink) facing a poignant crossroads, an envious businessman (Alan Arkin, America's Sweethearts) seeking revenge on a compulsively cheerful co-worker, an optimistic cleaning woman (Clea Duvall, Girl, Interrupted) searching for miracles in theaftermath of a tragic accident and, lastly, a woman (Amy Irving, Traffic) forced to face her husband's infidelity due to an untimely return of a lost wallet - are interwoven to create a touching tapestry that's warmed the hearts of moviegoers and critics across the globe. Playful and poignant, 13 CON
Frailty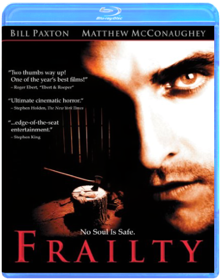 Bill Paxton
Years after terrorizing a small Texas community, the God's Hand Killer has returned - leaving in his wake a perplexing trail of fear and death. Convinced that he knows the killer's identity, Fenton Meiks shows up at FBI Headquarters, intent on putting an end to the murderous rampage and relieving his conscience of his family's sinister secrets.
Reign of Fire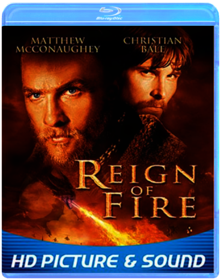 Rob Bowman
Matthew McConaughey and Christian Bale battle terrifying beasts — and each other — in REIGN OF FIRE on Blu-ray Disc. Packed with action, this thrilling adventure is hotter than ever in this explosive new format! All hell breaks loose when an unearthly creature is awakened after centuries of slumber. Twenty years later, "fire chief" Quinn (Bale) tries to keep a group of refugees alive with ferocious dragons dominating the air and burning the land. But tempers also flare when Quinn clashes with a hotshot American militia leader (McConaughey). Gasp at the bone-charring special effects in spectacular 1080p and cower as fire-breathing dragons roar in thunderous 5.1 48 kHz, 16-bit uncompressed audio. Feel the heat with Blu-ray High Definition!
Bernie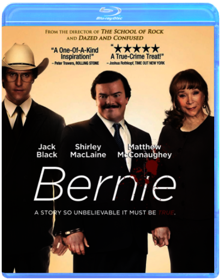 Richard Linklater
The Wolf of Wall Street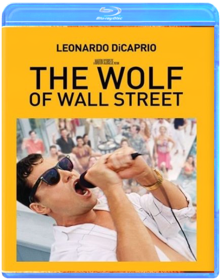 Martin Scorsese
Revered filmmaker Martin Scorsese directs the story of New York stockbroker Jordan Belfort (Leonardo DiCaprio). From the American dream to corporate greed, Belfort goes from penny stocks and righteousness to IPOs and a life of corruption in the late 80s. Excess success and affluence in his early twenties as founder of the brokerage firm Stratton Oakmont warranted Belfort the title – "The Wolf of Wall Street."

Sex. Money. Power. Drugs. Brace yourself for an outrageous true story from legendary filmmaker Martin Scorsese. Leonardo DiCaprio stars as a young stockbroker hungry for a life of non-stop thrills where corruption was king and more was never enough. His rise to power earned him the title The Wolf of Wall Street. Together Scorsese and DiCaprio deliver a story of American excess.
Interstellar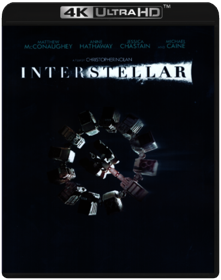 Christopher Nolan
The Beach Bum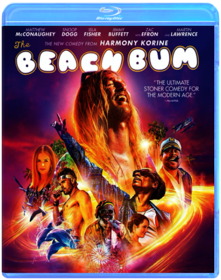 Harmony Korine
The Beach Bum follows the hilarious misadventures of Moondog (Matthew McConaughey), a rebellious rogue who always lives life by his own rules. Co-starring Snoop Dogg, Zac Efron, and Isla Fisher, The Beach Bum is a refreshingly original and subversive new comedy from director Harmony Korine (Kids, Spring Breakers).