The Blob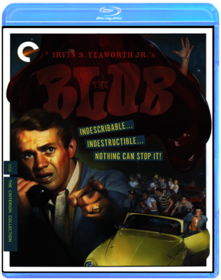 Irvin S. Yeaworth Jr.
A cult classic of gooey greatness, The Blob follows the havoc wreaked on a small town by an outer-space monster with neither soul nor vertebrae, with Steve McQueen (The Great Escape) playing the rebel teen who tries to warn the residents about the jellylike invader. Strong performances and ingenious special effects help The Blob transcend the schlock sci-fi and youth delinquency genres from which it originates. Made outside of Hollywood by a maverick film distributor and a crew whose credits mostly comprised religious and educational shorts, The Blob helped launch the careers of McQueen and composer Burt Bacharach, whose bouncy title song is just one of this film's many unexpected pleasures.
Kentucky Fried Movie
John Landis
From the director of Animal House and the creators of Airplane and The Naked Gun comes the original madcap, most out-of-control spoof of all time. The one that started it all!! The Kentucky Fried Movie!

Featuring a cast of more than a few but less than a lot, this insane collection of comedy skits includes such now famous sketches as the Kung-Fu parody, "A Fistful of Yen", and the legendary "Catholic School Girls in Trouble." Enjoy the future of moviegoing with the "Feel-A-Round" theater experience. See notable and highly respected actor Donald Sutherland as the clumsiest waiter in motion picutre history. Watch such characters as Cleopatra Schwartz and Big Jim Slade tickle your funny bone until it has to be removed surgically!

Directed by John Landis and written by Jim Abrahams, David Zucker, and Jerry Zucker, and featuring appearances by ex-James Bond George Lazenby and The Incredible Hulk star Bill Bixby, The Kentucky Fried Movie is the cult classic you've been waiting for! It's a virtual guarantee (not an actual guarantee) that you will not find another film iwth as many side- splitting moments of pure unadulterated hilarity as The Kentucky Fried Movie.
Airplane!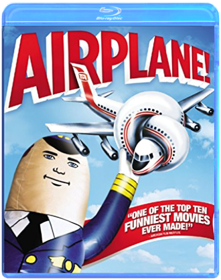 David Zucker, Jim Abrahams, Jerry Zucker
The persons and events in this film are fictitious - fortunately! A masterpiece of off-the-wall comedy, Airplane! features Robert Hays as an ex-fighter pilot forced to take over the controls of an airliner when the flight crew succumbs to food poisoning; Julie Hagerty as his girlfriend/stewardess/co-pilot; and a cast of all-stars including Robert Stack, Lloyd Bridges, Peter Graves, Leslie Nielsen, Kareem Abdul-Jabbar... and more. Their hilarious high jinks spoof airplane disaster flicks, religious zealots, television commercials, romantic love... the list whirls by in rapid succession. And the story races from one moment of zany fun to the next.
Screwballs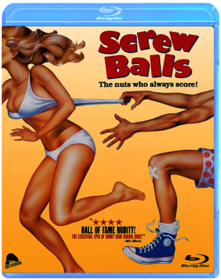 Rafal Zielinski, Roger Corman
THE RAUNCHIEST 80s SEX COMEDY OF THEM ALL

Now On DVD For The First Time Ever!

When legendary exploitation king Roger Corman decided to release the ultimate horny teen comedy, he delivered the most outrageous and hilarious boobs-and-balls epic of the decade! Welcome to Taft & Adams High, where the entire student body including campus virgin Purity Busch, chronic masturbator Melvin Jerkovski, repressed Principal
Stuckoff and blonde bombshell Bootsie Goodhead all must rise to the challenges of freshman breast exams, bikini cheerleader attacks, inappropriate uses of bowling ball holes and much more. Co-screenwriter Linda Shayne, Nanci Chambers of JAG, and Russ Meyer bosom goddess Raven DeLaCroix co-star in this infamous drive-in smash, now loaded with exclusive new Bonus Features that take you deep inside the skin-tastic classic that DVD Talk says makes PORKY S look like Proust!

EXTRAS:
Audio Commentary with Director Rafal Zielinski
CAST & CREW INTERVIEWS: Director Rafal Zielinski, Co-Writers Linda Shayne & Jim Wynorski, Star Kent Deuters and Special FX Artist Gerald Lukaniuk
Interview with Canuxsploitation Scholar Paul Corupe
Mr. Skin Talks Sex Comedies of the '80s
Deleted Scenes
Theatrical Trailer
This Is Spın̈al Tap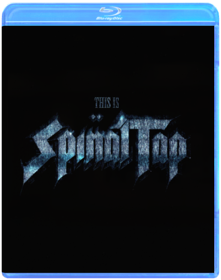 Rob Reiner
You're about to get personal with one of music history's greatest and loudest heavy metal bands, Spinal Tap! Whether or not you're a die-hard fan of the group, you'll love this detailed "rockumentary" of Engand's legendary Spinal Tap. Acclaimed commercial director Marty DiBergi takes you behind the scenes for an intimate look at a band whose time has come and gone and come again and.... Through interviews, rare footage and lots of musicincluding classic Tap tunes like "Big Bottom" and "Hell Hole"you'll get acquainted with David St. Hubbins (lead guitar), Nigel Tufnel (lead guitar), Derek Smalls (lead bass) and every drummer who ever livedand diedfor this renowned rock band. Be a part of the sights, sounds and smells of this celebrated heavy metal phenomenon. It's an experience you'll never forget.
Top Secret!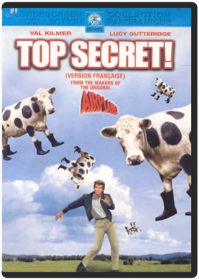 Jim Abrahams, David Zucker, Jerry Zucker
In between the disaster movie satire Airplane! in 1980 and the hardboiled cop show parody The Naked Gun in 1988, the comedy crew of Jerry Zucker, Jim Abrahams, and David Zucker put together a picture that's almost as funny as their better-known hits. Top Secret! sends up spy movies and cheesy teen rock & roll musicals. Val Kilmer stars as swivel-hipped American rocker Nick Rivers, a sort of blonde Elvis whose secret weapon is Little Richard's tune "Tutti Fruitti." On tour behind the Iron Curtain, Nick strikes blows for democracy overtly and covertly, with his music as well as his espionage skills. In short, this is a very, very silly motion picture. Some great gags, including a subtitled scene in a Swedish book shop, and an inspired bit with a Ford Pinto that not everybody may get anymore. (The Pinto, you may or may not recall, was notoriously prone to gas tank explosions when rear-ended.) —Jim Emerson
Evil Dead 2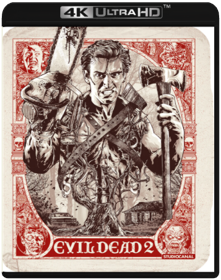 Sam Raimi
Ash (Bruce Campbell), the sole survivor of THE EVIL DEAD, returns to the same cabin in the woods and again unleashes the forces of the dead. With his girlfriend possessed by the demons and his body parts running amok, Ash is forced to single- handedly battle the legions of the damned as the most lethal – and groovy – hero in horror movie history! Welcome to EVIL DEAD II, director Sam Raimi's infamous sequel to THE EVIL DEAD and outrageous prequel to ARMY OF DARKNESS!
UHF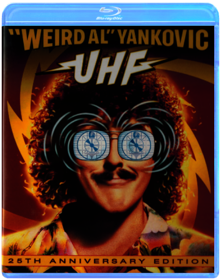 Jay Levey
A lot of TV stations have forgotten what 'quality'means. But not Channel 62. They NEVER knew what it meant.

In the cult classic UHF, Weird Al Yankovic is George Newman, a daydreamer who becomes the manager of a small TV station that's losing money as quickly as it's losing viewers. Before long he's programming shows like 'Stanley Spadowski's Clubhouse, ' 'Wheel Of Fish' and 'Raul's Wild Kingdom. ' But can Channel 62's new popularity save it from sinister forces? To find out... don't touch that dial!

Starring Weird Al Yankovic, Michael Richards (Seinfeld), Kevin McCarthy (Invasion of the Body Snatchers), Fran Drescher (The Nanny), Gedde Watanabe (Sixteen Candles), Victoria Jackson (Saturday Night Live) and more!
Frankenhooker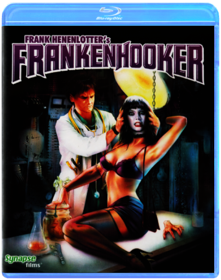 Frank Henenlotter
A New Jersey mad doctor rebuilds his girlfriend with body parts from exploded hookers.
Hot Shots!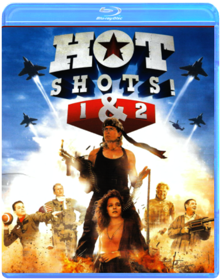 Jim Abrahams
Recruited to join a top-secret mission for the Air Force, a renegade pilot (Sheen) finds himself coping with an incompetent admiral (Bridges) and a carefully-selected squadron of flyers who are either inept or half-blind. He also winds up in competition with the corps' model of military perfection (Elwes) for the heart of the base's sultry psychiatrist (Golino)
Not Another Teen Movie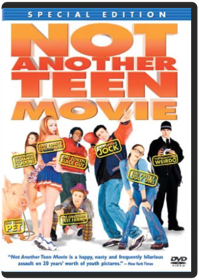 Joel Gallen
Handsome John Hughes High jock Zack bets his friends that he can turn nerdy Janey into the most popular girl in class. With the help of Zack's sister, Catherine, Janey ditches her ponytail and glasses and turns beautiful. Zack falls in love with her.
Shaun of the Dead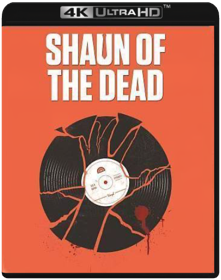 Edgar Wright
There comes a day in every man's life when he has to get off the couch...and kill some zombies. When flesh-eating zombies are on the hunt for a bite to eat, it's up to slacker Shaun (Simon Pegg) and his best pal Ed (Nick Frost) to save their friends and family from becoming the next entrée. Novelist Stephen King gushes Shaun of the Dead is "a 10 on the fun meter and destined to be a cult classic" and Newsweek calls it "a bloody hoot!" It's a screamingly hilarious zomedy that will have you dying with laughter.
Borat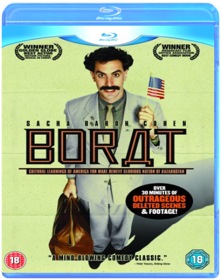 Larry Charles
Import Blu-Ray/Region All pressing. Includes exclusive content only available on this BR pressing; interviews and world premiere coverage. Sacha Baron Cohen brings his Borat character to the big screen with this feature length adaptation of his American exploits. Fans of Da Ali G Show will already be familiar with the devilishly simple Borat formula, in which the heavily moustachioed TV host from Kazakhstan dupes a number of unwitting citizens into revealing their deepest prejudices, and this movie takes that premise, stirs in a little narrative structure, and serves a side-splitting mirth-fest. The action begins with Borat travelling to America alongside his producer Azamat Bagatov (Ken Davitian). After a hotel room viewing of Baywatch, Borat decides he must travel to California to woo Pamela Anderson, so he and the long-suffering Azamat take a cross-country road trip in an ice cream van, encountering some funny, disturbing, and deeply strange individuals along the way.
Hot Fuzz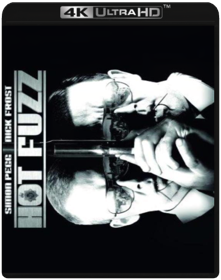 Edgar Wright
From the creators of Shaun of The Dead comes the Hot Fuzz Ultimate Edition! Nicholas Angel (Simon Pegg) is the unstoppable cop who, with the help of a bumbling partner (Nick Frost), turns up the heat in a small, quiet town and delivers some big-city justice. See all of the action and comedy in this Ultimate Edition that features non-stop entertainment, heart-pounding thrills and outrageous laughs!
The Drawn Together Movie: The Movie!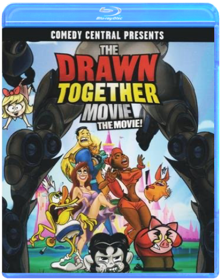 Greg Franklin
The incorrigible cast of the most offensive animated reality show ever to air is back, and they're starring in their very own feature-length movie! When the mystery-solving musician Foxxy Love notices she and her fellow housemates can curse without being bleeped — something they've never been able to do before — she realizes their show has been canceled. Determined to get back on the air, the gang travels to Make-A-Point-Land in order to get a point (and get back on the air). With more depravity than could have ever been shown on TV, this is the definitive Drawn Together experience.
Piranha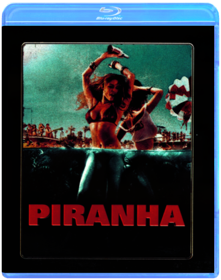 Alexandre Aja
From director Alexandre Aja (The Hills Have Eyes) comes the new action thriller Piranha 3D. Every year the population of sleepy Lake Victoria explodes from 5,000 to 50,000 for Spring Break, a riot of sun and drunken fun. But this year, there's something more to worry about than hangovers and complaints from local old timers; a new type of terror is about to be cut loose on Lake Victoria. After a sudden underwater tremor sets free scores of the prehistoric man-eating fish, an unlikely group of strangers must band together to stop themselves from becoming fish food for the areas new razor-toothed residents.
The film stars Jessica Szohr (Gossip Girl), Steven R. McQueen (The Vampire Diaries), Elisabeth Shue, Jerry O'Connell, Ving Rhames, Adam Scott, Richard Dreyfuss, Christopher Lloyd, and Kelly Brook.
The Cabin in the Woods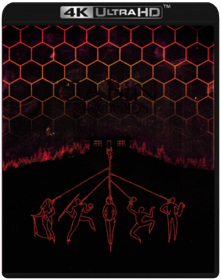 Drew Goddard
Now available for the first time on 4K Ultra HD! A rambunctious group of college friends steals away for a weekend in an isolated country cabin only to be attacked by horrific supernatural creatures.
The Mel Brooks Collection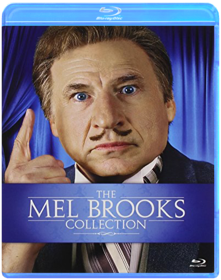 Mel Brooks
"Enjoy! Revel! Live!" as Mel says…and "have yourselves one sweetheart of a good time." Presenting nine hugely popular films from one of cinema's most celebrated, prolific and funniest filmmakers, Mel Brooks! The undisputed king of hilariously quotable films, Mel has delivered hit after hit after hit, each one as memorable as the next. This nine-disc Blu-rayTM collection includes some of the most sidesplitting, gut-busting, guffaw-inducing films ever made. It really is "good to be the king!"

Contains the films Blazing Saddles, Spaceballs, Young Frankenstein, High Anxiety, History Of The World Part 1, Robin Hood: Men In Tights, Silent Movie, To Be Or Not To Be and The Twelve Chairs.