What?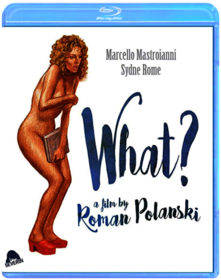 Roman Polanski
Roman Polanski described it as the ribald adventures of an innocent girl. More than four decades after its controversial release, it remains the most butchered, debated and least-seen film of the Oscar-winning director's entire career. The succulent Sydne Rome stars as an oft-naked American girl lost inside a Mediterranean villa inhabited by priests, pianists, perverts and a pimp (a deliciously bizarre performance by Marcello Mastroianni) while indulging in madcap acts that even include ping-pong. Hugh Griffith (Tom Jones), Romolo Valli (Boccaccio 70) and Polanski himself co-star in this surreal and sexy comedy, now finally restored to its original running time from a vault print reportedly stolen from the wine cellar of producer Carlo Ponti!

Special Features:Featurette: Sydne In Wonderland - Interview With Star Sydne RomeFeaturette: Memories Of A Young Pianist - Interview With Composer Claudio GizziFeaturette: A Surreal Pop Movie - Interview With Cinematographer Marcello GattiTheatrical Trailer
Blood for Dracula
Paul Morrissey
But Who Raped Linda?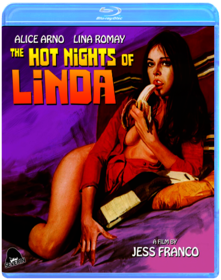 Jesús Franco
A young woman is hired to care for an elderly man who lives on an island off the Greek coast. When she arrives there the man warns her that his daughters are evil and dangerous. The woman discovers that one of the daughters is a crazed nymphomaniac who pursues, and seduces, everyone in the house, including her crippled sister.
The Beast in Heat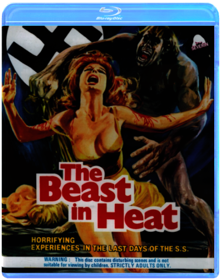 Luigi Batzella
Immoral Women
Walerian Borowczyk
From The Infamous Director Of IMMORAL TALES and THE BEAST
Now Uncut And Uncensored For The First Time Ever In America

Some have hailed him as a genius of joyous erotica, while others have condemned him as a monster of pornographic depravity. But in this controversial three-part feature by writer/director Walerian Borowczyk, women are mysterious and degenerate creatures who hunger for both extremes. In the first tale, Marina Pierro (of BEHIND CONVENT WALLS) stars as the muse whose rampant lusts enflamed the artists and clergy of ancient Rome. Then Gaëlle Legrand is a blossoming teen in 18th century France whose unnatural desire for her pet bunny leads to an act of depraved passion. Finally, a luscious young wife (former Disney child star Pascale Christophe) is abducted and raped before finding the ultimate ecstasy with her four-legged savior.

Severin Films is proud to present this notorious erotic epic - also known as THREE IMMORAL WOMEN and HEROINES OF EVIL - transferred from its original European negative materials with all of its scenes of daring sexuality now fully restored.
Out of the Blue
Dennis Hopper
Two Female Spies with Flowered Panties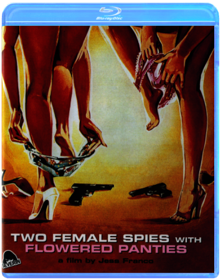 Jesús Franco
In this long-unseen shocker from "one of filmdom's most provocative creators" (The A.V. Club), the legendary Jess Franco (VAMPYROS LESBOS) pushes the limits of psycho-insanity like never before: Lina Romay (BARBED WIRE DOLLS) and Lynn Monteil (of Jean Rollin's ZOMBIE LAKE and Franco's SADOMANIA) star as a pair strippers released from prison to work undercover for the U.S. government. What follows is a deranged mélange of audacious international politics that will leave even the most obsessive Franco fanatics slack-jawed in astonishment. Olivier Mathot (CANNIBAL TERROR), Joëlle Le Quément (WOMEN BEHIND BARS) and Claude Boisson (DEVIL HUNTER) co-star in this Euro-rarity, now restored uncut in HD and loaded with exclusive Bonus Materials from the Franco archives.

Special Features:Bonus DVD Disc, Opalo de Fuego Included!Two Cats In The Canaries: An Interview With Director Jess FrancoFilmmaker Donald Farmer Interviews Longtime Franco Composer Daniel WhiteStephen Thrower On TWO FEMALE SPIESLocation Out-takesTheatrical Trailer
Macumba Sexual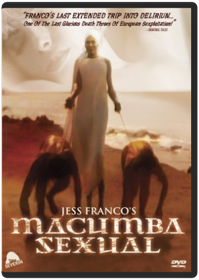 Jesús Franco
The Spanish real estate agent Alice Brooks and her French lover that is a writer travel on vacation to the Canary Islands. Alice has erotic and very realistic SM dreams with the mysterious black woman and her two slaves. Out of the blue, her boss calls her and tells that Princess Obongo from Gran Canaria wants to buy a real state in Atlantic City and he asks Alice to sell the property. Alice realizes that Princess Obongo is the woman of her dreams and she is seduced by the lustful woman. But she realizes soon that it was actually a dream, and she questions to her lover whether she had had a premonition.

Screwballs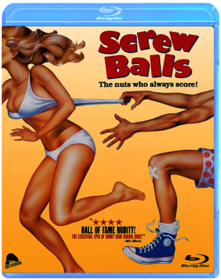 Rafal Zielinski, Roger Corman
THE RAUNCHIEST 80s SEX COMEDY OF THEM ALL

Now On DVD For The First Time Ever!

When legendary exploitation king Roger Corman decided to release the ultimate horny teen comedy, he delivered the most outrageous and hilarious boobs-and-balls epic of the decade! Welcome to Taft & Adams High, where the entire student body including campus virgin Purity Busch, chronic masturbator Melvin Jerkovski, repressed Principal
Stuckoff and blonde bombshell Bootsie Goodhead all must rise to the challenges of freshman breast exams, bikini cheerleader attacks, inappropriate uses of bowling ball holes and much more. Co-screenwriter Linda Shayne, Nanci Chambers of JAG, and Russ Meyer bosom goddess Raven DeLaCroix co-star in this infamous drive-in smash, now loaded with exclusive new Bonus Features that take you deep inside the skin-tastic classic that DVD Talk says makes PORKY S look like Proust!

EXTRAS:
Audio Commentary with Director Rafal Zielinski
CAST & CREW INTERVIEWS: Director Rafal Zielinski, Co-Writers Linda Shayne & Jim Wynorski, Star Kent Deuters and Special FX Artist Gerald Lukaniuk
Interview with Canuxsploitation Scholar Paul Corupe
Mr. Skin Talks Sex Comedies of the '80s
Deleted Scenes
Theatrical Trailer
Threads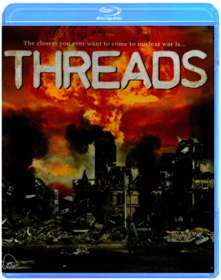 Mick Jackson
Limited Edition of Only 3500 with a Lenticular Cover

The Movie That Shook the World Restored In HD For The First Time Ever.

In September 1984, THREADS was aired on the BBC and shocked tens of millions of UK viewers. Four months later, it was broadcast in America and became the most watched basic cable program in history. After more than three decades, it remains one of the most acclaimed and shattering made–for–television movies of all time. Reece Dinsdale (Coronation Street), David Brierly (Doctor Who) and Karen Meagher, in a stunning debut performance star in this "graphic and haunting" (People Magazine) docudrama about the effects of a nuclear attack on the working –class city of Sheffield, England as the fabric of society unravels. Directed by Mick Jackson (THE BODYGUARD, TUESDAYS WITH MORRIE) from a screenplay by novelist/playwright Barry Hines (Ken Loach s KES) and nominated for seven BAFTA Awards, "The most terrifying and honest portrayal of nuclear war ever filmed" (The Guardian) has now been fully restored from a 2K scan for the first time ever.

SPECIAL FEATURES:

Audio Commentary with Director Mick Jackson, Moderated by Film Writer Kier–La Janisse and Severin Films' David Gregory
Audition For the Apocalypse: Interview with Actress, Karen Meagher
Shooting the Annihilation: Interview with Director of Photography, Andrew Dunn
Destruction Designer: Interview with Production Designer, Christopher Robilliard
Interview with Film Writer, Stephen Thrower
US Trailer
Santa Sangre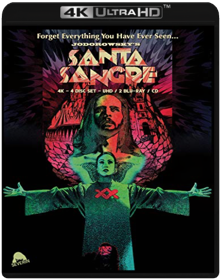 Alejandro Jodorowsky
Perdita Durango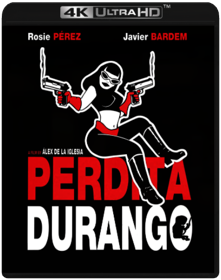 Álex de la Iglesia