Monty Python and the Holy Grail
Terry Gilliam
The Monty Python team are at it again in their second movie. This time we follow King Arthur and his knights in their search for the Holy Grail. This isn't your average medieval knights and horses story - for a start, due to a shortage in the kingdom, all the horses have been replaced by servants clopping coconuts together!
Jabberwocky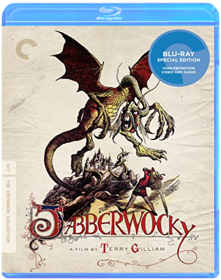 Terry Gilliam
Amid the filth and muck of England in the Dark Ages, a fearsome dragon stalks the land, casting a shadow of terror upon the kingdom of Bruno the Questionable. Who should emerge as the town's only possible savior but Dennis Cooper (Michael Palin), an endearingly witless bumpkin who stumbles onto the scene and is flung into the role of brave knight? Terry Gilliam's first outing as a solo director inspired by Lewis Carroll s poem 'Jabberwocky' and made on the heels of Gilliam s success as a member of the iconic comedy troupe Monty Python showcases his delight in comic nonsense, with a cast chock-full of beloved British character actors. A giddy romp through blood and excrement, this fantasy remains one of the filmmaker's most uproarious visions of society run amok.

DIRECTOR-APPROVED BLU-RAY SPECIAL EDITION FEATURES
- New 4K digital transfer from a restoration by the BFI National Archive and The Film Foundation, approved by director Terry Gilliam
- 5.1 surround mix, supervised by Gilliam and presented in DTS-HD Master Audio
- Audio commentary from 2001 featuring Gilliam and actor Michael Palin
- New documentary on the making of the film, featuring Gilliam, producer Sandy Lieberson, Palin, and actor Annette Badland
- New interview with Valerie Charlton, designer of the Jabberwock, featuring her collection of rare behind-the-scenes photographs
- Selection of Gilliam s storyboards and sketches
- Trailer
- PLUS: An essay by critic Scott Tobias
Time Bandits
Terry Gilliam
A young boy named kevin escapes his gadget-obsessed parents to join a band of time-traveling dwarves. Armed with a map stolen from the supreme being, they plunder treasure from napoleon and agamemnon, but the evil genius is watching their every move.
Monty Python's The Meaning of Life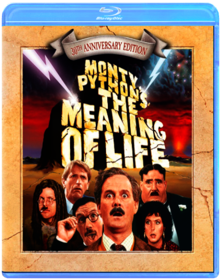 Terry Jones and Terry Gilliam
Those six pandemonium-mad Pythons are back with their craziest adventure ever! Graham Chapman, John Cleese, Terry Gilliam, Eric Idle, Terry Jones and Michael Palin have returned to explain The Meaning of Life. These naughty Brits offer the usual tasteful sketches involving favorite body parts and bodily functions, the wonders of war, the miracle of birth and a special preview of what's waiting for us in Heaven. You'll never look at life in quite the same way again! Hailed as "an exhilarating experience" (Time) and pronounced "the best movie from England's satirical sextet." (Newsweek)
Brazil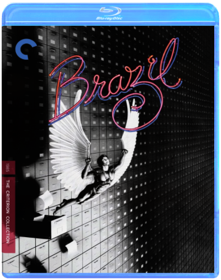 Terry Gilliam
In the dystopic masterpiece Brazil, Jonathan Pryce (Glengarry Glen Ross) plays a daydreaming everyman who finds himself caught in the soul-crushing gears of a nightmarish bureaucracy. This cautionary tale by Terry Gilliam (Fear and Loathing in Las Vegas), one of the great films of the 1980s, now ranks alongside antitotalitarian works by the likes of George Orwell, Aldous Huxley, and Kurt Vonnegut Jr. And in terms of set design, cinematography, music, and effects, Brazil, a nonstop dazzler, stands alone.
The Adventures of Baron Munchausen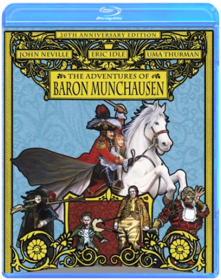 Terry Gilliam
Director Terry Gilliam (Brazil) and an all-star cast including John Neville, Eric Idle, Oliver Reed and Uma Thurman deliver this tale of the enchanting adventures of Baron von Munchausen on his journey to save a town from defeat. Being swallowed by a giant sea-monster, a trip to the moon, a dance with Venus and an escape from the Grim Reaper are only some of the improbable adventures.
The Fisher King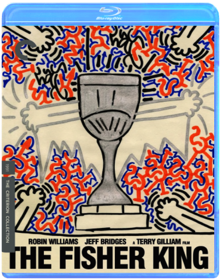 Terry Gilliam
CONTAINS: MY DINNER WITH ANDRE, VANYA ON 42ND STREET, AND A MASTER BUILDER.
12 Monkeys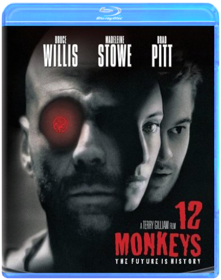 Terry Gilliam
Cole (Bruce Willis) is sent back in time to save the human race from a deadly virus that has forced mankind into dank underground communities in the future. Along his travels, he encounters a psychiatrist (Madeleine Stowe) and a mental patient, brilliantly portrayed by Brad Pitt, who may hold the key to the mysterious rogue group, the Army of the 12 Monkeys, thought to be responsible for unleashing the killer disease. Believing he can obtain a pure virus sample in order to find a cure in the future, he is met with one riddle after another that puts him in a race with time. This sci-fi masterpiece from the genius mind of Terry Gilliam is a modern-day classic.
Fear and Loathing in Las Vegas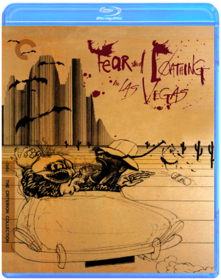 Terry Gilliam
It is 1971, and journalist Raoul Duke barrels toward Las Vegas—accompanied by a trunkful of contraband and his unhinged Samoan attorney, Dr. Gonzo—to cover a motorcycle race. His cut-and-dried assignment quickly descends into a feverish psychedelic odyssey. Director Terry Gilliam (Time Bandits, Brazil) and an all-star cast headlined by Johnny Depp (Edward Scissorhands, Donnie Brasco) and Benicio Del Toro (The Usual Suspects, Che) show no mercy in adapting Hunter S. Thompson's legendary dissection of the American way of life to the screen, creating a film both hilarious and savage.
The Zero Theorem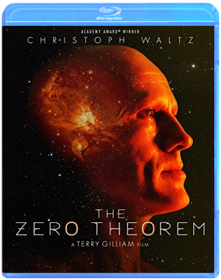 Terry Gilliam
Qohen Leth (2-time Academy Award© winner Christoph Waltz) is a computer genius plagued with existential angst. Eccentric and reclusive, he lives in a burnt-out church, toiling on a top-secret project personally assigned by Management (Matt Damon) to discover the meaning of life. If there is one. Witness a vision of the techno-philosophical future from Terry Gilliam, the visionary director of BRAZIL, 12 MONKEYS, and FEAR AND LOATHING IN LAS VEGAS, also starring Tilda Swinton, David Thewlis, and Melanie Thierry.

DVD EXTRAS
Behind the Scenes
Visual Effects
Trailer