Destricted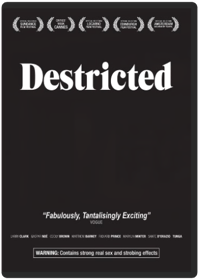 Larry Clark, Matthew Barney, Marilyn Minter, Richard Prince, Gaspar Noé
Destricted is the first short film collection of its kind, bringing together sex and art in a series of films created by some of the world's most visual and provocative artists and directors. They reveal the diverse attitudes by which we represent ourselves sexually.
Climax
Gaspar Noé
Birth and death are extraordinary life experiences.

Life is a fleeting pleasure.

Following a successful and visually dazzling rehearsal, a dance troupe celebrates with a party. But when it becomes apparent that someone has spiked the Sangria, the dancers soon begin to turn on each other in an orgiastic frenzy.

Special Features TBA
Enter the Void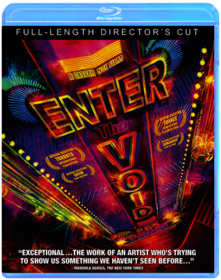 Gaspar Noé
Controversial and brilliant director Gasper Noe follows his worldwide sensation Irreversible with another triumph. Enter The Void is Noe s most assured and haunting film yet, a head trip a la Stanley Kubrick s 2001: A Space Odyssey and at the same time a piercing modern drama. Newcomer Nathaniel Brown and Paz de la Huerta (HBO s Boardwalk Empire) star as a brother and sister trapped in the hellish nighttime world of Tokyo where he deals drugs and she works as a stripper.
 
A crime gone bad leads to shocking violence and then moments of transcendence in which the movie plunges viewers into death and rebirth like no film has ever done before via mesmerizing camerawork (The New York Times) that make it a dazzling and brutal exercise in cinematic envelope-pushing (New York Post). Stunning audiences around the world, Enter The Void is a cinematic experience like no other.
Irreversible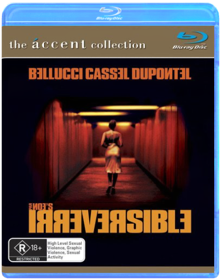 Gaspar Noé
Australia released, Blu-Ray/Region A/B/C : it WILL NOT play on regular DVD player. You need Blu-Ray DVD player to view this Blu-Ray DVD: LANGUAGES: French ( Dolby Digital 5.1 ), English ( Subtitles ), WIDESCREEN (2.35:1), SPECIAL FEATURES: Deleted Scenes, Featurette, Interactive Menu, Scene Access, Teaser(s), Trailer(s), SYNOPSIS: Call if the movie love affair dispossessed of the happy ending. The romance remembered at point omega. A nightmare, where the smoke never clears, the dust never settles. It's a reckoning now known as Irreversible. Since it exploded onto cinema screens in 2002, Irreversible, Gasper Noe's pulverising and extremist vision, with its operatic and total assault on the senses, has been recognised as a pioneering and relentless modern take on the journey from heaven to hell, delivered, however, as the ultimate form of supremely sustained reversal. Noe lays down the gauntlet. As opening sequences go, 'the poet of apocalyptic shock' offers a foreboding entrance into a hazardous world where monsters lurk and each of its characters has long been escorted down a path to their own doom, into a disorientating netherworld the camera plunges and with it Vincent Cassel. Beyond reasoning, his frenzied pursuit of a figure by the name Le Tenia, the incubus whose shadow darkens the unfolding nightmare from which the film takes its title and unyielding atmosphere, is akin to abseiling down into the pits of hell. There will be no returning: Only the past and the unforgettable events that have come before it. SCREENED/AWARDED AT: Cannes Film Festival, Film Critics Circle of Australia Awards, Stockholm Film Festival, ...Irreversible ( Irréversible )
Love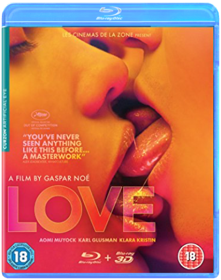 Gaspar Noé
From the controversial diretor of Irreversible and Enter the Void comes a sexual melodrama about a boy and his two girls. It's a love story, which celebrates sex in a joyous way.