The 39 Steps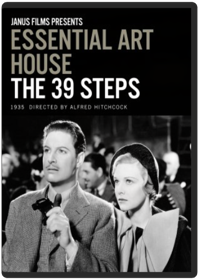 Alfred Hitchcock
The best known of Hitchcock's British films, this civilized thriller follows the escapades of Richard Hannay (Robert Donat), who stumbles into the midst of a conspiracy that involves him in a hectic chase across the Scottish moors—a chase in which he is both the pursuer and the pursued. This classic Hitchcock "wrong man" thriller includes stops in John Laurie's crofter's cottage, a political meeting where Hannay improvises a speech without knowing who or what he's supporting, and a period when he's handcuffed to the resentful heroine (Madeleine Carroll). Adapted from John Buchan's novel, "The 39 Steps" encapsulates themes that set the stage for Hitchcock's biggest American thrillers and remains a standout amongst his early works.
The 400 Blows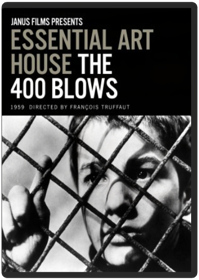 François Truffaut
In 1959, François Truffaut burst upon the scene, heralding the French New Wave with his emotional, autobiographical tale of a boy named Antoine Doinel, neglected by family and school, who must ultimately fend for himself on the streets of Paris. A showcase for the talents of not only Truffaut but also the young Jean-Pierre Léaud (who would become an emblem of the coming decade of daring French cinema), The 400 Blows remains a stunner, from first frame to unforgettable last.
Alexander Nevsky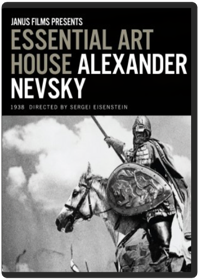 Sergei Eisenstein, Dmitri Vasilyev
Sergei Eisenstein, long regarded as a pioneer of film art, changed cinematic strategies halfway through his career. Upon returning from Hollywood and Mexico in the late 1930s, he left behind the densely edited style of celebrated silents like Battleship Potemkin and October, turning instead to historical sources, contradictory audiovisuals, and theatrical sets for his grandiose yet subversive sound-era work. This trio of rousing action epics reveals a deeply unsettling portrait of the Soviet Union under Stalin, and provided battle-scene blueprints for filmmaking giants from Laurence Olivier in Henry V to Akira Kurosawa in Seven Samurai.
Ashes and Diamonds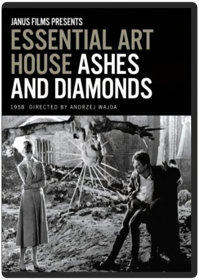 Andrzej Wajda
A Polish partisan assassinates the wrong man at the end of World War II. Directed by Andrzej Wadja.
Ballad of a Soldier
Grigori Chukhrai
Russian soldier Alyosha Skvortsov is granted a visit with his mother after he singlehandedly fends off two enemy tanks. As he journeys home, Alyosha encounters the devastation of his war-torn country, witnesses glimmers of hope among the people, and falls in love. With its poetic visual imagery, Grigori Chukhrai's Ballad of a Soldier is an unconventional meditation on the effects of war, and a milestone in Russian cinema.
Beauty and the Beast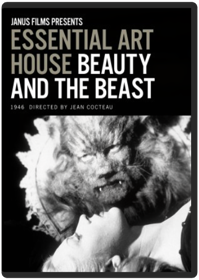 Jean Cocteau
Once upon a time, in a world of magic and wonder, the true love of a beautiful girl may finally dispel the torment of feral but gentle-hearted beast. "Beauty and the Beasts (La Belle et la Bete) is a landmark feat of cinematic fantasy, in which master fi
Black Orpheus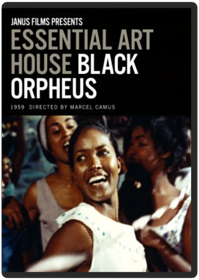 Marcel Camus
Brief Encounter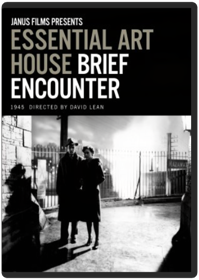 David Lean
An Italian-born housewife and a married stranger meet in a British train station and briefly fall in love.
The Fallen Idol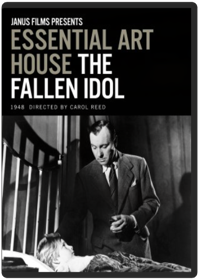 Carol Reed
inspected 100% Satisfaction Guarantee Next day Shipping Original art and packaging
Fires on the Plain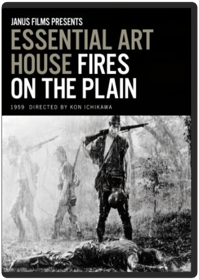 Kon Ichikawa
A tubercular Japanese soldier walks among World War II horror. Directed by Kon Ichikawa.
Fists in the Pocket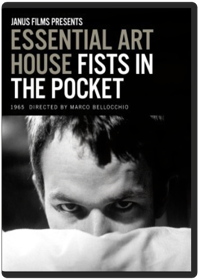 Anita Cacciolati, Silvano Agosti, Marco Bellocchio
A dark, perverse portrait of family dysfunction, Fists in the Pocket stunned moviegoers and critics alike with its unflinching social critique and brazenly assured style. This award-winning feature debut by writer/director Marco Bellocchio (Devil in the Flesh) heralds the arrival of a powerful filmmaking voice, and ranks as a truly unique classic of Italian cinema. Stars Lou Castel (The Leopard, Irma Vep, Rorret).
Floating Weeds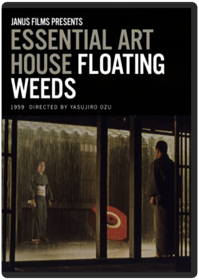 Toyo Suzuki, Yasujirô Ozu
The leader of a traveling acting troupe meets his former mistress and their illegitimate son. Directed by Yasujiro Ozu.
Forbidden Games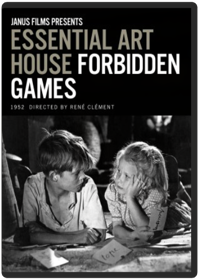 René Clément
A timeless evocation of the loss of innocence, René Clément's devastating Forbidden Games tells the story of a young orphan and her friend forced to fend for themselves in World War II France. Featuring brilliant performances from its child stars, the film won the 1952 Academy Award for Best Foreign Film and remains a singular, breathtaking cinematic achievement.
Grand Illusion
Jean Renoir
One of the very first prison escape movies, Grand Illusion is hailed as one of the greatest films ever made. Jean Renoir's antiwar masterpiece stars Jean Gabin and Pierre Fresnay, as French soldiers held in a World War I German prison camp, and Erich von Stroheim as the unforgettable Captain von Rauffenstein. Following a smash theatrical re-release, Criterion is proud to present Grand Illusion in a new special edition, with a beautifully restored digital transfer.
Häxan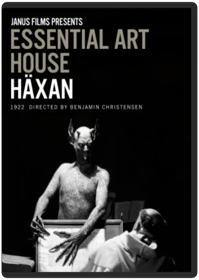 Benjamin Christensen
Grave robbing, torture, possessed nuns, and a satanic Sabbath: Benjamin Christensen's legendary film uses a series of dramatic vignettes to explore the scientific hypothesis that the witches of the middle ages suffered the same hysteria as turn-of-the-century psychiatric patients. But the film itself is far from serious-instead it's a witches' brew of the scary, gross, and darkly humorous. The Criterion Collection is proud to present two versions of this genre-defying "documentary," for the first time ever on DVD.
Ikiru
Akira Kurosawa
In what could be called Akira Kurosawa's It s a Wonderful Life, Takashi Shimura portrays Kanji Watanabe, an isolated, inward city office clerk who discovers he has stomach cancer and little time left on Earth. With a compelling, radical narrative structure, Kurosawa depicts Watanabe's last months and then how his final decisions have affected those left behind. Ikiru is one of the Japanese master's darkest, yet most life-affirming works.
The Importance of Being Earnest
Anthony Asquith
In this film adaption of Oscar Wilde's classic comedy of manners, two eligible bachelors use the name Ernest while courting two young ladies with a preference for the name, with confusing results.
Ivan the Terrible, Part II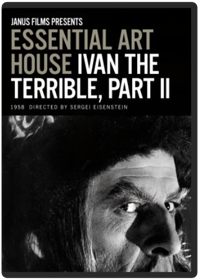 Sergei M. Eisenstein
PART TWO OF SERGEI EISENSTEIN'S TWO-PART EPIC CHRONICLING THE LIFE OF THE 16TH CENTURY TSAR, IVAN GROZNY, IS ONE OF FILM'S MOST ARTISTIC AND ABSORBING CREATIONS. OVER THREE YEARS IN THE MAKING, IVAN THE TERRIBLE FEATURES AN OPERATIC SCORE BY THE ESTEEMED SOVIET COMPOSER SERGEI PROKOFIEV.
Le Jour se Lève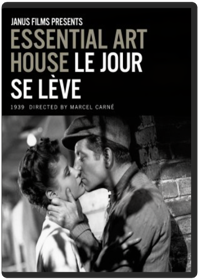 Marcel Carné
One of the great works of 1930s poetic realist cinema, Le Jour Se Leve was Marcel Carne's third collaboration with screenwriter and poet Jacques Prevert. A story of obsessive sexuality and murder, in which the working-class Francois (Jean Gabin) resorts to killing in order to free the woman he loves from the controlling influence of another man, the film cemented the reputations of Gabin and Carne.
Jules and Jim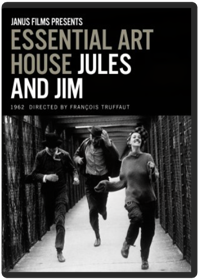 François Truffaut
Brand Name: CRITERION COLLECTION INC Mfg#: 715515056717, Shipping Weight: 1.00 lbs, Manufacturer: CRITERION, Genre: Drama, All music products are properly licensed and guaranteed authentic.
Kind Hearts and Coronets
Robert Hamer
Director Robert Hamer's fiendishly funny Kind Hearts and Coronets stands as one of Ealing Studios' greatest triumphs, and one of the most wickedly black comedies ever made. Dennis Price is sublime as an embittered young commoner determined to avenge his mother's unjust disinheritance by ascending to the dukedom. Unfortunately, eight family members (all played by the incomparable Alec Guinness) must be eliminated before he can do so. SPECIAL FEATURES: New, restored high-definition digital transfer, BBC programs on Alec Guinness and the history of Ealing Studios, Gallery of archival production and publicity photographs, Original theatrical trailer and A new essay by film critic and historian Philip Kemp.
Knife in the Water
Roman Polanski
A husband, a wife, a stranger, a knife: Roman Polanski sets them all adrift on a weekend filled with simmering resentments and gut-churning suspense in his seminal psychological thriller, still one of the greatest feature debuts in film history. With Knife in the Water, Polanski revealed his delight in exploring sexual and class boundaries with ruthless precision.
L'avventura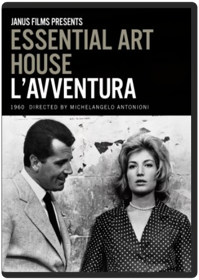 Michelangelo Antonioni
Anna's best friend and lover become lovers after Anna disappears. Directed by Michelangelo Antonioni.
The Lady Vanishes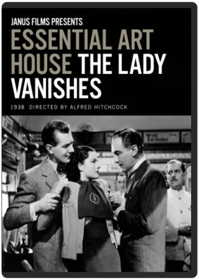 Alfred Hitchcock
In Alfred Hitchcock's most quick-witted and devilish comic thriller, the beautiful Margaret Lockwood (Night Train to Munich), traveling across Europe by train, meets a charming spinster (Dame May Whitty, Suspicion), who then seems to disappear into thin air. The younger woman turns investigator and finds herself drawn into a complex web of mystery and high adventure. Also starring Michael Redgrave (The Browning Version), The Lady Vanishes remains one of the great filmmaker's purest delights.
The Life and Death of Colonel Blimp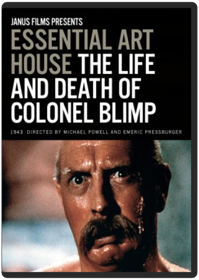 Michael Powell, Emeric Pressburger
Famous British cartoon character Colonel Blimp was made flesh and blood in Michael Powell and Emeric Pressburger's complex, humane portrait of a well-mannered soldier, whom the film follows through the first half of the twentieth century. Made during wartime, The Life and Death of Colonel Blimp ignited controversy: Winston Churchill himself denounced its sympathetic view of a German soldier. Today it is considered one of the filmmakers' greatest achievements.
Loves of a Blonde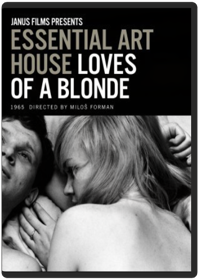 Milos Forman
A Czech musician seduces and abandons a factory worker. Directed by Milos Forman.
M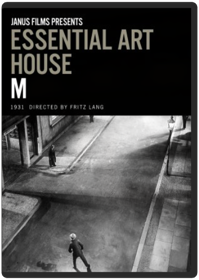 Fritz Lang
A simple, haunting musical phrase whistled offscreen tells us that a young girl will be killed. "Who is the Murderer?" pleads a nearby placard as serial killer Hans Beckert, played by Peter Lorre (Casablanca, The Maltese Falcon), closes in on little Elsie Beckmann. In his harrowing masterwork M, Fritz Lang (Metropolis, The Testament of Dr. Mabuse) merges trenchant social commentary with chilling suspense, creating a panorama of private madness and public hysteria that to this day remains the blueprint for the psychological thriller.
Miss Julie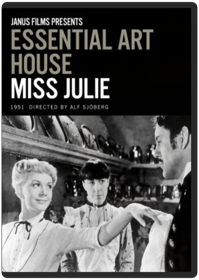 Alf Sjöberg
Swedish filmmaker Alf Sjöberg s visually innovative, Cannes Grand Prix winning adaptation of August Strindberg s renowned 1888 play (censored upon its first release in the United States for its adult content) brings to scalding life the excoriating words of the stage s preeminent surveyor of all things rotten in the state of male-female relations. Miss Julie vividly depicts the battle of the sexes and classes that ensues when a wealthy businessman s daughter (Anita Bjork, in a fiercely emotional performance) falls for her father s bitter servant. Celebrated for its unique cinematic style, Sjöberg s film was an important turning point in Scandinavian cinema.

SPECIAL EDITION FEATURES:

New, restored high-definition digital transfer

New video essay by film historian Peter Cowie

Archival television interview with director Alf Sjöberg

A 2006 television documentary about the play Miss Julie and author August Strindberg

Theatrical trailer

New and improved English subtitle translation

PLUS: A booklet featuring new essays by film scholars Peter Matthews and Birgitta Steene
Monsieur Hulot's Holiday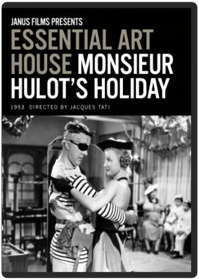 Jacques Tati
Pipe-smoking Monsieur Hulot, Jacques Tati's endearing clown, takes a holiday at a seaside resort where his presence provokes one catastrophe after another. Tati's wildly funny satire of vacationers determined to enjoy themselves includes a series of precisely choreographed sight gags involving dogs, boats and firecrackers. The first entry in the Hulot series is a masterpiece of gentle slapstick.
Pandora's Box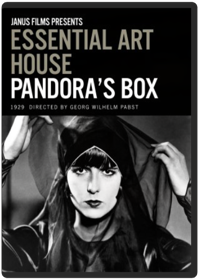 Georg Wilhelm Pabst
One of the masters of early German cinema, G.W. Pabst had an innate talent for discovering actresses (including Greta Garbo). And perhaps none of his female stars shone brighter than Kansas native and onetime Ziegfeld girl Louise Brooks, whose legendary persona was defined by Pabst's lurid, controversial melodrama Pandora's Box. Sensationally modern, the film follows the downward spiral of the fiery, brash, yet innocent showgirl Lulu, whose sexual vivacity has a devastating effect on everyone she comes in contact with. Daring and stylish, Pandora's Box is one of silent cinema's great masterworks, and a testament to Brooks's dazzling individuality.
Pépé le Moko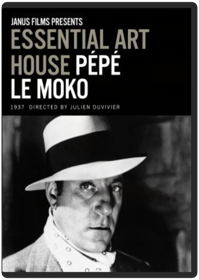 Julien Duvivier
The notorious Pepe le Moko (Jean Gabin, in a truly iconic performance) is a wanted man: women long for him, rivals hope to destroy him, and the law is breathing down his neck at every turn. On the lam in the labyrinthine Casbah of Algiers, Pepe is safe from the clutches of the police—until a Parisian playgirl compels him to risk his life and leave its confines once and for all. Once of the most influential films of the 20th century and a landmark of French poetic realism.
Il Posto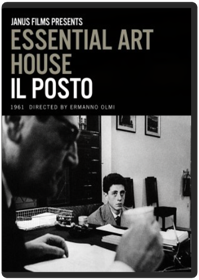 Ermanno Olmi
When young, fragile Domenico (Sandro Panseri) ventures from the small village of Meda to Milan in search of employment, he finds himself on the bottom rung of the bureaucratic ladder in a huge, faceless company. The prospects may be daunting, but Domenico finds reason for hope in the fetching new worker Antonietta (Loredana Detto). A tender coming-of-age story and a sharp observation of dehumanizing corporate enterprise, Ermanno Olmi's Il Posto is a touching and hilarious tale of one young man's stumbling entrance into the perils of modern adulthood.
Pygmalion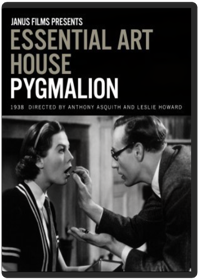 Anthony Asquith Leslie Howard
Brand Name: IMAGE ENTERTAINMENT Mfg#: 715515043519, Shipping Weight: 0.17 lbs, Manufacturer:, Genre: MISCELLANEOUS, All music products are properly licensed and guaranteed authentic.
Rashomon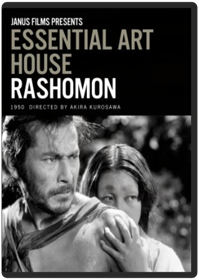 Akira Kurosawa
Richard III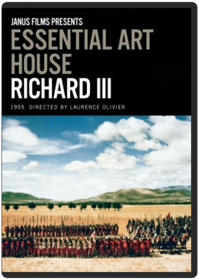 Laurence Olivier
Shakespeare's crouchback king works his mad way from the battlefield to the bedroom. Directed by Olivier.
The Rules of the Game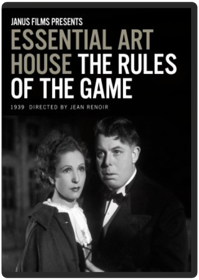 Jean Renoir
Jean Renoir's 1939 classic is widely regarded as one of the greatest films ever made, and Criterion is very proud to present the film in a special two-disc edition. Cloaked in a comedy of manners, this scathing critique of corrupt French society is about a weekend hunting party at which amorous escapades abound among the aristocratic guests-which are also mirrored by the activities of the servants downstairs. The refusal of one of the guests to play by society's rules sets off a chain of events that ends in tragedy.
Seven Samurai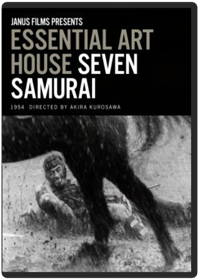 Akira Kurosawa
Feudal Japanese villagers hire seven warriors to defend them from 40 mounted bandits. Directed by Akira Kurosawa.
The Seventh Seal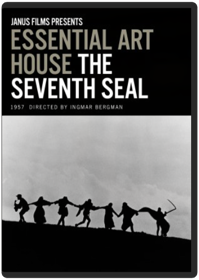 Ingmar Bergman
Few films have had as large a cultural impact as Ingmar Bergman's The Seventh Seal (Det sjunde inseglet). Disillusioned and exhausted after a decade of battling in the Crusades; a knight (Max von Sydow) encounters Death on a desolate beach and challenges him to a fateful game of chess. Much studied; imitated; even parodied; but never outdone; Bergman's stunning allegory of man's search for meaning was one of the benchmark foreign imports of America's 1950s art house heyday; pushing cinema's boundaries and ushering in a new era of moviegoing.
The Spirit of the Beehive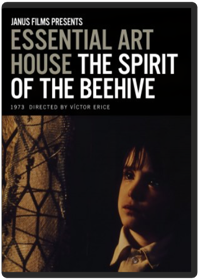 Víctor Erice
The Criterion Collection is proud to present Víctor Erice's spellbinding The Spirit of the Beehive, widely regarded as the greatest Spanish film of the 1970s. In a small Castilian village in 1940, directly following the country's devastating civil war, six-year-old Ana attends a traveling movie show of Frankenstein and becomes haunted by her memory of it. Produced as Franco's long regime was nearing its end, The Spirit of the Beehive is both a bewitching portrait of a child's inner life and an elusive, cloaked meditation of a nation trapped under tyranny—from one of cinema's most mysterious auteurs.
La Strada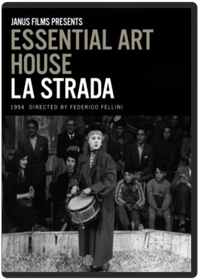 Federico Fellini
Single disc.
Summertime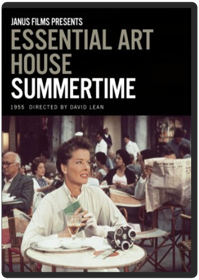 David Lean
JANE HUDSON, A LONELY AND SHELTERED MIDDLE-AGED SPINSTER ON HOLIDAY IN VENICE. HER LONG-DREAMED-OF ROMANCE FINALLY BECOMES A REALITY WHEN SHE MEETS A HANDSOME BUT MARRIED VENETIAN. THEIR ILL-FATED LOVE AFFAIR MAKES FOR A FRESHLY ENDEARING FILM.
The Third Man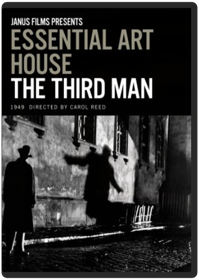 Carol Reed
Cynical pulp novelist Holly Martins arrives in shadowy Vienna to investigate the mysterious death of his old friend, black-market opportunist Harry Lime, and thus begins an ever-thickening web of love, deception, and murder that adds up to one of cinema's most immortal treats, as well as one of its trickiest. Thanks to brilliant performances by Joseph Cotten, Alida Valli, and Orson Welles; Anton Karas's timeless, evocative zither score; Graham Greene's razor-sharp dialogue; and Robert Krasker's haunting deep focus shots, off-kilter angles, and dramatic use of light and shadow, The Third Man, directed by the inimitable Carol Reed, only grows in stature as the years pass.
Three Documentaries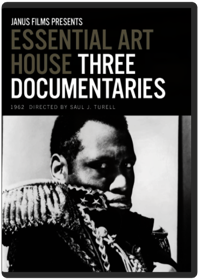 Saul J. Turell
Ugetsu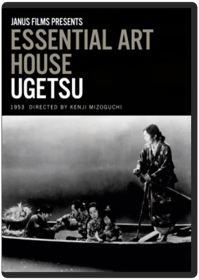 Kenji Mizoguchi
Having refined his craft in the silent era, Kenji Mizoguchi was an elder statesman of Japanese cinema fiercely revered by Akira Kurosawa and other younger directors by the time he made Ugetsu. And with this exquisite ghost story, a fatalistic wartime tragedy derived from stories by Akinari Ueda and Guy de Maupassant, he created a touchstone of his art, his long takes and sweeping camera guiding the viewer through a delirious narrative about two villagers whose pursuit of fame and fortune leads them far astray from their loyal wives. Moving between the terrestrial and the otherworldly, Ugetsu reveals essential truths about the ravages of war, the plight of women, and the pride of men.

TWO-DVD SPECIAL EDITION FEATURES
-New 4K digital restoration undertaken by The Film Foundation
-Audio commentary by filmmaker, critic, and festival programmer Tony Rayns
-Kenji Mizoguchi: The Life of a Film Director (1975), a 150-minute documentary by Kaneto Shindo
-Two Worlds Intertwined, a 2005 appreciation of Ugetsu by filmmaker Masahiro Shinoda
-Process and Production, a 2005 interview with Tokuzo Tanaka, first assistant director on Ugetsu
-Interview from 1992 with cinematographer Kazuo Miyagawa
-Trailers
-An essay by film critic Phillip Lopate
Umberto D.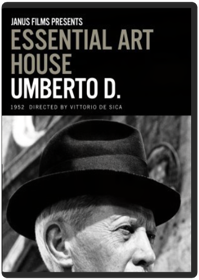 Vittorio De Sica
Shot on location with a cast of nonprofessional actors, Vittorio De Sica's neorealist masterpiece follows Umberto D., an elderly pensioner, as he struggles to make ends meet during Italy's postwar economic boom. Alone except for his dog, Flike, Umberto strives to maintain his dignity while trying to survive in a city where traditional human kindness seems to have lost out to the forces of modernization. Umberto's simple quest to fulfill the most fundamental human needs—food, shelter, companionship—is one of the most heartbreaking stories ever filmed and an essential classic of world cinema.
The Virgin Spring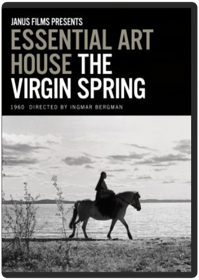 Ingmar Bergman
Winner of the Academy Award for best foreign-language film, Ingmar Bergman's The Virgin Spring is a harrowing tale of faith, revenge, and savagery in medieval Sweden. With austere simplicity, the director tells the story of the rape and murder of the virgin Karin, and her father Töre's ruthless pursuit of vengeance, set in motion after the killers visit the family's farmhouse. Starring frequent Bergman collaborator and screen icon Max von Sydow, the film is both beautiful and cruel in its depiction of a world teetering between paganism and Christianity.

BLU-RAY SPECIAL EDITION FEATURES New 2K digital restoration, with uncompressed monaural soundtrackAudio commentary from 2005 by Ingmar Bergman scholar Birgitta SteeneNew video interviews from 2005 with actors Gunnel Lindblom and Birgitta PetterssonIntroduction by filmmaker Ang Lee from 2005An audio recording of a 1975 American Film Institute seminar by director Ingmar BergmanAlternate English-dubbed soundtrackPLUS: A booklet featuring essays by film scholar Peter Cowie and screenwriter Ulla Isaksson and the medieval ballad on which the film is based
Viridiana
Luis Buñuel
Banned in Spain and denounced by the Vatican, Luis Bunuel's hilarious vision of life as a beggar's banquet is regarded by many as his masterpiece. In it, the young novice Viridiana does her utmost to maintain her Catholic principles, but her lecherous uncle and a motley assemblage of paupers force her to confront the limits of her idealism. Winner of the Palme d'Or at the 1961 Cannes Film Festival, this anticlerical free-for-all is as shocking today as ever.
The Wages of Fear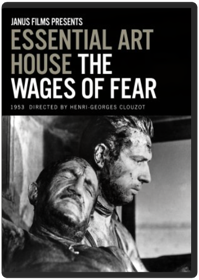 Henri-Georges Clouzot
In the squalid, impoverished South American town of Las Piedras, desperate men and women from all over the world scrape out a living and dream of escape, under the watchful eye of the ruling Southern Oil Company. When a well explodes 300 miles away, the American company conscripts four of these unfortunates to drive trucks loaded with volatile nitroglycerin through treacherous mountains, a suicide mission that is their only way out.
The White Sheik
Federico Fellini
Ivan Cavalli (Leopoldo Trieste) brings his new wife Wanda (Brunella Bovo) to Rome on the least romantic honeymoon in history—a rigid schedule of family meetings and audiences with the Pope. But Wanda, dreaming of the dashing hero of a photo-strip cartoon, drifts off in search of the White Sheik, thus setting off a slapstick comedy worthy of Chaplin. The style and themes which made Federico Fellini world famous are already apparent in this charming comedy (his first solo directorial effort), featuring such long-time collaborators as his wife, actress Giulietta Masina, and composer Nino Rota.
Wild Strawberries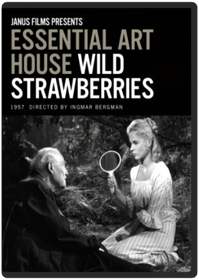 Ingmar Bergman
Weaving a tapestry of memory and dreams, Ingmar Bergman delves into the past of aged professor Isak Borg, en route to receive an award from his alma mater for a life he no longer understands. Following directly on the heels of his international breakthrough The Seventh Seal, the alternately warm and nightmarish Wild Strawberries cemented Bergman as the leading art-house visionary of his era.