Lars von Trier's Europe Trilogy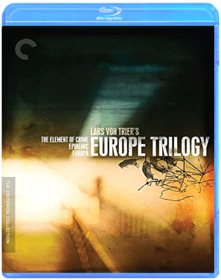 Mission: Impossible - Six Movie Collection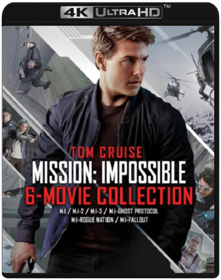 Various
-1920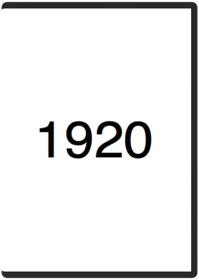 The Kid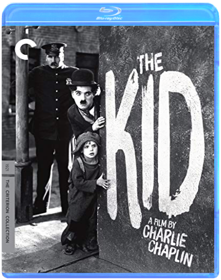 Charlie Chaplin
Häxan
Benjamin Christensen
Nosferatu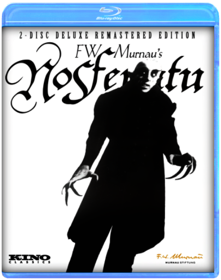 F. W. Murnau
An unauthorized adaptation of Bram Stoker's Dracula, Nosferatu is the quintessential silent vampire film, crafted by legendary German director F. W. Murnau (Sunrise, Faust, The Last Laugh). Rather than depicting Dracula as a shape-shifting monster or debonair gentleman, Murnau's Graf Orlok (as portrayed by Max Schreck) is a nightmarish, spidery creature of bulbous head and taloned claws — perhaps the most genuinely disturbing incarnation of vampirism yet envisioned. Nosferatu was an atypical expressionist film in that much of it was shot on location. While directors such as Lang and Lubitsch built vast forests and entire towns within the studio, Nosferatu's landscapes, villages and castle were actual locations in the Carpathian Mountains. Murnau was thus able to infuse the story with the subtle tones of nature: both pure and fresh as well as twisted and sinister. Remastered in high definition for the first time and making its Blu-ray debut exclusively from Kino Classics.

BONUS FEATURES: Two-disc set features two versions of the film, the original German Intertitles (with optional English subtitles) or English Intertitles, Han s Erdmann s original 1922 score in 5.1 Surround or 2.0 Stereo, The Language of Shadows a 52 minute documentary chronicling the early career of F.W. Murnau, a series of clips and highlights from other F.W. Murnau films, Photo Gallery
Dziga Vertov Collection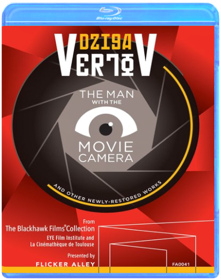 Dziga Vertov
"I am an eye. A mechanical eye. I am the machine that reveals the world to you as only the machine can see it. - Dziga Vertov ("Kino-Eye")These words, written in 1923 (only a year after Robert Flaherty's Nanook of the North was released) reflect the Soviet pioneer's developing approach to cinema as an art form that shuns traditional or Western narrative in favor of images from real life. They lay the foundation for what would become the crux of Vertov's revolutionary, anti-bourgeois aesthetic wherein the camera is an extension of the human eye, capturing "the chaos of visual phenomena filling the universe." Over the next decade-and-a-half, Vertov would devote his life to the construction and organization of these raw images, his apotheosis being the landmark 1929 film The Man with the Movie Camera. In it, he comes closest to realizing his theory of 'Kino-Eye,' creating a new, more ambitious and more significant picture than what the eye initially perceives. Now - thanks to the extraordinary restoration efforts of Lobster Films, Blackhawk Films® Collection, EYE Film Institute, Cinémathèque de Toulouse, and the Centre National de la Cinématographie - Flicker Alley is able to present the four films featured on Dziga Vertov: The Man with the Movie Camera and Other Newly Restored Works in a brand-new, Blu-ray edition.
The Lodger: A Story of the London Fog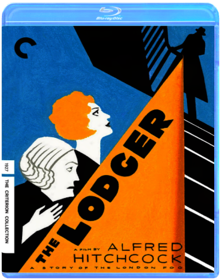 Alfred Hitchcock
With his third feature film, The Lodger: A Story of the London Fog, Alfred Hitchcock took a major step toward greatness and made what he would come to consider his true directorial debut. This haunting silent thriller tells the tale of a mysterious young man (matinee idol Ivor Novello) who takes up residence at a London boardinghouse, just as a killer who preys on blonde women, known as the Avenger, descends upon the city. The film is animated by the palpable energy of a young stylist at play, decisively establishing the director s formal and thematic obsessions. In this edition, The Lodger is accompanied by Downhill, another 1927 silent exploration of Hitchcock s wrong man trope, also headlined by Novello making for a double feature that reveals the great master of the macabre as he was just coming into his own.

BLU-RAY SPECIAL EDITION FEATURES
-2K digital restoration, with a new score by composer Neil Brand, performed by the Orchestra of Saint Paul s
-Downhill, director Alfred Hitchcock s 1927 feature film starring Ivor Novello, in a 2K digital restoration with a new piano score by Brand
-New interview with film scholar William Rothman on Hitchcock s visual signatures
-New video essay by art historian Steven Jacobs about Hitchcock s use of architecture
-Excerpts from audio interviews with Hitchcock by filmmakers François Truffaut (1962) and Peter Bogdanovich (1963)
-Radio adaptation of The Lodger from 1940, directed by Hitchcock
-New interview with Brand on composing for silent film
-PLUS: Essays on The Lodger and Downhill by critic Philip Kemp
Metropolis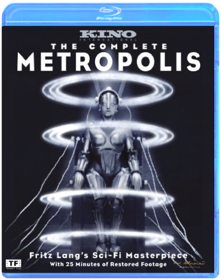 Fritz Lang
The Circus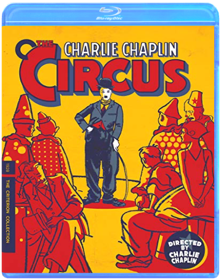 Charlie Chaplin
The Passion of Joan of Arc
Carl Dreyer
Spiritual rapture and institutional hypocrisy come to stark, vivid life in one of the most transcendent masterpieces of the silent era. Chronicling the trial of Joan of Arc in the days leading up to her execution, Danish master Carl Theodor Dreyer depicts her torment with startling immediacy, employing an array of techniques including expressionistic lighting, interconnected sets, and painfully intimate close-ups to immerse viewers in her subjective experience. Anchoring Dreyer's audacious formal experimentation is a legendary performance by Renée Falconetti, whose haunted face channels both the agony and the ecstasy of martyrdom.

TWO-DVD SPECIAL EDITION FEATURES
- New high-definition digital restoration of the film by Gaumont, presented at 24 frames per second
- Alternate presentation of the film at 20 frames per second with original Danish intertitles
- Three scores: Richard Einhorn's VOICES OF LIGHT, a choral and orchestral work performed by vocal group Anonymous 4, soloist Susan Narucki, and the Netherlands Radio Philharmonic and Choir; another by Goldfrapp's Will Gregory and Portishead's Adrian Utley; and the third composed and performed by pianist Mie Yanashita
- Audio commentary from 1999 by film scholar Casper Tybjerg
- New interview with Einhorn
- New conversation between Gregory and Utley
- New video essay by Tybjerg exploring the debate over the film's frame rate
- Interview from 1995 with actor Renée Falconetti's daughter and biographer, Hélène Falconetti
- Version history
- Production design archive
- New English subtitle translation
- PLUS: An essay by critic Mark Le Fanu, a 1929 director's statement by Carl Theodor Dreyer, and the full libretto for VOICES OF LIGHT
Diary of a Lost Girl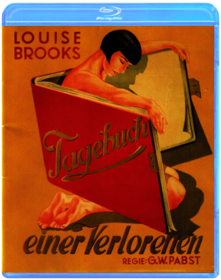 Georg Wilhelm Pabst
The second and final collaboration of actress Louise Brooks and director G.W. Pabst (Pandora's Box), DIARY OF A LOST GIRL is a provocative adaptation of Margarethe Böhme's notorious novel, in which the naive daughter of a middle class pharmacist is seduced by her father's assistant, only to be disowned and sent to a repressive home for wayward girls. She escapes, searches for her child, and ends up in a high-class brothel, only to turn the tables on the society which had abused her. It's another tour-de-force performance by Brooks, whom silent film historian Kevin Brownlow calls an actress of brilliance, a luminescent personality and a beauty unparalleled in screen history.

Special Features: Mastered in HD from archival 35mm elements, and digitally restored, Audio commentary by Thomas Gladysz, Director, Louise Brooks Society, Windy Riley Goes Hollywood (1930, 18 Min., featuring Louise Brooks)
Pandora's Box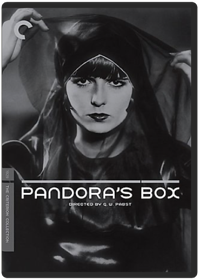 Georg Wilhelm Pabst
One of the masters of early German cinema, G. W. Pabst had an innate talent for discovering actresses (including Greta Garbo). And perhaps none of his female stars shone brighter than Kansas native and onetime Ziegfeld girl Louise Brooks, whose legendary persona was defined by Pabst's lurid, controversial melodrama Pandora's Box. Sensationally modern, the film follows the downward spiral of the fiery, brash, yet innocent showgirl Lulu, whose sexual vivacity has a devastating effect on everyone she comes in contact with. Daring and stylish, Pandora's Box is one of silent cinema's great masterworks and a testament to Brooks's dazzling individuality.
-1930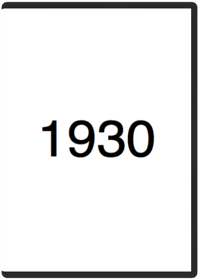 The Complete Jean Vigo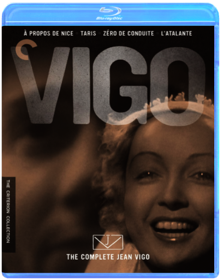 Jean Vigo
Even among cinema's greatest legends, Jean Vigo stands alone. The son of a notorious anarchist, Vigo had a brief but brilliant career making poetic, lightly surrealist films before his life was cut tragically short by tuberculosis at age twenty-nine. Like the daring early works of his contemporaries Jean Cocteau and Luis Buñuel, Vigo's films refused to play by the rules. This set includes all of Vigo's titles: À propos de Nice, an absurdist, rhythmic slice of life from the bustling coastal city of the title; Taris, an inventive short portrait of a swimming champion; Zéro de conduite, a radical, delightful tale of boarding-school rebellion that has influenced countless filmmakers; and, of course, L'Atalante, widely regarded as one of cinema's finest achievements, about newlyweds beginning their life together on a canal barge. These are the endlessly witty, visually adventurous works of a pivotal film artist.

À propos de Nice, 1930, 23 min, B&W, Silent, 1.33:1

Taris, 1931, 9 min, B&W, Mono, In French with English subtitles, 1.19:1

Zéro de conduite, 1933, 44 min, B&W, Mono, In French with English subtitles

L'Atalante, 1934, 85 min, B&W, Mono, In French with English subtitles, 1.33:1
Hell's Angels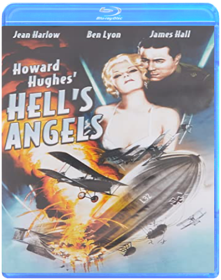 Howard Hughes
The 3 Penny Opera
Georg Wilhelm Pabst
City Lights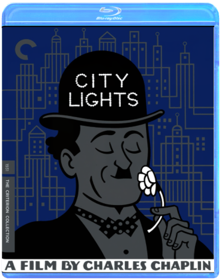 Charles Chaplin
Dracula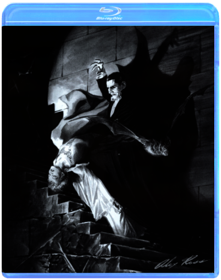 Tod Browning
The original Dracula, starring Bela Lugosi, launched the Hollywood horror genre and defined the iconic look and frightening character of the famed vampire. Towering ominously among the shadows of the Carpathian Mountains, Castle Dracula strikes fear in the hearts of the Transylvanian villagers below. After a naive real estate agent succumbs to the will of Count Dracula, the two head to London where the vampire sleeps in his coffin by day and searches for potential victims by night. The inspiration for hundreds of subsequent remakes and adaptations, this classic film directed by Tod Browning is the signature adaptation of Bram Stoker's story with its eerie passion, shadowy atmosphere and thrilling cinematography.
Frankenstein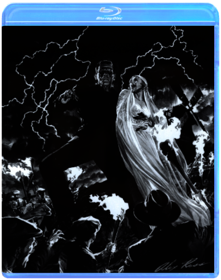 James Whale
Kameradschaft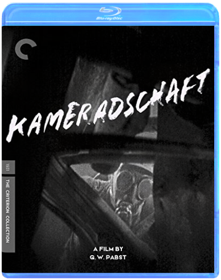 G. W. Pabst
M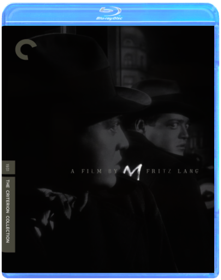 Fritz Lang
Freaks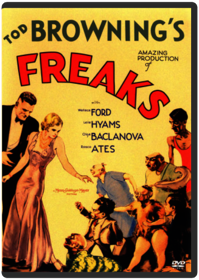 Tod Browning
The Mummy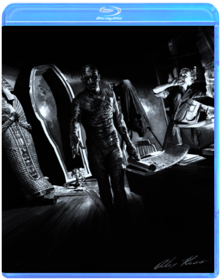 Karl Freund
The Invisible Man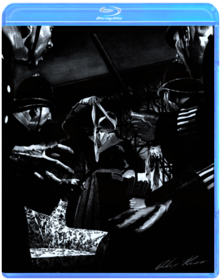 James Whale
The signature adaptation of H.G. Wells' The Invisible Man stars Claude Rains as a mysterious scientist who discovers a serum that makes him invisible. Covered by bandages and dark glasses, the scientist arrives at a small English village and attempts to hide his amazing discovery. He soon realizes, however, that the same drug which renders him invisible is slowly driving him insane and capable of committing unspeakable acts of terror. Directed by James Whale, the horror classic features groundbreaking special effects by John P. Fulton that inspired many of the techniques that are still used today.
The Story of Temple Drake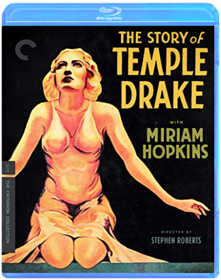 Stephen Roberts
It Happened One Night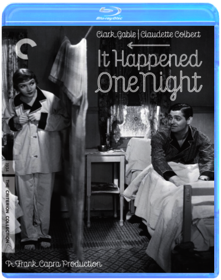 Frank Capra
Frank Capra Academy Award winning classic, starring Clark Gable and Claudette Colbert for your enjoyment.
The Man Who Knew Too Much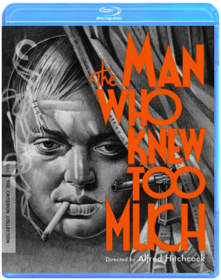 Alfred Hitchcock
An ordinary British couple vacationing in Switzerland suddenly find themselves embroiled in a case of international intrigue when their daughter is kidnapped by spies plotting a political assassination. This fleet and gripping early thriller from the Master of Suspense, Alfred Hitchcock, was the first film the director made after signing to the Gaumont-British Picture Corporation. Besides affirming Hitchcock's brilliance, it gave the brilliant Peter Lorre (M) his first English-speaking role, as a slithery villain. With its tension and gallows humor, it's pure Hitchcock, and it set the tone for films like The 39 Steps and The Lady Vanishes.
The 39 Steps
Alfred Hitchcock
The 39 Steps is a heart-racing spy story by Alfred Hitchcock (Psycho), following Richard Hannay (Oscar winner Robert Donat of Goodbye, Mr. Chips), who stumbles into a conspiracy that thrusts him into a hectic chase across the Scottish moors—a chase in which he is both the pursuer and the pursued—as well as into an expected romance with the cool Pamela (Madeline Carroll). Adapted from a novel by John Buchan, this classic wrong-man thriller from the Master of Suspense anticipates the director's most famous works (especially North by Northwest), and remains one of his cleverest and most entertaining films.
The Bride of Frankenstein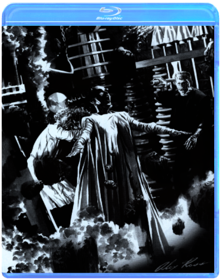 Tod Browning, Karl Freund, James Whale, George Waggner
SPECIAL FEATURES:

Dracula (1931):
Dracula (1931): Spanish Version with introduction by Lupita Tovar Kohner
The Road to Dracula
Lugosi: The Dark Prince
Dracula: The Restoration
Dracula Archives
Alternate Score by Phillip Glass Performed by the Kronos Quartet
Feature Commentary by Film Historian David J. Skal
Feature Commentary by Steve Haberman, Screenwriter of Dracula: Dead and Loving It
Trailer Gallery

Frankenstein:
The Frankenstein Files: How Hollywood Made a Monster
Karloff: The Gentle Monster
Frankenstein Archives
Boo!: A Short Film
Feature Commentary by Film Historian Rudy Behlmer
Feature Commentary by Historian Sir Christopher Frayling
100 Years of Universal: Restoring the Classics
Trailer Gallery

The Mummy (1932):
Mummy Dearest: A Horror Tradition Unearthed
He Who Made Monsters: The Life and Art of Jack Pierce
Unraveling The Legacy Of The Mummy
The Mummy Archives
Feature Commentary By Rick Baker, Scott Essman, Steve Haberman, Bob Burns and Brent Armstrong
Feature Commentary by Film Historian Paul M. Jensen
100 Years of Universal: The Carl Laemmle Era
Trailer Gallery

The Invisible Man:
Now You See Him: The Invisible Man Revealed
Production Photos
Feature Commentary by Film Historian Rudy Behlmer
100 Years of Universal: Unforgettable Characters
Trailer Gallery

The Bride of Frankenstein:
She's Alive!: Creating The Bride of Frankenstein
The Bride of Frankenstein Archives
Feature Commentary by Film Historian Scott MacQueen
Trailer Gallery

The Wolf Man:
Monster by Moonlight: An Original Documentary
The Wolf Man: From Ancient Curse to Modern Myth
Pure in Heart: The Life and Legacy of Lon Chaney Jr.
He Who Made Monsters: The Life and Art of Jack Pierce
The Wolf Man Archives
Feature Commentary by Film Historian Tom Weaver
100 Years of Universal: The Lot
Trailer Gallery
A Day in the Country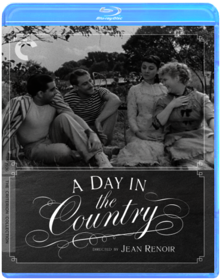 Jean Renoir
This bittersweet work from Jean Renoir (The Rules of the Game), based on a story by Guy de Maupassant, is a tenderly comic idyll about a city family's picnic in the French countryside and the romancing of the mother and grown daughter by two local men. Conceived as part of a larger project that was never completed, shot in 1936, and released ten years later, the warmly humanist vignette A Day in the Country ranks among Renoir's most lyrical films, with a love for nature imbuing its every beautiful frame.
Modern Times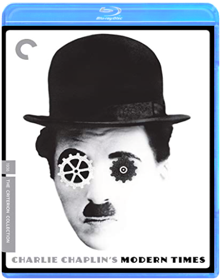 Charles Chaplin
Reefer Madness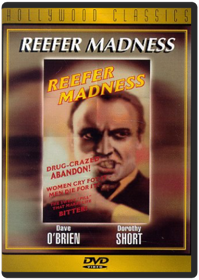 Carl Pierson, Louis J. Gasnier
Reefer Madness
Things to Come
William Cameron Menzies
A landmark collaboration between writer H. G. Wells (Island of Lost Souls), producer Alexander Korda (The Thief of Bagdad), and designer and director William Cameron Menzies (Gone with the Wind), Things to Come is a science fiction film like no other, a prescient political work that predicts a century of turmoil and progress. Skipping through time, Things to Come bears witness to world war, dictatorship, disease, the rise of television, and finally, utopia. Conceived, written, and overseen by Wells himself as an adaptation of his own work, this megabudgeted production, the most ambitious ever from Korda's London Films, is a triumph of imagination and technical audacity.
Snow White and the Seven Dwarfs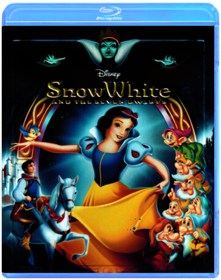 David Hand
The Lady Vanishes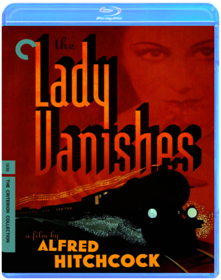 Alfred Hitchcock
The Mikado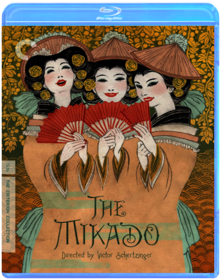 Victor Schertzinger
The legendary Gilbert and Sulliavan troupe the D'Oyly Carte Opera Company joined forces with Hollywood for this 1939 Technicolor version of the fabled comic opera, the first complete work by the famed duo to be adapted for the screen, directed by musician and Oscar-nominated filmmaker Victor Schertzinger (One Night of Love, Road to Singapore). The result is a lavish cinematic retelling of the British political satire set in exotic Japan, with such enduringly popular numbers as "A Wandering Minstrel I" and "Three Little Maids from School Are We," and featuring performances by American singer Kenny Baker as well as a host of renowned D'Oyly Carte actors, including Martyn Green and Sydney Granville.
Only Angels Have Wings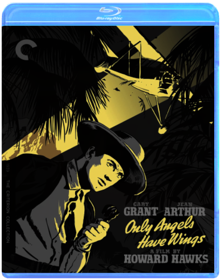 Howard Hawks
Electrified by the verbal wit and visual craftsmanship of the great Howard Hawks (Red River), Only Angels Have Wings stars Jean Arthur (Mr. Smith Goes to Washington) as a traveling entertainer who gets more than she bargained for during a stopover in a South American port town. There she meets a handsome yet aloof daredevil pilot, played by Cary Grant (Notorious), who runs an airmail company, staring down death while servicing towns in treacherous mountain terrain. Both attracted to and repelled by his romantic sense of danger, she decides to stay on, despite his protestations. This masterful and mysterious adventure, featuring Oscar-nominated special effects, high-wire aerial photography, and Rita Hayworth (Gilda) in a small but breakout role, explores Hawks s recurring themes of masculine codes and the strong-willed women who question them.
 
BLU-RAY SPECIAL EDITION FEATURES 
- New 4K digital restoration, with uncompressed monaural soundtrack
- Audio excerpts from a 1972 conversation between filmmakers Howard Hawks and Peter Bogdanovich
- New interview with film critic David Thomson
- Howard Hawks and His Aviation Movies, a new program featuring film scholars Craig Barron and Ben Burtt 
- Lux Radio Theatre adaptation of the film from 1939, starring Cary Grant, Jean Arthur, Rita Hayworth, Richard Barthelmess, and Thomas Mitchell, and hosted by director Cecil B. DeMille 
- Trailer
- PLUS: An essay by critic Michael Sragow
The Rules of the Game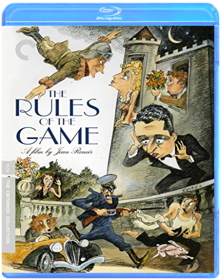 Jean Renoir
Considered one of the greatest films ever made, The Rules of the Game (La règle du jeu), by Jean Renoir (Grand Illusion), is a scathing critique of corrupt French society cloaked in a comedy of manners, in which a weekend at a marquis's countryside chateau lays bare some ugly truths about a group of haute bourgeois acquaintances. The film was a victim of tumultuous history—it was subjected to cuts after premiere audiences rejected it in 1939, and the original negative was destroyed during World War II; it wasn't reconstructed until 1959. That version, which has stunned viewers for decades, is presented here.
Stagecoach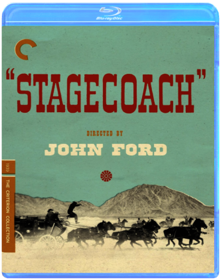 Dorothy Spencer, Otho Lovering, John Ford
This is where it all started. John Ford's smash hit and enduring masterpiece Stagecoach revolutionized the western, elevating it from B movie to the A-list. The quintessential tale of a group of strangers thrown together into extraordinary circumstances—traveling a dangerous route from Arizona to New Mexico—Stagecoach features outstanding performances from Hollywood stalwarts Claire Trevor, John Carradine, Thomas Mitchell, and, of course, John Wayne, in his first starring role for Ford, as the daredevil outlaw the Ringo Kid. Superbly shot and tightly edited, Stagecoach (Ford's first trip to Monument Valley) is Hollywood storytelling at its finest.
-1940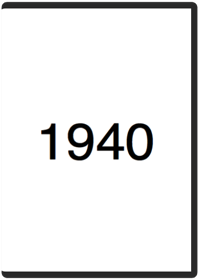 Fantasia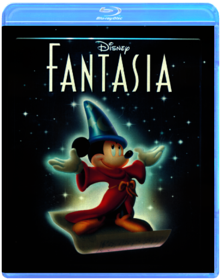 Norman Ferguson
Region-Free British Release, playable on all US blu-ray players. Groundbreaking on several counts, not the least of which was an innovative use of animation and stereophonic sound, this ambitious Disney feature has lost nothing to time since its release in 1940. Classical music was interpreted by Disney animators, resulting in surreal fantasy and playful escapism. Leopold Stokowski and the Philadelphia Orchestra provided the music for eight segments by the composers Tchaikovsky, Moussorgsky, Stravinsky, Beethoven, Ponchielli, Bach, Dukas, and Schubert. Not all the sequences were created equally, but a few are simply glorious, such as "Night on Bald Mountain", "The Sorcerer's Apprentice", and "The Nutcracker Suite". The animation ranges from subtly delicate to fiercely bold. The screen bursts with color and action as creatures transmute and convention is thrust aside. The painstaking detail and saturated hues are unique to this film, unmatched even by more advanced technology. —Rochelle O'Gorman
Foreign Correspondent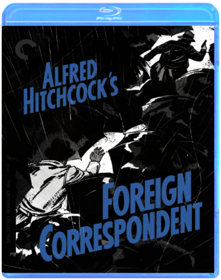 Alfred Hitchcock
A New York crime reporter exposes a Nazi spy ring fronted by a peace organization. Directed by Alfred Hitchcock.
The Great Dictator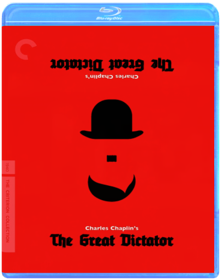 Charlie Chaplin
In his notorious masterpiece, The Great Dictator, Charlie Chaplin (City Lights, Modern Times) offers both a cutting caricature of Adolf Hitler and a sly tweaking of his own comic persona. Chaplin (in his first pure talkie) brings his sublime physicality to two roles: the cruel yet clownish "Tomanian" dictator and the kindly Jewish barber who is mistaken for him. Featuring Jack Oakie (Thieves' Highway, Lover Come Back) and Paulette Goddard (Modern Times, The Women) in stellar supporting turns, The Great Dictator, boldly going after the fascist leader before the U.S.'s official entry into World War II, is an audacious amalgam of politics and slapstick that culminates in Chaplin's famously impassioned plea for tolerance.
Pinocchio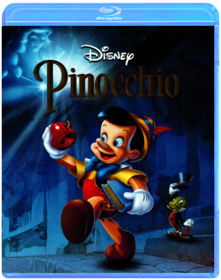 Ben Sharpsteen, Hamilton Luske
Rebecca
Alfred Hitchcock
Romance becomes psychodrama in Alfred Hitchcock s elegantly crafted Rebecca, his first foray into Hollywood filmmaking. A dreamlike adaptation of Daphne du Maurier's 1938 novel, the film stars the enchanting Joan Fontaine as a young woman who believes she has found her heart's desire when she marries the dashing aristocratic widower Maxim de Winter (played with cunning vulnerability by Laurence Olivier). But upon moving to Manderley her groom s baroque ancestral mansion she soon learns that his deceased wife haunts not only the home but the temperamental, brooding Maxim as well. The start of Hitchcock's legendary collaboration with producer David O. Selznick, this elegiac gothic vision, captured in stunning black and white by George Barnes, took home the Academy Awards for best picture and best cinematography.

TWO-BLU-RAY SPECIAL EDITION FEATURES
- New 4K digital restoration, with uncompressed monaural soundtrack
- Audio commentary from 1990 featuring film scholar Leonard J. Leff
- Isolated music and effects track
- New conversation between film critic and author Molly Haskell and scholar Patricia White
- New interview with special effects historian Craig Barron on the visual effects in Rebecca
- Documentary from 2007 on the making of Rebecca
- Screen, hair, makeup, and costume tests including actors Joan Fontaine, Anne Baxter,
Vivien Leigh, Margaret Sullavan, and Loretta Young
- Casting gallery annotated by director Alfred Hitchcock and producer David O. Selznick
- Television interviews with Hitchcock and Fontaine from 1973 and 1980
- Audio interviews from 1986 with actor Judith Anderson and Fontaine
- Three radio adaptations of Rebecca, from 1938, 1941, and 1950, including Orson Welles s version for the Mercury Theatre
- Theatrical rerelease trailer
- PLUS: An essay by critic and Selznick biographer David Thomson and selected production correspondence, including letters between Hitchcock and Selznick
The Thief of Bagdad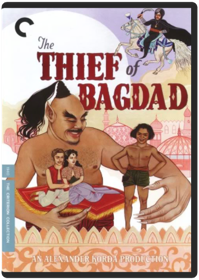 Ludwig Berger, Michael Powell, Tim Whelan, Alexander Korda, Zoltan Korda, William Cameron Menzies
Legendary producer Alexander Korda's marvel The Thief of Bagdad, inspired by The Arabian Nights, is one of the most spectacular fantasy films ever made, an eye-popping effects pioneer brimming with imagination and technical wizardry. When Prince Ahmad (John Justin) is blinded and cast out of Bagdad by the nefarious Jaffar (Conrad Veidt), he joins forces with the scrappy thief Abu (the incomparable Sabu, in his definitive role) to win back his royal place, as well as the heart of a beautiful princess (June Duprez). With its luscious Technicolor, vivid sets, and unprecedented visual wonders, The Thief of Bagdad has charmed viewers of all ages for decades.

Special Features
* - SPECIAL EDITION DOUBLE-DISC SET FEATURES:
* - New digital transfer, from restored film elements
* - Two audio commentaries: one featuring renowned directors Francis Ford Coppola and Martin Scorsese, and one with film and music historian Bruce Eder
* - Visual Effects,, a documentary about the technical achievements of The Thief of Bagdad
* - The Lion Has Wings (1940), Alexander Korda's propaganda film for the English war effort, created when The Thief of Bagdad went into production hiatus
* - Excerpts from codirector Michael Powell's audio dictations for his autobiography
* - Excerpts from a 1976 radio interview with composer Miklos Rózsa
* - Stills gallery featuring rare images of the film's production and photos shot in Dufaycolor Optional music and effects track
* - Theatrical trailer
* - PLUS: A booklet featuring new essays by film scholars Andrew Moor and Ian Christie
Citizen Kane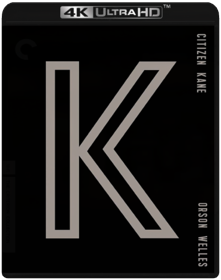 Orson Welles
The story of an immensely wealthy newspaper publisher, as he is remembered by his friends and former wife after his death. Loosely based on the life of William Randolph Hearst. Frequently called the greatest film of all time.
No Track Information Available
Media Type: DVD
Artist: WELLES/COTTEN/COMINGORE/MOOREH
Title: CITIZEN KANE
Street Release Date: 09/24/2002
Domestic
Genre: DRAMA
Dumbo
Ben Sharpsteen
For the first time ever, in celebration of this landmark film's 70th anniversary, experience the daring adventures of the world's only flying elephant with a dazzling all-new digital restoration and brilliant Disney enhanced high definition theatre mix sound. The inspirational tale of Dumbo, the courageous baby elephant who uses his sensational ears to soar to fame with the help of his clever best friend Timothy Q. Mouse, will thrill and delight audiences of all ages. And now, the award-winning music and empowering messages about friendship and belief in yourself reach new heights in this must-have Blu-ray high-definition presentation of Walt Disney s animated classic Dumbo!
The Maltese Falcon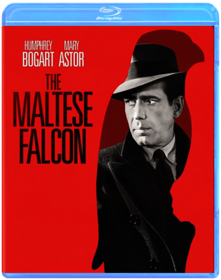 John Huston
A gallery of high-living lowlifes will stop at nothing to get their sweaty hands on a jewel-encrusted falcon. Detective Sam Spade (Humphrey Bogart) wants to find out why—and who'll take the fall for his partner's murder. An all-star cast (including Sydney Greenstreet, Mary Astor, Peter Lorre and Elisha Cook Jr.) joins Bogart in this crackling mystery masterwork written for the screen (from Dashiell Hammett's novel) and directed by John Huston. This nominee for 3 Academy Awards00Best Picture, Supporting Actor (Greenstreet) and Screenplay (Huston)—catapulted Bogart to stardom and launched Huston's directorial career. All with a bird and a bang!
Sullivan's Travels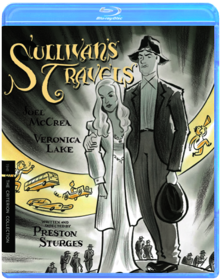 Preston Sturges
The Wolf Man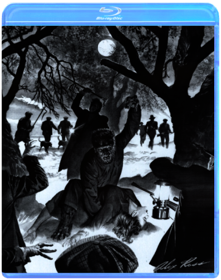 George Waggner
The original Wolf Man is one of the silver screen's most unforgettable characters and, along with the other Universal Classic Monsters, defined the Hollywood horror genre. The Wolf Man: Complete Legacy Collection includes all 7 films from the original legacy including the eerie classic starring Lon Chaney Jr. and the timeless films that followed. These landmark motion pictures defined the iconic look of the tragic monster and continue to inspire countless remakes and adaptations that strengthen the legend of the Wolf Man to this day.
Casablanca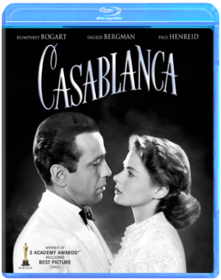 Michael Curtiz
The Gold Rush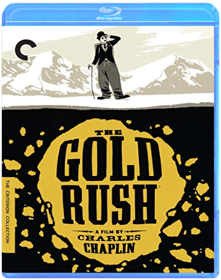 Charlie Chaplin
I Married a Witch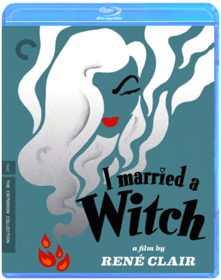 Rene Clair
Veronica Lake (Sullivan's Travels) casts a seductive spell as a charmingly vengeful sorceress in this supernatural screwball classic. Many centuries after cursing the male descendants of the Salem puritan who sent her to the stake, this blonde bombshell with a broomstick finds herself drawn to one of them—a prospective governor (Design for Living's Fredric March) about to marry a spoiled socialite (I Want to Live's Susan Hayward). This most delightful of the films the innovative French director René Clair (Le million) made in Hollywood is a comic confection bursting with playful special effects and sparkling witticisms.
Saboteur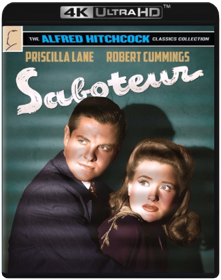 Alfred Hitchcock
To Be or Not To Be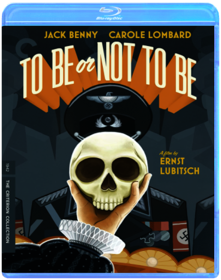 Ernst Lubitsch
The Life and Death of Colonel Blimp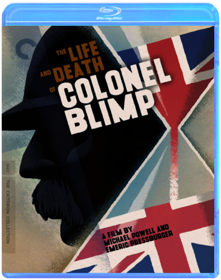 Michael Powell, Emeric Pressburger
Shadow of a Doubt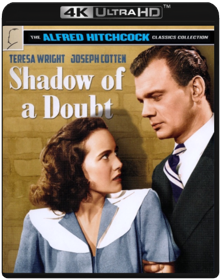 Alfred Hitchcock
Double Indemnity
Billy Wilder
Henry V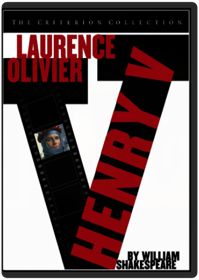 Laurence Olivier
William Shakespeare's play depicting the King of England leading his army to win at Agincourt.
The Uninvited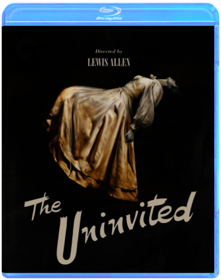 Lewis Allen
A pair of siblings (Ministry of Fear's Ray Milland and The Philadelphia Story's Ruth Hussey) from London purchase a surprisingly affordable, lonely cliff-top house in Cornwall, only to discover that it actually carries a ghostly price; soon they're caught up in a bizarre romantic triangle from beyond the grave. Rich in atmosphere, THE UNINVITED, directed by Lewis Allen (Suddenly), was groundbreaking for the seriousness with which it treated the haunted-house genre, and it remains an elegant and eerie experience, featuring a classic score by Victor Young (Written on the Wind). A tragic family past, a mysteriously locked room, cold chills, bumps in the night—this gothic Hollywood classic has it all.
Children of Paradise
Marcel Carne
Poetic realism reached sublime heights with Children of Paradise (Les enfants du paradis), widely considered one of the greatest French films of all time. This nimble depiction of nineteenth-century Paris's theatrical demimonde, filmed during World War II, follows a mysterious woman (The Pearls of the Crown's Arletty) loved by four different men (all based on historical figures): an actor, a criminal, a count, and, most poignantly, a street mime (La ronde's Jean-Louis Barrault, in a longing-suffused performance for the ages). With sensitivity and dramatic élan, director Marcel Carné (Port of Shadows) and screenwriter Jacques Prévert (Le jour se lève) resurrect a world teeming with hucksters and aristocrats, thieves and courtesans, pimps and seers. Thanks to a major new restoration, this iconic classic looks and sounds richer and more detailed than ever.
Spellbound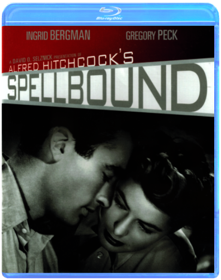 Alfred Hitchcock
Beauty and the Beast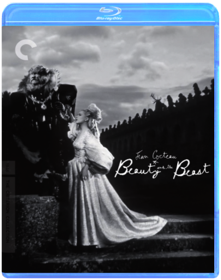 Jean Cocteau
My Darling Clementine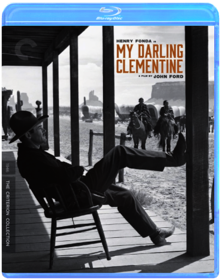 John Ford
John Ford's masterful western stars Henry Fonda as Wyatt Earp, who arrives in the lawless Arizona town of Tombstone on a cattle drive with his brothers. A deadly encounter with the ruthless Clanton family leads Wyatt to become the town marshal and culminates in a fateful confrontation at the O.K. Corral. Walter Brennan, Linda Darnell, Cathy Downs, and Victor Mature as "Doc" Holliday also star. Pre-release version; 103 min.
Notorious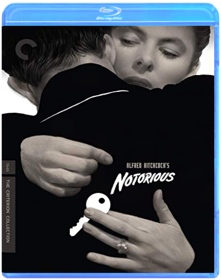 Alfred Hitchcock
Black Narcissus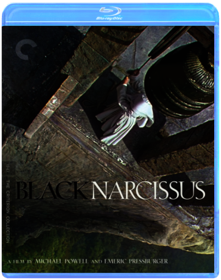 Michael Powell, Emeric Pressburger
This explosive work about the conflict between the spirit and the flesh is the epitome of the sensuous style of filmmakers Michael Powell and Emeric Pressburger (I Know Where I'm Going!, The Red Shoes). A group of nuns—played by some of Britain's best actresses, including Deborah Kerr (From Here to Eternity, An Affair to Remember), Flora Robson (The Rise of Catherine the Great, Wuthering Heights), and Jean Simmons (Great Expectations, Hamlet)—struggles to establish a convent in the snowcapped Himalayas; isolation, extreme weather, altitude, and culture clashes all conspire to drive the well-intentioned missionaries mad. A darkly grand film that won Oscars for its set design and for its cinematography by Jack Cardiff (The Red Shoes, The African Queen), Black Narcissus is one of the greatest achievements by two of cinema's true visionaries.
Monsieur Verdoux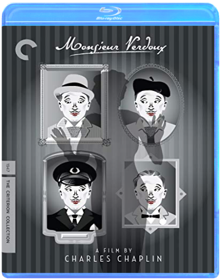 Charles Chaplin
Possessed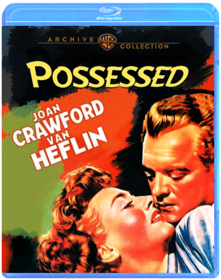 Curtis Bernhardt
Academy Award winner Joan Crawford earned another Best Actress nomination for her tour-de-force performance in Possessed (1947) which opens with Crawford portraying a woman found wandering the streets of Los Angeles. Taken to a mental hospital, she weaves a harrowing tale of insanity, murder and the passion by which provides the basis for the film's apt title. Louise Howell's (Crawford) psychiatrist learns that she is a nurse hired to care for a dying woman and that she rekindled a former romance with her patient's neighbor, David Sutton (Van Heflin). But the suicide of her charge and rejection by the man she loves drive Howell to madness—and murder. Or do they? Is Howell's harrowing story true or the misperception of a deranged mind? Is Howell guilty of murder or an innocent victim of something far more sinister? Directed by Curtis Bernhardt, the film features a superb performances from its impressive cast, all richly underscored by the music of the great Franz Waxman. Special Features: Commentary by Film Historian Drew Casper; Featurette: "Possessed: The Quintessential Film Noir"; Original Theatrical Trailer
Hamlet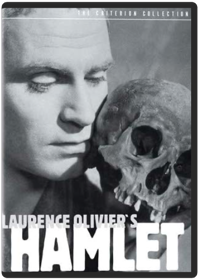 Laurence Olivier
Laurence Olivier directs himself in this classic rendition of Shakespeare's tale of the brooding Danish prince who decides to exact revenge on his uncle for the murder of his father.
Macbeth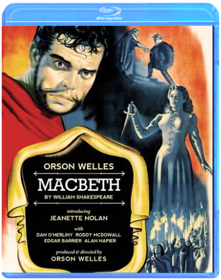 Orson Welles
The Red Shoes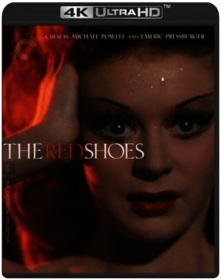 Michael Powell, Emeric Pressburger
The Red Shoes, the singular fantasia from Michael Powell and Emeric Pressburger (Black Narcissus, The Small Back Room), is cinema's quintessential backstage drama, as well as one of the most glorious Technicolor visual feasts ever concocted for the screen. Moira Shearer (The Tales of Hoffmann, Peeping Tom) is a rising star ballerina romantically torn between an idealistic composer and a ruthless impresario intent on perfection. Featuring outstanding performances, blazingly beautiful cinematography by Jack Cardiff (Black Narcissus, The African Queen), Oscar-winning sets and music, and an unforgettable, hallucinatory central dance sequence, this beloved classic, now dazzlingly restored, stands as an enthralling tribute to the life of the artist.
The Third Man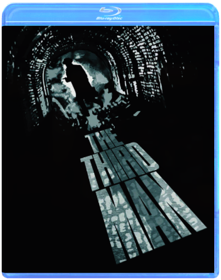 Carol Reed
-1950
All About Eve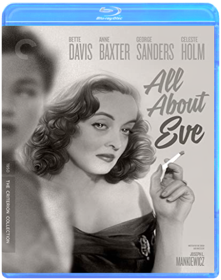 Joseph L. Mankiewicz
The Asphalt Jungle
John Huston
In a smog-choked city somewhere in the American Midwest, an aging criminal mastermind, newly released from prison, hatches a plan for a million-dollar jewel heist and draws a wealthy lawyer and a cherry-picked trio of outlaws into his carefully devised but inevitably doomed scheme. Anchored by an abundance of nuanced performances from a gifted ensemble including a tight-jawed Sterling Hayden (Dr. Strangelove) and a sultry Marilyn Monroe (Some Like It Hot) in her breakout role this gritty crime classic by John Huston (The Maltese Falcon) climaxes in a meticulously detailed anatomy of a robbery that has reverberated through the genre ever since. An uncommonly naturalistic view of a seamy underworld, The Asphalt Jungle painstakingly depicts the calm professionalism and toughness of its gangster heroes while evincing a remarkable depth of compassion for their all-too-human fragility, and it showcases a master filmmaker at the height of his powers.

BLU-RAY SPECIAL EDITION FEATURES
- New 2K digital restoration, with uncompressed monaural soundtrack
- Audio commentary from 2004 by film historian Drew Casper, featuring recordings of actor James Whitmore
- New interviews with film noir historian Eddie Muller and cinematographer John Bailey
- Archival footage of writer-director John Huston discussing the film
- Pharos of Chaos, a 1983 documentary about actor Sterling Hayden
- Episode of the television program City Lights from 1979 featuring John Huston
- Audio excerpts of archival interviews with Huston
- Excerpts from footage of the 1983 AFI Lifetime Achievement Award ceremony honoring Huston, featuring actor Sam Jaffe and the filmmaker
- Trailer
- New English subtitle translation
- PLUS: An essay by critic Geoffrey O Brien - More!
The Breaking Point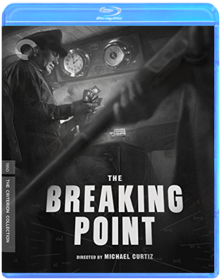 Michael Curtiz
Michael Curtiz brings a master skipper s hand to the helm of this thriller, Hollywood s second crack at Ernest Hemingway s To Have and Have Not. John Garfield stars as Harry Morgan, an honest charter-boat captain who, facing hard times, takes on dangerous cargo to save his boat, support his family, and preserve his dignity. Left in the lurch by a freeloading passenger, Harry starts to entertain the criminal propositions of a sleazy lawyer (Wallace Ford), as well as the playful come-ons of a cheeky blonde (Patricia Neal), making a series of compromises that stretch his morality and his marriage farther than he'll admit. Hewing closer to Hemingway s novel than Howard Hawks s Bogart-Bacall vehicle, The Breaking Point charts a course through daylight noir and working-class tragedy, guided by Curtiz's effortless visual fluency and a stoic, career-capping performance from Garfield.

BLU-RAY SPECIAL EDITION FEATURES
- New 2K digital restoration, with uncompressed monaural soundtrack
- New interview with biographer and film historian Alan K. Rode (Michael Curtiz: A Life in Film)
- New piece featuring actor and acting instructor Julie Garfield speaking about her father, actor John Garfield
- New video essay by filmmakers Tony Zhou and Taylor Ramos, analyzing Curtiz s directorial techniques
- Excerpts from a 1962 episode of the Today show showing contents of the Ernest Hemingway House in Key West, Florida, including items related to To Have and Have Not, the novel on which The Breaking Point is based
- Trailer
- PLUS: An essay by critic Stephanie Zacharek
Rashomon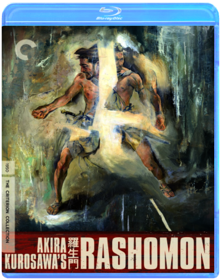 Akira Kurosawa
A riveting psychological thriller that investigates the nature of truth and the meaning of justice, Rashomon is widely considered one of the greatest films ever made. Four people recount different versions of the story of a man's murder and the rape of his wife, which director Akira Kurosawa (Seven Samurai) presents with striking imagery and an ingenious use of flashbacks. This eloquent masterwork and international sensation revolutionized film language and introduced Japanese cinema—and a commanding new star by the name of Toshiro Mifune (Yojimbo)—to the Western world.
Alice in Wonderland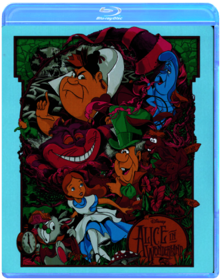 Clyde Geronimi, Wilfred Jackson, Hamilton Luske
Walt Disney's Beloved Masterpiece Makes Its Breathtaking Blu-ray Debut!

Experience the magic and majesty of Alice In Wonderland with the ultimate collector's dream. For the first time, Walt Disney's timeless classic bursts into brilliance in Blu-ray Hi Definition! Featuring Disney Enhanced Home Theater Mix, this remarkable digital restoration boasts pristine sound and unparalleled picture quality. Plus, fascinating bonus features including "Through The Keyhole: A Companion's Guide To Wonderland" and an exciting interactive game, "Painting The Roses Red", have been specifically designed for this landmark release.

Join Alice as she chases the White Rabbit and journeys into a topsy-turvy world that gets "curiouser and curiouser" as her fantastical adventures unfold. Meet the Mad Hatter, March Hare, Tweedledee & Tweedledum, the Cheshire Cat, the Queen of Hearts and more unforgettable characters, all set against a backdrop of awe-inspiring splendor.

Filled with spectacular songs and animation, this 2-disc 60th Anniversary celebration of Alice In Wonderland is more wondrous than you ever could have imagined!
Strangers on a Train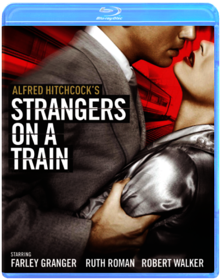 Alfred Hitchcock
Ikiru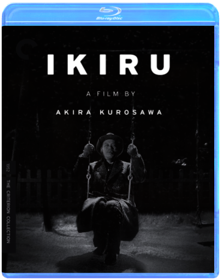 Akira Kurosawa
One of the greatest achievements by Akira Kurosawa (Seven Samurai), Ikiru presents the director at his most compassionate—affirming life through an exploration of death. Takashi Shimura (Rashomon) beautifully portrays Kanji Watanabe, an aging bureaucrat with stomach cancer who is impelled to find meaning in his final days. Presented in a radically conceived two-part structure and shot with a perceptive, humanistic clarity of vision, Ikiru is a multifaceted look at what it means to be alive. BLU-RAY SPECIAL EDITION FEATURES  • New 4K digital restoration, with uncompressed monaural soundtrack • Audio commentary from 2004 by Stephen Prince, author of The Warrior's Camera: The Cinema of Akira Kurosawa • A Message from Akira Kurosawa (2000), a ninety-minute documentary produced by Kurosawa Productions and featuring interviews with Kurosawa • Documentary on Ikiru from 2003, created as part of the Toho Masterworks series Akira Kurosawa: It Is Wonderful to Create, and featuring interviews with Kurosawa, script supervisor Teruyo Nogami, writer Hideo Oguni, actor Takashi Shimura, and others • Trailer • Essays by critic and travel writer Pico Iyer and critic Donald Richie
Limelight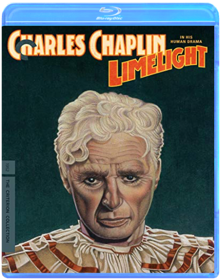 Charles Chaplin
Othello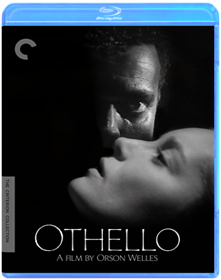 Orson Welles
The Earrings of Madame de...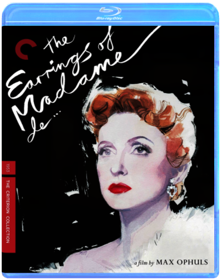 Max Ophuls
The most cherished work from French master Max Ophuls (La ronde), THE EARRINGS OF MADAME DE. . . is a profoundly emotional, cinematographically adventurous tale of deceptive opulence and tragic romance. When an aristocratic woman known only as Madame de (Le plaisir's extraordinary Danielle Darrieux) sells a pair of earrings given to her by her husband (Gaslight's Charles Boyer) in order to pay a debt, she sets off a chain reaction of financial and carnal consequences that can end only in despair. Ophuls's adaptation of Louise de Vilmorin's incisive fin de siècle novel employs the elegant and precise camera work for which the director is so justly renowned, to ravishing effect.
Fear and Desire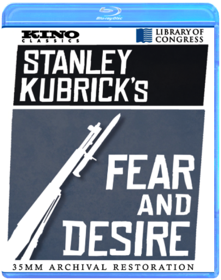 Stanley Kubrick
An existential war film that is often compared with Kubrick's PATHS OF GLORY (1957) among three Kubrick films selected for the Library's National Film Registry-and FULL METAL JACKET (1987), FEAR AND DESIRE follows a squad of soldiers who have crash-landed behind enemy lines and must work their way downriver to rejoin their unit.

In the process, they encounter a peasant girl (Virginia Leith) and tie her to a tree, where she is tormented by a mentally unbalanced soldier (future director Paul Mazursky). Before making their escape, the soldiers determine the location of an enemy base and formulate a plot to assassinate its commanding officer.

Independently financed, and shot by a skeleton crew - with Kubrick controlling almost every aspect of production - FEAR AND DESIRE was conceived as a European-style art film, cloaked in the guise of a Hollywood war picture. Kubrick described the film to distributor Joseph Burstyn as allegorical and poetic. ''A drama of 'man', lost in a hostile world-deprived of material and spiritual foundations-seeking his way to an understanding of himself, and of life around him.''

Beautifully restored and remastered in HD from an original camera negative and thanks to the preservation efforts of the Library of Congress, Kino Lorber is proud to share with the world FEAR AND DESIRE, fresh from the 24-year-old mind of the man who would become the most influential filmmaker of his generation.

BONUS FEATURE: ''The Seafarers'', A short subject film, restored and remastered in HD (for the first time) by the The Museum of Modern Art & The Film Foundation.
Gentlemen Prefer Blondes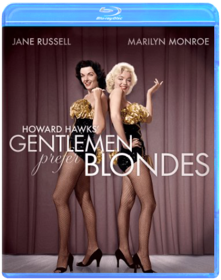 Howard Hawks
Two showgirls cruise to Paris hoping to find rich husbands. Directed by Howard Hawks.
The Golden Coach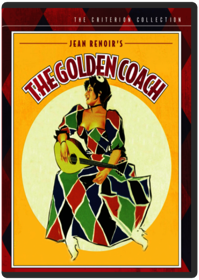 Jean Renoir
SOME LIGHT WEAR, FAST SHIPPING
The Wages of Fear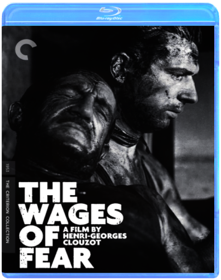 Henri-Georges Clouzot
In a squalid South American oil town, four desperate men sign on for a suicide mission to drive trucks loaded with nitroglycerin over a treacherous mountain route. As they ferry their expensive cargo to a faraway oil fire, each bump and jolt tests their courage, their friendship, and their nerves. The Wages of Fear (Le salaire de la peur) is one of the greatest thrillers ever committed to celluloid, a white-knuckle ride from France s legendary master of suspense Henri Georges-Clouzot.

BLU-RAY SPECIAL EDITION FEATURES:
Restored high-definition digital transfer with uncompressed monaural soundtrack
Video interviews with assistant director Michel Romanoff and Henri-Georges Clouzot biographer Marc Godin
Interview with Yves Montand from 1988
Henri-Georges Clouzot: The Enlightened Tyrant, a 2004 documentary on the director s career
Censored, an analysis of cuts made to the film for its 1955 U.S. release
PLUS: An booklet featuring an essay by novelist Dennis Lehane
By Brakhage: An Anthology, Volume One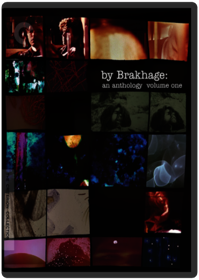 Stan Brakhage
Working completely outside the mainstream, Stan Brakhage has made nearly 400 films over the past half century. Challenging all taboos in his exploration of "birth, sex, death, and the search for God," Brakhage has turned his camera on explicit lovemaking, childbirth, even actual autopsy. Many of his most famous works pursue the nature of vision itself and transcend the act of filming. Some, including the legendary Mothlight, were made without using a camera at all. Instead, Brakhage has pioneered the art of making images directly on film itself––starting with clear leader or exposed film, then drawing, painting, and scratching it by hand. Treating each frame as a miniature canvas, Brakhage can produce only a quarter- to a half-second of film a day, but his visionary style of image-making has changed everything from cartoons and television commercials to MTV music videos and the work of such mainstream moviemakers as Martin Scorsese, David Fincher, and Oliver Stone.

Criterion is proud to present 26 masterworks by Stan Brakhage in high-definition digital transfers made from newly minted film elements. For the first time on DVD, viewers will be able to look at Brakhage's meticulously crafted frames one by one.
Creature from the Black Lagoon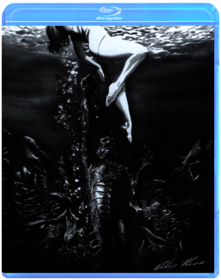 John Sherwood, Jack Arnold
The original Creature from the Black Lagoon is one of the silver screen's most unforgettable characters and, along with the other Universal Classic Monsters, defined the Hollywood horror genre. The Creature from the Black Lagoon: Complete Legacy Collection includes all 3 films from the original legacy including the gripping classic and the sequels that followed. These landmark motion pictures perfectly blended Universal's classic monster heritage with the science fiction explosion of the 1950s and continue to inspire remakes and adaptations that strengthen the legend of the Creature from the Black Lagoon to this day.
Godzilla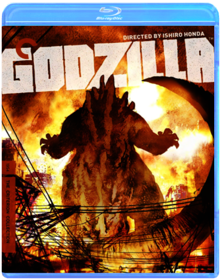 Ishirô Honda
Ishiro Honda's Godzilla is the roaring granddaddy of all monster movies. It's also a remarkably humane and melancholy drama made in Japan at a time when the country was still reeling from nuclear attack and H-bomb testing. Its rampaging radioactive beast, the poignant embodiment of an entire population's fears, became a beloved international icon of destruction, spawning more than twenty sequels and spinoffs. This first thrilling, tactile spectacle continues to be a cult phenomenon; here, we present the original, 1954 Japanese version, along with Godzilla: King of the Monsters!, the 1956 American reworking starring Raymond Burr (Rear Window).
Rear Window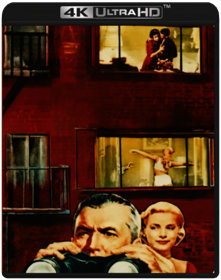 Alfred Hitchcock
A magazine photographer, housebound on account of a broken leg, becomes voyeur to the apartment building facing his rear window for lack of anything to do. Soon, he draws his visiting girlfriend in on the thrill and eventually they witness a murder in progress that gets them into hot water.
Seven Samurai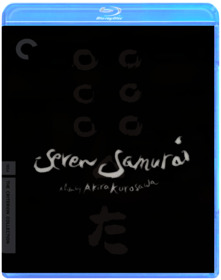 Akira Kurosawa
One of the most thrilling movie epics of all time, SEVEN SAMURAI (Shichinin no samurai) tells the story of a sixteenth-century village whose desperate inhabitants hire the eponymous warriors to protect them from invading bandits. This three-hour ride from Akira Kurosawa (Rashomon, Yojimbo, Ran)—featuring legendary actors Toshiro Mifune (Stray Dog, Yojimbo) and Takashi Shimura (Ikiru, The Hidden Fortress)—seamlessly weaves philosophy and entertainment, delicate human emotions and relentless action, into a rich, evocative, and unforgettable tale of courage and hope.
All That Heaven Allows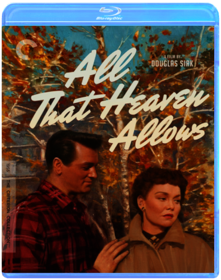 Douglas Sirk
Friends and family want a rich widow to end her romance with a tree surgeon about 15 years her junior.
Diabolique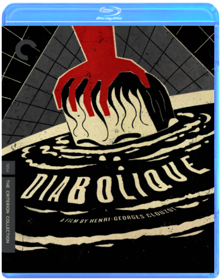 Henri-Georges Clouzot
Before Psycho, Peeping Tom, and Repulsion, there was Diabolique. This thriller from Henri‑Georges Clouzot (Le corbeau, The Wages of Fear), which shocked audiences in Europe and the U.S., is the story of two women—the fragile wife and the willful mistress of a sadistic school headmaster—who hatch a daring revenge plot. With its unprecedented narrative twists and unforgettably scary images, Diabolique is a heart-grabbing benchmark in horror filmmaking, featuring outstanding performances by Simone Signoret (Casque d'or, Army of Shadows), Vera Clouzot (The Wages of Fear), and Paul Meurisse (Le deuxième souffle, Army of Shadows).
Killer's Kiss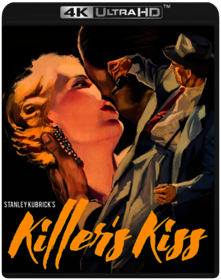 Stanley Kubrick
Kiss Me Deadly
Robert Aldrich
Lola Montes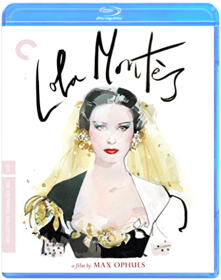 Max Ophuls
The 19th-century courtesan recalls Franz Liszt and the king of Bavaria. Director Max Ophuls' last film.
The Night of the Hunter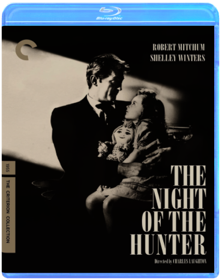 Charles Laughton
The Night of the Hunter—incredibly, the only film the great actor Charles Laughton ever directed—is truly a standalone masterwork. A horror movie with qualities of a Grimm fairy tale, it stars a sublimely sinister Robert Mitchum (Cape Fear, The Friends of Eddie Coyle) as a traveling preacher named Harry Powell (he of the tattooed knuckles), whose nefarious motives for marrying a fragile widow, played by Shelley Winters (A Place in the Sun, The Diary of Anne Frank) are uncovered by her terrified young children. Graced by images of eerie beauty and a sneaky sense of humor, this ethereal, expressionistic American classic—also featuring the contributions of actress Lillian Gish (Intolerance, Duel in the Sun) and writer James Agee—is cinema's quirkiest rendering of the battle between good and evil.
Rebel Without a Cause
Nicholas Ray
In one of moviedom's most influential roles, James Dean is Jim, the new kid in town whose loneliness, frustration and anger mirrored those of postwar teens — and reverberates 40 years later.
Richard III
Laurence Olivier
With RICHARD III, director, producer, and star Laurence Olivier (Hamlet) brings Shakespeare's masterpiece of Machiavellian villainy to mesmerizing cinematic life. Olivier is diabolically captivating as Richard, Duke of Gloucester, who, through a set of murderous machinations, steals the crown from his brother Edward. The supporting cast—including Ralph Richardson (Fallen Idol), John Gielgud (Arthur), and Claire Bloom (The Spy Who Came in from the Cold)—is just as impressive. Filmed in VistaVision and Technicolor, RICHARD III is one of the most visually inspired of all big-screen Bard adaptations.
The Trouble with Harry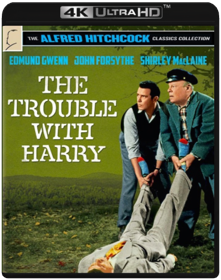 Alfred Hitchcock
Violent Saturday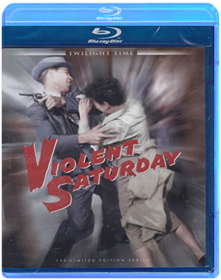 Richard Fliescher
Baby Doll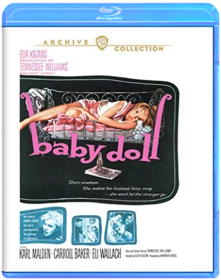 Elia Kazan
Times are tough for cotton miller Archie (Karl Malden), but at least he has his child bride (Carroll Baker), who'll soon be his wife in title and truth. The one-year agreement keeping them under the same roof – yet never in the same bed – is about to end. But a game with a sly business rival (Eli Wallach) is about to begin. In Baby Doll, as in A Streetcar Named Desire, director Elia Kazan and writer Tennessee Williams broke new ground in depicting sexual situations - earning condemnation by the then-powerful Legion of Decency. They earned laurels too: four Academy Award nominations, Golden Globe Awards for Baker and Kazan, and a British Academy Award for Wallach. Watch this funny, steamy classic that, as Leonard Maltin's Movie Guide proclaims, "still sizzles."

This product is manufactured on demand using DVD-R recordable media. Amazon.com's standard return policy will apply.
Bigger Than Life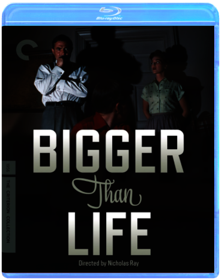 Nicholas Ray
A schoolteacher becomes violently addicted to a new wonder drug, cortisone. Directed by Nicholas Ray.
Elena and Her Men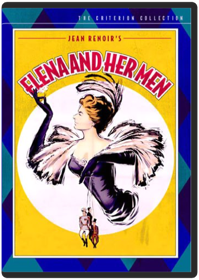 Jean Renoir
Forbidden Planet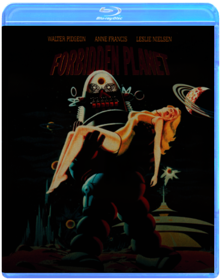 Fred M. Wilcox
Forbidden Planet is the granddaddy of tomorrow, a pioneering work whose ideas and style would be reverse-engineered into many cinematic space voyages to come. Leslie Nielsen plays the commander who brings his spacecruiser crew to Planet Altair-4, home to Dr. Morbius (Walter Pidgeon), his daughter (Anne Francis), a dutiful robot named Robby…and to a mysterious terror. Featuring sets of extraordinary scale and the first all-electronic musical soundscape in film history, Forbidden Planet is in a movie orbit all its own.
Jubal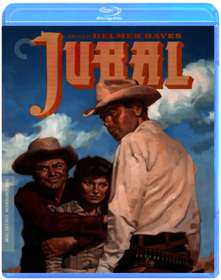 Delmer Daves
A trio of exceptional performances from Glenn Ford (3:10 to Yuma), Ernest Borgnine (Marty), and Rod Steiger (On the Waterfront) form the center of JUBAL, an overlooked Hollywood treasure from genre master Delmer Daves (3:10 to Yuma). In this Shakespearean tale of jealousy and betrayal, Ford is an honorable itinerant cattleman, befriended and hired by Borgnine's bighearted ranch owner despite his unwillingness to talk about his past. When the new hand becomes the target of the flirtatious attentions of the owner's bored wife (Valerie French) and is entrusted by the boss with a foreman's responsibilities, his presence at the ranch starts to rankle his shifty fellow cowhand, played by Steiger. The resulting emotional showdown imparts unparalleled psychology intensity to this western, a vivid melodrama featuring expressive location photography in Technicolor and CinemaScope.
The Killing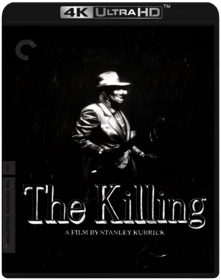 Stanley Kubrick
Stanley Kubrick's account of an ambitious racetrack robbery is one of Hollywood's tautest, twistiest noirs. Aided by a radically time-shuffling narrative, razor-sharp dialogue from pulp novelist Jim Thompson, and a phenomenal cast of character actors, including Sterling Hayden (Dr. Strangelove), Coleen Gray (Red River), Timothy Carey (Paths of Glory), and Elisha Cook Jr. (The Maltese Falcon), The Killing is both a jaunty thriller and a cold-blooded punch to the gut. And with its precise tracking shots and gratifying sense of irony, it's Kubrick to the core.
A Kiss Before Dying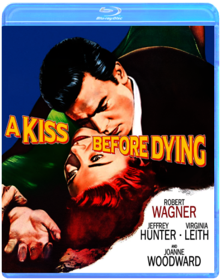 Gerd Oswald
3:10 to Yuma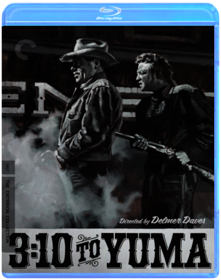 Delmer Daves
In this beautifully shot and acted, psychologically complex western, Van Heflin (Shane) is a mild-mannered cattle rancher who takes on the task of shepherding a captured outlaw, played with cucumber-cool charisma by Glenn Ford (The Big Heat), to the train that will take him to prison. This apparently simple plan turns into a nerve-racking cat-and-mouse game that will test each man's particular brand of honor. Based on a story by Elmore Leonard (Get Shorty), 3:10 TO YUMA is a thrilling, humane action movie, directed by the supremely talented studio filmmaker Delmer Daves (Jubal) with intense feeling and precision.
12 Angry Men
Sidney Lumet
12 Angry Men, by Sidney Lumet, may be the most radical big-screen courtroom drama in cinema history. A behind-closed-doors look at the American legal system as riveting as it is spare, the iconic adaptation of Reginald Rose's teleplay stars Henry Fonda as the initially dissenting member of a jury of white men ready to pass judgment on a Puerto Rican teenager charged with murdering his father. What results is a saga of epic proportions that plays out in real time over ninety minutes in one sweltering room. Lumet's electrifying snapshot of 1950s America on the verge of change is one of the great feature-film debuts.
The Bridge on the River Kwai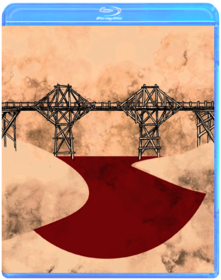 Peter Taylor, David Lean
Spectacularly produced, and the winner of seven Academy Awards® (1957), including Best Picture, Best Director, and Best Actor (Alec Guinness), The Bridge on the River Kwai continues to be one of the most memorable cinematic experiences of all time. Now, for the first time on Blu-ray, following an extensive all-new 4K digital restoration from the original negative, with newly restored 5.1 audio, experience director David Lean's masterpiece as you never have before.
A Face in the Crowd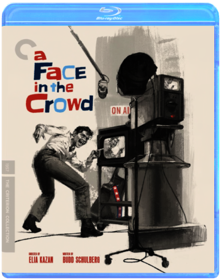 Elia Kazan
Paths of Glory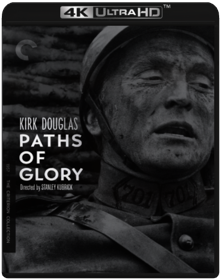 Stanley Kubrick
The Seventh Seal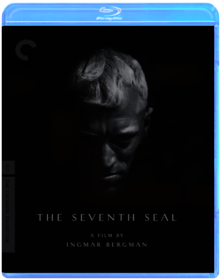 Ingmar Bergman
Few films have had as large a cultural impact as Ingmar Bergman's The Seventh Seal (Det sjunde inseglet). Disillusioned and exhausted after a decade of battling in the Crusades, a knight (Max von Sydow) encounters Death on a desolate beach and challenges him to a fateful game of chess. Much studied, imitated, even parodied, but never outdone, Bergman's stunning allegory of man's search for meaning was one of the benchmark foreign imports of America's 1950s art house heyday, pushing cinema's boundaries and ushering in a new era of moviegoing.

SPECIAL EDITION FEATURES:
New, restored high-definition digital transfer with uncompressed monaural soundtrack
Introduction by Ingmar Bergman, recorded in 2003
Audio commentary by Bergman expert Peter Cowie
A new afterword to the commentary by Cowie
Bergman Island (2006), an 83-minute documentary on Bergman by Marie Nyreröd, featuring in-depth and revealing interviews with the director
Archival audio interview with Max von Sydow
A 1998 tribute to Bergman by filmmaker Woody Allen
Theatrical trailer
Bergman 101, a selected video filmography tracing Bergman's career, narrated by Cowie
Optional English-dubbed soundtrack
New and improved English subtitle translation
PLUS: A booklet featuring an essay by critic Gary Giddins

Stills from The Seventh Seal (Click for larger image)
Throne of Blood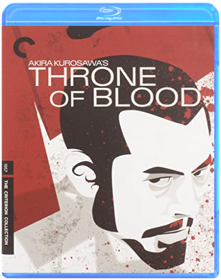 Akira Kurosawa
Wild Strawberries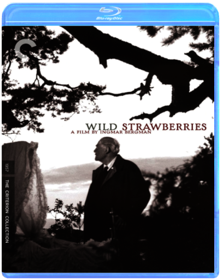 Ingmar Bergman
Traveling to accept an honorary degree, Professor Isak Borg—masterfully played by veteran director Victor Sjöström (The Phantom Carriage)—is forced to face his past, come to terms with his faults, and make peace with the inevitability of his approaching death. Through flashbacks and fantasies, dreams and nightmares, Wild Strawberries dramatizes one man's remarkable voyage of self-discovery. This richly humane masterpiece, full of iconic imagery, is a treasure from the golden age of art-house cinema and one of the films that catapulted Ingmar Bergman (The Seventh Seal) to international acclaim.
The Ballad of Narayama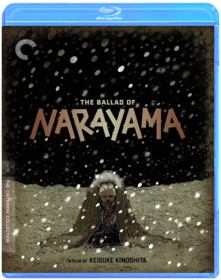 Keisuke Kinoshita
This haunting, kabuki-inflected version of a Japanese folk legend is set in a remote mountain village, where food is scarce and tradition dictates that citizens who have reached their seventieth year must be carried to the summit of Mount Narayama and left there to die. The sacrificial elder at the center of the tale is Orin (Ugetsu's Kinuyo Tanaka), a dignified and dutiful woman who spends her dwindling days securing the happiness of her loyal widowed son with a respectable new wife. Filmed almost entirely on cunningly designed studio sets, in brilliant color and widescreen, The Ballad of Narayama is a stylish and vividly formal work from Japan's cinematic golden age, directed by the dynamic Keisuke Kinoshita (Twenty-four Eyes).
Le Beau Serge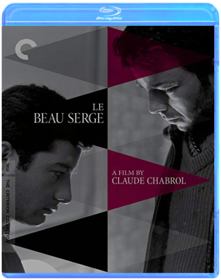 Claude Chabrol
The Blob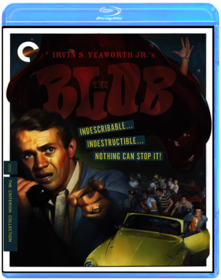 Irvin S. Yeaworth Jr.
A cult classic of gooey greatness, The Blob follows the havoc wreaked on a small town by an outer-space monster with neither soul nor vertebrae, with Steve McQueen (The Great Escape) playing the rebel teen who tries to warn the residents about the jellylike invader. Strong performances and ingenious special effects help The Blob transcend the schlock sci-fi and youth delinquency genres from which it originates. Made outside of Hollywood by a maverick film distributor and a crew whose credits mostly comprised religious and educational shorts, The Blob helped launch the careers of McQueen and composer Burt Bacharach, whose bouncy title song is just one of this film's many unexpected pleasures.
Giants and Toys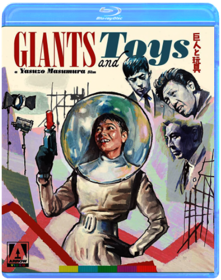 Yasuzô Masumura
The Hidden Fortress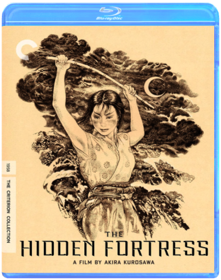 Akira Kurosawa
A grand-scale adventure as only Akira Kurosawa (Seven Samurai) could make one, The Hidden Fortress stars the inimitable Toshiro Mifune (Yojimbo) as a general charged with guarding his defeated clan s princess (a fierce Misa Uehara) as the two smuggle royal treasure across hostile territory. Accompanying them are a pair of bumbling, conniving peasants who may or may not be their friends. This rip-roaring ride is among the director s most beloved films and was a primary influence on George Lucas s Star Wars. The Hidden Fortress delivers Kurosawa s trademark deft blend of wry humor, breathtaking action, and compassionate humanity.

BLU-RAY SPECIAL EDITION FEATURES
- New 2K digital restoration, with uncompressed monaural soundtrack
- Alternate 5.1 surround soundtrack preserving the original Perspecta simulated stereo effects, presented in DTS-HD Master Audio
- New audio commentary by film historian Stephen Prince, author of The Warrior s Camera: The Cinema of Akira Kurosawa
- Documentary from 2003 on the making of the film, created as part of the Toho Masterworks series Akira Kurosawa: It Is Wonderful to Create
- Interview from 2001 with filmmaker George Lucas about Kurosawa
- Trailer
- New English subtitle translation
- PLUS: A booklet featuring an essay by film scholar Catherine Russell
The Magician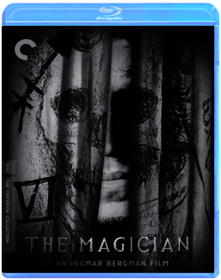 Ingmar Bergman
THE MAGICIAN (Ansiktet), directed by Ingmar Bergman (The Seventh Seal, Fanny and Alexander), is an engaging, brilliantly conceived tale of deceit from one of cinema's premier illusionists. Max von Sydow (The Virgin Spring, The Exorcist) stars as Dr. Vogler, a mid-nineteenth-century traveling mesmerist and peddler of potions whose magic is put to the test by a small town's cruel, eminently rational minister of health, Dr. Vergerus (Wild Strawberries' Gunnar Bjornstrand). The result is a diabolically clever battle of wits that's both frightening and funny, shot in rich, gorgeously gothic black and white.
The Music Room
Satyajit Ray
With The Music Room (Jalsaghar), Satyajit Ray (Pather Panchali) brilliantly evokes the crumbling opulence of the world of a fallen aristocrat (the beloved actor, Chhabi Biswas) desperately clinging to his way of life. His greatest joy is the music room in which he has hosted lavish concerts over the years—now a shadow of its former vivid self. An incandescent depiction of the clash between tradition and modernity, and a showcase for some of India's most popular musicians of the day, The Music Room is a defining work by the great Bengali filmmaker.
Touch of Evil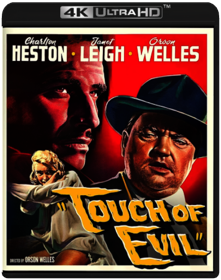 Orson Welles
Directed by Orson Welles, Touch of Evil is a film noir masterpiece whose Hollywood backstory is as unforgettable as the movie itself. Starring Charlton Heston, Janet Leigh and Orson Welles, this dark portrait of corruption and morally compromised obsessions tells the story of a crooked police chief who frames a Mexican youth as part of an intricate criminal plot. Featuring three versions of the film – the Preview version, the Theatrical version and the Reconstructed version based on Orson Welles' original vision, Touch of Evil is a "a stylistic masterpiece!" (Leonard Maltin's Classic Movie Guide) that stands the test of time.
Vertigo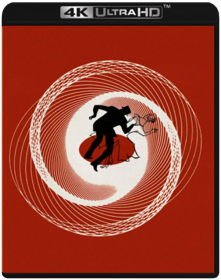 Alfred Hitchcock
A retired San Francisco detective suffering from acrophobia investigates the strange activities of an old friend's much-younger wife, all the while becoming dangerously obsessed with her.
Anatomy of a Murder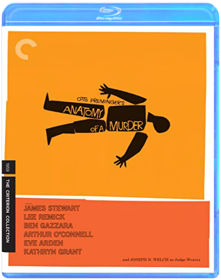 Otto Preminger
A virtuoso James Stewart (Vertigo) plays a small-town Michigan lawyer who takes on a difficult case: that of a young Army lieutenant (The Killing of a Chinese Bookie's Ben Gazzara) accused of murdering the local tavern owner who he believes raped his wife (Days of Wine and Roses' Lee Remick). This gripping, envelope-pushing courtroom potboiler, the most popular film from Hollywood provocateur Otto Preminger (Laura), was groundbreaking for the frankness of its discussion of sex—more than anything else, it is a striking depiction of the power of words. With its outstanding supporting cast—including a young George C. Scott (Patton) as a fiery prosecuting attorney and legendary real-life attorney Joseph N. Welch as the judge—and influential jazz score by Duke Ellington, Anatomy of a Murder is a Hollywood landmark; it was nominated for seven Oscars, including best picture.
Ben-Hur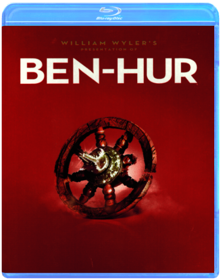 Lew Wallace, William Wyler
Ben-Hur: 50th Anniversary Edition (BD)
The Bridge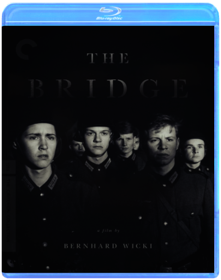 Bernhard Wicki
Seven drafted German schoolboys die defending a worthless bridge against Allied tanks.
Les cousins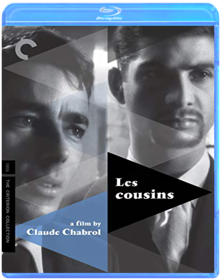 Claude Chabrol
The Human Condition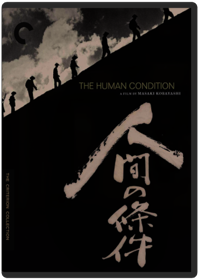 Masaki Kobayashi
Human Condition (Cc)
Some Like it Hot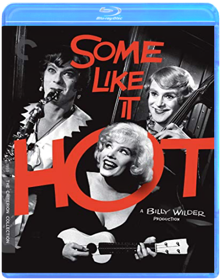 Billy Wilder
Walerian Borowczyk - Short Films and Animation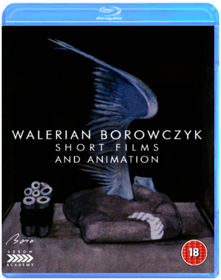 Walerian Borowczyk
United Kingdom released, Blu-Ray/Region A/B/C : it WILL NOT play on regular DVD player. You need Blu-Ray DVD player to view this Blu-Ray DVD: LANGUAGES: French ( Dolby Digital 2.0 ), French ( Dolby Linear PCM ), French ( Mono ), English ( Subtitles ), SPECIAL FEATURES: 2-DVD Set, Black & White, Blu-Ray & DVD Combo, Booklet, Documentary, Interactive Menu, Remastered, Scene Access, SYNOPSIS: For the first decade of his career, Walerian Borowczyk exclusively made short films, initially in his native Poland, but then mostly in France, where he settled permanently in the late 1950s. This disc includes the vast majority of the shorts that he made between 1959 and 1984, apart from ones that were originally intended to accompany specific features. Far from being prentice work or optional extras, the shorts include many of his greatest films, such as the cut-out Astronauts, the reverse-motion Renaissance and the extraordinary Angels Games, a one-off masterpiece of the macabre that would alone establish Borowczyk as one of the cinema s most innovative artists. In 1967, Borowczyk made his feature debut, a grotesque and surreal fantasy about the physically and temperamentally mismatched couple Mr & Mrs Kabal. Made with a tiny production team at a time when animated feature films were far scarcer than they are now, it s almost the polar opposite of a Disney film, with angular, mainly monochrome graphics bringing the Kabals universe to startlingly vivid life. Both this and all the short films are presented in brand new high-definition restorations from original 35mm elements. ...Walerian Borowczyk (Short Films & Animation Collection) ( Le concert de M. et Mme. Kabal (Concert of Mr. & Mrs. Kabal) / L'encyclopedie de grand-maman en
-1960
Black Sunday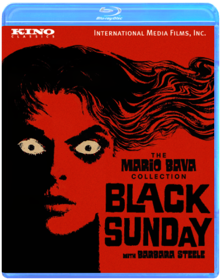 Mario Bava
In Mario Bava's gothic horror masterpiece steeped in rich atmosphere, condemned witch Princess Asa (Barbara Steele) returns from the dead two centuries after her execution and wreaks vengeance on her killers' family. Possessing the body of a descendant who happens to look just like her, Asa pulls out all the stops to exact her revenge. This is Bava's credited directorial debut, and it catapulted Steele and him to stardom
Breathless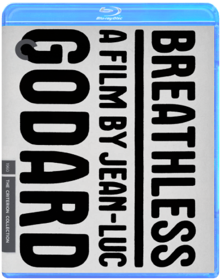 Jean-Luc Godard
There was before Breathless, and there was after Breathless. Jean-Luc Godard (Band of Outsiders) burst onto the film scene in 1960 with this jazzy, free-form, and sexy homage to the American film genres that inspired him as a writer for Cahiers du cin'ma. With its lack of polish, surplus of attitude, anything-goes crime narrative, and effervescent young stars Jean-Paul Belmondo (Pierrot le fou) and Jean Seberg (Bonjour tristesse), Breathless helped launch the French New Wave and ensured that cinema would never be the same. SPECIAL EDITION FEATURES Restored high-definition digital transfer, approved by director of photography Raoul Coutard, with uncompressed monaural soundtrack on the Blu-ray Archival interviews with director Jean-Luc Godard and actors Jean-Paul Belmondo, Jean Seberg, and Jean-Pierre Melville Contemporary interviews with Coutard, assistant director Pierre Rissient, and filmmaker D. A. Pennebaker Two video essays, one on Seberg and one on Breathless as film criticism Chambre 12, H"tel de suŠde, an eighty-minute 1993 documentary about the making of Breathless Charlotte et son Jules, a 1959 short by Godard starring Belmondo Trailer One Blu-ray and two DVDs, with all content available in both formats PLUS: A booklet featuring an essay by scholar Dudley Andrew, writings by Godard, Fran‡ois Truffaut's original treatment, and Godard's scenario
La Dolce Vita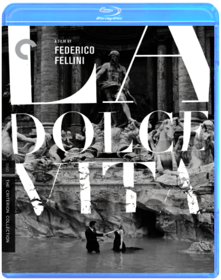 Federico Fellini
Eyes Without a Face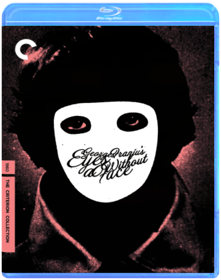 Georges Franju
At his secluded chateau in the French countryside, a brilliant, obsessive doctor (Children of Paradise's Pierre Brasseur) attempts a radical plastic surgery to restore the beauty of his daughter's disfigured countenance—at a horrifying price. EYES WITHOUT A FACE, directed by the supremely talented Georges Franju (Judex), is rare in horror cinema for its odd mixture of the ghastly and the lyrical, and it has been a major influence on the genre in the decades since its release. There are images here—of terror, of gore, of inexplicable beauty—that once seen are never forgotten.
Peeping Tom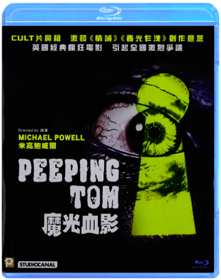 Michael Powell
Synopsis: Michael Powell's controversial meditation on violence and voyeurism effectively destroyed his career when it was first released, but later generations have come to regard it as a masterpiece. Karl Heinz Boehm stars as Mark, the son of a psychologist who kept a video journal of the boy's upbringing for research purposes. The constant intrusions profoundly affected the boy, who grew up to be a photographer himself; but his principal subject matter consists of women whom he murders before the camera. He then runs the films of his victims in their final throes so that he can study their reactions to death—a perverse extension of his father's experiments, which tormented Mark to analyze his reactions to raw fear. The British press had long been hostile to the unorthodox films of Powell and his partner Emeric Pressburger; when Peeping Tom came around, they used the film to castigate him as "sick" and tawdry. The passage of time has proven Peeping Tom as profound and accomplished as any of Powell's earlier films, and it ranks with Alfred Hitchcock's Rear Window (1954) and Vertigo (1958) as a landmark exploration of the links among voyeurism, violence, and male sexual desire. Powell himself plays the evil father in the flashback sequences, and his son Colomba plays Mark as a child.
Psycho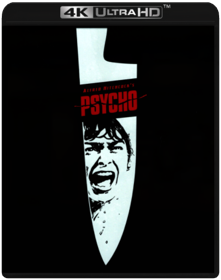 Alfred Hitchcock
Spartacus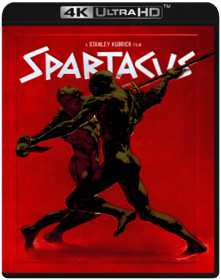 Stanley Kubrick
Accatone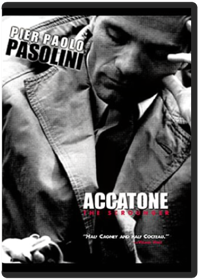 Pier Paolo Pasolini
The first of Pier Paolo Pasolini's highly acclaimed films, and the winner of numerous film festival prizes, ACCATONE uses a talented cast to present a vivid picture of the Roman slums. Based on one of the filmmaker/poet's novels, this story of a pimp, his friends, his enemies and his girls is realism at its earthiest. It is brutal, realistic, unsentimental and bustiling with life. Particularly effective is the use of Bach on the soundtrack which provides ironic counterpoint to the world of pimps, prostitutes and street fighters.
Blast of Silence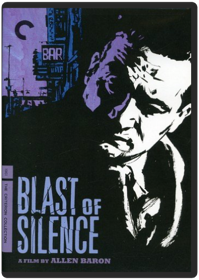 Allen Baron
The Innocents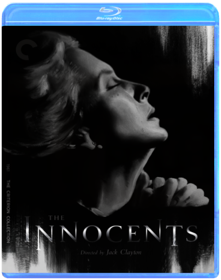 Jack Clayton
A Victorian governess fears a boy and girl have been possessed by a dead couple. Directed by Jack Clayton. From Henry James' "The Turn of the Screw.]Victorian governess fears boy and girl are possessed.]0]]Jack Clayton]]]Deborah Kerr]Martin Stephens]Pamela Franklin]Michael Redgrave]Peter Wyngarde]Meg Jenkins]Clytie Jessop]Isla Cameron]Eric Woodburn]
Last Year at Marienbad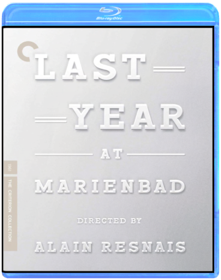 Alain Resnais
Not just a defining work of the French New Wave but one of the great, lasting mysteries of modern art, Alain Resnais' epochal visual poem has been puzzling appreciative viewers for decades. A surreal fever dream, or perhaps a nightmare, Last Year at Marienbad (L'année dernière à Marienbad), written by the radical master of the New Novel, Alain Robbe-Grillet, gorgeously fuses the past with the present in telling its ambiguous tale of a man and a woman (Giorgio Albertazzi and Delphine Seyrig) who may or may not have met a year ago, perhaps at the very same cathedral-like, mirror-bedecked château they now find themselves wandering. Unforgettable in both its confounding details (gilded ceilings, diabolical parlor games, a loaded gun) and haunting scope, Resnais' investigation into the nature of memory is disturbing, romantic, and maybe even a ghost story.

DIRECTOR-APPROVED SPECIAL EDITION FEATURES: • New, restored high-definition digital transfer, supervised and approved by director Alain Resnais, with an uncompressed monaural soundtrack • New audio interview with Resnais • New documentary on the making of Last Year at Marienbad, featuring interviews with many of Resnais' collaborators • New video interview with film scholar Ginette Vincendeau on the history of the film and its many mysteries • Two short documentaries by Resnais: Toute la mémoire du monde (1956) and Le chant du styrène (1958) • Theatrical trailer • Optional original, unrestored French soundtrack • New and improved subtitle translation • PLUS: A booklet featuring essays by critic Mark Polizzotti and film scholar François Thomas, and Alain Robbe-Grillet's introduction to the published screenplay and comments on the film

Stills from Last Year at Marienbad (Click for larger image)
One-Eyed Jacks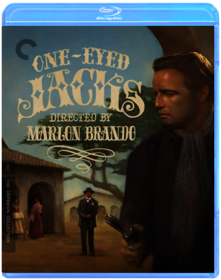 Marlon Brando
A western like no other, One-Eyed Jacks combines the mythological scope of that most American of film genres with the searing naturalism of a performance by Marlon Brando (On the Waterfront, The Fugitive Kind), all suffused with Freudian overtones and male anxiety. In his only directing stint, Brando captures the rugged landscapes of California s Central Coast and Mexico s Sonoran Desert in gorgeous widescreen, Technicolor images, and elicits from his fellow actors (including Karl Malden and Pina Pellicer) nuanced improvisational depictions of conflicted characters. Though overwhelmed by its director s perfectionism and plagued by production setbacks and studio re-editing, One-Eyed Jacks stands as one of Brando s great achievements, thanks above all to his tortured turn as Rio, a bank robber bent on revenge against his one-time partner in crime, the aptly named Dad Longworth (Malden). Brooding and romantic, Rio marks the last, and perhaps the most tender, of the iconic outsiders Brando imbued with such remarkable intensity throughout his career.

BLU-RAY SPECIAL EDITION FEATURES
- New 4K digital restoration, undertaken with the support of The Film Foundation and supervised by filmmakers Martin Scorsese and Steven Spielberg, with uncompressed monaural soundtrack
- New introduction by Scorsese
- Excerpts from voice-recordings director and star Marlon Brando made during the film s production
- New video essays on the film s production history and its potent combination of the stage and screen icon Brando with the classic Hollywood western
- Trailer
- PLUS: An essay by film critic Howard Hampton
Something Wild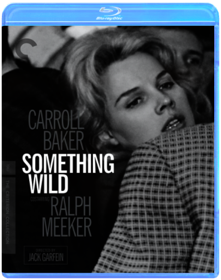 Jack Garfein
Spotlight On a Murderer
Georges Franju
Viridiana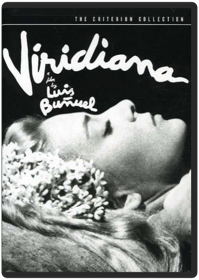 Luis Buñuel
Banned in Spain and denounced by the Vatican, Luis Bunuel's hilarious vision of life as a beggar's banquet is regarded by many as his masterpiece. In it, the young novice Viridiana does her utmost to maintain her Catholic principles, but her lecherous uncle and a motley assemblage of paupers force her to confront the limits of her idealism. Winner of the Palme d'Or at the 1961 Cannes Film Festival, this anticlerical free-for-all is as shocking today as ever.
Yojimbo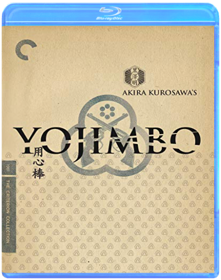 Akira Kurosawa
A free-lance samurai works both sides of the street in a village split by warring merchants. Directed by Akira Kurosawa.
An Autumn Afternoon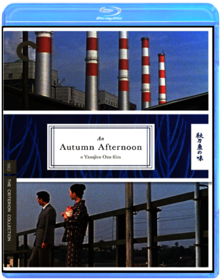 Yasujiro Ozu
The final film from Yasujiro Ozu (Tokyo Story) was also his last masterpiece, a gently heartbreaking story about a man's dignifed resignation to life's shifting currents and society's modernization. Though widower Shuhei (frequent Ozu leading man Chishu Ryu) has been living comfortably for years with his grown daughter, a series of events leads him to accept and encourage her marriage and departure from their home. As elegantly composed and achingly tender as any of the Japanese master's films, An Autumn Afternoon is one of cinema's fondest farewells.
Carnival of Souls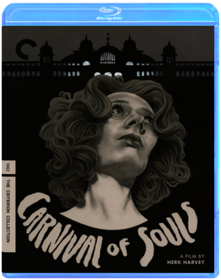 Herk Harvey
A young woman in a small Kansas town survives a drag race accident, then agrees to take a job as a church organist in Salt Lake City. En route, she becomes haunted by a bizarre apparition that compels her toward an abandoned lakeside pavilion. Made by industrial filmmakers on a modest budget, the eerily effective B-movie classic Carnival of Souls was intended to have the look of a Bergman and the feel of a Cocteau and, with its strikingly used locations and spooky organ score, it succeeds. Herk Harvey s macabre masterpiece gained a cult following on late-night television and continues to inspire filmmakers today.

BLU-RAY SPECIAL EDITION FEATURES
- New, restored 4K digital transfer, with uncompressed monaural soundtrack
- Selected-scene audio commentary featuring director Herk Harvey and screenwriter John Clifford
- New interview with comedian and writer Dana Gould
- New video essay by film critic David Cairns
- The Movie That Wouldn t Die!, a documentary on the 1989 reunion of the film s cast and crew
- The Carnival Tour, a 2000 update on the film s locations
- Excerpts from movies made by the Centron Corporation, an industrial film company based in Lawrence, Kansas, that once employed Harvey and Clifford
- Deleted scenes
- Outtakes, accompanied by Gene Moore s organ score
- History of the Saltair Resort in Salt Lake City, where key scenes in the film were shot
- Trailer
- PLUS: An essay by writer and programmer Kier-La Janisse
Ivan's Childhood
Andrei Tarkovsky
Knife in the Water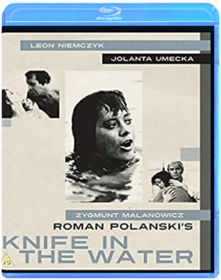 Roman Polanski
Lawrence of Arabia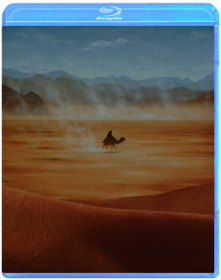 David Lean
LAWRENCE OF ARABIA 50TH ANNIVERSARY EDITION Winner of 7 Academy Awards® including Best Picture of 1962, LAWRENCE OF ARABIA stands as one of the most timeless and essential motion picture masterpieces. The greatest achievement of its legendary, Oscar®-winning director, David Lean (1962, Lawrence of Arabia: 1957 the Bridge on the River Kwai), the film stars Peter O'Toole — in his career-making performance — as T.E. Lawrence, the audacious World War I British army officer who heroically united rival Arab desert tribes and led them to war against the mighty Turkish Empire. Newly restored and re-mastered at 4K resolution, the massive scope and epic action of the Director's Cut of LAWRENCE OF ARABIA can now be experienced like never before in this landmark 50th Anniversary Edition.
Lolita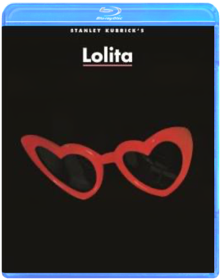 Stanley Kubrick
Mamma Roma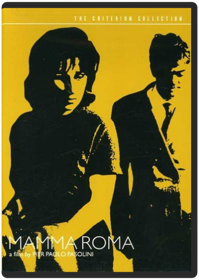 Pier Paolo Pasolini
Anna Magnani is Mamma Roma, a middle-aged prostitute who attempts to extricate herself from her sordid past for the sake of her son. Filmed in the great tradition of Italian neorealism, Mamma Roma offers an unflinching look at the struggle for survival in postwar Italy, and highlights director Pier Paolo Pasolini#s lifelong fascination with the marginalized and dispossessed. Though banned upon its release in Italy for obscenity, today Mamma Roma is considered a classic: a glimpse at a country#s most controversial director in the process of finding his style and a powerhouse performance by one of cinema#s greatest actresses.
The Manchurian Candidate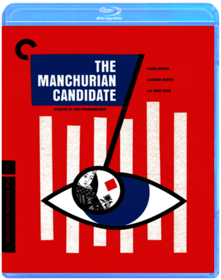 John Frankenheimer
Sinatra, a brain-washed, former POW from the Korean War, suspects that a fellow solder, hailed as a hero, is actually something else. Harvey is the "hero" who has been trained as an assassin, and a Queen of Hearts is the key to his personality.
Sanjuro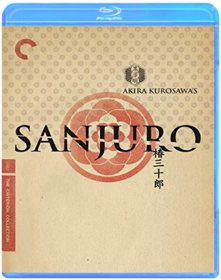 Akira Kurosawa
A sloppy-looking samurai helps young warriors expose corrupt elders. Sequel to "Yojimbo." Directed by Akira Kurosawa.
Vivre Sa Vie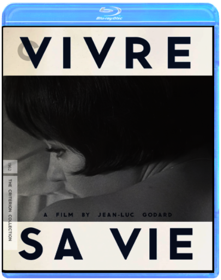 Jean-Luc Godard
Twelve vignettes show a young woman's life as a Paris prostitute. Directed by Jean-Luc Godard.
Whatever Happened to Baby Jane?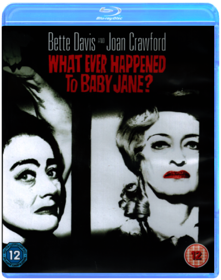 Robert Aldrich
Directed by Robert Aldrich. Starring Marjorie Bennett, Joan Crawford, Anna Lee.
8½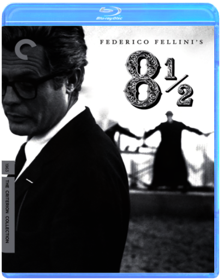 Federico Fellini
Marcello Mastroianni plays Guido Anselmi, a director whose new project is collapsing around him, along with his life. One of the greatest films about film ever made, Federico Fellini's 8½ (Otto e mezzo) turns one man's artistic crisis into a grand epic of the cinema. An early working title for 8½ was The Beautiful Confusion, and Fellini's masterpiece is exactly that: a shimmering dream, a circus, and a magic act.
The Birds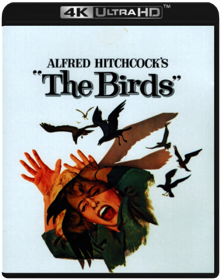 Alfred Hitchcock
Cleopatra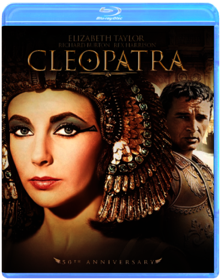 Joseph Mankiewicz
Celebrate the 50th Anniversary of this epic spectacle - its opulence and sweeping grandeur have never been more glorious. Elizabeth Taylor stars as Cleopatra, the glamorous and cunning queen of Egypt. To secure her hold on power, she seduces the rulers of Rome, only to meet her match in Mark Antony, played by Richard Burton. Their passionate romance could decide the fate of the world's greatest empires.
Contempt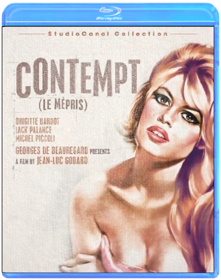 Jean-Luc Godard
A screenwriter's wife hates him for joining the U.S. producer of a Fritz Lang movie. Directed by Jean-Luc Godard.
The Great Escape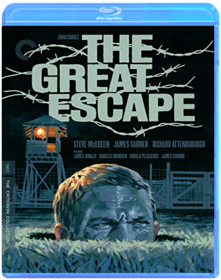 John Sturges
Lord of the Flies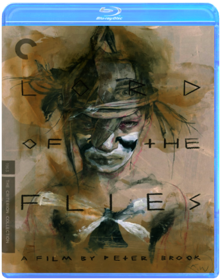 Peter Brook
In the hands of the renowned experimental theater director Peter Brook, William Golding's legendary novel on the primitivism lurking beneath civilization becomes a film as raw and ragged as the lost boys at its center. Taking an innovative documentary-like approach, Brook shot LORD OF THE FLIES with an off-the-cuff naturalism, seeming to record a spontaneous eruption of its characters' ids. The result is a rattling masterpiece, as provocative as its source material.
Muriel, or The Time of Return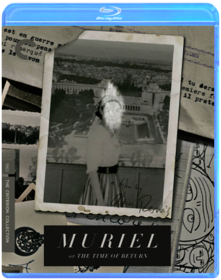 Alain Resnais
Alain Resnais s Muriel, or The Time of Return, the director s follow-up to Last Year at Marienbad, is as radical a reflection on the nature of time and memory as its predecessor. The always luminous Delphine Seyrig (Jeanne Dielman, 23, quai du Commerce, 1080 Bruxelles) stars as an antique shop owner and widow in Boulogne-sur-Mer, whose past comes back to haunt her when a former lover reenters her life. Meanwhile, her stepson is tormented by his own ghosts, related to his service in France s recently ended war in Algeria. Featuring a multilayered script by Jean Cayrol, and inventively edited to evoke its middle-class characters political and personal realities, the fragmented, emotionally powerful Muriel reminds viewers that the past is always present.

BLU-RAY SPECIAL EDITION FEATURES
- New 4K digital restoration, with uncompressed monaural soundtrack
- Excerpt from the 1980 documentary Une approche d Alain Resnais, révolutionnaire discret
- Excerpt from a 1969 interview with actor Delphine Seyrig
- Interview with composer Hans Werner Henze from 1963
- New interview with film scholar François Thomas, author of L atelier d Alain Resnais
- Trailer
- New English subtitle translation
- PLUS: An essay by film scholar James Quandt
Shock Corridor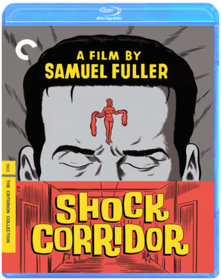 Samuel Fuller
In Shock Corridor, the great American writer-director-producer Samuel Fuller (The Naked Kiss, The Big Red One) masterfully charts the uneasy terrain between sanity and dementia. Seeking a Pulitzer Prize, reporter Johnny Barrett (Peter Breck) has himself committed to a mental hospital to investigate a murder. As he closes in on the killer, madness closes in on him. Constance Towers (The Naked Kiss) costars as Johnny's coolheaded stripper girlfriend. With its startling commentary on race in sixties America and daring photography by Stanley Cortez (The Night of the Hunter), Shock Corridor is now recognized for its far-reaching influence.
Dr. Strangelove, Or: How I Learned to Stop Worrying and Love the Bomb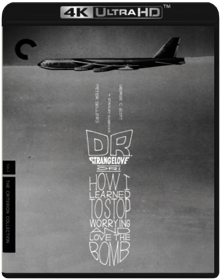 Stanley Kubrick
Fail Safe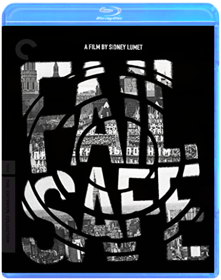 Sidney Lumet
A Fistful of Dollars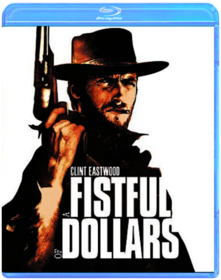 Sergio Leone
Gate of Flesh
Seijun Suzuki
The Gospel According to St. Matthew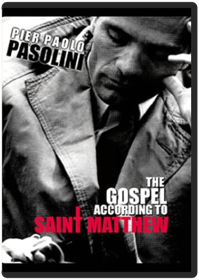 Pier Paolo Pasolini
The birth, life, teachings, and death on the cross of Jesus Christ presented almost as a cine-verite documentary. Pasolini's second feature seemed a strange choice for such a revolutionary director, but it is an attempt to take Christ out of the opulent church and present him as an outcast Italian peasant. Applying Neo-Realist methods, the director shot the film in Calabria, using the expressive faces of the non professionals including that of his motoher as the Virgin Mary. THE GOSPEL ACCORDING TO ST. MATTHEW is considered the greatest screen version of the 'greatest story ever told' and this freshly remastered version brings the film to life in a way that has never been seen before.
Jan Švankmajer: The Complete Short Films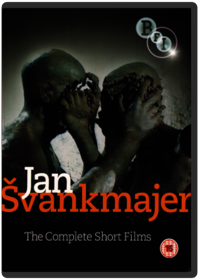 Jan Švankmajer
Quick Shipping !!! New And Sealed !!! This Disc WILL NOT play on standard US DVD player. A multi-region PAL/NTSC DVD player is request to view it in USA/Canada. Please Review Description.
The Leather Boys
Sidney J. Furie
Love Meetings
Pier Paolo Pasolini
LOVE MEETINGS is a Cinema Verite investigation in Italy, including impressive appearances by famed author Alberto Moravia and noted psychologist Cesare Musatti. Pasolini, the poet turned filmmaker, appears as the interviewer and asks a wide range of individuals to share their tales of love, prostitution, homosexuality, marital and non marital liaisons. The film is full of wit and sensuality, and is as topical as today's headlines.
The Man with No Name Trilogy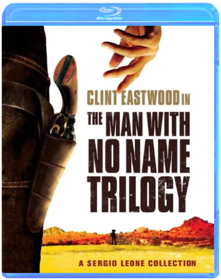 Sergio Leone
Sergio Leone "spaghetti westerns" did not simply add a new chapter to the genre…they reinvented it. From his shockingly violent and stylized breakthrough, A Fistful of Dollars, to the film Quentin Tarantino calls "the best-directed movie of all time," The Good, the Bad and the Ugly, Leone's vision did for westerns what talkies did for all movies back in the 1920s: it elevated them to an entirely new art form. Fully restored, presented in high definition with their best-ever audio, and including audio commentaries, featurettes and more, these films are much more than the definitive Leone collection...they are the most ambitious and influential westerns ever made.

A Fistfull Of Dollars
Clint Eastwood's legendary "Man With No Name" makes his powerful debut in this thrilling, action-packed classic in which he manipulates two rival bands of smugglers and sets in motion a plan to destroy both in a series of brilliantly orchestrated setups, showdowns and deadly confrontations.

For A Few Dollars More
Oscar® Winner Clint Eastwood** continues his trademark role in this second installment of the trilogy, this time squaring off with Indio, the territory's most treacherous bandit. But his ruthless rival, Colonel Mortimer (Lee Van Cleef, High Noon), is determined to bring Indio in first...dead or alive!

The Good, The Bad And The Ugly
The invincible "Man With No Name" (Eastwood) aligns himself with two gunslingers (Lee Van Cleef and Eli Wallach) to pursue a fortune in stolen gold. But teamwork doesn't come naturally to such strong-willed outlaws, and they soon discover that their greatest challenge may be to stay focused – and stay alive – in a country ravaged by war.
Marnie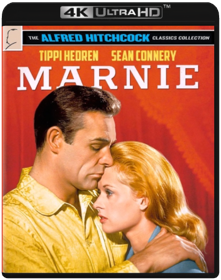 Alfred Hitchcock
The Naked Kiss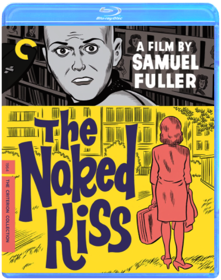 Samuel Fuller
The setup is pure pulp: A former prostitute (a crackerjack Constance Towers) relocates to a buttoned-down suburb, determined to fit in with mainstream society. But in the strange, hallucinatory territory of writer-director-producer Samuel Fuller (Shock Corridor, The Big Red One), perverse secrets inevitably simmer beneath a seemingly wholesome surface. Featuring radical visual touches, full-throttle performances, brilliant cinematography by Stanley Cortez (The Night of the Hunter), and one bizarrely beautiful musical number, The Naked Kiss is among Fuller's greatest, boldest entertainments.
Pale Flower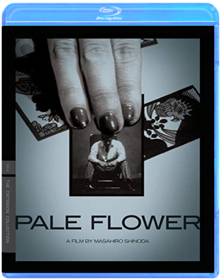 Masahiro Shinoda
Robinson Crusoe on Mars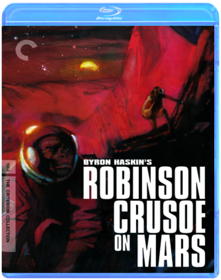 Byron Haskin
Special effects wunderkind and genre master Byron Haskin (The War of the Worlds, The Outer Limits) won a place in the hearts of fantasy film lovers everywhere with this gorgeously designed journey into the unknown. Robinson Crusoe on Mars tells the story of U.S. astronaut Commander "Kit" Draper (Paul Mantee), who must fight for survival when his spaceship crash-lands on the barren waste of Mars, a pet monkey his only companion. But is he actually alone? Shot in vast Techniscope and blazing color, this is an imaginative and beloved marvel of classic science fiction.
The Umbrellas of Cherbourg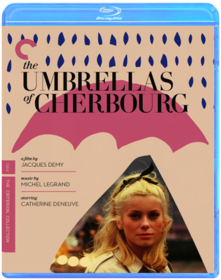 Jacques Demy
Zorba the Greek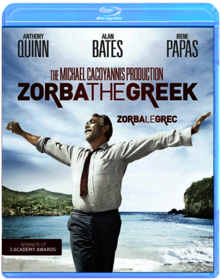 Michael Cacoyannis
An uptight English writer traveling to Crete on a matter of business finds his life changed forever when he meets the gregarious Alexis Zorba.
Alphaville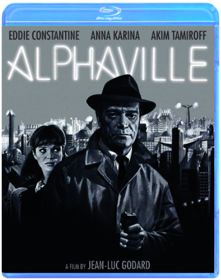 Jean-Luc Godard
A 4K Restoration! From Jean-Luc Godard, the influential director of Breathless, Contempt, Band of Outsiders and Pierrot Le Fou. American secret agent Lemmy Caution (Eddie Constantine, Attack of the Robots) is sent to the distant space city of Alphaville where he must find a missing person and kill the inventor of fascist computer Alpha 60. Anna Karina (The Nun) and Akim Tamiroff (After the Fox) co-star in this cockeyed fusion of science-fiction with pulp characters and surrealist poetry. Godard's irreverent journey to the mysterious Alphaville remains one of the least conventional films of all time. Beautifully shot in glorious black-and-white by Raoul Coutard (Jules and Jim, First Name: Carmen).

Special Features:
-Audio Commentary by Film Historian Tim Lucas
-Both Original French and English Versions of the Film
-Anna Karina Interview
-Colin MacCabe Introduction
-Theatrical Trailer
Chimes at Midnight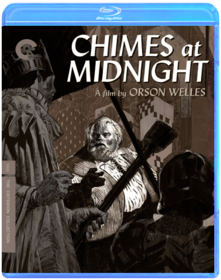 Orson Welles
The crowning achievement of Orson Welles's extraordinary film career, Chimes at Midnight was the culmination of the filmmaker s lifelong obsession with Shakespeare s ultimate rapscallion, Sir John Falstaff. Usually a comic supporting figure, Falstaff the loyal, often soused friend of King Henry IV s wayward son Prince Hal here becomes the focus: a robustly funny and ultimately tragic screen antihero played by Welles with looming, lumbering grace. Integrating elements from both Henry IV plays as well as Richard II, Henry V, and The Merry Wives of Windsor, Welles created a gritty and unorthodox Shakespeare film, one that he intended, he said, as a lament . . . for the death of Merrie England. Poetic, philosophical, and visceral with a kinetic centerpiece battle sequence that rivals anything else in the director s body of work Chimes at Midnight is as monumental as the figure at its heart.

BLU-RAY SPECIAL EDITION FEATURES
- New digital restoration, with uncompressed monaural soundtrack
- Audio commentary featuring film scholar James Naremore, author of The Magic World of Orson Welles
- New interview with actor Keith Baxter
- New interview with director Orson Welles s daughter Beatrice Welles, who appeared in the film at age seven
- New interview with actor and Welles biographer Simon Callow
- New interview with film historian Joseph McBride, author of What Ever Happened to Orson Welles?
- Interview with Welles while at work editing the film, from a 1965 episode of The Merv Griffin Show
- Trailer
Doctor Zhivago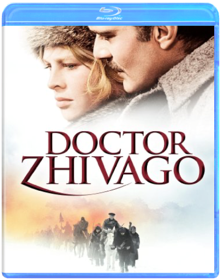 David Lean
David Lean's Doctor Zhivago is an exploration of the Russian Revolution as seen from the point of view of the intellectual, introspective title character (Omar Sharif). As the political landscape changes, and the Czarist regime comes to an end, Dr.Zhivago's relationships reflect the political turmoil raging about him. Though he is married, the vagaries of war lead him to begin a love affair with the beautiful Lara (Julie Christie). But he cannot escape the machinations of a band of selfish and cruel characters: General Strelnikov (Tom Courtenay), a Bolshevik General; Komarovsky (Rod Steiger), Lara's former lover; and Yevgraf (Alec Guinness), Zhivago's sinister half-brother. This epic, sweeping romance, told in flashback, captures the lushness of Moscow before the war and the violent social upheaval that followed. The film is based on the Pulitzer Prize-winning novel by Boris Pasternak.
For a Few Dollars More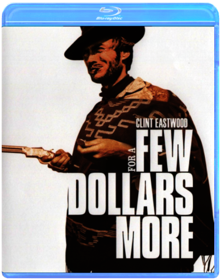 Sergio Leone
The Moment of Truth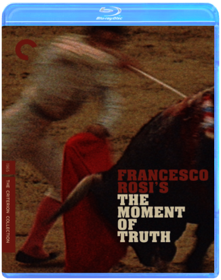 Francesco Rosi
The Moment of Truth, from director Francesco Rosi (Salvatore Giuliano) is a visceral plunge into the life of a famous torero—played by real-life bullfighting legend Miguel Mateo, known as Miguelin. Charting his rise and fall with a single-minded focus on the bloody business at hand, the film is at once gritty and operatic, placing the viewer right in the thick of the ring's action, as close to death as possible. Like all of the great Italian truth seeker's films, this is a not just an electrifying drama but also a profound and moving inquiry into a violent world—and perhaps the greatest bullfighting movie ever made.
Pierrot le fou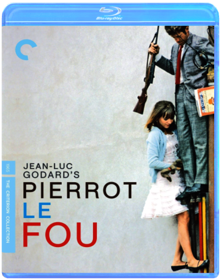 Jean-Luc Godard
Dissatisfied in marriage and life, Ferdinand (Jean-Paul Belmondo) takes to the road with the babysitter, his ex-lover Marianne Renoir (Anna Karina), and leaves the bourgeoisie behind. Yet this is no normal road trip: genius auteur Jean-Luc Godard's tenth feature in six years is a stylish mash-up of consumerist satire, politics, and comic-book aesthetics, as well as a violent, zigzag tale of, as Godard called them, "the last romantic couple." With blissful color imagery by cinematographer Raoul Coutard and Belmondo and Karina at their most animated, Pierrot le fou is one of the high points of the French new wave, and one last frolic before Godard moved ever further into radical cinema.
Repulsion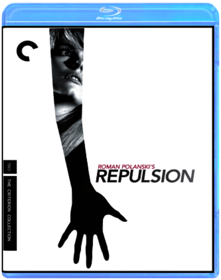 Roman Polanski
Roman Polanski followed up his international breakthrough, Knife in the Water, with this controversial, chilling tale of psychosis, starring Catherine Deneuve as Carole, a fragile, frigid young beauty cracking up over the course of a terrifying weekend. Left alone by her vacationing sister in their London flat, Carole is haunted by specters real and imagined, and her insanity grows to a violent pitch. Thanks to its unforgettable attention to disturbing detail and Polanski's unparalleled adeptness at turning claustrophobic space into an emotional minefield, Repulsion remains one of cinema's most shocking psychological thrillers.

SPECIAL EDITION FEATURES:

• New, restored high-definition digital transfer with uncompressed monaural soundtrack

• Audio commentary featuring director Roman Polanski and actress Catherine Deneuve

• A British Horror Film (2003), a documentary on the making of Repulsion, featuring interviews with Polanski, producer Gene Gutowski, and cinematographer Gil Taylor

• A 1964 television documentary filmed on the set of Repulsion, featuring rare footage of Polanski and Deneuve at work

• Theatrical trailer

• PLUS: A booklet featuring an essay by film scholar and curator Bill Horrigan

Stills from Repulsion (Click for larger image)
The Spy Who Came in from the Cold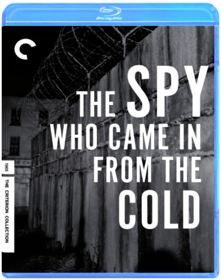 Martin Ritt
The acclaimed, best-selling novel by John le Carré (The Tailor of Panama), about a Cold War spy on one final dangerous mission in East Germany, is transmuted by director Martin Ritt (Hud) into a film every bit as precise and ruthless as the book. Richard Burton (Becket) is superb as Alec Leamas, whose relationship with a beautiful librarian, played by Claire Bloom (Richard III), puts his assignment in jeopardy. The Spy Who Came in from the Cold is a hard-edged and tragic thriller, suffused with the political and social consciousness that defined Ritt's career.
Andrei Rublev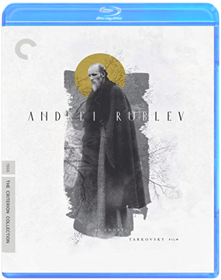 Andrei Tarkovsky
The Battle of Algiers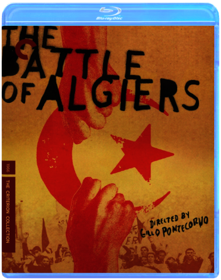 Gillo Potecorvo
One of the most influential political films in history, The Battle of Algiers, by Gillo Pontecorvo (Kapò), vividly re-creates a key year in the tumultuous Algerian struggle for independence from the occupying French in the 1950s. As violence escalates on both sides, children shoot soldiers at point-blank range, women plant bombs in cafés, and French soldiers resort to torture to break the will of the insurgents. Shot on the streets of Algiers in documentary style, the film is a case study in modern warfare, with its terrorist attacks and the brutal techniques used to combat them. Pontecorvo's tour de force has astonishing relevance today.
Blow-Up
Michelangelo Antonioni
Cul-de-sac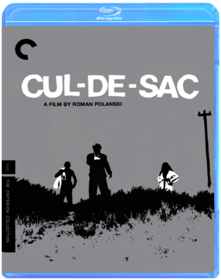 Roman Polanski
Roman Polanski (Repulsion) orchestrates a mental ménage à trois in this slyly absurd tale of paranoia from the director's golden 1960s period. Donald Pleasance (Halloween) and Françoise Dorléac (The Soft Skin) star as a withdrawn couple whose isolated house is infiltrated by a rude, burly American gangster on the run, played by Lionel Stander (Unfaithfully Yours). The three engage in a game of shifting identities and sexual and emotional humiliations. Cul-de-sac is an evocative, claustrophobic, and morbidly funny tale of the modern world in chaos.
David Cronenberg's Early Works
David Cronenberg
One of the most singular auteurs of the horror and science fiction genres, David Cronenberg has wowed audiences with his depictions of body transformations and explorations of society, this collection of his early short and feature films shows a master learning his craft and exploring many of the themes that would dominate his most celebrated work.

Transfer (1966), Cronenberg's first short film, is a surreal sketch of a doctor and his patient. From the Drain (1967) finds two men in a bathtub, which may be part of a centre for veterans of a future war. Stereo (1969), Cronenberg s first official feature film, stunningly shot in monochrome, concerns telepaths at the Institute for Erotic Enquiry where patients undergo tests by Dr. Luther Stringfellow. In Crimes of the Future (1970) Cronenberg worked in colour and with a larger budget, where we find the House of Skin clinic director (Ronald Mlodzik, returning from Stereo) searching for his mentor, Antoine Rouge, who has disappeared following a catastrophic plague.

These early amateur feature films, shot in and around Cronenberg's university campus, prefigure his later films' concerns with strange institutions, male/female separation and ESP, echoing the likes of Videodrome, Dead Ringers and Scanners.

SPECIAL EDITION CONTENTS:

Brand new restorations of four Cronenberg films
Original mono audio for all films
Optional english subtitles for the deaf and hard of hearing
Transfer the Future: Author and critic Kim Newman discusses Cronenberg s early works
Sleeve featuring newly illustrated artwork by Gilles Vranckx
Fighting Elegy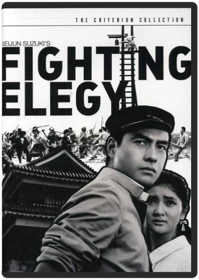 Seijun Suzuki
The Good, The Bad, and the Ugly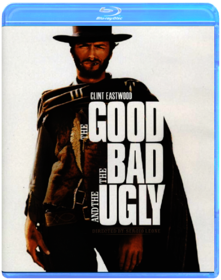 Sergio Leone
The Hawks and the Sparrows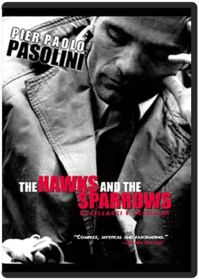 Pier Paolo Pasolini
THE HAWKS AND THE SPARROWS, a wild comic fable, stars the beloved stone faced clown Toto as an Italian everyman, and Ninetto Davoli as his good natured but empty headed son. Pasolini uses a comic crow, which philosophizes amusingly and pointedly about the passing scene, as a counterpoint to the performers, representing humanity, as they progress down the road of life. Pasolini presents a tragic fable which shows two delightful innocents caught, like many Italians, between the Church and Marxism.
Made in U.S.A.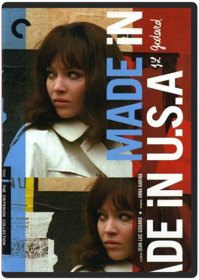 Jean-Luc Godard
Seconds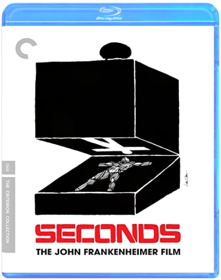 John Frankenheimer
Rock Hudson (All That Heaven Allows) is a revelation in this sinister, science-fiction-inflected dispatch from the fractured 1960s. SECONDS, directed by John Frankenheimer (The Manchurian Candidate), concerns a middle-aged businessman dissatisfied with his suburban existence, who elects to undergo a strange and elaborate procedure that will grant him a new life. Starting over in America, however, is not as easy as it sounds. This paranoiac symphony of canted camera angles (courtesy of famed cinematographer James Wong Howe), fragmented editing, and layered sound design is a remarkably risk-taking Hollywood film that ranks high on the list of its legendary director's major achievements.
The Shooting/Ride in the Whirlwind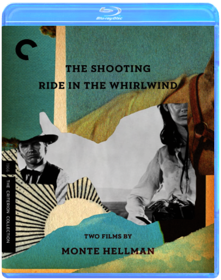 Monte Hellman
Criterion 734/735 (2014 First Printing)
The Short Films of David Lynch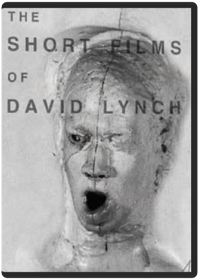 David Lynch
SHORT FILMS OF DAVID LYNCH
David Lynch

Collection of highly sourght-after David Lynch shorts, including his first works.

A must-see for fans of the legendary filmmaker David Lynch, this collecton features six short films from the master of the macabre. Spanning the director's career, from early experiments to more fully realized visions, this disc contains the shorts "Six Men Getting Sick", "The Alphabet", "The Grandmother" "The Amputee", The Cowboy and the Frenchman" and "Lumiere". Each film is preceded by an introduction from the director.
Tokyo Drifter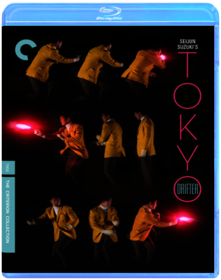 Seijun Suzuki
In this jazzy gangster film, reformed killer Phoenix Tetsu's attempt to go straight is squashed when his former cohorts call him back to Tokyo to help battle a rival gang. This onslaught of stylized violence and trippy colors got director Seijun Suzuki (Branded to Kill) in trouble with Nikkatsu studio heads, who were put off by his anything-goes, in-your-face aesthetic, equal parts Russ Meyer, Samuel Fuller, and Nagisa Oshima. Tokyo Drifter is a delirious highlight of the brilliantly excessive Japanese cinema of the sixties.
Belle de Jour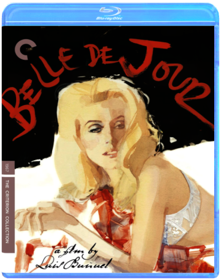 Luis Buñuel
The porcelain perfection of Catherine Deneuve (Repulsion) hides a cracked interior in the actress's most iconic role: Séverine, a chilly Paris housewife by night, a bordello prostitute by day. This surreal and erotic late-sixties daydream from provocateur for the ages Luis Buñuel (Viridiana) is an examination of desire and fetishistic pleasure (its characters' and its viewers'), as well as a gently absurdist take on contemporary social mores and class divisions. Fantasy and reality commingle in this burst of cinematic transgression, which was one of Buñuel's biggest hits.
Branded to Kill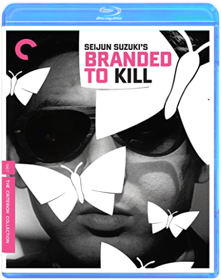 Seijun Suzuki
Cool Hand Luke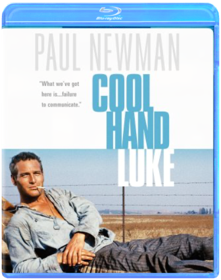 Stuart Rosenberg
A defiant chain-gang prisoner suffers a "failure to communicate" in this searing drama. Paul Newman Shines in the title role, George Kennedy as his sidekick won an Oscar(R). Year: 1967 Director: Stuart Rosenberg Starring: Paul Newman, George Kennedy, J.D. Cannon
The Fearless Vampire Killers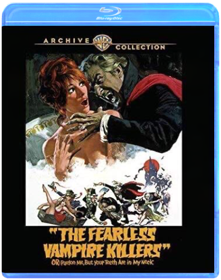 Roman Polanski
Its the living end, a fancy-dress ball for blood fiends in Count Von Krolocks Transylvanian castle. Surely no mortal would be foolish enough to infiltrate this hemogobbling horror of a soiree. But partygoers notice something in the ballroom mirrors: the reflections of humans vampire killers dancing among them. Director/cowriter Roman Polanski (The Pianist, Rosemary s Baby, Chinatown) spoofs vampire movies with this droll balancing act of shocks and laughs. He also portrays Alfred, mousy apprentice to a doddering researcher of vampirism (Jack MacGowran)...and the lovestruck defender of gorgeous Sarah (Sharon Tate) when the Count (Ferdy Mayne) tries to make her the ghoul of his dreams. It s all fang-tastic fun!
In Cold Blood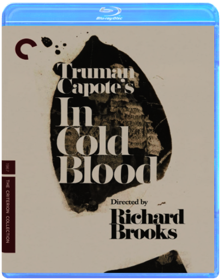 Richard Brooks
In Cold Blood is the powerful, true story of a callous murder, based upon the best-selling novel by Truman Capote. A prosperous and respected Kansas farmer, his wife and his two teenage children are wantonly and brutally slaughtered. The murderers are two mindless ex-convict drifters: Perry Smith (Robert Blake) and Dick Hickock (Scott Wilson). Neither of the men are sane enough to regret their crime. The story penetrates the inner workings of the criminals minds as it follows their purposeless meandering through Mexico and the United States in evasion of the law. After more than a year of wandering, the hunted men are finally caught, tried and in a dramatic conclusion condemned to hang.
In the Heat of the Night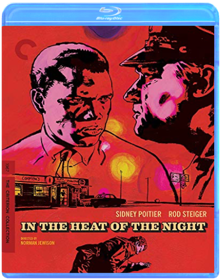 Norman Jewison
Marat / Sade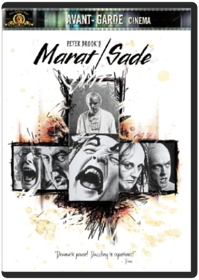 Tom Priestley, Peter Brook
Directed by Peter Brook and based on the TonyÂ(r) Award-winning play by Peter Weiss, this spellbinding tale of 'slashing power and disturbance (The Film Daily) bristles with the riveting energy and excellent (Variety) performances by the Royal Shakespeare Theatre Company, including Ian Richardson and Patrick Magee. Brimming with raving lunatics, crackling whips, catatonicseizuresand even musical interludesMarat/Sade is an exciting, overwhelming [and] stunning tour de force (Boxoffice)! When notorious social criticand inmate of Charenton's asylum for the insanethe Marquis de Sade (Magee), stages a play about the murder of the French Revolution's Jean-Paul Marat, the production takes on an alarming life of its own. And as tempers flare,arguments rage and chaos engulfs both the sane and the mad, the inmates finally turn against their keepersin a brilliant, breathtaking and completely bizarre conclusion'that will leave you raving for more!
Marketa Lazarová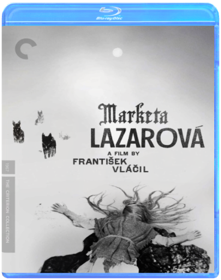 František Vláčil
In its home country, František Vlácil's Marketa Lazarová has been hailed as the greatest Czech film ever made; for many U.S. viewers, it will be a revelation. Based on a novel by Vladislav Vancura, this stirring and poetic depiction of a feud between two rival medieval clans is a fierce, epic, and meticulously designed evocation of the clashes between Christianity and paganism, humankind and nature, love and violence. Vlácil's approach was to re-create the textures and mentalities of a long-ago way of life, rather than to make a conventional historical drama, and the result is dazzling. With its inventive widescreen cinematography, editing, and sound design, Marketa Lazarová is an experimental action film.
Oedipus Rex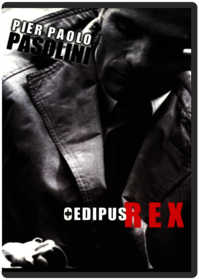 Pier Paolo Pasolini
Theatre of Mr & Mrs Kabal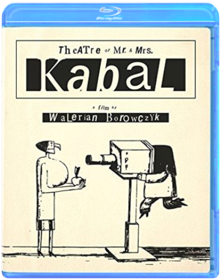 Walerian Borowczyk
Valley of the Dolls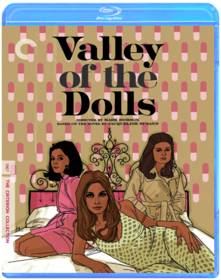 Mark Robson
Valley of the Dolls (The Criterion Collection) [Blu-ray] [Blu-ray] [2016] ...
2001: A Space Odyssey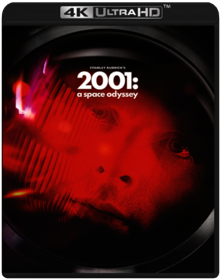 Stanley Kubrick
Barbarella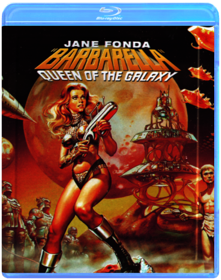 Roger Vadim
Sexy Barbarella roams 41st-century space with her blind guardian angel, Pygar.
Bullitt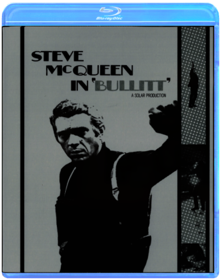 Peter Yates
Bullitt (BD)
Death by Hanging
Nagisa Oshima
Genius provocateur Nagisa Oshima (In the Realm of the Senses), an influential figure in the Japanese New Wave of the 1960s, made one of his most startling political statements with the compelling pitch-black satire Death by Hanging. In this macabre farce, a Korean man is sentenced to death in Japan but survives his execution, sending the authorities into a panic about what to do next. At once disturbing and oddly amusing, Oshima s constantly surprising film is a subversive and surreal indictment of both capital punishment and the treatment of Korean immigrants in his country.

BLU-RAY SPECIAL EDITION FEATURES 
- New, restored 4K digital transfer, with uncompressed monaural soundtrack
- New interview with critic Tony Rayns
- New high-definition digital transfer of director Nagisa Oshima s 1965 experimental short documentary Diary of Yunbogi
- Trailer
- New English subtitle translation
- PLUS: An essay by critic Howard Hampton
Death Laid an Egg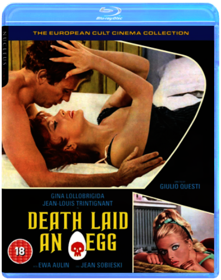 Giulio Questi
A woman (Ewa Aulin) plans to kill both her lover (Jean-Louis Trintignant) and his wife (Gina Lollobrigida) but conspires with each one to get the job done.

Complete and restored 104m director's cut
Complete and restored 91m "giallo" cut
; Italian and English 24 bit PCM Audio options
Audio Commentary with Alan Jones and Kim Newman
Optional English Subtitles for both versions
Featurette 1 - Discovering Questi (20 mins)
Featurette 2 - Sonic Explorations (24 mins)
Archive Interview with Giulio Questi (13 mins)
Antonio Bruschini - Film Review (5 mins)
BBFC film cuts (1969)
European Trash Cinema: "Death Laid an Egg" issue
Gallery 1 - Promotional Materials
Gallery 2 - Home Video Cover Scans
English opening credits
German opening credits
English trailer
Italian trailer + English subtitles
Greetings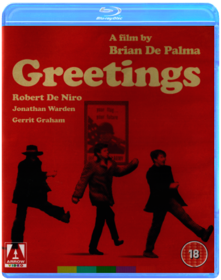 Brian De Palma
In 1963, Robert De Niro stepped in front of a movie camera for the first time. The resulting film, a low-budget black and white comedy called The Wedding Party, would take three years to complete, and another three years to be released, but it would also establish a hugely important working relationship for the aspiring actor. One of the filmmakers, long before he became synonymous with suspense thanks to Carrie, Dressed to Kill and other classics, was Brian De Palma. He and De Niro would team up again in the next few years for two more comedies, both with a countercultural bent.

Greetings, the first film to receive an X certificate in the United States, is a freewheeling satire focusing on a trio of twentysomething friends a conspiracy theorist, a filmmaker, and a voyeur played by De Niro as they try to avoid the Vietnam War draft. Hi, Mom!, originally named Son of Greetings, returns to De Niro s voyeur, now an aspiring maker of adult films, for another humorous glimpse at late-sixties society, this time turning its attentions to experimental theater, cinéma vérité, the African American experience, and the white middle classes.

Brought together for the first time and each newly restored by Arrow Films especially for this release these three films offer a fascinating insight into the early careers of two American cinema s major talents.

LIMITED EDITION CONTENTS New restoration from a 2K scan of The Wedding Party from the original film negative, carried out exclusively for this release by Arrow FilmsNew restoration from a 2K scan of Greetings and Hi, Mom! from original film materials, carried out exclusively for this release by Arrow FilmsOriginal uncompressed mono soundtracksOptional English subtitles for the deaf and hard of hearing on all three filmsBrand new commentary on Greetings by Glenn Kenny, author of Robert De Niro: Anatomy of an ActorBrand new appreciation of Brian De Palma and Robert De Niro s collaborations by critic and filmmaker Howard S. BergerBrand new interviews with Charles Hirsch, writer-producer of Greetings and Hi, Mom!Brand new interview with actor Gerrit Graham on Greetings, Hi, Mom! and his other collaborations with Brian De PalmaBrand new interview with actor Peter Maloney on Hi, Mom!Hi, Mom! theatrical trailerNewly commissioned artwork by Matthew GriffinLimited collector s edition booklet featuring new writing on the films by Brad Stevens, Chris Dumas and Christina Newland, plus an archive interview with Brian De Palma and Charles Hirsch
If....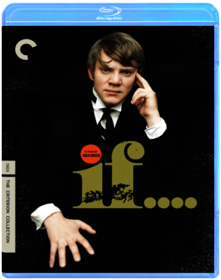 Lindsay Anderson
If…., directed by Lindsay Anderson (This Sporting Life), is a daringly chaotic vision of British society, set in a boarding school in late-sixties England. Before Kubrick made his mischief iconic in A Clockwork Orange, Malcolm McDowell made a hell of an impression as the insouciant Mick Travis, who, along with his school chums, trumps authority at every turn, finally emerging as a violent savior against the vicious games of one-upmanship played by both students and masters. Mixing color and black and white as audaciously as it mixes fantasy and reality, If…. remains one of cinema's most unforgettable rebel yells.
Night of the Living Dead
George A. Romero
Shot outside Pittsburgh on a shoestring budget by a band of filmmakers determined to make their mark, Night of the Living Dead, directed by horror master George A. Romero, is one of the great stories of independent cinema: a midnight hit turned box-office smash that became one of the most influential films of all time. A deceptively simple tale of a group of strangers trapped in a farmhouse who find themselves fending off a horde of recently dead, flesh-eating ghouls, Romero s claustrophobic vision of a late-1960s America literally tearing itself apart rewrote the rules of the horror genre, combined gruesome gore with acute social commentary, and quietly broke ground by casting a black actor (Duane Jones) in its lead role. Stark, haunting, and more relevant than ever, Night of the Living Dead is back, in a new 4K restoration.

TWO-BLU-RAY SPECIAL EDITION FEATURES
- New 4K digital restoration, supervised by director George A. Romero, coscreenwriter John A. Russo, sound engineer Gary R. Streiner, and producer Russell W. Streiner
- New restoration of the monaural soundtrack, supervised by Romero and Gary R. Streiner, and presented uncompressed
- Night of Anubis, a never-before-presented work-print edit of the film
- New program featuring filmmakers Frank Darabont, Guillermo del Toro, and Robert Rodriguez
- Never-before-seen 16 mm dailies reel
- New program featuring Russo about the commercial and industrial-film production company where key Night of the Living Dead filmmakers got their start
- Two audio commentaries from 1994, featuring Romero, Russo, producer Karl Hardman, actor Judith O Dea, and more
- Archival interviews with Romero and actors Duane Jones and Judith Ridley
- New programs about the editing, the score, and directing ghouls
- New interviews with Gary R. Streiner and Russel W. Streiner
- Trailer, radio spots, and TV spots
- More!
- PLUS: An essay by critic Stuart Klawans
The Producers
Mel Brooks
Rosemary's Baby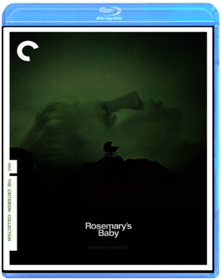 Roman Polanski
Terrifying and darkly comic, Rosemary's Baby marked the Hollywood debut of Roman Polanski (Repulsion). This wildly entertaining nightmare, faithfully adapted from Ira Levin's best seller, stars a revelatory Mia Farrow (Hannah and Her Sisters) as a young mother-to-be who grows increasingly suspicious that her overfriendly elderly neighbors, played by Sidney Blackmer (High Society) and an Oscar-winning Ruth Gordon (Harold and Maude), and self-involved husband (actor and filmmaker John Cassavetes) are hatching a satanic plot against her and her baby. In the decades of occult cinema Polanski's ungodly masterpiece has spawned, it's never been outdone for sheer psychological terror.
Shame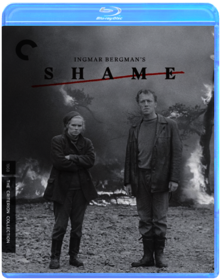 Ingmar Bergman
Former musicians Jan Rosenberg and his wife, Eva, have left the city to avoid a civil war and now live on a rural island where they tend a farm. While the situation seems idyllic, the couple's isolation begins to wear on their relationship, and eventually the armed conflict that they've tried to flee arrives on the quiet island in the form of soldiers. Try as they might, Jan and Eva ultimately can't evade either the war or their own marital problems.
Teorema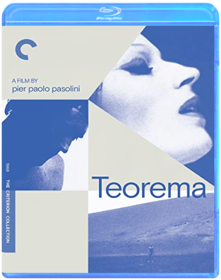 Pier Paolo Pasolini
Army of Shadows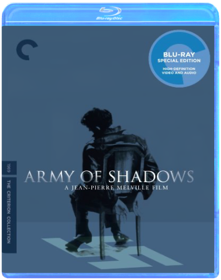 Jean-Pierre Melville
This masterpiece by Jean-Pierre Melville (Le doulos, Le cercle rouge) about the French Resistance went unreleased in the United States for thirty-seven years, until its triumphant theatrical debut in 2006. Atmospheric and gripping, Army of Shadows is Melville's most personal film, featuring Lino Ventura (Le deuxième souffle), Paul Meurisse (Diabolique), Jean-Pierre Cassel (The Discreet Charm of the Bourgeoisie), and the incomparable Simone Signoret (Casque d'or, Diabolique) as intrepid underground fighters who must grapple with their conception of honor in their battle against Hitler's regime.
The Damned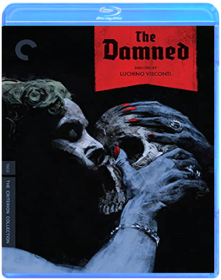 Luchino Visconti
Dillinger is Dead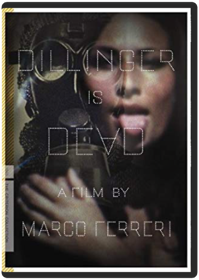 Mirella Mercio, Marco Ferreri
In this magnificently inscrutable late-sixties masterpiece, Marco Ferreri, one of European cinema's most idiosyncratic auteurs, takes us through the looking glass to one seemingly routine night in the life of an Italian gas mask designer, played, in a tour de force performance, by New Wave icon Michel Piccoli. In his claustrophobic, mod home, he pampers his pill-popping wife, seduces his maid, and uncovers a gun that may have once been owned by John Dillingerand then things get even stranger. A surreal political missive about social malaise, DILLINGER IS DEAD finds absurdity in the mundane. It is a singular experience, both illogical and grandly existential.
Easy Rider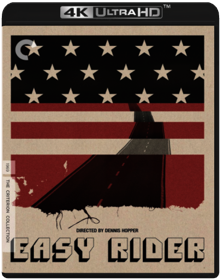 Dennis Hopper
Fellini Satyricon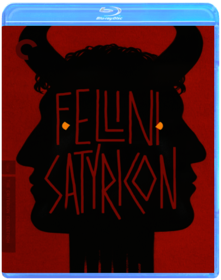 Federico Fellini
Federico Fellini's career achieved new levels of eccentricity and brilliance with this remarkable, controversial, extremely loose adaptation of Petronius's classical Roman satire, written during the reign of Nero. An episodic barrage of sexual licentiousness, godless violence, and eye-catching grotesquerie, Fellini Satyricon follows the exploits of two pansexual young men—the handsome scholar Encolpius and his vulgar, insatiably lusty friend Ascyltus—as they move through a landscape of free-form pagan excess. Creating apparent chaos with exquisite control, Fellini constructs a weird old world that feels like science fiction.
Medea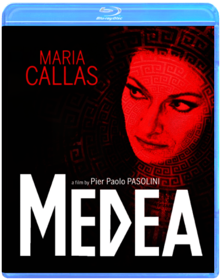 Pier Paolo Pasolini
Based on the Greek classic by Euripides, Pasolini's Medea tells the tale of Jason, the leader of the invincible army, and his quest for the Golden Fleece. Meeting the priestess of the Flees, Medea (Callas), Jason falls in love with her and takes her home as she sacrifices everything to be with him, including dismembering her own brother. Years later he spurns her for a new love, the young and beautiful Glauce. Medea, using her witch-craft powers, exacts a terrible revenge upon Jason leading to a terrifying climax where loyalty and betrayal are tried before the altar of human sacrifice. Opera legend Maria Callas stars in her only dramatic film role ever. Restored and re-mastered from a new 35mm film-to-tape transfer.
Midnight Cowboy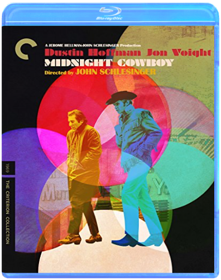 John Schlesinger
Porcile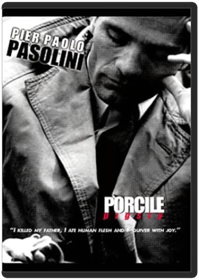 Pier Paolo Pasolini
Porcile, (Pigsty) the story of a cannibal in a medieval wasteland is interwoven with that of the son of an ex-Nazi industrialist in modern day Germany. The young German, who is more attracted to pigs than his fiancee, and the cannibal become sacrificial victims of their different societies. This strange, grotesque and thought provoking parable is filmed with such a calm beauty and underlying disgust that it gains a deep significance as an attack on the middle classes of the 20th century.
Putney Swope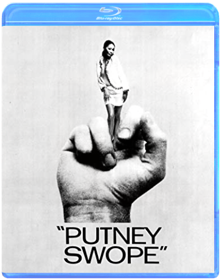 Robert Downey Sr.
Women in Love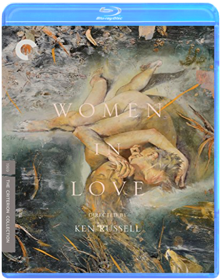 Ken Russell
-1970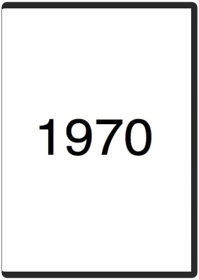 Beyond the Valley of the Dolls
Russ Meyer
Beyond the Valley of the Dolls (The Criterion Collection) [Blu-ray] [Blu-ray] [2016] ...
Five Easy Pieces
Bob Rafelson
Hercules in New York
Arthur Allan Seidelman
Hi, Mom!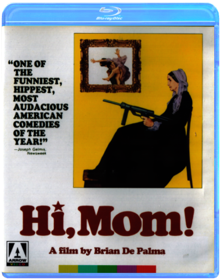 Brian De Palma
Investigation of a Citizen Above Suspicion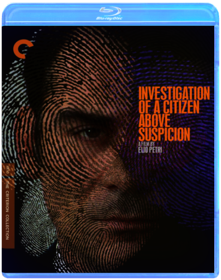 Elio Petri
The provocative Italian filmmaker Elio Petri's most internationally acclaimed work is this remarkable, visceral, Oscar-winning thriller. Petri maintains a tricky balance between absurdity and realism in telling the Kafkaesque tale of a Roman police inspector (A Fistful of Dollars's Gian Maria Volonté, in a commanding performance) investigating a heinous crime—which he committed himself. Both a penetrating character study and a disturbing commentary on the draconian crackdowns by the Italian government in the late 1960s and early '70s, Petri's kinetic portrait of surreal bureaucracy is a perversely pleasurable rendering of controlled chaos.
Multiple Maniacs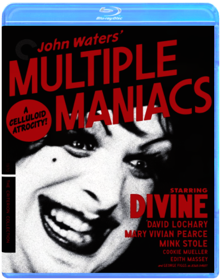 John Waters
Patton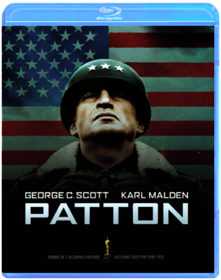 Franklin J. Schaffner
Start the Revolution Without Me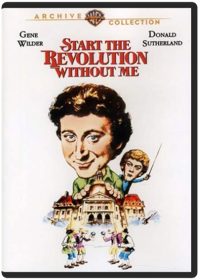 Bud Yorkin
Produced and directed by comedy veteran Bud Yorkin, Start the Revolution Without Me broke ground for a comedy revolution. It takes the tumultuous "let them eat cake" days of the French Revolution and gives everyone a figurative pie in the face. Two sets of twins are mismatched at birth so that years later, each set will have one Gene Wilder and one Donald Sutherland. One set grows up to be aristocratic swashbucklers; the other set are peasants. In a hilarious fluke of fate, they crisscross across classes. In the years following Start the Revolution Without Me, Woody Allen, Mel Brooks and the Abrahams/Zucker/Zucker team would all create madcap comedy masterpieces. A lineup like that must have had a tremendous Start.
El Topo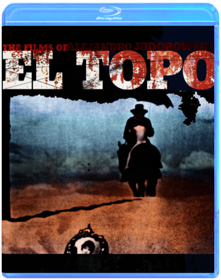 Alejandro Jodorowsky
It was the landmark cult film that began the whole Midnight Movie phenomena of the counterculture crazy 1970s. EL TOPO was the most talked about, most controversial quasi-Western head trip ever made, transforming the way risk-taking audiences, seeking mainstream Hollywood alternatives, watched edgy underground films. Classic Americana and avant-garde European cinema sensibilities meet Zen Buddhism and the Bible as master gunfighter and cosmic mystic El Topo (played by writer/director Alejandro Jodorowsky) must defeat his four sharp-shooting rivals on an ever-increasingly bizarre path to allegorical self-enlightenment and surreal resurrection.
Valerie and Her Week of Wonders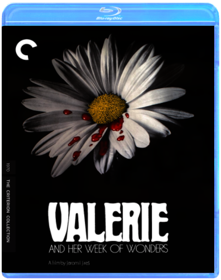 Jaromil Jire
A Clockwork Orange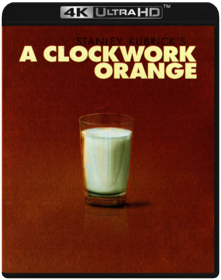 Stanley Kubrick
Clockwork Orange, A: Special Edition (BD)
Death in Venice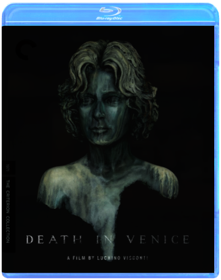 Luchino Visconti
The Decameron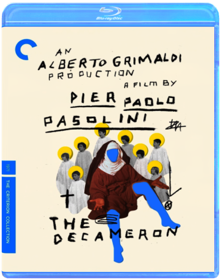 Pier Paolo Pasolini
The Devils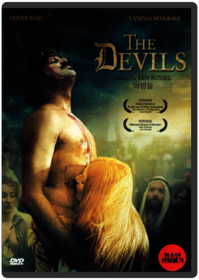 Ken Russell
The Emigrants / The New Land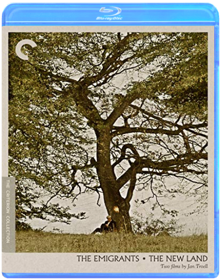 Jan Troell
The French Connection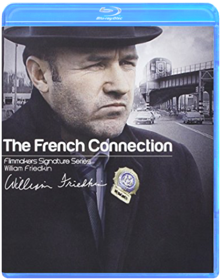 William Friedkin
Popeye Doyle and Buddy Russo get wind of a big shipment of Heroin and begin a tail of the suspects; and their French Connection; two French nationals who are the european link. As money troubles begin for the hoods they decide to kill Popeye and Buddy to give them enough room to bring in the Heroin. A combination of police procedural and action/car chase.
Harold and Maude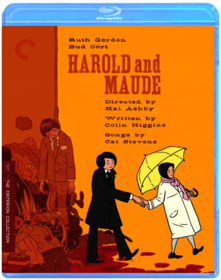 Hal Ashby
With the idiosyncratic American fable Harold and Maude, countercultural director Hal Ashby (Being There) fashioned what would become the cult classic of its era. Working from a script by Colin Higgins (9 to 5), Ashby tells the story of the emotional and romantic bond between a death-obsessed young man (The Life Aquatic with Steve Zissou's Bud Cort) from a wealthy family and a devil-may-care, bohemian octogenarian (Rosemary's Baby's Ruth Gordon). Equal parts gallows humor and romantic innocence, Harold and Maude dissolves the line between darkness and light along with the ones that separate people by class, gender, and age, and it features indelible performances and a remarkable soundtrack by Cat Stevens.
Klute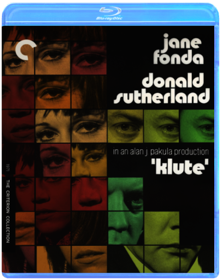 Alan J. Pakula
With her Oscar-winning turn in Klute, Jane Fonda arrived full-fledged as a new kind of movie star. Bringing nervy audacity and counterculture style to the role of Bree Daniels—a call girl and aspiring actor who becomes the focal point of a missing-person investigation when detective John Klute (Donald Sutherland) turns up at her door—Fonda made the film her own, putting an independent woman and escort on-screen with a frankness that had not yet been attempted in Hollywood. Suffused with paranoia by the conspiracy-thriller specialist Alan J. Pakula, and lensed by master cinematographer Gordon Willis, Klute is a character study thick with dread, capturing the mood of early-1970s New York and the predicament of a woman trying to find her own way on the fringes of society. BLU-RAY SPECIAL EDITIONFEATURES • New, restored 4K digital transfer, supervised by camera operator Michael Chapman, with uncompressed monaural soundtrack • New conversation between actors Jane Fonda and Illeana Douglas • New documentary about Klute and director Alan J. Pakula by filmmaker Matthew Miele, featuring scholars, filmmakers, and Pakula's family and friends • The Look of "Klute," a new interview with writer Amy Fine Collins • Archival interviews with Pakula and Fonda • "Klute" in New York, a short documentary made during the shooting of the film • PLUS: An essay by critic Mark Harris and excerpts from a 1972 interview with Pakula
A Lizard In a Woman's Skin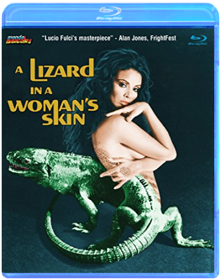 Lucio Fulci
Mondo Macabro is very proud to present A Lizard In A Women's Skin, released in HD on Blu-ray for the very first time in North America.

Carol Hammond, the frustrated wife of a successful London lawyer, is having bizarre, erotic dreams about her uninhibited neighbor, Julia Durer, who presides over noisy, sex and drug filled parties in the house next door. One night, Carol's dreams culminate in violent death and she wakes to find her nightmares have become reality - Julia has been murdered and Carol is the main suspect. This frightening discovery is just the beginning of a labyrinthine psycho sexual shocker which takes the viewer on a wild ride through a series of frequently breathtaking set pieces that set new standards for the Italian thriller.

This first US Blu-ray release of the film, taken from the original negative, is the longest uncut version currently available and it comes with a host of exclusive extras. Directed by controversial film maker Lucio Fulci (The New York Ripper, House by the Cemetery, Zombie), Lizard in a Woman's Skin is considered by many critics to be his finest achievement.

Special Features:Brand new HD transfer from film negativeShedding the Skin - documentaryDr Lucio Fulci's Day for Night - directed by Antonietta De Lillo - interview with Lucio FulciInterview with writer Stephen ThrowerInterview with actor Tony AdamsAudio commentary with Kris GavinTwo original trailersRadio spotsItalian/English Language/subtitle choices
Macbeth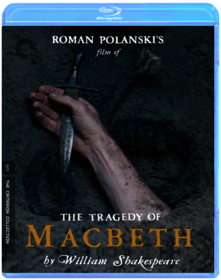 Roman Polanski
An 11th-century Scottish general's wife drives him to murder in Shakespeare's tragedy.
THX 1138
George Lucas
Two-Lane Blacktop
Monte Hellman
Drag racing east from L.A. in a souped-up '55 Chevy are the wayward Driver and Mechanic (singer/songwriter James Taylor and the Beach Boys' Dennis Wilson, in their only acting roles), accompanied by a tagalong Girl (Cockfighter's Laurie Bird). Along the way, they meet Warren Oates's Pontiac GTO–driving wanderer and challenge him to a cross-country race—the prize: their cars' pink slips. But no summary can do justice to the existential punch of Two-Lane Blacktop. With its gorgeous widescreen compositions and sophisticated look at American male obsession, this stripped-down narrative from maverick director Monte Hellman (The Shooting) is one of the artistic high points of 1970s cinema, and possibly the greatest road movie ever made.
Vanishing Point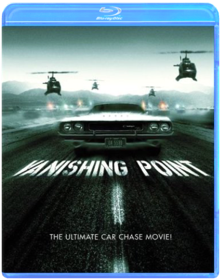 Richard C. Sarafian
During the 1970s, car delivery driver Kowalski delivers hot rods in record time but always runs into trouble with the highway cops.
Wake in Fright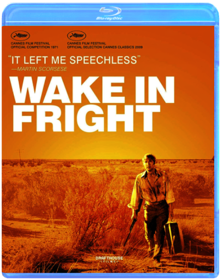 Ted Kotcheff
Includes SRM Free Digital Download

Awe-inspiring, brutal and stunning, WAKE IN FRIGHT is the story of John Grant, a bonded teacher who arrives in the rough outback mining town of Bundanyabba, planning to stay overnight before catching the plane to Sydney. But, as his one night stretches to five, he plunges headlong toward his own destruction. When the alcohol-induced mist lifts, the educated John Grant is no more. Instead there is a self-loathing man in a desolate wasteland, dirty, red-eyed, sitting against a tree and looking at a rifle with one bullet left... Believed lost for many years, WAKE IN FRIGHT has been painstakingly restored by Australia's National Film and Sound Archive and AtLab Deluxe, and is presented in its original uncompromising form.
Willy Wonka & the Chocolate Factory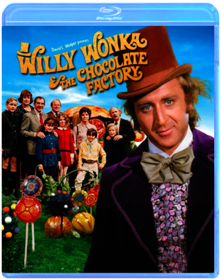 Mel Stuart
Willy Wonka & The Chocolate Factory (BD)
Aguirre, Wrath of God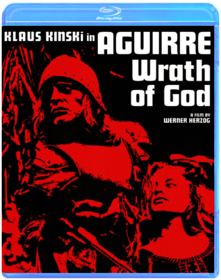 Werner Herzog
Quick Shipping !!! New And Sealed !!! This Disc WILL NOT play on standard US DVD player. A multi-region PAL/NTSC DVD player is request to view it in USA/Canada. Please Review Description.
The Canterbury Tales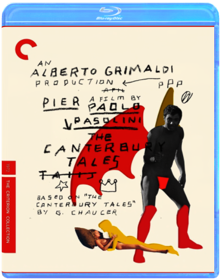 Pier Paolo Pasolini
Cries and Whispers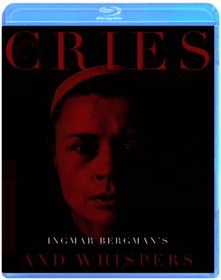 Ingmar Bergman
Deliverance
John Boorman
In the unfamiliar Appalachian backwoods, a weekend of male bonding for four inexperienced campers turns into a gut-wrenching fight for survival against the merciless forces of nature and the brutality of man. Their only escape is a terrifying canoe ride down the raging rapids of the Chattooga River. If their heartless pursuers don't kill them, the treacherous waters just might.
Fritz the Cat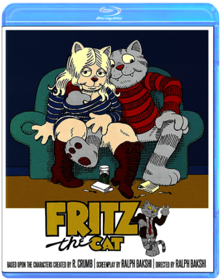 Ralph Bakshi
Full-length adult animated movie featuring a hypocritical swinging college student cat who raises hell in a satiric vision of various elements on the 1960's.
Godfather Collection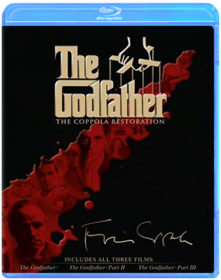 Francis Ford Coppola
THE GODFATHER: Popularly viewed as one of the best American films ever made, the multi-generational crime saga The Godfather (1972) is a touchstone of cinema: one of the most widely imitated, quoted, and lampooned movies of all time. Marlon Brando and Al Pacino star as Vito Corleone and his youngest son, Michael, respectively. It is the late 1940s in New York and Corleone is, in the parlance of organized crime, a "godfather" or "don," the head of a Mafia family. Michael, a free thinker who defied his father by enlisting in the Marines to fight in World War II, has returned a captain and a war hero. Having long ago rejected the family business, Michael shows up at the wedding of his sister, Connie (Talia Shire), with his non-Italian girlfriend, Kay (Diane Keaton), who learns for the first time about the family "business." A few months later at Christmas time, the don barely survives being shot by gunmen in the employ of a drug-trafficking rival whose request for aid from the Corleones' political connections was rejected. After saving his father from a second assassination attempt, Michael persuades his hotheaded eldest brother, Sonny (James Caan), and family advisors Tom Hagen (Robert Duvall) and Sal Tessio (Abe Vigoda) that he should be the one to exact revenge on the men responsible. After murdering a corrupt police captain and the drug trafficker, Michael hides out in Sicily while a gang war erupts at home. Falling in love with a local girl, Michael marries her, but she is later slain by Corleone enemies in an attempt on Michael's life. Sonny is also butchered, having been betrayed by Connie's husband. As Michael returns home and convinces Kay to marry him, his father recovers and makes peace with his rivals, realizing that another powerful don was pulling the strings behind the narcotics endeavor that began the gang warfare. Once Michael has been groomed as the new don, he leads the family to a new era of prosperity, then launches a campaign of murderous revenge against those who once tried to wipe out the Corleones, consolidating his family's power and completing his own moral downfall. Nominated for 11 Academy Awards and winning for Best Picture, Best Actor (Marlon Brando), and Best Adapted Screenplay, The Godfather was followed by a pair of sequels.

THE GODFATHER PART II: This brilliant companion piece to the original The Godfather continues the saga of two generations of successive power within the Corleone family. Coppola tells two stories in Part II: the roots and rise of a young Don Vito, played with uncanny ability by Robert De Niro, and the ascension of Michael (Al Pacino) as the new Don. Reassembling many of the talents who helped make The Godfather, Coppola has produced a movie of staggering magnitude and vision, and undeniably the best sequel ever made. Robert De Niro won an Oscar®; the film received six Academy Awards, including Best Picture of 1974.

THE GODFATHER PART III: One of the greatest sagas in movie history continues! In this third film in the epic Corleone trilogy, Al Pacino reprises the role of powerful family leader Michael Corleone. Now in his 60's, Michael is dominated by two passions: freeing his family from crime and finding a suitable successor. That successor could be fiery Vincent (Andy Garcia)... but he may also be the spark that turns Michael's hope of business legitimacy into an inferno of mob violence. Francis Ford Coppola directs Pacino, Garcia, Diane Keaton, Talia Shire, Eli Wallach, Sofia Coppola, Joe Montegna and others in this exciting, long-awaited film that masterfully explores the themes of power, tradition, revenge and love. Seven Academy Award® nominations, including Best Picture.
Horror Express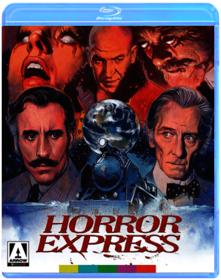 Eugenio Martín
The Last House on the Left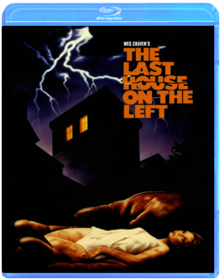 Wes Craven
MARI, SEVENTEEN, IS DYING. EVEN FOR HER THE WORST IS YET TO COME!

The directorial debut of Wes Craven, the man behind such horror favorites as A Nightmare on Elm Street, The Hills Have Eyes and Scream, The Last House on the Left justly retains its reputation as one of the most harrowing cinematic experiences of all time, nearly half a century on from its original release.

On the eve of her 17th birthday, Mari and friend Phyllis set off from her family home to the big city to attend a concert by shock-rockers Bloodlust. Attempting to pick up some marijuana on the way, the pair run afoul of a group of vicious crooks, headed up by the sadistic and depraved Krug (David Hess). Gagged and bound, the young women are bundled into a car trunk and driven to the woods, where the gang subject them to a terrifying ordeal of sexual humiliation, torture and murder.

Unleashed on an unsuspecting public in 1972, The Last House on the Left shocked audiences with its graphic and unflinching portrayal of interpersonal violence, paving the way for a whole host of cheap imitators looking to capitalize on its success. It is Wes Craven's original alone, however, that remains one of the true watershed moments in horror (and indeed, film) history.

3-DISC LIMITED EDITION CONTENTS Three cuts of the film newly restored in 2K from original film elementsOriginal Uncompressed Mono AudioOptional English subtitles for the deaf and hard of hearing6 x lobby card reproductionsDouble-sided poster featuring original and newly commissioned artworkReversible sleeve featuring original and newly commissioned artworkLimited edition 60 page perfect-bound book featuring new writing on the film by author Stephen Thrower

DISC ONE [BLU-RAY] – THE UNRATED CUT High Definition Blu-ray (1080p) presentation of the Unrated VersionIsolated score newly remastered from the original 17.5" magnetic tracksBrand new audio commentary by podcasters Bill Ackerman and Amanda ReyesArchival audio commentary with writer/director Wes Craven and producer Sean S. CunninghamArchival audio commentary with stars David Hess, Marc Sheffler and Fred LincolnArchival introduction to the film by Wes CravenStill Standing: The Legacy of The Last House on The Left – archival interview with Wes CravenCelluloid Crime of the Century – archival documentary featuring interviews with Wes Craven, Sean S. Cunningham, actors David Hess, Fred Lincoln, Jeramie Rain, Marc Sheffler and Martin KoveScoring Last House on the Left – archival interview with actor/composer David HessIt's Only a Movie: The Making of The Last House on the Left – archival documentaryForbidden Footage – the cast and crew of Last House on the film's most controversial sequencesJunior's Story – a brand new interview with actor Marc ShefflerBlood and Guts- a brand new interview with makeup artist Anne PaulThe Road Leads to Terror - a brand new featurette revisiting the film's original shooting locationsDeleted Scene - Mari Dying at the LakeExtended Outtakes and Dailies , newly transferred in HDTrailers, TV Spot & Radio SpotsImage Galleries

DISC TWO [BLU-RAY] – THE KRUG & COMPANY & R-RATED CUTS High Definition Blu-ray (1080p) presentation of the Krug and Company and R-rated cuts of the filmThe Craven Touch – brand new featurette bringing together interviews with a number of Wes Craven's collaborators, including Sean S. Cunningham, composer Charles Bernstein, producer Peter Locke, cinematographer Mark Irwin and actress Amanda WyssEarly Days and 'Night of Vengeance' – filmmaker Roy Frumkes remembers Wes Craven and Last House on the LeftTales That'll Tear Your Heart Out – excerpts from an unfinished Wes Craven shortQ&A with Marc Sheffler from a 2017 screening of the film at The American CinemathequeKrug Conquers England - archival featurette charting the theatrical tour of the first ever uncut screening of the film in the UK

DISC THREE [CD] – 'THE LAST HOUSE ON THE LEFT' ORIGINAL MOTION PICTURE SOUNDTRACK CD featuring the complete, newly remastered film score
Last Tango in Paris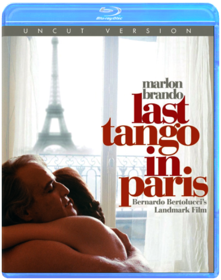 Bernardo Bertolucci
Penetrate the moody, sensual world of Last Tango in Paris, and prepare yourself for "the most controversial film of its era" (Leonard Maltin). Nominated for two Academy Awards® Director (Bernardo Bertolucci) and Actor (Marlon Brando) and exuding a sexual energy unlike any film before or after, this is the scintillating classic that shocked a nation... and "altered the face of an art form" (Pauline Kael). He (Brando) is a 45-year old American living in Paris, haunted by his wife's suicide. She (Maria Schneider, Jane Eyre) is a 20-year-old Parisian beauty engaged to a young filmmaker. Though nameless to each other, these tortured souls come together to satisfy their sexual cravings in an apartment as bare as their dark, tragic lives. Caught up in the frenzied beat of a carnal dance they cannot seem to stop, these unlikely lovers take their passion to erotic heights and depths beyond anything they could ever have imagined.
Lone Wolf and Cub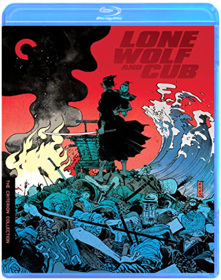 Kenji Misumi
Based on the best-selling manga series, the six intensely kinetic Lone Wolf and Cub films elevated chanbara to bloody, new heights. The shogun s executioner, Itto Ogami (Tomisaburo Wakayama), takes to wandering the countryside as an assassin along with his infant son Daigoro (Akihiro Tomikawa) and an infinitely weaponized perambulator helping those he encounters while seeking vengeance for his murdered wife. Delivering stylish thrills and a body count that defies belief, Lone Wolf and Cub is beloved for its brilliantly choreographed and unbelievably violent action sequences as well as for its tender depiction of the bonds between parent and child.

SPECIAL EDITION THREE-BLU-RAY BOX SET FEATURES
- New 2K digital restorations of all six films, with uncompressed monaural soundtracks
- High-definition presentation of Shogun Assassin, the 1980 English-dubbed reedit of the first two Lone Wolf and Cub films
- New interview with Kazuo Koike, writer of the Lone Wolf and Cub manga series and screenwriter on five of the films
- Lame d un père, l âme d un sabre, a 2005 documentary about the making of the series
- New interview in which Sensei Yoshimitsu Katsuse discusses and demonstrates the real Suio-ryu sword techniques that inspired those in the manga and films
- New interview with biographer Kazuma Nozawa about filmmaker Kenji Misumi, director of four of the six Lone Wolf and Cub films
- Silent documentary from 1937 about the making of samurai swords, with an optional new ambient score by Ryan Francis
- Trailers
- New English subtitle translations
- PLUS: A booklet featuring an essay and film synopses by Japanese pop culture writer Patrick Macias
Robert Altman's Images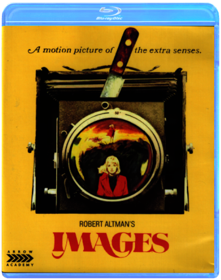 Robert Altman
The early seventies were a period of remarkable activity for Robert Altman, producing masterpiece after masterpiece. At the time he came to make Images, MASH and McCabe & Mrs. Miller were behind him, with The Long Goodbye, California Split and Nashville still to come.

Originally conceived in the mid-sixties, Images concerns a pregnant children s author (Susannah York, who won the Best Actress award at the Cannes Film Festival) whose husband (Rene Auberjonois) may or may not be having an affair. While on vacation in Ireland, her mental state becomes increasingly unstable resulting in paranoia, hallucinations and visions of a doppelgänger.

Scored by an Oscar-nominated John Williams, with sounds by Stomu Yamash'ta (The Man Who Fell to Earth), Images also boasts the remarkable cinematography of Vilmos Zsigmond (Close Encounters of the Third Kind).

SPECIAL EDITION CONTENTS Brand-new 4K restoration from the original negative, produced by Arrow Films exclusively for this releaseHigh Definition Blu-ray (1080p) presentationOriginal English mono audio (uncompressed LPCM) soundtracksOptional English subtitles for the deaf and hard-of-hearingAudio commentary by Samm Deighan and Kat EllingerScene-select commentary by writer-director Robert AltmanInterview with Robert AltmanBrand new interview with actor Cathryn HarrisonAn appreciation by musician and author Stephen ThrowerTheatrical trailerReversible sleeve featuring original and newly commissioned artwork by the Twins of EvilFIRST PRESSING ONLY: Illustrated collector s booklet featuring new writing on the film by Carmen Gray and an extract from Altman on Altman
The Ruling Class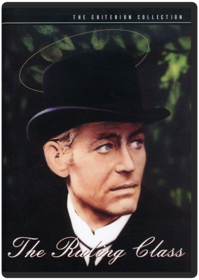 Ray Lovejoy, Peter Medak
Peter O'Toole gives a tour-de-force performance as Jack, a man "cured" of believing he's God-only to become Jack the Ripper incarnate. Based on Peter Barnes' irreverent play, this darkly comic indictment of Britain's class system peers behind the closed doors of English aristocracy. Insanity, sadistic sarcasm, and black comedy-with just a touch of the Hollywood musical-are all featured in this beloved cult classic directed by Peter Medak.
Slaughterhouse-Five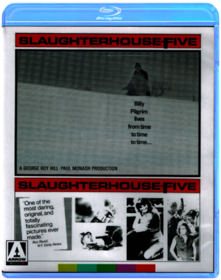 George Roy Hill
Solaris
Andrei Tarkovsky
Ground control has been receiving strange transmissions from the remaining residents of the Solaris space station. When cosmonaut and psychologist Kris Kelvin is sent to investigate, he experiences the strange phenomena that afflict the Solaris crew, sending him on a voyage into the darkest recesses of his own consciousness. In Solaris, the legendary Russian filmmaker Andrei Tarkovsky (Ivan's Childhood, Andrei Rublev) gives us a brilliantly original science-fiction epic that challenges our conceptions about love, truth, and humanity itself.
Amarcord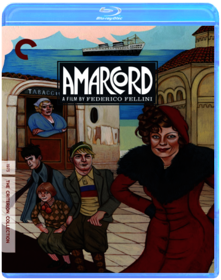 Federico Fellini
In his carnivalesque portrait of provincial Italy during the Fascist period, Federico Fellini satirizes his youth and turns daily life into a circus of social rituals, adolescent desires, male fantasies, and political repartee, all set to Nino Rota's classic, nostalgia-tinged score. The Academy Award-winning Amarcord was one of Fellini's most popular films and remains one of cinema's enduring treasures.
Badlands
Terrence Malick
Badlands announced the arrival of a major talent: Terrence Malick (Days of Heaven). His impressionistic take on the notorious Charles Starkweather and Caril Ann Fugate killing spree of the late 1950s uses a serial-killer narrative as a springboard for an oblique teenage romance, lovingly and idiosyncratically enacted by Martin Sheen (Apocalypse Now) and Sissy Spacek (Carrie). The film also introduced many of the elements that would earn Malick his passionate following: the enigmatic approach to narrative and character, the unusual use of voice-over, the juxtaposition of human violence with natural beauty, the poetic investigation of American dreams and nightmares. This debut has spawned countless imitations, but none have equaled its strange sublimity.
Belladonna of Sadness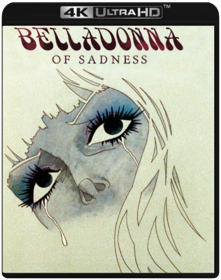 Eiichi Yamamoto
One of the great lost masterpieces of Japanese animation, never before officially released in the U.S., BELLADONNA OF SADNESS is a mad, swirling, psychedelic light-show of medieval tarot-card imagery with horned demons, haunted forests and La Belle Dame Sans Merci with J.R.R. Tolkien influences. The last film in the Animerama trilogy produced by the godfather of Japanese anime & manga, Osamu Tezuka and directed by his longtime collaborator Eiichi Yamamoto (ASTRO BOY and KIMBA THE WHITE LION), BELLADONNA unfolds as a series of spectacular still watercolor paintings that bleed and twist together. A young woman, Jeanne (voiced by Aiko Nagayama) is assaulted by the local lord on her wedding night. To take revenge, she makes a pact with the Devil himself (voiced by Tatsuya Nakadai, from Akira Kurosawa's RAN) who appears as a sprite and transforms her into a black-robed vision of madness and desire.

Extremely transgressive, BELLADONNA is fueled by a mind-blowing Japanese psych rock soundtrack by noted avant-garde jazz composer Masahiko Satoh. The film has been newly restored by Cinelicious Pics using the original 35 mm camera negative and sound elements and including over 8 minutes of surreal footage cut from the negative. On par with Rene Laloux's FANTASTIC PLANET and Ralph Bakshi's WIZARDS as an LSD-stoked 1970s head trip, BELLADONNA marks a major rediscovery for animation fans. If Led Zeppelin had a favorite film, this would be it. In other words, Stairway to Hell.

Special Features:New Video Interviews with Director Eiichi Yamamoto, Art Director Kuni Fukai, and Composer Masahiko SatohRed Band Trailer, Green Band Trailer, Original Trailer16 page booklet
Don't Look Now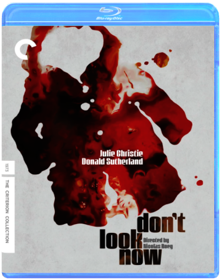 Nicolas Roeg
Donald Sutherland (Klute) and Julie Christie (Darling) mesmerize as a married couple on an extended trip to Venice following a family tragedy. While in that elegantly decaying city, they have a series of inexplicable, terrifying, and increasingly dangerous experiences. A masterpiece from Nicolas Roeg (Walkabout), Don't Look Now, adapted from a story by Daphne du Maurier (Rebecca), is a brilliantly disturbing tale of the supernatural, as renowned for its innovative editing and haunting cinematography as its explicit eroticism and unforgettable denouement, one of the great endings in horror history.
The Exorcist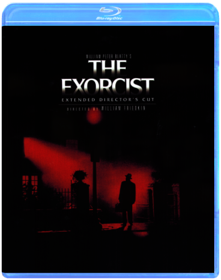 William Friedkin
Controversial and popular from the moment it opened, The Exorcist marks its historic Blu-ray premiere in a 2-Disc Edition featuring Stunning Hi-Def Presentations of the Original 1973 Theatrical Version and the 2000 Extended Director's Cut. The frightening and realistic tale of an innocent girl inhabited by a terrifying entity, her mother's frantic resolve to save her and two priests—one doubt-ridden, the other a rock of faith—joined in battling ultimate evil always leaves viewers breathless. This greatest supernatural thriller of all time astonishes and unsettles like no other movie.
Fantastic Planet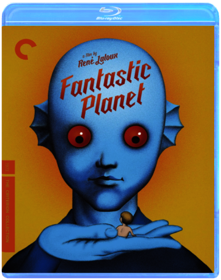 René Laloux
Watched Once. From a Private Collection. Kept in Great Condition.
Flesh for Frankenstein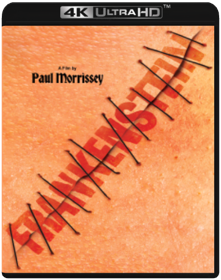 Paul Morrissey
The Holy Mountain
Alejandro Jodorowsky
The Alchemist (Alejandro Jodorowsky) assembles together a group of people from all walks of life to represent planets in the solar system. The occult adept s intention is to put the recruits though strange mystical rites and divest them of their worldly baggage before embarking on a trip to Lotus Island where they ascend The Holy Mountain to displace the immortal gods who secretly rule the universe. The big budget follow-up to Alejandro Jodorowsky's El Topo, The Holy Mountain premiered at the 1973 Cannes Film Festival, causing riots to break out in response to Jodorowsky s flood of sacrilegious imagery, existential symbolism and spiritual quest for entitlement pitting illusion against truth. Visually and viscerally, the film is a masterwork that benefitted greatly from a labor intensive 2K scan restoration, which enhanced The Holy Mountain's color palate from its initial release.
Mean Streets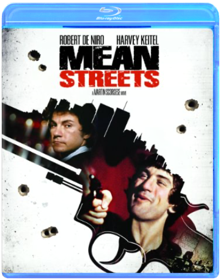 Martin Scorsese
Sisters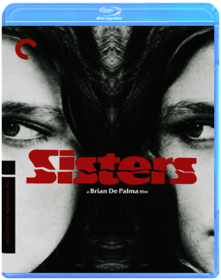 Brian De Palma
Margot Kidder is Danielle, a beautiful model separated from her Siamese twin, Dominique. When a hotshot reporter (Jennifer Salt) suspects Dominique of a brutal murder, she becomes dangerously ensnared in the sisters' insidious sibling bond. A scary and stylish paean to female destructiveness, Brian De Palma's first foray into horror voyeurism is a stunning amalgam of split-screen effects, bloody birthday cakes, and a chilling score by frequent Hitchcock collaborator Bernard Herrmann.
The Sting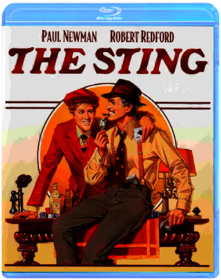 George Roy Hill
Winner of 7 Academy Awards, including Best Picture, The Sting stars Paul Newman and Robert Redford as two con men in 1930s Chicago. After a friend is killed by the mob, they try to get even by attempting to pull off the ultimate 'sting.' No one is to be trusted as the twists unfold, leading up to one of the greatest double-crosses in movie history. The con is on!
The Wicker Man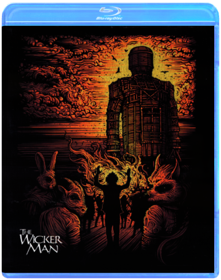 Robin Hardy
A police sergeant comes to a Scottish isle where a local lord presides over a sacrificial pagan cult.
World on a Wire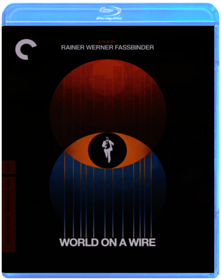 Rainer Werner Fassbinder
World on a Wire is a gloriously paranoid, boundlessly inventive take on the future from German wunderkind Rainer Werner Fassbinder (The Marriage of Maria Braun). With dashes of Stanley Kubrick, Kurt Vonnegut, and Philip K. Dick, as well as a flavor entirely his own, Fassbinder tells the noir-spiked tale of a reluctant action hero, Fred Stiller (The Odessa File's Klaus Lowitsch), a cybernetics engineer who uncovers a massive corporate conspiracy. At risk? (Virtual) reality as we know it. Originally made for German television, this recently rediscovered, three-and-a-half-hour labyrinth is a satiric and surreal look at the weird world of tomorrow from one of cinema's kinkiest geniuses.
Arabian Nights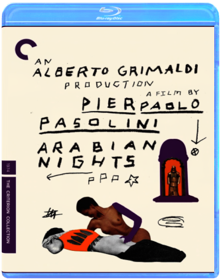 Pier Paolo Pasolini
Blazing Saddles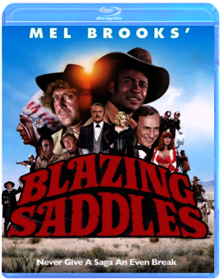 Mel Brooks
Blood for Dracula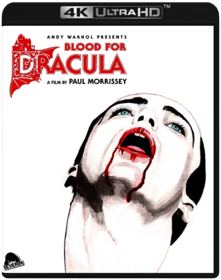 Paul Morrissey
Chinatown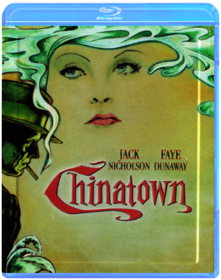 Roman Polanski
Female Trouble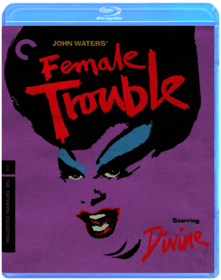 John Waters
General Idi Amin Dada: A Self-Portrait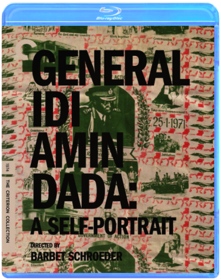 Barbet Schroeder
In 1974, Barbet Schroeder went to Uganda to make a film about Idi Amin, the country's ruthless, charismatic dictator. Three years into a murderous regime that would be responsible for the deaths of hundreds of thousands of Ugandans, Amin prepared a triumphal greeting for the filmmakers, staging rallies, military maneuvers, and cheery displays of national pride, and envisioning the film as an official portrait to adorn his cult of personality. Schroeder, however, had other ideas, emerging with a disquieting, caustically funny brief against Amin, in which the dictator's own endless stream of testimony charming, menacing, and nonsensical by turns serves as the most damning evidence. A revelatory tug-of-war between subject and filmmaker, General Idi Amin Dada: A Self-Portrait is a landmark in the art of documentary and an appalling study of egotism in power.

DIRECTOR-APPROVED BLU-RAY SPECIAL EDITION FEATURES
- New, restored 2K digital transfer, supervised by director Barbet Schroeder, with uncompressed monaural soundtrack
- New interview with Schroeder
- New interview with journalist and author Andrew Rice about Idi Amin's regime
- PLUS: An essay by critic J. Hoberman
The Night Porter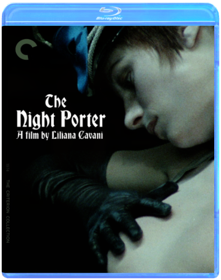 Liliana Cavani
NIGHT PORTER (BLU-RAY/1974/WS 1.85/ENG/ENG SDH)
Phantom of the Paradise
Brian De Palma
Phantom Of The Paradise is a ground-breaking cult film favorite from acclaimed writer/director Brian De Palma (Carrie, Dressed To Kill).

Paul Williams wrote the acclaimed score for this musical horror classic, and stars as an evil record tycoon haunted and taunted by the disfigured composer Winslow Leach (William Finley, Sisters) he once wronged. Cheered by the Los Angeles Times as a delightful, outrageous…visual triumph, and also starring Jessica Harper (Suspiria, Shock Treatment) and Gerrit Graham (Used Cars, Terrorvision), this hilarious send-up of the glam rock era is pure entertainment from beginning to end.
The Road Trilogy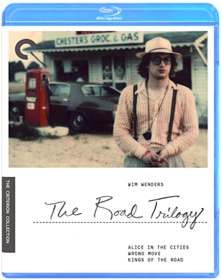 Wim Wenders
Sweet Movie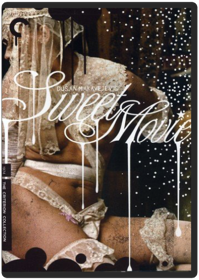 Dusan Makavejev
Pushing his themes of sexual liberation to their boiling point, Yugoslavian art-house provocateur Dusan Makavejev followed his international sensation WR: Mysteries of the Organism with this full-throated shriek in the face of bourgeois complacency and movie watching. Sweet Movie tackles the limits of personal and political freedom with kaleidoscopic feverishness, shuttling viewers from a gynecological beauty pageant to a grotesque food orgy with scatological, taboo-shattering glee. With its lewd abandon and sketch-comedy perversity, Sweet Movie became both a cult staple and an exemplar of the envelope pushing of 1970s cinema
The Texas Chain Saw Massacre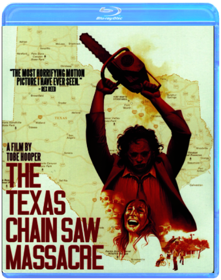 Tobe Hooper
It has been called grisly, sick, and perverse, , as well as raw, unshakeable, and the movie that redefined horror. It was attacked by churches, banned by governments, and acclaimed by only the bravest of critics. It stunned audiences worldwide and set a new standard in movie terror forever. Today writer-producer-director Tobe Hooper s dark, visionary tale remains unparalleled in its impact as perhaps the most frightening motion picture ever made.

To celebrate the 40th anniversary of this beloved horror classic, MPI Media Group presents the original restored film in an all-new 4k scan authorized by Tobe Hooper, featuring a dynamic new 7.1 surround sound mix and never-before-seen outtakes!
Young Frankenstein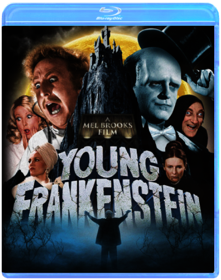 Mel Brooks
Zardoz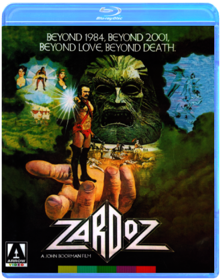 John Boorman
Barry Lyndon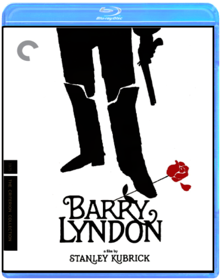 Stanley Kubrick
Stanley Kubrick bent the conventions of the historical drama to his own will in this dazzling vision of brutal aristocracy, adapted from a novel by William Makepeace Thackeray. In picaresque detail, Barry Lyndon chronicles the adventures of an incorrigible trickster (Ryan O'Neal) whose opportunism takes him from an Irish farm to the battlefields of the Seven Years' War and the parlors of high society. For the most sumptuously crafted film of his career, Kubrick recreated the decadent surfaces and intricate social codes of the period, evoking the light and texture of eighteenth-century painting with the help of pioneering cinematographic techniques and lavish costume and production design, all of which earned Academy Awards. The result is a masterpiece a sardonic, devastating portrait of a vanishing world whose opulence conceals the moral vacancy at its heart.

TWO-BLU-RAY SPECIAL EDITION FEATURES
- New 4K digital restoration, with uncompressed monaural soundtrack
- Alternate 5.1 surround DTS-HD Master Audio soundtrack
- New documentary featuring cast and crew interviews as well as excerpts from a 1976
audio interview with director Stanley Kubrick
- New program about the film's groundbreaking visuals, featuring focus puller Douglas Milsome and gaffer Lou Bogue, as well as excerpts from a 1980 interview with cinematographer John Alcott
- New program about Academy Award winning production designer Ken Adam with historian Sir Christopher Frayling
- New interview with editor Anthony Lawson
- French television interview from 1976 with Oscar-winning costume designer Ulla-Britt Soderlund
- New interview with critic Michel Ciment
- New interview with actor Leon Vitali about the 5.1 surround soundtrack, which he cosupervised
- New piece analyzing the fine-art-inspired aesthetics of the film with art curator Adam Eaker
- PLUS: An essay by critic Geoffrey O'Brien and two pieces about the film from the March 1976 issue of American Cinematographer
Black Moon
Louis Malle
Louis Malle (The Lovers, Au revoir les enfants) meets Lewis Carroll in this bizarre and bewitching trip down the rabbit hole. After skirting the horrors of an unidentified war being waged in an anonymous countryside, a beautiful young woman (Cathryn Harrison) takes refuge in a remote farmhouse, where she becomes embroiled in the surreal domestic odyssey of a mysterious family. Evocatively shot by cinematographer Sven Nykvist (Cries and Whispers, Fanny and Alexander), Black Moon is a Freudian tale of adolescent sexuality set in a postapocalyptic world of shifting identities and talking animals. It is one of Malle's most experimental films and a cinematic daydream like no other.
Death Race 2000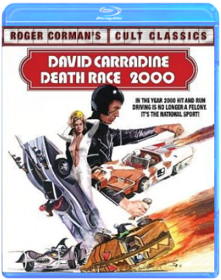 Paul Bartel
Dog Day Afternoon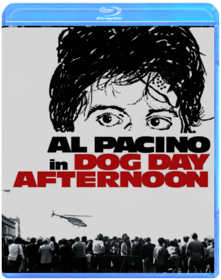 Sidney Lumet
F for Fake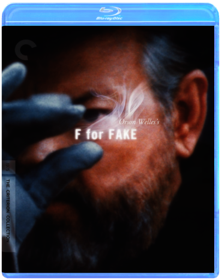 Orson Welles
Orson Welles wrote and directed this study of famous frauds, including Howard Hughes book hoaxer Clifford Irving.
Jaws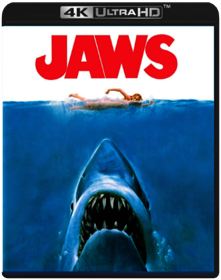 Steven Spielberg
Directed by Academy Award® winner Steven Spielberg, Jaws set the standard for edge-of-your-seat suspense quickly becoming a cultural phenomenon and forever changing the movie industry. When the seaside community of Amity finds itself under attack by a dangerous great white shark, the town's chief of police (Roy Scheider), a young marine biologist (Richard Dreyfuss) and a grizzled shark hunter (Robert Shaw) embark on a desperate quest to destroy the beast before it strikes again. Featuring an unforgettable score that evokes pure terror, Jaws remains one of the most influential and gripping adventures in motion picture history.
Lisztomania
Ken Russell
The shaggy-maned idol rips into his song – and the audience screams with excitement. Some ecstatic fans storm the stage, wanting simply to touch him. Some want to bear his child. One adoring woman announces she already has. And outside the hall, a horse-drawn carriage waits to whisk the performer away. Meet Franz Liszt (Roger Daltrey), rock star, circa 1840. And great ready for all the glitter, groupies and gaudy good times of Lisztomania. The incredible list of frenzied delights goes on and on in this splendiferous extravaganza from writer/director Ken Russell, whose works include Women in Love, Altered States and Crimes of Passion. He takes you where no one else does. Or dares. Brace yourself for Lisztomania. Viewers expecting a polite gathering of people neatly posed on Louis XVI furniture are going to be blown out of their chairs, but good!
The Mirror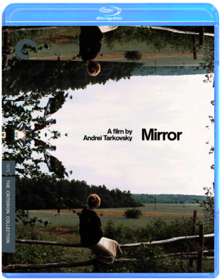 Andrei Tarkovsky
Monty Python and the Holy Grail
Terry Gilliam
The Monty Python team are at it again in their second movie. This time we follow King Arthur and his knights in their search for the Holy Grail. This isn't your average medieval knights and horses story - for a start, due to a shortage in the kingdom, all the horses have been replaced by servants clopping coconuts together!
Nashville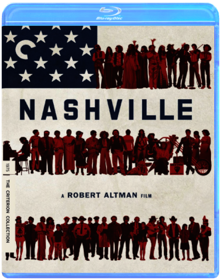 Robert Altman
This cornerstone of 1970s American moviemaking from Robert Altman (Short Cuts) is a panoramic view of the country's political and entertainment landscapes, set in the nation's music capital. Nashville weaves the stories of twenty-four characters—from country star to wannabe to reporter to waitress—into a cinematic tapestry that is equal parts comedy, tragedy, and musical. Many members of the astonishing cast wrote and performed their own songs live on location, which lends another layer to the film's quirky authenticity. Altman's ability to get to the heart of American life via its eccentric byways was never put to better use than in this grand, rollicking triumph, which barrels forward to an unforgettable conclusion.
Picnic at Hanging Rock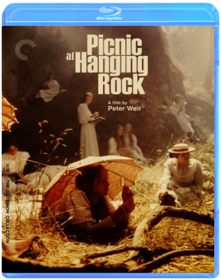 Peter Weir
PICNIC AT HANGING ROCK (BLU-RAY/DVD COMBO/3 DISC/WS 1.77/ENG SDH/5.1SUR/75) DRAMA
The Rocky Horror Picture Show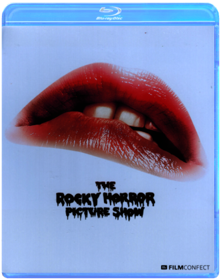 Jim Sharman
Fasten your garter belt and come up to the lab and see what's on the slab! It's The Rocky Horror Picture Show Special Edition, a screamingly funny, sinfully twisted salute to sci-fi, horror, B-movies and rock music, all rolled into one deliciously decadent morsel. And now there's even more to make you shiver with antici...pation: two additional musical numbers, "Once In A While" and "Superheroes", never seen theatrically or available on video! The madcap, musical mayhem begins when rain-soaked Brad and Janet take refuge in the castle of Dr. Frank-N-Furter, a transvestite mad scientist from outer space who is about to unveil his greatest creation - and have a bit of fun with his reluctant guests! Join Tim Curry, Barry Bostwick, Susan Sarandon and rock star Meat Loaf in the most popular cult classic of all time.
Shivers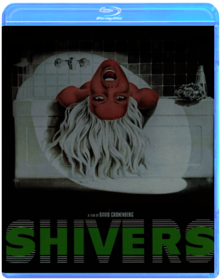 David Cronenberg
Starliner Towers is just another highrise apartment building until something terrible begins to go wrong. A terrifying parasite has taken hold, infecting everyone. Normal people are becoming deranged, committing uncontrollable acts of mindless violence. There's nowhere to hide and no escape from the terror.
Carrie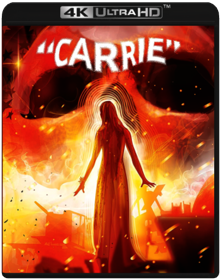 Brian De Palma
Based on the best-selling Stephen King novel, this "absolutely spellbinding horror movie", (Roger Ebert) has become a pervasive, pop-culture touchstone for anyone who's ever wanted to get even. Sissy Spacek and Piper Laurie deliver Oscar-nominated performances and John Travolta and Amy Irving are terrific in this ultimate revenge fantasy that has become one of the all-time great horror classics, and is now, finally, offered as a definitive, two-disc Collector's Edition Blu-ray!

At the center of the terror is Carrie (Spacek), a high school loner with no confidence, no friends... and no idea about the extent of her secret powers of telekinesis. But when her psychotic mother and sadistic classmates finally go too far, the once-shy teen becomes an unrestrained, vengeance-seeking powerhouse who, with the help of her "special gift, ", causes all hell to break loose in a famed cinematic frenzy of blood, fire and brimstone!
Family Plot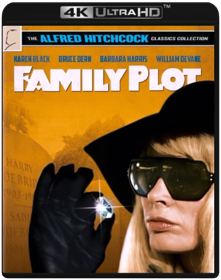 Alfred Hitchcock
Fellini's Casanova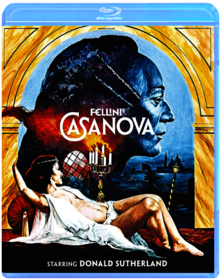 Federico Fellini
How Is It Going?
Jean-Luc Godard
Directed by the legendary Jean-Luc Godard (Contempt, Weekend) - combining video and film, Comment Ca Va? is a fascinating dialectic on the dissemination and processing of information, both literary and visual. Two workers of a communist newspaper strike out to make a film and video about the newspaper and the printing plant. One of the workers, Odette (Anne-Marie Mieville), has strange ideas about content and form and how the film should be made. Comment ca va? is a formally brilliant work about the transmission of ideas by the major media. Jean-Luc Godard co-wrote the screenplay with Anne-Marie Mieville (Ici Et Ailleurs).
In The Realm Of The Senses
Nagisa Oshima
Still censored in its own country, In the Realm of the Senses (Ai no corrida), by Japanese director Nagisa Oshima, remains one of the most controversial films of all time. A graphic portrayal of insatiable sexual desire, Oshima's film, set in 1936 and based on a true incident, depicts a man and a woman (Tatsuya Fuji and Eiko Matsuda) consumed by a transcendent, destructive love while living in an era of ever escalating imperialism and governmental control. Less a work of pornography than of politics, In the Realm of the Senses is a brave, taboo-breaking milestone.

SPECIAL EDITION FEATURES:
New, restored high-definition digital transfer with uncompressed monaural soundtrack
New audio commentary with film scholar Tony Rayns
New interview with actor Tatsuya Fuji
A 1976 interview with director Nagisa Oshima and actors Fuji and Eiko Matsuda, and a 2003 program featuring interviews with consulting producer Hayao Shibata, line producer, Koji Wakamatsu, assistant director Yoichi Sai, and film distributor Yoko Asakura
Deleted footage
U.S. trailer
New and improved English subtitle translation
PLUS: A booklet featuring a new essay by Japanese film scholar Donald Richie and a reprinted interview with Oshima
The Man Who Fell to Earth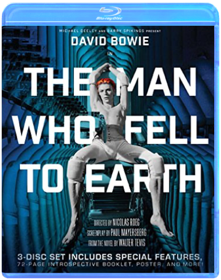 Nicolas Roeg
LIMITED COLLECTOR'S EDITION celebrates the iconic cult classic with 3 discs, 72-page booklet, collectible art, new interviews and more.
Network
Sidney Lumet
I WILL BE RETIRING FROM THIS PROGRAMME IN TWO WEEKS TIME BECAUSE OF POOR RATINGS. In 1976 two of the key players in the Golden Age of Television, writer Paddy Chayefsky and director Sidney Lumet, delivered a coruscating attack at once savage and hilarious on the medium that made their names. SINCE THIS SHOW WAS THE ONLY I HAD GOING FOR ME IN MY LIFE, I VE DECIDED TO KILL MYSELF. To speak Chayefsky s Oscar-winning dialogue, Lumet enlisted a powerhouse cast list, including Faye Dunaway, William Holden, Peter Finch (as the mad prophet of the airwaves Howard Beale), Robert Duvall, Ned Beatty and Beatrice Straight. Five of them would be nominated for Academy Awards, three would win. I M GOING TO BLOW MY BRAINS OUT RIGHT ON THIS PROGRAMME A WEEK FROM TODAY. As well as its four Oscars, Network was also garlanded with a quartet of Golden Globes, a BAFTA and numerous other awards. In the years since its release, its reputation has only grown: the Library of Congress granted it a place on their prestigious National Film Registry; the American Film Institute named it as one of the greatest American films of all time; and the Writers Guild of America declared its screenplay one of the ten best of all time. It remains a true classic. SO TUNE IN NEXT TUESDAY. SPECIAL EDITION CONTENTS: High Definition Blu-ray (1080p) presentation of the film Uncompressed mono PCM audio Optional English subtitles for the deaf and hard of hearing The Directors: Sidney Lumet a 1999 documentary on the director, containing interviews with Jack Lemmon, Rod Steiger, Christopher Walken and others Tune in Next Tuesday a visual essay by Dave Itzkoff, the author of Mad as Hell: The Making of Network and the Fateful Vision of the Angriest Man in Movies Theatrical Trailer Reversible sleeve featuring original and newly commissioned artwork by Chris Walker Collector s booklet featuring new writing on the film by Mike Sutton and an American Cinematographer article by director of photography Owen Roizman, illustrated with original stills and artwork
Obsession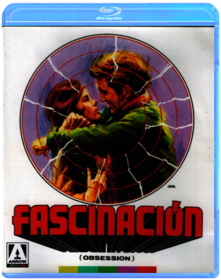 Brian De Palma
United Kingdom released, Blu-Ray/Region A/B/C : it WILL NOT play on regular DVD player. You need Blu-Ray DVD player to view this Blu-Ray DVD: LANGUAGES: English ( Dolby Digital 5.1 ), English ( Dolby Linear PCM ), English ( DTS-HD Master Audio ), English ( Mono ), English ( Subtitles ), WIDESCREEN (2.35:1), SPECIAL FEATURES: Booklet, Cast/Crew Interview(s), Documentary, Featurette, Interactive Menu, Scene Access, Short Film, Special Edition, Trailer(s), SYNOPSIS: High melodrama, creeping insanity and barely contained delirium abound in this dizzying tribute to the high tension thrillers of Alfred Hitchcock from director Brian De Palma (Carrie, Scarface, Dressed to Kill). Michael Courtland is a Southern gentleman who seems to have everything - A successful business, a beautiful wife and an adoring young daughter - until a botched kidnapping tears his world apart leaving him widowed, bereaved and bereft. Years later on a trip to Italy, he meets a woman with an uncanny resemblance to his late wife but all is not how it appears as a twisted conspiracy threatens to unhinge his mental shackles, sending him to the knife edge of MADNESS! A master class in mounting unease and clammy palmed claustrophobia, Obsession is a classic 70s thriller with an evil twist that will leave you speechless. SCREENED/AWARDED AT: Oscar Academy Awards, ...Obsession ( 1976 )
The Omen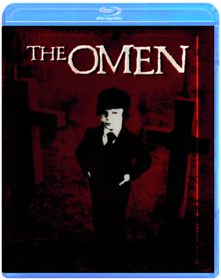 Richard Donner
The first film in classic, four-part legacy of terror stars Gregory Peck as an ambassador who is talked into switching his wife's (Lee Remick) stillborn baby with an orphaned infant. When young Damien is Five, the horror begins with his nanny's dramatic suicide. As the death toll escalates, Damien's father, realizing his son is the antichrist, decides that he must kill the boy and rid the world of the evil.
Rocky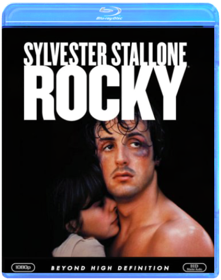 Richard Halsey, Scott Conrad, John G. Avildsen
Nominated* for 10 Academy Awards(r) and winner for Best Picture, it's the film that inspired a nation! Audiences and critics alike cheered this American success story of an "everyman" triumphing over all odds. Featuring a dynamic musical score, a thrilling fight sequence and four Oscar(r) - nominated* performances, this rousing crowd-pleaser will send spirits soaring. Fighting for love, glory and self-respect, Rocky(r) scores an exultant knockout! Rocky Balboa (Sylvester Stallone) is a Philadelphia club fighter who seems to be going nowhere. But whena stroke of fate puts him in the ring with a world heavyweight champion, Rocky knows that it's his one shot at the big time - a once-in-a-lifetime opportunity to go the distance and come out a winner! *1976: Actor (Stallone), Actress (Talia Shire), Supporting Actor (Burgess Meredith, Burt Young), Director (won), Original Screenplay, Original Song, Editing (won), Sound
Salò, or The 120 Days of Sodom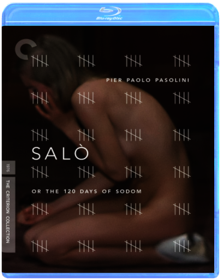 Pier Paolo Pasolini
The notorious final film from Pier Paolo Pasolini (Mamma Roma), Salo, or the 120 Days of Sodom, has been called nauseating, shocking, depraved, pornographic . . . It's also a masterpiece. The controversial poet, novelist, and filmmaker's transposition of the Marquis de Sade's eighteenth-century opus of torture and degradation to Fascist Italy in 1944 remains one of the most passionately debated films of all time, a thought-provoking inquiry into the political, social, and sexual dynamics that define the world we live in.
Taxi Driver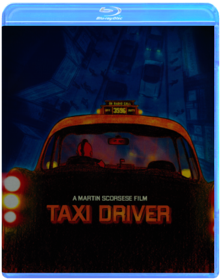 Martin Scorsese
Taxi Driver Limited Edition SteelBook Blu-ray. Region A, B & C Blu-ray.
The Tenant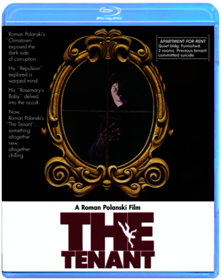 Roman Polanski
After the triumph of Chinatown, Roman Polanski's The Tenant marked an unsettling return to the horrifying psychodrama of Repulsion and Rosemary's Baby. As in those previous films, Polanski explores a descent into madness with s
To the Devil... A Daughter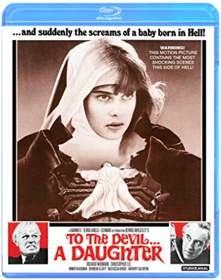 Peter Sykes
First, Rosemary's Baby. Then, The Exorcist. And now a motion picture that probes further into the mysteries of the occult! A heretic priest (Christopher Lee) plots to use a teenage nun (Nastassja Kinski) in a depraved pact with the forces of darkness. But when an American occult novelist (Richard Widmark) uncovers the conspiracy, he must battle an international cabal of evil for the body and soul of the Devil's child-bride! Honor Blackman and Denholm Elliott co-star in this notorious shocker directed by Peter Sykes (Demons Of The Mind) and based on the best-selling novel by Dennis Wheatley (The Devil Rides Out).
3 Women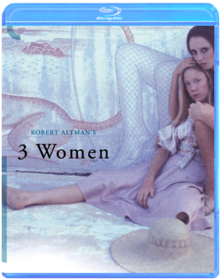 Robert Altman
And so I descend once more into the mysterious depths of "3 Women," a film that was imagined in a dream. Robert Altman's 1977 masterpiece tells the story of three women whose identities blur, shift and merge until finally, in an enigmatic last scene, they have formed a family, or perhaps have become one person. I have seen it many times, been through it twice in shot-by-shot analysis, and yet it always seems to be happening as I watch it. Recurring dreams are like that: We have had them before, but have not finished with them, and we return because they contain unsolved enigmas.

Shelley Duvall, Sissy Spacek and Janice Rule play the three women, who live in an apartment complex in the California desert. Duvall plays Millie Lammoreaux, who works as a therapist in a senior care center; Spacek plays Pinky Rose, who gets a job there and becomes Millie's roommate. Rule is Willie Hart, the pregnant wife of the building owner, who moves within a sad silence, holding herself apart from the others, and paints on the bottom of the pool godlike creatures, bizarre and fantastical men and women who menace one another.
There are men all around, but only one drifts drunkenly into focus. This is Edgar (Robert Fortier), Willie's husband, who speaks gruffly in a low, sardonic voice, and defines himself with guns, motorcycles and beer. He has an awkward jocular style based on his pose as a chivalrous gunslinger, but is a drunk and a lech and seems hardly able to see his wife. The other men, at work and around the pool in the evening, are objects of Millie's fascination, and she seems always in a state of preparing for dates and dinners that never happen.
In the opening scenes, the three women represent three roles that women often play. Willie is the mother, pregnant with sad knowledge, an earth goddess who drifts across the desert landscape in a world of her own. Millie is a chirpy consumerette who studies the women's magazines, "coordinates" her wardrobe by wearing yellows and whites, plans her meals by the time it takes to prepare them, and obsessively shares recipes. Pinky arrives in the movie unformed and childlike; she blows bubbles into her Coke through the straw, she impishly walks in step behind the twins who work at the senior center, she makes faces, she tells Millie "You're the most perfect person I've ever met."
The early passages of the film focus on Millie's relentlessly cheerful attempts to ingratiate herself with her neighbors and co-workers, who ignore her and then ridicule her among themselves. She dreams of dates with Tom, who presides over the grill at poolside dinners, and with the doctors in the hospital across the street from the senior center, but we cringe when she joins the doctors in their commissary for lunch and sits between two of them, who talk right through her. In a movie filled with mirrors, reflections and multiple images, Millie always seems to be primping, making minute adjustments to her clothes and hair, perfecting her makeup, admiring herself in reflection while no one else seems to quite see her.
Millie is ordered to show Pinky the ropes at work. Their dialogue in the scene is precise and exactly heard, the American idiom. Preparing to take her into the heated exercise pool, Millie asks Pinky, "What's wrong with you?" Pinky doesn't think anything is. "Well there has to be something wrong with you, or otherwise why would you be here?" Pinky finally figures out Millie is addressing her as a hypothetical patient, for purposes of demonstration. "Oooh, my head!" she says like a child. "Oooh, my legs hurt!" Later, she suddenly plunges underwater and Millie has to drag her up, looking around uneasily to see if anyone noticed.
There is water all through the movie. Altman says the opening shot represents the amniotic fluid surrounding a fetus. The second shot shows old people descending slowly into the exercise pool — returning to the water from where their lives began. A wavy line that drifts across the screen from time to time might be an umbilical cord. Willie's sinister images live at the bottom of the swimming pool, and at a crucial turning point Pinky jumps into the pool from the balcony, is knocked out, rescued, and taken to the hospital.
Altman says Ingmar Bergman's "Persona" was one of his influences, and we can see that in the way Pinky does secret things to hurt Millie, spies on her secrets, and eventually tries to absorb and steal her identity. "Persona" has a central moment of violence in which the film seems to break and the story must begin again, and Pinky's dive into the pool works in the same way, as a definitive tear in the structure of the film. It reassembles itself with Pinky in control. She wears Millie's clothes, uses her social security number, reads her diary. In an early scene, Millie assigned them each a twin bed, and now Pinky moves over and takes Millie's bed. Millie calls her "Pinky" and she explodes: "How many times do I have to tell you? My name's not Pinky! It's Mildred!"
Shelley Duvall's reaction shots during these developments are a study in unease. Millie knows something sinister is happening, but is confused and baffled by Pinky's behavior. Consider the strange scene in the hospital, when two visitors (John Cromwell and Ruth Nelson) appear and identify themselves as Pinky's parents. Pinky says she doesn't know them and has never seen them before. Certainly they look too old to be her parents (Cromwell was in his 90s when the film was made). Who, then, are they? Imposters? Grandparents or adoptive parents? We never really know. Pinky arrives in the desert without a past and essentially without an identity, and simply takes Millie's. And all the while, at a deeper, instinctive level, the Willie character exists beneath their consciousness and will eventually absorb them both.
I saw the film first at Cannes, where it won the best actress award for Duvall (she also later won the Los Angeles Film Critics' award, and Spacek won with the New York Film Critics Circle award). Altman told me the story came to him in a dream: "All complete. The story, the casting, everything." He wrote it down and tried to film it as he dreamed it. Like many dreams, it ends without concluding, and seems to shift toward deeper and more disturbing implications just before fading out. In his DVD commentary, Altman speculates about the film's meaning just as a viewer might, acknowledges that some aspects remain a mystery to him, and provides a startling possibility about the film's last shot. The camera pulls away from the house where the three women now live, and pans over to a pile of discarded tires. "If you were to ask me where I think Edgar is at the end of the film," Altman says, "I think he's buried under those tires."
But of course nothing concrete in the film supports that. No matter. The movie is whole and complete without being lucid and logical. It circles back on itself, Altman says. There are scenes of acute social observation, including the degrees of cruelty that Millie must endure, and details of specific behavior, as when Pinky squirts a cheese spread on crackers, and then spills a bottled shrimp cocktail on her dress. The senior center is run by a couple who seem to have traded genders; the doctor seems effeminate, and his female administrator seems masculine. Much is made of specifics: How to use the time clock, how to get off early on Fridays, how "we don't like the twins." Sometimes the details repeat as in a dream — the way Millie's yellow dresses always get caught in her car door, for example. Gerald Busby's ominous atonal score is a counterpoint to such daily events.
And against these realistic details Altman marshals the force of dreams. In dreams we test new identities, cast our friends in shifting roles, and find ourselves inexplicably at new jobs or in new places where the rules are explained but we never quite understand them. Here the dream is perhaps shared by all three women, each one imagining the other two, each one lacking what the others possess. As men rumble without consequence in the background, they feel their way through mystery toward each other, Willie with sad resignation, Pinky with avid emotional hunger, and Millie, poor Millie, because she knows not what else to do.

Alambrista!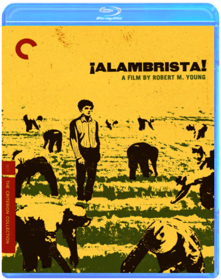 Robert M. Young
In Alambrista!, a farmworker sneaks across the border from Mexico into California in an effort to make money to send to his family back home. It is a story that happens every day, told here in an uncompromising, groundbreaking work of realism from American independent filmmaker Robert M. Young (Dominick and Eugene). Vivid and spare where other films about illegal immigration might sentimentalize, Young's take on the subject is equal parts intimate character study and gripping road movie, a political work that never loses sight of the complex man at its center. Alambrista!, winner of the Cannes Film Festival s inaugural Camera d'Or in 1978, remains one of the best films ever made on this perennially relevant topic.
Close Encounters of the Third Kind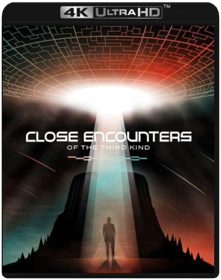 Steven Spielberg
Celebrate the 40th anniversary of Steven Spielberg's sci-fi blockbuster, now fully restored in 4K. Richard Dreyfuss stars as cable worker Roy Neary, who experiences a close encounter of the first kind - witnessing UFOs soaring across the sky. Meanwhile, government agents have close encounters of the second kind - discovering physical evidence of extraterrestrial visitors in the form of a lost fighter aircraft from World War II and a stranded military ship that disappeared decades earlier only to suddenly reappear in an unusual place. Roy and the agents follow the clues that have drawn them to reach a site where they will have a close encounter of the third kind - contact.
Death Game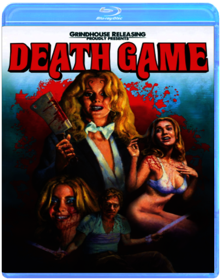 Peter S. Traynor
Eraserhead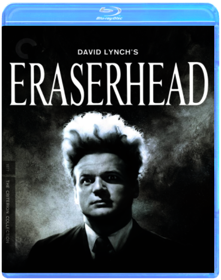 David Lynch
Henry Spencer's hair sticks straight up, and his girlfriend's offspring looks like larva. Directed by David Lynch.
House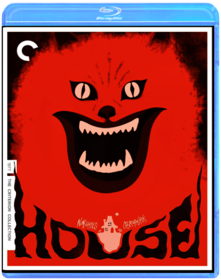 Nobuhiko Obayashi
How to describe Nobuhiko Obayashi's indescribable 1977 movie HOUSE (Hausu)? As a psychedelic ghost tale? A stream-of-consciousness bedtime story? An episode of Scooby-Doo as directed by Mario Bava? Any of the above will do for this hallucinatory head trip about a schoolgirl who travels with six classmates to her ailing aunt's creaky country home and comes face-to-face with evil spirits, a demonic house cat, a bloodthirsty piano, and other ghoulish visions, all realized by Obayashi via a series of mattes, animation, and collage effects. Equal parts absurd and nightmarish, HOUSE might have been beamed to Earth from some other planet. Never before available on home video in the United States, it's one of the most exciting cult discoveries in years.
Jabberwocky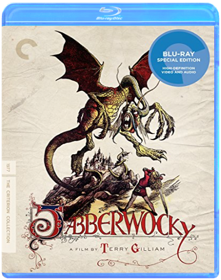 Terry Gilliam
Amid the filth and muck of England in the Dark Ages, a fearsome dragon stalks the land, casting a shadow of terror upon the kingdom of Bruno the Questionable. Who should emerge as the town's only possible savior but Dennis Cooper (Michael Palin), an endearingly witless bumpkin who stumbles onto the scene and is flung into the role of brave knight? Terry Gilliam's first outing as a solo director inspired by Lewis Carroll s poem 'Jabberwocky' and made on the heels of Gilliam s success as a member of the iconic comedy troupe Monty Python showcases his delight in comic nonsense, with a cast chock-full of beloved British character actors. A giddy romp through blood and excrement, this fantasy remains one of the filmmaker's most uproarious visions of society run amok.

DIRECTOR-APPROVED BLU-RAY SPECIAL EDITION FEATURES
- New 4K digital transfer from a restoration by the BFI National Archive and The Film Foundation, approved by director Terry Gilliam
- 5.1 surround mix, supervised by Gilliam and presented in DTS-HD Master Audio
- Audio commentary from 2001 featuring Gilliam and actor Michael Palin
- New documentary on the making of the film, featuring Gilliam, producer Sandy Lieberson, Palin, and actor Annette Badland
- New interview with Valerie Charlton, designer of the Jabberwock, featuring her collection of rare behind-the-scenes photographs
- Selection of Gilliam s storyboards and sketches
- Trailer
- PLUS: An essay by critic Scott Tobias
Kentucky Fried Movie
John Landis
From the director of Animal House and the creators of Airplane and The Naked Gun comes the original madcap, most out-of-control spoof of all time. The one that started it all!! The Kentucky Fried Movie!

Featuring a cast of more than a few but less than a lot, this insane collection of comedy skits includes such now famous sketches as the Kung-Fu parody, "A Fistful of Yen", and the legendary "Catholic School Girls in Trouble." Enjoy the future of moviegoing with the "Feel-A-Round" theater experience. See notable and highly respected actor Donald Sutherland as the clumsiest waiter in motion picutre history. Watch such characters as Cleopatra Schwartz and Big Jim Slade tickle your funny bone until it has to be removed surgically!

Directed by John Landis and written by Jim Abrahams, David Zucker, and Jerry Zucker, and featuring appearances by ex-James Bond George Lazenby and The Incredible Hulk star Bill Bixby, The Kentucky Fried Movie is the cult classic you've been waiting for! It's a virtual guarantee (not an actual guarantee) that you will not find another film iwth as many side- splitting moments of pure unadulterated hilarity as The Kentucky Fried Movie.
The Last Wave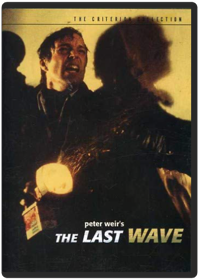 Peter Weir
Pumping Iron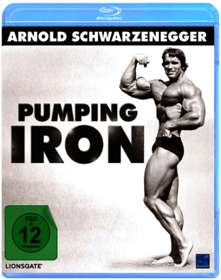 George Butler, Robert Fiore
Pumping Iron: 25th Year Anniversary (DVD)
Rabid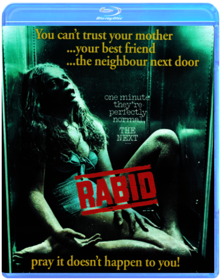 David Cronenberg
"David Cronenberg' underrated second film continues to develop his theme of body manipulation. ", Combustible Celluloid

With Rabid, acclaimed director David Cronenberg (The Fly, Dead Ringers, Naked Lunch) delivers a high-tension thriller filled with "zombified sluts and shock moments... an irresistible combination that Cronenberg handles well", (Almar Haflidason, BBC)!

After undergoing radical emergency surgery, Rose (former adult film star Marilyn Chambers in her first leading role in a mainstream film) develops an insatiable desire for blood. She searches out victims to satisfy her incurable craving, infecting them with an unknown disease which in turn swiftly drives them insane... and makes them equally bloodthirsty.

Follow the lovely but deadly Rose through her terrifying ordeal as victim by victim, the spreading circle of casualties grows... until no one can escape their grisly fate of becoming... Rabid.
Suspiria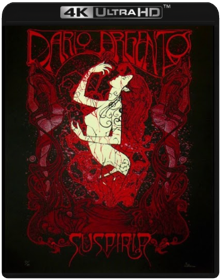 Dario Argento
Quick Shipping !!! New And Sealed !!! This Disc WILL NOT play on standard US DVD player. A multi-region PAL/NTSC DVD player is request to view it in USA/Canada. Please Review Description.
Valentino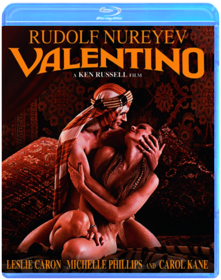 Ken Russell
Wizards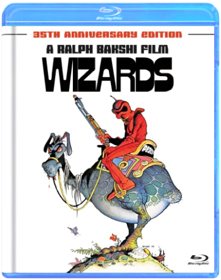 Ralph Bakshi
Legendary and groundbreaking animator Ralph Bakshi's Wizards is the tale of a war between supernatural siblings set in a post-apocalyptic Earth populated by elves, fairies and mutants. Combining traditional cell animation with Bakshi's unique conversion of live film footage into striking, high-contrast animation, Wizards is both whimsical and sinister. This cult favorite from the director of Fritz the Cat (1972) and The Lord of the Rings (1978) celebrates 35 years since it first enchanted animation fans. Starring the voices of Mark Hamill, Susan Tyrrell and Richard Romanus.
Days of Heaven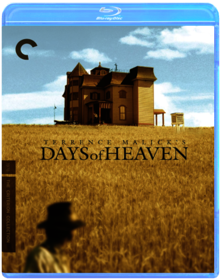 Terrence Malick
One-of-a-kind filmmaker-philosopher Terrence Malick has made some of the most visually arresting movies in history, and his glorious period tragedy Days of Heaven, featuring Oscar-winning cinematography by Nestor Almendros, stands out among them. A Chicago steelworker (Richard Gere) accidentally kills his supervisor, and he, his girlfriend (Brooke Adams), and his little sister (Linda Mans) flee to the Texas Panhandle, where they find work harvesting in the wheat fields of a wealthy farmer (Sam Shepard). A love triangle, a swarm of locusts, a hellish fire—Malick captures it all with dreamlike authenticity, creating at once a timeless American idyll and a gritty evocation of turn-of-the-century labor.

Stills from Days of Heaven
The Deer Hunter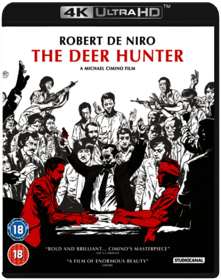 Peter Zinner, Michael Cimino
Winner of five Academy Awards®, including Best Picture and Best Director, and one of AFI's Top 100 Films of All Time, The Deer Hunter follows a group of Pennsylvania steelworkers from their blue-collar lives, hunting in the woods of the Alleghenies, to the hells of Southeast Asia during the Vietnam War. Academy Award® winners Robert De Niro and Christopher Walken star in this unforgettable saga of friendship and courage. Experience the brutality of war and the depths of emotional strain on the human spirit in this extraordinarily powerful film classic.
The Fury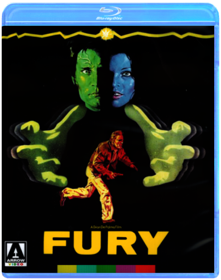 Brian De Palma
United Kingdom released, Blu-Ray/Region B : it WILL NOT play on regular DVD player, or on standard US Blu-Ray player. You need multi-region Blu-Ray player to view it in USA/Canada: LANGUAGES: English ( Dolby Digital 2.0 ), English ( Dolby Linear PCM ), English ( DTS-HD Master Audio ), English ( Subtitles ), WIDESCREEN (1.85:1), SPECIAL FEATURES: Behind the scenes, Booklet, Cast/Crew Interview(s), Interactive Menu, Photo Gallery, Posters, Remastered, Scene Access, Short Film, Special Edition, Trailer(s), SYNOPSIS: Brian De Palma followed the huge success of Carrie with another slice of telekinetic horror, upping the ante by featuring more than one psychic. John Cassavetes gives his most sinister performance since Rosemary's Baby as a man who kidnaps the telepathic son of his colleague (Kirk Douglas), aiming to turn him and similarly gifted individuals into human weapons. Meanwhile, Gillian (Amy Irving), is worried enough about the destructive potential of her own powers to agree to be institutionalised - but is the Paragon Institute all that it's cracked up to be? De Palma pulls out all the stops with some spectacular set-pieces (including one that will put viewers off fairground rides for life), before a spectacularly explosive climax that unforgettably demonstrates why Gillian is so afraid of her powers. She can trigger nosebleeds without any effort, so how much damage can she do when she's actually trying to hurt someone? ...The Fury
Grease
Randal Kleiser
Halloween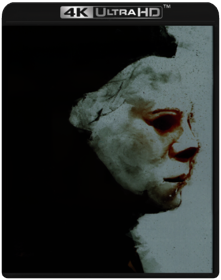 John Carpenter
Jamie Lee Curtis, Donald Pleasence. Directed by John Carpenter. In this horror classic, an escaped psychotic murderer who killed his sister on Halloween is about to relive his crime. 1978/color/92 min/R.
Invasion of the Body Snatchers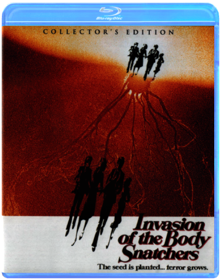 Philip Kaufman
Under cover of darkness, while an unsuspecting city sleeps, an alien life form begins to sow the seeds of unspeakable terror. Donald Sutherland, Brooke Adams, Leonard Nimoy, Veronica Cartwright and Jeff Goldblum star in this shocking, "first-rate suspense thriller", (Newsday).

One by one, the residents of San Francisco are becoming drone-like shadows of their former selves. As the phenomenon spreads, two Department of Health workers, Matthew (Sutherland) and Elizabeth (Adams), uncover the horrifying truth: Mysterious pods are cloning humans and destroying the originals! The unworldly invasion grows stronger with each passing minute, hurling Matthew and Elizabeth into a desperate race to save not only their own lives, but the future of the entire human race.

Special Features Include:

-2K scan of the inter-positive
-"Star-Crossed in The Invasion:" An interview with actress Brooke Adams (9 minutes)
-"Leading the Invasion:" An interview with actor Art Hindle (25 minutes)
-"Re-Creating The Invasion:" An interview with writer W.D. Richter (16 minutes)
-"Scoring the Invasion:" An interview with composer Denny Zeitlin (15 minutes)
-Audio Commentary with author/film historian Steve Haberman
-Audio Commentary by director Philip Kaufman
-"Re-Visitors From Outer Space, or How I Learned To Stop Worrying And Love The Pod:" Including interviews with director Philip Kaufman, screenwriter W.D. Richter, director of photography Michael Chapman, and actors Donald Sutherland and Veronica Cartwright (15 minutes)      
-"Practical Magic: The Special Effects Pod" (4 minutes)
-"The Man Behind The Scream: The Sound Effects Pod:" An interview with Ben Burtt and sound editor Bonnie Koehler (12 minutes)
-"The Invasion Will Be Televised: The Cinematography Pod" (5 minutes)
- Theatrical Trailer
- TV Spots
- Radio Spots
- Photo Gallery
- An episode of SCIENCE FICTION THEATRE, "Time is Just A Place,: based on Jack Finney's short story directed by Jack Arnold
National Lampoon's Animal House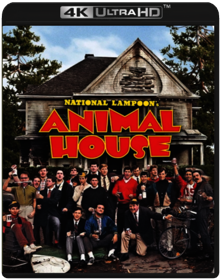 John Landis
One of the most popular movie comedies of all time is also the film that made John Belushi a star. This raunchy, screwball comedy directed with madcap zest by John Landis offers a relentless spoof of 1960s college life by following the hilarious adventures of the Delta fraternity. In addition to Belushi as Bluto Blutarsky, the outstanding cast includes Tim Matheson, Tom Hulce, Stephen "Flounder" Furst, Karen Allen, Donald Sutherland, Peter Riegert, and Kevin Bacon, along with Otis Day and the Knights with their show-stopping performance of "Shout."
Superman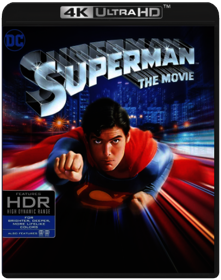 Richard Donner
Watership Down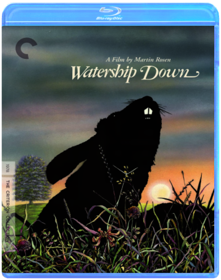 Martin Rosen
With this passion project, screenwriter-producer-director Martin Rosen brilliantly achieved what was thought difficult, if not impossible: a faithful big-screen adaptation of Richard Adams's classic British dystopian novel about a community of rabbits seeking safety and happiness after their warren comes under terrible threat. With its naturalistic hand-drawn animation, dreamily expressionistic touches, gorgeously bucolic background design, and elegant voice work from such superb English actors as John Hurt (The Elephant Man), Ralph Richardson (The Fallen Idol), Richard Briers (Much Ado About Nothing), and Denholm Elliott (Raiders of the Lost Ark), Watership Down is an emotionally arresting, dark-toned allegory about freedom amid political turmoil.
Alien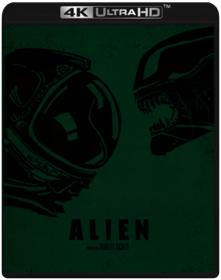 Ridley Scott
All That Jazz
Bob Fosse
Criterion version of the iconic dance film . . .
Apocalypse Now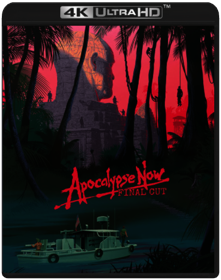 Francis Ford Coppola
Francis Ford Coppola's timeless classic comes to Blu-ray for the first time!

This 3-Disc Deluxe Edition includes Apocalypse Now and Apocalypse Now Redux in stunning new transfers supervised by Francis Ford Coppola - and presented for the first time in their original 2.35:1 theatrical aspect ratios. Also included is the feature-length making-of documentary Hearts of Darkness, presented in a new 1080p HD transfer.

Additional features include a 48-page collectible booklet with never-before-seen archives from the set, over 9 hours of bonus features, plus a storyboard gallery, image galleries, marketing archives and an original script excerpt from John Milius featuring hand-written notes from Coppola.
The Brood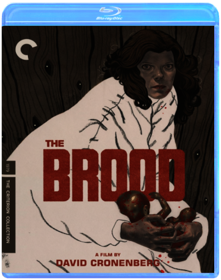 David Cronenberg
A disturbed woman is receiving a radical form of psychotherapy at a remote, mysterious institute. Meanwhile, her five-year-old daughter, under the care of her estranged husband, is being terrorized by a group of demonic beings. How these two story lines connect is the shocking and grotesque secret of this bloody tale of monstrous parenthood from David Cronenberg (Scanners), starring Oliver Reed (Women in Love) and Samantha Eggar (The Collector). With its combination of psychological and body horror, The Brood laid the groundwork for many of the director's films to come, but it stands on its own as a personal, singularly scary vision. DIRECTOR-APPROVED BLU-RAY SPECIAL EDITION FEATURES • New, restored 2K digital transfer, supervised by director David Cronenberg, with uncompressed monaural soundtrack • New documentary about the making of the film and Cronenberg's early work, featuring actor Samantha Eggar, producer Pierre David, cinematographer Mark Irwin, assistant director John Board, and special makeup effects artists Rick Baker (Videodrome) and Joe Blasco (Shivers and Rabid) • New, restored 2K digital transfer of Crimes of the Future, a 1970 feature by Cronenberg, supervised by the director, plus a 2011 interview in which the director discusses his early films with Fangoria editor Chris Alexander • Interview from 2013 with actors Art Hindle and Cindy Hinds • Appearance by actor Oliver Reed on The Merv Griffin Show from 1980 • Trailer and radio spot • PLUS: An essay by critic Carrie Rickey
Caligula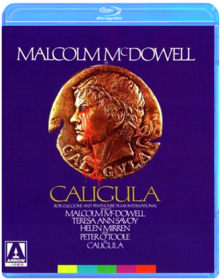 Bob Guccione, Giancarlo Lui, Tinto Brass
The decadent side of high definition! Before Rome... Before Gladiator... The most controversial film of all time as you've never experienced it before! Combining lavish spectacle and award-winning stars, this landmark production was shrouded in secrecy since its first day of filming. Now, this unprecedented edition presents a more revealing Caligula than ever before, with a high-definition transfer from negative elements and hours of never-before-seen bonus material!
Hair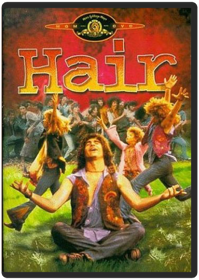 Milos Forman
Brimming with the energy, passion and music that rocked a nation, Hair is an entertaining and powerful tribute to the turbulent spirit of the '60s. Brilliantly recreated by OscarÂ(r)-winning* director Milos Forman and screenwriter Michael Weller (Ragtime), this vibrant screen version of the Broadway phenomenon ranks "among the best film musicals" (The Hollywood Reporter)! Fresh from the farm, Claude Bukowski (John Savage, The Thin Red Line) arrives in New York City for a date with the Army Induction Board, only to walk into a hippie "happening" inCentral Park and fall in love with the beautiful Shelia (Beverly D'Angelo, American History X). Befriended by the hippies' pacifist leader, Berger (Treat Williams, Mulholland Falls), and urged to crash a formal party in order to declare his love for Shelia, Claude begins an adventure that lands him in jail, Central Park Lake and, finally, in the army. But Berger's final effort to save Claude from Vietnam sets in motion a bizarre twist of fate with shocking consequences. *1975: One Flew Over the Cuckoo's Nest; 1984: Amadeus
Mad Max
George Miller
Monty Python's Life of Brian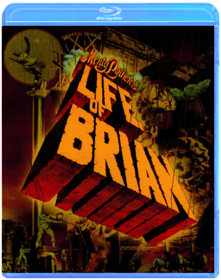 Terry Jones
On a Midnight Clear 2000 years ago, three wise men enter a manger where a babe is wrapped in swaddling clothes. It is an infant called Brian...and the three wise men are in the wrong manger. For the rest of his life, Brian (Graham Chapman) finds himself regarded as something of a Messiah, yet he's always in the shadow of this Other Guy from Galilee. Brian is witness to the Sermon of the Mount, but his seat is in such a bad location that he can't hear any of it ("Blessed are the cheesemakers?"). Ultimately he is brought before Pontius Pilate and sentenced to crucifixion, which takes place at that crowded, non-exclusive execution site a few blocks shy of Calvary. Rather than utter the Last Six Words, Brian leads his fellow crucifixees in a spirited rendition of a British music hall cheer-up song "Always Look On The Bright Side of Life." The whole Monty Python gang (Chapman, John Cleese, Michael Palin, Eric Idle, and Terry Gilliam) are on hand in multiple roles, playing such sacred characters as Stan Called Loretta, Deadly Dirk, Casts the First Stone, and Intensely Dull Youth; also showing up are Goon Show veteran Spike Milligan and a Liverpool musician named George Harrison.
Nosferatu the Vampyre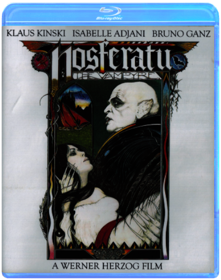 Werner Herzog
It is 1850 in the beautiful, perfectly-kept town of Wismar. Jonathan Harker is about to leave on a long journey over the Carpathian Mountains to finalize real estate arrangements with a wealthy nobleman. His wife, Lucy begs him not to go and is troubled by a strong premonition of danger. Despite her warnings, Jonathan arrives four weeks later at a large, gloomy castle. Out of the mist appears a pale, wraith-like figure with a shaven head and deep-sunken eyes who identifies himself as Count Dracula. The events that transpire slowly convince Harker that he is in the presence of a vampyre. What he doesn't know is the magnitude of danger he, his wife and his town are about to experience.
Stalker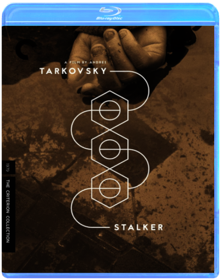 Andrei Tarkovsky
Andrei Tarkovsky s final Soviet feature is a metaphysical journey through an enigmatic postapocalyptic landscape, and a rarefied cinematic experience like no other. A hired guide the Stalker leads a writer and a scientist into the heart of the Zone, the restricted site of a long-ago disaster, where the three men eventually zero in on the Room, a place rumored to fulfill one s most deeply held desires. Adapting a science-fiction novel by Arkady and Boris Strugatsky, Tarkovsky created an immersive world with a wealth of material detail and a sense of organic atmosphere. A religious allegory, a reflection of contemporaneous political anxieties, a meditation on film itself Stalker envelops the viewer by opening up a multitude of possible meanings.

BLU-RAY SPECIAL EDITION FEATURES
- New 2K digital restoration, with uncompressed monaural soundtrack
- New interview with Geoff Dyer, author of Zona: A Book About a Film About a Journey to a Room
- Interview from 2002 with cinematographer Alexander Knyazhinsky
- Interview from 2002 with set designer Rashit Safiullin
- Interview from 2002 with composer Eduard Artemyev
- New English subtitle translation
- More!
- PLUS: An essay by critic Mark Le Fanu
The Tempest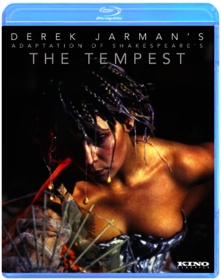 Derek Jarman
Tess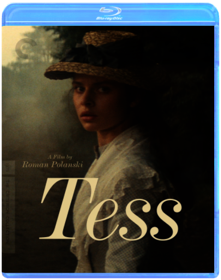 Roman Polanski
New in the factory-sealed shrinkwrap. Tracking is included for U.S. orders.
The Villain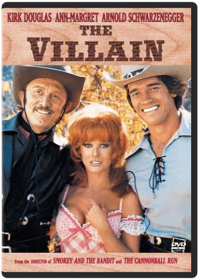 Hal Needham
The Warriors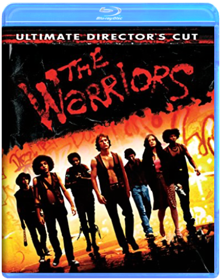 Walter Hill
-1980
Airplane!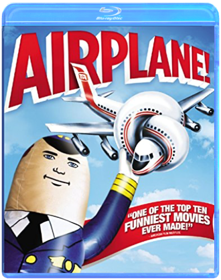 David Zucker, Jim Abrahams, Jerry Zucker
The persons and events in this film are fictitious - fortunately! A masterpiece of off-the-wall comedy, Airplane! features Robert Hays as an ex-fighter pilot forced to take over the controls of an airliner when the flight crew succumbs to food poisoning; Julie Hagerty as his girlfriend/stewardess/co-pilot; and a cast of all-stars including Robert Stack, Lloyd Bridges, Peter Graves, Leslie Nielsen, Kareem Abdul-Jabbar... and more. Their hilarious high jinks spoof airplane disaster flicks, religious zealots, television commercials, romantic love... the list whirls by in rapid succession. And the story races from one moment of zany fun to the next.
Altered States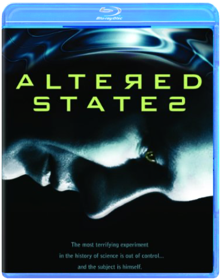 Ken Russell
The Blues Brothers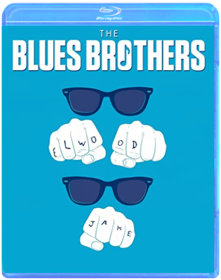 John Landis
The story of Jake and Elwood Blues, two hoodlum brothers searching for redemption, who set out to locate and re-enlist the members of their defunct rhythm and blues band in order to earn some honest money.
Caddyshack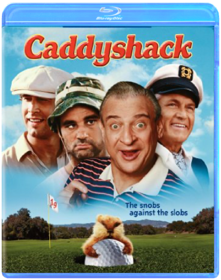 Harold Ramis
The greenskeeper is about to start World War III—against a gopher. The judge plays to win but his nubile niece has her mind set on scoring her own way. The playboy shoots perfect golf by pretending he is the ball. And the country club loudmouth just doubled a $20,000 bet on a 10-foot putt. Insanity? No. Caddyshack. Chevy Chase, Rodney Dangerfield, Ted Knight and Bill Murray tee off for a side-splitting round of fairway foolishness that does for golf what Animal House did for college fraternities and Police Academy did for law enforcement.
City of Women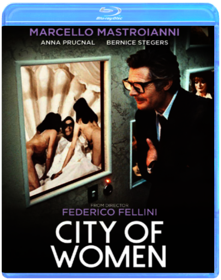 Federico Fellini
Confidence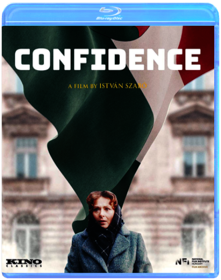 István Szabó
Cruising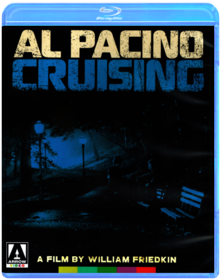 William Friedkin
A sadistic serial killer is targeting New York's gay community and in response the NYPD sends rookie cop Steve Burns undercover to find the killer. Burns who is straight poses as a homosexual and enters the world of gay S&M sex clubs learning their rules and mores as he goes along. But as Burns arduously tracks down the murderer he finds himself growing attracted to these clubs and the gay lifestyle forcing him to question — and possibly confront — his own sexual identity.System Requirements:Running Time: 102 Mins.Format: DVD MOVIE Genre: DRAMA Rating: NR UPC: 085391167969 Manufacturer No: 116796
Dressed to Kill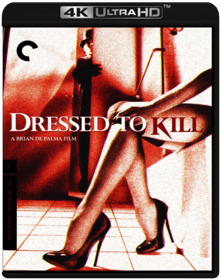 Brian De Palma
A psychiatrist, a prostitute and the son of a slain woman seek a Manhattan slasher.
The Elephant Man
David Lynch
affetto da una grave malattia deformante, un uomo, dolce e sensibile, viene prima esibito come fenomeno da baraccone e poi ospitato in un ospedale sotto le cure di un medico amoroso. il film ha avuto un rifacimento nel 1981.premi e riconoscimenti1980 - miglior film british academy of film and television arts awards1980 - miglior film candidature [academy awards]1979 - miglior commedia tony awards [al soggetto] frederick treves; ashley montagu
Every Man for Himself
Jean-Luc Godard
After a decade in the wilds of avant-garde and early video experimentation, Jean-Luc Godard (Breathless) returned to commercial cinema with this work of social commentary, star-driven and narrative while remaining defiantly intellectual and visually cutting-edge. Every Man for Himself, featuring a script by Jean-Claude Carrière (The Discreet Charm of the Bourgeoisie) and Anne-Marie Miéville (Ici et ailleurs), looks at the sexual and professional lives of three people—a television producer (Van Gogh's Jacques Dutronc), his ex-girlfriend (The Return of Martin Guerre's Nathalie Baye), and a prostitute (White Material's Isabelle Huppert)—to create a meditative story about work, relationships, and the notion of freedom. Made twenty years into his career, the film was, according to Godard, a second debut.
Heaven's Gate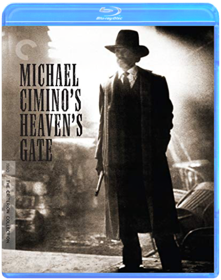 Michael Cimino
Out of the Blue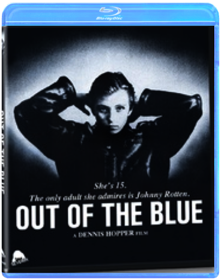 Dennis Hopper
Raging Bull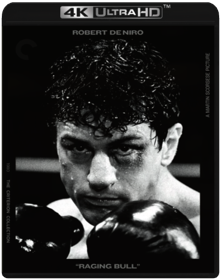 Martin Scorsese
Robert De Niro teams with director Martin Scorsese in this "extraordinarily compelling" (Leonard Maltin) film that introduced unflinching realism to stunned audiences in 1980. An "exceedingly violentas well as poetic" fight picture that maps "the landscape of the soul" (The New York Times),Raging Bull garnered eight Oscar® nominations* and won two, including Best Actor for De Niro. De Niro gives the performance of his career as Jake La Motta, a boxer whose psychological and sexual complexities erupt into violence both in and out of the ring. Joe Pesci and Cathy Moriarty are unforgettable as the brother who falls prey to Jake's mounting paranoia and jealousy, and the fifteen-year-old girl who becomes his most prized trophy. A "brilliantly photographed film of extraordinary power and rare distinction" (The Wall Street Journal), Raging Bullis filmmaking at its riveting best.
The Shining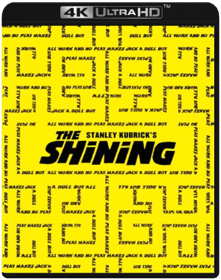 Stanley Kubrick
Shining, The: Special Edition (BD)
Spetters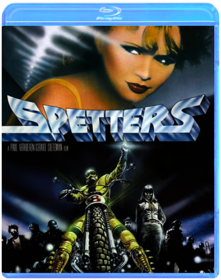 Paul Verhoeven
An American Werewolf in London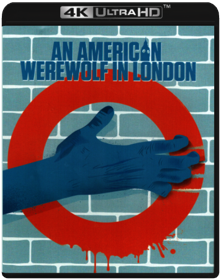 John Landis
Re-discover one of the most gripping horror films of all-time with the cult classic An American Werewolf in London. Blending the macabre with a wicked sense of humor, director John Landis (National Lampoon's Animal House) delivers a contemporary take on the classic werewolf tale in this story of two American tourists who, while traveling in London, find their lives changed forever when a viscious wolf attacks them during a full moon. Featuring groundbreaking, Academy Award-winning make-up by Rick Baker (The Wolfman), this digitally remastered Full Moon Edition also includes the new feature-length documentary Beware the Moon.
Blow Out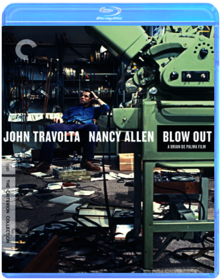 Brian De Palma
In the enthralling Blow Out, brilliantly crafted by Brian De Palma (Sisters, Carrie, Scarface), John Travolta (Saturday Night Fever, Pulp Fiction) gives one of his greatest performances, as Jack, a movie sound-effects man who believes he has accidentally recorded a political assassination. He enlists the help of Sally (played by Carrie's Nancy Allen), a possible eyewitness to the crime who may be in danger herself, to uncover the truth. With its jolting stylistic flourishes, intricate plot, profoundly felt characterizations, and gritty evocation of early-1980s Philadelphia, Blow Out is an American paranoia thriller unlike any other, as well as a devilish reflection on the act of moviemaking.
Body Heat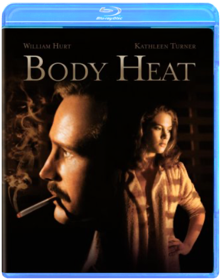 Lawrence Kasdan
Das Boot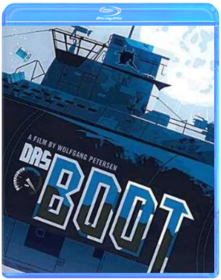 Wolfgang Petersen
It is 1942 and the German submarine fleet is heavily engaged in the so called "Battle of the Atlantic" to harass and destroy English shipping. With better escorts of the Destroyer Class, however, German U-Boats have begun to take heavy losses. Das Boot is the story of one such U-Boat crew, with the film examining how these submariners maintained their professionalism as soldiers, attempted to accomplish impossible missions, while all the time attempting to understand and obey the ideology of the government under which they served.
Clash of the Titans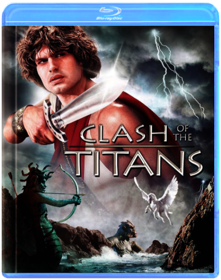 Desmond Davis
Escape from New York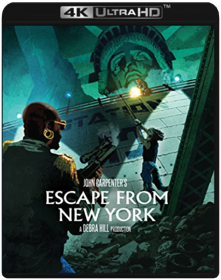 John Carpenter
A thrilling landmark film that jolts along at a breakneck pace, Escape From New York leapt to cult status with high-octane action, edge-of-your-seat suspense and the mind-blowing vision of lone warrior Snake Plissken (Kurt Russell) battling his way out of a post-apocalyptic Manhattan!

In a world ravaged by crime, the entire island of Manhattan has been converted into a walled prison where brutal prisoners roam. But when the US president (Donald Pleasence) crash-lands inside, only one man can bring him back: notorious outlaw and former Special Forces war hero Snake Plissken (Russell). But time is short. In 24 hours, an explosive device implanted in his neck will end Snake' mission (and his life) unless he succeeds!
Evil Dead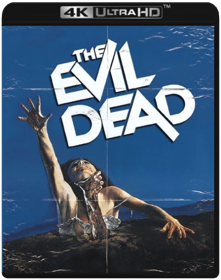 Sam Raimi
The Evil Dead, director Sam Raimi's (Darkman, Quick & The Dead, Army Of Darkness) first feature film, is a true cult classic in every sense of the word. Originally released in 1982, The Evil Dead tells the tale of a group of friends who go to a cabin in the woods, where they find an unspeakable evil lurking in the forest. They find the Necronomicon, the Book Of The Dead, and the taped translation of the text. Once the tape is played, the evil is released. One by one, the teens become deadly zombies. With only one remaining (Bruce Campbell), it is up to him to survive the night and battle The Evil Dead.
Heavy Metal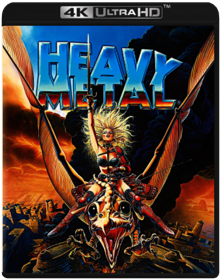 Gerald Potterton
Based on the fantastical illustrated magazine Heavy Metal, producer Ivan Reitman enlists the help of some of Hollywood's animation masters to create the otherworldly tale of a glowing green orb from outer space that spreads destruction throughout the galaxy. Only when encountered by its one true enemy, to whom it is inexplicably drawn, will goodness prevail throughout the universe. Richly and lavishly drawn, the vignettes of the orb's dark victories include the character voices of John Candy, Harold Ramis and a pounding soundtrack by Black Sabbath, Blue Oyster Cult, Cheap Trick, Devo, Donald Fagen, Don Felder, Grand Funk Railroad, Sammy Hagar, Journey, Nazareth, Stevie Nicks, Riggs, and Trust. Highly imaginative and full of surprising special effects, Heavy Metal set the standard for the alternative contemporary animation. An intoxicating experience not to be missed!
History of the World Part 1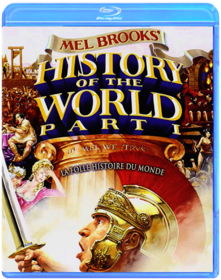 Mel Brooks
Indiana Jones: The Complete Adventures
Steven Spielberg
Mephisto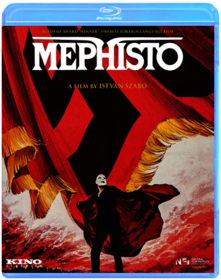 István Szabó
Polyester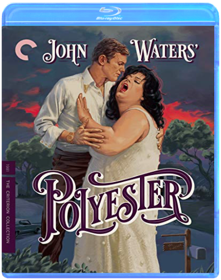 John Waters
For his first studio picture, filth maestro John Waters took advantage of his biggest budget yet to allow his muse Divine to sink his teeth into a role unlike any he had played before: Baltimore housewife Francine Fishpaw, a heroine worthy of a Douglas Sirk melodrama. Blessed with a keen sense of smell and cursed with a philandering pornographer husband, a parasitic mother, and a pair of delinquent children, the long suffering Francine turns to the bottle as her life falls apart—until deliverance appears in the form of a hunk named Todd Tomorrow (vintage heartthrob Tab Hunter). Enhanced with Odorama technology that enables you to scratch and sniff along with Francine, Polyester is one of Waters' most hilarious inventions, replete with stomach churning smells, sadistic nuns, AA meetings, and foot stomping galore. DIRECTOR APPROVED BLU RAY SPECIAL EDITION FEATURES • New, restored 4K digital transfer, supervised by director John Waters, with uncompressed monaural soundtrack • Audio commentary featuring Waters from the 1993 Criterion laserdisc release of the film • New conversation between Waters and critic Michael Musto • New program featuring interviews with Waters collaborators Tab Hunter, Dennis Dermody, Pat Moran, Vincent Peranio, Mink Stole, Mary Garlington, and Greer Yeaton • Interviews from 1993 with cast and crew members Waters, Divine, Moran, Peranio, Edith Massey, and Van Smith, featuring footage from the making of the film • Archival interviews • Deleted scenes and alternate takes • Trailer • Scratch and sniff Odorama card • PLUS: An essay by film scholar Elena Gorfinkel
POSSESSION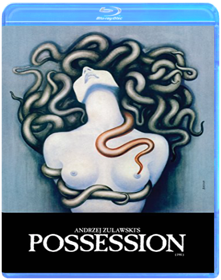 Andrzej Zulawski
DEEP-CUTTING CINEMA THAT REACHES THE SOUL
A spiral staircase movie, a never-ending metaphysical game of cat-and-mouse, a moral aspiration to the Heavens, a "spotlight" on God, a scornful detective movie, a horror movie and frightful, high-octane baroque work – Possession is all of that at once. It is a film that provokes, but it provokes intelligence above all – not just the merry continuation of our little social mechanisms.

Possession is a visionary, scathing attack on what could be called an "alien" from within. It is a movie that deliberately goes against the new "dominant ideology", and takes huge risks. This deep-cutting, biological cinema, delves into the guts to reach the soul. Through its fire, it revives something that a lot of contemporary movies have lost: emotion, and the prospect of the audience reacting, perhaps even throwing up (figuratively?) in front of a screen displaying their own fantasies.

AWARDS:
Cannes Film Festival (1981)
- Winner Best Actress, Isabelle Adjani
- Nominee Palme D'or

Cesar Awards, France (1982)
- Winner Best Actress, Isabelle Adjani

Sao Paulo International Film Festival (1981)
- Winner Critics Award

Fantasporto International Film Festival (1983)
- Winner Audience Jury Award - Special Mention
- Winner Best Actress, Isabelle Adjani
- Nominee Best Film

BLU-RAY DISC CONTENTS:
MONDO VISION presents the first ever North American Blu-ray release of Andrzej Zulawski's POSSESSION (1981) in an all new 2K digital transfer supervised and approved by the director. UNCUT & Fully Uncensored, this edition also marks the first ever release of the film in North America in its original Director's Cut.* The film is presented in the original aspect ratio of 1.66:1 along with an uncompressed mono audio soundtrack. This Dual Layer disc has been transferred and encoded using a high-frequency process which preserves as much of the detail and texture from the original film as is possible on the Blu-ray format.

DISC 1 : THE FEATURE FILM
Digitally Restored 1080p HD Transfer Approved by Director Andrzej Zulawski [124min]EXTRAS: [4Hr. 8 Mins.] [All extras except commentary come with Optional English Subtitles in White or Yellow]
The Other Side of The Wall: The Making of POSSESSION [52min]Audio Commentary with Director Andrzej Zulawski [124min]Video Interview with Director Andrzej Zulawski [36min]Video Interview with Translator Eric Veaux [22min]Theatrical Trailer [3min]More from Mondo Vision [11min] [collection of 4 trailers from Andrzej Zulawski films]1) La Femme Publique
2) L'important C'est Da'imer
3) La'mour Braque
4) Szamanka

PLUS :
24pg Booklet - Featuring an Essay by Daniel BirdPACKAGING:
This edition of POSSESSION features a fully illustrated matte laminated 6pp foldout Digipak with heavy-duty 400gsm Hardcover Slipcase with wrap-around Belt and a pull-out ribbon. It comes with a shipping weight of 1 pound (0.45kg) and the following dimensions:

In Inches: 7.6" (H) x 5.6" (W) x 0.7" (D)
In Millimeters: 194 (H) x 143 (W) x 18 (D)
H= Height W= Width D=Depth

Technical Details:
Run Time: 2 Hr. 4 Mins.
Audio Tracks:
1. Original English Mono [dts-HD Master Audio]
2. Audio Commentary
3. Unauthorized Alternate Audio *
Subtitles: English, French, Spanish (optional, in White or Yellow)
Image Format: 1.66:1 Original Aspect Ratio
Disc Type: Dual Layer BD-50
UPC: 091037398659
Catalog#: MVSE005

* This audio track features alternative music. It is not the director's approved version, and is included for completeness. Most notable is the addition of the piano theme during the subway miscarriage scene, and the removal of music during a pivotal scene. A handful of releases, including POSSESSION's first U.S. DVD release (ironically billed as the "Director's Cut") were issued only with this audio track. This additional music although composed by Andrzej Korzynski was never used by the director in the final cut of the film. It is strongly recommended to watch the film with the original director's approved audio.
The Road Warrior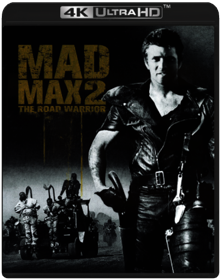 George Miller
Quick Shipping !!! New And Sealed !!! This Disc WILL NOT play on standard US DVD player. A multi-region PAL/NTSC DVD player is request to view it in USA/Canada. Please Review Description.
Scanners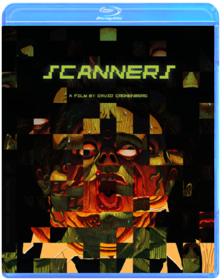 David Cronenberg
SCANNERS (BLU-RAY/DVD COMBO/1981/WS 1.78/3 DISC)HORROR
Time Bandits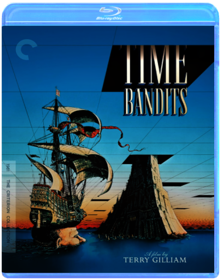 Terry Gilliam
A young boy named kevin escapes his gadget-obsessed parents to join a band of time-traveling dwarves. Armed with a map stolen from the supreme being, they plunder treasure from napoleon and agamemnon, but the evil genius is watching their every move.
The Ballad of Gregorio Cortez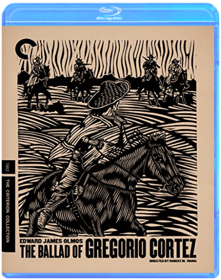 Robert M. Young
Blade Runner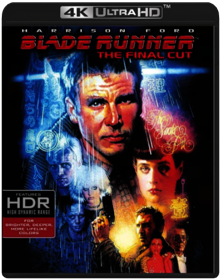 Ridley Scott
Cat People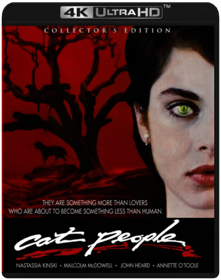 Paul Schrader
Conan the Barbarian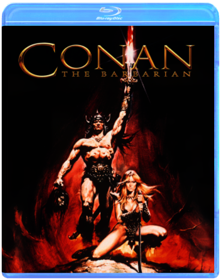 John Milius
Following his parents' savage murder, young Conan (Arnold Schwarzenegger) is captured by the cold-blooded Thulsa Doom (James Earl Jones) and spends the next fifteen years in agony, first chained to the Wheel of Pain and then enslaved as a Pit Fighter. Rather than allowing this brutal fate to conquer him, Conan builds an incomparable body and an indomitable spirit—both of which he needs when he suddenly finds himself a free man. Aided by his companions Subotai the Mongol (Gerry Lopez) and Valeria, Queen of Thieves (Sandahl Bergman), Conan sets out to solve the "riddle of steel," seize ultimate power and, finally, take revenge on the warlord who killed his family.
Eating Raoul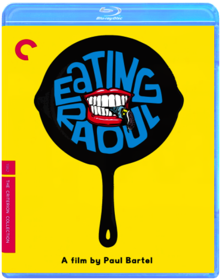 Paul Bartel
A sleeper hit of the early 1980s, Eating Raoul is a bawdy, gleefully amoral tale of conspicuous consumption. Warhol superstar Mary Woronov and cult legend Paul Bartel (who also directed) portray a prudish married couple feeling put upon by the swingers who live in their apartment building; one night, by accident, they discover a way to simultaneously realize their dream of opening a little restaurant and rid themselves of the "perverts" down the hall. A mix of hilarious, anything-goes slapstick and biting satire of me-generation self-indulgence, Eating Raoul marks the end of the sexual revolution with a thwack.
Der Fan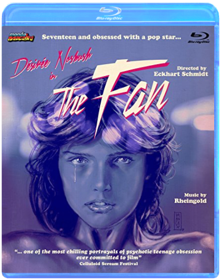 Eckhart Schmidt
Teenager Simone appears to be like any other young pop fan. But soon her fixation on the band's lead singer R takes over her life. Simone walks out of school, breaks off with her friends and parents and somehow finds herself waiting for her idol as he appears on a TV show. When she sees him in the flesh she is speechless, unable even to ask for his autograph. He reaches out to touch her. Overcome with emotion, Simone faints; with that first touch, R's fate is sealed. Simone discovers the carefully styled world of which R is just another product. Simone wants nothing more than to love and be loved by R, but he takes her with machine-like coldness. She experiences their intimacy as a kind of slow motion nightmare, an encounter with a robotic creature, totally incapable of affection or emotion. Simone cannot accept the detachment of her idol, and when R walks out on her to join his friends, she plots her revenge. Simone plans the ultimate sacrifice of her god on the altar of her madness, a ceremony as exalted and romantic as it is horribly wonderful. The police search for R. But only Simone knows where he is, and she will give birth to him anew....

Special Features:

Interview With Director/Writer
Fast Times at Ridgemont High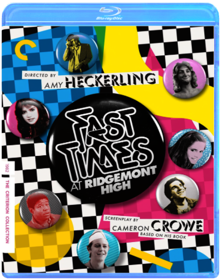 Amy Heckerling
Academy Award winner Sean Penn stars as the unforgettable Jeff Spicoli in the film that defined the outrageous and bold teen comedy genre, Fast Times at Ridgemont High. Follow a group of Southern California high school students as they explore their most important subjects: sex, drugs and rock 'n' roll. Directed by Amy Heckerling (Clueless) and written by Cameron Crowe (Almost Famous), this hilarious portrait of 1980s American teen life features film debuts of future stars Nicolas Cage and Forest Whitaker, plus decade-defining music from The Go-Go's, Oingo Boingo and The Cars.
First Blood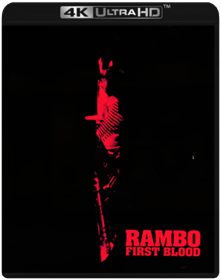 Ted Kotcheff
Academy Award-nominee Sylvester Stallone stars as war hero, ex-Green Beret John Rambo in the one that started it all! FIRST BLOOD is an explosive action-thriller that will keep you on the edge of your seat until the final, powerful frame.
The King of Comedy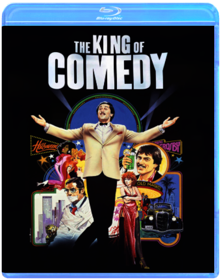 Martin Scorsese
Liquid Sky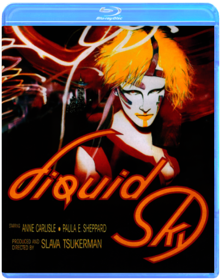 Slava Tsukerman
Item is brand new & sealed.
The Loveless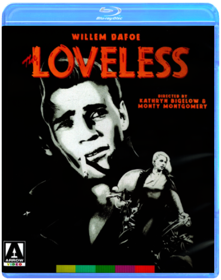 Kathryn Bigelow, Monty Montgomery
Pink Floyd: The Wall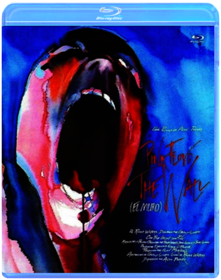 Alan Parker
In celebration of the 25th anniversary of the release of Alan Parker's masterpiece film version of Pink Floyd's groundbreaking prog rock album "The Wall", Columbia has released this special limited-edition DVD of the film. Packaged in a deluxe DVD digi-pak designed to look like "The Wall" with debossed brick work and a clear O-card, the release features a photo montage of film shots and a fold-out reproduction of the original film promo poster. Also includes the documentary "Other Side of the Wall" about the making-of and "Retrospective", an exclusive 45 minute retrospective documentary with interview of Roger Waters, Alan Parker, Gerald Scarfe, lots more. Loosely based on the life story of Syd Barrett, Pink Floyd's original front man (who was kicked out of the band for his bizarre and disturbing behavior only to go insane shortly thereafter), PINK FLOYD: THE WALL stars Bob Geldof as Pink, a mentally damaged man who has gone from a hopeful child artist to a burned-out rock star drifting away from reality. As Pink festers in his hotel room, elements of his abusive childhood come back to haunt him until he begins to descend into absolute madness. Director Alan Parker's intense and fully realized film interpretation of the English band's classic album THE WALL melds whimsical fantasy with dark Shakespearean drama. The film makes innovative use of sets, costumes, and special effects to create a unique surrealistic strangeness worthy of Luis Buñuel and Salvador Dali's UN CHIEN ANDALOU. Both disturbing and bedazzling, PINK FLOYD: THE WALL is a must-see film for any music lover.
The Thing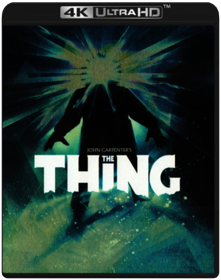 John Carpenter
Special Features Include:

-2K scan of the inter-positive supervised and approved by director of photography Dean Cundey
-4.1 created from the original 70MM Six Track Dolby Stereo soundtrack
-Audio Commentary with director of photography Dean Cundey
-Audio Commentary by director John Carpenter and actor Kurt Russell
-"The Men of Outpost 31:" Interviews with Keith David, Thomas Waites, Peter Maloney, and more
-"Assembling and Assimilation:" An interview with editor Todd Ramsay
-"Behind the Chameleon:" Interviews with visual effects artists Peter Kuran and Susan Turner, special make-up effects artist Rob Burman, and Brian Wade and more
-"Sounds from the Cold:" Interviews with supervising sound editor David Lewis Yewdall and special sound effects designer Alan Howarth
-"Between the Lines:" An interview with novelization author Alan Dean Foster
-"John Carpenter's The Thing: Terror Takes Shape:" A documentary on the making of THE THING featuring interviews with John Carpenter, Kurt Russell, special effects make-up designer Rob Bottin, legendary matte artist Albert Whitlock, and members of the cast and crew (80 minutes – SD)
-Outtakes (5 minutes - SD)

-Vintage featurettes from the electronic press kit featuring interviews with John Carpenter, Kurt Russell, and Rob Bottin (12 minutes - SD)
-Vintage featurettes "The Making of a Chilling Tale" and "The Making of THE THING" (1982 – 14 minutes - SD)
-Vintage Product Reel – contains a promotional condensed version of the film with additional footage not in the film (19 minutes - SD)

-Vintage Behind-the-Scenes footage (2 minutes - SD)
-Annotated Production Archive – Production Art and Storyboards, Location Scouting, Special Make-up Effects, Post Production (48 minutes - SD)
-Network TV Broadcast version of THE THING (92 minutes - SD)
-Teaser Trailer
-Theatrical Trailers (U.S. and German Trailer)
-TV spots
-Radio Spots
-Still Gallery (behind-the-scenes photos, posters and lobby cards)
White Dog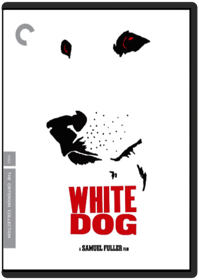 Samuel Fuller
Samuel Fuller's throat-grabbing exposé on American racism was misunderstood and withheld from release when it was made in the early eighties; today, the notorious film is lauded for its daring metaphor and gripping pulp filmmaking. Kristy McNichol stars as a young actress who adopts a lost German Shepherd, only to discover through a series of horrifying incidents that the dog has been trained to attack black people, and Paul Winfield plays the animal trainer who tries to cure him. A snarling, uncompromising vision, White Dog is a tragic portrait of the evil done by that most corruptible of animals: the human being.

SPECIAL EDITION FEATURES:
New, restored high-definition digital transfer of the uncut version, approved by producer Jon Davison
New video interviews with producer Davison, co-writer Curtis Hanson, and Sam Fuller s widow, Christa Lang-Fuller
An interview with dog trainer Karl Lewis-Miller
Rare photos from the film s production

PLUS: A booklet featuring new essays by critics J. Hoberman and Armond White, plus a rare 1982 interview in which Fuller interviews the canine star of the film
The Big Chill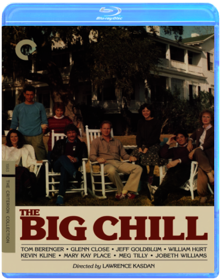 Lawrence Kasdan
BIG CHILL (BLU-RAY/DVD COMBO/1983/WS 1.85/3 DISC) PB DRAMA
The Dead Zone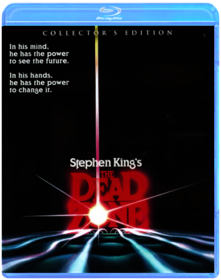 David Cronenberg
Christopher Walken wakes from a coma due to a car accident, only to find he has lost five years of his life, and yet gained psychic powers. Foreseeing the future appears to be a 'gift' at first, but ends up causing problems…
The Hunger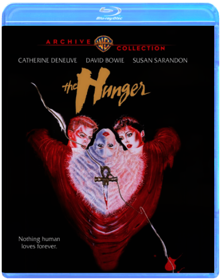 Tony Scott
Koyaanisqatsi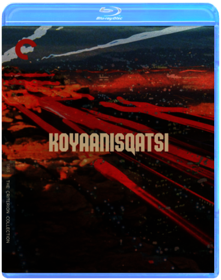 Godfrey Reggio
Monty Python's The Meaning of Life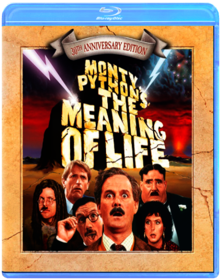 Terry Jones and Terry Gilliam
Those six pandemonium-mad Pythons are back with their craziest adventure ever! Graham Chapman, John Cleese, Terry Gilliam, Eric Idle, Terry Jones and Michael Palin have returned to explain The Meaning of Life. These naughty Brits offer the usual tasteful sketches involving favorite body parts and bodily functions, the wonders of war, the miracle of birth and a special preview of what's waiting for us in Heaven. You'll never look at life in quite the same way again! Hailed as "an exhilarating experience" (Time) and pronounced "the best movie from England's satirical sextet." (Newsweek)
National Lampoon's Vacation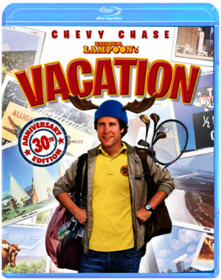 Harold Ramis
National Lampoon's Vacation: 30th Anniversary (BD)
Nostalghia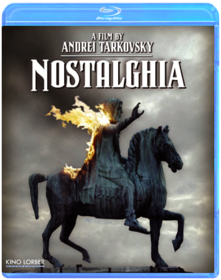 Andrei Tarkovsky
The Outsiders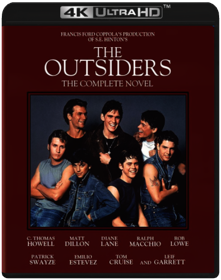 Francis Ford Coppola
The Qatsi Trilogy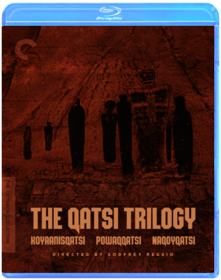 Godfrey Reggio
A singular artist and activist, Godfrey Reggio is best known for his galvanizing trio of films The Qatsi Trilogy. Astonishingly photographed, and featuring unforgettable, cascading scores by Philip Glass (Mishima), these are immersive sensory experiences that meditate on the havoc humankind's fascination with technology has wreaked on our world. From 1983's Koyaanisqatsi (the title is a Hopi word that means "life out of balance") to 1988's Powaqqatsi ("life in transformation") to 2002's Naqoyqatsi ("life as war"), Reggio takes us on an edifying journey from the ancient to the contemporary, from nature to industry and back again, all the while keeping our eyes wide with wonder.

KOYAANISQATSI

An unorthodox work in every way, Godfrey Reggio's Koyaanisqatsi was nevertheless a sensation when it was released in 1983. The film wordlessly surveys the rapidly changing environments of the northern hemisphere. The director, cinematographer Ron Fricke, and composer Philip Glass created an astonishing collage; the film shuttles the viewer from one jaw-dropping vision to the next, moving from images of untouched nature to others depicting human beings' increasing reliance on technology. Often using hypnotic time-lapse photography, Koyaanisqatsi looks at our world from an angle unlike any other.

1983 86 minutesColor5.1 surround1.85:1 aspect ratio

POWAQQATSI

Five years after Godfrey Reggio stunned audiences with Koyaanisqatsi, he joined forces again with composer Philip Glass and other collaborators for a second chapter. Here, Reggio turns his sights on third world nations in the southern hemisphere. Forgoing the sped-up aesthetic of the first film, Powaqqatsi employs a meditative slow motion in order to reveal the everyday beauty of the traditional ways of life of native people in Africa, Asia, and South America, and to show how those cultures are being eroded as their environment is gradually taken over by industry. This is the most intensely spiritual segment of Reggio's philosophical and visually remarkable Qatsi Trilogy.

1988 99 minutesColor5.1 surround1.85:1 aspect ratio

NAQOYQATSI

Godfrey Reggio takes on the digital revolution in the final chapter of his Qatsi Trilogy, Naqoyqatsi. With a variety of cinematic techniques, including slow motion, time-lapse, and computer-generated imagery, the film tells of a world that has completely transitioned from a natural environment to a human-made one. Globalization is complete, all of our interactions are technologically mediated, and all images are manipulated. From this (virtual) reality, Reggio sculpts a frenetic yet ruminative cinematic portrait of a world that has become officially postlanguage.

2002 89 minutesColor5.1 surround1.78:1 aspect ratio
Scarface
Brian De Palma
Starring Academy Award winner Al Pacino (The Godfather) in an unforgettable performance as one of the most ruthless gangsters ever depicted on film and co-starring Academy Award nominee Michelle Pfeiffer (The Fabulous Baker Boys), Scarface is the rags-to-riches story of Cuban immigrant Tony "Scarface" Montana, who finds wealth, power and passion beyond his wildest dreams...at a price he never imagined. From acclaimed director Brian De Palma (Carlito's Way) and Oscar-winning writer Oliver Stone (Born on the Fourth of July), this action-packed Blu-ray features an all-new eye-popping remastered picture, explosive 7.1 audio track and never-before-seen bonus features. One of the most influential gangster epics of all time, the Scarface Limited Edition Blu-ray also includes collectible SteelBook packaging, a digital copy of the film, a DVD of the 1932 version of Scarface plus 10 original art cards for a limited time only.
Screwballs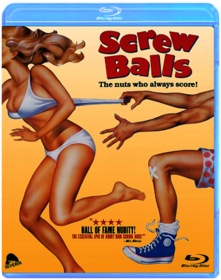 Rafal Zielinski, Roger Corman
THE RAUNCHIEST 80s SEX COMEDY OF THEM ALL

Now On DVD For The First Time Ever!

When legendary exploitation king Roger Corman decided to release the ultimate horny teen comedy, he delivered the most outrageous and hilarious boobs-and-balls epic of the decade! Welcome to Taft & Adams High, where the entire student body including campus virgin Purity Busch, chronic masturbator Melvin Jerkovski, repressed Principal
Stuckoff and blonde bombshell Bootsie Goodhead all must rise to the challenges of freshman breast exams, bikini cheerleader attacks, inappropriate uses of bowling ball holes and much more. Co-screenwriter Linda Shayne, Nanci Chambers of JAG, and Russ Meyer bosom goddess Raven DeLaCroix co-star in this infamous drive-in smash, now loaded with exclusive new Bonus Features that take you deep inside the skin-tastic classic that DVD Talk says makes PORKY S look like Proust!

EXTRAS:
Audio Commentary with Director Rafal Zielinski
CAST & CREW INTERVIEWS: Director Rafal Zielinski, Co-Writers Linda Shayne & Jim Wynorski, Star Kent Deuters and Special FX Artist Gerald Lukaniuk
Interview with Canuxsploitation Scholar Paul Corupe
Mr. Skin Talks Sex Comedies of the '80s
Deleted Scenes
Theatrical Trailer
Videodrome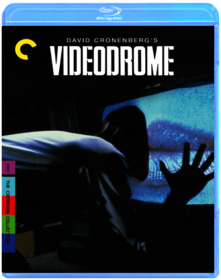 David Cronenberg
1984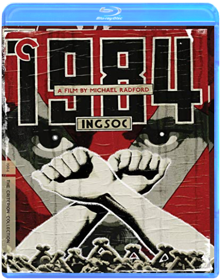 Michael Radford
2010: The Year We Make Contact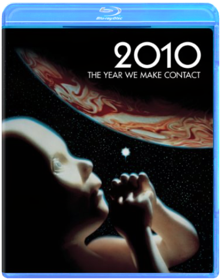 Peter Hyams
2010: The Year We Make Contact (BD)
The Adventures of Buckaroo Banzai Across the 8th Dimension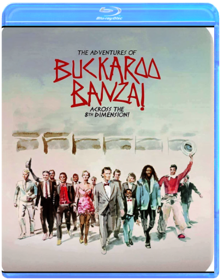 W.D. Richter
Blood Simple
Ethan Coen, Joel Coen
Blood Simple (The Criterion Collection) [Blu-ray] [Blu-ray] [2016]
Body Double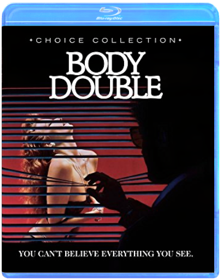 Brian De Palma
Brian De Palma invites you to witness a seduction...a mystery... a murder. It's BODY DOUBLE a spine-tingling look at voyeurism and sexuality from the modern master of suspense. Jake Scully (Craig Wasson), an unemployed actor, is asked to house-sit at a luxurious hillside apartment. As a bonus, the home offers Jake a telescopic peek into the bedroom of Gloria Revelle (Deborah Shelton), who performs an arousing striptease. When Jake discovers another man is also spying on Gloria, he begins an obsessive surveillance of her. Soon a grisly murder leads him into the world of X-rated films where he meets sexy adult film queen Holly Body (Melanie Griffith), who is a key to the crime. De Palma has created a gripping adult thriller of eroticism and horror!

When sold by Amazon.com, this product is manufactured on demand using BD-R recordable media. Amazon.com's standard return policy will apply.
Colonel Redl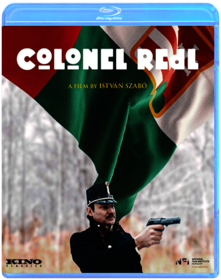 István Szabó
Conan the Destroyer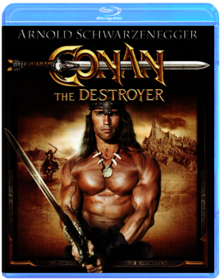 Richard Fleischer
Crimes of Passion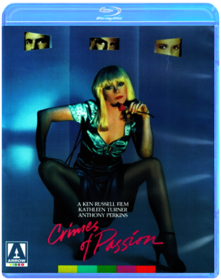 Ken Russell
Dune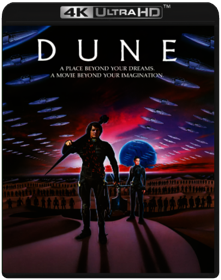 David Lynch
Dazzling special effects, unforgettable images and powerful performances highlight David Lynch's stunning film version of Frank Herbert's classic science-fiction epic about an intergalactic warrior's messianic rise. Starring Kyle MacLachlan, José Ferrer, Max von Sydow, Oscar® winner Linda Hunt and Sting, Dune is the ultimate adventure experience that goes beyond the imagination.
The Element of Crime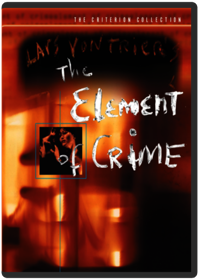 Lars von Trier
Lars von Trier's stunning debut film is the story of Fisher, an exiled ex-cop who returns to his old beat to catch a serial killer with a taste for young girls. Influenced equally by Hitchcock and science fiction, von Trier (Zentropa, Breaking the Waves, The Idiots) boldly reinvents expressionist style for his own cinematic vision of a post-apocalyptic world. Shot in shades of sepia, with occasional, startling flashes of bright blue, The Element of Crime (Forbrydelsens Element) combines dark mystery and operatic sweep to yield a pure celluloid nightmare.
Ghostbusters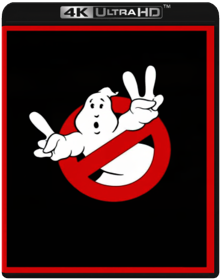 Ivan Reitman
Suit up for classic comedy! When kooky, spooky college profs Peter Venkman (Bill Murray), Ray Stantz (Dan Aykroyd) and Egon Spengler (Harold Ramis) lose their university jobs, they decide to go freelance, de-haunting houses in a new ghost removal service. As soon as they open their doors, their first order of business becomes saving beautiful cellist Dana Barrett (Sigourney Weaver) and nerdy Louis Tully (Rick Moranis), who've inadvertently opened the gates of hell…right in their own apartment building! UHD Synopsis: When kooky, spooky college profs Peter Venkman (Bill Murray), Ray Stantz (Dan Aykroyd) and Egon Spengler (Harold Ramis) lose their university jobs, they decide to go freelance, de-haunting New York City with a new ghost removal service. As soon as they open their doors, their first order of business becomes saving beautiful cellist Dana Barrett (Sigourney Weaver) and nerdy Louis Tuilly (Rick Moranis), who've inadvertently opened the gates of hell...right in their own apar
Maria's Lovers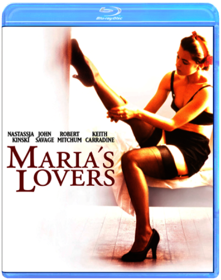 Andrey Konchalovskiy
A Nightmare on Elm Street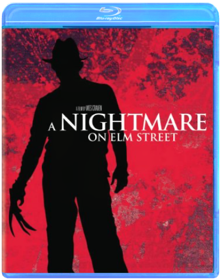 Wes Craven
Nightmare On Elm Street, A (BD)
Paris, Texas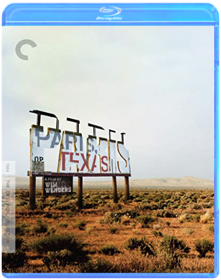 Wim Wenders
A lost man surfaces, reunites with his brother and son, and finds his wife working in a peep show. Directed by Wim Wenders. Music by Ry Cooder.
The Quay Brothers: Collected Short Films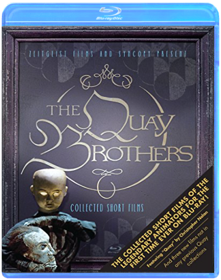 Stephen Quay, Timothy Quay, Christopher Nolan
Since the late 1970s, identical twins Stephen and Timothy Quay have been creating their unique blend of puppetry and stop-motion animation, and have, in the process, spawned an enormous cult following. The Quays display a passion for detail, a breathtaking command of color and texture, and an uncanny use of focus and camera movement that make their films unique and instantly recognizable. Best known for their classic 1986 film Street of Crocodiles which filmmaker Terry Gilliam selected as one of the ten best animated films of all time they are masters of miniaturization and on their tiny sets have created an unforgettable world, suggestive of a landscape of long-repressed childhood dreams.

This new Blu-ray collection of fifteen of the Quays films allows us to see their work in all its astonishing detail and ravaged beauty. The collection also includes a remarkable new short film by Christopher Nolan, a long-time fan of the Quays, as well as audio commentaries on six of the films and a 30-page booklet with an introduction by Nolan, an updated essay by film critic Michael Atkinson and an extensive Quay Brothers Dictionary.

All films are presented in the highest possible quality from film-to-digital transfers made under the personal supervision of the Quay Brothers.

Includes the films:

The Cabinet of Jan vankmajer (1984, 14 mins)
This Unnameable Little Broom (or The Epic of Gilgamesh) (1985, 11 mins)*
Street of Crocodiles (1986, 21 mins)*
Rehearsals for Extinct Anatomies (1988, 14 mins)
Stille Nacht I - Dramolet (1988, 1 min)*
The Comb (1990, 18 mins)
Anamoprhosis (1991, 14 mins)
Stille Nacht II (Are We Still Married?) (1992, 3 mins)*
Stille Nacht III (Tales from Vienna Woods) (1993, 4 mins)*
Stille Nacht IV (Can't Go Wrong Without You) (1994, 4 mins)
In Absentia (2000, 20 mins)*
The Phantom Museum (2003, 12 mins)
Maska (2010, 24 mins)**
Through the Weeping Glass (2011, 31 mins)**
Unmistaken Hands (2013, 26 mins)**
and
Quay a film by Christopher Nolan (2015, 8 mins)**

*Includes Quay Brothers Audio Commentary
**Not in the previously available Quay DVD collection

Total running time: 225 minutes.

Includes a 28-page booklet and special digipak packaging.
Repo Man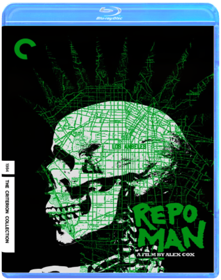 Alex Cox
A quintessential cult film of the 1980s, Alex Cox's singular sci-fi comedy stars the always captivating Harry Dean Stanton (Paris, Texas) as a weathered repo man in desolate downtown Los Angeles, and Emilio Estevez (The Breakfast Club) as the nihilistic middle-class punk he takes under his wing. The job becomes more than either of them bargained for when they get involved in reclaiming a mysterious—and otherworldly—Chevy Malibu with a hefty reward attached to it. Featuring the ultimate early-eighties L.A. punk soundtrack, this grungily hilarious odyssey is a politically trenchant take on President Reagan's domestic and foreign policy.
Revenge of the Nerds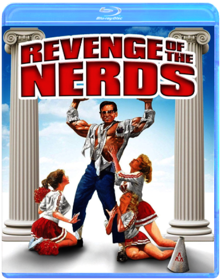 Jeff Kanew
College freshmen Skolnick and Gilbert form their own fraternity for computer-whiz misfits.
The Terminator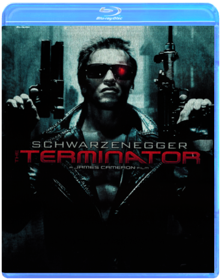 James Cameron
In the year 2029, the ruling super-computer, Skynet, sends an indestructible cyborg (Arnold Schwarzenegger) back in time to 1984 to kill Sarah Connor (Linda Hamilton) before she can fulfill her destiny and save mankind.
This Is Spın̈al Tap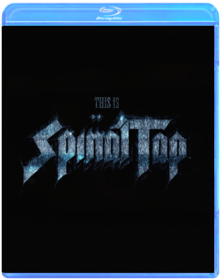 Rob Reiner
You're about to get personal with one of music history's greatest and loudest heavy metal bands, Spinal Tap! Whether or not you're a die-hard fan of the group, you'll love this detailed "rockumentary" of Engand's legendary Spinal Tap. Acclaimed commercial director Marty DiBergi takes you behind the scenes for an intimate look at a band whose time has come and gone and come again and.... Through interviews, rare footage and lots of musicincluding classic Tap tunes like "Big Bottom" and "Hell Hole"you'll get acquainted with David St. Hubbins (lead guitar), Nigel Tufnel (lead guitar), Derek Smalls (lead bass) and every drummer who ever livedand diedfor this renowned rock band. Be a part of the sights, sounds and smells of this celebrated heavy metal phenomenon. It's an experience you'll never forget.
Threads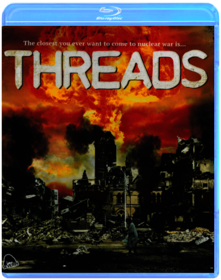 Mick Jackson
Limited Edition of Only 3500 with a Lenticular Cover

The Movie That Shook the World Restored In HD For The First Time Ever.

In September 1984, THREADS was aired on the BBC and shocked tens of millions of UK viewers. Four months later, it was broadcast in America and became the most watched basic cable program in history. After more than three decades, it remains one of the most acclaimed and shattering made–for–television movies of all time. Reece Dinsdale (Coronation Street), David Brierly (Doctor Who) and Karen Meagher, in a stunning debut performance star in this "graphic and haunting" (People Magazine) docudrama about the effects of a nuclear attack on the working –class city of Sheffield, England as the fabric of society unravels. Directed by Mick Jackson (THE BODYGUARD, TUESDAYS WITH MORRIE) from a screenplay by novelist/playwright Barry Hines (Ken Loach s KES) and nominated for seven BAFTA Awards, "The most terrifying and honest portrayal of nuclear war ever filmed" (The Guardian) has now been fully restored from a 2K scan for the first time ever.

SPECIAL FEATURES:

Audio Commentary with Director Mick Jackson, Moderated by Film Writer Kier–La Janisse and Severin Films' David Gregory
Audition For the Apocalypse: Interview with Actress, Karen Meagher
Shooting the Annihilation: Interview with Director of Photography, Andrew Dunn
Destruction Designer: Interview with Production Designer, Christopher Robilliard
Interview with Film Writer, Stephen Thrower
US Trailer
Top Secret!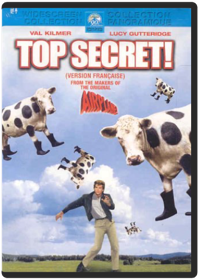 Jim Abrahams, David Zucker, Jerry Zucker
In between the disaster movie satire Airplane! in 1980 and the hardboiled cop show parody The Naked Gun in 1988, the comedy crew of Jerry Zucker, Jim Abrahams, and David Zucker put together a picture that's almost as funny as their better-known hits. Top Secret! sends up spy movies and cheesy teen rock & roll musicals. Val Kilmer stars as swivel-hipped American rocker Nick Rivers, a sort of blonde Elvis whose secret weapon is Little Richard's tune "Tutti Fruitti." On tour behind the Iron Curtain, Nick strikes blows for democracy overtly and covertly, with his music as well as his espionage skills. In short, this is a very, very silly motion picture. Some great gags, including a subtitled scene in a Swedish book shop, and an inspired bit with a Ford Pinto that not everybody may get anymore. (The Pinto, you may or may not recall, was notoriously prone to gas tank explosions when rear-ended.) —Jim Emerson
Back to the Future Trilogy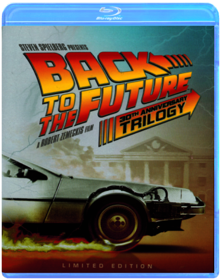 Rober Zemeckis
Disc 1: Back to the Future
Deleted Scenes
Tales from the Future: In the Beginning...
Tales from the Future: Time to Go
Tales from the Future: Keeping Time
Q&A Commentary with Director Robert Zemeckis and Producer Bob Gale
Feature Commentary with Producers

Disc 2: Back to the Future Part II
Deleted Scenes
Tales from the Future: Time Flies
Physics of Back to the Future
Q&A Commentary with Director Robert Zemeckis and Producer Bob Gale
Feature Commentary with Producers

Disc 3: Back to the Future Part III
Deleted Scenes
Tales from the Future: Third Time's the Charm
Tales from the Future: The Test of Time
Back to the Future: The Ride
Q&A Commentary with Director Robert Zemeckis and Producer Bob Gale
Feature Commentary with Producers

Disc 4: Bonus Disc
Making the Trilogy: Chapters One, Two, and Three
Michael J. Fox Q&A
FAQ's About the Trilogy
Original Makeup Tests
Outtakes
Nuclear Test Site Ending
Storyboard Sequence
Production Design
Designing the DeLeorean, Time Travel, Hill Valley, and the Campaign
Hoverboard Test
Evolution of Visual Effects
Secrets of the Back to the Future Trilogy
Music Videos
Trailers

All-New 2015 Bonus Features
Doc Brown Saves the World: Short featuring Christopher Lloyd
OUTATIME: Restoring the DeLorean: The 2012 restoration of the most iconic car in film history
Looking Back to the Future: 9-part retrospective feature on the trilogy's legacy
Back to the Future: The Animated Series: 2 episodes ("Brothers" and "Mac the Black") from the 1991 series featuring live action segments with Christopher Lloyd as Doc Brown
And More
Brazil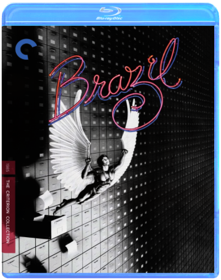 Terry Gilliam
In the dystopic masterpiece Brazil, Jonathan Pryce (Glengarry Glen Ross) plays a daydreaming everyman who finds himself caught in the soul-crushing gears of a nightmarish bureaucracy. This cautionary tale by Terry Gilliam (Fear and Loathing in Las Vegas), one of the great films of the 1980s, now ranks alongside antitotalitarian works by the likes of George Orwell, Aldous Huxley, and Kurt Vonnegut Jr. And in terms of set design, cinematography, music, and effects, Brazil, a nonstop dazzler, stands alone.
The Breakfast Club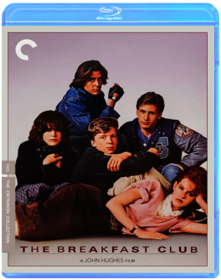 John Hughes
What happens when you put five strangers in Saturday detention? Badass posturing, gleeful misbehavior, and a potent dose of angst. With this exuberant film, writer-director John Hughes established himself as the bard of American youth, vividly and empathetically capturing how teenagers hang out, act up, and goof off. The Breakfast Club brings together an assortment of adolescent archetypes the uptight prom queen (Molly Ringwald), the stoic jock (Emilio Estevez), the foul-mouthed rebel (Judd Nelson), the virginal bookworm (Anthony Michael Hall), and the kooky recluse (Ally Sheedy) and watches them shed their personae and emerge into unlikely friendships. With its highly quotable dialogue and star-making performances, this film is an era-defining pop-culture phenomenon, a disarmingly candid exploration of the trials of adolescence whose influence now spans generations.

BLU-RAY SPECIAL EDITION FEATURES
- 4K digital restoration, with uncompressed monaural soundtrack
- Alternate 5.1 surround soundtrack, presented in DTS HD Master Audio
- Audio commentary from 2015 featuring actors Anthony Michael Hall and Judd Nelson
- New interviews with actors Molly Ringwald and Ally Sheedy
- New video essay featuring director John Hughes s production notes, read by Nelson
- Documentary from 2015 featuring interviews with cast and crew
- 50 minutes of never-before-seen deleted and extended scenes
- Rare promotional and archival interviews and footage
- Excerpts from a 1985 American Film Institute seminar with Hughes
- 1999 radio interview with Hughes
- Segment from a 1995 episode of NBC's Today show featuring the film's cast
- Audio interview with Molly Ringwald from a 2014 episode of This American Life
- PLUS: An essay by critic David Kamp
Chronos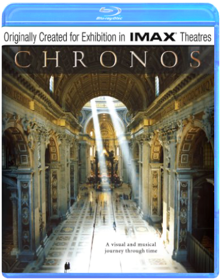 Ron Fricke
A stunning visual symphony in seven movements, CHRONOS embarks on a spellbinding and unprecedented cinematic journey across the world of natural beauty and manmade monuments, exploring the very essence of time. A milestone in the history of giant screen films, CHRONOS imparts a unique vision of our planet – the first non-verbal, non-fiction motion picture filmed in time-lapse photography, scored with exotic instrumentation in a multi-channel Surround soundtrack. Prepare to travel through history in the ultimate home theater experience that may just change the way you look at the world and our place in it.
Come and See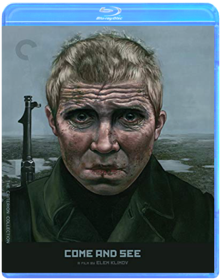 Elem Klimov
Commando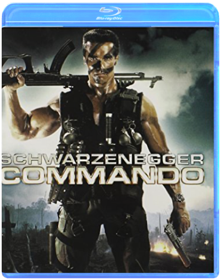 Mark L. Lester
A human killing machine and an airline hostess take on an ousted dictator's private army.
Flesh + Blood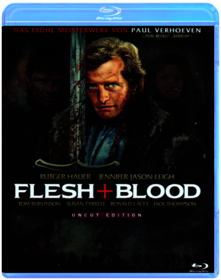 Paul Verhoeven
Betrayed by power. Corrupted by love. Bound by honor. In the battle between good and evil, only the strong survive! From visionary director Paul Verhoeven (Robocop) comes this 'vivid and muscular' (Variety) epic adventure of medieval bravery and blood lust starring Rutger Hauer (Blade Runner) and Jennifer Jason Leigh (Rush). In the chaotic, morally bankrupt Europe of 1510, a cold-hearted warrior named Martin (Hauer) leads his motley crew of mercenaries into battle to reclaim the castle of an ousted nobleman. But when the despot betrays them, Martin and his band of ruffians strike back by kidnapping the innocent young maiden (Leigh) betrothed to the nobleman's son - a fearless Renaissance man who must risk life and limb to rescue the woman he loves! The Stellar cast includes Tom Burlinson, Jack Thompson, Susan Tyrrell, Bruno Kirby and Brion James.

Special Features:
-Audio Commentary by Director Paul Verhoeven
-Composing Flesh + Blood Featurette
-Original Theatrical Trailer
Hardcore Collection: Director's Cut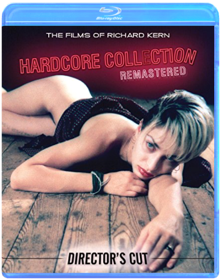 Richard Kern
Insignificance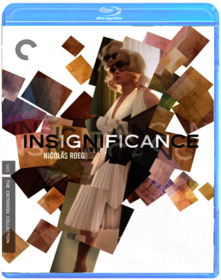 Nicolas Roeg
Four unnamed people who look and sound a lot like Albert Einstein, Marilyn Monroe, Joe DiMaggio, and Joseph McCarthy converge in one New York City hotel room for this compelling, visually inventive adaptation of Terry Johnson's play, from director Nicolas Roeg (Walkabout, The Man Who Fell to Earth). With a combination of whimsy and dread, Roeg creates a fun-house-mirror picture of cold war America that questions the nature of celebrity and plays on a society's simmering nuclear fears. Insignificance is a delirious, intelligent drama, featuring magnetic performances by Michael Emil (Tracks, Always) as "the professor," Theresa Russell (Bad Timing, Black Widow) as "the actress," Gary Busey (The Buddy Holly Story, Lethal Weapon) as "the ballplayer," and Tony Curtis (Sweet Smell of Success, Spartacus) as "the senator."
Jirí Barta: Labyrinth of Darkness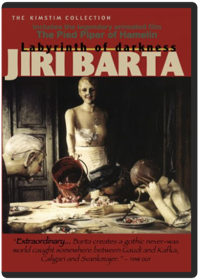 Jirí Barta
Legend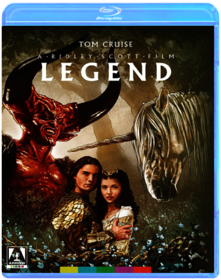 Ridley Scott
Legend, from director Ridley Scott (Blade Runner, Gladiator), is a visually stunning fantasy-adventure in which pure good and evil battle to the death amidst spectacular surroundings. Set in a timeless mythical forest inhabited by fairies, goblins, unicorns and mortals, this fantastic story stars Tom Cruise as a mystical forest dweller, chosen by fate, to undertake a heroic quest. He must save the beautiful Princess Lily (Mia Sara) and defeat the demonic Lord of Darkness (Tim Curry), or the world will be plunged into a never-ending ice age.
Mad Max Beyond Thunderdome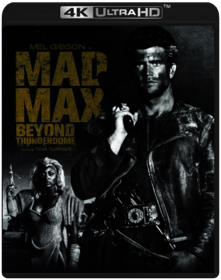 George Miller
Quick Shipping !!! New And Sealed !!! This Disc WILL NOT play on standard US DVD player. A multi-region PAL/NTSC DVD player is request to view it in USA/Canada. Please Review Description.
Mala Noche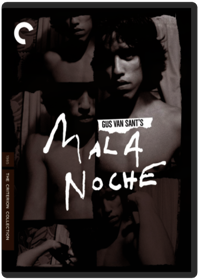 Gus Van Sant
My Life as a Dog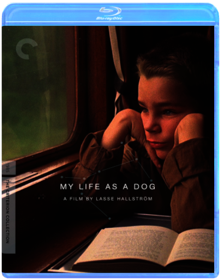 Lasse Hallstrom
My Life as a Dog (Mitt liv som hund) tells the story of Ingemar, a twelve-year-old from a working-class family sent to live with his uncle in a country village when his mother falls ill. There, the boy finds both refuge from his misfortunes and unexpected adventure with the help of the town's warmhearted eccentrics. Featuring an incredibly mature and unaffected performance from the young Anton Glanzelius, this is a beloved and bittersweet evocation of the struggles and joys of childhood from Oscar-nominated director Lasse Hallström (The Cider House Rules).
Pee-wee's Big Adventure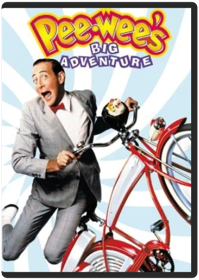 Tim Burton
Former animator Tim Burton (Beetlejuice, Edward Scissorhands, Ed Wood, Batman, Mars Attacks!) made his feature directorial debut with this delightful comedy, coscripted by the late Phil Hartman (who also appears briefly
Ran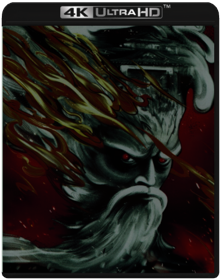 Akira Kurosawa
Re-Animator
Stuart Gordon
A dedicated student at a medical college and his girlfriend become involved in bizarre experiments centering around the re-animation of dead tissue when an odd new student (Jeffrey Combs) arrives on campus.
Real Genius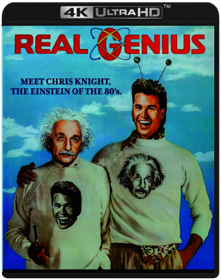 Martha Coolidge
Whiz-kids (Val Kilmer and Gabe Jarrett) plot their revenge on a think tank that has them working onsecret weapons for the military.

When sold by Amazon.com, this product is manufactured on demand using BD-R recordable media. Amazon.com's standard return policy will apply.
Shoah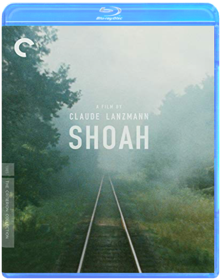 Claude Lanzmann
Smooth Talk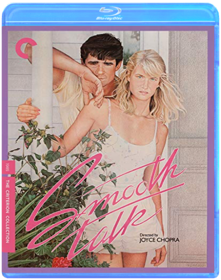 Joyce Chopra
The Stuff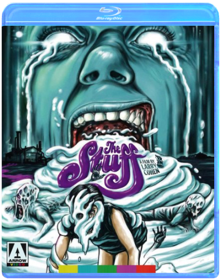 Larry Cohen
Subway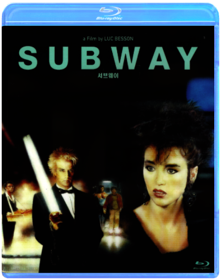 Luc Besson
Tampopo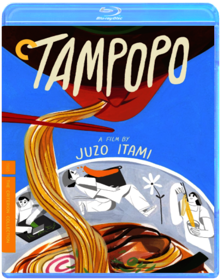 Juzo Itami
To Live and Die in L.A.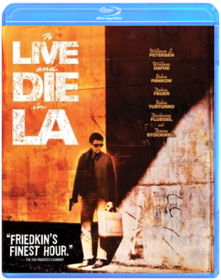 William Friedkin
A Secret Service agent bends and breaks the law to nab an artist/counterfeiter in Los Angeles.
Weird Science
John Hughes
Teen life is full of mysteries, but nothing is more hilarious than Weird Science, the out-of-this-world comedy that helped define a generation! Join two socially challenged computer whizzes (Anthony Michael Hall and Ilan Mitchell-Smith) as they set out to create the "perfect woman" (supermodel Kelly LeBrock). Like a computer-generated fairy godmother, the duo's heavenly creation guides the pair through the pleasures and pitfalls of teenage life. From writer/director John Hughes (The Breakfast Club, Sixteen Candles), Weird Science is an outrageous coming-of-age guilty pleasure where every teenage boy's fantasy comes to life.
'Round Midnight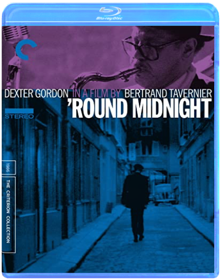 Bertrand Tavernier
9 1/2 Weeks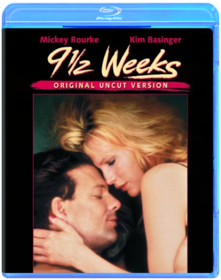 Adrian Lyne
Aliens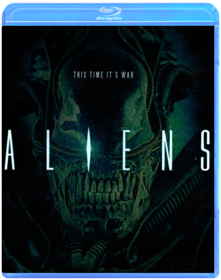 James Cameron
Big Trouble in Little China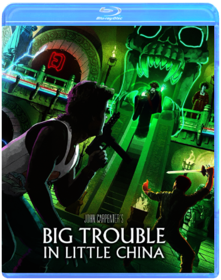 John Carpenter
A trucker and a lawyer become trapped in a sorcerer's empire beneath San Francisco's Chinatown.
Blue Velvet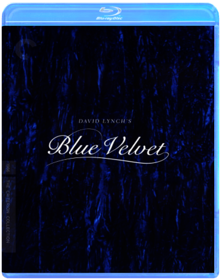 David Lynch
A young man ties the mystery of a severed ear to a roadhouse floozy and her tormentor. Directed by David Lynch.
Ferris Bueller's Day Off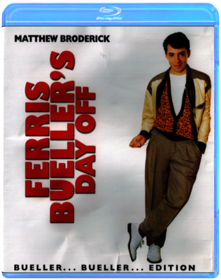 John Hughes
"Bueller…Bueller…?" Sorry, not here! Instead, high-schooler Ferris Bueller (Mathew Broderick), his girlfriend Sloane (Mia Sara), and his best bud Cameron (Alan Ruck) are off on the spontaneous romp through Chicago known as Ferris Bueller's Day Off. You'll also enjoy righteous bonus materials that give you an insider's peek at this hilarious comedy hit from John Hughes (Planes, Trains & Automobiles, Sixteen Candles). So, barf up a lung, forge a "sick note" from the parents, and tag along on the funniest adventure to ever sweep through the Windy City. What are you still doing here? Save Ferris!

Blu-ray disc comes in O-sleeve slip-cover packaging.
The Fly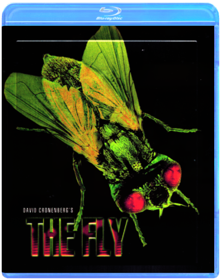 David Cronenberg
Seth Brundle, a brilliant but eccentric scientist attempts to woo investigative journalist Veronica Quaife by offering her a scoop on his latest research in the field of matter transportation, which against all the expectations of the scientific establishment have proved successful. Up to a point. Brundle thinks he has ironed out the last problem when he successfully transports a living creature, but when he attempts to teleport himself a fly enters one of the transmission booths, and Brundle finds he is a changed man.
Gothic
Ken Russell
Five famous friends spend a hallucinogenic evening confronting their fears in a frenzy of shocking lunacy and horrifying visions in this fictional tale, which tells the story of Mary Shelley's conception of Frankenstein on a night in Lord Byron's home.
Labyrinth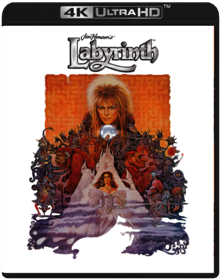 Jim Henson
George Lucas produced and Jim Henson directed this gothic fantasy which pits living and breathing actors Jennifer Connelly and David Bowie (who, along with Trevor Jones, provides the film's music) against a motley collection of Muppet monsters. The film centers upon teenage Sarah (Connelly), who lives in a fantasy world of myth and magic, evil spells, and wondrous enchantment. She is baby-sitting her little brother when she cavalierly wishes that goblins would take him away. She gets her wish, and a coterie of goblins abduct him. She then encounters Jareth (David Bowie), the ruler of a mystical world one step removed from reality. He tells Sarah that the only way to get her brother back is to find her way through a M.C. Escher-like labyrinth and find the castle at the center. As she makes her way through the maze, she faces a number of horrific challenges (like the Bog of Eternal Stench) before she finds her way to the gravity-defying castle, where her brother is being held by the evil goblins.
Platoon
Oliver Stone
Winner* of 4 Academy Awards®, including Best Picture, and based on the first-hand experience of Oscar®-winning director Oliver Stone, Platoon is powerful, intense and starkly brutal. "Harrowingly realistic and completely convincing" (Leonard Maltin), it is "a dark, unforgettable memorial" (The Washington Post) to every soldier whose innocence was lost in the war-torn jungles of Vietnam. Chris Taylor (Charlie Sheen) is a young, naive American who, upon his arrival in Vietnam, quickly discovers that he must do battle not only with the Viet Cong, but also with the gnawing fear, physical exhaustion and intense anger growing within him. While his two commanding officers (Oscar®-nominated Tom Berenger and Willem Dafoe) draw a fine line between the war they wage against the enemy and the one they fight with each other, the conflict, chaos and hatred permeate Taylor, suffocating his realities and numbing his feelings to man's highest value life.
Salvador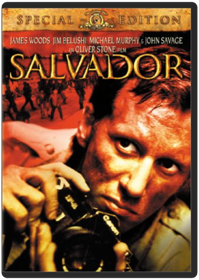 Oliver Stone
James Woods gives his "fullest, most humane, most emotional performance"(New York Magazine) to date in this "gritty, harrowing and bold thriller"(Gannett Newspapers). It's 1980. Young men, women and children are being brutally killed in a bloody civil war in El Salvador. It'sa horrific setting...but a perfect one for Richard Boyle, a sleazy war photojournalist whose careerneeds a jumpstart. Armed with his camera, Boyle joins the front lines in an attempt to capture atrocious-but-valuable images of pain and horror. But with each picture he takes, he catches a tragic side of humanity that ignites his long-buried compassion. And he unexpectedly discovers something thatwill change him forever: his soul. *1986 Actor (James Woods); Original Screenplay
Sid & Nancy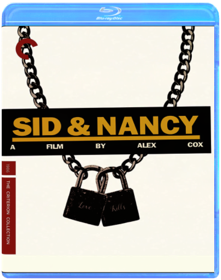 Alex Cox
Stand by Me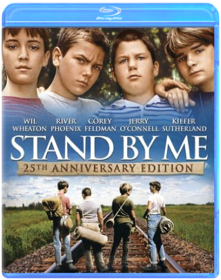 Rob Reiner
In a small woodsy Oregon town, a group of friends—sensitive Gordie (Wil Wheaton), tough guy Chris (River Phoenix), flamboyant Teddy (Corey Feldman), and scaredy-cat Vern (Jerry O'Connell)—are in search of a missing teenager's body. Wanting to be heroes in each other's and their hometown's eyes, they set out on an unforgettable two-day trek that turns into an odyssey of self-discovery. They sneak smokes, tell tall tales, cuss 'cause it's cool and band together when the going gets tough. When they encounter the town's knife-wielding hoods who are also after the body, the boys discover a strength they never knew they had. Stand By Me is a rare and special film about friendship and the indelible experiences of growing up. Filled with humor and suspense, Stand By Me is based on the novella 'The Body' by Stephen King.
Three Amigos!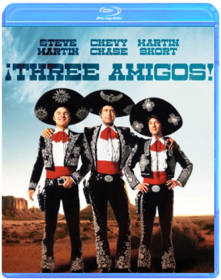 John Landis
Steve Martin, Chevy Chase, and Martin Short travel a dusty road to adventure in this zany mix of sharp one-liners and clever sight gags. The "Three Amigos" are a silent screen comedy act who have seen better days. So has a remote Mexican hamlet which is being terrorized by a fierce bandit gang. In desperation a naïve villager sends the actors a telegram asking for their help. Thinking they're being offered a fortune for a personal appearance, the hapless trio arrives in Mexico, only to discover this time they're dodging real bullets. Directed by John Landis (Animal House, Trading Places), here is a comedy about three loveable bumblers who are in way over their heads but come what may, they'll always remain the THREE AMIGOS!
Top Gun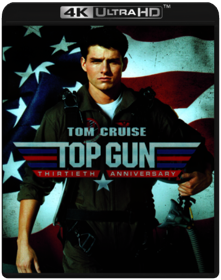 Tony Scott
Top Gun takes a look at the danger and excitement that awaits every pilot at the Navy's prestigious fighter weapons school. Tom Cruise is superb as Pete "Maverick" Mitchell, a daring young flyer who's out to become the best of the best. And Kelly McGillis sizzles as the civilian instructor who teaches Maverick a few things you can't learn in a classroom.
The Transformers: The Movie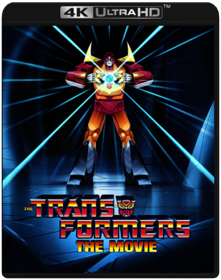 Nelson Shin
Babette's Feast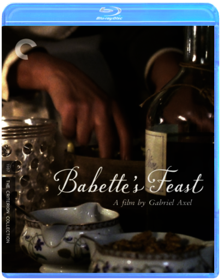 Gabriel Axel
At once a rousing paean to artistic creation, a delicate evocation of divine grace, and the ultimate film about food, the Oscar-winning BABETTE'S FEAST is a deeply beloved cinematic treasure. Directed by Gabriel Axel and adapted from a story by Isak Dinesen, this is the layered tale of a French housekeeper with a mysterious past who brings quiet revolution in the form of one exquisite meal to a circle of starkly pious villagers in late nineteenth-century Denmark. BABETTE'S FEAST combines earthiness and reverence in an indescribably moving depiction of pleasure that goes to your head like fine champagne.
Broadcast News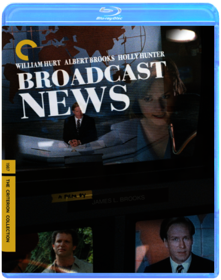 James L. Brooks
In the 1970s, the name James L. Brooks (The Mary Tyler Moore Show, Taxi, Terms of Endearment, The Simpsons) was synonymous with intelligent television comedy—his shows were insightful about work and love and always tapped into the zeitgeist. With his transition to film in the 1980s, he became a master Hollywood storyteller, and none of his films was more quintessentially Brooks than Broadcast News. This caustic inside look at the Washington news media stars Holly Hunter (Raising Arizona, The Piano), in her breakout role, as a feisty television producer torn between an ambitious yet dim anchorman (William Hurt) and her closest confidant, a cynical veteran reporter (Albert Brooks). Brooks's witty, gently prophetic entertainment is a captivating transmission from an era in which ideas on love and media were rapidly changing.
Can't Buy Me Love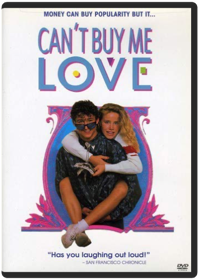 Steve Rash
Dirty Dancing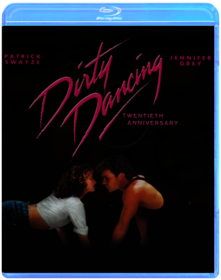 Emile Ardolino
As with Grease (1978) and Footloose (1984) before it, Dirty Dancing was a cultural phenomenon that now plays more like camp. That very campiness, though, is part of its biggest charm. And if the dancing in the movie doesn't seem particularly "dirty" by today's standards—or 1987's—it does take place in an era (the early '60s) when it would have. Frances "Baby" Houseman (Jennifer Grey, daughter of ageless hoofer Joel Grey) has been vacationing in the Catskills with her family for many years. Uneventfully. One summer, she falls under the sway (as it were) of dance instructor Johnny Castle (Patrick Swayze). Baby is a pampered pup, but Johnny is a man of the world. Baby's father, Jake (Law and Order's Jerry Orbach), can't see the basic decency in greaser Johnny that she can. It should come as no surprise to find that Baby, who can be as immature as her name, learns more about love and life—and dancing—from free-spirited Johnny than traditionalist Jake.

Dirty Dancing spawned two successful soundtracks, a short-lived TV series, and a stage musical. It may be predictable, but Grey and Swayze have chemistry, charisma, and all the right moves. It's a sometimes silly movie with occasionally mind-boggling dialogue—"No one puts Baby in a corner!"—that nonetheless carries an underlying message about tolerance and is filled with the kind of exuberant spirit that's hard for even the most cynical to resist. Not that they'd ever admit it. —Kathleen C. Fennessy
Elvira: Mistress of the Dark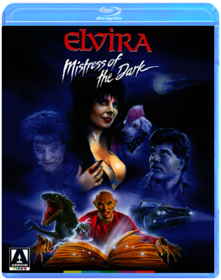 James Signorelli
She s back! Elvira, Horrorland s hostess with the mostest, finally busts out on Blu-ray with this long-awaited, positively-bursting-at-the-seams special edition of her big screen debut, Elvira: Mistress of the Dark!

Having just quit her job as a Los Angeles TV horror hostess, Elvira receives the unexpected news that she s set to inherit part of her great-aunt Morgana s estate. Arriving in the small town of Fallwell, Massachusetts to claim her inheritance, Elvira receives a less than enthusiastic reception from the conservative locals - amongst them, her sinister uncle Vinny, who unbeknownst to Elvira, is an evil warlock who secretly schemes to lay his hands on the old family spellbook for his own nefarious ends...

Campy, quirky and stuffed to the brim with more double entendres than your average Carry On movie, 1988 s Elvira: Mistress of the Dark helped solidify the horror hostess (played by Cassandra Peterson) as a major pop culture icon, here owning every inch of the screen with her quick wit, sass, and of course, cleaving-enhancing gown!

SPECIAL EDITION CONTENTS Brand new restoration from a 4K scan of the original interpositiveHigh Definition Blu-ray (1080p) presentationOriginal Uncompressed Stereo 2.0 audioOptional English subtitles for the deaf and hard of hearingIntroduction to the film by director James Signorelli2017 audio commentary with director James Signorelli, hosted by Fangoria Editor Emeritus Tony Timpone2017 audio commentary with Elvira Webmaster and judge of US TV show The Search for the Next Elvira Patterson LundquistArchival audio commentary with actors Cassandra Peterson, Edie McClurg and writer John ParagonToo Macabre - The Making of Elvira: Mistress of the Dark - newly-revised 2018 version of this feature-length documentary on the making of the film including interviews with various cast and crew and rare never-before-seen archival materialRecipe for Terror: The Creation of the Pot Monster - newly-revised 2018 version of this featurette on the concept and design of the pot monster, as well as the other SFX of the movieOriginal StoryboardsOriginal US Theatrical and Teaser TrailersReversible sleeve featuring original and newly commissioned artwork by Sara DeckFIRST PRESSING ONLY: Collector s booklet featuring new writing on the film by Patterson Lundquist and a short note on the 2012 audio commentary by Sam Irvin
Empire of the Sun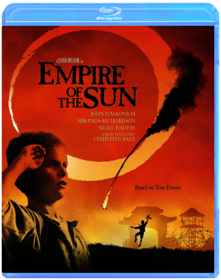 Steven Spielberg
Epidemic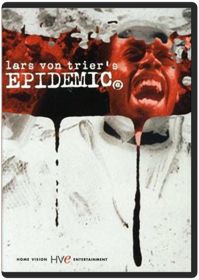 Lars von Trier
Evil Dead 2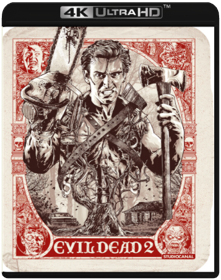 Sam Raimi
Ash (Bruce Campbell), the sole survivor of THE EVIL DEAD, returns to the same cabin in the woods and again unleashes the forces of the dead. With his girlfriend possessed by the demons and his body parts running amok, Ash is forced to single- handedly battle the legions of the damned as the most lethal – and groovy – hero in horror movie history! Welcome to EVIL DEAD II, director Sam Raimi's infamous sequel to THE EVIL DEAD and outrageous prequel to ARMY OF DARKNESS!
Full Metal Jacket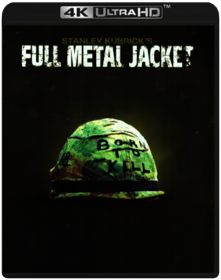 Stanley Kubrick
Full Metal Jacket: Deluxe Edition (BD)
Good Morning, Vietnam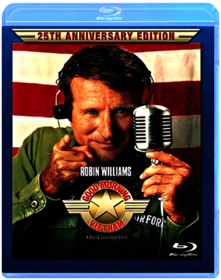 Barry Levinson, Peter Sova
For the first time in stunning Blu-ray High Definition, Academy Award(R) winner Robin Williams (Best Supporting Actor, GOOD WILL HUNTING, 1997) delivers a tour-de-force performance in the 25th Anniversary Edition of the hit comedy GOOD MORNING, VIETNAM! Enjoy the unsurpassed digital sound quality of Blu-ray Hi-Def as military deejay Adrian Cronauer (Williams) spins a red-hot soundtrack of '60s hits. His sidesplitting comedy and rapid-fire wit make him a hero to the troops, but quickly get him in hot water with his by-the-book superiors. Featuring a behind-the-scenes look at Williams's hilarious radio monologues, GOOD MORNING, VIETNAM remains the quintessential Robin Williams comedy.
Hellraiser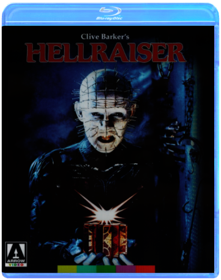 Clive Barker
The Last Emperor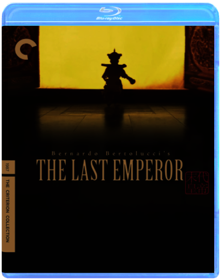 Bernardo Bertolucci
Bernardo Bertolucci s The Last Emperor won nine Academy Awards, unexpectedly sweeping every category in which it was nominated quite a feat for a challenging, multilayered epic directed by an Italian and starring an international cast. Yet the power and scope of the film was, and remains, undeniable the life of Emperor Pu Yi, who took the throne at age three, in 1908, before witnessing decades of cultural and political upheaval, within and without the walls of the Forbidden City. Recreating Ching-dynasty China with astonishing detail and unparalleled craftsmanship by cinematographer Vittorio Storaro and production designer Ferdinando Scarfiotti, The Last Emperor is also an intimate character study of one man reconciling personal responsibility and political legacy.

DIRECTOR-APPROVED BLU-RAY EDITION FEATURES:
Restored, high-definition digital transfer, supervised and approved by cinematographer Vittorio Storaro
DTS-HD Master Audio stereo surround soundtrack
Audio commentary by director Bernardo Bertolucci, producer Jeremy Thomas, screenwriter Mark Peploe, and composer-actor Ryuichi Sakamoto
The Italian Traveler: Bernardo Bertolucci, a 53-minute film by Fernand Mozskowicz, tracing the director s geographic influences, from Parma to China
Video images taken by Bertolucci in China
The Chinese Adventure of Bernardo Bertolucci, a 52-minute documentary that revisits the film s creation
A 47-minute documentary featuring Storaro, editor Gabriella Cristiana, costume designer James Acheson, and art director Gianni Silvestri
A 66-minute documentary exploring Bertolucci s creative process and the making of The Last Emperor
A 30-minute interview with Bertolucci from 1989
Interview with composer David Byrne
Interview with Ian Buruma examining the historical period of the film
Theatrical trailer
PLUS: A booklet featuring an essay by critic David Thomson
The Lost Boys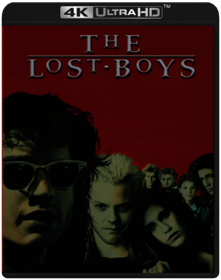 Joel Schumacher
Lost Boys, The (BD)
Planes, Trains & Automobiles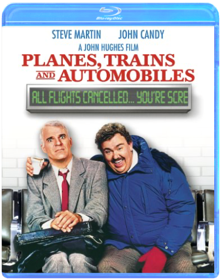 Paul Hirsch, John Hughes
Steve Martin and John Candy star in John Hughes classic tale of holiday travel gone awry. Neal Page (Martin) is an uptight advertising executive trying to get home to Chicago for Thanksgiving. When his flight is rerouted to Wichita, he reluctantly partners with Del Griffith (Candy), an obnoxious yet loveable salesman. Together, they embark on a cross-country adventure that includes various modes of transportation, hilarious mishaps, and unforgettable rental car shenanigans. Planes, Trains and Automobiles is a screwball comedy with a heart" (Roger Ebert, Chicago Sun-Times). Now with all-new bonus features, the "Those Aren't Pillows! Edition is a perfect holiday treat that lasts all year.
Predator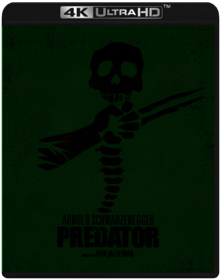 John McTiernan
The ultimate hunter meets the ultimate adversary... in the ultimate Collector's Edition DVD! Arnold Schwarzenegger wages an all-out war against an unseen enemy, a force more powerful and deadly than any on Earth-because the Predator is not of this Earth.
The Princess Bride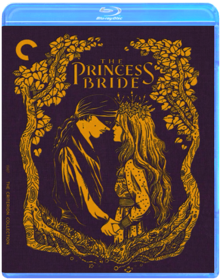 Rob Reiner
In honor of Princess Bride's 25th Anniversary fans get to vote on the cover art for the new 25th Anniversary Blu-ray!  Visit Facebook to vote until July 11th and the winner will be announced July 12th.
Raising Arizona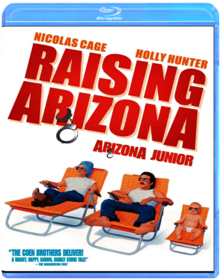 Joel Coen, Ethan Coen
Nicolas Cage, Holly Hunter and John Goodman lead an all-star cast in Ethan and Joel Coen's celebrated comedy. Once he decides to give up crime, a small-time robber (Cage) proposes to a pretty cop (Hunter). But when the newlyweds learn they can't conceive a baby, they decide to steal one from a couple who seem to have one to spare – since they just had quintuplets! With its outrageous plot, fast-paced action and even some wild pyrotechnics, Raising Arizona will forever have a place in the hearts of lovers – and film lovers – everywhere.
Robocop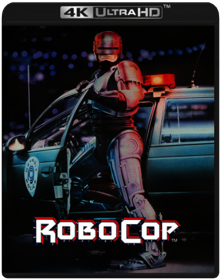 Paul Verhoeven
PART MAN, PART MACHINE, ALL COP.

RoboCop, from Orion Pictures, marked director Paul Verhoeven's (Flesh + Blood) Hollywood debut and now the future of law enforcement is back in a definitive Blu-ray presentation packed with hours of brand new bonus features & exclusive collectible Steebook packaging.

STEELBOOK CONTENTS

4K restoration of the film from the original camera negative by MGM, transferred in 2013 and approved by director Paul Verhoeven
Director s Cut and Theatrical Cut of the film on two High Definition (1080p) Blu-rayTM discs
Original lossless stereo and four-channel mixes plus DTS-HD MA 5.1 surround sound option on both cuts
Optional English subtitles for the deaf and hard of hearing on both cuts
Limited edition collectors' booklet featuring new writing on the film by Omar Ahmed, Christopher Griffiths and Henry Blyth

DISC ONE DIRECTOR S CUT

Archive commentary by director Paul Verhoeven, executive producer Jon Davison and co-writer Ed Neumeier (originally recorded for the Theatrical Cut and re-edited in 2014 for the Director s Cut)
New commentary by film historian Paul M. Sammon
New commentary by fans Christopher Griffiths, Gary Smart and Eastwood Allen
The Future of Law Enforcement: Creating RoboCop, a newly filmed interview with co-writer Michael Miner
RoboTalk, a newly filmed conversation between co-writer Ed Neumeier and filmmakers David Birke (writer of Elle) and Nick McCarthy (director of Orion Pictures The Prodigy)
Truth of Character, a newly filmed interview with star Nancy Allen on her role as Lewis
Casting Old Detroit, a newly filmed interview with casting director Julie Selzer on how the film s ensemble cast was assembled
Connecting the Shots, a newly filmed interview with second unit director and frequent Verhoeven collaborator Mark Goldblatt
Composing RoboCop, a new tribute to composer Basil Poledouris featuring film music experts Jeff Bond, Lukas Kendall, Daniel Schweiger and Robert Townson
RoboProps, a newly filmed tour of super-fan Julien Dumont s collection of original props and memorabilia
2012 Q&A with the Filmmakers, a panel discussion featuring Verhoeven, Davison, Neumeier, Miner, Allen, star Peter Weller and animator Phil Tippett
RoboCop: Creating a Legend, Villains of Old Detroit and Special Effects: Then & Now, three archive featurettes from 2007 featuring interviews with cast and crew
Paul Verhoeven Easter Egg
Four deleted scenes
The Boardroom: Storyboard with Commentary by Phil Tippett
Director s Cut Production Footage, raw dailies from the filming of the unrated gore scenes
Two theatrical trailers and three TV spots
Extensive image galleries

DISC TWO THEATRICAL CUT

Archive commentary by director Paul Verhoeven, executive producer Jon Davison and co-writer Ed Neumeier (originally recorded for Theatrical version of the film)
Two Isolated Score tracks (Composer s Original Mix and Final Theatrical Mix) in lossless stereo
Edited-for-television version of the film, featuring alternate dubs, takes and edits of several scenes (95 mins, SD only)
Split screen comparison of Theatrical and Director s Cuts
RoboCop: Edited For Television, a compilation of alternate scenes from two edited-for-television versions, newly transferred in HD from recently-unearthed 35mm elements
The Running Man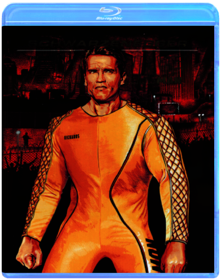 Paul Michael Glaser
The year is 2019. Television is now ruling people's lives. The most popular "audience participation" game show is "The Running Man"— where convicts can win pardons instead of "parting gifts" by defeating murderous henchmen known as "stalkers." The stalkers haven't had much of a challenge lately...until Ben Richards (Schwarzenegger) comes along. Wrongly convicted of slaughtering 1500 innocent people, Richards is the next contestant to fight for his life...and his freedom. When "Running Man" host Damon Killian (Dawson) says, "Come on down!", be prepared to pay with your life! But Ben Richards isn't going down without a fight. Off Richards goes into the burned-out sections of Los Angeles to face four of Killian's ace stalkers: Subzero, wielding his razor-sharp hockey sticks; Buzzsaw, the mechanical motorcycle- riding slasher; Dynamo, practicing his deadly electric shock treatment; and Fireball with his mighty flame-throwing arsenal. Now, the entire country is glued to the tube in a heart-pounding "sudden death" battle!
Solid Metal Nightmares: The Films of Shinya Tsukamoto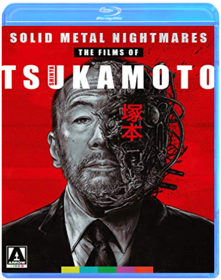 Shinya Tsukamoto
Spaceballs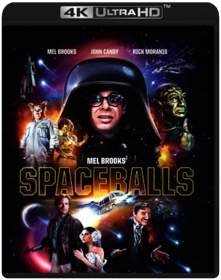 Mel Brooks
Wall Street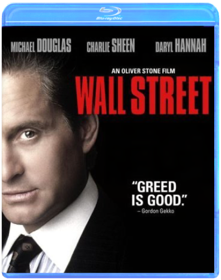 Oliver Stone
A TEAM OF COMMANDOS, ON A MISSION IN A CENTRAL AMERICAN JUNGLE, FIND THEMSELVES HUNTED BY AN EXTRA-TERRESTRIAL WARRIOR.
The Witches of Eastwick
George Miller
Need someone with demonic dash to portray the Devil? There are only two choices. Old Ned himself. And Jack Nicholson. The Witches of Eastwick to the better actor-and came up with the sleekest, sexiest supernatural comedy/thriller to emerge from this or any other world, earning Nicholson 1987 Best Actor Awards from the New York and Los Angeles Film Critics. The "witches" are in three modern-day women yearning for Mr. Right in a quaint New England town full of Mr. Uptights. Played glowingly by Cher (Moonstruck), Susan Sarandon (Lorenzo's Oil) and Michelle Pfeiffer (The Age of Innocence), they're lovely enough to tempt even the most jaded netherworld denizen. Soon, wealthy Daryl van Horne (Nicholson) arrives. Is his sudden appearance a coincidence? Or the outcome of the women's unconscious sorcery in this smooth adaptation of John Updyke's novel? Conjure up an evening's entertainment with The Witches of Eastwick. And have a devil of a good time.
Withnail and I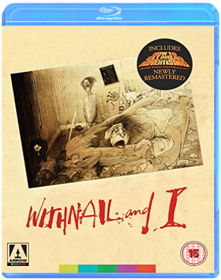 Bruce Robinson
The Adventures of Baron Munchausen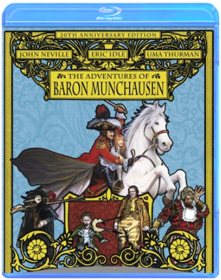 Terry Gilliam
Director Terry Gilliam (Brazil) and an all-star cast including John Neville, Eric Idle, Oliver Reed and Uma Thurman deliver this tale of the enchanting adventures of Baron von Munchausen on his journey to save a town from defeat. Being swallowed by a giant sea-monster, a trip to the moon, a dance with Venus and an escape from the Grim Reaper are only some of the improbable adventures.
Akira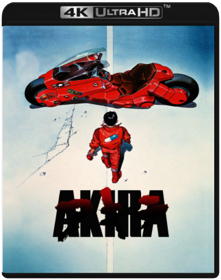 Katsuhiro Ôtomo
A SECRET MILITARY PROJECT ENDANGERS NEO-TOKYO WHEN IT TURNS A BIKER GANG MEMBER INTO A RAMPAGING PSIONIC PSYCHOPATH THAT ONLY TWO KIDS AND A GROUP OF PSIONICS CAN STOP.
Alice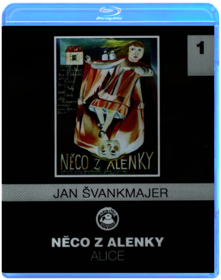 Jan Švankmajer
When Alice follows the White Rabbit into Wonderland, so begins this dream expedition into the astonishing landscape of childhood, through many dangerous adventures, and ultimately to Alice's trial before the King and Queen of Hearts.

Czech animator Jan Svankmajer has created a masterpiece of cinema, a strikingly original interpretation of Lewis Carroll's classic tale. Svankmajer's Alice remains true to the absurdity of Carroll's original, but bears the stamp of his own distinctive style and obsessions. Combining techniques of animation and live action, he gives a new and fascinating dimension to the timeless tale of childhood fantasies.
Beetlejuice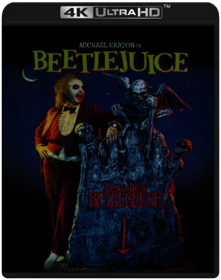 Tim Burton
Beetlejuice (BD)
Coming to America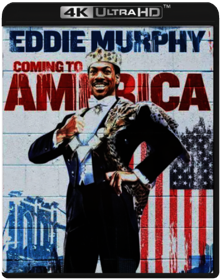 John Landis
Dangerous Liaisons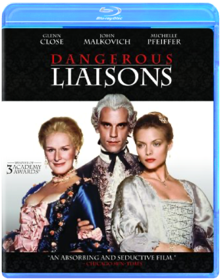 Stephen Frears
Dead Ringers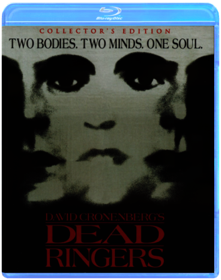 David Cronenberg
"This is arguably David Cronenberg' masterpiece. ", Combustible Celluloid

Claire Niveau (Genevieve Bujold) is in love with handsome Beverly. Or does she love Elliot? It' uncertain because brothers Beverly and Elliot Mantle are identical twins sharing the same medical practice, apartment and women: including unsuspecting Claire.

In portrayals that won the New York Film Critics Circle Best Actor Award, Jeremy Irons plays twin gynecologists whose emotional dependency collapses into mind games, madness and murder. David Cronenberg (The Fly) won the Los Angeles Film Critics Awards Best Director honors for melding split-screen techniques, body doubles and Iron' uncanny acting into an eerie, fact-based tale
Die Hard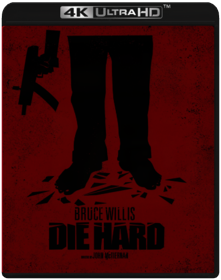 John McTiernan
BRUCE WILLIS IS JOHN McCLANE, a New York cop who flies to L.A. on Christmas Eve to visit his wife at a party in her company's lavish high-rise. Plans change once a group of terrorists, led by Hans Gruber (Alan Rickman), seize the building and take everyone hostage. McClane slips away and becomes the only chance anyone has in this beginning-to-end heart-stopping action thriller.
Drowning by Numbers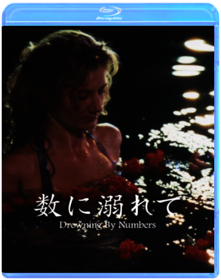 Peter Greenaway
A Fish Called Wanda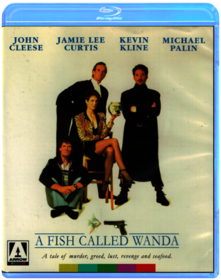 John Cleese, Charles Crichton
NOTICE: Polish Release, cover may contain Polish text/markings. The disk has English audio.
Frantic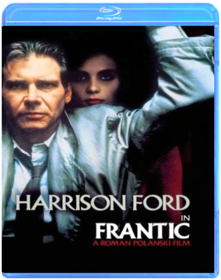 Roman Polanski
Germany released, Blu-Ray/Region A/B/C : it WILL NOT play on regular DVD player. You need Blu-Ray DVD player to view this Blu-Ray DVD: LANGUAGES: Czech ( Mono ), English ( Dolby Digital 2.0 ), English ( Dolby Surround ), French ( Dolby Digital 2.0 ), German ( Dolby Digital 2.0 ), Italian ( Dolby Digital 2.0 ), Polish ( Mono ), Portuguese ( Mono ), Spanish ( Dolby Digital 2.0 ), Bulgarian ( Subtitles ), Chinese ( Subtitles ), Czech ( Subtitles ), Danish ( Subtitles ), English ( Subtitles ), Finnish ( Subtitles ), French ( Subtitles ), German ( Subtitles ), Greek ( Subtitles ), Italian ( Subtitles ), Norwegian ( Subtitles ), Polish ( Subtitles ), Portuguese ( Subtitles ), Romanian ( Subtitles ), Spanish ( Subtitles ), Swedish ( Subtitles ), WIDESCREEN (1.78:1), SPECIAL FEATURES: Interactive Menu, Scene Access, SYNOPSIS: While in Paris attending a conference, Dr. Richard Walker's wife Sondra mysteriously disappears. When the French police prove to be of little help, he begins the search by himself. What he finds is a confusing mix-up, but one that could prove to be extremely dangerous and would perhaps be even more so if the police got involved. ...Frantic (1988)
Heathers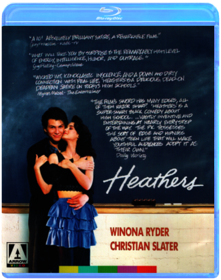 Michael Lehmann
Widely acknowledged as a true cult classic of modern American cinema, Heathers has captured the imaginations of troubled teenagers the world over with its acerbic satire of the sugar-coated high school movies of the 1980s...

At Westerburg High School, an elite clique of snobby girls known as Heathers reign supreme. Smart and popular, Veronica (Winona Ryder, Stranger Things) is a reluctant member of the gang and disapproves of the other girls' cruel behaviour. When Veronica and her mysterious new boyfriend, J.D. (Christian Slater, True Romance), play a trick on the clique leader, Heather Chandler (Kim Walker), and accidentally poison her, they make it appear a suicide. But it soon becomes clear to Veronica that J.D. is sociopath intent on vengefully killing the school s popular students. She races to stop J.D., clashing with the clique's new leader, Heather Duke (Shannen Doherty), and leading to an explosive final confrontation with her troubled former lover.

Directed by Michael Lehmann, Heathers pushed the teen comedy into dark and nightmarish territory and is distinguished by the career defining central performances of its stars Winona Ryder and Christian Slater. The film is presented here in an exclusive 30th Anniversary 4K restoration with a wealth of extra material, providing unprecedented insight into the making of this hilarious and shocking film.

SPECIAL FEATURES New restoration from a 4K scan of the original camera negative by Arrow FilmsHigh Definition Blu-ray (1080p) presentationOriginal 1.0 mono audio and optional 5.1 DTS-HD Master AudioOptional English subtitles for the deaf and hard of hearingAudio commentary by director Michael Lehmann, producer Denise Di Novi and writer Daniel WatersNewly filmed interview with director Michael LehmannA newly filmed appreciation by the writer, actor and comedian John Ross Bowie (The Big Bang Theory)Scott and Larry and Dan and Heathers, a new interview between screenwriting team Scott Alexander and Larry Karaszewski (Ed Wood, The People vs Larry Flint), and Heathers screenwriter Daniel Waters.Pizzicato Croquet, composer David Newman and director Michael Lehmann discuss the music of HeathersHow Very: The Art and Design of Heathers, production designer Jon Hutman, art director Kara Lindstrom and director Michael Lehmann discuss the look of HeathersCasting Westerberg High, casting director Julie Selzer discusses the casting process for HeathersPoor Little Heather, a new interview with actress Lisanne FalkScott and Larry and Dan and Heathers, a new interview between screenwriting team Scott Alexander and Larry Karaszewski (Ed Wood, The People vs Larry Flynt), and Heathers screenwriter Daniel Waters.The Beaver Gets a Boner, Michael Lehmann s long sought after student film from 1985 made at the USC School of Cinematic ArtsReturn to Westerberg High, an archival featurette providing further insight into the film s productionOriginal trailersReversible sleeve featuring original and newly commissioned artwork by Robert SammelinFIRST PRESSING ONLY: Collector's booklet featuring new writing by Bidisha, Anna Bogutskaya and an archival interview with cinematographer Francis Kenny
How To Get Ahead in Advertising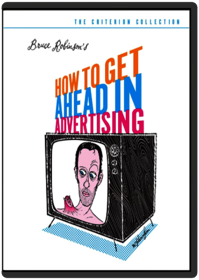 Bruce Robinson
Richard E. Grant is the endlessly suave Dennis Bagley, a high-strung advertising executive whose shoulder sprouts an evil, talking boil. The boil speaks only to Bagley, is silent to the rest of the world, and seems to be growing. This caustic satire reunites the talented team behind the cult classic Withnail and I to create a tour de force of verbal jousting and physical comedy.
Lair of the White Worm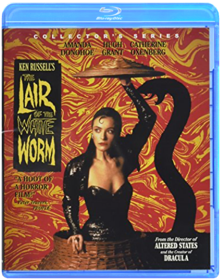 Ken Russell
The Last Temptation of Christ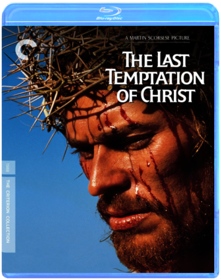 Martin Scorsese
The Last Temptation of Christ, by Martin Scorsese (Raging Bull), is a towering achievement. Though it initially engendered enormous controversy, the film can now be viewed as the remarkable, profoundly personal work of faith that it is. This fifteen-year labor of love, an adaptation of Nikos Kazantzakis's landmark novel that imagines an alternate fate for Jesus Christ, features outstanding performances by Willem Dafoe (Antichrist), Barbara Hershey (Hannah and Her Sisters), Harvey Keitel (Mean Streets), Harry Dean Stanton (Paris, Texas), and David Bowie (The Man Who Fell to Earth); bold cinematography by the great Michael Ballhaus (Broadcast News); and a transcendent score by Peter Gabriel.
Le Grand Bleu
Luc Besson
Medea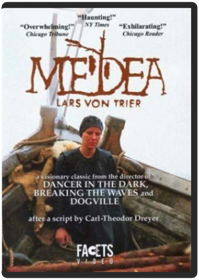 Lars von Trier
Night of the Demons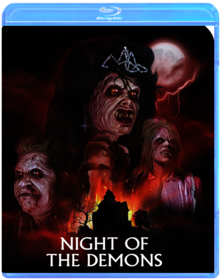 Kevin Tenney
Peter Greenaway Box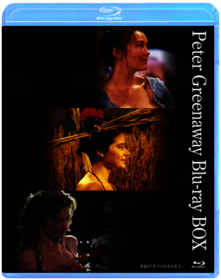 Peter Greenaway
Powaqqatsi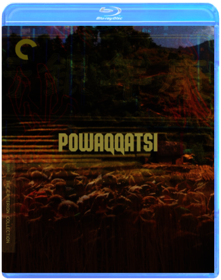 Godfrey Reggio
Ringu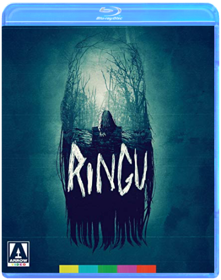 Hideo Nakata
Salome's Last Dance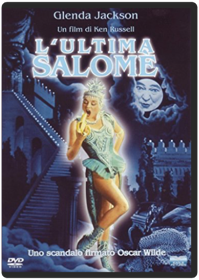 Ken Russell
Stormy Monday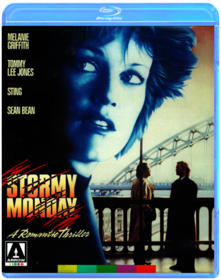 Mike Figgis
In 1988, Mike Figgis (Internal Affairs, Leaving Las Vegas) made his feature directorial debut with Stormy Monday, a taut, noir-influenced gangster movie that drew on his key formative influences, including his youth in the Newcastle of the late '50s and early '60s, and the city's vibrant jazz scene.

Sean Bean (Ronin) plays Brendan, a young loafer taken under the wing of jazz club owner Finney (Sting, Quadrophenia), who's under pressure from American mobster Cosmo (Tommy Lee Jones, The Fugitive) to sell up in exchange for a cut of a local land development deal. Brendan just wants to earn an honest crust, but his burgeoning relationship with Cosmo's ex-lover Kate (Melanie Griffith, Body Double) threatens to drag him into the middle of the impending showdown…

A romantic crime thriller with genuine heart, Stormy Monday features striking, rain-drenched cinematography by 13 time Academy Award Nominee Roger Deakins (The Big Lebowski, No Country for Old Men) and a seductive jazz score provided by the director himself. Presented here for the first time in high definition in the US, there has never been a better time to discover one of this iconic filmmaker's most assured and uniquely haunting efforts.

SPECIAL EDITION CONTENTS High Definition Blu-ray (1080p) and Standard Definition DVD presentationsOriginal stereo audio (uncompressed on the Blu-ray Disc)Optional English subtitles for the deaf and hard of hearingAudio commentary with Mike Figgis, moderated by critic Damon WiseNew video appreciation by critic Neil Young, and a ''then and now'' tour of the film's Newcastle locationsTheatrical trailerReversible sleeve featuring original and newly commissioned artwork by JaceyFIRST PRESSING ONLY: Booklet featuring new writing by critic Mark Cunliffe
Talk Radio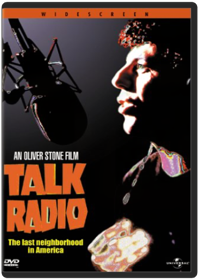 Oliver Stone
Academy Award-winning writer/director Oliver Stone brings shock radio to the screen in this relentlessly fast-paced suspense thriller. Dallas talk radio host Barry Champlain (Eric Bogosian) discovers one weekend that his skills in pushing people's buttons have won him a chance for national syndication. But instead of celebrating, he subjects his ex-wife (Ellen Greene) and co-workers to a darkly comic marathon bout of compulsive risk-taking with his unstable radio audience. Barry and his "fans" - the lonely, the angry and the dangerous - know that talk is not cheap, and words can kill.
They Live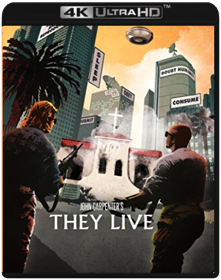 John Carpenter
They influence our decisions without us knowing it. They numb our senses without us feeling it. They control our lives without us realizing it. They Live.

Horror master John Carpenter (Halloween, The Thing) directs this heart-pounding thriller in which aliens are systematically gaining control of the Earth by masquerading as humans and lulling the public into submission. Humanity's last chance lies with a lone drifter who stumbles upon a harrowing discovery: a unique pair of sunglasses that reveals the terrifying and deadly truth.
The Thin Blue Line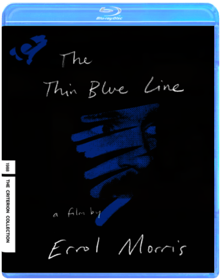 Errol Morris
Filmmaker Errol Morris studies the 1976 slaying of a Dallas policeman, from different points of view. Music by Philip Glass.
The Unbearable Lightness of Being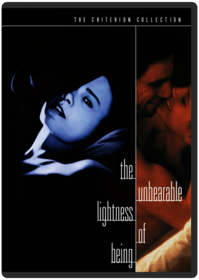 Philip Kaufman
Unbearable Lightness of Being, The: Special Edition (Dbl DVD)
The Vanishing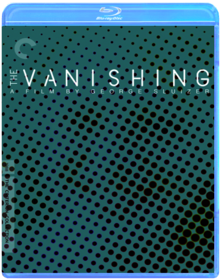 George Sluizer
A Dutchman goes with his girlfriend's French kidnapper to learn her horrible fate.
Who Framed Roger Rabbit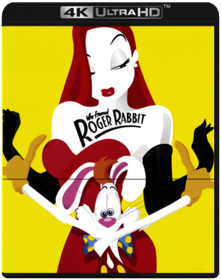 Robert Zemeckis
On Blu-ray for the first time ever, this digitally remastered edition of WHO FRAMED ROGER RABBIT practically jumps off the screen with its brilliant picture, rich sound — and dangerous curves. It's 1947 Hollywood and Eddie Valiant (Bob Hoskins), a down-on-his-luck detective, is hired to find proof that Marvin Acme, gag factory mogul and owner of Toontown, is playing hanky-panky with femme fatale Jessica Rabbit, wife of Maroon Cartoon superstar, Roger Rabbit. When Acme is found murdered, all fingers point to Roger, who begs the Toon-hating Valiant to find the real evildoer. Complete with hours of bonus features — including three digitally restored Roger Rabbit Shorts, this multi-Oscar(R) winner (Best Film Editing, Best Sound Effects Editing, Best Visual Effects, Special Achievement In Animation Direction, 1988) is pure magic in Hi-Def Blu-ray.
Willow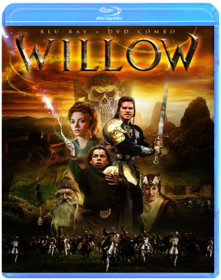 Ron Howard
Journey to the far corners of your imagination with Willow, for the first time ever on Blu-ray! Now fully digitally restored, this release features a dazzling array of extras, including new, never-before-seen exclusive content. From legendary filmmakers George Lucas and Ron Howard comes a timeless fantasy tale in which heroes comes in all sizes...and adventure is the greatest magic of all. When young Willow Ufgood (Warwick Davis) finds an abandoned baby girl, he learns she is destined to end the reign of the wicked Queen Bavmorda (Jean Marsh). In order to protect the child, Willow must team up with a rogue swordsman (Val Kilmer) and overcome the forces of darkness in the ultimate battle of good versus evil!
Women on the Verge of a Nervous Breakdown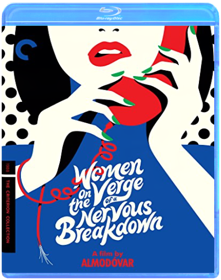 Pedro Almodóvar
Young Guns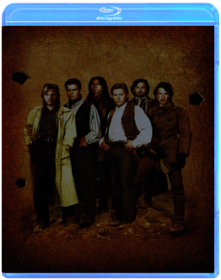 Christopher Cain
The year is 1878, Lincoln County. John Tunstall, a British ranchowner, hires six rebellious boys as "regulators" to protect his ranch against the ruthless Santa Fe Ring. When Tunstall is killed in an ambush, the Regulators, led by the wild-tempered Billy the Kid (Estevez), declare war on the Ring. As their vendetta turns into a bloody rampage, they are branded outlaws, becoming the objects of the largest manhunt in Western history.
The Abyss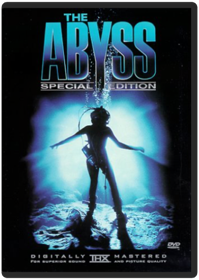 James Cameron
DVD 20th Century Fox,Region 1, 1989 171 mins
Batman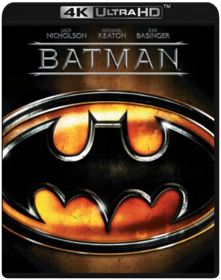 Bob Kane, Tim Burton
Bill & Ted's Excellent Adventure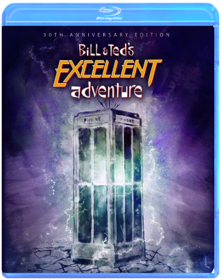 Stephen Herek
Wyld Stallyns couldn' drag you away from this EXCELLENT ADVENTURE!
Bill & Ted' Excellent Adventure finds our non-heinous heroes (Alex Winter and Keanu Reeves) in danger of flunking history: a most odious proposition! But when the righteous Rufus (George Carlin) arrives in a time-traveling phone booth, the dense dudes discover their destiny ... and call on the past' biggest names for help!
Born on the Fourth of July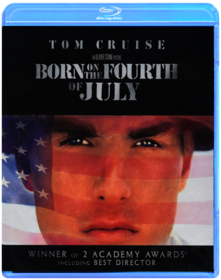 David Brenner, Joe Hutshing, Oliver Stone
Tom Cruise delivers a riveting and unforgettable portrayal of Vietnam veteran Ron Kovic in Oliver Stone's Academy Award-winning masterpiece Born on the Fourth of July. Based on a true story, the acclaimed film follows Kovic from a zealous teen who eagerly volunteered for the Vietnam War, to an embittered veteran paralyzed from the mid-chest down. Deeply in love with his country, Kovic returned to an environment vastly different from the one he left, and struggled before emerging as a brave new voice for the disenchanted.
The Cook, the Thief, His Wife, and Her Lover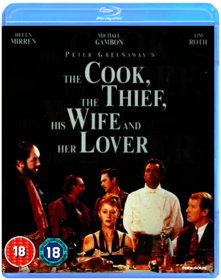 Peter Greenaway
GET MONEY INCORPORATED PRESENTS THE COOK, THE THIEF, HIS WIFE AND HER LOVER DVD MINT CONDITION DVD RARE AND HARD TO FIND IN THIS CONDITION!! SAME DAY SHIPPING IF PURCHASED BEFORE 5 PM ALL SALES ARE FINAL NO EXCHANGES NO RETURNS NO REFUNDS CHECK OUT ALL OF OUR RARE BLU RAYS, DVDS AND MORE!
DeepStar Six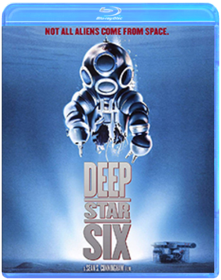 Sean S. Cunningham
Do the Right Thing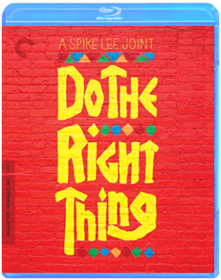 Spike Lee
Dream a Little Dream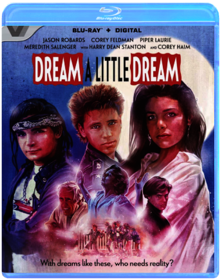 Marc Rocco
For All Mankind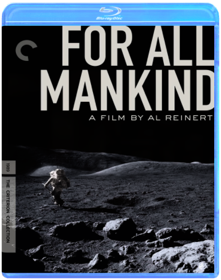 Al Reinert
Avant-garde music and the words of astronauts highlight striking NASA footage of Earth and the moon.
Gleaming the Cube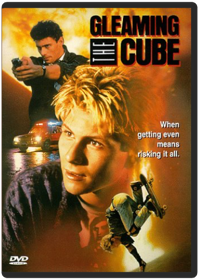 Graeme Clifford
To 16-year-old Brian, life is an empty pool and a skateboard, until his brother is found dead and it's declared a suicide. Determined to uncover the truth, Brian risks all as he crosses into a world of deceit, contraband, and murder. Special Features include: Cast and crew filmographies, trailer, behind the scene footage, film facts, and scene access. Christian Slater
Last Exit to Brooklyn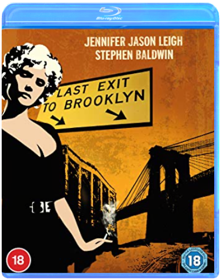 Uli Edel
Leviathan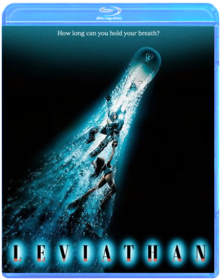 George P. Cosmatos
On the dark and forbidding ocean floor, the crew of a deep-sea mission rig discovers a sunken freighter that harbors a deadly secret: a genetic experiment gone horribly wrong. With a storm raging on the surface and no hope of rescue, the captain and his team are propelled into a spine-tingling battle for survival against the ultimate foe: a hideous monster that cannot die...and lives to kill!

Starring Peter Weller (Robocop), Amanda Pays (Max Headroom), Richard Crenna (First Blood), Daniel Stern (Home Alone) and Ernie Hudson (Ghostbusters) and directed by George P. Cosmatos (Tombstone, Of Unknown Origin), Leviathan features a solid script by veteran screenwriters David Peoples (Blade Runner) and Jeb Stuart (Die Hard, The Fugitive) and amazing creature effects by the one and only Stan Winston (Aliens, Predator, Terminator 2, Jurassic Park).
Mystery Train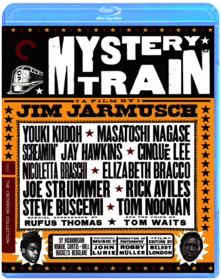 Jim Jarmusch
Aloof teenage Japanese tourists, a frazzled Italian widow, and a disgruntled British immigrant all converge in the city of dreams—which, in MYSTERY TRAIN, from Jim Jarmusch (Stranger Than Paradise, Night on Earth), is Memphis. Made with its director's customary precision and wit, MYSTERY TRAIN is a triptych of stories that pay playful tribute to the home of Stax Records, Sun Studio, Graceland, Carl Perkins, and, of course, the King himself, who presides over the film like a spirit. MYSTERY TRAIN is one of Jarmusch's very best movies, a boozy and beautiful pilgrimage to an iconic American ghost town and a paean to the music it gave the world.
Santa Sangre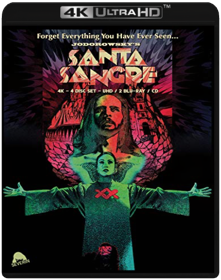 Alejandro Jodorowsky
Sex, Lies, and Videotape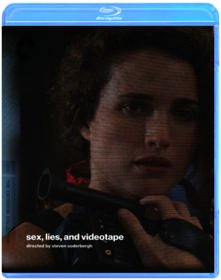 Steven Soderbergh
With smoldering sensuality and biting humor, the surprising relationship between the three title subjects is revealed in sex, lies, and videotape, the most-talked about erotic comedy of the decade. James Spader (TV's "Boston Legal") ran away with the Best Actor prize at the Cannes Film Festival for his brilliantly understated and seductive performance as Graham, a long-lost college friend who drifts back into town and into the lives of John,a self-involved philanderer, his angelic wife Ann, and her saucy sister Cynthia. One by one, each is drawn into the very"personal project" Graham is working on, leaving the relationships between them forever transformed. A monumental debut effort from first-time feature director Steven Soderbergh (Ocean's Twelve, Traffic, Erin Brockovich), this comic original includes riveting performances from Peter Gallagher (American Beauty), Andie MacDowell (Michael) and Laura San Giacomo (TV's "Just Shoot Me").
Society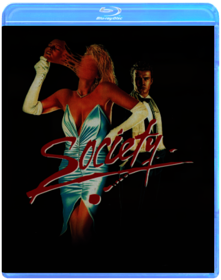 Brian Yuzna
IT IS A MATTER OF GOOD BREEDING. REALLY.

After producing Stuart Gordon's hit Re-Animator, Brian Yuzna (Bride of Re-Animator, Return of the Living Dead III) turned his hand to directing with 1989's Society, and gave birth to one of the ickiest, most original body horror shockers of all time.

Teenager Bill Whitney (Billy Warlock) has always felt like the odd one out in his wealthy, upper-class Beverly Hills family. For some reason, he just doesn't seem to fit in. But his sense of alienation takes a sinister turn when he hears an audio recording of his sister's coming-out party, which seems to implicate his family and others in a bizarre, ritualistic orgy. And then there are the strange things he's been seeing - glimpses of people with their bodies contorted impossibly out of shape... Is Bill going mad or is there something seriously amiss in his neighborhood?

Packing stomach-churning grue and thought-provoking social commentary in equal measure, Society is a biting horror satire which culminates in one of the most gag-inducing "climaxes"' in all of horror history.

DIRECTOR-APPROVED CONTENTS: Newly remastered 2K digital transfer of the film, approved by director Brian YuznaHigh Definition Blu-ray (1080p) and Standard Definition DVD presentationOriginal Stereo 2.0 audio (uncompressed PCM on the Blu-ray)Optional English SDH subtitles for the deaf and hard of hearingBrand new audio commentary by YuznaGovernor of Society a brand new interview with YuznaThe Masters of the Hunt a brand new featurette including interviews with stars Billy Warlock, Devin DeVasquez, Ben Meyerson and Tim BartellThe Champion of the Shunt new featurette with FX artists Screaming Mad George, David Grasso and Nick Benson2014 Q&A with Yuzna, recorded at Celluloid Screams FestivalBrian Yuzna in conversation backstage at the Society world premierePersecution Mania Screaming Mad George music videoReversible sleeve featuring original and newly-commissioned artwork by Nick PercivalCollector s booklet featuring new writing on the film by critic Alan Jones, illustrated with original archive stills and posters
UHF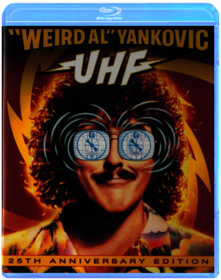 Jay Levey
A lot of TV stations have forgotten what 'quality'means. But not Channel 62. They NEVER knew what it meant.

In the cult classic UHF, Weird Al Yankovic is George Newman, a daydreamer who becomes the manager of a small TV station that's losing money as quickly as it's losing viewers. Before long he's programming shows like 'Stanley Spadowski's Clubhouse, ' 'Wheel Of Fish' and 'Raul's Wild Kingdom. ' But can Channel 62's new popularity save it from sinister forces? To find out... don't touch that dial!

Starring Weird Al Yankovic, Michael Richards (Seinfeld), Kevin McCarthy (Invasion of the Body Snatchers), Fran Drescher (The Nanny), Gedde Watanabe (Sixteen Candles), Victoria Jackson (Saturday Night Live) and more!
-1990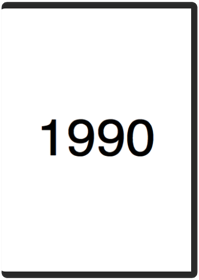 The Comfort of Strangers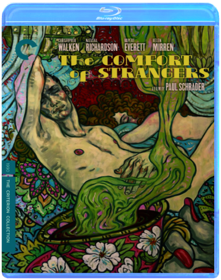 Paul Schrader
Cry-Baby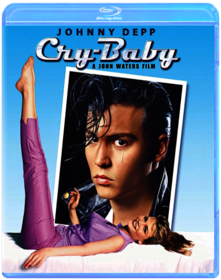 John Waters
Eisenhower is President. Rock 'n' Roll is king. And Wade "Cry-Baby" Walker is the baddest hood in his high school. Johnny Depp heads up a supercool cast as the irresistible bad boy whose amazing ability to shed one single tear drives all the girls wild - especially Allison Vernon Williams (Amy Locane), a rich, beautiful "square" who finds herself uncontrollably drawn to the dreamy juvenile delinquent and his forbidden world of rockabilly music, fast cars and faster women. Directed by John Waters, Cry-Baby is an outrageous musical comedy that captures the hysterical high-throttle world of 1954.
Dances With Wolves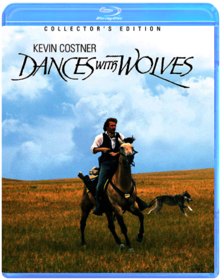 Kevin Costner
Darkman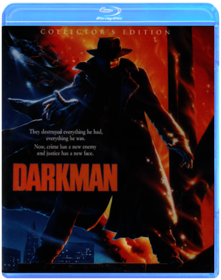 Sam Raimi
Liam Neeson (Taken) and Oscar winner Frances McDormand (Fargo) star in Darkman: the explosive, action-packed thriller from director Sam Raimi (The Spider-Man trilogy).

Dr. Peyton Westlake (Neeson) is on the verge of realizing a major breakthrough in the creation of synthetic skin when his laboratory is blown up by gangsters. Having been burned beyond recognition and forever altered by an experimental medical procedure, Westlake becomes known as Darkman, assuming alternate identities in his quest for revenge and a new life with his former love (McDormand).

Also Starring Colin Friels (Dark City), Larry Drake (Dr. Giggles), Danny Hicks (Evil Dead 2) and Nicholas Worth (Swamp Thing), Darkman is 'a frenetic funhouse ride that has you laughing and screaming at the same time' (The Washington Post)!
Days of Thunder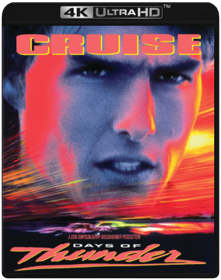 Tony Scott
Dick Tracy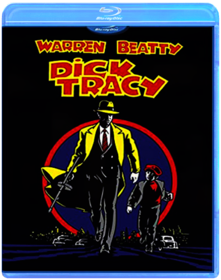 Warren Beatty
On Blu-ray for the very first time — and with new digital restoration — the visually bold and striking DICK TACY packs a wallop with picture and sound as sharp as Tracy's jaw. Imaginative performances color this extraordinary action flick directed by and starring Orscar(R) winner Warren Beatty (Best Director, REDS, 1981), Grammy winning singer Madonna, Oscar nominee Al Pacino (Best Supporting Actor, DICK TRACY, 1990) and Oscar winner Dustin Hoffman (Best Actor, RAIN MAN, 1988). When gang lord Big Boy Caprice unites the town's racketeers and gangsters, police detective Dick Tracy devotes his career to foiling the entire bunch of bad guys. Complete with richly evocative music — including Stephen Sondheim's Academy Award(R)-winning "Sooner or Later (I Always Get My Man)" (Best Original Song, 1990), DICK TRACY is a stunner in Hi-Def Blu-ray.
Die Hard 2: Die Harder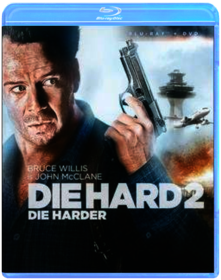 Renny Harlin
BRUCE WILLIS RETURNS AS JOHN McCLANE, an off-duty cop who is the wrong guy in the wrong place at the wrong time. On a snowy Christmas Eve, as he waits for his wife's plane to land at Washington's Dulles International Airport, terrorists take over the air traffic control system. It's now up to McClane to take on the terrorists, while coping with an inept airport police chief, an uncooperative anti-terrorist squad, and the life of his wife and everyone else trapped in planes circling overhead.
Flatliners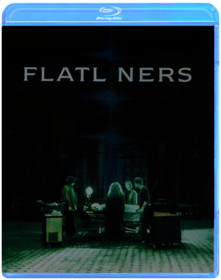 Joel Schumacher
Are you afraid to die? Kiefer Sutherland isn't. He's an ambitious, charismatic medical student who persuades classmates Julia Roberts and Kevin Bacon to take part in a reckless experiment. To see if there is life after death, they will kill themselves: temporarily shut down ("flatline") their heartand brain functions to briefly experience clinical death. After Sutherland survives the first experiment, the others flatline for increasingly longer intervals. But their horror begins when they realize that although they've come back alive... they haven't come back alone. FLATLINERS is a chilling suspense thriller of obsession, fear and redemption that will take you across the line to a place where terror lives forever.
Frankenhooker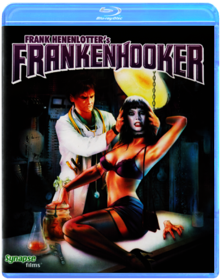 Frank Henenlotter
A New Jersey mad doctor rebuilds his girlfriend with body parts from exploded hookers.
Goodfellas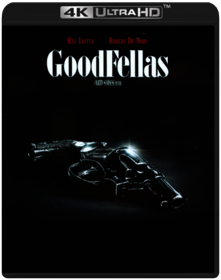 Martin Scorsese
The Hot Spot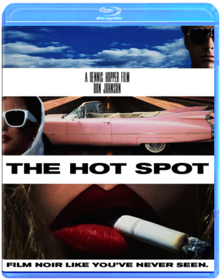 Dennis Hopper
Men at Work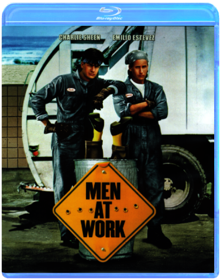 Emilio Estevez
Miami Blues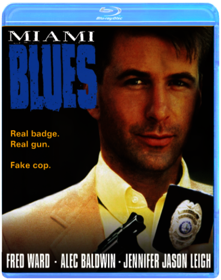 George Armitage
Brace yourself... this intoxicating "cocktail with rum and cyanide", (Time) is at once "brutal, funny, unpredictable and a bit unhinged", (Newsweek)! Fred Ward, Alec Baldwin and Jennifer Jason Leigh star in this offbeat black comedy about a murdering thief, his simple-minded wife and the denture-wearing cop closing in on his trail.

Veteran criminal Frederick Frenger, Jr. (Baldwin) has moved to Miami to get a fresh start... at robbing a whole new set of people. But when his streetwalker-gone-straight wife (Leigh) begins to suspect his criminal behavior, and an obsessed cop (Ward) begins to close in, he will need a lot more than luck and a bogus badge to escape a crossfire hotter than the barrel of a smoking gun!
Miller's Crossing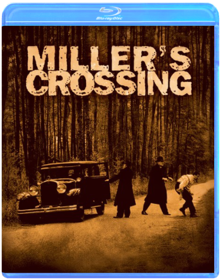 Joel Coen, Ethan Coen
Filmmakers Joel and Ethan Coen (Raising Arizona, Fargo) create a complex and graphic vision of gangsterism set during Prohibition and featuring a riveting rouges' gallery of killers and con men. Leo (Albert Finney), a likeable Irish gangster boss, rules an Eastern city along with Tom (Gabriel Byrne), his trusted lieutenant and counselor. But just as their authority is challenged by an Italian underboss (Jon Polito) and his ruthless henchman (J.E. Freeman), Leo and Tom also fall for the same woman (Marcia Gay Harden). Tom, caught in the jaws of a gangland power struggle, walks a deadly tightrope as he tries to control and manipulate its violent outcome.
Nikita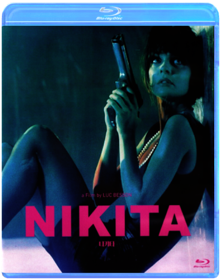 Luc Besson
From director Luc Besson ( The Fifth Element ) comes this "wild and irresistible" ( New YorkPost ) thriller about a vicious street punk turned sexy, sophisticated and lethally dangerous assassin. Starring Anne Parillaud, Jeanne Moreau and Jean Reno, La Femme Nikita is "slick, stylish and tremendously entertaining" ( The New York Times )! Rescued from death row by a top-secret agency, Nikita (Anne Parillaud) is slowly transformed from a cop-killing junkie into a cold-blooded bombshell with a license to kill. But when she begins the deadliest mission of her careeronly to fall for a man who knows nothing of her true identityNikita discovers that in the dark and ruthless world of espionage, the greatest casualty of all...is true love.
Pretty Woman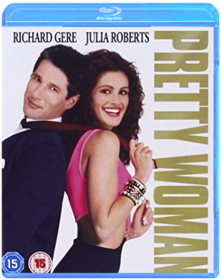 Garry Marshall
Quick Shipping !!! New And Sealed !!! This Disc WILL NOT play on standard US DVD player. A multi-region PAL/NTSC DVD player is request to view it in USA/Canada. Please Review Description.
Pump Up the Volume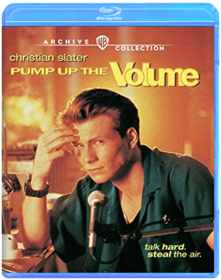 Allan Moyle
A shy teen turns on the high school crowd when he broadcasts outrageous nightly monologues on a pirate radio station. Starring Christian Slater and Samantha Mathis.
Rosencrantz and Guildenstern are Dead
Tom Stoppard
TWO MINOR CHARACTERS FROM THE PLAY, 'HAMLET' STUMBLE AROUND UNAWARE OF THEIR SCRIPTED LIVES AND UNABLE TO DEVIATE FROM THEM.
Tie Me Up! Tie Me Down!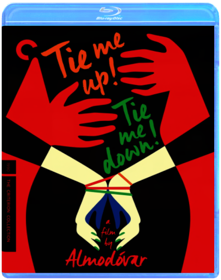 Pedro Almodóvar
''Pedro Almodvars colorful and controversial tribute to the pleasures and perils of Stockholm syndrome, Tie Me Up! Tie Me Down! is a rambunctious dark comedy starring Antonio Banderas (Philadelphia) as an unbalanced but alluring former mental patient and Victoria Abril (Kika) as the B-movie and porn star he takes prisoner in the hopes of convincing her to marry him. A highly unconventional romance that came on the spike heels of Almodvars international sensation Women on the Verge of a Nervous Breakdown, this is a splashy, sexy central work in the career of one of the worlds most beloved and provocative auteurs, radiantly shot by the directors great cinematographer Jos Luis Alcaine (Volver).''
Total Recall
Paul Verhoeven
Tremors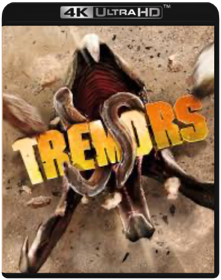 Ron Underwood
Kevin Bacon and Fred Ward star as two country handymen who lead a cast of zany characters to safety in this exciting sci-fi creature adventure. Just as Val McKee (Bacon) and Earl Basset (Ward) decide to leave Perfection, Nevada, strange rumblings prevent their departure. With the help of a shapely seismology student (Finn Carter), they discover their desolate town is infested with gigantic man-eating creatures that live below the ground. The race is on to overcome these slimy subterraneans and find a way to higher ground in this enjoyable thriller co-starring Michael Gross and Reba McEntire
Wild at Heart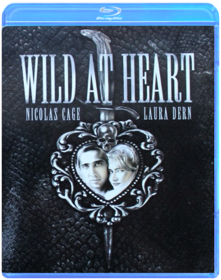 David Lynch
Atlantis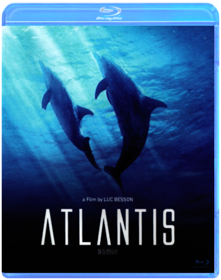 Luc Besson
Backdraft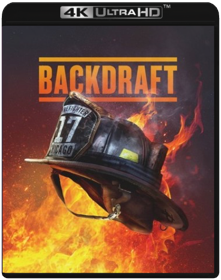 Ron Howard
From Academy Award-winning director Ron Howard, Backdraft is a visually stunning, emotionally charged, action-thriller about the adventurous lives of professional firefighters. Kurt Russell and William Baldwin star as two feuding siblings carrying on a heroic family tradition as Chicago firefighters. When a puzzling series of arson attacks is reported, they are forced to set aside their differences to solve the mystery surrounding these explosive crimes. Scott Glenn, Jennifer Jason Leigh, Rebecca DeMornay, Donald Sutherland and Robert De Niro also star in this critically acclaimed suspense story that features Academy Award-nominated Special Effects and Sound with some of the most awe-inspiring fire sequences ever filmed.
Barton Fink
Joel Coen, Ethan Coen
Cape Fear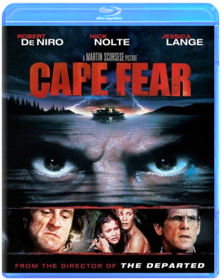 Martin Scorsese
Academy Award-winning director Martin Scorsese brings heart-pounding suspense to one of the most acclaimed thrillers of all time in Cape Fear. Earning an Academy Award nomination for his brilliant performance, Robert De Niro stars as vicious psychopath Max Cady who emerges after being imprisoned for fourteen years with a single-minded mission - to seek revenge on his attorney Sam Bowden (Nick Nolte). Realizing he is legally powerless to protect his beautiful wife Leigh (Jessica Lange) and his troubled teenage daughter Danielle (Juliette Lewis) against Max's relentless psychological torment, Sam resorts to unorthodox measures, leading to an unforgettable, action-packed showdown on Cape Fear.
Delicatessen
Jean-Pierre Jeunet, Marc Caro
Underground Troglodins resist a black-market cannibal butcher somewhere in the future.
The Doors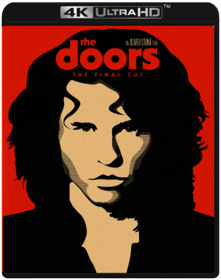 Oliver Stone
UCLA film student Jim Morrison finds a girlfriend, forms a band and turns tragic 1960s rock star.
Europa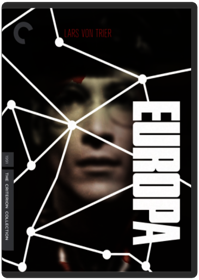 Lars von Trier
The Fisher King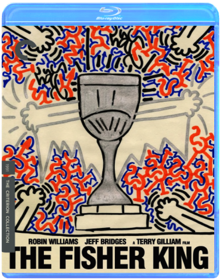 Terry Gilliam
CONTAINS: MY DINNER WITH ANDRE, VANYA ON 42ND STREET, AND A MASTER BUILDER.
The Flesh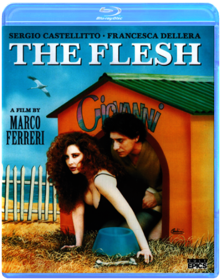 Marco Ferreri
THE FLESH (La Carne) is a romantic black comedy about a divorced piano player named Paolo (Sergio Castellitto) who meets and falls in love with a most beauteously busty woman (bombshell Francesca Dellera), who uses her special powers to turn the man into her slave. The film depicts the oftentimes torturous nature of desire and the power of women in a cinematic work where Francesca becomes a symbolic representation of male desire, with her voluptuous figure and sex appeal being intoxicating to Paolo. While he is completely taken by his desire for Francesca, she eventually gets bored with him and decides to leave. Unfortunately for Francesca, Paolo loves her and has no intention of allowing her to go.

Francesca Dellera was once named in real-life, "the most beautiful woman in the world." She began her career with Tinto Brass' Capriccio, but it was not until her role in La Carne, when premiered at Cannes, that she received international acclaim. Directed by Italian maestro Marco Ferreri, who is best known for such classics as Tales of Ordinary Madness and Le Grand Bouffe, THE FLESH is presented by Cult Epics for the first time in High-definition with exclusive bonus features and a limited edition slipcase with newly commissioned art by Gilles Vranckx.

Special Features:New HD Transfer (from original 35mm film)Behind the Scenes of The FleshInterview with Marco Ferreri, Francesca Dellera & Sergio CastellittoCannes Film Festival 1991Original Theatrical TrailerThe Flesh Lobby Cards photo galleryOriginal art & Slipcase with newly commissioned artwork by Gilles Vranckx - limited to first 3000 copies
Hot Shots!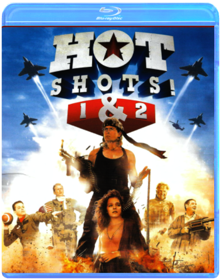 Jim Abrahams
Recruited to join a top-secret mission for the Air Force, a renegade pilot (Sheen) finds himself coping with an incompetent admiral (Bridges) and a carefully-selected squadron of flyers who are either inept or half-blind. He also winds up in competition with the corps' model of military perfection (Elwes) for the heart of the base's sultry psychiatrist (Golino)
Hudson Hawk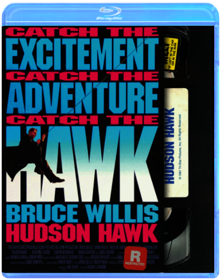 Michael Lehmann
JFK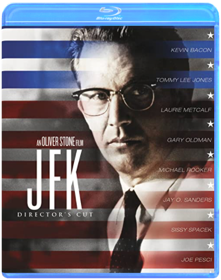 Oliver Stone
Jfk (Special Edition Director's
The Last Boy Scout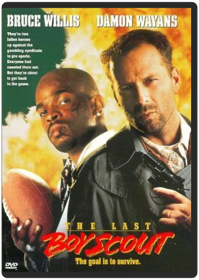 Tony Scott
A WORLD-WEARY PRIVATE INVESTIGATOR AND A FORMER PRO QUARTERBACK TEAM UP TO TRACK DOWN A HIGHLY-PLACED KILLER.
My Own Private Idaho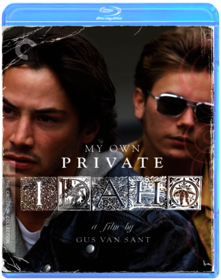 Gus Van Sant
River Phoenix (Stand by Me) and Keanu Reeves (The Matrix) star in this haunting tale from Gus Van Sant (Mala Noche), about two young street hustlers: Mike Waters, a sensitive narcoleptic who dreams of the mother who abandoned him, and Scott Favor, the wayward son of the mayor of Portland and the object of Mike's desire. Navigating a volatile world of junkies, thieves, and johns, Mike takes Scott on a quest along the grungy streets and open highways of the Pacific Northwest, in search of an elusive place called home. Visually dazzling and thematically groundbreaking, My Own Private Idaho is a deeply moving look at unrequited love and life on society's margins. DIRECTOR-APPROVED BLU-RAY SPECIAL EDITION FEATURES • New, restored 4K digital transfer, approved by director Gus Van Sant, with 2.0 surround DTS-HD Master Audio soundtrack • Alternate Dolby Digital 5.1 surround soundtrack • Illustrated 2005 audio conversation between Van Sant and filmmaker Todd Haynes • The Making of "My Own Private Idaho," a 2005 documentary featuring cast and crew • Kings of the Road, a 2005 interview with film scholar Paul Arthur on Van Sant's adaptation of Shakespeare's Henry IV and Orson Welles's Chimes at Midnight • Conversation from 2005 between producer Laurie Parker and actor River Phoenix's sister Rain • Audio conversation from 2005 between writer JT Leroy and filmmaker Jonathan Caouette • Deleted scenes • Trailer • PLUS: A book featuring essays by film critic Amy Taubin and Leroy; a 1991 article by Lance Loud; and reprinted interviews with Van Sant, Phoenix, and actor Keanu Reeves
Naked Lunch
David Cronenberg
In this adaptation of William S. Burroughs's hallucinatory, once-thought unfilmable novel Naked Lunch, directed by David Cronenberg (Videodrome), a part-time exterminator and full-time drug addict named Bill Lee (Robocop's Peter Weller) plunges into the nightmarish Interzone, a netherworld of sinister cabals and giant talking bugs. Alternately humorous and grotesque—and always surreal—the film mingles aspects of Burroughs's novel with incidents from the writer's own life, resulting in an evocative paranoid fantasy and a self-reflexive investigation into the mysteries of the creative process.
Point Break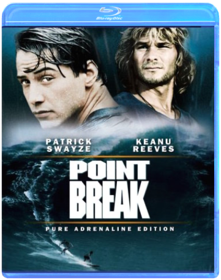 Kathryn Bigelow
Young FBI agent Johnny Utah (Reeves) goes undercover at the suggestion of his partner (Gary Busey) to learn if a group of wild surfers is actually a gang of bank robbers. He soon comes under the dangerous spell of the surfers' charismatic leader, Bodhi (Swyaze), a mystical mastermind who'll do absolutely anything for a thrill - and expects his followers to do the same.
Prospero's Books
Peter Greenaway
Robin Hood: Prince of Thieves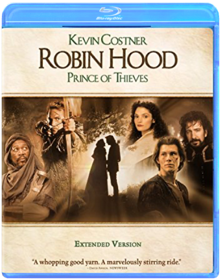 Kevin Reynolds
The Silence of the Lambs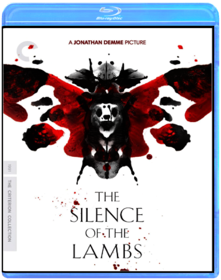 Jonathan Demme
In this chilling adaptation of the best-selling novel by Thomas Harris, the astonishingly versatile director Jonathan Demme crafted a taut psychological thriller about an American obsession: serial murder. As Clarice Starling, an FBI trainee who enlists the help of the infamous Hannibal 'the Cannibal' Lecter to gain insight into the mind of another killer, Jodie Foster subverts classic gender dynamics and gives one of the most memorable performances of her career. As her foil, Anthony Hopkins is the archetypical antihero cultured, quick-witted, and savagely murderous delivering a harrowing portrait of humanity gone terribly wrong. A gripping police procedural and a disquieting immersion into a twisted psyche, The Silence of the Lambs swept the Academy Awards (best picture, best director, best screenplay, best actress, best actor) and remains a cultural touchstone.

TWO-BLU-RAY SPECIAL EDITION FEATURES
- New 4K digital restoration, approved by director of photography Tak Fujimoto, with 2.0 surround DTS-HD Master Audio soundtrack
- Alternate 5.1 surround DTS-HD Master Audio soundtrack
- Audio commentary from 1994 featuring director Jonathan Demme, actors Jodie Foster and Anthony Hopkins, screenwriter Ted Tally, and former FBI agent John Douglas
- New interview with critic Maitland McDonagh
- Thirty-five minutes of deleted scenes
- Interview from 2005 with Demme and Foster
- Inside the Labyrinth, a 2001 documentary
- Page to Screen, a 2002 program about the adaptation
- Scoring 'The Silence,' a 2004 interview program featuring composer Howard Shore
- Understanding the Madness, a 2008 program featuring interviews with retired FBI special agents
- Original behind-the-scenes featurette
- Trailer
- PLUS: A book featuring a new introduction by Foster; an essay by critic Amy Taubin; an account of the origins of the character Hannibal Lecter by author Thomas Harris; and a 1991 interview with Demme
Slacker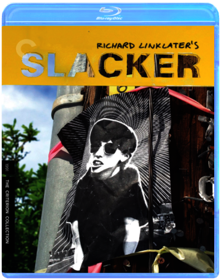 Richard Linklater
Slacker, directed by Richard Linklater (Dazed and Confused), presents a day in the life of a loose-knit Austin, Texas, subculture populated by eccentric and overeducated young people. Shooting on 16 mm for a mere $3,000, writer-producer-director Linklater and his crew of friends threw out any idea of a traditional plot, choosing instead to create a tapestry of over a hundred characters, each as compelling as the last. Slacker is a prescient look at an emerging generation of aggressive nonparticipants, and one of the key films of the American independent film movement of the 1990s.
Solo Con Tu Pareja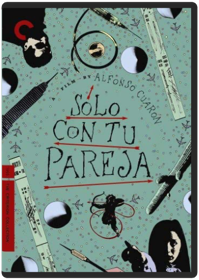 Alfonso Cuarón, Carlos Cuarón
Before Alfonso Cuarón helmed the international sensation Y tu mamá también, he made his mark on Mexican cinema with the ribald and lightning-quick contemporary social satire Sólo con tu pareja. Don Juan-ish yuppie Tomás Tomás (Daniel Giménez Cacho, from Bad Education) spends his nights juggling so many beautiful women that he can't keep their names straight—until one of his many conquests, a spurned nurse, gives him a taste of his own medicine. Beautifully filmed in widescreen by the inimitable Emmanuel Lubezki (The New World), Cuarón's wildly successful feature debut (which has never been released in the U.S.) gave voice to a Mexican middle-class that had remained largely unseen onscreen, and surveys contemporary urban sexual mores with style to spare.
Terminator 2: Judgement Day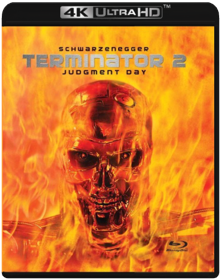 James Cameron
The action epic that revolutionized filmmaking forever comes out on amazing 4K Ultra HD for the first time!

Arnold Schwarzenegger returns as the Terminator in this explosive action-adventure spectacle. Now he's one of the good guys, sent back in time to protect John Connor, the boy destined to lead the freedom fighters of the future. Linda Hamilton reprises her role as Sarah Connor, John's mother, a quintessential survivor who has been institutionalized for her warning of the nuclear holocaust she knows is inevitable. Together, the threesome must find a way to stop the ultimate enemy: the T-1000, the most lethal Terminator ever created. Co-written, produced, and directed by James Cameron (THE TERMINATOR, ALIENS, TITANIC), this visual tour de force is also a touching human story of survival.
Aliens 3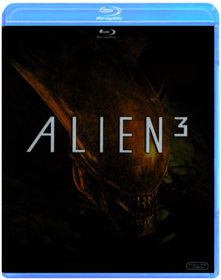 David Fincher
Alien 3 Limited Edition Steelbook. In the third chapter of the most terrifying saga in sci-fi history, Ripley's (Sigourney Weaver) crippled spaceship crash-lands on Fiorina 161, a bleak wasteland inhabited by former inmates of the planet's maximum security prison. But an Alien was aboard her craft...and soon the body count begins to mount!
Army of Darkness
Sam Raimi
Bad Lieutenant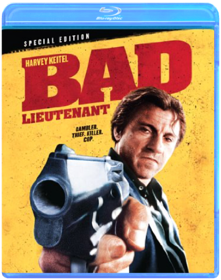 Abel Ferrara
Harvey Keitel is a nameless New York cop, hopelessly addicted to drugs, gambling, and sex. As he makes his way to various crime scenes, he is concerned only with taking bets from his fellow cops on the outcome of the ongoing National League playoffs. As his bad decisions drive him deeper into debt, his life becomes a surreal hell, with a constant intake of crack, coke, heroin and booze eroding what remains of his sanity. An investigation into the rape of a nun leads to his spiritual breakdown at the church crime scene, where he sees Jesus and the road to his salvation. This gutsy, highly original tale is one of Ferrara's most perfectly realized films and a pinnacle in the career of Keitel, whose performance transcends the screen in its sheer bravery.
Baraka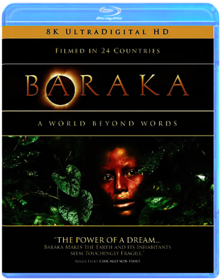 Ron Fricke
FULLY RESTORED - The only movie ever transferred with an 8K HD Scan

Shot in breathtaking 70mm in 24 countries on six continents, BARAKA is a transcendent global tour that explores the sights and sounds of the human condition like nothing you ve ever seen or felt before. These are the wonders of a world without words, viewed through man and nature s own prisms of symmetry, savagery, harmony and chaos.

BARAKA produced by Mark Magidson and directed and photographed by Ron Fricke, award-winning cinematographer of KOYAANISQATSI and creators of the IMAX® sensation CHRONOS has now been fully restored from its original camera negative via state-of-the-art 8K UltraDigital mastering to create the most visually stunning Blu-ray ever made.

INCLUDES OVER 80 MINUTES OF ALL NEW BONUS FEATURES:
Baraka: A Closer Look
Baraka: Restoration
Basic Instinct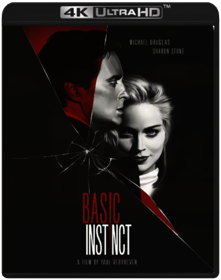 Frank J. Urioste, Paul Verhoeven
Michael Douglas, Sharon Stone. A San Francisco police detective, while investigating a brutal ice-pick murder, has a scorching affair with one of the three prime suspects. She's a beautiful murder mystery writer whose stories seem to dictate real-life crimes that have yet to be committed and the victim in her next story is a cop. 1992/color/123 min/R.
Bitter Moon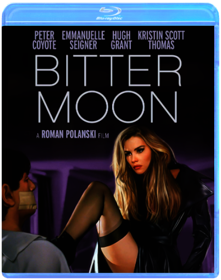 Roman Polanski
Legendary filmmaker Roman Polanski (Chinatown, Rosemary's Baby, Repulsion) explores the sexy side of obsession and the wild side of romance in this outrageous look at the dark side of love. Starring Peter Coyote (Heart of Midnight), Emmanuelle Seigner (Frantic), Hugh Grant (Notting Hill) and Kristin Scott Thomas (The English Patient). A mild-mannered man (Grant) attempts to rekindle the sexual fire in his marriage while on a cruise, but he develops an irresistible infatuation with an eccentric paraplegic's wife (Seigner). Offbeat and original, this voyage of wild obsession puts a whole new twist on the concept of marital bliss. Featuring dazzling performances and nasty comic moments, Bitter Moon is a hilarious walk on the wild side. Stunningly shot by Tonino Delli Colli (Once Upon a Time in America) with a beautiful score by Vangelis (Blade Runner). Co-starring Victor Banerjee (A Passage to India).

Special Features:
-NEW Interview with star Peter Coyote
-NEW Audio Commentary by Film Historian Troy Howarth
-Theatrical Trailer
Bram Stoker's Dracula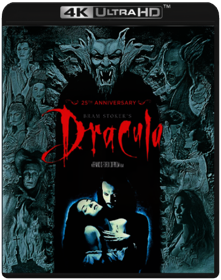 Francis Ford Coppola
Candyman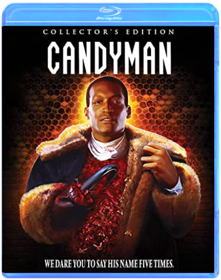 Bernard Rose
Glengarry Glen Ross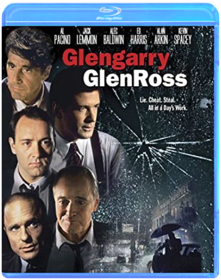 James Foley
Glengarry Glen Ross Blu-ray
Hard Boiled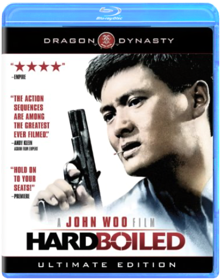 John Woo
Chow Yun-Fat stars as one of the all-time toughest, coolest cops, who teams up with an undercover agent to bring down a ruthless gun smuggling ring. Features some of the most amazing action cinematography in film history.
Howards End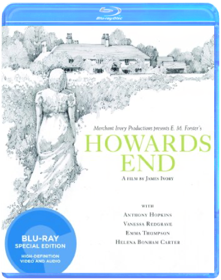 James Ivory
The Last of the Mohicans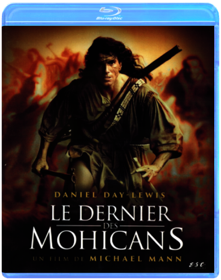 Michael Mann
An epic adventure and passionate romance unfold against the panorama of a frontier wilderness ravaged by war. Academy Award(R) winner Daniel Day-Lewis (Best Actor in 1989 for My Left Foot) stars as Hawkeye, rugged frontiersman and adopted son of the Mohicans, and Madeleine Stowe is Cora Munro, aristocratic daughter of a proud British Colonel. Their love, tested by fate, blazes amidst a brutal conflict between the British, the French and Native American allies that engulfs the majestic mountains and cathedral-like forests of Colonial America.
Man Bites Dog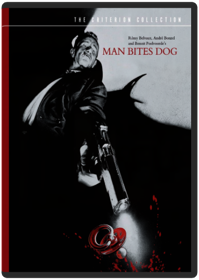 Rémy Belvaux , André Bonzel , Benoît Poelvoorde
Documentary filmmakers André and Rémy have found an ideal subject in Ben. He is witty, sophisticated, intelligent, well liked-and a serial killer. As André and Rémy document Ben's routines, they become increasingly entwined in his vicious program, sacrificing their objectivity and their morality. Controversial winner of the International Critics' Prize at the 1992 Cannes Film Festival, Man Bites Dog stunned audiences worldwide with its unflinching imagery and biting satire of media violence.
My Cousin Vinny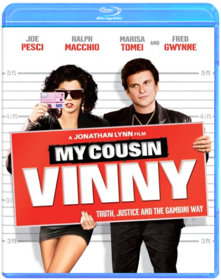 Jonathan Lynn
A wise-guy Brooklyn lawyer and his motor-mouth girlfriend go to Alabama to defend his innocent cousin for murder. Supporting actress Oscar for Marisa Tomei.
Raising Cain
Brian De Palma
NOTICE: Polish Release, cover may contain Polish text/markings. The disk has English audio.
Reservoir Dogs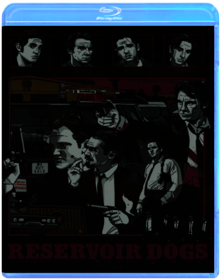 Quentin Tarantino
Four Perfect Killers. One Perfect Crime. Critically acclaimed for its raw power and breathtaking ferocity, it's the brilliant American gangster movie classic from writer-director Quentin Tarantino. They were perfect strangers, assembled to pull off the perfect crime. Then their simple robbery explodes into bloody ambush, and the ruthless killers realize one of them is a police informer. But which one?
Single White Female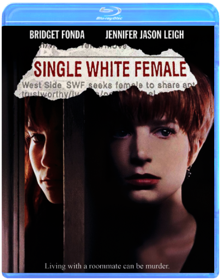 Barbet Schroeder
SWF seeks female to share apt in West 70s. Non-smkr, professional preferred. An innocent want ad opens the door to murderous, unrelenting terror in this pulse-pounding psychological shocker starring Bridget Fonda and Jennifer Jason Leigh.
Toys
Barry Levinson
Enter a spectacular world of whimsy, fun and fantasy in this acclaimed visual extravaganza directed by Barry Levinson. Robin Williams stars as Leslie Zevo, a fun-loving adult who must save his late father's toy factory from his evil uncle (Michael Gambon), a war-loving general who builds weapons disguised as toys. Aided by his sister (Joan Cusack) and girlfriend (Robin Wright), Leslie sets out to thwart his uncle and restore joy and innocence to their special world.
Unforgiven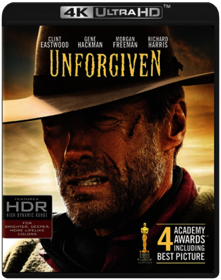 Clint Eastwood
Wayne's World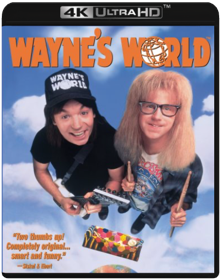 Penelope Spheeris
Based on the Saturday Night Live sketch of the same name, Wayne's World is a wacky, irreverent pop-culture comedy about the adventures of two amiably aimless metal-head friends, Wayne (Mike Myers) and Garth (Dana Carvey). From Wayne's basement, the pair broadcast a talk-show called Wayne's World on local public access television. The show comes to the attention of a sleazy network executive (Rob Lowe) who wants to produce a big-budget version of Wayne's World and he also wants Wayne's girlfriend, a rock singer named Cassandra (Tia Carrere). Wayne and Garth have to battle the executive not only to save their show, but also Cassandra. Director Penelope Spheeris, Myers and Carvey hang a lot of silly, but funny, jokes on this thin plot, and the energy of the cast - as well as the wild pop-culture references - make Wayne's World a cut above the average Saturday Night Live spin-off movie.
The Age of Innocence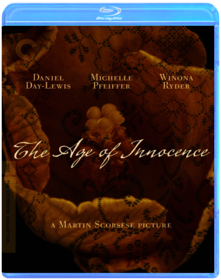 Martin Scorsese
No filmmaker captures the grandeur and energy of New York like Martin Scorsese. With this sumptuous romance, he meticulously adapted the work of another great New York artist, Edith Wharton, bringing to life her tragic novel of the cloistered world of Gilded Age Manhattan. THE AGE OF INNOCENCE tells the story of Newland Archer (Daniel Day-Lewis), whose engagement to an innocent socialite (Winona Ryder) binds him to the codes and rituals of his upbringing. But when her cousin (Michelle Pfeiffer) arrives in town on a wave of scandal after separating from her husband, she ignites passions in Newland he never knew existed. Swelling with exquisite period detail, this film is an alternately heartbreaking and satirical look at the brutality of old-world America.

DIRECTOR-APPROVED BLU-RAY SPECIAL EDITION FEATURES
- New, restored 4K digital transfer, approved by director Martin Scorsese, with 5.1 surround DTS-HD Master Audio soundtrack
- New interviews with Scorsese, coscreenwriter Jay Cocks, production designer Dante Ferretti, and costume designer Gabriella Pescucci
- INNOCENCE AND EXPERIENCE, a 1993 documentary on the making of the film
- Trailer
- PLUS: An essay by critic Geoffrey O'Brien
The Baby of Mâcon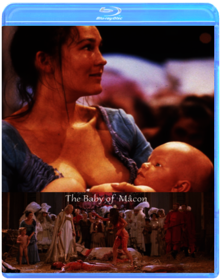 Peter Greenaway
Blue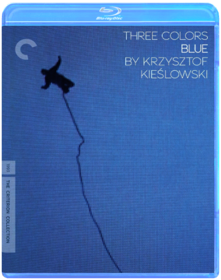 Krzysztof Kieslowski
Boxing Helena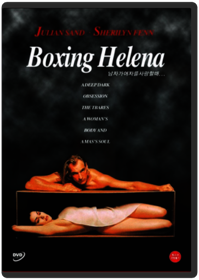 Jennifer Lynch
Fantasy, desire and manipulation make for a savory-yet-volatile cocktail in this psychological thriller about a woman held captive by a man who loves her. First-time writer-director Jennifer ChambersLynch (The Diary of Laura Palmer) brings "stylistic flair" (The Washington Post) to this haunting, erotic tale of love and lust that straddles the fine line between devotion and obsession. Nick Cavanaugh (Julian Sands, Timecode) is a brilliant surgeon who seems to haveit allmoney, looks, prestigebut all he wants is someone he can't have a voluptuous, cold-hearted seductress: Helena (Sherilyn Fenn, Three of Hearts). After Nick fails to impress her withhis wealth, Helena is struck down by a hit-and-run driver outside his mansion. The good doctor saves her life by amputating her legs, then seizes the opportunity of her immobility to hold her prisoner. Now, he's in control of Helena's body, but not her mind, for this shrewd, quick-thinking vixen ishellbent on keeping Nick on his toes in order to foil his selfish plan to have her not only as a trophy wife but his personal Venus de Milo.
Carlito's Way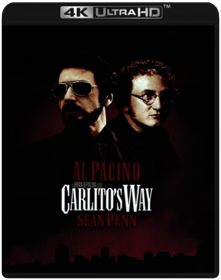 Brian De Palma
From the director of Scarface comes the critically acclaimed crime thriller Carlito's Way. Oscar® winner Al Pacino gives an electrifying performance as former drug kingpin Carlito Brigante, who is sprung from prison by his high-powered attorney (Academy Award® winner Sean Penn). He stuns the New York underworld by vowing to go straight from a history of violence, but his plans are undermined by misguided loyalties and an outmoded code of honor. In a life-or-death battle, Carlito takes on the relentless forces that refuse to let him go. Co-starring John Leguizamo and Luis Guzmán, Carlito's Way is a powerful, action-packed ride all the way to its explosive conclusion.
Cliffhanger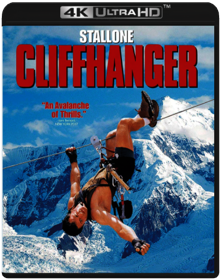 Renny Harlin
Sarah was an inexperienced climber. She trusted Gabe to rescue her. But something went wrong high above the valley floor...Sylvester Stallone, John Lithgow, Michael Rooker, Janine Turner and Ralph Waite star in this high-altitude avalanche of action: a non-stop adventure peak with suspense and capped with heart-quaking terror. For Rocky Mountain Rescue, the mission is almost routine: locate five climbers. With the woman he loves (Turner) and his best friend (Rooker), Gabe Walker (Stallone) braves the icy peaks only to discover that the distress call is really a trap set by merciless international terrorist Eric Qualen (Lithgow). Now millions of dollars and their own lives hang in the balance. Against explosive firepower, bitter cold, and dizzying heights, Walker must outwit Qualen in a deadly game of hide-and-seek.
Cronos
Guillermo del Toro
After an antique dealer finds a 400-year-old device that makes the user younger and promises eternal life, he discovers that its powers come with a heavy price.
Genre: Horror
Rating: R
Release Date: 0000-00-00
Media Type: Blu-Ray
Dazed and Confused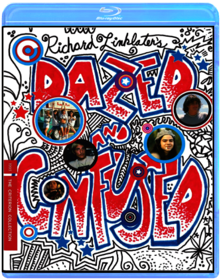 Richard Linklater
America, 1976. The last day of school. Bongs blaze, bell-bottoms ring, and rock and roll rules. Among the best teen films ever made, Dazed and Confused, directed by Richard Linklater (Slacker), eavesdrops on a group of seniors-to-be and incoming freshmen. A launching pad for a number of future stars, Linklater's first studio effort also features endlessly quotable dialogue and a blasting, stadium-ready soundtrack. Sidestepping nostalgia, Dazed and Confused is less about "the best years of our lives" than the boredom, angst, and excitement of teenagers waiting... for something to happen.
Groundhog Day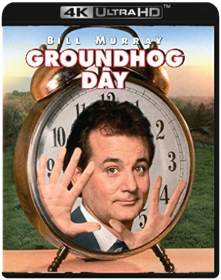 Harold Ramis
Bill Murray is at his wry, wisecracking best in this riotous romantic comedy about a weatherman caught in a personal time warp on the worst day of his life. Teamed with a relentlessly cheerful producer (Andie MacDowell) and a smart-aleck cameraman (Chris Elliott), TV weatherman Phil Connors (Bill Murray) is sent to Punxsutawney, Pennsylvania, to cover the annual Groundhog Day festivities. But on his way out of town, Phil is caught in a giant blizzard, which he failed to predict, and finds himself stuck in small-town hell. Just when things couldn't get any worse, they do. Phil wakes the next morning to find it's Groundhog Day all over again... and again... and again.
Jurassic Park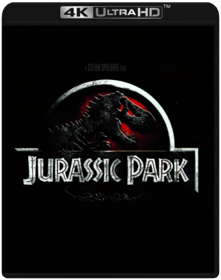 Steven Spielberg
Experience one of the biggest films in motion picture history with director Steven Spielberg's ultimate thrill ride, Jurassic Park. Featuring Academy Award winning visual effects and groundbreaking filmmaking that has been hailed as "a triumph of special effects artistry" (Roger Ebert, Chicago Sun-Times), this epic film is sheer movie-making magic that was 65 million years in the making. Jurassic Park takes you to an amazing theme park on a remote island where dinosaurs once again roam the earth and five people must battle to survive among the prehistoric predators. Starring Sam Neill, Laura Dern, Jeff Goldblum and Richard Attenborough, discover the breathtaking adventure you will want to experience again and again.
Kalifornia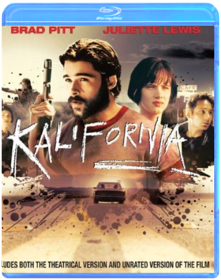 Dominic Sena
Excitement, adventure and unimaginable terror await on the road to Kalifornia. "Brad Pitt is outstanding" (Rolling Stone) and "Juliette Lewis is utterly, heartbreakingly convincing" (Boxoffice) in this chilling psychological thriller co-starring David Duchovny and Michelle Forbes. When urban intellectuals Brian (Duchovny) and Carrie (Forbes) set out on a cross-country trip to research a book about serial killers, they share the ride with a couple they barely know, Early Grace (Pitt) and his girlfriend, Adele (Lewis). Locked in a car hurtling westward, the four travelers struggle to find some common ground. But when they finally do connect, Early's violent nature abruptly emerges, and the terrified Brian and Carrie realize that they don't need to go very farto learn about ruthless killers...because they're already face to face with one!
M. Butterfly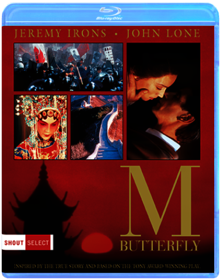 David Cronenberg
Screen adaptation of the acclaimed Broadway play. A French civil service officer risks and then abandons everything in his life in his obsessive pursuit of an enigmatic Chinese opera diva who harbors a secret.
Much Ado About Nothing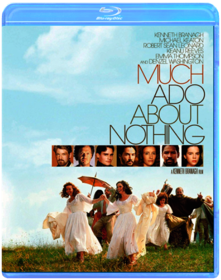 Kenneth Branagh
A military war has just ended, but the merry war between Beatrice (Emma Thompson) and Benedick (Branagh) rages on! Can their friends trick them into making love instead? For that matter, can another couples devotion survive the evil Don Johns (Keanu Reeves) vicious lies? Its up to the blundering constable (Michael Keaton) to save the day so that the course of true love may yet run smooth!
The Nightmare Before Christmas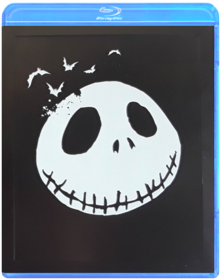 Henry Selick
This stop-motion animated fable was a big hit when it was released — not only at the box office, but critically. It was praised for its stunning originality and for the excellence of its execution. In addition, it was praised for being a completely absorbing fable that both grownups and children can enjoy, so long as the children are able to its handle scary bits (beginning perhaps at age seven or eight). In the story, Jack Skellington (voice of Chris Sarandon) is the Pumpkin King of Halloweentown, a realm of reality where the inhabitants make it their life's work to scare humans on Halloween. He's good at his work, and is very popular around town, but it all bores him. In a funk one day, he wanders into a wood where every tree is the doorway to realms serving one or another human holiday, and falls through the doorway into Christmas. There, he sees scenes of such glee and good will that he is overwhelmed. He returns to Halloweentown with the inspiration to persuade his fellow citizens to kidnap Santa and do Christmas in their own Halloweentown way — complete with snakes and shrunken heads. Despite strong arguments against this project by Jack's otherwise loyal girlfriend, Sally (voice of Catherine O'Hara), Santa (voice of Edward Ivory) is duly captured, and the townspeople prepare a very special Christmas for everyone. Jack is excited about the new plan, and at first doesn't notice that Sally isn't around much anymore. Meanwhile, Oogie Boogie (voice of Ken Page), a sinister opponent of Jack's, has re-kidnapped Santa and has captured Sally as well. Since Sally is the true love of Jack's life and (he eventually realizes) the only one who can be relied upon to tell him the truth in every circumstance, a confrontation with Oogie Boogie becomes inevitable. In addition to being a monumental work of animation (it took over 120 animators and many more technicians more than two years to film it), this show features ten very appropriate musical numbers by composer Danny El
The Piano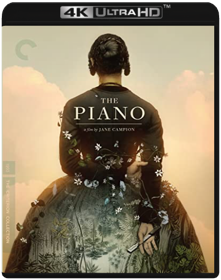 Jane Campion
Robin Hood: Men in Tights
Mel Brooks
Schindler's List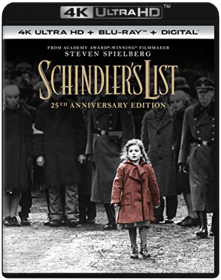 Steven Spielberg
Commemorate the 25th Anniversary of Steven Spielberg's cinematic masterpiece, Schindler's List, one of the most historically significant films of all time. Winner of seven Academy Awards including Best Picture and Best Director, this incredible true story follows the enigmatic Oskar Schindler (Liam Neeson), who saved the lives of more than 1,100 Jews during the Holocaust. It is the triumph of one man who made a difference and the drama of those who survived one of the darkest chapters in human history because of what he did. Meticulously restored from the original film negative in pristine 4K resolution and supervised by Steven Spielberg, Schindler's List is a powerful story whose lessons of courage and faith continue to inspire generations.
Short Cuts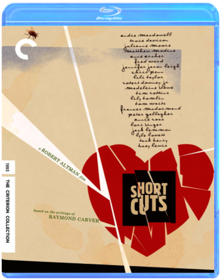 Robert Altman
Sliver
Phillip Noyce
Suture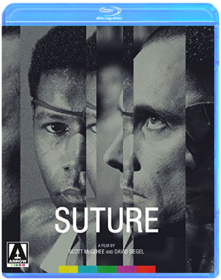 David Siegel, Scott McGehee
Three Colors: Blue, White, Red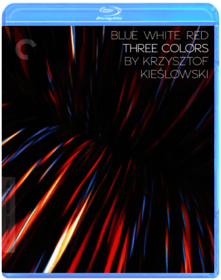 Krzysztof Kieslowski
This boldly cinematic trio of stories about love and loss from Krzysztof Kieślowski (The Double Life of Véronique) was a defining event of the art-house boom of the 1990s. The films were named for the colors of the French flag and stand for the tenets of the French Revolution—liberty, equality, and fraternity—but this hardly begins to explain their enigmatic beauty and rich humanity. Set in Paris, Warsaw, and Geneva, and ranging from tragedy to comedy, Blue, White, and Red (Kieślowski's final film) examine with artistic clarity a group of ambiguously interconnected people experiencing profound personal disruptions. Marked by intoxicating cinematography and stirring performances by such actors as Juliette Binoche (Summer Hours), Julie Delpy (Before Sunset), Irène Jacob (The Double Life of Véronique), and Jean-Louis Trintignant (Z), Kieślowski's Three Colors is a benchmark of contemporary cinema.

Blue In the devastating first film of the Three Colors trilogy, Juliette Binoche gives a tour de force performance as Julie, a woman reeling from the tragic deaths of her husband and young daughter. But Blue is more than just a blistering study of grief; it's also a tale of liberation, as Julie learns truths about her late composer husband's life and attempts to free herself of the past. Shot in icily gorgeous tones by Sławomir Idziak (The Double Life of Véronique) and set to an extraordinary operatic score by Zbigniew Preisner (The Secret Garden), Blue is an overwhelming sensory experience.

1993

98 minutes

Color

2.0 surround

In French with English subtitles

1.85:1 aspect ratio

White The most playful but also the grittiest of Kieślowski's Three Colors films follows the adventures of Karol Karol (The Pianist's Zbigniew Zamachowski), a Polish immigrant living in France. The hapless hairdresser opts to leave Paris for his native Warsaw after his wife (Julie Delpy) sues him for divorce (her reason: he was never able to perform in bed) and then frames him for arson after setting her own salon ablaze. White, which goes on to chronicle Karol Karol's elaborate revenge plot, manages to be both a ticklish dark comedy about the economic inequalities of Eastern and Western Europe and a sublime reverie about twisted love. 1993

91 minutes

Color

2.0 surround

In French and Polish with English subtitles

1.85:1 aspect ratio

Red Krzysztof Kieślowski closes his Three Colors trilogy in grand fashion with an incandescent meditation on fate and chance, starring Irène Jacob as a sweet-souled yet somber runway model in Geneva whose life intersects with that of a bitter retired judge, played by Jean Louis Trintignant. Their blossoming friendship forces each to open up in surprising emotional ways. Meanwhile, just down the street, a seemingly unrelated story of jealousy and betrayal unfolds. Red is an intimate look at forged connections and a splendid final statement from a remarkable filmmaker at the height of his powers.

1994

99 minutes

Color

2.0 surround

In French with English subtitles

1.85:1 aspect ratio
Tombstone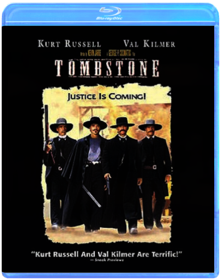 George P. Cosmatos
True Romance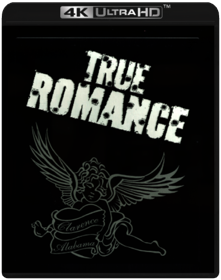 Tony Scott
True Romance (Unrated) (BD)
Ace Ventura Duology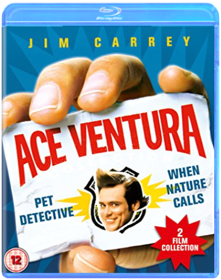 Tom Shadyac, Steve Oedekerk
Double bill of comedies starring Jim Carrey. In 'Ace Ventura: Pet Detective' (1994) the eccentric investigator Ace Ventura (Carrey) is hired by the beautiful Melissa (Courteney Cox), a board member of the Miami Dolphins, to discover the whereabouts of the team's missing mascot, a dolphin called Snowflake. With only a week to go before the Super Bowl, Ace's investigations lead him to suspect an ex-Dolphins player of kidnapping the prized animal. In 'Ace Ventura: When Nature Calls' (1995) Ace is summoned from his retreat in the Himalayas by British consul General Vincent Cadby (Simon Callow) to find the stolen sacred bat of the Wachati tribe. If the bat is not recovered in time for the imminent wedding of the Wachati chief's daughter and the chosen warrior of the neighbouring Wachootoo tribe, war will break out between the two tribes...
Airheads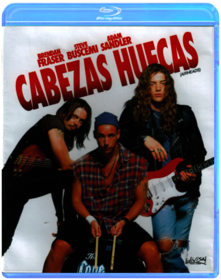 Michael Lehmann
Barcelona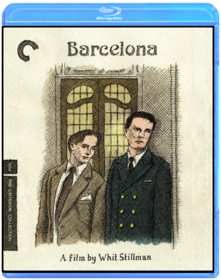 Whit Stillman
Women and Cold War politics surround a U.S. sales rep and his Navy-officer cousin in Spain. Directed by Whit Stillman.
Cemetery Man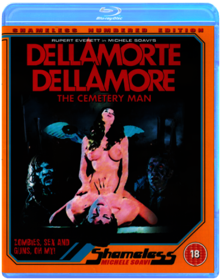 Michele Soavi
Michele Soavi, the director of THE CHURCH and THE SECT, now sears our retinas and our emotions with his cool, sexy DELLAMORTE DELLAMORE, for the first time on Shameless Blu-ray! This remastered HD version finally does justice to his undisputed Grand Guignol masterpiece and to the luscious visions of Anna Falchi and dreamy Rupert Everett.

Meet Francesco Dellamorte (Rupert Everett), the cemetery-man, gravedigger and guardian of the mythical Buffalora Cemetery where the dead just don t stay dead. Seven days after burial, the fresh cadavers claw their way out of their coffins looking for flesh to eat. And it s Francesco s job to dispatch these Returners before they escape into the local community.

But his quest to stop the dead from invading the world of the living falters when he falls in love with a beautiful and enigmatic widow visiting her husband s crypt. For when he kills her by mistake, and is cursed to see her face for eternity, the difference between being alive and dead become chillingly confused in his shocked and romantically damaged brain.

BLU-RAY CONTENT: DELLAMORTE DELLAMORE is presented in a remastered HD version, for the first time on Shameless Blu-ray!New interview with writer-producer Gianni RomoliNew interview with SFX genius Sergio StivalettiAudio Commentary & Fact-Track by director Michele Soavi & writer Gianni RomoliEnglish Audio & Optional Italian Audio with revised English SubtitlesCollector s reversible inlay sleeve with original poster artwork
The Crow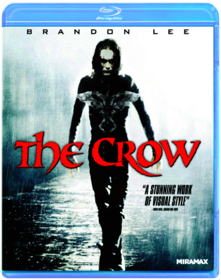 Alex Proyas
Eric draven and his fiancee are murdered by a ruthless gang. One year later; eric returns from his grave to avenge their deaths. Draven is endowed with supernatural powers bestowed upon him by the crow. Eric seeks revenge for his death and destroys the inner city's powerful crime lord and his band of thugs.
Dumb and Dumber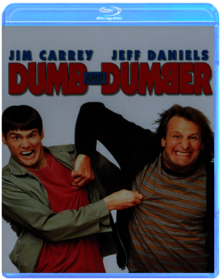 Peter Farrelly
Dumb and Dumber (Unrated)(BD)
Ed Wood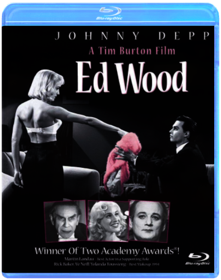 Tim Burton
Experience Tim Burton's acclaimed, true-life story of the wackiest filmmaker in Hollywood history, ED WOOD, for the first time on Blu-ray — complete with a new digital restoration, featuring enhanced picture and sound. Celebrated actor Johnny Depp stars as the high-spirited director who never let terrible reviews or hostile studio executives derail his big-screen dreams. With an oddball collection of showbiz misfits, Ed takes the art of bad moviemaking to an all-time low! Bill Murray, Sarah Jessica Parker, and Academy Award(R)-winner Martin Landau (Best Supporting Actor, 1994, ED WOOD) are hilarious in this warm and witty comedy. Relive every madcap moment like never before on Blu-ray!
Exotica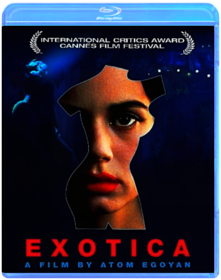 Atom Egoyan
Import Blu-ray/Region All pressing. Includes a Region 1 DVD pressing. Forbidden desires and dangerous intrigue generate sizzling heat in this erotic thriller! At a sexy strip club called Exotica, three strangers an obsessive man, an erotic table dancer, and the club's mysterious D.J., share much more than is apparent at first glance! As their secret passions grow, they become more deeply entangled in an inescapable web of jealousy, deceit, and revenge! #the powerfully seductive hit EXOTICA is gripping entertainment - you won't be able to take your eyes off it!
Faust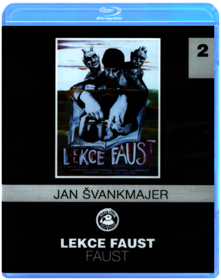 Jan Švankmajer
Directed by Jan Svankmajer. Starring Vladimir Kudla, Petr Cepek, Andrew Sachs.
Four Weddings and a Funeral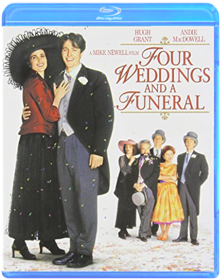 Mike Newell
The champagne is flowing and so is the funin this "delightful and sly" (Roger Ebert) romantic comedy about two people who belong together but just can't seem to tie the knot. Ushering in two Academy Award nominations*, and starring Hugh Grant (Notting Hill), Andie MacDowell (Michael) and a superb ensemble cast that includes Oscar nominee** Kristin Scott Thomas, Four Weddings and a Funeral is truly "a very special occasion" (Rolling Stone)! Charlie (Grant) is always the best man but never the groom. Determined to avoid even a hint of commitment, this handsome English gentleman is notoriously late to every wedding. But today he's in for a real surprise because not only did he forget the ring... but he also just caught a glimpse of the girl of his dreams (MacDowell)! "Elegant, festive and very, very funny" (The New York Times), Four Weddings and a Funeral is engaging entertainment from beginning to end.
The Hudsucker Proxy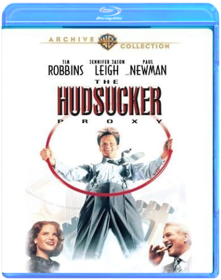 Joel Coen, Ethan Coen
An ambitious but naive young man rapidly moves up the corporate ladder from the mailroom to the executive suite, unaware that he is part of the board of directors' nefarious scheme.

Paul Newman, Tim Robbins and Jennifer Jason Leigh star in filmmakers Joel and Ethan Coen's darkly comic look at big business. When the founder of Hudsucker Industries leaps to his death from the 44th floor boardroom window the board of directors panics. But there is a plan: install a complete imbecile as president of the company and devalue the stock so the board can acquire a controlling interest for themselves. But where can they find such a guileless patsy? Enter Norville Barnes. Fresh off the bus from Muncie, Indiana, as a graduate of the 1958 class of the Muncie College of Business Administration, Norville is ready to start at the bottom and work his way up to the top of the corporate world ... he just never imagined it would happen so quickly.
Interview with the Vampire
Neil Jordan
The Last Seduction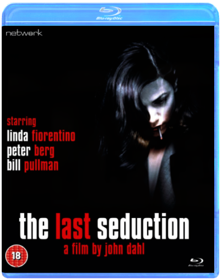 John Dahl
Legends of the Fall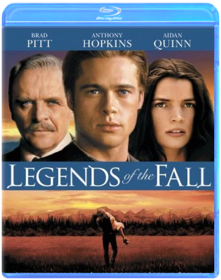 Edward Zwick
1994 Oscar(r) Winner: Best Cinematography. Based on the novella by Jim Harrison, this sweeping romantic epic is about the Ludlow brothers—two men (Brad Pitt, Aidan Quinn) in love with the same woman (Julia Ormond). Also starring Anthony Hopkins. Directed by Edward Zwick (The Siege). Screenplay by Susan Shilliday and Bill Wittliff.
Léon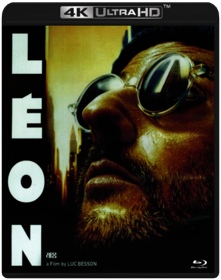 Luc Besson
The mysterious Léon (Jean Reno) is New York's top hitman. When his next-door neighbors are murdered, Léon becomes the unwilling guardian of the family's sole survivor - 12-year-old Mathilda (Natalie Portman). But Mathilda doesn't just want protection; she wants revenge. From the electrifying opening to the fatal finale, THE PROFESSIONAL is a nonstop crescendo of action and suspense. UHD Release 2017 The mysterious Léon (Jean Reno) is New York's top hitman. When his next-door neighbors are murdered, Léon becomes the unwilling guardian of the family's sole survivor – 12-year-old Mathilda (Natalie Portman). But Mathilda doesn't just want protection; she wants revenge. From the electrifying opening to the fatal finale, Léon: The Professional is a nonstop crescendo of action and suspense. Experience both the theatrical and extended versions of this beloved action masterpiece, now presented in full 4K resolution.
Mary Shelley's Frankenstein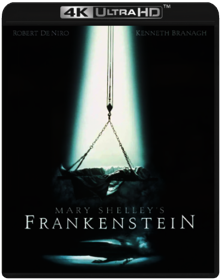 Kenneth Branagh
Natural Born Killers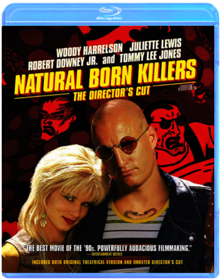 Oliver Stone
Pulp Fiction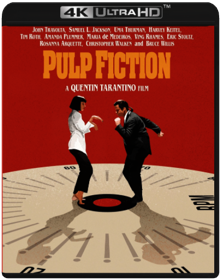 Quentin Tarantino
"Nothing less than a cultural phenomenon" (Moviemaker Magazine), Quentin Tarantino's PULP FICTION has been hailed by critics and audiences worldwide as a film that redefined cinema. Tarantino delivers an unforgettable cast of characters – including a pair of low-rent hit men (John Travolta and Samuel L. Jackson), their boss's sexy wife (Uma Thurman) and a desperate prizefighter (Bruce Willis) – in a wildly entertaining and exhilarating blend of crime-thriller-drama-comedy that is completely original and entirely unforgettable. Nominated for 7 Academy Awards® including Best Picture and Best Director, PULP FICTION packs the punch like an adrenaline shot to the heart.
Red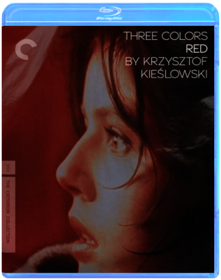 Krzysztof Kieslowski
Roadracers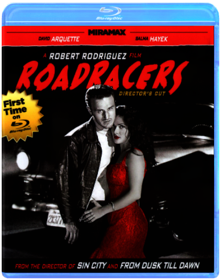 Robert Rodriguez
Acclaimed director Robert Rodriguez delivers more action-packed thrills with Roadracers, the story of a rockin' rebel named Dude (David Arquette), racing through life with a fast car, a loud guitar, a sexy girlfriend (Salma Hayek) and a big mouth. But when a confrontation ends with deadly threats, Dude finds himself speeding head-on toward a showdown that will settle the score for good. With hot stars and an energetic style all its own, Roadracers is fast-paced entertainment that never slows down.

Special Feature(s): Director's Commentary; 10-minute Film School with Robert Rodriguez
Shallow Grave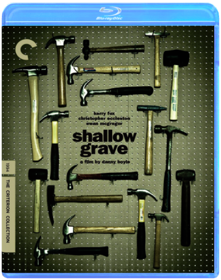 Danny Boyle
This diabolical thriller was the first film from director Danny Boyle, producer Andrew Macdonald, and screenwriter John Hodge (the smashing team behind Trainspotting). In Shallow Grave, three self-involved Edinburgh roommates—played by Kerry Fox (An Angel at My Table), Christopher Eccleston (Elizabeth), and Ewan McGregor (Beginners), in his first starring role—take in a brooding boarder. When he dies of an overdose, leaving a suitcase full of money, the trio embark on a series of very bad decisions, with extraordinarily grim consequences for all. Macabre but with a streak of offbeat humor, this stylistically influential tale of guilt and derangement is a full-throttle bit of Hitchcockian nastiness.
Stargate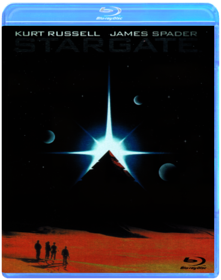 Roland Emmerich
An Egyptologist, a colonel and his team are transported to an ancient land of pyramids, slaves and an alien ruler.
White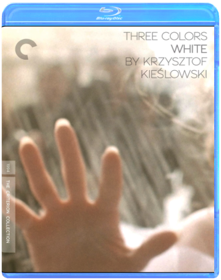 Krzysztof Kieslowski
12 Monkeys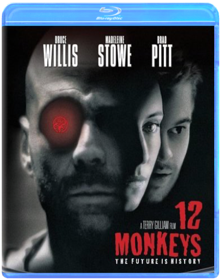 Terry Gilliam
Cole (Bruce Willis) is sent back in time to save the human race from a deadly virus that has forced mankind into dank underground communities in the future. Along his travels, he encounters a psychiatrist (Madeleine Stowe) and a mental patient, brilliantly portrayed by Brad Pitt, who may hold the key to the mysterious rogue group, the Army of the 12 Monkeys, thought to be responsible for unleashing the killer disease. Believing he can obtain a pure virus sample in order to find a cure in the future, he is met with one riddle after another that puts him in a race with time. This sci-fi masterpiece from the genius mind of Terry Gilliam is a modern-day classic.
Apollo 13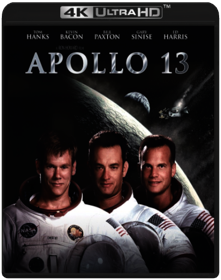 Ron Howard
Nominated for nine Academy Awards, including Best Picture, Apollo 13 is the inspiring and riveting story of the real-life space flight that gripped the nation and changed the world. It had been less than a year since man first walked on the moon, but as far as the American public was concerned, Apollo 13 was just another "routine" space flight - until these infamous words pierced the immense void of space: "Houston, we have a problem." Produced by Brian Grazer and directed by Ron Howard, Apollo 13 stars Tom Hanks, Kevin Bacon, Bill Paxton, Gary Sinise and Ed Harris in NASA's epic operation to save the lives of 3 astronauts battling to survive an ill-fated mission to the moon.
The Basketball Diaries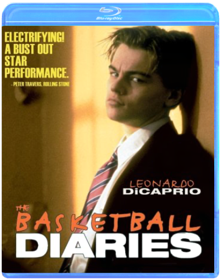 Scott Kalvert
Crime pays for the drug addiction of a high-school hoopster and three teammates in 1960s New York.
Before Sunrise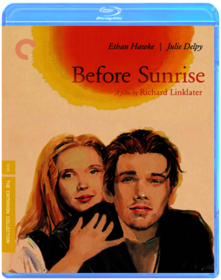 Richard Linklater
Billy Madison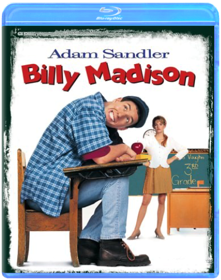 Tamra Davis
Adam Sandler stars as Billy Madison in the outrageous comedy where the subject is always fun. 27-year-old Billy Madison must repeat all 12 grades of school - in just 24 weeks - to earn his father's respect and prove he has what it takes to run the family's multi-million dollar empire. Along the way, Billy falls for his 3rd grade teacher (Bridgette Wilson), gets kicked out of school and must face-off with his nemesis…not to mention a pesky penguin. With hilarious appearances by Chris Farley, Norm MacDonald and Steve Buscemi, this comedy hit gets an A+ for laughs!
Braveheart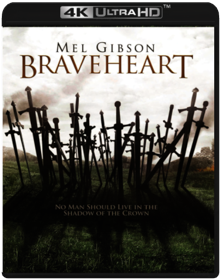 Mel Gibson
Casino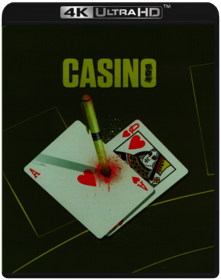 Martin Scorsese
Robert De Niro, Sharon Stone and Joe Pesci star in director Martin Scorsese's riveting look at how blind ambition, white-hot passion and 24-karat greed toppled an empire. Las Vegas, 1973, is the setting for this fact-based story about the Mob's multimillion-dollar casino operation, where fortunes and lives were made and lost with a roll of the dice.
The City of Lost Children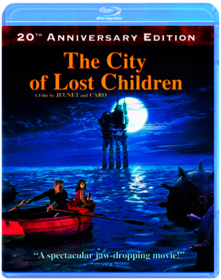 Marc Caro, Jean-Pierre Jeunet
Special Features Include:

-All-new director-supervised and approved HD Master

-Commentary with Director Jean-Pierre Jeunet and Actor Ron Perlman

-The Making of The City of Lost Children

-Archives of Jean-Pierre Jeunet

-Interview with Jean-Paul Gaultier

-Original Theatrical Trailers
Cold Comfort Farm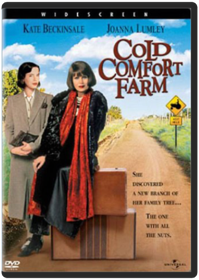 John Schlesinger
From Academy Award winning director John Schlesinger comes a brilliantly witty film. Starring Kate Beckinsale (Pearl Harbor) as Flora Poste, a London society girl, and Joanna Lumley (Absolutely Fabulous) as Flora's friend and mentor, this heartwarming comedy is full of charm and clever satire. Recently orphaned, Flora ignores the sage advice of Mrs. Smiley (Lumley) and moves to the country to live on a decrepit farm with her eccentric relatives. Fancying herself a writer, Flora encounters perfect material for her novel in the humorously odd collection of rural characters. In her own inimitable way, Flora insists on creating order out of their chaos, and in the process, she fills their lives with light and laughter. Also starring Rufus Sewell (A Knight's Tale), Ian McKellen (Lord of the Rings), Stephen Fry (Peter's Friends) and Eileen Atkins.
Crumb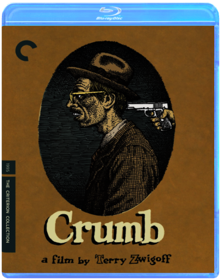 Terry Zwigoff
Terry Zwigoff's landmark 1995 film is an intimate documentary portrait of underground artist Robert Crumb, whose unique drawing style and sexually and racially provocative subject matter have made him a household name in popular American art. Zwigoff candidly and colorfully delves into the details of Crumb's incredible career, as well as his past, including his family of reclusive eccentrics, some of the most remarkable people you'll ever see on-screen. At once a profound biographical portrait, a riotous examination of a man's controversial art, and a devastating look at a troubled family, Crumb is a genuine American original.
Desperado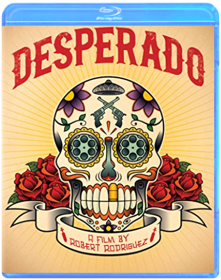 Robert Rodriguez
Desperado Limited Edition SteelBook Blu-ray. Region A, B & C Blu-ray.
Four Rooms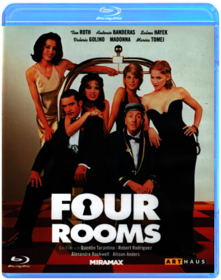 Quentin Tarantino, Allison Anders, Alexandre Rockwell, Robert Rodriguez
Don't miss the fun in this hilariously sexy comedy that has Antonio Banderas (THE MASK OF ZORRO), Madonna (EVITA), and a sizzling all-star cast checking in for laughs! It's Ted the Bellhop's (Tim Roth — PULP FICTION) first night on the job ... and the hotel's very unusual guests are about to place him in some outrageous predicaments! It seems that this evening's room service is serving up one unbelievable happening ... after another! Also featuring Academy Award(R) winner Marisa Tomei (1992 Best Supporting Actress, MY COUSIN VINNY), FOUR ROOMS is a wild night of highly original comedy entertainment you'll enjoy ... without reservations!
Get Shorty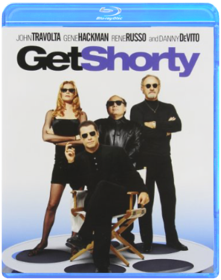 Barry Sonnenfeld
GoldenEye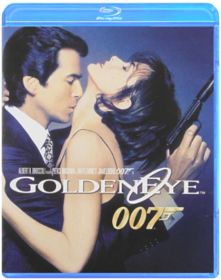 Martin Campbell
Times have changed. The Iron Curtain has fallen, giving way to a new world order, and the power plays of political agendas have been replaced by ruthless plots for profit. The war has changed... but the warriors remain the same. "The name is Bond, James Bond."
Ian Fleming's James Bond is back! Pierce Brosnan takes on the roll of the legendary Agent 007, as the most successful film franchise in history once again explodes onto the big screen.
"Goldeneye" is set firmly in the present day, swiftly changing political patterns turning old opponents into new best friends... and old allies into deadly enemies.
Hackers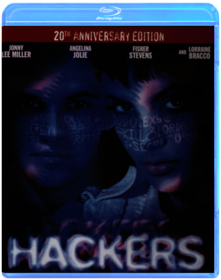 Iain Softley
While practicing the tricks of the trade, a neophyte "hacker", accomplishes the nearly impossible: he hacks the highly secured computer at the Ellingson Mineral Corporation. But in doing so, he unknowingly taps into a high-tech embezzling scheme masked by a computer virus with the potential to destroy the world' ecosystem! And when the young hacker and his pals are targeted for the crime, the group must launch a massive cyberspace attack: one that will hopefully clear their names and prevent ecological disaster.

By launching the careers of Jonny Lee Miller (Elementary) and Academy Award-winner Angelina Jolie (1999 Supporting Actress, Girl, Interrupted), Hackers became an underground hit instantly, inspiring music and fashion for the brand-new Internet culture, and has been even hailed as prophetic in its use of computers and hacking
Heat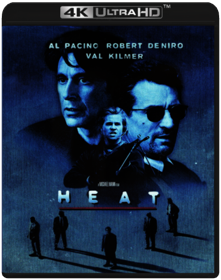 Michael Mann
Heat (2 Disc Director's Cut) Blu-ray
Jade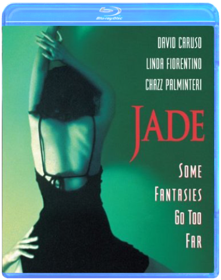 William Friedkin
An investigator seeking the truth behind the death of a noted art dealer uncovers a web of sexual deception in this erotic thriller. David Caruso plays David Corelli, a San Francisco District Attorney who faces a potential conflict of interest when he learns that the prime suspect in the murder is psychologist Katrina Gavin (Linda Fiorentino), an old flame who eventually married Corelli's close friend (Chazz Palminteri). Despite this, he continues on the case and discovers that the dealer owned a series of photographs showing prominent public figures in compromising positions with an enigmatic prostitute known only as Jade. As Corelli searches for the identity of this unknown woman, believing she holds the key to the murder's solution, he uncovers further secrets that ultimately threaten his own life.
Kicking and Screaming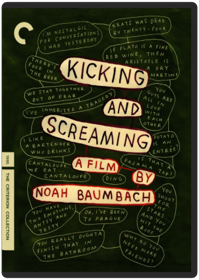 Noah Baumbach
After college graduation, Grover's girlfriend Jane tells him she's moving to Prague to study writing. Grover declines to accompany her, deciding instead to move in with several friends, all of whom can't quite work up the inertia to escape their university's pull. Nobody wants to make any big decisions that would radically alter his life, yet none of them wants to end up like Chet, the professional student who tends bar and is in his tenth year of university studies.
Kids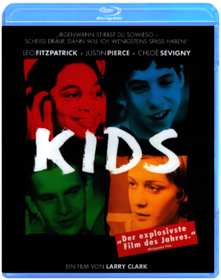 Larry Clark
Powerful and passionate, colorful and compelling, Larry Clark's KIDS is 24 frenetic hours in the life of a group of contemporary teenagers who, like all teenagers, believe they are invincible. With breathtaking images from one of the world's most renowned photographers, KIDS is a deeply affecting, no-holds-barred landscape of words and images, depicting with raw honesty the experiences, attitudes and uncertainties of innocence lost. KIDS gets under the skin and lingers, long after it is viewed. The kids at the core of the story are just that: teenagers living the urban melee of modern-day America. But while these kids dwell in the big city, their story could, quite possibly, happen anywhere.
Mallrats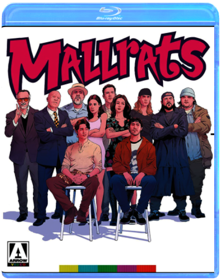 Kevin Smith
Nixon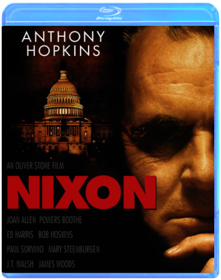 Oliver Stone
Anthony Hopkins electrifies the screen in NIXON — the acclaimed hit from controversial director Oliver Stone. Nominated for 4 Academy Awards(R), NIXON takes a riveting look at a complex man whose chance of greatness was ultimately destroyed by his passion for power — when his involvement in conspiracy jeopardized the nation's security and the presidency of the United States! With a phenomenal all-star cast, featuring Ed Harris, James Woods, and Joan Allen, NIXON is powerful motion picture entertainment you won't want to miss! Also included: exclusive never-before-seen footage, plus an Oliver Stone interview!
The Quick and the Dead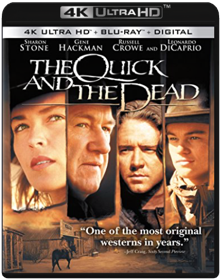 Sam Raimi
In this edgy and darkly humorous Western, a mysterious young woman rides into the lawless town of Redemption to settle an old score that has haunted her since she was a child. She becomes swept up in a deadly quick-draw tournament and, in order to win her revenge, must compete in a contest in which gunslingers from all over put their lives on the line for fame and fortune.
Richard III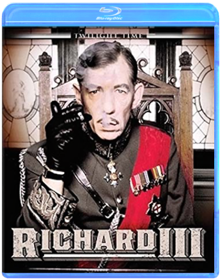 Richard Loncraine
Director Richard Loncraine (The Missionary) gives us a cinematic version of Ian McKellen's heralded 1990 National Theatre stage performance as the vile but fascinating Richard III (1995). Updating Shakespeare's most entertaining history play to the 1930s, the filmmakers offer a slick-haired fascist Richard, disturbingly recognizable as one of our ambitious own, coldly, pleasurably eliminating his enemies and scooping up the widow (Kristin Scott Thomas) of one victim even as she's burying him. Also starring Annette Bening, Jim Broadbent, Robert Downey, Jr., Nigel Hawthorne, John Wood, and a redoubtable pair of Downton-ites, Maggie Smith and Jim Carter.
Seven
David Fincher
Gluttony. Greed. Sloth. Wrath. Pride. Lust. Envy. Two cops (Brad Pitt and Morgan Freeman) track a brilliant and elusive killer who orchestrates a string of horrific murders, each kill targeting a practitioner of one of the Seven Deadly Sins. Gwyneth Paltrow also stars in this acclaimed thriller set in a dour, drizzly city sick with pain and blight. David Fincher (Fight Club, Zodiac, The Curious Case of Benjamin Button) guides the action – physical, mental and spiritual – with a sure understanding of what terrifies us, right up to a stunning denouement that will rip the scar tissue off the most hardened soul.
Showgirls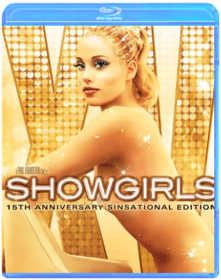 Paul Verhoeven
SHOWGIRLS 15TH ANNI SINSATIONA ED - Blu-Ray Movie
Strange Days
To Die For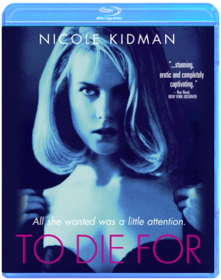 Gus Van Sant
Trinity and Beyond: The Atomic Bomb Movie
Peter Kuran
The New 70th Anniversary Special Edition of Trinity and Beyond - the Atomic Bomb Movie is 100 minutes long, includes improved restoration, new shots and longer sequences in HD. Trinity and Beyond is an unsettling yet visually fascinating documentary presenting the history of nuclear weapons development and testing between 1945 until 1963. Narrated by William Shatner and featuring an original score performed by the Moscow Symphony Orchestra, the film reveals unreleased and classified government footage depicting in graphic detail these powerful and awesome weapons. Many scenes were restored with an Academy Award winning process created to make the footage look new. Director/producer Peter Kuran, traveled throughout the U.S. to locate footage that includes bombs being suspended by balloon, exploding under the ocean, being shot from a cannon and detonated in outer space. © 2006 VCEinc. Running Time: now 100 minutes! Special HD version, 1920 x 1080. The Blu-ray features: Stereo and Dolby 5.1 Surround sound track Atomic trailers New Atomic Bomb footage in HD and more!
The Usual Suspects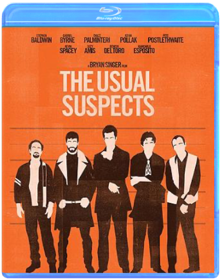 Bryan Singer
USUAL SUSPECTS, THE(BD)
Bottle Rocket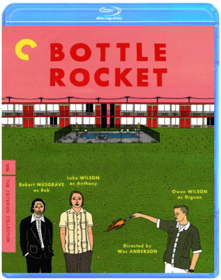 Wes Anderson
Wes Anderson first illustrated his lovingly detailed, slightly surreal cinematic vision in this witty and warm portrait of three young middle-class misfits. Fresh out of a mental hospital, gentle Anthony (Luke Wilson) finds himself once again embroiled in the machinations of his best friend, elaborate schemer Dignan (Owen Wilson). With the aid of getaway driver Bob (Robert Musgrave), they develop a needlessly complex, mildly successful plan to rob a small bookstore then go on the lam. Also featuring Lumi Cavazos as Inez, the South American housekeeper Anthony falls in love with, and James Caan as local thief extraordinaire Mr. Henry, Bottle Rocket is a charming, hilarious, affectionate look at the folly of dreamers. Shot against radiant southwestern backdrops, it s the film that put Anderson and the Wilson brothers on the map.

DIRECTOR-APPROVED SPECIAL BLU-RAY EDITION FEATURES:
New, restored high-definition digital transfer supervised and approved by director Wes Anderson and director of photography Robert Yeoman
DTS-HD Master Audio 5.1 soundtrack
Commentary by director/co-writer Anderson and co-writer/star Owen Wilson
The Making of Bottle Rocket : an original documentary by filmmaker Barry Braverman featuring Anderson, James L. Brooks, James Caan, Temple Nash Jr., Kumar Pallana, Polly Platt, Mark Mothersbaugh, Robert Musgrave, Richard Sakai, David and Sandy Wasco, Andrew and Luke and Owen Wilson, and Robert Yeoman
The original thirteen-minute black-and-white Bottle Rocket short film from 1992
Eleven deleted scenes
Anamorphic screen test, storyboards, location photos, and behind-the-scenes photographs by Laura Wilson
Murita Cycles, a 1978 short film by Braverman
The Shafrazi Lectures, no. 1: Bottle Rocket
PLUS: A booklet featuring an essay by executive producer James L. Brooks, an appreciation by Martin Scorsese, and original artwork by Ian Dingman
Bound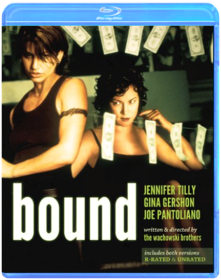 Andy Wachowski, Larry Wachowski
Corky, a lesbian ex con hired to work in an apartment as a plumber, meets neighbors Caesar, who launders money for the Mafia, and his girlfriend Violet. The two women have a love affair and decide to steal $2,000,000 that Caesar has in custody before he gives them back to Mafia boss Gino Marzone. Caesar is set up by the two scheming women as a scapegoat but things start to go wrong when he reacts in an unexpected way.
Breaking the Waves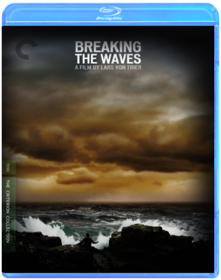 Lars von Trier
Lars von Trier (Antichrist) became an international sensation with this galvanizing realist fable about sex and spiritual transcendence. Emily Watson (Punch-Drunk Love) stuns, in an Oscar-nominated performance, as Bess, a simple, pious newlywed in a tiny Scottish village who gives herself up to a shocking form of martyrdom after her husband (Insomnia's Stellan Skarsg†rd) is paralyzed in an oil-rig accident. Breaking the Waves, both brazen and tender, profane and pure, is an examination of the expansiveness of faith and of its limits.
Conspirators of Pleasure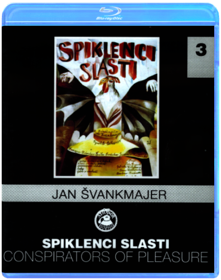 Jan Švankmajer
Svankmajer, the Czech genius of surrealism, explores the bizarre erotic impulses of various individuals in modern Prague. One man collects porn magazines, chickens and umbrellas to fashion himself a weird creature. His neighbour does similar things with straw. And then they meet up…Their newsagent tinkers with anatomical additions to his hi-tech TV set so he can gloat over the beautiful newsreader. But the newsreader keeps carp in a bowl in her bedroom for bizarre reasons, while her neglectful husband hears operatic climaxes in his head whenever he encounters saucepan lids, fur, nails and latex fingers. Finally, there's the postwoman, who rolls bread into doughballs for very odd purposes, after delivering to the first man an ominous note simply saying 'Sunday'.
Crash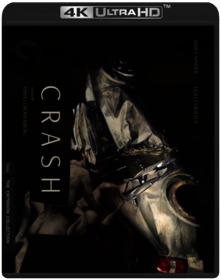 David Cronenberg
Fargo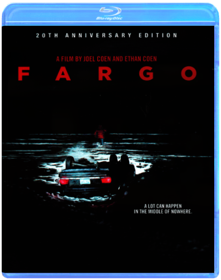 Joel Coen, Ethan Coen
In this seven-time Oscar-nominated film, things go terribly awry when small-time Minnesota car salesman Jerry Lundegaard (William H. Macy) hires two thugs (Steve Buscemi and Peter Stormare) to kidnap his wife so he can collect the ransom from his wealthy father-in-law. Once people start dying, the very chipper and very pregnant Police Chief Marge Gunderson (Frances McDormand) takes the case. Is she up for this challenge? You betcha.
Freeway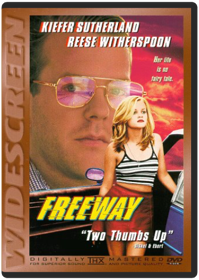 Matthew Bright
Freeway is one of those movies that has the power to simultaneously amaze and disgust just about anyone who dares to view it. Like "Seven", "Kalifornia", and "Natural Born Killers", it's a movie that could be called a product of our times, since it caters to our societal fascination with serial killers and outrageous psychopathic behavior. But make no mistake: director Matthew Bright isn't out to feed anyone's sickest impulse. This is a scathing satire in the age of Jerry Springer fistfights and "real" TV shows like "Cops", in which the "I-5 Killer" (Kiefer Sutherland) meets a wayward teenager (Reese Witherspoon) on the freeway that provides his nickname. She confides in the man but soon discovers his gruesome intentions, and ... well, let's just say she effectively defends herself, only to find later that the killer (whose wife is played by Brooke Shields, no less!) has used the media to his advantage. Fine performances make this a provocative thriller, but it's definitely not for the innocent or squeamish. "—Jeff Shannon"
From Dusk Till Dawn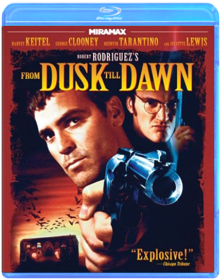 Robert Rodriguez
Its nonstop thrills when George Clooney (The American) and Quentin Tarantino (Pulp Fiction) star as the Gecko brotherstwo dangerous outlaws on a wild crime spree. After kidnapping a father (Harvey Keitel, Little Fockers) and his two kids (including Juliette Lewis, Due Date), the Geckos head south to a seedy Mexican bar to hide out in safety. But when they face the bars truly notorious clientele, theyre forced to team up with their hostages in order to make it out alive! From Robert Rodriguez and Quentin Tarantino, the creators of Grindhouse, From Dusk Till Dawn is explosive action entertainment!
Happy Gilmore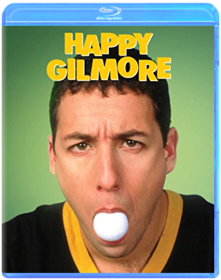 Dennis Dugan
Adam Sandler stars as Happy Gilmore in the over-the-top comedy that scores a hole in one for hilarity. After his dream of stardom on the hockey ice melts, Happy Gilmore discovers he has a gift that could bring him glory on the greens. Trouble is, with his hot head and hard-hitting drives, Happy doesn't just play golf…he destroys it. With the help of a retired golfer (Carl Weathers) and hot publicist (Julie Bowen), can Happy perfect his game and tame his temper to win the tournament prize money? With unforgettable appearances by Bob Barker, Christopher McDonald and Kevin Nealon, this comedy favorite features non-stop laughs that are par for the course!
Hard Eight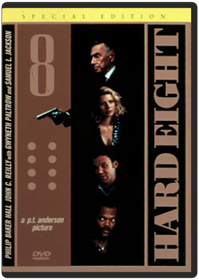 Paul Thomas Anderson
Sydney (Philip Baker Hall - Midnight Run ) is a poker-faced professional gambler with a soft heart for a hard luck story. He plays guardian angel to unlucky John (John C. Reilly - Days of Thunder) and a hooker, Clementine (Gwyneth Paltrow - Seven), whom he grows to love like family. When John's andClementine's honeymoon night leads to a disastrous hostage situation, Sydney takes care of it, as usual. But when slick casino pro Jimmy (Samuel L. Jackson - Pulp Fiction) threatens to reveal a secret from Sydney's past that could destroy his relationship with the newlyweds, Sydney decides to hedgehis bets and not leave anything to chance.
Jack Frost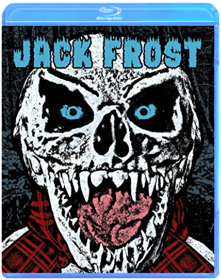 Michael Cooney
On his way to be executed, the vehicle containing notorious serial killer Jack Frost collides with a hazardous chemical truck, turning Jack into a snow covered mutant and unleashing him on the unsuspecting town of Snomonton, 'The Snowman Capitol of the Midwest'. Jack immediately takes advantage of his newfound freedom and blizzardy abilities to seek revenge on the bungling Sheriff, played by Christopher Allport (TO LIVE AND DIE IN L.A.), that accidentally ended his cross-country killing spree. On his way to the Sheriff, Jack terrorizes the snow-man themed town and murders its residents in a variety of winterized ways. Can the residents of Snomonton fight back against the psychopath snowman from Hell or will they all end up in a snow-covered grave?

Co-starring the beautiful Shannon Elizabeth (AMERICAN PIE) in one of her most infamous and revealing roles, and featuring colorful cinematography by Dean Lent (BORDER RADIO), director Michael Cooney's staple of video stores and late night TV, is a gleefully gory horror comedy and is coming to Blu-ray for the first time, fully restored in 2k from Vinegar Syndrome.

Bonus Features:
1. Scanned and restored in 2k from 35mm vault elements
2. Commentary track with Director Michael Cooney
3. Video introduction from Director Michael Cooney
4. Video interview with Lead Actor Scott MacDonald
5. Video interview with Director of Photography Dean Lent
6. 5.1 DTS-HD Surround Sound
7. Cover artwork by Chris Garofalo
8. Reversible cover art
9. English SHD Subtitles
Kingpin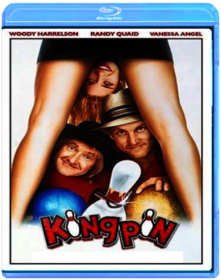 Bobby Farrelly, Peter Farrelly
The guys who brought you There's Something About Mary and Dumb and Dumber strike again with a gut-busting farce that's "just too funny" (Los Angeles Times)! Woody Harrelson, Randy Quaid and Vanessa Angel come up winners in this riotous, joke-a-second comedy with plenty of balls. Harrelson is Roy Munson, a pro bowler who seems destined for greatness, or as close to greatness as a bowler can get. But after a run-in with angry competitors, Roy finds himself sadder, wiser and minus his bowling hand! Years later, he meets the naive Ishmael (Quaid), an Amish bowling whiz. Together they set out for a million-dollar tournament in Reno, and along the way pick up Claudia (Angel), a sexy vixen with brains, attitude and really big...ideas. With her help, they make it to the tournament. But will Roy and Ishmael win the big match and score fame and fortune...or will all their hopes and dreams go barreling down the gutter?
Mission Impossible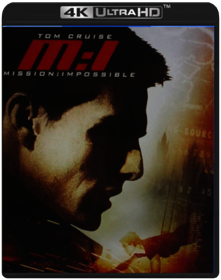 Brian De Palma
After he is framed for the death of several colleagues and falsely branded a traitor, a secret agent embarks on a daring scheme to clear his name in this spy adventure. Though it drew its name from the familiar television series, director Brian DePalma's big-budget adaptation shares little more with the original show than the occasional self-destructing message and the name of team leader Jim Phelps (Jon Voight). The film focuses not on Phelps but his protégé, Ethan Hunt (a reserved Tom Cruise), who becomes a fugitive after taking the blame for a botched operation. He responds by banding together with a group of fellow renegades, and he is soon maneuvering his way through a twisted series of double crosses that mainly serve as excuses for spectacular high-tech action sequences. Much of the activity revolves around a missing computer disk, with the film's most famous scene depicting Hunt's delicate efforts to retrieve the disk from a secure, well-alarmed room in CIA headquarters.
The People Vs. Larry Flynt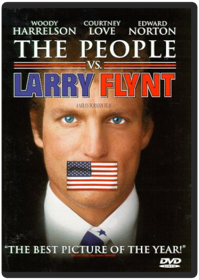 Milos Forman
THIS IS THE TRUE STORY OF LARRY FLYNT, THE MAGAZINE PUBLISHER WHO WAS SUED BY THE RELIGIOUS RIGHT AND PARALYZED BY AN ASSASSIN'S BULLET. THE FILM FOCUSES ON THE COURT BATTLES FLYNTFOUGHT FOR FREEDOM OF THE PRESS AND ON HIS UNCONVENTIIONALMARRIAGE TO AN EX-STRIPPER.
The Rock
Michael Bay
Sean Connery and Nicolas Cage join forces to avert unspeakable carnage as The Rock explodes onto Blu-ray Disc! Co-starring Ed Harris, this spectacular! (NBC-TV) thrill ride will rock your world in this astonishing format. When a vengeful ex-general seizes control of Alcatraz Island and threatens to launch missiles loaded with deadly poison gas, only a young FBI chemical weapons expert and a notorious Federal prisoner have the skills to penetrate the impregnable fortress and take him down. Catch every instant of rapid-fire action in eye-popping 1080p, while the phenomenal 5.1 48 kHz, 16-bit uncompressed audio puts you smack dab in the middle of the mayhem. Prepare to experience the awesome power of Blu-ray High Definition!
Romeo + Juliet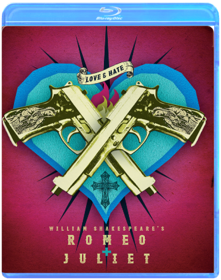 Baz Luhrmann
Baz Luhrmann's modern classic unfolds with its heart on its sleeve and guns ablaze. In this dazzling adaptation of Shakespeare's classic love story, Oscar® Nominee Leonardo DiCaprio stars opposite Claire Danes. They light up the screen as the original star-crossed lovers against a thumping soundtrack and a boldly imagined modern-day setting. A brand-new transfer from the original camera negative has been overseen frame by frame by director Baz Luhrmann for this Blu-ray release, making the film available in high definition for the first time.
Sleepers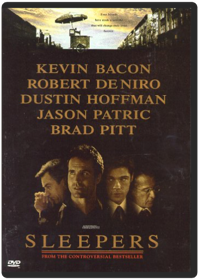 Barry Levinson
Dramatization of the true story of four boys who are imprisoned for a year in the Wilkinson Home for Boys changing them forever. As adults one is a lawyer, one a reporter, & two are professional hit men and all are still filled with the pain & fear of their year in Wilkinson.
Genre: Feature Film-Drama
Rating: R
Release Date: 3-FEB-2004
Media Type: DVD
Trainspotting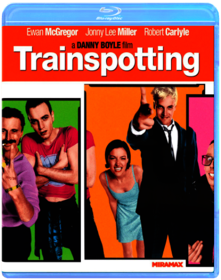 Danny Boyle
Choose life. Choose a job. Choose a career. Choose a family. Choose…Trainspotting. Director Danny Boyle (127 Hours, Slumdog Millionaire) thrills in this "original, daring" (Salon.com) tale of a group of young drug addicts wheeling through blue collar Edinburgh that earned an Academy Award® for Best Adapted Screenplay. Starring Ewan McGregor (Moulin Rouge!) in an unforgettable breakthrough performance, Trainspotting electrified audiences and critics with its hilariously dark humor, stunning visuals and sharp honest take on both the exhilarating highs, and the terrifying lows, of addiction.
Alien Resurrection
Jean-Pierre Jeunet
Quick Shipping !!! New And Sealed !!! This Disc WILL NOT play on standard US DVD player. A multi-region PAL/NTSC DVD player is request to view it in USA/Canada. Please Review Description.
Boogie Nights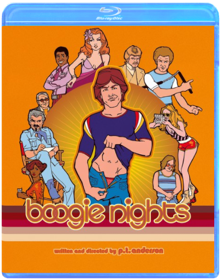 Paul Thomas Anderson
Boogie Nights (BD) (NL)
Cure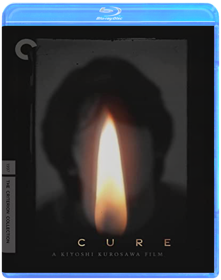 Kurosawa, Kiyoshi
Eve's Bayou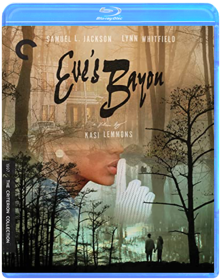 Kasi Lemmons
Face/Off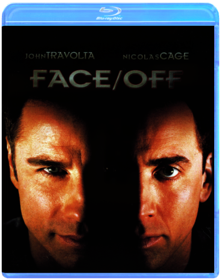 John Woo
John Travolta, Nicolas Cage. An FBI agent and a murderous psychopath switch identities-and faces-in John Woo's riveting action/adventure film. 1997/color/140 min/R.
The Fifth Element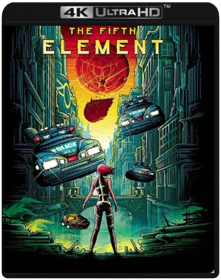 Luc Besson
Limited Edition STEELBOOK with 4K blu-ray, regular blu-ray, and Digital HD code!! Authentic USA edition!!
The Game
David Fincher
Enormously wealthy and emotionally remote investment banker Nicholas Van Orton (Traffic's Michael Douglas) receives a strange gift from his ne'er-do-well younger brother (Milk's Sean Penn) on his forty-eighth birthday: a voucher for a game that, if he agrees to play it, will change his life. Thus begins a trip down a rabbit hole that is puzzling, terrifying, and exhilarating for Nicholas and viewer alike. This multilayered, noirish descent into one man's personal hell is also a surreal, metacinematic journey that, two years after the phenomenon Se7en, further demonstrated that director David Fincher was one of Hollywood's true contemporary visionaries.
Gattaca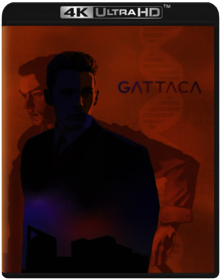 Andrew Niccol
BLURAY Special Edition
Gummo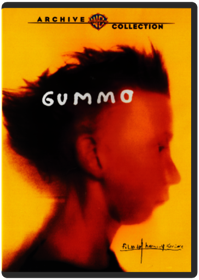 Harmony Korine
From Harmony Korine, screenwriter of Kids, comes a haunting portrait of life in small-town America. Through a collection of dreamlike and devastating images, Korine offers a glimpse of Xenia, Ohio, a world existing in the aftermath of a tornado.

This product is manufactured on demand using DVD-R recordable media. Amazon.com's standard return policy will apply.

This product is expected to play back in DVD Video "play only" devices, and may not play in other DVD devices, including recorders and PC drives.
The Ice Storm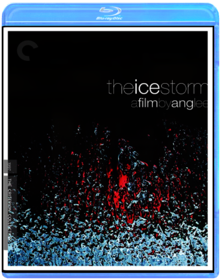 Ang Lee
Suburban Connecticut, 1973. While Richard Nixon's "I am not a crook" speech drones from the TV, the Hood and Carver families try to navigate a Thanksgiving break simmering with unspoken resentment, sexual tension, and cultural confusion. With clarity, subtlety, and a dose of wicked humor, Academy Award–winning director Ang Lee (Life of Pi) renders Rick Moody's acclaimed novel of upper-middle-class American malaise as a trenchant, tragic cinematic portrait of lost souls. Featuring a tremendous cast of established actors (Kevin Kline, Joan Allen, Sigourney Weaver) and rising stars (Tobey Maguire, Christina Ricci, Elijah Wood, Katie Holmes) THE ICE STORM is among the finest films of the 1990s.
Insomnia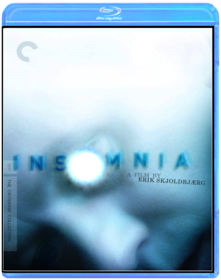 Erik Skjoldbjærg
A Swedish homicide detective becomes unglued as he and his partner investigate a teen's slaying.
Jackie Brown
Quentin Tarantino
What do a stewardess, a gunrunner, a bailbondsman, an ex-con, a federal agent, and a beach bunny have in common? They're all chasing a half million dollars in cash! The question in this Tarantino hit is who's playing who and who will walk away with the goods?
L.A. Confidential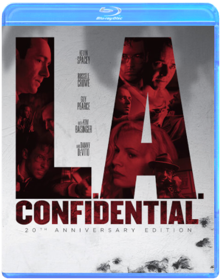 Curtis Hanson
Kevin Spacey, Russell Crowe, Kim Basinger. Three cops. A call girl...a mysterious millionaire. Set against the backdrop of the glitz, glamour, grit and noir of early '50s L.A., the plot coils through corruption, sex, lies and murder following an incident at a coffee shop. But that's just the beginning! Based on the crime fiction novel by James Ellroy. 2 Discs. 1997/color/138 min/R.
Lost Highway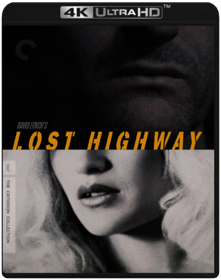 David Lynch
Germany released, Blu-Ray/Region A/B/C : it WILL NOT play on regular DVD player. You need Blu-Ray DVD player to view this Blu-Ray DVD: LANGUAGES: English ( Dolby Digital 5.1 ), English ( DTS-HD Master Audio ), German ( Dolby Digital 5.1 ), German ( DTS-HD Master Audio ), German ( Subtitles ), WIDESCREEN (2.35:1), SPECIAL FEATURES: Cast/Crew Interview(s), Interactive Menu, Making Of, Scene Access, Trailer(s), SYNOPSIS: Fred Madison, a saxophonist, is accused under mysterious circumstances of murdering his wife Renee. On death row, he inexplicably morphs into a young man named Pete Dayton, leading a completely different life. When Pete is released, his and Fred's paths begin to cross in a surreal, suspenseful web of intrigue, orchestrated by a shady gangster boss named Dick Laurent. ...Lost Highway (1997)
Orgazmo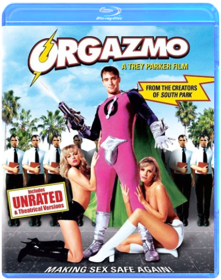 Trey Parker
Joe Young (Trey Parker) is a devout Mormon visiting Hollywood to convert the unenlightened. While spreading the word, Joe is offered $20,000 to play Captain Orgazmo in a porn director's film. Mindful of the financial burdens of his upcoming wedding, Joe reluctantly accepts the role, not certain of what he's in for! Written, directed and starring South Park co-creator Trey Parker and featuring his South Park partner Matt Stone, this hilarious send-up of the porn industry will have you laughing long after the credits roll.
Perdita Durango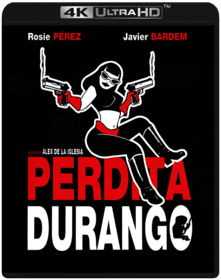 Álex de la Iglesia
Starship Troopers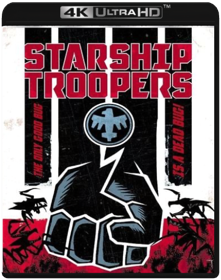 Paul Verhoeven
From the bridge of the Fleet Battle-station Ticonderoga, with its sweeping galactic views, to the desolate terrain of the planet Klendathu, teeming with shrieking fire-spitting,brain-sucking creatures, acclaimed director Paul Verhoeven,crafts a dazzling epic based on Robert A. Heinlein's classic sci-fi adventure. Casper Van Dien, Dina Meyer, Denise Richards, Jake Busey, Neil Patrick Harris, Patrick Muldoon and Michael Ironside star as the courageous soldiers who travel to the distant and desolate Klendathu system for the ultimate showdown between the species. Celebrate the 20th anniversary of this visceral action classic with an all-new 4K restoration.
U Turn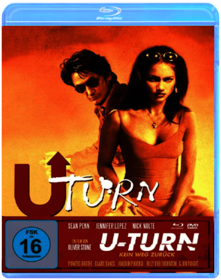 Oliver Stone
He's a small-time gambler with a backpack full of cash, an overdue debt in Vegas and a broken radiator hose. She's a hot-and-cold vixen caught in the grips of a twisted relationship with her powerfulhusband. Both of them just want to get out of town. And after you meet the citizens of Superior, Arizona, you'll understand why.
American History X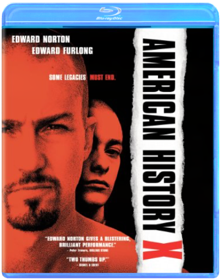 Tony Kaye
American History X (BD)
BASEketball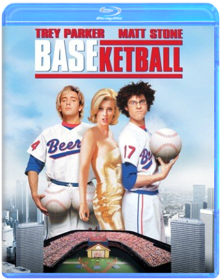 David Zucker
Starring Trey Parker and Matt Stone (South Park) BASEketball is a hilarious comedy about two guys who invent a game in their driveway that quickly becomes a national obsession. When childhood friends Joe Cooper (Parker) and Doug Remer (Stone) are challenged to a pickup basketball game, they propose a new sport combining basketball and baseball. As the ridiculous game unexpectedly becomes a hit, the friends are suddenly faced with a greedy businessman who has plans of his own. Directed by David Zucker (Airplane!, The Naked Gun), BASEketball also stars Jenny McCarthy, Yasmine Bleeth, Ernest Borgnine and Robert Vaughn along with a host of cameos from sports legends including Reggie Jackson and Kareem-Abdul Jabbar!
The Big Lebowski
Joel Coen, Ethan Coen
From the Academy Award-winning Coen brothers, The Big Lebowski is a hilariously quirky comedy about bowling, a severed toe, White Russians and a guy named…The Dude. Jeff "The Dude" Lebowski doesn't want any drama in his life…heck, he can't even be bothered with a job. But, he must embark on a quest with his bowling buddies after his rug is destroyed in a twisted case of mistaken identity. Starring Jeff Bridges, John Goodman, Julianne Moore, Steve Buscemi, Philip Seymour Hoffman and John Turturro, experience the cultural phenomenon of The Dude in the "#1 cult film of all time!" (The Boston Globe)
Blade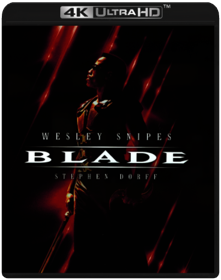 Stephen Norrington
Buffalo '66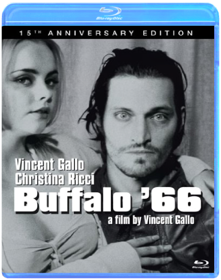 Vincent Gallo
An arresting hybrid of kitchen sink realism and fairy tale romance, Buffalo '66 follows the strange path of a troubled young man cursed with unloving parents. In his quixotic search for one kind of love he unexpectedly finds another kind of love in Layla (Ricci). Vincent Gallo brings a deep emotional conviction to this contemporary fable of family trauma and the healing power of love.
Elizabeth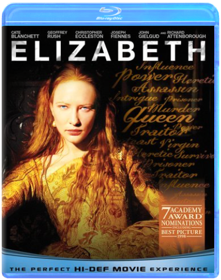 Shekhar Kapur
Academy Award® winners Cate Blanchett, Geoffrey Rush and Richard Attenborough lead a distinguished cast in Elizabeth—the critically acclaimed epic of the queen's turbulent and treacherous rise to power. Before the Golden Age, Elizabeth was a passionate and naïve girl who came to reign over a land divided by bloody turmoil. Amid palace intrigue and attempted assassinations, the young queen is forced to become a cunning strategist while weighing the counsel of her mysterious advisors, thwarting her devious rivals and denying her own desires for the good of her country. Relive the majesty and drama of one of history's greatest monarchs in this stunning production that was honored with 7 Academy Award® nominations, including Best Picture!
Fear and Loathing in Las Vegas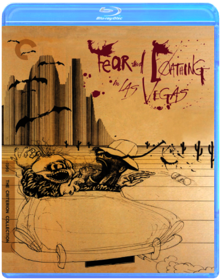 Terry Gilliam
It is 1971, and journalist Raoul Duke barrels toward Las Vegas—accompanied by a trunkful of contraband and his unhinged Samoan attorney, Dr. Gonzo—to cover a motorcycle race. His cut-and-dried assignment quickly descends into a feverish psychedelic odyssey. Director Terry Gilliam (Time Bandits, Brazil) and an all-star cast headlined by Johnny Depp (Edward Scissorhands, Donnie Brasco) and Benicio Del Toro (The Usual Suspects, Che) show no mercy in adapting Hunter S. Thompson's legendary dissection of the American way of life to the screen, creating a film both hilarious and savage.
Following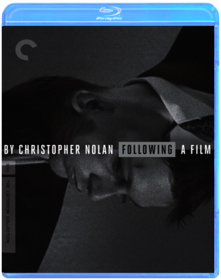 Christopher Nolan
Before he became a sensation with the twisty revenge story Memento, Christopher Nolan (The Dark Knight) fashioned this low-budget, black-and-white, 16 mm neonoir with comparable precision and cunning. Supplying irrefutable evidence of Nolan's directorial bravura, Following is the fragmented tale of an unemployed young writer who trails strangers through London, hoping that they will provide inspiration for his first novel. He gets more than he bargained for with one of his unwitting subjects, who leads him down a dark, criminal path. With gritty aesthetics and a made-on-the-fly vibe (many shots were simply stolen on the streets, unbeknownst to passersby), Following is a mind-bending psychological journey that shows the remarkable beginnings of one of today's most acclaimed filmmakers.
Gia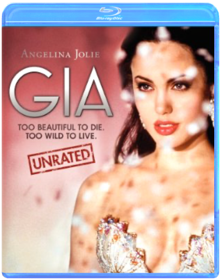 Michael Cristofer
It's 1970s New York where designer jeans, disco, and drugs are rampant. America's first supermodel, Gia, portrayed by Angelina Jolie in this Golden Globe award-winning performance, appears to have a charmed life. Sex, money, power, and fame are all here for the taking. When insecure Gia falls victim to life in the fast lane, however, her career and life become a casualty of life on the edge.
Happiness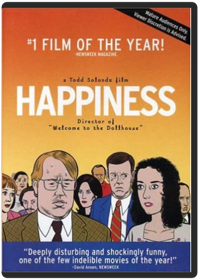 Todd Solondz
This animated feature film DVD is for matrure audiences on ly. It features widescreen, Dolby Surround, is digitally ma stered,, with interactive menus, scene access, cast & crew information, & Spanish, English, & French subtitles.
The Idiots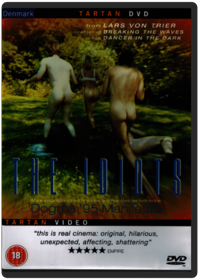 Lars von Trier
The second of the controversial Dogma 95 films. Set in present-day Denmark, it begins with a chance encounter between the timid Karen and a group of drop-outs engaged in a strange, informal experiment where they pretend to be mentally disabled. Initially shocked, Karen finds herself compelled to stay and eventually joins them in the experiment. However, as the group's acts of 'idiocy' grow more extreme, and the reality of the outside world becomes more intrusive, the border between liberation and self-destruction begins to blur.
Khrustalyov, My Car!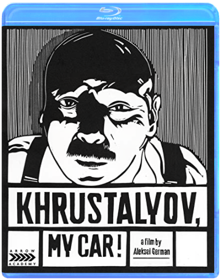 Aleksei German
Named after the apocryphal exclamation of Soviet security chief Lavrentiy Beria as he rushed to Stalin's deathbed, this blackly funny, deliriously immersive satire distils the anticipation and anxiety in the Moscow air, as the Soviet despot lay dying.

Late winter 1953. The lives of nearly half the planet are in Stalin s hands. A military surgeon, General Yuri Georgievich Klensky (Yuri Tsurilo), finds himself a target of the ''Doctors' Plot'': the anti-Semitic conspiracy accusing Jewish doctors in Moscow of planning to assassinate the Soviet elite. Pursued, abused, and marked for the gulags, Yuri is chased and dragged through a Stalinist Soviet nightmare. His desperate, jolting journey encapsulates the madness of the era.

Directed by Aleksei German (Hard to Be a God), Khrustalyov, My Car! proved wildly provocative when it was screened at the 1998 Cannes film festival, despite being championed as the best film of the festival by the president of the Cannes jury that year, Martin Scorsese. A one-of-a-kind collision of nightmare and realism, German s film is presented here in a new restoration with a wealth of illuminating extras.

LIMITED EDITION CONTENTS New 2K restoration from the original camera negative by Arrow FilmsHigh Definition Blu-ray (1080p) presentationOriginal uncompressed 2.0 stereo Russian audio soundtrackNewly translated English subtitlesAudio commentary by producer Daniel BirdBetween Realism and Nightmare, a new video essay on Khrustalyov, My Car! and the films of Aleksei German by historian and film critic Eugénie ZvonkineDiagnosis Murder: Jonathan Brent on The Doctors' Plot, the academic talks about Stalin's anti-Semitic campaign which provides the backdrop for Khrustalyov, My Car!Aleksei German, the veteran film historian and critic Ron Holloway interviews the Russian directorGerman... At Last, an interview with Aleksei German by producer Guy SéligmannRe-release trailerDouble-sided fold-out posterLimited edition 60-page booklet featuring new writing by Gianna D'Emilio, an archival essay by Joël Chaperon and original reviews
The Last Days of Disco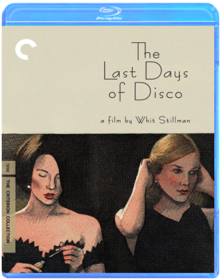 Whit Stillman
The Last Days of Disco is a cleverly comic return to an early 1980s Manhattan party scene from director Whit Stillman (Metropolitan). At the center of the film's roundelay of revelers are the icy Charlotte (Underworld's Kate Beckinsale) and the demure Alice (Boys Don't Cry's Chloë Sevigny), by day toiling as publishing house assistants and by night looking for romance and entertainment at a Studio 54–like club. The Last Days of Disco is an affectionate yet unsentimental look at the end of an era, brimming with Stillman's trademark dry humor.
Lock, Stock, and Two Smoking Barrels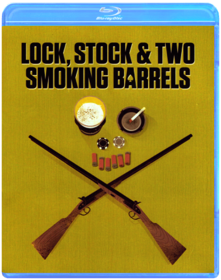 Guy Ritchie
Streetwise charmer Eddie (Nick Moran) enters the biggest card game of his life with the savings of his three best friends: Tom (Jason Flemyng), Bacon (Jason Statham) and Soap (Dexter Fletcher). But he leaves the table owing his underworld boss Hatchet Harry half a million and has a week to come up with the money. Now Eddie and his friends must outsmart and outgun all types of lowlifes on their way to pay off Harry before time runs out.
Pi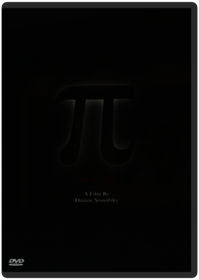 Darren Aronofsky
Sean Gulette, Ben Shenkman. A man searching for an all-important mathematical code is hounded by a Wall Street firm and a Hasidic group-all of whom think he is on to something. 1998/b&w/97 min/R/widescreen.
Rushmore
Wes Anderson
The dazzling sophomore film from Wes Anderson (Fantastic Mr. Fox) is equal parts coming-of-age story, French New Wave homage, and screwball comedy. Tenth grader Max Fischer (The Darjeeling Limited's Jason Schwartzman) is Rushmore Academy's most extracurricular student—and its least scholarly. He faces expulsion, and enters into unlikely friendships with both a lovely first-grade teacher (The Ghost Writer's Olivia Williams) and a melancholy self-made millionaire (Groundhog Day's Bill Murray, in an award-winning performance). Set to a soundtrack of classic British Invasion tunes, Rushmore defies categorization; it captures the pain and exuberance of adolescence with wit, emotional depth, and cinematic panache.
Saving Private Ryan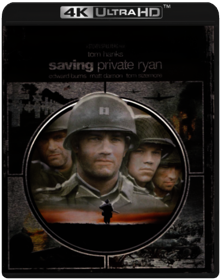 Steven Spielberg
Shakespeare in Love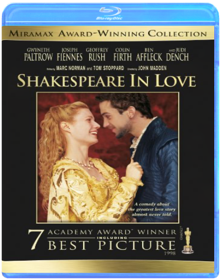 John Madden
Triumphant winner of 7 Academy Awards(R) — including Best Picture — this witty, sexy smash features Oscar(R)-winning Best Actress Gwyneth Paltrow (SLIDING DOORS, THE ROYAL TENENBAUMS) and an amazing cast that includes Academy Award-winners Judi Dench (Best Supporting Actress), Geoffrey Rush (Best Actor — SHINE), and Ben Affleck (GOOD WILL HUNTING, PEARL HARBOR). When Will Shakespeare (Joseph Fiennes — ELIZABETH) needs passionate inspiration to break a bad case of writer's block, a secret romance with the beautiful Lady Viola (Paltrow) starts the words flowing like never before! There are just two things he'll have to learn about his new love: not only is she promised to marry someone else, but she's successfully impersonating a man in order to play the lead in Will's latest production! A truly can't-miss motion picture event with outstanding critical acclaim to match its impressive collection of major awards — everyone will love this funny behind-the-scenes look at the writing of the greatest love story ever told!
Slam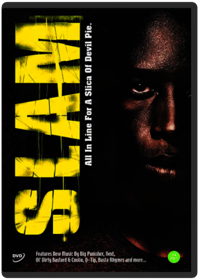 Marc Levin
Sphere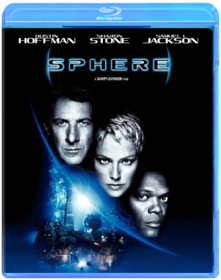 Barry Levinson
The Thin Red Line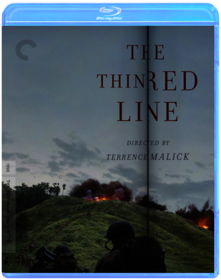 Terrence Malick
THIN RED LINE (BLU RAY) DRAMA
Very Bad Things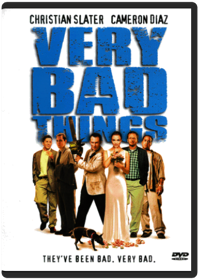 Peter Berg
When a stripper dies at his bachelor party, Kyle Fisher and his friends decide to bury the evidence, but fate has a way of not letting the truth stay buried for long.
Genre: Feature Film-Comedy
Rating: R
Release Date: 11-JAN-2000
Media Type: DVD
Wild Things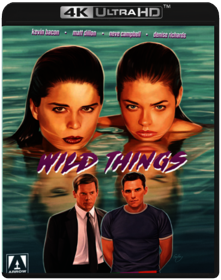 John McNaughton
The scheme is far from tame. But whose scheme is it? Assume nothing as you venture beyond Blue Bay's elite beach communities and into the murky waters of the Everglades for a mystery of deceit, sex and greed as unpredictable as a hungry gator. And please, keep your hands inside the boat at all times. Kevin Bacon, Matt Dillon, Neve Campbell, Denise Richards and Bill Murray star in a swamp-steamy thriller about two high school students, the guidance counselor they accuse of rape and the detectivewho knows there's more to the story.
All About My Mother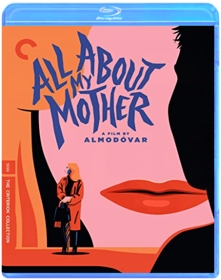 Pedro Almodóvar
Any Given Sunday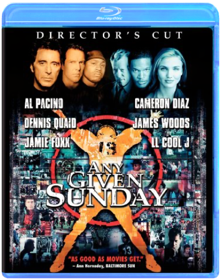 Oliver Stone
Any Given Sunday Directors Cut (Blu-ray)
Audition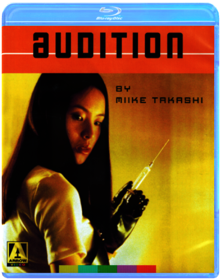 Takashi Miike
One of the most shocking J-horror films ever made, Audition exploded onto the festival circuit at the turn of the century to a chorus of awards and praise. The film would catapult Miike to the international scene and pave the way for such other genre delights as Ichii the Killer and The Happiness of the Katakuris.

Recent widower Shigeharu Aoyama is advised by his son to find a new wife, so he seeks the advice of a colleague having been out of the dating scene for many years. They take advantage of their position in a film company by staging an audition to find the perfect woman. Interviewing a series of women, Shigeharu becomes enchanted by Asami, a quiet, 24-year-old woman, who is immediately responsive to his charms. But soon things take a very dark and twisted turn as we find that Asami isn t what she seems to be...

Pulling the audience into a story that will lead to one of the most harrowing climaxes in cinema history, Miike twists and turns us through delirious editing and shocking visuals for one of the most depraved nightmares of all time!

Special Edition Contents Brand new 2K restoriation of original vault elementsOriginal 5.1 Dolby Surround AudioOptional English subtitlesAudio commentary with director Takashi Miike and screenwriter Daisuke TenganBrand new commentary by Miike biographer Tom Mes examining the film and its source novelIntroduction by MiikeTies that Bind A brand new interview with Takashi MiikeInterviews with stars Ryo Ishibashi, Eihi Shiina, Renji Ishibashi and Ren OsugiDamaged Romance: An appreciation by Japanese cinema historian Tony RaynsTrailersReversible sleeve featuring original and newly commissioned artwork by Matthew GriffinFIRST PRESSING ONLY: Illustrated collector's booklet featuring new writing on the film by Anton Bitel
Being John Malkovich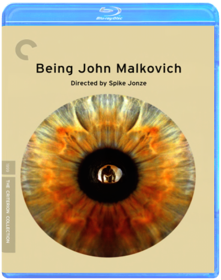 Spike Jonze
Have you ever wanted to be someone else? Or, more specifically, have you ever wanted to crawl through a portal hidden in an anonymous office building and thereby enter the cerebral cortex of John Malkovich for fifteen minutes before being spat out on the side of the New Jersey Turnpike? Then director Spike Jonze (Adaptation) and writer Charlie Kaufman (Eternal Sunshine of the Spotless Mind) have the movie for you. Melancholy marionettes, office drudgery, a frizzy-haired Cameron Diaz (There's Something About Mary) but that's not all! Surrealism, possession, John Cusack (Say Anything), a domesticated primate, Freud, Catherine Keener (Capote), non sequiturs, and absolutely no romance! But wait: get your Being John Malkovich now and we'll throw in emasculation, slapstick, Abelard and Heloise, and extra Malkovich, Malkovich, Malkovich.
Bringing Out the Dead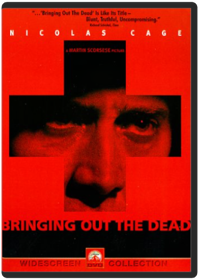 Martin Scorsese
Reuniting the "dream team" of director Martin Scorsese and screenwriter (and esteemed director in his own right) Paul Schrader—the men who brought you Taxi Driver and Raging Bull—Bringing Out the Dead provoked outrageously high expe
But I'm a Cheerleader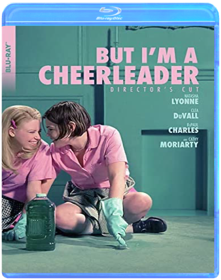 Jamie Babbit
Election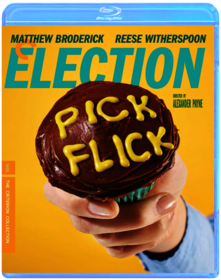 Alexander Payne
Perky, overachieving Tracy Flick (Reese Witherspoon) gets on the nerves of history teacher Jim McAllister (Matthew Broderick) to begin with, but after she launches her campaign for high-school president and his personal life starts to fall apart, things spiral out of control. In Alexander Payne's satire Election, the teacher becomes unhealthily obsessed with cutting his student down to size, covertly backing a spoiler candidate to stop her from steamrolling to victory, and putting in motion a series of dirty tricks and reckless promises with uncanny real-world political parallels. Adapting a then-unpublished novel by Tom Perrotta, Payne grounds the absurdity of his central dynamic in the recognizable the setting is his hometown of Omaha, and the accomplished cast is rounded out with nonprofessionals and distills his closely observed take on deeply flawed humanity to its bitter but stealthily sympathetic essence.

DIRECTOR-APPROVED BLU-RAY SPECIAL EDITION FEATURES
- New, restored 4K digital transfer, supervised and approved by cowriter-director Alexander Payne, with 5.1 surround DTS-HD Master Audio soundtrack
- Audio commentary from 2008 featuring Payne
- New interview with Payne
- New interview with actor Reese Witherspoon
- The Passion of Martin, Payne's 1991 UCLA senior thesis film
- TruInside: 'Election,' a 2016 documentary featuring on-set footage and interviews with cast and crew
- Omaha local-news reports on the film's production
- Trailer
- PLUS: An essay by critic Dana Stevens
- More!
Existenz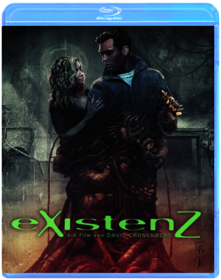 David Cronenberg
Exciting stars Jennifer Jason Leigh (The Machinist), Jude Law (Repo Men), Willem Dafoe (Daybreakers), Ian Holm (The Aviator) and Sarah Polley (Splice) challenge the boundaries of reality in this futuristic, critically-acclaimed thriller.

During the first closed-door demonstration of an amazing new virtual reality game called eXistenZ, the system's brilliant designer, Allegra Geller (Leigh), is violently attacked by a crazed assassin intent on killing her and destroying her creation. Forced into hiding, Allegra enlists a young assistant (Law) to help her in testing the damaged system...by convincing him to join her inside eXistenZ. The action explodes as their world's real-life dangers begin to merge with the fantasy of the game.

Special Feature(s): Full High Definition 1080p; 16x9 (1.78:1); English 5.1 DTS; English 2.0 Stereo; Interview with Jude Law; Interview with Willem Dafoe; Interview with Special Effects Supervisor; Smart Menu Technology: Browse the menu, on screen, without leaving film
Eyes Wide Shut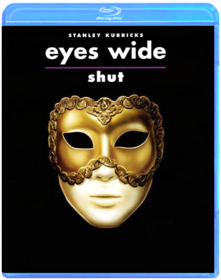 Arthur Schnitzler, Stanley Kubrick
Eyes Wide Shut: Special Edition (BD)
Fight Club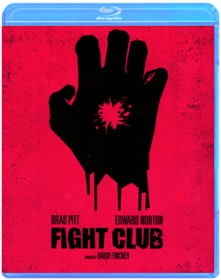 David Fincher
"'Fight Club' pulls you in, challenges your prejudices, rocks your world and leaves you laughing" (Rolling Stone). Brad Pitt ("12 Monkeys", "Seven"), Edward Norton ("Primal Fear," "American History X") and Helena Bonham Carter ("Mighty Aphrodite," "A Room With A View") turn in powerful "performances of which movie legends are made" (Chicago Tribune) in this action-packed hit.

A ticking-time-bomb insomniac (Norton) and a slippery soap salesman (Pitt) channel primal male aggression into a shocking new form of therapy. Their concept catches on, with underground "fight clubs" forming in every town, until a sensuous eccentric (Bonham Carter) gets in the way and ignites an out-of control spiral toward oblivion.
Joan of Arc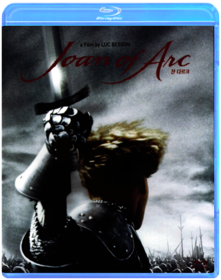 Luc Besson
Magnolia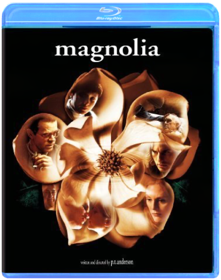 Paul Thomas Anderson
The Matrix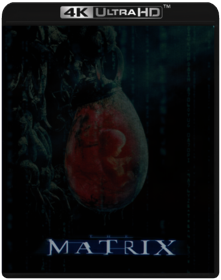 Andy Wachowski, Larry Wachowski
The Mummy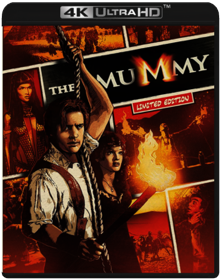 Stephen Sommers
Deep in the Egyptian desert, a band of explorers searching for long-lost treasure have accidentally unearthed and resurrected the Mummy—an ancient 3,000-year-old legacy of terror! Adventurer Rick O'Connell (Brendan Fraser) pairs up with librarian Evelyn (Academy Award winner Rachel Weisz) and a motley archeological crew to conquer the curse of the living dead—the vengeful reincarnation of the Egyptian priest Imhotep (Arnold Vosloo). Combining the thrills of a rousing adventure with the suspense of the legendary 1932 horror classic, The Mummy is a true nonstop action epic, filled with dazzling visual effects, top-notch talent and superb storytelling.
Ninth Gate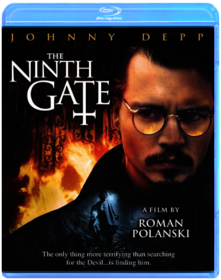 Roman Polanski
Release Date: 8/11/2009 - Format:Blu-ray- Rating: R - Running Time: 93 Minutes
Office Space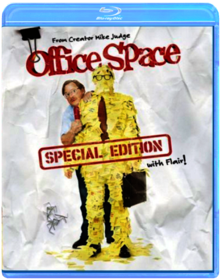 Mike Judge
Unable to endure another mind-numbing day at Initech Corporation, cubicle slave Peter Gibbons (Ron Livingston) gets fired up and decides to get fired. Armed with a leisurely new attitude and a sexy new girlfriend (Jennifer Aniston), he soon masters the a
Ride with the Devil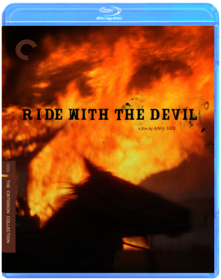 Ang Lee
Ride with the Devil follows four people fighting for truth & justice amidst the turmoil of the American Civil War. The action takes us to no man's land on the Missouri/Kansas border where a staunch loyalist (Ulrich), an immigrant's son (Maguire), a freed slave (Wright) and a young widow (Jewel) learn how to survive in a place without rules and redefine the meaning of bravery and honor.
The Straight Story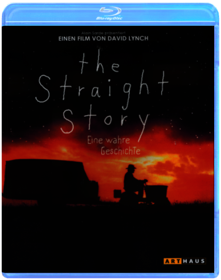 David Lynch
Summer of Sam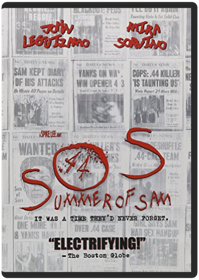 Spike Lee
It's important to note that Spike Lee's drama is not titled Son of Sam. Summer of Sam doesn't chronicle the killer as much as the times: the blistering hot summer of 1977 when the Big Apple's psyche was taken hostage by the lone gunman. We
The Talented Mr. Ripley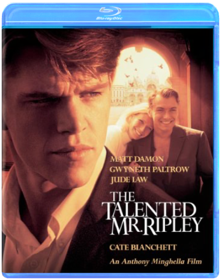 Anthony Minghella
Three Kings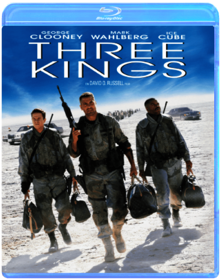 David O. Russell
Three Kings (BD)
Titus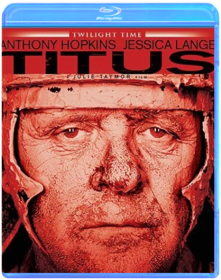 Julie Taymor
LANGUAGE: English
VIDEO: 1080p High Definition / 2.35:1
AUDIO: English 5.1 DTS-HD MA / English 2.0 DTS-HD MA
SUBTITLES: English SDH
1999 / Color
162 MINUTES
RATED: R
REGION FREE

Special Features: Isolated Score Track / Audio Commentary with Director Julie Taymor / Audio Commentary with Composer Elliot Goldenthal / Audio Commentary with Actors Anthony Hopkins and Harry Lennix / Making-of Documentary / Q & A with Julie Taymor / Penny Arcade Nightmares / Trailers and TV Spots
Topsy-Turvy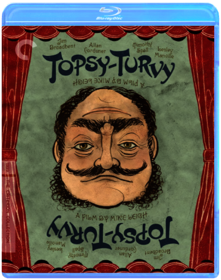 Mike Leigh
The Virgin Suicides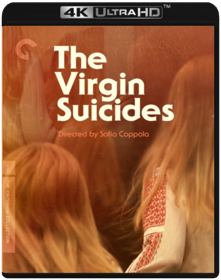 Sofia Coppola
With this debut feature, Sofia Coppola announced her singular vision, which explores the aesthetics of femininity while illuminating the interior lives of young women. A faithful adaptation of Jeffrey Eugenides's popular first novel, THE VIRGIN SUICIDES conjures the ineffable melancholy of teenage longing and ennui in its story of the suicides of the five Lisbon sisters, stifled by the rules of their overprotective religious parents as told through the collective memory of a group of boys who yearn to understand what happened. Evoking its 1970s suburban setting through ethereal cinematography by Ed Lachman and an atmospheric score by Air, the film secured a place for its director in the landscape of American independent cinema and has become a coming-of-age touchstone.

DIRECTOR-APPROVED BLU-RAY SPECIAL EDITION FEATURES
- New, restored 4K digital transfer, supervised by cinematographer Ed Lachman and approved by director Sofia Coppola, with 5.1 surround DTS-HD Master Audio soundtrack
- New interviews with Coppola, Lachman, actors Kirsten Dunst and Josh Hartnett, author Jeffrey Eugenides, and writer Tavi Gevinson
- MAKING OF 'THE VIRGIN SUICIDES' a 1998 documentary directed by Eleanor Coppola and featuring Sofia Coppola; Eleanor and Francis Ford Coppola; actors Dunst, Hartnett, Scott Glenn, Kathleen Turner, and James Woods; Eugenides; and more
- LICK THE STAR, a 1998 short film by Coppola
- Official music video for Air's soundtrack song 'Playground Love,' directed and shot by Coppola and her brother Roman Coppola
- Trailer
- PLUS: An essay by novelist Megan Abbott
-2000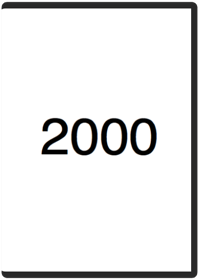 Almost Famous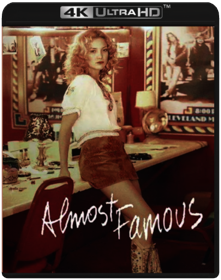 Cameron Crowe
Almost Famous (BD)
American Psycho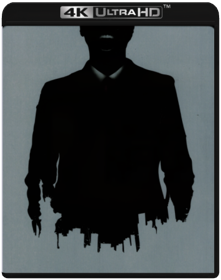 Mary Harron
Patrick Bateman (Christian Bale) is a Wall Street yuppie, obsessed with success, status and style, with a stunning fiancee (Reese Witherspoon). He is also a psychotic killer who rapes, murders and dismembers both strangers and acquaintances without provocation or purpose. Based on the controversial novel, the film offers a sharp satire to the dark side of yuppie culture in the '80s, while setting forth a vision that is both terrifying and chilling.
Amores Perros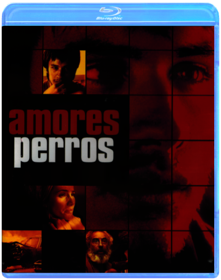 Alejandro González Iñárritu
The first feature film by Academy Award®-winning director Alejandro Iñárritu.

From the Academy Award®-winning director of THE REVENANT and BIRDMAN comes AMORES PERROS, the acclaimed director's first feature film. Inventively structured with intersecting narratives, the movie dramatically brings three different story lines together in the wake of a terrible car crash. From Mexico City's mean streets to its posh high-rises, no one is exempt from destiny.
Battle Royale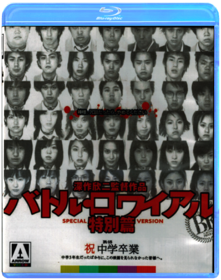 Kinji Fukasaku
ONE DEAD. 41 TO GO.

Battle Royale is back. It s time to return to the island and kill your friends, because the cult Japanese movie that defines twisted action and sickening violence is ready to shock you all over again.

In a world where teenagers have no respect and adults are losing control there can be only one solution: Battle Royale! Now, see what happens when you let a high school class loose on an island, arm them and then give them a simple choice... Kill your friends or have them kill you; with poison, cross-bows, machetes and dynamite. Beat Takeshi Kitano (Violent Cop, Zatoichi) is a teacher pushed to the edge by his unruly charges. Kidnapped and gassed, his class wake up with exploding metal rings around their necks. If they rebel, they could lose their heads. Now they have three days and only one is permitted to survive this grisly battle to the death.

Directed by the master of 70s Yakuza thrillers Kinji Fukasaku and featuring Kill Bill star Chiaki Kuriyama, Battle Royale is the movie that helped to define extreme Asian cinema in the 21st Century.

Special Features:

Reversible sleeve containing original artwork

Collector s booklet by Tom Mes, author of The Midnight Eye Guide to New Japanese Film illustrated with stills, artwork and a printed interview with director Kinji Fukasaku

Brand new restored transfer in glorious high definition 1080p

Brand new subtitle translation

Original theatrical trailer

The making of Battle Royale: The Experience of 42 High School Students

Aspect Ratio - 1.78:1 / Audio DTS-HD Master & Stereo Audio options / Language Japanese / Subtitles Optional English
The Beach
Danny Boyle
Best in Show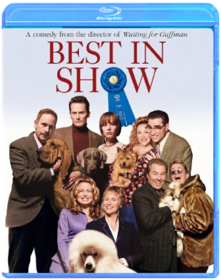 Christopher Guest
Crouching Tiger, Hidden Dragon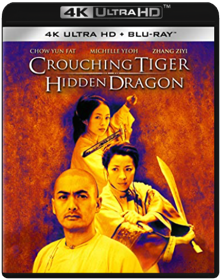 Ang Lee
Dancer in the Dark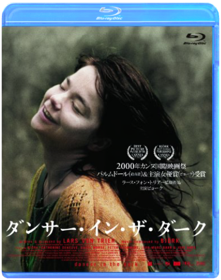 Lars von Trier
Gladiator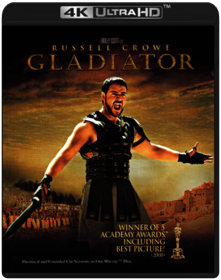 Ridley Scott
Hollow Man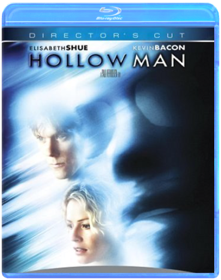 Paul Verhoeven
What would you do if you were invisible? How far would you go? After years of experimentation, Dr. Sebastian Caine, a brilliant but arrogant and egotistical scientist working for the Defense Department, has successfully transformed mammals to an invisible state and brought them back to their original physical form. Determined to achieve the ultimate breakthrough, Caine instructs his team to move on to Phase III: human experimentation. Using himself as the first subject, the invisible Caine finds himself free to do the unthinkable. But Caine's experiment takes an unexpected turn when his team can't bring him back. As the days pass, he grows more and more out of control, doomed to a future without flesh as the HOLLOW MAN. Kevin Bacon, Elisabeth Shue and Josh Brolin star in this intense thriller filled with extreme suspense, terrifying twists and incredible special effects.
In the Mood for Love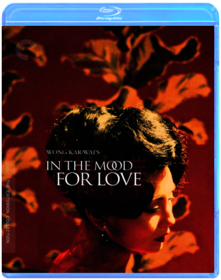 Wong Kar-wai
Hong Kong, 1962: Chow Mo-wan (Hero's Tony Leung Chiu-wai) and Su Li-zhen (Irma Vep's Maggie Cheung Man-yuk) move into neighboring apartments on the same day. Their encounters are formal and polite—until a discovery about their spouses sparks an intimate bond between them. At once delicately mannered and visually extravagant, In the Mood for Love, directed by Wong Kar-wai (Chungking Express), is a masterful evocation of romantic longing and fleeting moments. With its aching musical soundtrack and its exquisitely abstract cinematography by Christopher Doyle (2046) and Mark Lee Ping-bin (Flight of the Red Balloon), this film has been a major stylistic influence on the past decade of cinema, as well as a milestone in Wong's redoubtable career.
JSA - Joint Security Area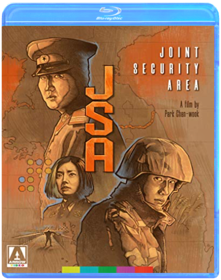 Park Chan-wook
Little Otik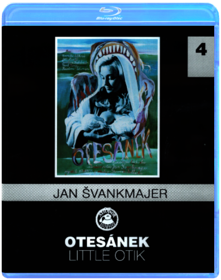 Jan Švankmajer
Surrealist master Jan Svankmajer (FAUST, ALICE) brings a famous Czech legend eerily to life in the darkly hilarious cautionary tale of LITTLE OTIK. An ordinary couple, Karel and Bozena, are unable to conceive a child. When Karel digs up a tree root and whittles something vaguely resembling a human baby, Bozena's maternal longings transform the stump into a living creature with a (literally) monstrous appetite that can't be met with baby formula. Svankmajer brilliantly mixes his wicked humor with his subversive politics and love of mythology into a stunning live-action fable for our times. This Edition also features Svankmajer's surrealist THE FLAT
Memento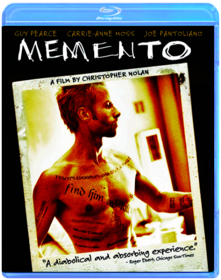 Christopher Nolan
A landmark film from acclaimed director Christopher Nolan (Inception, The Dark Knight, The Prestige, Batman Begins, Insomnia), Memento is a mind-bending thriller whose mesmerizing power grows with every viewing. Guy Pearce stars as Leonard, a man with a bizarre disorder: the inability to form new memories. Ever since that fateful night when his wife was murdered, anyone Leonard has met, or anything he has done, simply vanishes from his mind. Who are his friends? Who are his enemies? What is the truth? The answers change from second to second as Leonard seeks vengeance for his wife's murder…and sinks into an abyss of uncertainty and danger.
O Brother, Where Art Thou?
Joel Coen, Ethan Coen
George Clooney (The Perfect Storm) and John Turturro (Cars 2)embark on the adventure of a lifetime in this hilarious, offbeat road picture. And now, for the first time, this quirky gem shines more brightly than ever in Blu-ray High Definition! Fed up with crushing rocks on a prison farm in Mississippi, the dapper, silver-tongued Ulysses Everett McGill (Clooney) busts loose...except he's still shackled to two misfits from his chain gang: bad-tempered Pete (Turturro), and sweet, dimwitted Delmar (Tim Blake Nelson). With nothing to lose and buried loot to regain, the three embark on a riotous odyssey filled with chases, close calls, near misses and betrayal. Experience every unpredictable moment as it plays out in the crystal-clear sound and breathtaking picture quality of Blu-ray. Populated with strange characters, including a blind prophet, sexy sirens, and a one-eyed Bible salesman (John Goodman), O Brother, Where Art Thou? will leave you laughing at every outrageous and surprising twist and turn
Requiem for a Dream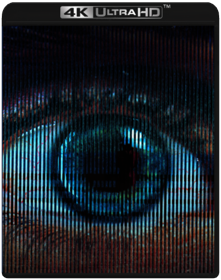 Darren Aronofsky
Sade
Benoit Jacquot
Sade, based on the Serge Bramly novel of the same title, is an account of how the famous philanthropist and infamous pornographer met, befriended and fell in love with a young woman during his incarceration.
Shadow of the Vampire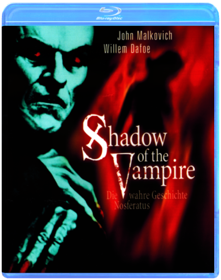 E. Elias Merhige
Quick Shipping !!! New And Sealed !!! This Disc WILL NOT play on standard US DVD player. A multi-region PAL/NTSC DVD player is request to view it in USA/Canada. Please Review Description.
Snatch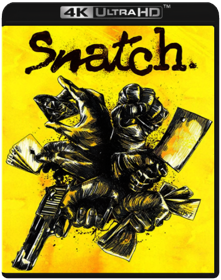 Guy Ritchie
Snatch, Steelbook [Blu-ray]
Traffic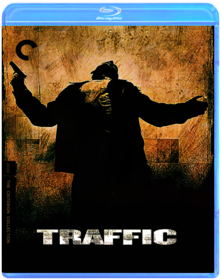 Steven Soderbergh
Traffic examines the question of drugs as politics, business, and lifestyle. With an innovative, color-coded cinematic treatment distinguishing his interwoven stories, Steven Soderbergh (Ocean's Eleven, Che) embroils viewers in the lives of a newly appointed drug czar and his family, a West Coast kingpin's wife, a key informant, and police officers on both sides of the U.S.-Mexico border. The film, delivering a complex and nuanced take on this issue of such great international importance without sacrificing any energy or suspense, is a contemporary classic, and the winner of four Oscars, for best director, best screenplay, best editing, and best supporting actor for Benicio del Toro (Fear and Loathing in Las Vegas).
13 Conversations about One Thing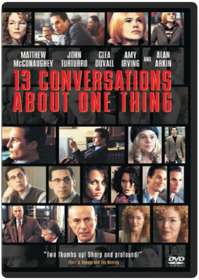 Jill Sprecher
Director Jill Sprecher's critically-acclaimed film assembles an all-star, ensemble cast in a fresh and whimsical look at the invisible, everyday and destiny-shaping miracles that we've come to call "fate." In five distinct New York tales, the lives of seemingly disparate characters - a public defender (Matthew McConaughey, Reign of Fire) whose life suddenly mirrors that of the criminals he prosecutes, a college professor (John Turturro, Mr. Deeds, Barton Fink) facing a poignant crossroads, an envious businessman (Alan Arkin, America's Sweethearts) seeking revenge on a compulsively cheerful co-worker, an optimistic cleaning woman (Clea Duvall, Girl, Interrupted) searching for miracles in theaftermath of a tragic accident and, lastly, a woman (Amy Irving, Traffic) forced to face her husband's infidelity due to an untimely return of a lost wallet - are interwoven to create a touching tapestry that's warmed the hearts of moviegoers and critics across the globe. Playful and poignant, 13 CON
Amelie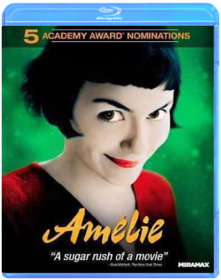 Jean-Pierre Jeunet
Artificial Intelligence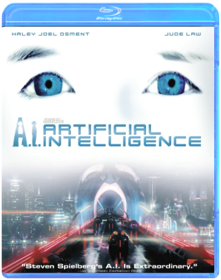 Steven Spielberg
Director Steven Spielberg's A.I. propels you into a future of astounding technology and adventure beyond the human imagination in an extraordinary film the New York Observer hails as a "masterpiece" and Rolling Stone applauds as "unmistakably the work of a real filmmaker." In a future world of runaway global warming and awe-inspiring scientific advances, humans share every aspect of their lives with sophisticated companion robots called Mechas. But when an advanced prototype robot child named David (Haley Joel Osment) is programmed to show unconditional love, his human family isn't prepared for the consequences. Suddenly, David is on his own in a strange and dangerous world. Befriended by a streetwise Mecha (Jude law), David embarks on a spectacular quest to discover the startling secret of his own identity. Celebrated as a film "filled with visual wonders and astonishing special effects..." (Roger Ebert & Roeper), A.I. Artificial Intelligence is a visionary motion picture triumph!
Black Hawk down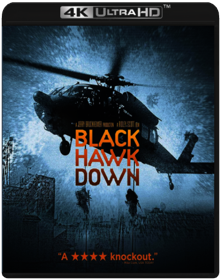 Ridley Scott
From acclaimed director Ridley Scott (Gladiator, Hannibal) and renowned producer Jerry Bruckheimer (Pearl Harbor, Armageddon) comes a gripping true story about bravery, camaradarie and the complex reality of war. Black Hawk Down stars an exceptional cast including Josh Hartnett (Pearl Harbor), Ewan McGregor (Moulin Rouge!), Tom Sizemore (Saving Private Ryan), Eric Bana (Chopper), William Fichtner (The Perfect Storm), Ewen Bremner (Snatch) and Sam Shepard (All The Pretty Horses). In 1993, an elite group of American Rangers and Delta Force soldiers are sent to Somalia on a critical mission to capture a violent warlord whose corrupt regime has led to the starvation of hundreds of thousands of Somalis. When the mission goes terribly wrong, the men find themselves outnumbered and literally fighting for their lives.
Brotherhood of the Wolf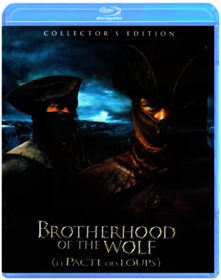 Christophe Gans
Bully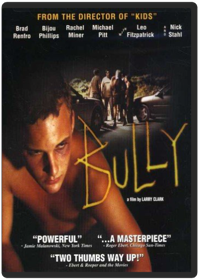 Larry Clark
A boy and a bully's girlfriend are tired of the constant abuse that they receive, so they conspire to murder the bully.
Crazy/Beautiful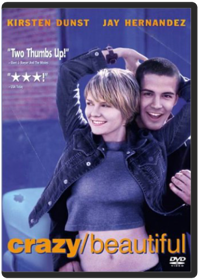 John Stockwell
Fate steps in and brings together two high school seniors from opposite sides of the track in this sexy, fun, and energetic story of first love. Nicole (Kirsten Dunst, BRING IT ON) is the 17-year-old troubled daughter of a wealthy congressman who never met a rule she didn't break. Carlos (hot newcomer Jay Hernandez) is an A-student with big dreams who endures a two-hour bus ride every morning to attend high school in an upscale L.A. neighborhood. Their innocent flirtations quickly develop into passionate love, but Nicole's self-destructive behavior threatens their relationship and puts Carlos' promising future in jeopardy. Will their intense passion keep them together despite the objections of their families, or will Carlos be forced to plan his future ... without Nicole? Surprises lie at every turn in this wildly seductive and critically acclaimed drama.
The Devil's Backbone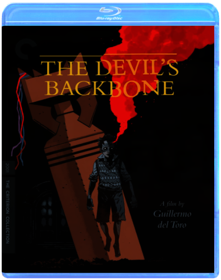 Guillermo del Toro
The most personal film by Guillermo del Toro (Cronos) is also among his most frightening and emotionally layered. Set during the final week of the Spanish Civil War, THE DEVIL'S BACKBONE tells the tale of a ten-year-old boy who, after his freedom-fighting father is killed, is sent to a haunted rural orphanage full of terrible secrets. Del Toro effectively combines gothic ghost story, murder mystery, and historical melodrama in a stylish concoction that reminds us—as would his later Pan's Labyrinth—that the scariest monsters are often the human ones.
Donnie Darko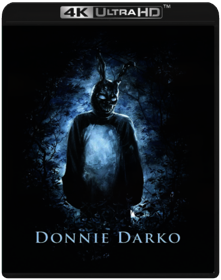 Richard Kelly
In the tradition of Urban Legends and Final Destination, Donnie Darko is an edgy, psychological thriller about a suburban teen coming face-to-face with his dark destiny. Jake Gyllenhaal leads a star-filled cast (including Drew Barrymore, Noah Wyle, Jena Malone, Patrick Swayze and Mary McDonnell) as a delusional high-school student visited by a demonic rabbit with eerie visions of the past - and deadly predictions for the future. This "excitingly original" (Entertainment Weekly) nail-biter will keep you on the edge of your seat until the mind-bending climax.
Elvira's Haunted Hills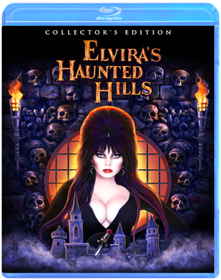 Sam Irvin
The Fast and the Furious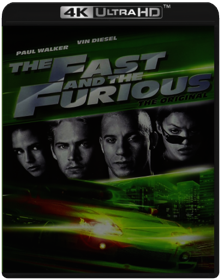 Rob Cohen
They've got the adrenaline rush and the mean machines, but most of all, they've got the extreme need for speed. On the turbo-charged streets of Los Angeles, every night is a championship race. With nitro-boosted fury, Dominic Toretto (Vin Diesel), rules the road turning all his challengers into dust. He and his rival, Johnny Tran (Rick Yune) are the boldest, the baddest and the best. But now, there's new rage on the road. They know he's tough, they know he's fast, but what they don't know is that he's a speed demon detective (Paul Walker) with enough drive and determination to come out the winner. With intense full-throttle action, awesome high-speed stunts, and full-on pedal to the metal intensity, this fast and furious assault puts you in the driver's seat and dares you to exceed all limits.
Frailty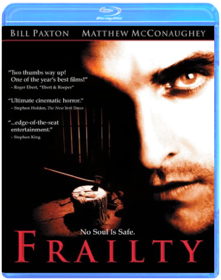 Bill Paxton
Years after terrorizing a small Texas community, the God's Hand Killer has returned - leaving in his wake a perplexing trail of fear and death. Convinced that he knows the killer's identity, Fenton Meiks shows up at FBI Headquarters, intent on putting an end to the murderous rampage and relieving his conscience of his family's sinister secrets.
Ghost World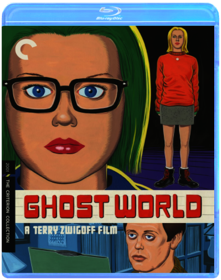 Terry Zwigoff
Gosford Park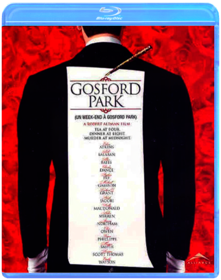 Robert Altman
Import Blu-Ray/Region A Pressing... The Academy Award winner for Best Original Screenplay, Gosford Park is a whodunit as only director Robert Altman could do it. As a hunting party gathers at the country estate, no one is aware that before the weekend is over, someone will be murdered - twice! The police are baffled but the all-seeing, all-hearing servants know that almost everyone had a motive. This critically-acclaimed murder mystery features a who's who of celebrated actors. With a diverse cast of characters - all with something to hide - it'll keep you guessing right to the surprising end. Gosford Park proves that murder can be such an inconvenience.
The Happiness of the Katakuris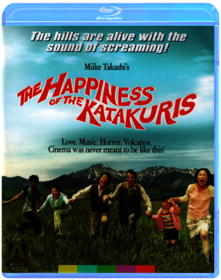 Takashi Miike
From Takashi Miike, the prolific director of such shocking hits including Audition and Ichi the Killer comes "The Sound of Music meets Dawn of the Dead"!

The Katakuris are a family trying to run a peaceful country inn but with a lack of guests there is much excitement for their first visitor, until they wind up dead! As each guest in turn dies in strange circumstances the family agree to hide the bodies but will the coverups come back to haunt them...

In The Happiness of the Katakuris scenes of grotesque stop motion animation, surreal musical numbers and zombies combine to make one of the finest horror-comedies ever made.
Hedwig and the Angry Inch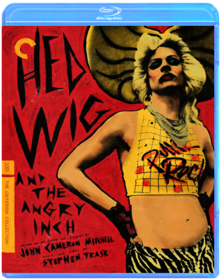 John Cameron Mitchell
Hedwig & The Angry Inch (DVD)
Ichi the Killer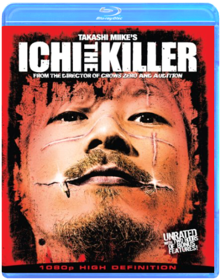 Takashi Miike
When a yakuza boss is murdered and his money is stolen, both truth and revenge are brutally sought. Leading the charge is Kakihara (Tadanobu Asano), the bleach-blonde pain junky whose interrogation methods are fetishistically sadistic. As the layers of the sordid tale are peeled back, it appears that someone is trying to turn rival gangs against each other. The centerpiece of this strategy is Ichi the Killer (Nao Omori), a mysterious and completely unhinged master of slaughter. When the final showdown comes, it's a psychologically cataclysmic event. This one-of-a-kind, over-the-top, stomach-churning, live-action cartoon from Takashi Miike (VISITOR Q, IZO) remains an extreme and influential modern classic.
L.I.E.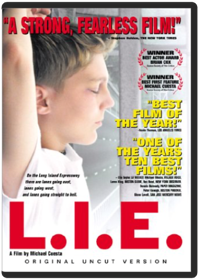 Michael Cuesta
A remarkable movie. "L.I.E." centers on Howie, a 15-year-old boy whose mother recently died in a car accident. Neglected by his father, an unscrupulous contractor who's constantly having sex with his new girlfriend, Howie falls in with a group of boys who break into houses for kicks. After one break-in Howie is caught by Big John (Brian Cox, the original Hannibal Lecter from "Manhunter"), a former Marine with a taste for young boys. But the relationship that develops between Howie and Big John surprises them both. "L.I.E." captures male adolescence more genuinely than any other film in recent memory; the realism of the relationships, particularly between Howie and his father, is completely compelling. The movie affects all the senses; you can practically feel the texture of Howie's blue flannel sheets, smell the greenery that grows along the Long Island Expressway. Amazing performances, vivid direction, smartly written—superb all around. "—Bret Fetzer"
Lara Croft: Tomb Raider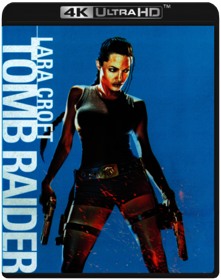 Simon West
Lord of the Rings: Fellowship of the Ring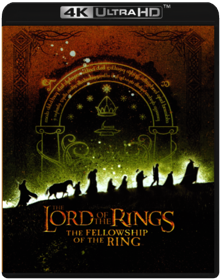 Peter Jackson
Quick Shipping !!! New And Sealed !!! This Disc WILL NOT play on standard US DVD player. A multi-region PAL/NTSC DVD player is request to view it in USA/Canada. Please Review Description.
Lord of the Rings: Fellowship of the Ring (Bonus)
Peter Jackson
The Man Who Wasn't There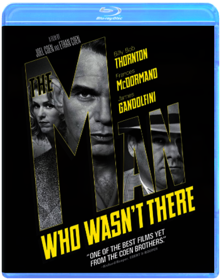 Joel Coen, Ethan Coen
2001 - The Man Who Wasn't There - DVD Video - Stars: Billy Bob Thornton, Frances McDormand, Michael Badalucco, Richard Jenkins, Scarlett Johansson, Jon Polito, Tony Shaloub, James Gandolfini - Director: Joel Coen - Written by Joel & Ethan Coen - A Coen Brothers Film - Special Features - Dolby Digital 5.1 - Rated R - Collectible
Metropolis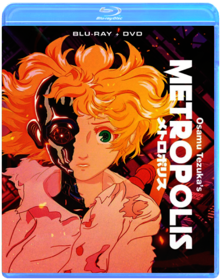 Rintaro
Based on the classic comic created by revered manga artist and animator Osamu Tezuka (Astroboy), written by anime legend Katsuhiro Otomo (Akira) and directed by Rintaro (Galaxy Express 999), Metropolis is a spectacular film featuring stunning imagery and unforgettable characters.

In the industrial, tri-level world of Metropolis, Duke Red is a powerful leader with plans to unveil a highly advanced robot named Tima. But Duke Red's violent son Rock distrusts robots and intends to find and destroy Tima. Lost in the confusing labyrinth beneath Metropolis, Tima is beginning a friendship with the young nephew of a Japanese detective. But when Duke Red separates the two innocents, Tima's life and the fate of the universe is dangerously at stake.

"If you have never seen a Japanese anime, start here. If you love them, Metropolis proves you are right. **** (4/4 stars)" - Roger Ebert

Special Features:

* Amazing High-Definition Presentation, English SDH subtitles and English Translation!

* English DTS-HD Master Audio 5.1 and uncompressed Japanese audio!

* The Making of Osamu Tezuka's Metropolis documentary featurette!

* Also featuring interviews with the film s creators along with concept animation comparisons!
Monsoon Wedding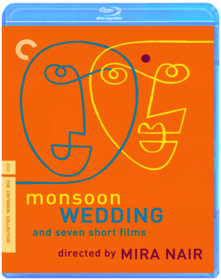 Mira Nair
Cultures and families clash in Mira Nair's exuberant Monsoon Wedding, a mix of comedy and chaotic melodrama concerning the preparations for the arranged marriage of a modern upper-middle-class Indian family's only daughter, Aditi. Of course there are hitches—Aditi has been having an affair with a married TV host; she's never met her husband to be, who lives in Houston; the wedding has worsened her father's hidden financial troubles; even the wedding planner has become a nervous wreck—as well as buried family secrets. But Nair's celebration is ultimately joyful and cathartic: a love song to her home city of Delhi and her own Punjabi family.

DIRECTOR-APPROVED SPECIAL EDITION FEATURES

• New, restored high-definition digital transfer, supervised by director Mira Nair and director of photography Declan Quinn with DTS-HD Master Audio 5.1 soundtrack • Audio commentary featuring Nair • Nair's short documentaries So Far from India (1983), India Cabaret (1985), and The Laughing Club of India (2001), featuring video introductions by the director • Nair's short fiction films The Day the Mercedes Became a Hat (1993), 11'09'01—September 11 (Segment: India) (2002), Migration (2007), and How Can It Be? (2008), featuring video introductions by the director • New video interview with actor Naseeruddin Shah, conducted by Nair • New video interviews with Quinn and production designer Stephanie Carroll • Theatrical trailer • New and improved English subtitle translation • PLUS: An essay by critic and travel writer Pico Iyer
Moulin Rouge!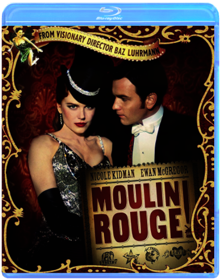 Baz Luhrmann
The story follows a poet (McGregor) who defies his father by moving toMonmarte, France, the 19th century equivalent of Andy Warhol's Factory.He falls into the world of Toulouse-Lautrec (Leguizamo) and hisentourage, and is drafted to write a nightclub spectacular. In this seedworld of sex, drugs and electricity, he begins a passionate butultimately doomed love affair with the club's highest paid star andcourtesan (Kidman).
Mulholland Dr.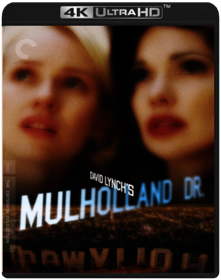 David Lynch
A love story in the city of dreams . . . Blonde Betty Elms (Naomi Watts) has only just arrived in Hollywood to become a movie star when she meets an enigmatic brunette with amnesia (Laura Harring). Meanwhile, as the two set off to solve the second woman's identity, filmmaker Adam Kesher (Justin Theroux) runs into ominous trouble while casting his latest project. David Lynch's seductive and scary vision of Los Angeles's dream factory is one of the true masterpieces of the new millennium, a tale of love, jealousy, and revenge like no other. BLU-RAY SPECIAL EDITION FEATURES • New, restored 4K digital transfer, supervised by director David Lynch and director of photography Peter Deming, with 5.1 surround DTS-HD Master Audio soundtrack • New interviews with Lynch, Deming, actors Naomi Watts and Laura Harring, composer Angelo Badalamenti, and casting director Johanna Ray • Interviews with Lynch and cast members, along with other footage from the film's set • Trailer • PLUS: A booklet featuring an interview with Lynch from filmmaker and writer Chris Rodley's 2005 edition of the book Lynch on Lynch • More!
Not Another Teen Movie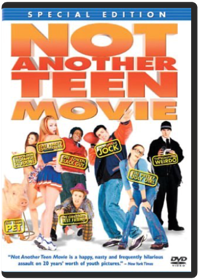 Joel Gallen
Handsome John Hughes High jock Zack bets his friends that he can turn nerdy Janey into the most popular girl in class. With the help of Zack's sister, Catherine, Janey ditches her ponytail and glasses and turns beautiful. Zack falls in love with her.
Ocean's Eleven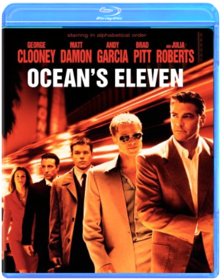 Steven Soderbergh
Ocean's Eleven (2001) (BD)
Pulse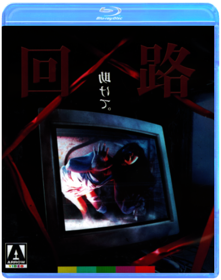 Kiyoshi Kurosawa
Award-winning filmmaker Kiyoshi Kurosawa delivered one of the finest entries in the "J-Horror" cycle of films with this moody and spiritually terrifying film that delivers existential dread along with its frights. Setting his story in the burgeoning internet and social media scene in Japan, Kurosawa's dark and apocalyptic film foretells how technology will only serve to isolate us as it grows more important to our lives.

A group of young people in Tokyo begin to experience strange phenomena involving missing co-workers and friends, technological breakdown, and a mysterious website which asks the compelling question, "Do you want to meet a ghost?" After the unexpected suicides of several friends, three strangers set out to explore a city which is growing more empty by the day, and to solve the mystery of what lies within a forbidden room in an abandoned construction site, mysteriously sealed shut with red packing tape.

Featuring haunting cinematography by Junichiro Hayashi (Ring, Dark Water), a dark and unsettling tone which lingers long after the movie is over, and an ahead-of-its-time story which anticipates 21st century disconnection and social media malaise, Pulse is one of the greatest and most terrifying achievements in modern Japanese horror, and a dark mirror for our contemporary digital world.

SPECIAL EDITION CONTENTS: High Definition digital transferHigh Definition Blu-ray (1080p) and Standard Definition DVD presentationsOriginal 5.1 audio (DTS-HD on the Blu-ray)New optional English subtitle translationNew interview with writer/director Kiyoshi KurosawaNew interview with cinematographer Junichiro HayashiThe Horror of Isolation: a new video appreciation featuring Adam Wingard & Simon Barrett (Blair Witch, You re Next)Archive Making of documentary, plus four archive behind-the-scenes featurettesPremiere footage from the Cannes Film FestivalCast and crew introductions from opening day screenings in TokyoTrailers and TV SpotsReversible sleeve featuring original and newly commissioned artwork by Tommy Pocket

FIRST PRESSING ONLY:Illustrated collector s booklet featuring new writing on the film by critic Chuck Stephens
The Royal Tenenbaums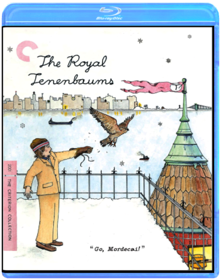 Wes Anderson
Royal Tenenbaum (Unforgiven's Gene Hackman) and his wife, Etheline (Prizzi's Honor's Anjelica Huston) had three children—Chas, Margot, and Richie—and then they separated. Chas (Meet the Parents' Ben Stiller) started buying real estate in his early teens and seemed to have an almost preternatural understanding of international finance. Margot (Shakespeare in Love's Gwyneth Paltrow) was a playwright and received a Braverman Grant of $50,000 in the ninth grade. Richie (Rushmore's Luke Wilson) was a junior champion tennis player and won the U.S. Nationals three years in a row. Virtually all memory of the brilliance of the young Tenenbaums was subsequently erased by two decades of betrayal, failure, and disaster. The Royal Tenenbaums is a hilarious, touching, and brilliantly stylized study of melancholy and redemption from Wes Anderson (The Darjeeling Limited).
Spy Game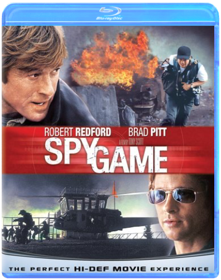 Tony Scott
When a top-secret, unauthorized mission goes awry, CIA agent Tom Bishop (Brad Pitt) is captured—and sentenced to die. With just 24 hours to get him out alive, Bishop's boss, Nathan Muir (Robert Redford), must battle enemies abroad and the system inside the CIA to save his friend. Now the clock is ticking and the race is on … as the deadliest game of all explodes into the spectacular, adrenaline-fueled thriller that ABC Radio says "sizzles with suspense!"
Super Troopers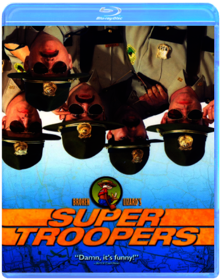 Jay Chandrasekhar
Super Troopers ~ Super Troopers
Tape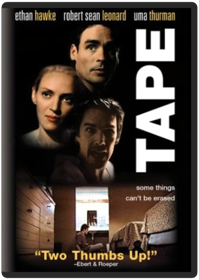 Richard Linklater
Ethan Hawke, Robert Sean Leonard, Uma Thurman - Director: Richard Linklater
Training Day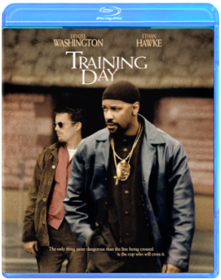 Antoine Fuqua
DVD Features:
Alternate endings
Audio Commentary
DVD ROM Features
Deleted Scenes
Documentary
Filmographies
Music Video
Theatrical Trailer
Vanilla Sky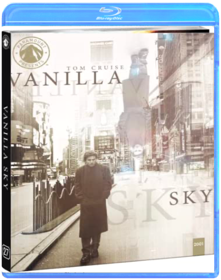 Cameron Crowe
Waking Life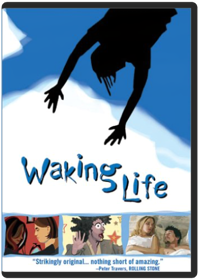 Richard Linklater
From the director of Slacker and Dazed and Confused comes one of the most imaginative animated features ever made. This funny, ingenious film, which Rolling Stone Magazine calls "nothing short of amazing," explores the fascinating question: "Are we sleep-walking through our waking state or wake- walking through our dreams"? Join Wiley Wiggins as he searches for answers to lifes most important questions in a world that may or may not be reality in the "most visually alive movie of the year." (Roger Ebert, Chicago Sun Times)
Y tu mamá también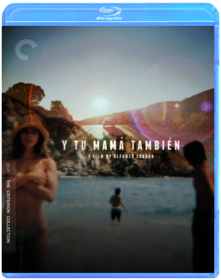 Alfonso Cuarón
Y TU MAMA TAMBIEN (BLU-RAY/DVD COMBO/2001/SP/ENG SUB/WS 1.85/3 DISC)
Zoolander
Ben Stiller
ZOOLANDER - The Blue Steelbook (Blu-ray & Digital HD). Exclusive Gift Set includes: Collectible Steelbook, Ridiculously Good-Looking Headband, ZOOLANDER NO. 2 Movie Ticket (expires 3/31/16), VUDU Digital Copy. Blu-ray Special Features include: Commentary by Ben Stiller & Writers Drake Sather & John Hamburg, A Really, Really, Really Cool Teaser for ZOOLANDER NO.2, Walkoff Rehearsal Footage with Ben Stiller Commentary, 5 Deleted Scenes with Commentary by Ben Stiller, 5 Extended Scenes with Commentary by Ben Stiller, Outtakes, VH1 Fashion Award Skits, Breakdance Fight Rehearsal, Music Video 'Start The Commotion' by The Wiseguys, Public Service Announcements, MTV Cribs, Interstitials, Photo Gallery. This is a Walmart Exclusive. 2015 Release.
Another Day In Paradise
Larry Clark
Mel and Sid are a couple of scheming thieves who "adopt" two young lovers into their renegade family to teach them the art of conning and take them on a cross-country crime spree.
25th Hour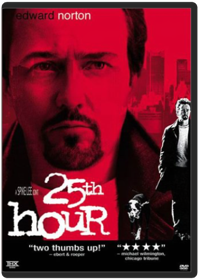 Spike Lee
Academy Award(R)-nominee Edward Norton (Best Actor, 1999, AMERICAN HISTORY X) heads an amazing all-star cast in the critically acclaimed Spike Lee (SUMMER OF SAM, DO THE RIGHT THING) film 25th HOUR. In 24 short hours Monty Brogan (Norton) goes to prison for seven long years. Once a king of Manhattan, Monty is about to say good-bye to the life he knew — a life that opened doors to New York's swankest clubs but also alienated him from the people closest to him. In his last day on the outside, Monty tries to reconnect with his father (Brian Cox, THE BOURNE IDENTITY), and gets together with two old friends, Jacob (Philip Seymour Hoffman, ALMOST FAMOUS) and Slaughtery (Barry Pepper, THE GREEN MILE). And then there's his girlfriend, Naturelle (Rosario Dawson, MEN IN BLACK 2), who might (or might not) have been the one who tipped off the cops. Monty's not sure of much these days, but with time running out, there are choices to be made as he struggles to redeem himself in the 25th hour.
28 Days Later
Danny Boyle
Adaptation.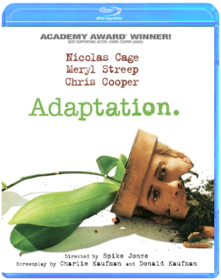 Spike Jonze
Director Spike Jonze delivers a stunningly original comedy that seamlessly blends fictional characters and situations with the lives of real people: obsessive orchid hunter John Laroche (Cooper), New Yorker journalist Susan Orlean (Streep), Hollywood screenwriter Charlie Kaufman (Cage), and his twin brother, Donald (also Cage). As Charlie struggles to adapt Orlean's best-selling book "The Orchid Thief," he writes himself into his own movie. The various stories crash into one another exploding into a wildly imaginative film. Adaptation, the year's most talked about movie, is at once a hilarious drama and a moving comedy.
Auto Focus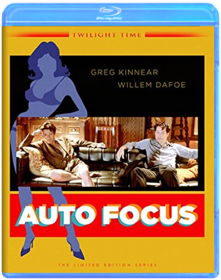 Paul Schrader
"A deep portrait of a shallow man, lonely and empty, going through the motions of having a good time...Greg Kinnear gives a creepy, brilliant performance."
- Roger Ebert, Chicago Sun-Times

"Gets to you like a low-grade fever, a malaise with no known antidote. When it was over, I wasn't sure if I needed a drink, a shower or a lifelong vow of chastity."
- A.O. Scott, The New York Times

Auto Focus (2002) is director Paul Schrader's "dramatized" biography of Bob Crane (Greg Kinnear, in a career-making performance), a TV sitcom star (Hogan's Heroes) who descended into sexual addiction, obsessed with recording his encounters with scores of women. Willem Dafoe co-stars as John Henry Carpenter, an electronics expert who encouraged and collaborated with Crane; he becomes a prime suspect after Crane is bludgeoned to death in an Arizona motel room.

LANGUAGE: English
VIDEO: 1080p High Definition / 1.85:1
AUDIO: English 5.1 DTS-HD MA / English 2.0 DTS-HD MA
SUBTITLES: English SDH
2002 / Color
106 MINUTES
RATED R Strong Sexuality, Nudity, Language, Some Drug Use and Violence

Special Features: Isolated Music Track / Audio Commentary with Director Paul Schrader / Audio Commentary with Actors Greg Kinnear and Willem Dafoe / Audio Commentary with Producers Scott Alexander and Larry Karaszewski, and Screenwriter Michael Gerbosi / Murder in Scottsdale / Making-of Featurette / 5 Deleted Scenes with Optional Director Commentary / Original and Redband Theatrical Trailers

Limited Edition of 3,000 Units
The Bourne Identity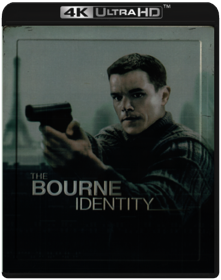 Doug Liman
Academy Award winner Matt Damon stars as Jason Bourne in The Bourne Identity, an explosive and action-packed hit filled with incredible fight sequences. Found with two bullets in his back, Bourne discovers he has the skills of a very dangerous man with no memory of his violent past. Racing to unlock the secret of his own identity, he discovers the deadly truth: he's an elite government agent; a 30 million dollar weapon that the government no longer trusts. Lethally trained and built to disappear, Bourne is the government's top operative who has become its number one target in this super-charged, thrill-a-minute spectacular loaded with "non-stop action!" (Bill Zwecker, FOX-TV)
Bowling for Columbine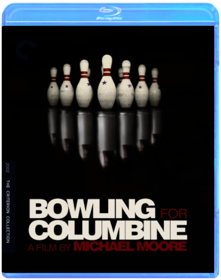 Michael Moore
In the wake of the Columbine High School massacre in 1999, the intrepid documentarian Michael Moore set out to investigate the long, often volatile love affair between Americans and their firearms, uncovering the pervasive culture of fear that keeps the nation locked and loaded. Equipped with a camera and a microphone, Moore follows the trail of bullets from Littleton, Colorado, and Flint, Michigan, all the way to Kmart's Michigan headquarters and NRA president Charlton Heston's Beverly Hills mansion, meeting shooting survivors, militia members, mild-mannered Canadians, and musician Marilyn Manson along the way. An unprecedented popular success that helped usher in a new era in documentary filmmaking, the Oscar-winning Bowling for Columbine is a raucous, impassioned, and still tragically relevant journey through the American psyche.

DIRECTOR-APPROVED BLU-RAY SPECIAL EDITION FEATURES

• New high-definition digital restoration, with 2.0 surround DTS-HD Master Audio soundtrack

• Michael Moore Makes a Movie, a new documentary featuring Moore, chief archivist Carl Deal, supervising producer Tia Lessin, and field producer Meghan O'Hara

• Programs covering Moore's return to Colorado in 2002, his 2003 Oscar win, and three film-festival Q&As with Moore

• Excerpt from a 2002 episode of The Charlie Rose Show featuring Moore

• Corporate Cops, a segment from Moore's 2000 television series The Awful Truth II

• Trailer

• PLUS: An essay by critic Eric Hynes
Catch Me If You Can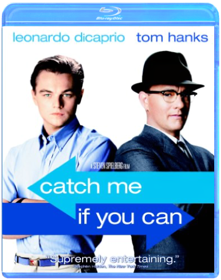 Steven Spielberg
Catch Me If You Can" is the extraordinary true story of Frank Abagnale Jr.; who successfully passed himself off as a pilot; a lawyer and a doctor - all before his 21st birthday!
City of God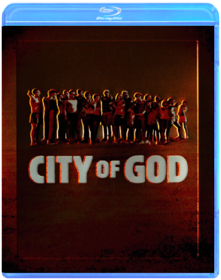 Fernando Meirelles, Katia Lund
Zavvi Exclusive Steelbook - Limited to 4000 laser etched, numbered copies. Celebrated with worldwide acclaim, this powerful true story of crime and redemption has won numerous awards around the globe. The streets of the world's most notorious slum, Rio de Janeiro's "City of God", are a place where combat photographers fear to tread, police rarely go and residents are lucky if they live to the age of 20. In the midst of the oppressive crime and violence, a frail and scared young boy will grow up to discover that he can view the harsh realities of his surroundings with a different eye: the eye of an artist. In the face of a professional photographer becomes a window into his world and ultimately his way out.
Confessions of a Dangerous Mind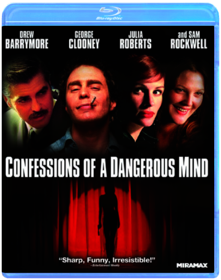 George Clooney
George Clooney (Ocean's Thirteen, Up in the Air) makes his directorial debut and stars alongside Drew Barrymore (He's Just Not That Into You), Sam Rockwell (Iron Man 2) and Julia Roberts (Eat Pray Love) in the comedy thriller that poses an irresistible question: What would happen if a wildly successful TV producer was also a top secret CIA assassin? While a maverick creator of America's favorite game shows gains notoriety for his smash television hits, he is also drawn into a shadowy world of danger as a covert government operative! But soon his double life begins to spiral out of control. Based on Chuck Barris's cult classic autobiography, this entertaining comedy is a killer hit!
Femme Fatale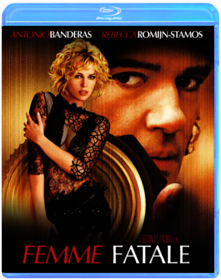 Brian De Palma
Femme Fatale is a contemporary film noir about an alluring seductress (Rebecca Romijn-Stamos) suddenly exposed to the world — and her enemies — by a voyeuristic photographer (Antonio Banderas) who becomes ensnared in her surreal quest for revenge.
Gangs of New York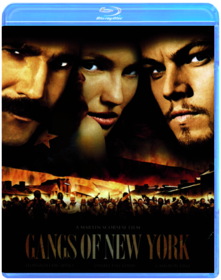 Martin Scorsese
An epic tale of vengeance and survival Gangs of New York now hits harder than ever on Blu-ray Disc. Directed by Academy Award winner Martin Scorsese (2006, Best Director, The Departed), this motion picture event stars two-time Oscar winner Daniel Day-Lewis (1989, Best Actor My Left Foot; 2007, Best Actor, There Will Be Blood), Leonardo DiCaprio and Cameron Diaz. Feel your heart pound while weapons and cultures clash in a chaotic symphony of life and death. Surrender to the tumultuous atmosphere of 1860s New York as phenomenal sound and stunning visual clarity transport you back in time. Prepare to experience Scorsese s masterpiece as never before on Blu-ray high definition.

Bonus Features include: Costume Design Featurette, Teaser Trailer, Set Design Featurette, History Of The Five Points Featurette, Exploring The Sets Of GANGS OF NEW YORK With Multiple Angles Utilizing 360 Degree Shots of The Sets, U2 Music Video The Hands That Built America, Discovery Channel Special Uncovering The Real Gangs Of New York, The Five Points Study Guide: Luc Sante Introduction And Five Points Vocabulary, Feature Commentary With Martin Scorsese, Theatrical Trailer
Hero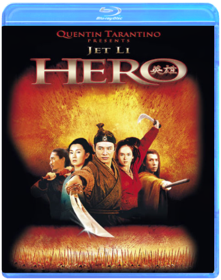 Yimou Zhang
Hero starring martial arts legend Jet Li in a visually stunning martial arts epic where a fearless warrior rises up to defy an empire and unite a nation! With supernatural skill ... and no fear ... a nameless soldier (Jet Li) embarks on a mission of revenge against the fearsome army that massacred his people. Now, to achieve the justice he seeks, he must take on the empire's most ruthless assassins and reach the enemy he has sworn to defeat! Acclaimed by critics and honored with numerous awards, Hero was nominated for both an Oscar® (2002 Best Foreign Language Film)and Golden Globe!
The Hire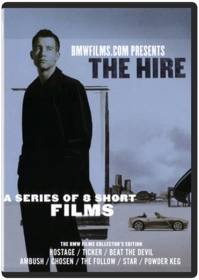 John Frankenheimer, Ang Lee, Wong Kar-wai, Guy Ritchie, Alejandro G. Iñárritu, John Woo, Joe Carnahan, Tony Scott
The Hire: A Series of 8 Films The 8 films included are: Hostage: Stars: Clive Owen. Director: John Woo Ticker: Stars: Clive Owen, Don Cheadle, F. Murray Abraham. Director: Joe Carnahan The driver rescues a mysterious messenger carrying an even more mysterious briefcase after an ambush on a rural highway. As a helicopter gunman relentlessly pursues them, a game of political intrigue plays out, with an unforeseen ending. Beat the Devil: Stars: Clive Owen, Gary Oldman, James Brown. Director: Tony Scott Decades ago, the legendary James Brown sold his soul to the devil for fame and fortune. Now he wishes to renegotiate. Hired to take Mr. Brown to a rendezvous with the devil (Gary Oldman), the driver soon finds himself entangled in fiendish plans. Ambush: Stars: Clive Owen, Tomas Milian. Director: John Frankenheimer Chosen: Stars: Clive Owen, Mason Lee. Director: Ang Lee The driver meets a ship carrying an eight-year-old Tibetan boy at a dark, deserted New York shipyard. But he's not the only one waiting. The Follow: Stars: Clive Owen, Mickey Rourke, Forest Whitaker. Director: Wong Kar-wai The cunning and tactics of trailing another car quickly evolve into a mystery rife with deceit, as The Driver is hired to follow a woman accused of cheating on her famous husband. Star: Stars: Clive Owen, Madonna. Director: Guy Ritchie The driver faces perhaps his most perplexing challenge: Coming face-to-face with a hugely talented and successful rock star. But beneath her beauty lies a problem she always gets what she wants. Powder Keg: Stars: Clive Owen, Stellan Skarsgard. Director: Alejandro González Iñárritu
Insomnia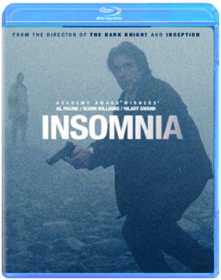 Christopher Nolan
A thriller to keep you wide awake in mesmerizing hi-def from the director of The Dark Knight and Inception. Invited to Nightmute, Alaska, to head a murder case, a veteran LAPD detective finds his investigation disrupted by an ever-shining midnight sun that wreaks sleep-depriving havoc on him – and by personal guilt over a second crime that may be real...or a figment of his increasingly unstable consciousness. Director Christopher Nolan (whose other credits include Memento and Batman Begins) crafts another jolting psychological thriller to remember, guiding Academy Award winners* Al Pacino, Robin Williams and Hilary Swank in Insomnia. In the season of the midnight sun, no one – and no secret – can forever hide.
Irreversible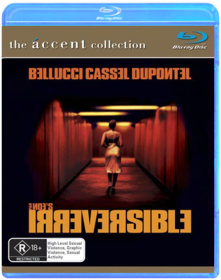 Gaspar Noé
Australia released, Blu-Ray/Region A/B/C : it WILL NOT play on regular DVD player. You need Blu-Ray DVD player to view this Blu-Ray DVD: LANGUAGES: French ( Dolby Digital 5.1 ), English ( Subtitles ), WIDESCREEN (2.35:1), SPECIAL FEATURES: Deleted Scenes, Featurette, Interactive Menu, Scene Access, Teaser(s), Trailer(s), SYNOPSIS: Call if the movie love affair dispossessed of the happy ending. The romance remembered at point omega. A nightmare, where the smoke never clears, the dust never settles. It's a reckoning now known as Irreversible. Since it exploded onto cinema screens in 2002, Irreversible, Gasper Noe's pulverising and extremist vision, with its operatic and total assault on the senses, has been recognised as a pioneering and relentless modern take on the journey from heaven to hell, delivered, however, as the ultimate form of supremely sustained reversal. Noe lays down the gauntlet. As opening sequences go, 'the poet of apocalyptic shock' offers a foreboding entrance into a hazardous world where monsters lurk and each of its characters has long been escorted down a path to their own doom, into a disorientating netherworld the camera plunges and with it Vincent Cassel. Beyond reasoning, his frenzied pursuit of a figure by the name Le Tenia, the incubus whose shadow darkens the unfolding nightmare from which the film takes its title and unyielding atmosphere, is akin to abseiling down into the pits of hell. There will be no returning: Only the past and the unforgettable events that have come before it. SCREENED/AWARDED AT: Cannes Film Festival, Film Critics Circle of Australia Awards, Stockholm Film Festival, ...Irreversible ( Irréversible )
Ken Park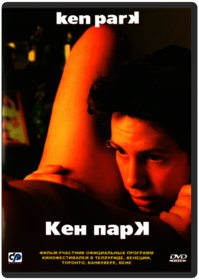 Larry Clark, Edward Lachman
Filmmaker Larry Clark reunites with Kids screenwriter Harmony Korine, with some additional directorial assistance from cinematographer Ed Lachman, for this look at a group of troubled teens and their guardians living in Southern California. Ken Park takes its name from the skate park where an ancillary character takes his own life in the film's opening moments, and then proceeds to chronicle the somewhat-interrelated lives of his classmates.

The audience is introduced to Tate (James Ransome), a young man living in relative misery with his board-game-playing grandparents. Also tormented by his living situation is Claude (Stephen Jasso), a quiet, shy teen constantly henpecked by his brutish father (Wade Andrew Williams). Meanwhile, the vapid Shawn (James Bullard) occasionally trades verbal spars with his mother, in between leaving the house for erotic sessions with his girlfriend's mom. Finally there is Peaches (Tiffany Limos), living alone with her devoutly religious father as she covertly experiments with her boyfriend (Mike Apaletegui).

Though Ken Park played at such festivals as Toronto and Telluride in the fall of 2002, it would languish on the shelf for months and months afterward, as its non-commercial content made finding a U.S. distributor near-impossible.

Uncut & Uncensored Anamorphic (16:9) Widescreen Version
English 5.1 & Russian 5.1 Audio Options
Optional Russian Subtitles
The Lord of the Rings: The Two Towers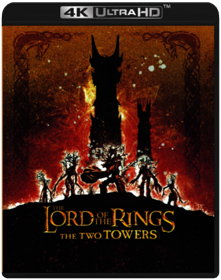 Peter Jackson
The Lord of the Rings: The Two Towers (Bonus)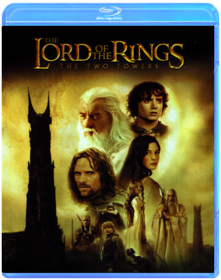 Peter Jackson
Minority Report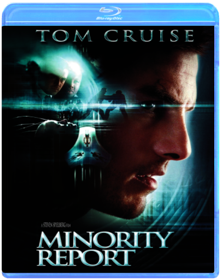 Steven Spielberg
Based on a Philip K. Dick short-story about a time in the future when criminals are arrested before they commit the crime. A future-viewing piece of technology gives police officers this privilege. One cop (Cruise) is caught commiting a crime and now must find out why and how he broke the law in order to change time.
Naqoyqatsi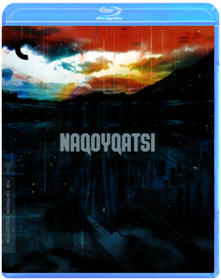 Godfrey Reggio
One Hour Photo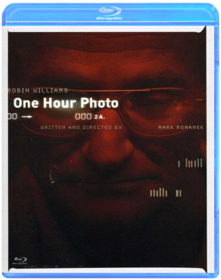 Mark Romanek
The Order - From Cremaster 3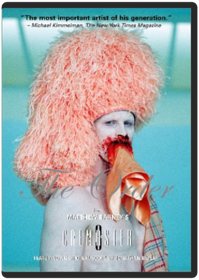 Matthew Barney
Matthew Barney's legendary CREMASTER SYCLE was hailed by the New York Times as "An Inspired Benchmark of ambition, scope and forthright provocation for art in the new century." Nine years in the masking, the five films that comprise the CREMASTER CYCLE came to a brilliant grand finale with a 31 minute sequence at the close of CREMASTER 3 called "THE ORDER". In "THE ORDER", a death-defying race to the top of the Guggenheim Museum, Matthew Barney is a tartan-clad apprentice seeking Masonic redemption. Before taking on legendary sculptor Richard Serra, who tosses molten Vaseline down the Guggenheim's ramps, Barney must bypass a troupe of tap-dancing girlscouts, a pair of dueling hardcore bands, a ravishing model who transforms herself into a cheetah, and a cabor toss with a flayed ram in a dizzying mirror to the artist's fantastical "CREMASTER CYCLE".
Panic Room
David Fincher
Trapped in their New York brownstone's panic room, a hidden chamber built as a sanctuary in the event of break-ins, newly divorced Meg Altman (Jodie Foster) and her daughter, Sarah (Kristen Stewart),play a deadly game of cat-and-mouse with three intruders—Burnham (Forest Whitaker), Raoul (Dwight Yoakam) and Junior (Jared Leto) — during a brutal home invasion. But the room itself is the focal point because what the intruders really want is inside it.
Punch-Drunk Love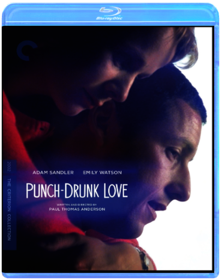 Paul Thomas Anderson
Reign of Fire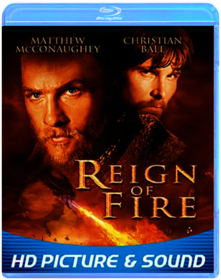 Rob Bowman
Matthew McConaughey and Christian Bale battle terrifying beasts — and each other — in REIGN OF FIRE on Blu-ray Disc. Packed with action, this thrilling adventure is hotter than ever in this explosive new format! All hell breaks loose when an unearthly creature is awakened after centuries of slumber. Twenty years later, "fire chief" Quinn (Bale) tries to keep a group of refugees alive with ferocious dragons dominating the air and burning the land. But tempers also flare when Quinn clashes with a hotshot American militia leader (McConaughey). Gasp at the bone-charring special effects in spectacular 1080p and cower as fire-breathing dragons roar in thunderous 5.1 48 kHz, 16-bit uncompressed audio. Feel the heat with Blu-ray High Definition!
The Rules of Attraction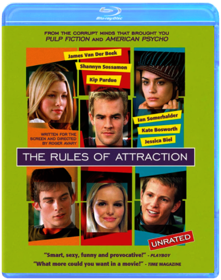 Roger Avary
Based on the best-selling novel by Bret Easton Ellis, Roger Avary masterfully adapts the darkly funny social satire of lifeand love among the young and privileged students of Camden College. Stars James Van Der Beek, Jessica Biel, Kate Bosworth, Shannyn
Spider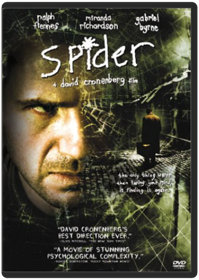 David Cronenberg
Spider (Ralph Fiennes) is in a constant struggle to overcome a traumatic event early in his life. He has been allowed a second chance at life after a long stay in a mental institution and returns to the streets where he grew up; sent to a halfway house under the stern but unsupervised watch of Mrs.Wilkenson (Lynn Redgrave). The sights, sounds and smells of revisiting the familiar streets of his old neighborhood send Spider further down a shadowy path that reawakens memories of his where his mother (Miranda Richardson) and his father (Gabriel Byrne) raised him. He soon begins to uncover the real truth shifting seamlessly back and forth between the tragic events that polarized a boy's adolescence to the shell of a man enduring the surreal plausible reality of today.
Sympathy for Mr. Vengeance
Park Chan-wook
Unable to afford proper care for his sister dying from kidney failure, Ryu turns to the black market to sell his own organs only to end up cheated of his life savings. His girlfriend urges Ryu to kidnap the daughter of wealthy industrialist Dong-jin, who recently laid him off. Ryu agrees, but unforeseen tragedies turn an innocent con into a merciless quest for revenge. Bound by their personal losses and deep-seated anger, the two men are thrust into a spiral of destruction.
The Transporter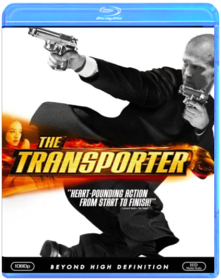 Corey Yuen, Louis Leterrier
Frank Martin (Jason Statham) is the best as what he does: transporting dangerous or illegal goods with no questions asked. But his last shipment, a beautiful young woman kidnapped by international slave traders, brings deadly complications to his delivery plans. Now Frank must kick into overdrive in a nonstop action-packed fight to save his precious cargo - and his life.
The Animatrix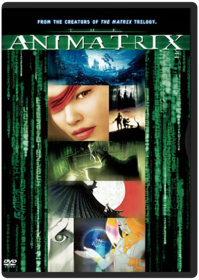 Andrew R. Jones, Kôji Morimoto, Mahiro Maeda, Peter Chung, Shinichirô Watanabe
From the creators of The Matrix trilogy, this groundbreaking collection of nine short films from seven of the world's leading anime directors provides a visionary fusion of CG-Animatrion and Japanese anime.

DVD Features:
Biographies
DVD ROM Features
Documentaries
Interactive Menus
Interviews
Bad Santa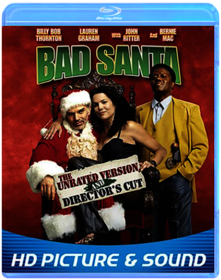 Terry Zwigoff
BAD SANTA:UNRATED VERSION AND DC - Blu-Ray Movie
The Brown Bunny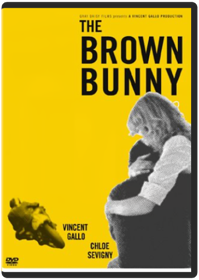 Vincent Gallo
The Brown Bunny is both a love story and a haunting portrait of a lost soul unable to forget his past. After finishing a motorcycle race in New Hampshire, Bud Clay (Vincent Gallo) loads his racing bike into the back of his van and begins a cross-country odyssey to Los Angeles, where he is to compete in another race. During his trip, he meets three very different women: Violet, a wholesome all-American gas station attendant; Lilly (Cheryl Tiegs), a fellow lost soul he connects with at a highway rest stop; and Rose, a Las Vegas prostitute. Throughout his journey, Bud can never escape his intense feelings for the love of his life, Daisy (Chloë Sevigny), so he plans to reconcile with her when he reaches Los Angeles. Arriving in Los Angeles, Bud checks into a motel before visiting the abandoned home he once shared with Daisy. He leaves a note, hoping she will turn up at his motel room . . .Building to a notorious climax, the film presents one of the frankest portrayals of male sexuality ever seen in American cinema.
Dogville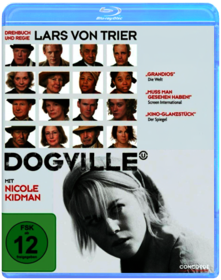 Lars von Trier
Grace arrives in the isolated town of Dogville, on the run from gangsters. The townspeople agree to hide her. However, when outsiders start looking for the fugitive, the locals make demands of Grace in exchange for the risk of harboring her. But Grace has a secret and it is a dangerous one. Dogville may regret it ever decided to bare its teeth.
The Dreamers
Bernardo Bertolucci
Elephant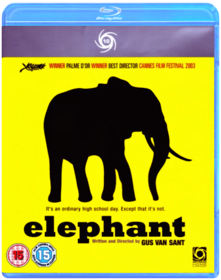 Gus Van Sant
Finding Nemo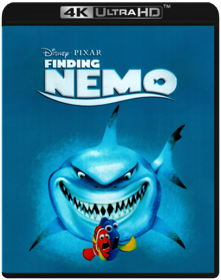 Andrew Stanton
Sea it like never before! For the first time ever, through the magic of Blu-ray and Blu-ray 3D, fully immerse yourself in the stunning underwater world of Disney/Pixar's FINDING NEMO! From the creators of TOY STORY and MONSTERS, INC., this critically acclaimed and heartwarming tale splashes off the screen with brilliant digital picture, high definition sound and breathtaking bonus features that transport you beyond your imagination. In the depths of the Great Barrier Reef, Marlin (Albert Brooks), an overly protective clownfish, embarks on a daring rescue mission when his beloved son, Nemo, gets scooped up by a diver. With his unforgettable friend Dory (Ellen DeGeneres) by his side, Marlin encounters an ocean full of memorable comedic characters on his momentous journey — to find Nemo. Bring home the humor and heartfelt emotion of the epic adventure that captured the Academy Award for "Best Animated Feature Film" (2003) — now more awesome than ever on Disney Blu-ray!
The Five Obstructions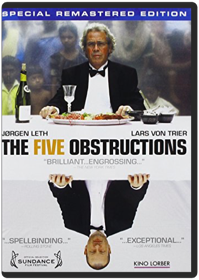 Lars von Trier, Jorgen Leth
Once upon a time—1967, to be precise—Danish director Jørgen Leth released The Perfect Human. In The Five Obstructions, fellow countryman Lars von Trier (Breaking the Waves) challenges his "hero" to remake the short five times and provides a different set of "obstructions" for each. Because Leth likes cigars, von Trier suggests the first be made in Cuba. For the second, however, he sends Leth to "the worst place on earth"—Bombay's red light district. The obstructions keep coming, interspersed with conversation and clips from the original film, in which actors engage in a variety of activities, like eating and dancing, while the narrator posits oblique questions like "Why is joy so whimsical?" (Von Trier claims to have watched it "at least 20 times.") In the end, the two Danes have whipped up an unclassifiable concoction that plays less like documentary and more like a duel between friendly adversaries.

Digitally remastered.
English, Danish, French & Spanish languages with English subtitles.
Gozu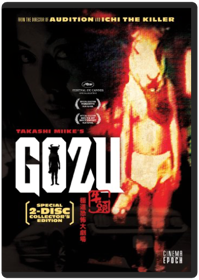 Takashi Miike
This wildly bizarre Japanese horror movie from master Takeski Miike (AUDITION) follows the mysterious disappearance of Brother, a gangster who was accidentally killed by one of his Mafia cohorts, Minami. Searching for Brother's body—which vanished minutes after he was shot—Minami stumbles into a strange secluded inn and gets a room. He is instantly aware that something fishy is going on, and as he gets to know the innkeepers more intimately, that feeling is backed up by evidence. Given to loud, rambunctious sessions of pumping her own breast milk, the innkeeper is certainly a spectacle. Meanwhile, the violent sadomasochistic relationship (read: whipping) shared between the innkeeper and her brother is quite another. Nothing, however, can top Miike's grand finale for GOZU which combines some very important Givenchy crotchless panties, an old man who has a unique solution for his anal fixation, and an extremely gelatinous, odds-defying birth.
The Heart is Deceitful Above All Things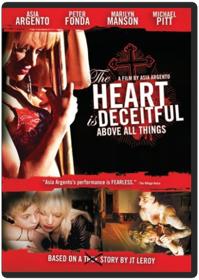 Asia Argento
House of 1000 Corpses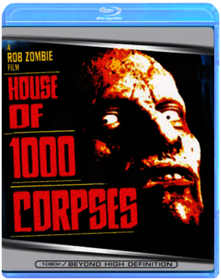 Rob Zombie
Two young couples take a misguided tour onto the back roads of America in search of a local legend known as Dr. Satan. Lost and stranded, they are set upon by a bizarre family of psychotics. Murder, cannibalism and satanic rituals are just a few of the 1000+ horrors that await.
Intolerable Cruelty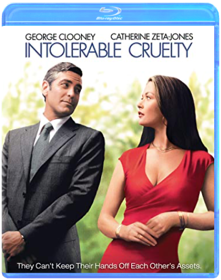 Joel Coen, Ethan Coen
Kill Bill - Volume 1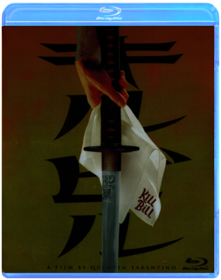 Quentin Tarantino
UPC:786936715545
DESCRIPTION: Kill Bill: Volume 1, the critically acclaimed film from groundbreaking writer and director Quentin Tarantino (Pulp Fiction, Jackie Brown), now packs even more of a punch in high definition on Blu-ray disc! Uma Thurman (Pulp Fiction), Lucy Liu (Charlie s Angels, Chicago) and Vivica A. Fox (Two Can Play That Game) star in this astonishing, action-packed motion picture about brutal betrayal and an epic vendetta. Four years after taking a bullet in the head at her own wedding, The Bride (Thurman) emerges from a coma and decides it s time for payback...with a vengeance! Determined to finish the kill-or-be-killed fight she didn t start, she hunts down her former boss, Bill (David Carradine), and the deadly squad of international assassins who perpetrated the bloody attack. END
The Lord of the Rings: The Return of the King
Peter Jackson
Lord of the Rings Extended Two Towers
The Lord of the Rings: The Return of the King (Bonus)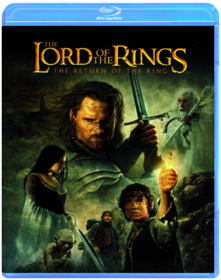 Peter Jackson
Memories of Murder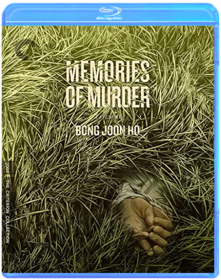 Bong Joon-ho, Joon-ho Bong
A Mighty Wind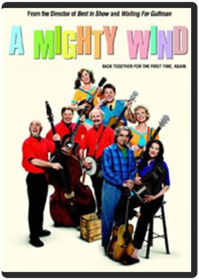 Christopher Guest
A Mighty Wind
Oldboy
Park Chan-wook
After a drunken night on the town, Oh Dae-su wakes up in the morning to discover he has been locked up, without explanation, in a mysterious prison - his home for the next 15 years. Suddenly, Dae-su finds himself freed, a voice on a cell phone taunts him into discovering who kept him imprisoned. Dae-su plunges into a world of competing vengeance, his own drive for revenge matched by the equally implacable and considerably more Byzantine scheming of his mysterious nemesis.
Paul Verhoeven Collection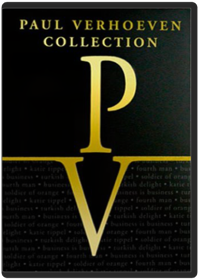 Paul Verhoeven
The Paul Verhoeven Collection consists of five films the Dutch director made in Europe before graduating to the Hollywood mainstream with such films as Total Recall and Basic Instinct. A bawdy though sympathetic look at the lives of two Amsterdam prostitutes, 1971's Business Is Business was Verhoeven's film debut. Ronnie Biermann stars as Greet, a worldly wise prostitute who is decently protective of her neighbor and friend in the trade, the busty, younger Nell (Sylvia de Leur). Finally, she decides they must both break out of their decreasingly fulfilling lives and seek out matrimonial stability. Business Is Business probably seemed like an authentic depiction of the Amsterdam demi-monde in its day, but today its kinky peccadilloes look rather quaint. However, both Biermann and Sylvia De Leur forcefully resist any of the clichés of the era in their strong characters.

When Turkish Delight (1973) opens on a brutal attack and then a succession of one-night stands, it seems that bohemian artist Eric Vonk (Rutger Hauer, collaborating for the first time with Verhoeven) is a complete jerk. Then a sudden flashback reveals the motivations for both his dreams and behavior, as well as the subject of the photos he spends his time pining for. He meets Olga (a fantastic Monique van de Ven), but their tempestuous relationship is shaken by many peculiar events: a surreal wedding ceremony, unveiling a statue to the Queen, and the death of Olga's father. The real problem is Olga herself, however, which leads to a shock ending many have compared to Love Story. Somewhat dated now, Turkish Delight is nonetheless unmistakably a product of the now-familiar Verhoeven style.

Katie Tippel (1975) is a handsome period drama set in 19th-century Holland, based on a true story. The second eldest daughter in a poor family, Katie (Monique van de Ven) must find whatever work is going to make ends meet. As she enters a succession of jobs in which she experiences both exploitation and sexual harassment, she learns that men want her for only one thing and so she enters prostitution. However, she is finally able to escape the poverty trap and ascend the social ladder, particularly when banker Hugo (Rutger Hauer) takes her as his lover. All this is set against a backdrop of social foment as the workers' impatience at poor social conditions increases.

Based on real events, Soldier of Orange (1977) tells the story of Dutchman Erik Lanshof (a star-making performance by Rutger Hauer) and a small group of students as they struggle to survive the Nazi occupation to the end of the Second World War. Across a canvas lasting almost three hours, Verhoeven unfolds a saga of friendship, espionage, and romance with almost documentary realism, crafting a deeply affecting film widely regarded as the greatest ever made in Holland.

Only two years separate The Fourth Man (1983), Verhoeven's final Dutch language movie, and the explosive commencement of his Hollywood career. This savage comedy shocker could well be seen as a trial run for Basic Instinct, since it features an ice-cold seductress (Renée Soutendijk) with mysterious motivations and sexual preferences. The hallucinatory tale follows a novelist (Jeroen Krabbé) first falling for her, and then feverishly investigating whether she's a serial husband killer. The film is full of what would soon be recognized as Verhoeven trademarks: a little blasphemy, a lot of nudity, dispassionate characters, and hidden agendas.
The Room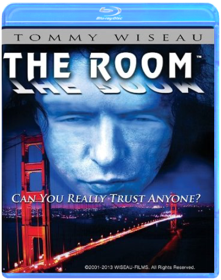 Tommy Wiseau
The Room Blu-ray will feature the first ever option of Combination Languages (CL) Combo Languages in which you can view multiple subtitles on screen simultaneously. It is the first Blu-ray format in the world. It features English, French, Spanish, Italian, German options. The Room Blu-ray has additional special features like behind the scenes footage, scene selection, trailers, deleted scenes, photo gallery and interviews.
Swimming Pool
Francois Ozon
Dive into a mind-bending thriller that's soaked with raw sensuality! A murder-mystery author's search for inspiration takes a wicked turn when she meets a sexy and provocative young woman with an explosive past, in the movie Interview calls "A thrilling film! Charlotte Rampling and Ludivine Sagnier sizzle!"
Underworld
Len Wiseman
In the Underworld, Vampires are a secret clan of modern aristocratic sophisticates whose mortal enemies are the Lycans (werewolves), a shrewd gang of street thugs who prowl the city's underbelly. No one knows the origin of their bitter blood feud, but the balance of power between them turns even bloodier when a beautiful young Vampire warrior and a newly-turned Lycan with a mysterious past fall in love. Kate Beckinsale and Scott Speedman star in this modern-day, action-packed tale of ruthless intrigue and forbidden passion ­ all set against the dazzling backdrop of a timeless, Gothic metropolis.
Alexander Revisited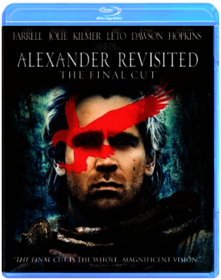 Oliver Stone
Alexander Revisited: (Unrated) Final Cut, The (Dbl BD)
Anchorman: The Legend of Ron Burgundy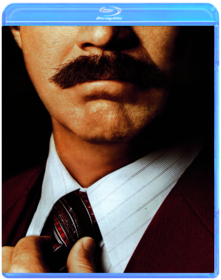 Adam McKay
Will Ferrel (Old School, Elf) is Ron Burgundy, a top-rated 1970's San Diego anchorman who believes women have a place in the newsroom - as long as they stick to covering fashion shows or late-breaking cooking stories. So when ron is told he'll be working with a bright young newswoman (Christina Applegate) who's beautiful, ambitious and smart enough to be more than eye candy, it's not just a clash of two TV people with really great hair - it's war! Filled with wicked wit and slapstick humor, Anchorman is the year's most wildly irreverent, must-see comedy hit!
The Aviator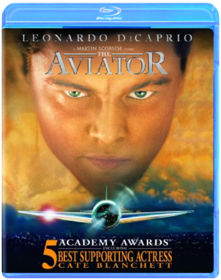 Martin Scorsese
Aviator, The (BD)
Before Sunset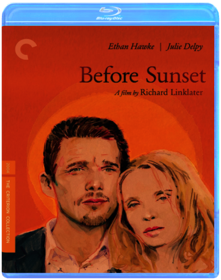 Richard Linklater
The Bourne Supremacy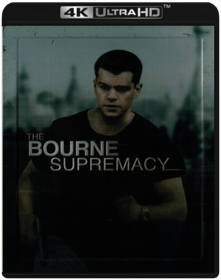 Paul Greengrass
They should have left him alone… Academy Award winner Matt Damon returns as expert assassin Jason Bourne in the next chapter of the stunning, non-stop action hit, The Bourne Supremacy. The haunting past that Bourne hoped to have escaped from, catches up to him once again as the CIA threatens to ruin his new, anonymous life—forcing Bourne to resume his former life as a trained assassin to survive. Fuelled by awesome fight scenes and some of the most breathtaking chase sequences ever filmed, it's a state-of-the-art espionage thriller that explodes into action and never lets up!
Eternal Sunshine of the Spotless Mind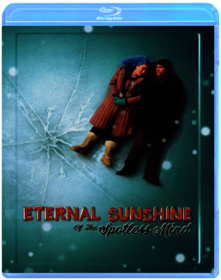 Michel Gondry
Eurotrip
Jeff Schaffer
Fahrenheit 9/11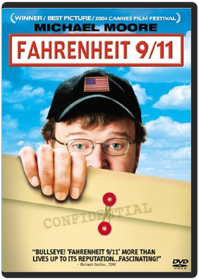 Michael Moore
In the most provocative film of the year, Academy Award(r)-winner Michael Moore (2002, Best Documentary, Bowling for Columbine) presents a searing examination of the role played by money and oil in thewake of the tragic events of 9/11. Moore blends captivating and thought-provoking footage with revealing interviews, while balancing it all with his own brand of humor and satire.
Harold & Kumar Go to White Castle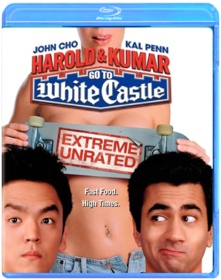 Danny Leiner
Harold & Kumar Go to White Castle (BD) (Unrated)
Hellboy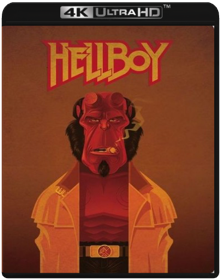 Guillermo del Toro
From visionary writer/director Guillermo del Toro (director of Blade II, The Devil's Backbone) comes Hellboy, a supernatural action adventure based on Mike Mignola's popular Dark Horse Comics series of the same name. Born in the flames of hell and brought to Earth as an infant to perpetrate evil, Hellboy (Ron Perlman) was rescued from sinister forces by the benevolent Dr. Broom (John Hurt), who raised him to be a hero. In Dr. Broom's secret Bureau of Paranormal Research and Defense, Hellboy creates an unlikely family consisting of the telepathic "Mer-Man" Abe Sapien (Doug Jones) and Liz Sherman (Selma Blair), the woman he loves who can control fire. Hidden from the very society that theyprotect, they stand as the key line of defense against an evil madman who seeks to reclaim Hellboy to the dark side and use his powers to destroy mankind.
I Heart Huckabees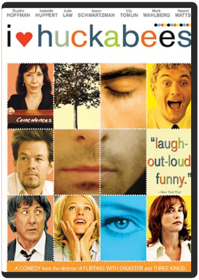 David O. Russell
Dustin Hoffman and Lily Tomlin lead an all-star cast including Jude Law, Naomi Watts and Mark Walhberg in this outrageous comedy from director/co-writer David O. Russell (Three Kings). Kindhearted but confused activist Andrew Markovski hires a pair of screwball "existential detectives" (Hoffman and Tomlin) to help him find the meaning of life. All the while, a sexy, French author (Isabelle Huppert) is trying to throw a wrench in their plan by seducing andrew's mind and body.
Kill Bill - Volume 2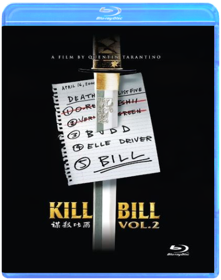 Quentin Tarantino
UPC:786936767148
DESCRIPTION:Kill Bill: Volume 2 is the must-see movie event that completes the action-packed quest for revenge begun by The Bride! Having already crossed two names from her Death List, The Bride is back with a vengeance and taking aim at Budd (Michael Madsen) and Elle Driver (Daryl Hannah), the only survivors from the squad of assassins who betrayed her four years earlier. It s all leading up to the ultimate confrontation with Bill, The Bride s former master and the man who ordered her execution! Experience the other half of the story in the acclaimed Kill Bill: Volume 2 even more mind-blowing on Blu-ray high definition! END
The Life Aquatic with Steve Zissou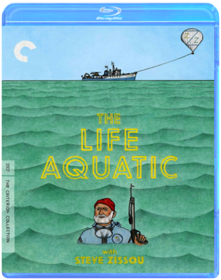 Wes Anderson
Internationally famous oceanographer Steve Zissou (Bill Murray) and his crew-Team Zissou-set sail on an expedition to hunt down the mysterious, elusive, possibly nonexistent Jaguar Shark that killed Zissou's partner during the documentary filming of their latest adventure. They are joined on their voyage by a young airline copilot (Owen Wilson); a pregnant journalist (Cate Blanchett); and Zissou's estranged wife, Eleanor (Anjelica Huston). Wes Anderson (Rushmore) has assembled an all-star cast that also includes Willem Dafoe, Jeff Goldblum, Michael Gambon, Noah Taylor, Seu Jorge, and Bud Cort for this wildly original adventure comedy.
The Machinist
Brad Anderson
Genre: Drama
Rating: R
Release Date: 19-MAY-2009
Media Type: Blu-Ray
Mean Girls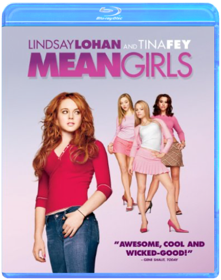 Mark Waters
Metallica: Some Kind of Monster
Joe Berlinger, Bruce Sinofsky
Documentary about heavy metal band Metallica, showing the band back in the studio after a five-year break. The film reveals an intimate portrait of the individuals behind this legendary band: Lars Ulrich, James Hetfield, Kirk Hammett and Robert Trujillo.
Mysterious Skin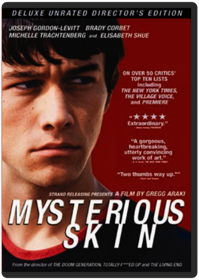 Gregg Araki
Napoleon Dynamite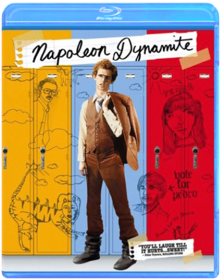 Jared Hess
Napoleon Dynamite is a new kind of hero, complete with a tight 'fro, sweet moon boots, and skills that can't be topped. Napoleon spends his days drawing mythical beasts, duking it out with his brother Kip and avoiding his scheming Uncle Rico. When two new friends enter Napoleon's life — shy Deb and mustachioed Pedro, the trio launches a campaign to elect Pedro for class president and make the student body's wildest dreams come true. But if Pedro is to beat stuck-up Summer, Napoleon will have to unleash his secret weapon
Shaun of the Dead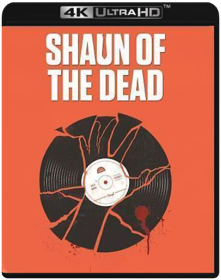 Edgar Wright
There comes a day in every man's life when he has to get off the couch...and kill some zombies. When flesh-eating zombies are on the hunt for a bite to eat, it's up to slacker Shaun (Simon Pegg) and his best pal Ed (Nick Frost) to save their friends and family from becoming the next entrée. Novelist Stephen King gushes Shaun of the Dead is "a 10 on the fun meter and destined to be a cult classic" and Newsweek calls it "a bloody hoot!" It's a screamingly hilarious zomedy that will have you dying with laughter.
Team America: World Police
Trey Parker
Import from UK. Region Free.
Three... Extremes
Chan-wook Park, Fruit Chan, Takashi Miike
Three Extremes is a bracing triptych of horror stories uniting three of East Asia's most compelling directors — Japanese cult figure Takashi Miike, Hong Kongs Fruit Chan, and Koreas award-winning Park Chan-Wook. Using distinctive cinematic styles that span dream-like minimalism, savage comedy and baroque horror, these cutting-edge directors penetrate the dark heart of desire, examining the ghastly urges that transform ordinary people into monsters. Stylish, twisted and laced with haunting imagery, Three Extremes breaks the bounds of genre cinema, confirming the visionary talent of three master directors.
Angel-A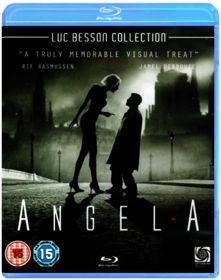 Luc Besson
Batman Begins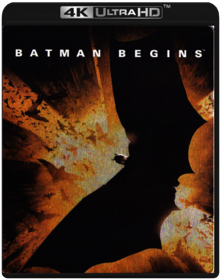 Christopher Nolan, Bob Kane
Brick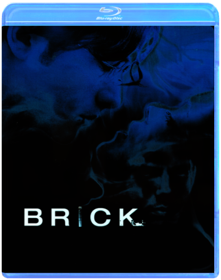 Rian Johnson
Brendan Frye is a loner, someone who knows all the angles but has chosen to stay on the outside. When the girl he loves turns up dead, he is determined to find the "who" and "why" and plunges into the dark and dangerous social strata of rich girl Laura, intimidating Tug, drug-addled Dode, seductive Kara, and the ominous Pin. But who can he really trust? These are the ingredients of Brick, a gritty and provocative thriller that critics describe as "a clever, twist-filled whodunit!" (Claudia Puig, USA Today)
Constantine
Francis Lawrence
Constantine (BD)
Good Night, and Good Luck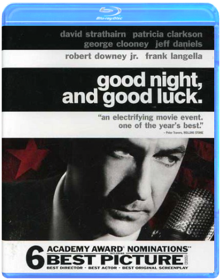 Stephen Mirrione, George Clooney
"Good Night, And, Good Luck." takes place during the early days of broadcast journalism in 1950's America. It chronicles the real-life conflict between television newsman Edward R. Murrow and Senator Joseph McCarthy and the House Un-American Activities Committee. With a desire to report the facts and enlighten the public, Murrow, and his dedicated staff - headed by his producer Fred Friendly and Joe Wershba in the CBS newsroom - defy corporate and sponsorship pressures to examine the lies and scaremongering tactics perpetrated by McCarthy during his communist 'witch-hunts'. A very public feud develops when the Senator responds by accusing the anchor of being a communist. In this climate of fear and reprisal, the CBS crew carries on and their tenacity will prove historic and monumental.

DVD Features:
Audio Commentary:with George Clooney and Grant Heslov
Documentary:Good Night, and Good Luck companion piece
Theatrical Trailer
A History of Violence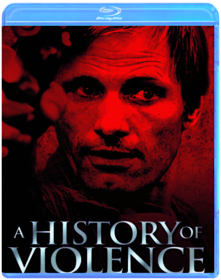 David Cronenberg
History of Violence, A (BD)
Kingdom of Heaven
Ridley Scott
Lady Vengeance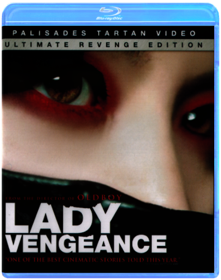 Park Chan-wook
With more than nine hours of special features (eleven if you include the "Fade to White" cut of the film), the 2-disc Blu-ray edition of Lady Vengeance brings fitting supplemental closure to Park's Vengeance Trilogy. 'Lady Vengeance' - After being wrongfully convicted of kidnapping and murdering a young child, a beautiful young woman (Lee Young-ae) is imprisoned for 13 years. While in prison she gains the respect and loyalty of her fellow cellmates, all the while plotting her vendetta on the man responsible (OLDBOY's Choi Min-Sik). Upon her release she sets in motion an elaborate plan of retribution, but what she discovers is a truth so horrifying, even revenge doesn't seem punishment enough.
Last Days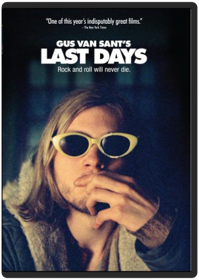 Gus Van Sant
Lord of War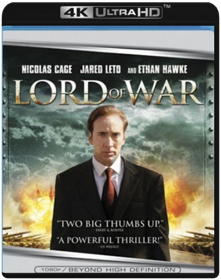 Andrew Niccol
Nicolas Cage, Ethan Hawke. A shrewd Ukranian immigrant living in Brooklyn is really a dangerous international arms dealer who has successfully avoided capture by an unwavering Interpol agent for over 20 years but lately has been unsuccessful at avoiding his own conscience. 2005/color/122 min/R.
Lunacy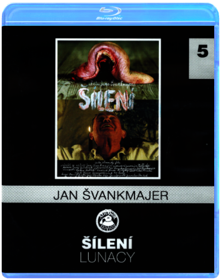 Jan Švankmajer
The latest provocation from surrealist master Jan Svankmajer deliriously combines live action, stop-motion animation, kinky sex, Euro-trash violence and horror, black comedy, and lots of frisky meat puppets. In nineteenth-century rural France, a young man named Jean Berlot becomes caught up in the nigthmarish world of a mysterious, decadent Marqius: orgiastic black masses, "therapeutic" funerals, and an asylum with a smoirgasbord of macabre "treatments" and tarred-and-feathered doctors.
Match Point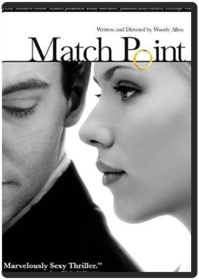 Woody Allen
Match Point is "a winning combination of sex, mystery, brilliant writing and first-rate acting that all adds up to one of the most erotic and exhilarating movies in years." (Maxim). Chris (Jonathan Rhys Meyers) is being torn apart by his desire for two very different women. Marrying Chloe (Emily Mortimer) will bring him a life of wealth and success, but his true passion lies with his brother-in-law's fiancee, the stunningly sensuous but unpredictable Nola (Scarlett Johansson). Pulsing with tension, Match Point rides the dangerous line between ambition and obsession to an ending as surprising as it is chilling.
Me and You and Everyone We Know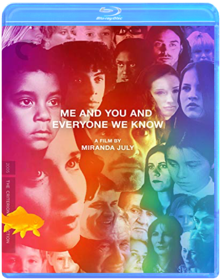 Miranda July
The New World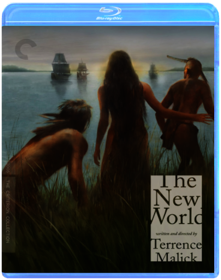 Terrence Malick
The New World (The Criterion Collection) [Blu-ray] [Blu-ray] [2016] ...
Pride & Prejudice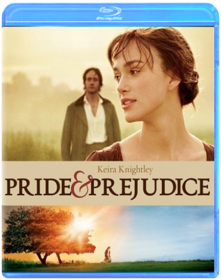 Joe Wright
Academy Award nominee Keira Knightley stars in the greatest love story of all time. When Elizabeth Bennet (Knightley) meets the handsome Mr. Darcy (Matthew Macfadyen), she believes he is the last man on earth she could ever marry. But as their lives become intertwined, she finds herself captivated by the very person she swore to loathe for all eternity. Jane Austen's masterpiece novel comes to the screen in the film critics said "makes you believe in true love and happily-ever-after" (Stephen Holden, The New York Times).
Sin City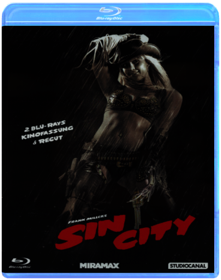 Frank Miller, Robert Rodriguez, Quentin Tarantino
If ever a movie was meant to be experienced in high definition, Frank Miller's Sin City is guilty on all counts! A groundbreaking masterpiece of mayhem, Sin City roars to life with both barrels blazing in this Blu-ray disc set that includes the restored theatrical feature and the unrated, recut extended release. Plus, get in on the action with explosive new bonus feature: "Kill 'em Good Interactive Comic Book" and "Cine-Explore." Robert Rodriguez (Desperado, From Dusk Till Dawn), Frank Miller (The Spirit) and Quentin Tarantino (Kill Bill 1 and Kill Bill 2, Pulp Fiction) direct an amazing cast of big-screen favorites (Bruce Willis, Jessica Alba, Mickey Rourke, Clive Owen, Brittany Murphy, Benicio Del Toro, Rosario Dawson and more!) in this acclaimed and visually stunning hit that's straight from the pages of Miller's hip series of Sin City graphic novels. Strap yourself in as a staggering sensory onslaught hits you right where you live. From the stylized, razor-sharp clarity of the unique, high definition visuals to the throbbing, phenomenally intense sounds of bullets spraying and bones crunching, this awesome, mind-bending excursion into a sexy, twisted funhouse of cops, killers, hookers and hit men will tease, tantalize and thrill you as never before in Blu-ray disc high definition. Starring: Bruce Willis, Jessica Alba, Clive Owen, Brittany Murphy, Josh Hartnett, Mickey Rourke, Rutger Hauer, Elijiah Wood
The Squid and the Whale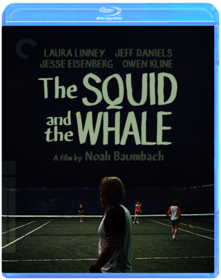 Noah Baumbach
Thumbsucker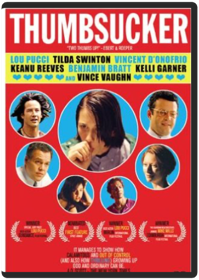 Mike Mills
Operating System: MOVIE
V for Vendetta
James McTeigue
V for Vendetta (BD)
50 Years of Janus Films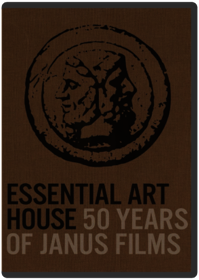 50 Years, 50 Films

One Spectacular DVD Box Set Janus Films opened American viewers' eyes to the pleasures of Ingmar Bergman, Federico Fellini, and François Truffaut at the height of their artistic powers. Celebrate the fiftieth anniversary of this world-renowned distribution company with Essential Art House: 50 Years of Janus Films, an expansive collectors' box set featuring fifty classic films on DVD and a lavishly illustrated hardcover book that tells the story of Janus Films through an essay by film historian Peter Cowie, a tribute from Martin Scorsese, and notes on each of the fifty films.

• Eight Academy Awards

• Twenty-eight Academy Award nominations

• Two Palme d'or awards
300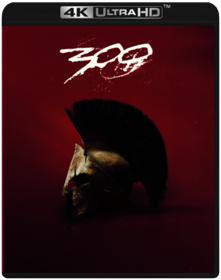 Zack Snyder
The epic graphic novel by Frank Miller (Sin City) assaults the screen with the blood, thunder and awe of its ferocious visual style faithfully recreated in an intense blend of live-action and CGI animation. Retelling the ancient Battle of Thermopylae, it depicts the titanic clash in which King Leonidas (Gerard Butler) and 300 Spartans fought to the death against Xerxes (Rodrigo Santoro) and his massive Persian army. Experience history at swordpoint. And moviemaking with a cutting edge.
Babel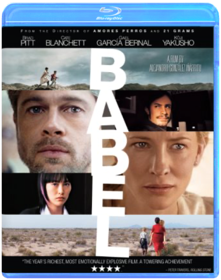 Alejandro González Iñárritu
In Babel, a tragic incident involving an American couple in Morocco sparks a chain of events for four families in different countries throughout the world. In the struggle to overcome isolation, fear, and displacement, each character discovers that it is family that ultimately provides solace.

In the remote sands of the Moroccan desert, a rifle shot rings out— detonating a chain of events that will link an American tourist couple's frantic struggle to survive, two Moroccan boys involved in an accidental crime, a nanny illegally crossing into Mexico with two American children, and a Japanese teen rebel whose father is sought by the police in Tokyo. Separated by clashing cultures and sprawling distances, each of these four disparate groups of people are nevertheless hurtling towards a shared destiny of isolation and grief. In the course of just a few days, they will each face the dizzying sensation of becoming profoundly lost – lost in the desert, lost to the world, lost to themselves – as they are pushed to the farthest edges of confusion and fear as well as to the very depths of connection and love.

In this mesmerizing, emotional film that was shot in three continents and four languages – and traverses both the deeply personal and the explosively political — acclaimed director Alejandro González Iñárritu (21 Grams, Amores Perros) explores with shattering realism the nature of the barriers that seem to separate humankind. In doing so, he evokes the ancient concept of Babel> and questions its modern day implications: the mistaken identities, misunderstandings and missed chances for communication that— though often unseen— drive our contemporary lives. Brad Pitt, Cate Blanchett, Gael García Bernal, Kôji Yakusho, Adriana Barraza and Rinko Kikuchi lead an international ensemble of actors and non-professional actors from Morocco, Tijuana and Tokyo, who enrich Babel's take on cultural diversity and enhance its powerful examination of the links and frontiers between and within us.
The Beales of Grey Gardens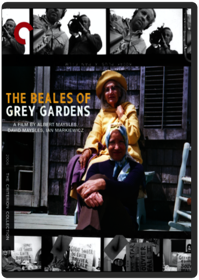 Albert Maysles
Grey Gardens is an American entry into the cinéma verité documentary style film. This one however, is a fascinating look into the lives of the rich and useless. The subjects are related to Jacqueline Kennedy Onassis which makes them even more fascinating. Really. The directors of this film are considered pioneers of the documentary film. This one revolves around Mother, daughter and their decaying mansion. The daughter cannot let go of the past, they snipe at each other, reliving the past, and the heartfelt, raw emotions involved in a daughter giving up her hopes and dreams of an acting career to take care of her ailing and aging mother. Poor thing, she only has money and a mansion to soothe the wounds of her unfulfilled dreams. This documentary is worth seeing because it is exceptionally well done. After all, don't we all want to watch the whining, wealthy, elite on screen so we can take a peek into their everyday lives?
Black Book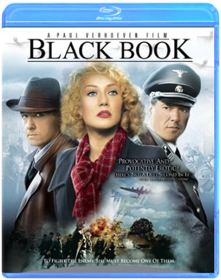 Paul Verhoeven
In the darkest days of World War II, Jewish fugitives attempt to escape occupied Holland — only to face a Nazi ambush. Rachel Stein (Carice van Houten) alone survives the attack and joins the Dutch Resistance to avenge her family. She soon confronts the ultimate test: she must infiltrate German headquarters by tempting Captain Ludwig Mÿntze (Sebastian Hoch). In the heat of passion, he uncovers her duplicity...but keeps her secret. Then Rachel's espionage reveals that a murderous traitor lurks within Resistance ranks. Unable to fully trust anyone, Rachel navigates a minefield of deception and becomes an enemy to both sides. Epic, passionate, breathtaking, Black Book relates an untold story of World War II where the distinctions between good and evil become blurred by the complexities of human nature.
The Black Dahlia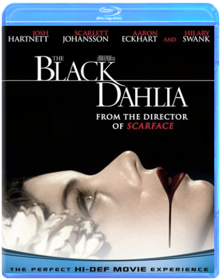 Brian De Palma
From the acclaimed director of Scarface and the author of L.A. Confidential comes the spellbinding thriller The Black Dahlia. Two ambitious cops, Lee Blanchard (Aaron Eckhart) and Bucky Bleichert (Josh Hartnett), investigate the shocking murder of an aspiring young starlet. With a corpse so mutilated that photos are kept from the public, the case becomes an obsession for the men, and their lives begin to unravel. Blanchard's relationship with his girlfriend, Kay (Scarlett Johansson), deteriorates, while Bleichert finds himself drawn to the enigmatic Madeleine (Hilary Swank), a wealthy woman with a dark and twisted connection to the victim.
Borat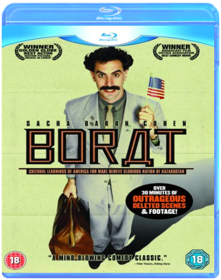 Larry Charles
Import Blu-Ray/Region All pressing. Includes exclusive content only available on this BR pressing; interviews and world premiere coverage. Sacha Baron Cohen brings his Borat character to the big screen with this feature length adaptation of his American exploits. Fans of Da Ali G Show will already be familiar with the devilishly simple Borat formula, in which the heavily moustachioed TV host from Kazakhstan dupes a number of unwitting citizens into revealing their deepest prejudices, and this movie takes that premise, stirs in a little narrative structure, and serves a side-splitting mirth-fest. The action begins with Borat travelling to America alongside his producer Azamat Bagatov (Ken Davitian). After a hotel room viewing of Baywatch, Borat decides he must travel to California to woo Pamela Anderson, so he and the long-suffering Azamat take a cross-country road trip in an ice cream van, encountering some funny, disturbing, and deeply strange individuals along the way.
Brand Upon the Brain!
Guy Maddin
In the weird and wonderful super-cinematic world of Canadian cult filmmaker Guy Maddin, personal memory collides with movie lore for a radical sensory overload. This eerie excursion into the gothic recesses of Maddin s mad, imaginary childhood is a silent, black-and-white comic science-fiction nightmare set in a lighthouse on grim Notch Island, where fictional protagonist Guy Maddin was raised by an ironfisted, puritanical mother. Originally mounted as a theatrical event (accompanied by live orchestra, foley artists, and assorted narrators), Brand upon the Brain! is an irreverent, delirious trip into the mind of one of current cinema s true eccentrics.

DIRECTOR-APPROVED SPECIAL EDITION FEATURES: New, restored high-definition digital transfer, Optional narration tracks by Isabella Rossellini, Laurie Anderson, John Ashbery, Crispin Glover, Guy Maddin, Louis Negrin, and Eli Wallach,
The Making of Brand upon the Brain!, a new documentary featuring interviews with the director and crew members, Two new short films directed by Maddin: It's My Mother's Birthday Today and Footsteps, Deleted scene, Trailer. PLUS: A new essay by film critic Dennis Lim
Children of Men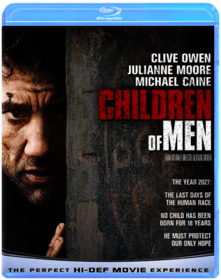 Alfonso Cuarón
Crank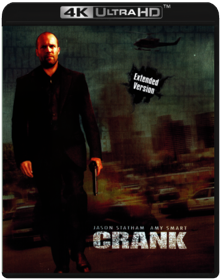 Brian Taylor, Mark Neveldine
A professional hit man (Jason Statham) is poisoned and has only hours to live. He has some big tasks to accomplish before the grim reaper arrives.
The Departed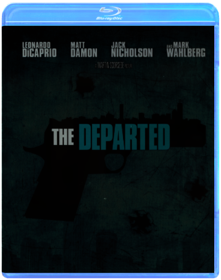 Martin Scorsese
Departed, The (BD)
The Fountain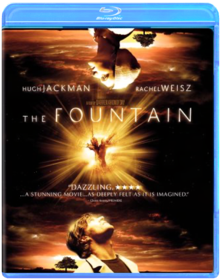 Darren Aronofsky
Fountain, The (BD)
Idiocracy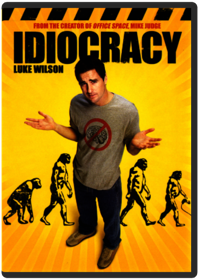 Mike Judge
From Mike Judge, one of the creative minds behind Beavis and Butt-Head, King of the Hill and Office Space, comes an outrageous sci-fi comedy that'll make you think twice about the future of mankind.

Meet Joe Bowers (Luke Wilson). He's not the sharpest tool in the shed. But when a government hibernation experiment goes awry, Bowers awakens in the year 2505 to find a society so dumbed-down by mass commercialism and mindless TV programming that he's become the smartest guy on the planet. Now it's up to an average Joe to get human evolution back on track!

Filled with razor-sharp sarcasm and outrageous sight gags, Idiocracy will make you laugh out loud whether you're an absolute genius or a complete idiot!
Inland Empire
David Lynch
Lives of Others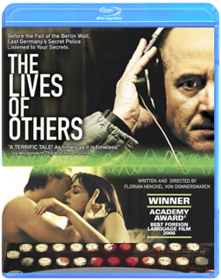 Florian Henckel Von Donnersmarck
This critically-acclaimed, Oscar(r)-winning film (Best Foreign Language Film, 2006) is the erotic, emotionally-charged experience Lisa Schwarzbaum (Entertainment Weekly) calls "a nail-biter of a thriller!" Before the collapse of the Berlin Wall, East Germany's population was closely monitored by the State Secret Police (Stasi). Only a few citizens above suspicion, like renowned pro-Socialist playwright Georg Dreyman, were permitted to lead private lives. But when a corrupt government official falls for Georg's stunning actress-girlfriend, Christa, an ambitious Stasi policeman is ordered to bug the writer's apartment to gain incriminating evidence against the rival. Now, what the officer discovers is about to dramatically change their lives - as well as his - in this seductive political thriller Peter Travers (Rolling Stone) proclaims is "the best kind of movie: one you can't get out of your head."
Macbeth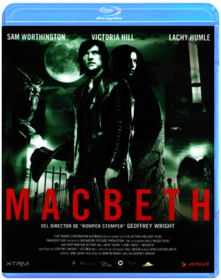 Geoffrey Wright
Marie Antoinette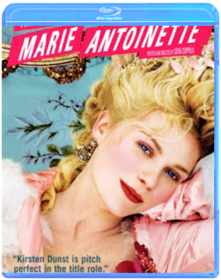 Sofia Coppola
Amazin magical by coppola! Your eyes will be dazzled...
Pan's Labyrinth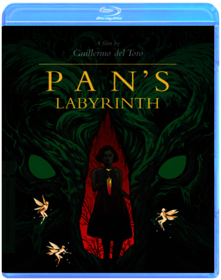 Guillermo del Toro
Amidst a civil war, armed with only her imagination, young Ofelia discovers a mysterious labyrinth and meets a faun who sets her on a path to saving herself and her ailing mother.
The Pervert's Guide to Cinema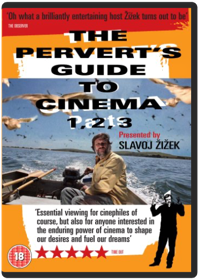 Sophie Fiennes
United Kingdom released, NTSC/Region 0 DVD: LANGUAGES: English ( Dolby Digital 2.0 ), English ( Subtitles ), French ( Subtitles ), German ( Subtitles ), Japanese ( Subtitles ), WIDESCREEN (1.78:1), SPECIAL FEATURES: Interactive Menu, Scene Access, SYNOPSIS: THE PERVERT'S GUIDE TO CINEMA takes the viewer on an exhilarating ride through some of the greatest movies ever made. Serving as presenter and guide is the charismatic Slavoj Zizek, acclaimed philosopher and psychoanalyst. With his engaging and passionate approach to thinking, Zizek delves into the hidden language of cinema, uncovering what movies can tell us about ourselves. Whether he is untangling the famously baffling films of David Lynch, or overturning everything you thought you knew about Hitchcock, Zizek illuminates the screen with his passion, intellect, and unfailing sense of humour. THE PERVERT'S GUIDE TO CINEMA cuts its cloth from the very world of the movies it discusses; by shooting at original locations and from replica sets it creates the uncanny illusion that Zizek is speaking from 'within' the films themselves. Together the three parts construct a compelling dialectic of ideas. Described by The Times in London as 'the woman helming this Freudian inquest,' director Sophie Fiennes' collaboration with Slavoj Zizek illustrates the immediacy with which film and television can communicate complex ideas. Says Zizek: 'My big obsession is to make things clear. I can really explain a line of thought if I can somehow illustrate it in a scene from a film. THE PERVERT'S GUIDE TO CINEMA is really about what psychoanalysis can tell us about cinema.' SCREENED/AWARDED AT: British Independent Film Awards, ...The Pervert's Guide to Cinema ( The Pervert's Guide to Cinema Parts 1, 2, 3 ) ( The Pervert's Guide to Cinema Parts One, Two, Three )
The Prestige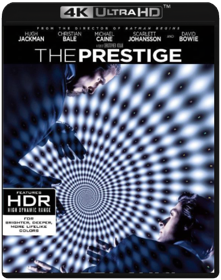 Christopher Nolan
Hugh Jackman, Christian Bale, Michael Caine and Scarlett Johansson are pure magic in THE PRESTIGE on Blu-ray Disc. Dubbed "wildly entertaining" by Rolling Stone, this riveting tale is more astounding than ever in this dazzling new format. Two young, passionate magicians are friends and partners until one fateful night when their biggest trick goes terribly wrong. Now the bitterest of enemies, they will stop at nothing — including deceit and sabotage — to learn each other's secrets. Experience their obsessive rivalry in eye-popping 1080p and resounding 5.1 48 kHz, 24-bit uncompressed audio. But remember, nothing is what it seems, so be prepared to watch over and over again as Blu-ray High Definition teases and tantalizes your senses!
A Scanner Darkly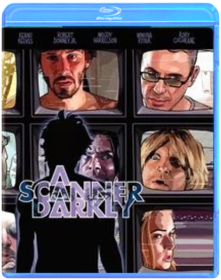 Richard Linklater
Set in a not-too-distant future where America has lost its "war" on drugs, Fred, an undercover cop, is one of many people hooked on the popular drug, Substance D, which causes its users to develop split personalities. Fred is obsessed with taking down Bob, a notorious drug dealer, but due to his Substance D addiction, he does not know that he is also Bob. Based on a classic novel by Philip K. Dick. Starring Keanu Reeves ("Constantine," "The Matrix" trilogy), Academy Award-nominee and Golden Globe-winner Winona Ryder ("Girl, Interupted," "Mr. Deeds"), Academy Award and Emmy-nominee and Golden Globe-winner Robert Downey Jr. ("Good Night, And Good Luck" "Kiss Kiss, Bang Bang"), and Academy Award and Golden Globe-nominee and Emmy-winner Woody Harrelson ("North Country," "The People vs. Larry Flynt"). Directed by Academy Award-nominee Richard Linklater ("Before Sunset," "Dazed and Confused"). Filmed in live-action, and then animated using the same critically acclaimed process that Linklater used in his previous film, "Waking Life."
Taxidermia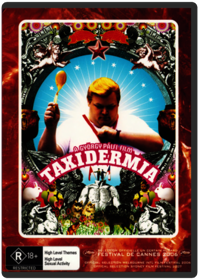 György Pálfi
Australia released, PAL/Region 0 DVD: it WILL NOT play on standard US DVD player. You need multi-region PAL/NTSC DVD player to view it in USA/Canada: LANGUAGES: Hungarian ( Dolby Digital 2.0 ), English ( Subtitles ), WIDESCREEN (1.78:1), SPECIAL FEATURES: Cast/Crew Interview(s), Interactive Menu, Scene Access, SYNOPSIS: Three generations of men from one Eastern-European family are the heroes of this surreal and confronting film. Grandfather, father, son. One is an orderly, one is a leading sportsman, and one is a master taxidermist. One desires love, the other success, and the third immortality. Not for the faint of heart or weak of stomach.

A critical highlight of last year's Melbourne International Film Festival, Taxidermia is a work of artistic and cinematic brilliance. It was an official selection at the Cannes Film Festival 2006 and will screen at this year's Sydney Film Festival. SCREENED/AWARDED AT: Fantasporto Awards, ...Taxidermia ( Taxidermia - Der Ausstopfer ) ( Taxidermie )
This Film Is Not Yet Rated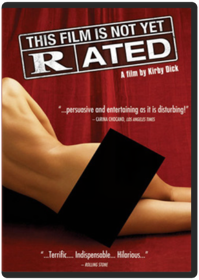 Kirby Dick
Before the Devil Knows You're Dead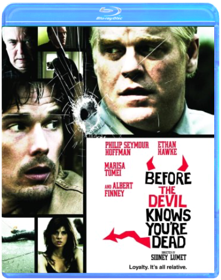 Sidney Lumet
Master filmmaker Sidney Lumet directs this absorbing suspense thriller about a family facing the worst enemy of all itself. Oscar®-winner Philip Seymour Hoffman plays Andy, an overextended broker who lures his younger brother, Hank (Ethan Hawke) into a larcenous scheme: the pair will rob a suburban mom-and-pop jewelry store that appears to be the quintessential easy target. The problem is, the store owners are Andy and Hank s actual mom and pop and, when the seemingly perfect crime goes awry, the damage lands right at their doorstep. Oscar-winner Marisa Tomei plays Andy s trophy wife, who is having a clandestine affair with Hank. The stellar cast also includes Albert Finney as the family patriarch who pursues justice at all costs, completely unaware that the culprits he is hunting are his own sons. A classy, classic heist-gone-wrong drama in the tradition of The Killing and Lumet s own The Anderson Tapes, BEFORE THE DEVIL KNOW YOU RE DEAD is smart enough to know that we often have the most to fear from those who are near and dear.
The Bourne Ultimatum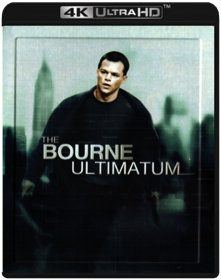 Christopher Rouse, Paul Greengrass
Highly trained assassin Jason Bourne (Matt Damon) is on the hunt for the agents who stole his memory and true identity in The Bourne Ultimatum, the third installment of the epic-espionage Bourne series. With a new generation of skilled CIA operatives tracking his every move, Bourne is in a non-stop race around the globe as he finally learns the truth behind his mysterious past. Loaded with incredible fight and chase sequences, it's the exhilarating movie with "mind-blowing action" (Roger Ebert, Chicago Sun-Times ) that you can't afford to miss!
The Darjeeling Limited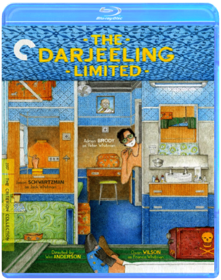 Wes Anderson
In THE DARJEELING LIMITED, from director Wes Anderson (Rushmore, Fantastic Mr. Fox), three estranged American brothers reunite for a meticulously planned, soul-searching train voyage across India, one year after the death of their father. For reasons involving over-the-counter painkillers, Indian cough syrup, and pepper spray, the brothers eventually find themselves stranded alone in the middle of the desert—where a new, unplanned chapter of their journey begins. Featuring a sensational cast, including Owen Wilson (Armageddon, Wedding Crashers), Adrien Brody (The Thin Red Line, The Pianist), Jason Schwartzman (Rushmore, HBO's Bored to Death), and Anjelica Huston (Prizzi's Honor, The Grifters), THE DARJEELING LIMITED is a visually dazzling and hilarious film that takes Anderson's work to richer, deeper places than ever before.
Death Proof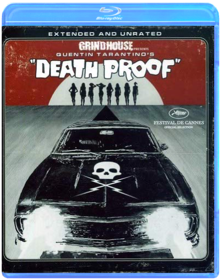 Quentin Tarantino
Director Quentin Tarantino delivers an adrenaline shot to the heart with Death Proof, "a tribute to balls-out pedal-to-the-metal car chases" (Pete Hammond, Maxim). Featuring exhilarating high-speed action, jaw-dropping stunts, and some of the most quotable lines since Pulp Fiction, Death Proof "goes faster, and funnier, than you thought possible...and then it goes further" (Ty Burr, Boston Globe). Kurt Russell stars as a sociopathic stuntman whose taste for stalking sexy young ladies gets him into big trouble when he tangles with the wrong gang of badass babes. Their confrontation escalates to a hair-raising, 18-minute automotive duel with one of the girls strapped to the hood of a thundering Dodge Challenger that "earns a place of honor among the great movie car chases" (Scott Foundas, LA Weekly).
Eastern Promises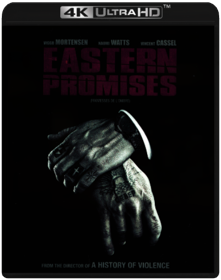 David Cronenberg
Viggo Mortensen and Academy Award® nominee Naomi Watts star in this electrifying thriller from critically acclaimed director David Cronenberg (A History of Violence). Criminal mastermind Nikolai (Mortensen) finds his ties to a notorious crime family shaken when he crosses paths with Anna (Watts), a midwife who has accidentally uncovered evidence against them. Their unusual relationship sets off an unstoppable chain of murder, mystery and deception in the explosive film critics are calling "provocative and engrossing" (Claudia Puig, USA Today).
Grindhouse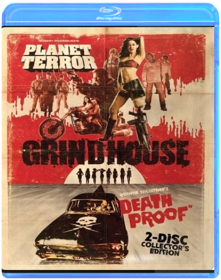 Robert Rodriguez, Quentin Tarantino, Rob Zombie, Edgar Wright, Eli Roth, Jason Eisener
Hot Fuzz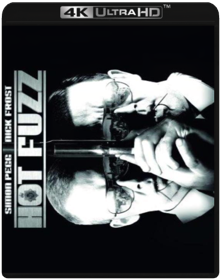 Edgar Wright
From the creators of Shaun of The Dead comes the Hot Fuzz Ultimate Edition! Nicholas Angel (Simon Pegg) is the unstoppable cop who, with the help of a bumbling partner (Nick Frost), turns up the heat in a small, quiet town and delivers some big-city justice. See all of the action and comedy in this Ultimate Edition that features non-stop entertainment, heart-pounding thrills and outrageous laughs!
Mister Lonely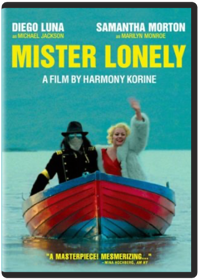 Harmony Korine
Only Harmony Korine could weave Michael Jackson, Marilyn Monroe, her daughter Shirley Temple, and flying nuns into a hypnotically funny and truly poignant tale of the instability behind fanaticism and the redemption we can hope to find in one another. The film follows a lonely Michael Jackson impersonator who is invited by a beautiful Marilyn Monroe to a commune in the Scottish Highlands full of other impersonators, including the Queen of England, Madonna, Sammy Davis Jr., and James Dean. In a parallel storyline, the incomparable Werner Herzog plays a Latin American priest who learns his missionary of nuns can literally fly. (IFC Films)
My Winnipeg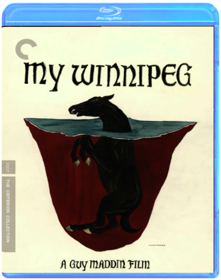 Guy Maddin
The geographical dead center of North America and the beloved birthplace of Guy Maddin (Brand Upon the Brain), Winnipeg is the frosty and mysterious star of Maddin's "docu-fantasia." A work of memory and imagination, Maddin's film burrows into what the filmmaker calls "the heart of the heart" of the continent, conjuring a city as delightful as it is fearsome, populated by sleepwalkers and hockey aficionados. Take part in Winnipeg's annual epic scavenger hunt! Pay your respects to the racehorses forever frozen in the river! Help judge the yearly homoerotic Golden Boy pageant! What is real and what is fantasy is left up to the viewer to sort out in Maddin's hypnotic, expertly conceived paean to that wonderful and terrifying place known as My Hometown.
Nightwatching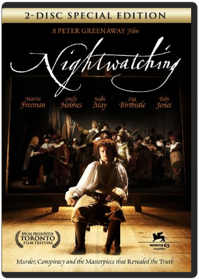 Peter Greenaway
Peter Greenaway's extravagant and exotic look at the mystery behind Rembrandt's most famous work of art… While painting a group portrait of the Amsterdam Musketeer Militia, the renowned Dutch artist Rembrandt (Martin Freeman) discovers a murder plot involving its subjects. Determined to expose the conspiracy, Rembrandt builds his accusation into the commissioned painting, "The Night Watch" – a decision which costs him everything.
No Country for Old Men
Joel Coen, Ethan Coen
UPC:786936750034
DESCRIPTION: Violence and mayhem erupt after a man stumbles upon a bloody crime scene, a stash of heroine and $2 million in cash in Miramax Films No Country For Old Men. Acclaimed filmmakers The Coen Brothers deliver their most viscerally compelling and ambitious film yet in this gripping crime saga in which money is as irresistible as bad choices are inevitable, and where every decision has potentially catastrophic consequences. Adapted from the novel by Pulitzer prize-winning author, Cormac McCarthy and starring an acclaimed cast led by Academy Award® winner Tommy Lee Jones, this mesmerizing game of cat and mouse will have you on the edge of your seat until the nail biting end.
Paranoid Park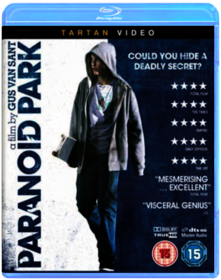 Gus Van Sant
Planet Terror
Robert Rodriguez
Director Robert Rodriguez (Sin City) is back with a rip-roaring, zombie-infested rollercoaster of a movie that sure as hell keeps you hanging on for the ride (Peter Travers, Rolling Stone). Rose McGowan, Freddy Rodriguez, Bruce Willis, and an all-star cast fight for their lives in the ultimate showdown between an army of flesh-eating mutants and a motley group of rag-tag survivors. Featuring one of the most memorable screen heroines ever and the now-legendary mock Machete trailer, Planet Terror is as total blast funny, gory and over the top (Christy Lemire, Associated Press).
Sunshine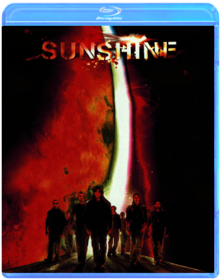 Danny Boyle
In 2057, the sun is dying, and a crew must reheat the star to save mankind in this limited-release film directed by Danny Boyle. Bonuses: commentary, deleted scenes, production diaries, short films.
Superbad, Steelbook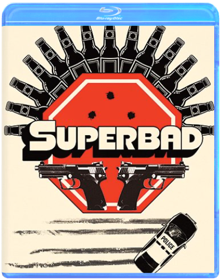 Greg Mottola
Superbad, Steelbook [Blu-ray]
There Will Be Blood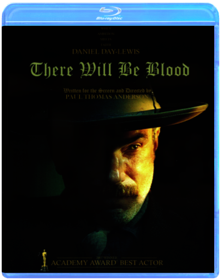 Paul Thomas Anderson
A sprawling epic of family, faith, power and oil, There Will Be Blood is set on the incendiary frontier of California's turn-of-the-century petroleum boom. The story chronicles the life and times of one Daniel Plainview (Daniel Day-Lewis), who transforms himself from a down-and-out silver miner raising a son on his own into a self-made oil tycoon. When Plainview gets a mysterious tip-off that there's a little town out West where an ocean of oil is oozing out of the ground, he heads with his son, H.W. (Dillon Freasier), to take their chances in dust-worn Little Boston. In this hardscrabble town, where the main excitement centers around the holy roller church of charismatic preacher Eli Sunday (Paul Dano), Plainview and H.W. make their lucky strike. But even as the well raises all of their fortunes, nothing will remain the same as conflicts escalate and every human value – love, hope, community, belief, ambition and even the bond between father and son – is imperiled by corruption, deception and the flow of oil.
Zodiac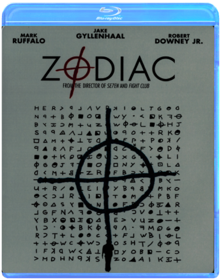 David Fincher
Based on the true story of the notorious serial killer and the intense manhunt he inspired, Zodiac is a superbly crafted thriller form the director of Se7en and Panic Room. Featuring an outstanding ensemble cast led by Jake Gyllenhaal, Robert Downey Jr., Mark Ruffalo and Chloë Sevigny, Zodiac is a searing and singularly haunting examination of twin obsessions: one man's desire to kill and another's quest for the truth.
Bronson
Nicolas Winding Refn
BASED ON THE TRUE STORY OF ONE OF THE WORLD S MOST VIOLENT PRISONERS
In 1974, a misguided 19-year-old named Michael Peterson decided he wanted to make a name for himself, and so with a homemade sawn-off shotgun and a head full of dreams, he attempted to rob a post office. Swiftly apprehended and originally sentenced to seven years in jail, Peterson has subsequently been behind bars for 34 years, 30 of which have been spent in solitary confinement. Provocative and stylized, BRONSON follows the metamorphosis of Mickey Peterson, who gave himself the nickname Charles Bronson, from a petty thief into Britain's most dangerous prisoner.
Burn After Reading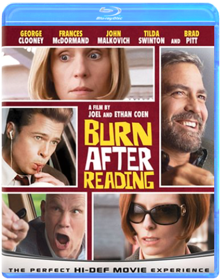 Joel Coen, Ethan Coen
An all-star cast, including George Clooney, Brad Pitt, Frances McDormand, Tilda Swinton and John Malkovich, come together in this outrageous spy comedy about murder, blackmail, sex addiction and physical fitness! When a disc filled with some of the CIA's most irrelevant secrets gets in the hands of two determined, but dim-witted, gym employees, the duo are intent on exploiting their find. But since blackmail is a trade better left for the experts, events soon spiral out of everyone's and anyone's control, resulting in a non-stop series of hilarious encounters! From Joel and Ethan Coen, the Academy Award-winning directors of No Country For Old Men and The Big Lebowski, comes this brilliantly clever and endlessly entertaining movie that critics are calling, "smart, funny, and original" (Ben Lyons, E!).
Cloverfield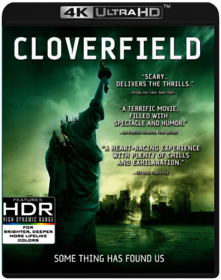 Matt Reeves
The Curious Case of Benjamin Button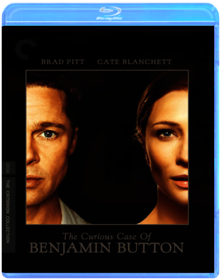 David Fincher
"I was born under unusual circumstances." And so begins The Curious Case of Benjamin Button, adapted from the 1920s story by F. Scott Fitzgerald about a man who is born in his eighties and ages backwards: a man, like any of us, who is unable to stop time. We follow his story, set in New Orleans, from the end of World War I in 1918 into the 21st century, following his journey that is as unusual as any man's life can be. Directed by David Fincher and starring Brad Pitt and Cate Blanchett with Taraji P. Henson, Tilda Swinton, Jason Flemyng, Elias Koteas and Julia Ormond, "Benjamin Button," is a grand tale of a not-so-ordinary man and the people and places he discovers along the way, the loves he finds, the joys of life and the sadness of death, and what lasts beyond time.
The Dark Knight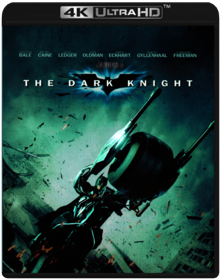 Christopher Nolan
Dean Spanley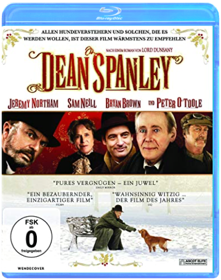 Toa Fraser
Death Race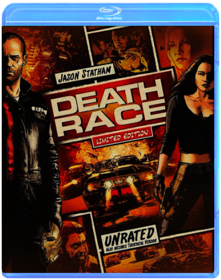 Paul W. S. Anderson
The Fall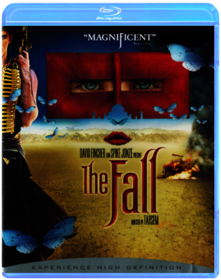 Tarsem Singh
From the director of The Cell comes a visually stunning epic fantasy about a bedridden man who entertains a curious little girl by telling her a fantastical story of exotic heroes and far off places which reflects his state of mind. The central story takes place in a remote 1920's hospital where a small girl named Alexandria (Catinca Untaru) is recovering from a severe looking shoulder injury incurred in a fall while trying to pick oranges. One day she happens to meet Roy (Lee Pace) - a stunt or "gag" man for the "flickers" or moving pictures- who seems to have injured himself out of a future in a particularly reckless stunt, even for those times. He is a clearly unhappy man who- through his own carelessness- unwittingly leads Alexandria to believe that he intends to entertain her with a lavish, epic story of exotic heroes and far off places. As the stuntman's health reaches to the point of peril - so does the story he is telling her...with potentially fatal consequences.
Gomorrah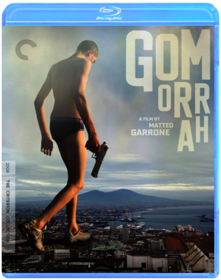 Matteo Garrone
Matteo Garrone's Gomorrah is a stark, shocking vision of contemporary gangsterdom, and one of cinema's most authentic depictions of organized crime. In this tour de force adaptation of undercover Italian reporter Roberto Saviano's best-selling exposé of Naples' Mafia underworld (known as the Camorra), Garrone links five disparate tales in which men and children are caught up in a corrupt system that extends from the housing projects to the world of haute couture. Filmed with an exquisite detachment interrupted by bursts of violence, Gomorrah is a shattering, socially engaged true-crime story from a major new voice in Italian cinema.

Stills from Gomorrah (Click for larger image)
The Good, the Bad, the Weird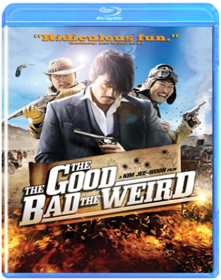 Ji-Woon Kim
From South Korea comes this wild take on Sergio Leone s classic spaghetti Western The Good, the Bad and the Ugly. It s 1930s Manchuria and greed is in the air. A manic outlaw, a nasty holy man and a determined bounty hunter are all in hot pursuit of a treasure map. Throw in Chinese gangsters, the Japanese army and other rival factions also in pursuit of the invaluable map, and it all comes down to a you ve-got-to-see-it-to-believe-it showdown in the desert. One of the most expensive films ever made in South Korea, THE GOOD, THE BAD, THE WEIRD was the talk of festivals worldwide and won such prizes as the Asia Pacific Screen Award for its cinematography and the Asian Film Award for Best Supporting Actor (Jung Woo-sung).
Hellboy 2 - The Golden Army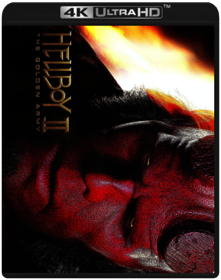 Guillermo del Toro
Hunger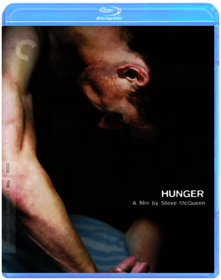 Steve McQueen
With HUNGER, British filmmaker and artist Steve McQueen has turned one of history's most controversial acts of political defiance into a jarring, unforgettable cinematic experience. In Northern Ireland's Maze prison in 1981, twenty-seven-year-old Irish Republican Army member Bobby Sands went on a hunger strike to protest the British government's refusal to recognize him and his fellow IRA inmates as political prisoners, rather than as ordinary criminals. McQueen dramatizes prison existence and Sands' final days in a way that is purely experiential, even abstract, a succession of images full of both beauty and horror. Featuring an intense performance by Michael Fassbender, HUNGER is an unflinching, transcendent depiction of what a human being is willing to endure to be heard.
In Bruges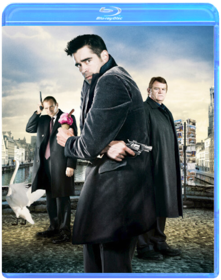 Martin McDonagh
Colin Farrell and Academy Award® nominee Ralph Fiennes star in this edgy, action-packed comedy filled with thrilling chases, spectacular shoot-outs and an explosive ending you won't want to miss! Hit men Ray (Farrell) and Ken (Brendan Gleeson, Harry Potter) have been ordered to cool their heels in the storybook city of Bruges (it's in Belgium) after finishing a big job. But since hit men make the worst tourists, they soon find themselves in a life-and-death struggle of comic proportions against one very angry crime boss (Fiennes)! Get ready for the outrageous and unpredictable fun you will have In Bruges, the movie critics are calling "wildly entertaining" (Stephen Rebello, Playboy).
Let the Right One In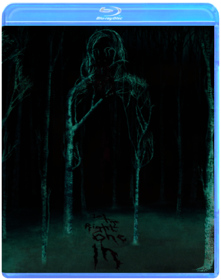 Tomas Alfredson
Oscar, a 12-year-old fragile and bullied boy, finds love and revenge through Eli, a beautiful but peculiar girl he befriends, who moves into his building.   When Oscar discovers that Eli is a vampire it does not deter his increasing feelings and confused emotions of a young adolescent.  When Eli loses the man who protects and provides for her, and as suspicions are mounting from her neighbors and police she must move on to stay alive.  However when Oscar faces his darkest hour, Eli returns to defend him the only way she can.
Slumdog Millionaire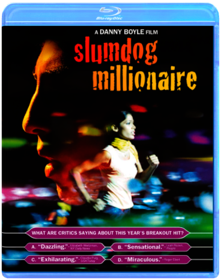 Danny Boyle
Jamal Malik (Dev Patel) is just one question away from winning a fortune on India's version of "Who Wants To Be A Millionaire?" But how has this uneducated young man from the slums succeeded in providing correct responses to questions that have stumped countless scholars before him? And will he ultimately win it all or lose everything, including his true love?
Step Brothers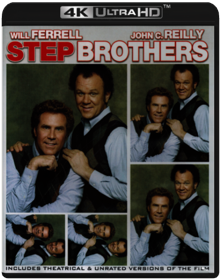 Adam McKay
Brennan Huff, a sporadically employed thirty-nine-year-old who lives with his mother, Nancy. Dale Doback, a terminally unemployed forty-year-old who lives with his father, Robert. When Robert and Nancy marry and move in together, Brennan and Dale are forced to live with each other as step brothers. As their narcissism and downright aggressive laziness threaten to tear the family apart, these two middle-aged, immature, overgrown boys will orchestrate an insane, elaborate plan to bring their parents back together. To pull it off, they must form an unlikely bond that maybe, just maybe, will finally get them out of the house.
Tokyo Sonata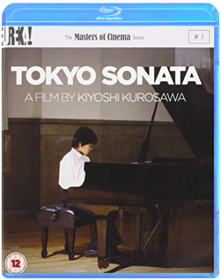 Kiyoshi Kurosawa
United Kingdom released, Blu-Ray/Region A/B/C : it WILL NOT play on regular DVD player. You need Blu-Ray DVD player to view this Blu-Ray DVD: LANGUAGES: Japanese ( Dolby Digital 2.0 ), Japanese ( Dolby TrueHD ), Japanese ( DTS-HD Master Audio ), English ( Subtitles ), WIDESCREEN (1.85:1), SPECIAL FEATURES: Blu-Ray & DVD Combo, Booklet, Cast/Crew Interview(s), Documentary, Interactive Menu, Making Of, Scene Access, Trailer(s), SYNOPSIS: Kiyoshi Kurosawa - the hugely acclaimed Japanese director famous for his groundbreaking, existential horror films such as Cure and Kairo (Pulse) - set Cannes alight in 2008 with this highly topical film: an eerie, poignant reflection on the mass uncertainty sweeping the world. When Ryuhei Sasaki (played by Teruyuki Kagawa) is unceremoniously dumped from his 'safe' company job, his family's happy, humdrum life is put at risk. Unwilling to accept the shame of unemployment, the loyal salaryman decides not to tell anyone, instead leaving home each morning in suit and tie with briefcase, spending his days searching for work and lining up for soup with the homeless. Outstanding performances; serene, elegant direction; and Kurosawa's trademark chills are evident as he ratchets up the unsettling atmosphere and the grim hopelessness of Sasaki's unemployment. SCREENED/AWARDED AT: Cannes Film Festival, ...Tokyo Sonata ( Tôkyô sonata ) (Blu-Ray & DVD Combo)
Waltz with Bashir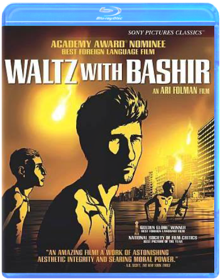 Ari Folman
The Wrestler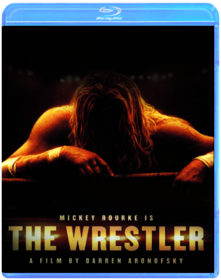 Darren Aronofsky
Mickey Rourke gives the performance of a lifetime as pro wrestler Randy "The Ram" Robinson, a former superstar now paying the price for twenty years of grueling punishment in and out of the ring. But he's about to risk everything to prove he has one more match left in him: a re-staging of his famous Madison Square Garden bout against "The Ayatollah." Darren Aronofsky directs a powerful cast in this action-packed saga of guts, glory and gritty determination that is "as irresistible as a headlock" (New York Post ).
Antichrist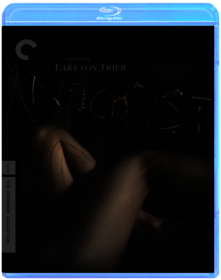 Lars von Trier
Crank 2: High Voltage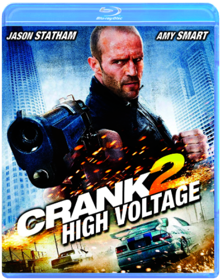 Brian Taylor, Mark Neveldine
You can't keep a good man down. Jason Statham is back as Chev Chelios – this time to retrieve his stolen heart (that's right, he's running on battery power). High-octane and truly electrifying!
Dogtooth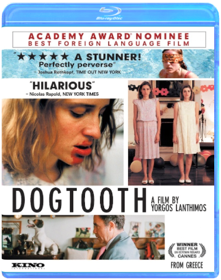 Yorgos Lanthimos
Nominated for an Academy Award for Best Foreign Film, Dogtooth is a darkly surreal look at three teenagers confined to an isolated country estate and kept under strict rule and regimen by their parents - an alternately hilarious and nightmarish experiment of manipulation and oppression. Winner of the Un Certain Regard prize at the 2009 Cannes Film Festival.
Enter the Void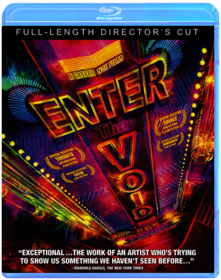 Gaspar Noé
Controversial and brilliant director Gasper Noe follows his worldwide sensation Irreversible with another triumph. Enter The Void is Noe s most assured and haunting film yet, a head trip a la Stanley Kubrick s 2001: A Space Odyssey and at the same time a piercing modern drama. Newcomer Nathaniel Brown and Paz de la Huerta (HBO s Boardwalk Empire) star as a brother and sister trapped in the hellish nighttime world of Tokyo where he deals drugs and she works as a stripper.
 
A crime gone bad leads to shocking violence and then moments of transcendence in which the movie plunges viewers into death and rebirth like no film has ever done before via mesmerizing camerawork (The New York Times) that make it a dazzling and brutal exercise in cinematic envelope-pushing (New York Post). Stunning audiences around the world, Enter The Void is a cinematic experience like no other.
Fantastic Mr. Fox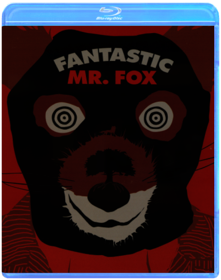 Wes Anderson
Limited Edition Steelbook
The Girl with the Dragon Tattoo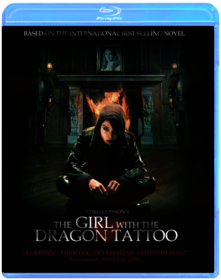 Niels Arden Oplev
The Girl with the Dragon Tattoo, The Girl Who Played with Fire & The Girl Who Kicked the Hornets Nest.
The Human Centipede
Tom Six
100% Medically accurate.
The compelling simplicity of Saw. The stylish dread of Eraserhead. The black humor of A Nightmare On Elm Street. Those are the benchmarks of horror that the outrageous Dutch film The Human Centipede matches. The plot is diabolically simple: two stranded American tourists are given shelter by a famed German doctor (a maniacally intense Dieter Laser) who made his fortune surgically separating conjoined twins. Now his mad genius is pushing the doctor to do the reverse. He tells the women that they will be surgically attached to a Japanese businessman mouth to buttocks, one after the other and thus will be born a new creature: the human centipede! Compellingly perverse, hilarious, and shockingly straightforward, Dutch director Tom Six s new film is hands-down the most memorable horror film of the year.
I Love You Phillip Morris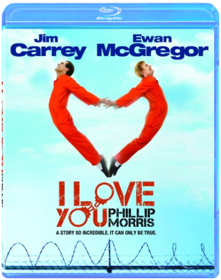 Glenn Ficarra, John Requa
Jim Carrey stars in the "outrageously funny" (Rolling Stone) true story of a spectacularly charismatic con man's journey from small-town businessman to flamboyant white-collar criminal, who repeatedly finds himself in trouble with the law and on the lam – all in the name of love. Costarring Ewan McGregor, I Love You Phillip Morris is an unbelievably true comedy that's being called "the best performance of Carrey's career" (Village Voice).
Inglourious Basterds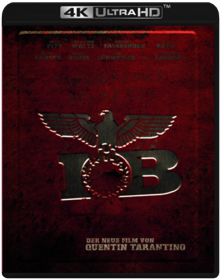 Quentin Tarantino
Brad Pitt takes no prisoners in Quentin Tarantino's high-octane WWII revenge fantasy Inglourious Basterds. As war rages in Europe, a Nazi-scalping squad of American soldiers, known to their enemy as "The Basterds," is on a daring mission to take down the leaders of the Third Reich. Bursting with "action, hair-trigger suspense and a machine-gun spray of killer dialogue" (Peter Travers, Rolling Stone), Inglourious Basterds is "another Tarantino masterpiece" (Jake Hamilton, CBS-TV)!
Moon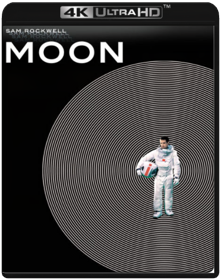 Duncan Jones
Sam Bell (Sam Rockwell) is nearing the completion of his 3-year-long contract with Lunar Industries, mining Earth's primary source of energy on the dark side of the moon. Alone with only the base's vigilant computer Gerty (voiced by Oscar-Winner Kevin Spacey, 1999 Best Actor, American Beauty) as his sole companion, Bell's extended isolation has taken its toll. His only link to the outside world comes from satellite messages from his wife and young daughter. He longs to return home, but a terrible accident on the lunar surface leads to a disturbing discovery that contributes to his growing sense of paranoia and dislocation so many miles away from home. Moon is an engrossing, intelligent sci-fi thriller that ranks with genre classics like 2001: A Space Odyssey.
Pandorum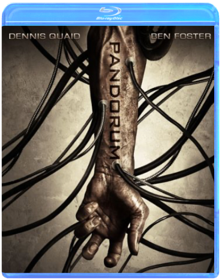 Christian Alvart
In Pandorum, Dennis Quaid (Vantage Point, The Express) and Ben Foster (3:10 to Yuma, Alpha Dog) join Cam Gigandet (Never Back Down, Twilight), Cung Le (Tekken, Fighting), newcomer Antje Traue, and director Christian Alvart (Antibodies) to tell the terrifying story of two crew members stranded on a spacecraft who quickly – and horrifically – realize they are not alone. Two astronauts awaken in a hyper-sleep chamber aboard a seemingly abandoned spacecraft. It's pitch black, they are disoriented, and the only sound is a low rumble and creak from the belly of the ship. They can't remember anything: Who are they? What is their mission? With Lt. Payton (Quaid) staying behind to guide him via radio transmitter, Cpl. Bower (Foster) ventures deep into the ship and begins to uncover a terrifying reality. Slowly the spacecraft's shocking, deadly secrets are revealed…and the astronauts find their own survival is more important than they could ever have imagined.
A Serious Man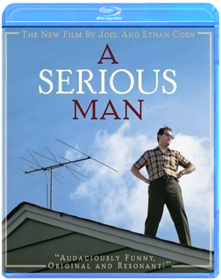 Coen Brothers
Academy Award®-winning directors Joel and Ethan Coen return to their comedy roots with this original and darkly humorous story about one ordinary man's quest to become a serious man. Physics professor Larry Gopnik (Michael Stuhlbarg) can't believe his life: His wife is leaving him for his best friend, his unemployed brother won't move off the couch, someone is threatening his career, his kids are a mystery and his neighbor is tormenting him by sunbathing nude. Struggling to make sense of it all, Larry consults three different rabbis and their answers lead him on a twisted journey of faith, family, delinquent behavior and mortality in the film critics rave is "seriously awesome!" (Michael Hogan, Vanity Fair)
Star Trek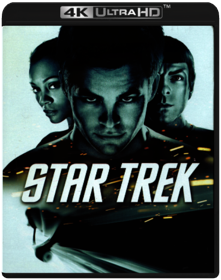 J.J. Abrams
Aboard the USS Enterprise, the most-sophisticated starship ever built, a novice crew embarks on its maiden voyage. Their path takes them on a collision course with Nero (Eric Bana), a Romulan commander whose mission of vengeance threatens all mankind.
Tetsuo - The Bullet Man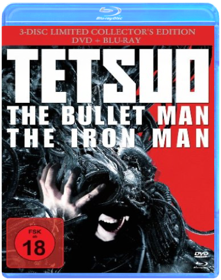 Shin'ya Tsukamoto
Thirst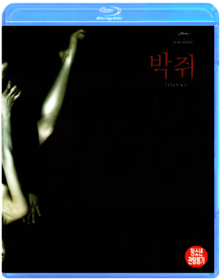 Park Chan-wook
Valhalla Rising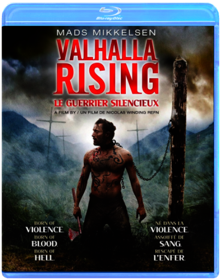 Nicolas Winding Refn
1000 AD, for years, One Eye, a mute warrior of supernatural strength, has been held prisoner by the Norse chieftain Barde. Aided by Are, a boy slave, One Eye slays his captor and together he and Are escape, beginning a journey into the heart of darkness. On their flight, One Eye and Are board a Viking vessel, but the ship is soon engulfed by an endless fog that clears only as the crew sights an unknown land. As the new world reveals its secrets and the Vikings confront their terrible and bloody fate, One Eye discovers his true self.
The White Ribbon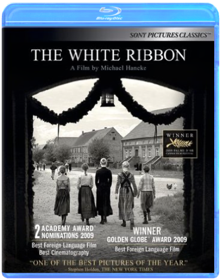 Michael Haneke
On the eve of World War I, strange accidents in a small Protestant village in Northern Germany involve the children and teenagers of a choir run by the schoolteacher and their families. The abused and suppressed children of the villagers seem to be at the heart of this mystery as these events gradually take on the character of a punishment ritual.
-2010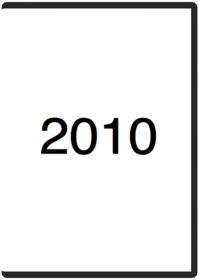 13 Assassins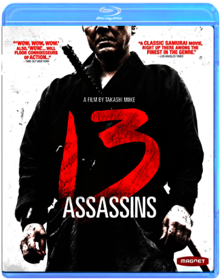 Takashi Miike
Cult director Takashi Miike (Ichi the Killer, Audition) delivers a bravado period action film set at the end of Japan's feudal era. 13 Assassins - a masterful exercise in cinematic butchery (New York Post) is centered around a group of elite samurai who are secretly enlisted to bring down a sadistic lord in order to prevent him from ascending to the throne and plunging the country into a war torn future.
127 Hours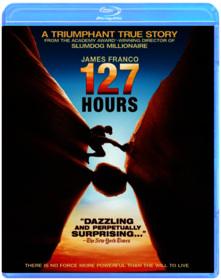 Danny Boyle
From Academy Award®-winning director Danny Boyle (Slumdog Millionaire) comes the powerfully uplifting true story of one man's struggle to survive against mountainous odds. Aron Ralston (James Franco) has a passion for all things outdoors. But when a falling boulder traps him in a remote Utah canyon, a thrill-seeker's adventure becomes the challenge of a lifetime. Over the next five days, Ralston embarks on a remarkable personal journey in which he relies on the memories of family and friends—as well as his own courage and ingenuity—to turn adversity into triumph!
Black Swan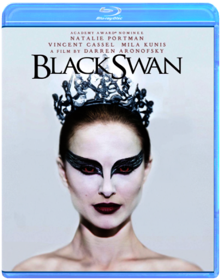 Darren Aronofsky
"You can't tear your eyes away" (Entertainment Weekly) from this "wicked, psychosexual thriller" (Daily Variety) starring Academy Award® Winner Natalie Portman and directed by Darren Aronofsky (The Wrestler). Portman delivers "the performance of her career" (Vanity Fair ) as Nina, a stunningly talented but dangerously unstable ballerina on the verge of stardom. Pushed to the breaking point by her driven artistic director (Vincent Cassel) and the threat posed by a seductive rival dancer (Mila Kunis), Nina's tenuous grip on reality starts to slip away – plunging her into a waking nightmare.
Blue Valentine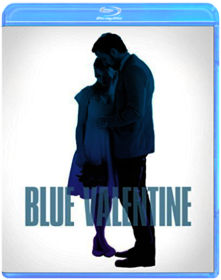 Derek Cianfrance
Blue Valentine is the story of love found and love lost told in past and present moments in time. Flooded with romantic memories of their courtship, Dean and Cindy use one night to try and save their failing marriage. Ryan Gosling and Michelle Williams star in this honest portrait of a relationship on the rocks.
Certified Copy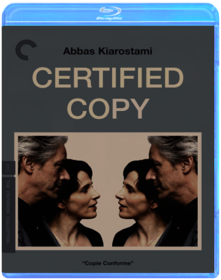 Abbas Kiarostami
The great Iranian director Abbas Kiarostami (Close-up) travels to Tuscany for a luminous and provocative romance in which nothing is as it appears. What seems at first to be a straightforward tale of two people played by Oscar-winning actress Juliette Binoche (Blue) and opera singer William Shimell getting to know each other over the course of an afternoon gradually reveals itself as something richer, stranger, and trickier: a mind-bending reflection on authenticity, in art as well as in relationships. Both cerebrally and emotionally engaging, Certified Copy (Copie conforme) reminds us that love itself is an enigma.
Destricted
Larry Clark, Matthew Barney, Marilyn Minter, Richard Prince, Gaspar Noé
Destricted is the first short film collection of its kind, bringing together sex and art in a series of films created by some of the world's most visual and provocative artists and directors. They reveal the diverse attitudes by which we represent ourselves sexually.
The Ghost Writer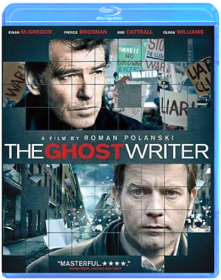 Roman Polanski
I Saw the Devil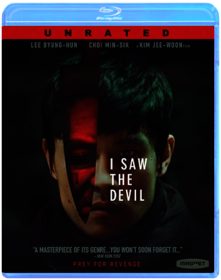 Jee-woon Kim
Inception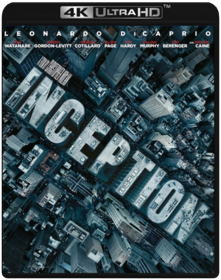 Christopher Nolan
Kick-Ass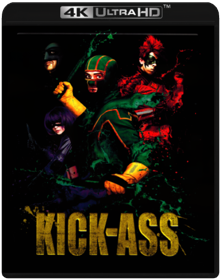 Matthew Vaughn
Now available for the first time on 4K Ultra HD! Dave's life is completely underwhelming until he makes the simple decision to become a superhero.
Piranha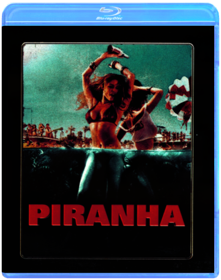 Alexandre Aja
From director Alexandre Aja (The Hills Have Eyes) comes the new action thriller Piranha 3D. Every year the population of sleepy Lake Victoria explodes from 5,000 to 50,000 for Spring Break, a riot of sun and drunken fun. But this year, there's something more to worry about than hangovers and complaints from local old timers; a new type of terror is about to be cut loose on Lake Victoria. After a sudden underwater tremor sets free scores of the prehistoric man-eating fish, an unlikely group of strangers must band together to stop themselves from becoming fish food for the areas new razor-toothed residents.
The film stars Jessica Szohr (Gossip Girl), Steven R. McQueen (The Vampire Diaries), Elisabeth Shue, Jerry O'Connell, Ving Rhames, Adam Scott, Richard Dreyfuss, Christopher Lloyd, and Kelly Brook.
Scott Pilgrim vs. The World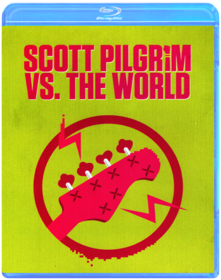 Edgar Wright
Game on! Scott Pilgrim just met the girl of his dreams…literally. But in order for them to date, he must defeat her seven evil exes — a rogues' gallery — including an infamous skateboarder, a vegan rock star and fearsome identical twins! From the genre-smashing director of Hot Fuzz and Shaun of the Dead comes "a true original" (Entertainment Weekly) powered up by wit, action and groundbreaking visuals that you will want to watch again as soon as it's over!
Shutter Island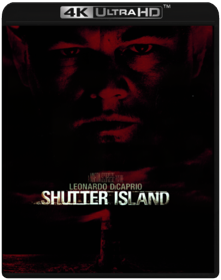 Martin Scorsese
Academy Award® winning director Martin Scorsese once again teams up with Leonardo DiCaprio in this spine-chilling thriller that critics say "sizzles with so much suspense that it's hot to the touch."** When U.S. Marshal Teddy Daniels (DiCaprio) arrives at the asylum for the criminally insane on Shutter Island, what starts as a routine investigation quickly takes a sinister turn. As the investigation unfolds and Teddy uncovers more shocking and terrifying truths about the island, he learns there are some places that never let you go. **Peter Travers, Rolling Stone.
The Social Network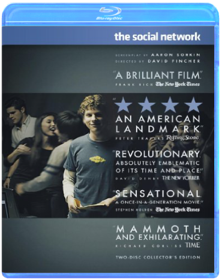 David Fincher
David Fincher's The Social Network is the stunning tale of a new breed of cultural insurgent: a punk genius who sparked a revolution and changed the face of human interaction for a generation, and perhaps forever. Shot through with emotional brutality and unexpected humor, this superbly crafted film chronicles the formation of Facebook and the battles over ownership that followed upon the website's unfathomable success. With a complex, incisive screenplay by Aaron Sorkin and a brilliant cast including Jesse Eisenberg, Andrew Garfield and Justin Timberlake, The Social Network bears witness to the birth of an idea that rewove the fabric of society even as it unraveled the friendship of its creators.
Super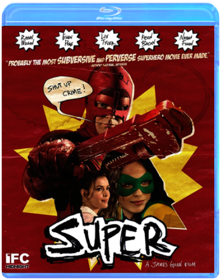 James Gunn
When sad-sack loser Frank (Rainn Wilson, The Office), a short-order cook, sees his ex-addict wife (Liv Tyler, The Lord of the Rings) willingly snatched away by a seductive drug dealer (Kevin Bacon), he finds himself bereft and unable to cope. But he decides to fight back under the guise of a do-it-yourself superhero called Crimson Bolt. With a red hand-made suit, a wrench, a crazed sidekick named Boltie (Ellen Page, Juno) and absolutely nothing in the way of superpowers Crimson Bolt beats his way through the mean streets of crime in hopes of saving his wife.
Surviving Life (Theory and Practice)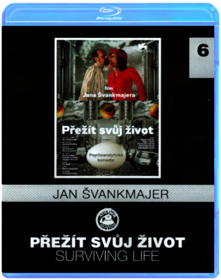 Jan Švankmajer
United Kingdom released, PAL/Region 2 DVD: it WILL NOT play on standard US DVD player. You need multi-region PAL/NTSC DVD player to view it in USA/Canada: LANGUAGES: Czech ( Dolby Digital 5.1 ), English ( Subtitles ), French ( Subtitles ), German ( Subtitles ), Italian ( Subtitles ), Spanish ( Subtitles ), SPECIAL FEATURES: Behind the scenes, Documentary, Interactive Menu, Scene Access, SYNOPSIS: Eugene (Václav Helsus) leads a double life - one real, the other in his dreams. In real life he has a wife called Milada (Zuzana Kronerová); in his dreams he has a young girlfriend called Eugenia (Klára Issová). Sensing that these dreams have some deeper meaning, he goes to see a psychoanalyst, Dr. Holubova, who interprets them for him, with the help of some argumentative psychoanalytical griping from the animated heads of Freud and Jung. As we gradually piecing together Eugene's life story, his dream-world love affair with Eugenia is thwarted by the appearance of other characters, including her little boy Peter, her extortionist ex-husband, and a filthy old woman who keeps warning him not to harm her. Soon after, we discover she is expecting Eugene's child - to the dismay of Dr. Holubova, who believes Eugenia is in fact his anima. And getting your anima pregnant is worse than incest... ...Surviving Life ( Prezít svuj zivot (Theory and Practice) ) ( Savaivingu raifu -Yume wa daini no jinsei (Sein Leben überleben) )
The Artist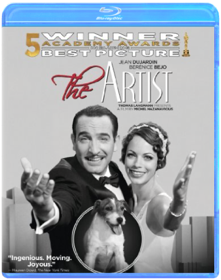 Michel Hazanavicius
Hollywood 1927. George Valentin (Academy Award Winner Jean Dujardin) is a silent movie superstar. The advent of the talkies will sound the death knell for his career and see him fall into oblivion. For young extra Peppy Miller (Berenice Bejo), it seems the sky's the limit - major movie stardom awaits. THE ARTIST tells the story of their interlinked destinies.
Bernie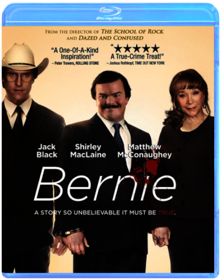 Richard Linklater
Carnage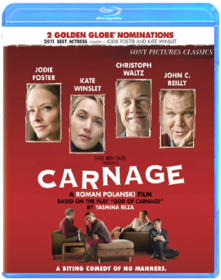 Roman Polanski
CARNAGE is a razor-sharp, biting comedy centered on parental differences. After two boys duke it out on a playground, the parents of the "victim" invite the parents of the "bully" over to work out their issues. A polite discussion of childrearing soon escalates into verbal warfare, with all four parents revealing their true colors. None of them will escape the carnage.Directed by Roman Polanski (The Pianist), Carnage stars Academy Award®-winner Kate Winslet (Best Actress, The Reader, 2008) and Academy Award®-winner Christoph Waltz (Best Supporting Actor, Inglourious Basterds, 2009) as husband and wife Nancy and Alan Cowan, opposite Academy Award®-winner Jodie Foster (Best Actress, The Silence of the Lambs, 1991; Best Actress, The Accused, 1988) and Academy Award®-nominee John C. Reilly (Best Supporting Actor, Chicago, 2002) as Penelope and Michael Longstreet.
Coriolanus
Ralph Fiennes
The classic legend of honor and betrayal has been astonishingly re-imagined in this exhilarating action thriller that wields a profound relevance for today. Caius Martius 'Coriolanus' (star and director Ralph Fiennes) is a feared and revered Roman General, suddenly pitted against his own city and fellow citizens. Rebelling against the power-hungry designs of his manipulative mother (Vanessa Redgrave) and rejected by his own people, Coriolanus incites a riot that expels him from Rome. The banished hero joins forces with his sworn enemy Tullus Aufidius (Gerard Butler) to exact his revenge — and determine his destiny.
Corman's World: Exploits of a Hollywood Rebel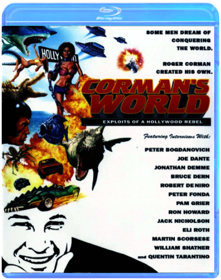 Alex Stapleton
CORMAN'S WORLD: EXPLOITS OF A HOLLYWOOD REBEL is a tantalizing and star-studded tribute to Roger Corman, Hollywood's most prolific writer-director producer, and seminal influencing force in modern moviemaking over the last 60 years. Featuring interviews with Hollywood icons and cinematic luminaries, some who launched their careers within Corman's unforgettable world of filmmaking, including, Paul W.S. Anderson, Peter Bogdanovich, Robert DeNiro, Peter Fonda, Pam Grier, Ron Howard, Eli Roth, Martin Scorcese, William Shatner and many others, this documentary chronicles how Corman created his cult film empire, one low-budget success at a time, capitalizing on undiscovered talent, and pushing the boundaries of independent filmmaking.

Director Alex Stapleton weaves archival footage following Roger's illustrious career: From his early days of genre-defining classics including the original Fast and Furious, the original Little Shop of Horrors, The Crybaby Killer, The Intruder, House of Usher, and The Wild Angels (which at that point in 1966 was his 100th film) — with present day video of him and his wife Julie on location still at work as they continue to produce and distribute films outside the studio system: fast, cheap and out-of-this-world!
A Dangerous Method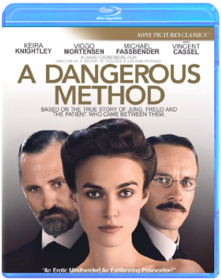 David Cronenberg
From acclaimed director David Cronenberg (A History of Violence) comes a dark tale of sexual and intellectual discovery, featuring two of the greatest minds of the 20th century. Carl Jung (Michael Fassbender, Shame) has just begun his psychiatric career, having been inspired by the great Sigmund Freud (Viggo Mortensen, The Lord of the Rings trilogy). When a mysterious and beautiful woman (Keira Knightley, Atonement) goes under Jung's care, Jung finds himself crossing the line of the doctor/patient relationship, causing great conflict with his mentor and making Jung question his own morality in the process.
Drive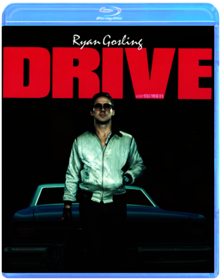 Nicolas Winding Refn
Ryan Gosling stars as a Hollywood stunt driver for movies by day and moonlights as a wheelman for criminals by night. Though a loner by nature, "Driver" can't help falling in love with his beautiful neighbor Irene (Carey Mulligan), a young mother dragged into a dangerous underworld by the return of her ex-convict husband. After a heist goes wrong, Driver finds himself driving defense for the girl he loves, tailgated by a syndicate of deadly serious criminals (Albert Brooks and Ron Perlman). Soon he realizes the gangsters are after more than the bag of cash and is forced to shift gears and go on the offense.
The Girl with the Dragon Tattoo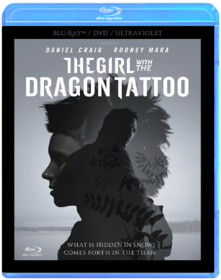 David Fincher
Disgraced journalist Mikael Blomkvist (Daniel Craig) accepts an invitation to surreptitiously investigate a forty year old unsolved murder on behalf of the victim's uncle, Swedish industrialist Henrik Vanger (Christopher Plummer). Meanwhile, tattooed hacker Lisbeth Salander (Rooney Mara), hired to investigate Blomkvist, discovers the truth behind the conspiracy that led to his fall from grace. Thrown together by fate, the unlikely duo uncovers a secret history of murder and sexual abuse festering beneath the veneer of Sweden's industrial past, all the while drawing closer to a quiet evil waiting to engulf them both.
Hara-Kiri: Death of a Samurai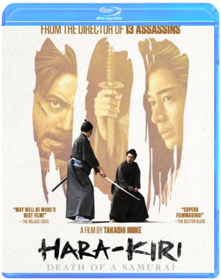 Takashi Miike
The Kid with a Bike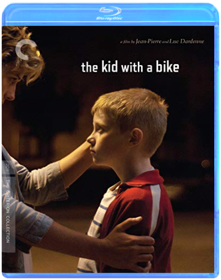 Jean-Pierre Dardenne, Luc Dardenne
Twelve-year-old Cyril (Thomas Doret), all coiled anger and furious motion, is living in a group home but refuses to believe he has been rejected by his single father (Summer Hours' Jérémie Renier). He spends his days frantically trying to reach the man, over the phone or on his beloved bicycle. It is only the patience and compassion of Samantha (Hereafter's Cécile de France), the stranger who agrees to care for him, that offers the boy the chance to move on. Spare and unsentimental but deeply imbued with a heart-rending tenderness, The Kid with a Bike is an arresting work from the great Belgian directors Jean-Pierre and Luc Dardenne (Rosetta), masters of the empathetic action film.
Melancholia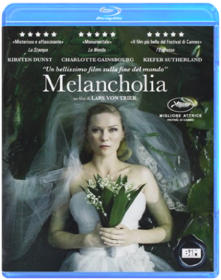 Lars von Trier
justine e michael stanno per sposarsi, il ricevimento si terra' nella casa della sorella di justine, ma proprio in quei giorni un evento catastrofico minaccia la terra ed i suoi abitanti...
The Mill and The Cross
Lech Majewski
From acclaimed filmmaker, Lech Majewski, comes THE MILL AND THE CROSS, a visually inspired re-staging of Pieter Bruegel's epic 1564 painting ''Way to Calvary'', presented alongside the story of its creation — with Rutger Hauer (Hobo With a Shotgun) as Bruegel, Michael York (Austin Powers: International Man of Mystery) as his friend and art collector, and Charlotte Rampling (Babylon A.D.) as the inspiration for his Virgin Mary.

SPECIAL FEATURES: ''The World According to Bruegel'' documentary (45 minutes), Interview with Director Lech Majewski (20 min), Stills Gallery, Original Theatrical Trailer, Kino Lorber trailers.
Moneyball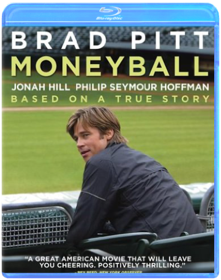 Bennett Miller
Oakland A's general manager Billy Beane (Brad Pitt) challenges the system and defies conventional wisdom when his is forced to rebuild his small-market team on a limited budget. Despite opposition from the old guard, the media, fans and their own field manager (Philip Seymour Hoffman), Beane - with the help of a young, number-crunching, Yale-educated economist (Jonah Hill) - develops a roster of misfits…and along the way, forever changes the way the game is played.
Pina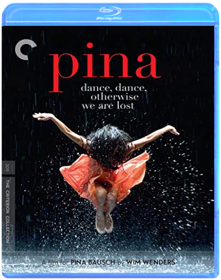 Wim Wenders
Samsara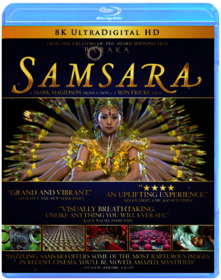 Ron Fricke
Prepare yourself for an unparalleled sensory experience. Filmed over a period of almost five years and in twenty-five countries, SAMSARA explores the wonders of the world from sacred grounds to industrial sites, looking into the unfathomable reaches of man s spirituality and the human experience. Photographed entirely in 70mm and transferred to 4K digital projection format, SAMSARA s mesmerizing images of unprecedented clarity illuminate the links between humanity and the rest of nature, showing how our life cycle mirrors the rhythm of the planet. Neither a traditional documentary nor a travelogue, SAMSARA is a guided meditation on the current of interconnection that runs through all of our lives.
The Skin I Live In
Pedro Almodóvar
Dr. Robert Ledgard (Antonio Banderas) is a driven plastic surgeon haunted by personal tragedies. After many years of trial and error, he finally perfects a new skin – a shield which could have prevented the death of his wife in an accident years earlier. His latest "guinea pig" is a mysterious captive whose true identity masks a shocking mystery. The Skin I Live In is a masterful tale of secrets, obsession and revenge from Oscar-winning (Best Writing, Original Screenplay, Talk to Her, 2002) writer/director Pedro Almodovar.
The Raid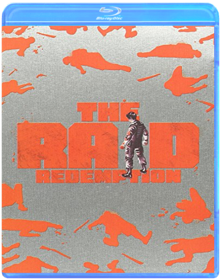 Gareth Evans
Tinker Tailor Soldier Spy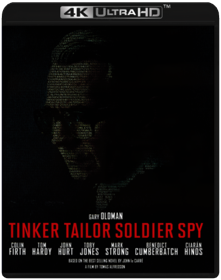 Tomas Alfredson
Gary Oldman leads a stunning all-star cast in this masterful adaptation of John le Carré's bestselling novel that redefined the spy thriller. At the height of the Cold War, a precarious operation goes deadly wrong, and the head of British Intelligence wonders if a double agent is leaking vital secrets. Brought out of retirement to expose the potential mole, master spy George Smiley (Oldman) is the only one who can be trusted to expose one of their own.Or can he? As the emotional and physical tolls mount on the high-ranking suspects, Smiley will be forced into the ultimate international spy game where everyone's motives are in question. Filled with stunning performances by Academy Award winner Colin Firth, Tom Hardy, John Hurt, Toby Jones, Mark Strong, Benedict Cumberbatch and Ciarán Hinds, it's the powerful and deeply resonant spy tale that Ebert Presents at the Movies hails as "hands down the best new thriller this year."
The Tree of Life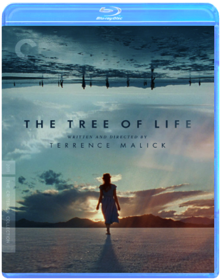 Terrence Malick
This stunningly original triumph from visionary director Terrence Malick stars Academy Awardr Nominee Brad Pitt and Academy Awardr Winner Sean Penn. The epic, yet intimate, story follows the life journey of Jack O'Brien (played as an adult by Penn), the eldest son of a fractured Midwestern family. Pitt delivers a powerful performance as the cataclysmic force of nature in Jack's world, his complex and rigidly authoritarian father. Hailed as a visually breathtaking masterpiece by critics and audiences alike, The Tree Of Life won the Cannes Film Festival's highest honor, becoming one of the year's most talked about films.
Alfred Hitchcock: The Masterpiece Collection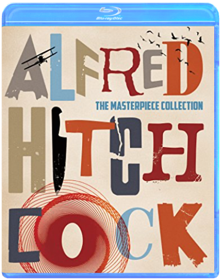 Alfred Hitchcock
Universally recognized as the Master of Suspense, the legendary Alfred Hitchcock directed some of cinema's most thrilling and unforgettable classics. Alfred Hitchcock: The Masterpiece Collection features 15 iconic films from the acclaimed director's illustrious career including Psycho, The Birds, Rear Window, Vertigo, North by Northwest and many more. Starring Hollywood favorites such as James Stewart, Cary Grant, Grace Kelly, Paul Newman, Janet Leigh, Anthony Perkins, Tippi Hedren, Sean Connery and Kim Novak, this definitive collection showcases a true cinematic master at his best. Featuring over 15 hours of insightful bonus features plus an exclusive collectible book, each film has been digitally restored from high resolution film elements for the ultimate Hitchcock experience.
Antiviral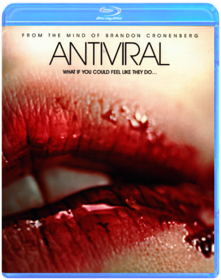 Brandon Cronenberg
2-Disc Blu-Ray and DVD Combo
The Cabin in the Woods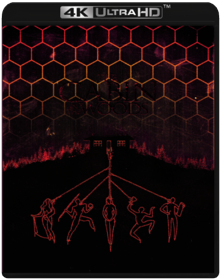 Drew Goddard
Now available for the first time on 4K Ultra HD! A rambunctious group of college friends steals away for a weekend in an isolated country cabin only to be attacked by horrific supernatural creatures.
Cloud Atlas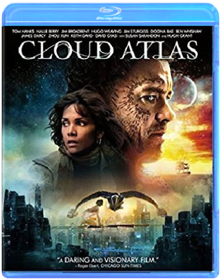 David Mitchell, Lana Wachowski, Andy Wachowski, Tom Tykwer
Cosmopolis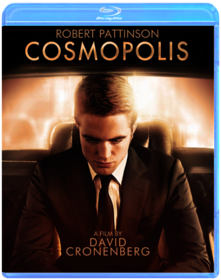 David Cronenberg
Eric Packer (Robert Pattinson),a 28-year-old billionaire asset manager, heads out in his tricked-out stretch limo, while remotely wagering his companys massive fortune on a bet against the Chinese Yuan. His trip across the city quickly turns into a wild, hypnotic odyssey as he encounters explosive city riots and a parade of provocative visitors. Having started the day with everything, Packer s perfectly ordered, doubt-free world is about to implode. Bonus Features: Citizens of Cosmopolis Featurette, Audio Commentary with David Cronenberg.
The Dark Knight Rises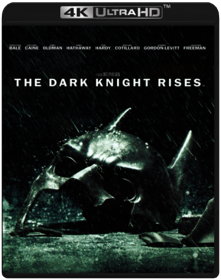 Christopher Nolan
Django Unchained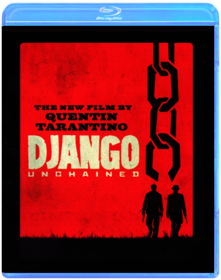 Quentin Tarantino
Set in the South two years before the Civil War, DJANGO UNCHAINED stars Academy Award ®-winner Jamie Foxx as Django, a slave whose brutal history with his former owners lands him face-to-face with a German-born bounty hunter Dr. King Schultz (Academy Award®-winner Christolph Waltz). Schultz is on the trail of the murderous Brittle brothers, and only Django can lead him to his bounty. The unorthodox Schultz acquires Django with a promise to free him upon the capture of the Brittles – dead or alive.

Success leads Schultz to free Django, though the two men choose not to go their separate ways. Instead, Schultz seeks out the South's most wanted criminals with Django by his side. Honing vital hunting skills, Django remains focused on one goal: finding and rescuing Broomhilda (Kerry Washington), the wife he lost to the slave trade long ago.

Django and Schultz's search ultimately leads them to Calvin Candie (Academy Award®-nominee Leonardo DiCaprio), the proprietor of "Candyland," an infamous plantation. Exploring the compound under false pretenses, Django and Schultz rouse the suspicion of Stephen (Academy Award®-nominee Samuel L. Jackson), Candie's trusted house slave. Their moves are marked, and a treacherous organization closes in on them. If Django and Schultz are to escape with Broomhilda, they must choose between independence and solidarity, between sacrifice and survival…
Dredd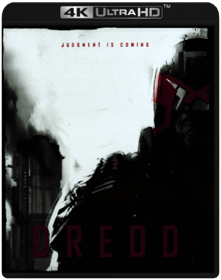 Pete Travis
Available for the first time on 4K Ultra HD Combo Pack comes the popular comic book character Judge Dredd, who is brought to life in this high-octane, sci-fi action movie starring Karl Urban.
Holy Motors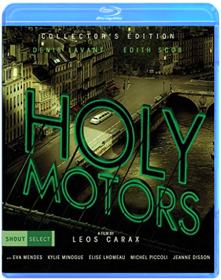 Leos Carax
Looper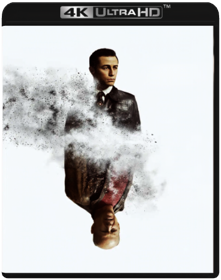 Rian Johnson
In the futuristic action thriller Looper, time travel will be invented – but it will be illegal and only available on the black market. When the mob wants to get rid of someone, they will send their target 30 years into the past where a "looper" – a hired gun, like Joe (Joseph Gordon-Levitt) – is waiting to mop up. Joe is getting rich and life is good…until the day the mob decides to "close the loop," sending back Joe's future self (Bruce Willis) for assassination. The film is written and directed by Rian Johnson and also stars Emily Blunt, Paul Dano, and Jeff Daniels.
The Lords of Salem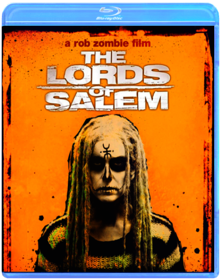 Rob Zombie
From the singular mind of horror maestro Rob Zombie comes a chilling plunge into a nightmare world where evil runs in the blood. The Lords of Salem tells the tale of Heidi (Sheri Moon Zombie), a radio station DJ living in Salem, Massachusetts, who receives a strange wooden box containing a record, a "gift from the Lords." Heidi listens, and the bizarre sounds within the grooves immediately trigger flashbacks of the town's violent past. Is Heidi going mad, or are the "Lords of Salem" returning for revenge on modern-day Salem?
The Master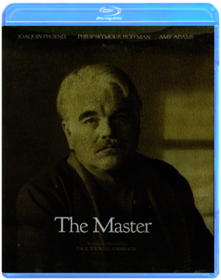 Paul Thomas Anderson
A striking portrait of drifters and seekers in post-World War II America, Paul Thomas Anderson's THE MASTER unfolds the journey of a naval veteran (Joaquin Phoenix) who arrives home from war unsettled and uncertain of his future–until he is tantalized by The Cause and its charismatic leader (Philip Seymour Hoffman).
The Mel Brooks Collection
Mel Brooks
"Enjoy! Revel! Live!" as Mel says…and "have yourselves one sweetheart of a good time." Presenting nine hugely popular films from one of cinema's most celebrated, prolific and funniest filmmakers, Mel Brooks! The undisputed king of hilariously quotable films, Mel has delivered hit after hit after hit, each one as memorable as the next. This nine-disc Blu-rayTM collection includes some of the most sidesplitting, gut-busting, guffaw-inducing films ever made. It really is "good to be the king!"

Contains the films Blazing Saddles, Spaceballs, Young Frankenstein, High Anxiety, History Of The World Part 1, Robin Hood: Men In Tights, Silent Movie, To Be Or Not To Be and The Twelve Chairs.
Moonrise Kingdom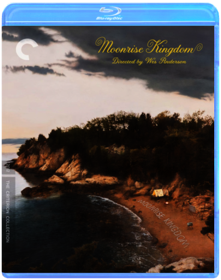 Wes Anderson
An island off the New England coast, summer of 1965. Two twelve-year-olds, Sam and Suzy, fall in love, make a secret pact, and run away together into the wilderness. As local authorities try to hunt them down, a violent storm is brewing offshore . . . Wes Anderson's Moonrise Kingdom stars Jared Gilman and Kara Hayward as the young couple on the run, Bruce Willis as Island Police Captain Sharp, Edward Norton as Khaki Scout troop leader Scout Master Ward, and Bill Murray and Frances McDormand as Suzy's attorney parents, Walt and Laura Bishop. The cast also includes Tilda Swinton, Jason Schwartzman, and Bob Balaban. The magical soundtrack features the music of Benjamin Britten. DIRECTOR-APPROVED BLU-RAY SPECIAL EDITION FEATURES  • Restored 2K digital transfer, supervised by director Wes Anderson, with 5.1 surround DTS-HD Master Audio soundtrack • Audio commentary featuring Anderson, Bill Murray, Edward Norton, Jason Schwartzman, and Roman Coppola • Selected-scene storyboard animatics • Interviews with cast and crew • Exploring the Set of "Moonrise Kingdom," an original documentary about the film • Norton's home movies from the set • Behind-the-scenes, special effects, and test footage • Auditions • Trailer • More! • PLUS: A booklet featuring an essay by critic Geoffrey O'Brien, plus a map of New Penzance Island and other ephemera
Paperboy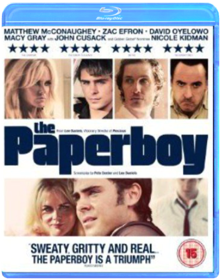 Passion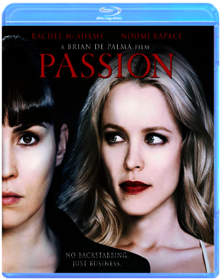 Brian De Palma
Brian De Palma returns to the sleek, sly, seductive territory of Dressed To Kill with an erotic thriller fueled by sex, ambition and the murderous side of Passion. Rachel McAdams and Noomi Rapace star as two female executives whose fierce competition to rise up the ranks is about to turn literally cut-throat. Bonus Features: Interviews with Rachel McAdams and Noomi Rapace
Prometheus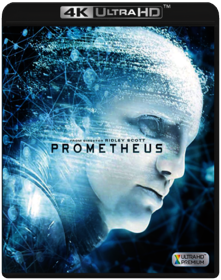 Ridley Scott
Spring Breakers
Harmony Korine
Four frustrated college girlfriends (Selena Gomez, Vanessa Hudgens, Ashley Benson and Rachel Korine) plot to fund their best spring break ever by burglarizing a fast-food shack. But that's only the beginning... during a night of partying, the girls get arrested. Hungover a nd clad only in bikinis, the girls appear before a judge and get bailed out unexpectedly by Alien (James Franco), an infamous local dealer who takes them on the wildest spring-break trip in history.
Trilogy of Life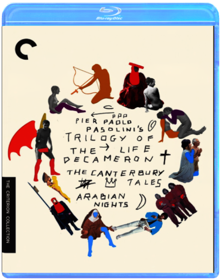 Pier Paolo Pasolini
In the early 1970s, the great Italian poet, philosopher, and filmmaker Pier Paolo Pasolini (Salò, or The 120 Days of Sodom) brought to the screen a trio of masterpieces of premodern world literature—Giovanni Boccaccio's The Decameron, Geoffrey Chaucer's The Canterbury Tales, and The Thousand and One Nights (often known as The Arabian Nights)—and in doing so created his most uninhibited and extravagant work, which he titled his Trilogy of Life. In this brazen and bawdy triptych, the director set out to challenge consumer capitalism and celebrate the uncorrupted human body while commenting on contemporary sexual and religious mores and hypocrisies. His scatological humor and rough-hewn sensuality leave all modern standards of decency behind; these are physical, provocative, and wildly entertaining films, all extraordinarily designed by Dante Ferretti (Hugo) and featuring evocative music by Ennio Morricone (Days of Heaven).

The Decameron Pasolini weaves together stories from Giovanni Boccaccio's fourteenth-century moral tales in this picturesque free-for-all. The Decameron explores the delectations and dark corners of an earlier and, as the filmmaker saw it, less compromised time. Among the chief delights are a young man's exploits with a gang of grave robbers, some randy nuns who sin with a strapping gardener, and Pasolini's appearance as a pupil of the painter Giotto, at work on a massive fresco. One of the director's most popular films, The Decameron, trans­posed to Naples from Boccaccio's Florence, is a cutting takedown of the pieties surrounding religion and sex.

1971 111 minutesColorMonauralIn Italian with English subtitles1.85:1 aspect ratio

The Canterbury Tales Eight of Geoffrey Chaucer's lusty tales come to life on-screen in Pasolini's gutsy and delirious The Canterbury Tales, which was shot in England and offers a remarkably earthy re-creation of the medieval era. From the story of a nobleman struck blind after marrying a much younger and ultimately promiscuous bride to a climactic trip to a hell populated by friars and demons (surely one of the most outrageously conceived and realized sequences ever committed to film), this is an unendingly imaginative work of merry blasphemy, framed by Pasolini's portrayal of Chaucer himself.

1972 111 minutesColorMonauralIn Italian with English subtitles1.85:1 aspect ratio

Arabian Nights Pasolini traveled to Africa, India, and the Middle East to realize this ambitious cinematic treatment of a handful of the stories from the legendary The Thousand and One Nights. This is not the fairy-tale world of Scheherazade or Aladdin or Ali Baba—instead, the director focuses on the more erotic tales, ones of desire, betrayal, and atonement, framed by the story of a young man's quest to reconnect with his beloved slave girl. Full of lustrous sets and costumes and stunning location photography, Arabian Nights is a fierce and joyous exploration of human sensuality.

1974 130 minutesColorMonauralIn Italian with English subtitles1.85:1 aspect ratio
Before Midnight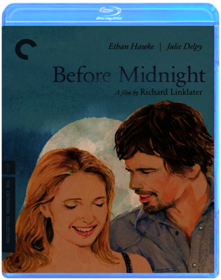 Richard Linklater
Blue is the Warmest Color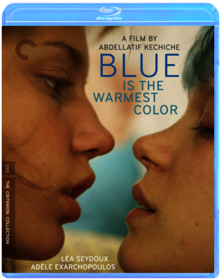 Abdellatif Kechiche
The colorful, electrifying romance that took the Cannes Film Festival by storm courageously dives into a young woman's experiences of first love and sexual awakening. Blue Is the Warmest Color stars the remarkable newcomer AdŠle Excharpoulos as a high schooler who, much to her own surprise, plunges into a thrilling relationship with a female twentysomething art student, played by L'a Seydoux (Midnight in Paris). Directed by Abdellatif Kechiche (The Secret of the Grain), this finely detailed, intimate epic sensitively renders the erotic abandon of youth. It has captivated international audiences and been widely embraced as a defining love story for the new century. SPECIAL EDITION FEATURES New high-definition digital transfer, approved by director Abdellatif Kechiche, with 5.1 surround DTS-HD Master Audio soundtrack on the Blu-ray edition Trailer and TV spot New English subtitle translation PLUS: A booklet featuring an essay by critic B. Ruby Rich
Evil Dead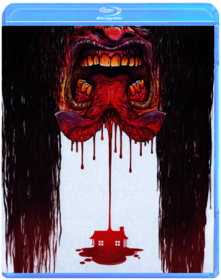 Fede Alvarez
A secluded cabin. An ancient curse. An unrelenting evil. The original producers reunite to present a genuinely terrifying re-imagining of their original horror masterpiece. Five young friends have found the mysterious and fiercely powerful Book of the Dead. Unable to resist its temptation, they release a violent demon on a bloodthirsty quest to possess them all. Who will be left to fight for their survival and defeat this unearthly force of murderous carnage?
Frances Ha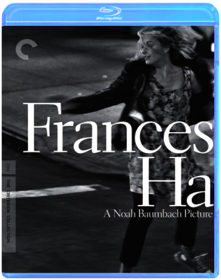 Noah Baumbach
Greta Gerwig is radiant as a woman in her late twenties in contemporary New York, trying to sort out her ambitions, her finances, and, above all, her tight but changing bond with her best friend, Sophie (Mickey Sumner). Meticulously directed by Noah Baumbach (Kicking and Screaming) with a free-and-easy vibe reminiscent of the French New Wave's most spirited films, and written by Baumbach and Gerwig with an effortless combination of sweetness and wit, Frances Ha gets at both the frustrations and the joys of being young and unsure of where to go next. This wry and sparkling city romance is a testament to the ongoing vitality of independent American cinema.
Frozen
Jennifer Lee, Chris Buck
Fearless optimist Anna teams up with Kristoff in an epic journey, encountering Everest-like conditions, and a hilarious snowman named Olaf in a race to find Anna's sister Elsa, whose icy powers have trapped the kingdom in eternal winter.
The Great Beauty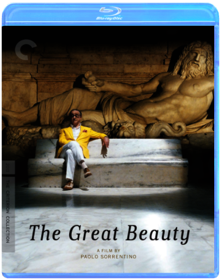 Servillo, Verdone, Ferilli
For decades, journalist Jep Gambardella has charmed and seduced his way through the glittering nightlife of Rome. Since the legendary success of his only novel, he has been a permanent fixture in the city s literary and elite social circles. But on his sixty-fifth birthday, Jep unexpectedly finds himself taking stock of his life, turning his cutting wit on himself and his contemporaries, and looking past the lavish nightclubs, parties, and cafes to find Rome itself, in all its monumental glory: a timeless landscape of absurd, exquisite beauty. Featuring sensuous cinematography, a lush score, and an award-winning central performance by the great Toni Servillo (GOMORRAH), this transporting experience by the brilliant Italian director Paolo Sorrentino (IL DIVO) is a breathtaking Fellini-esque tale of decadence and lost love.
Hard to Be a God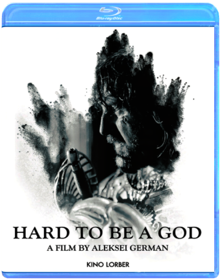 Aleksei German
When legendary Russian auteur Aleksei German died in 2013, he left behind this extraordinary final film, a phantasmagoric adaptation of the revered sci-fi novel by the Strugatsky brothers (authors of the source novel for Tarkovsky's Stalker). Hard to be a God began percolating in German's consciousness in the mid-1960s, and would actively consume him for the last 15 years of his life. He brought the film close enough to completion for his wife and son to apply the finishing touches immediately after his passing. Taking place on the planet Arkanar, which is in the midst of its own Middle Ages, the film focuses on Don Rumata (Leonid Yarmolnik), one of a group of Earth scientists who have been sent to Arkanar with the proviso that they must not interfere in the planet's political or historical development. Treated by the planet's natives as a kind of divinity,Don Rumata is both godlike and impotent in the face of its chaos and brutality.

Special Features: Behind-the-scenes documentary (44 min.), Booklet with Director's Statement by Aleksei German and essays by Alexey German Jr. and Aliza Ma, Introduction by co-screenwriter Svetlana Karmalita, Trailer
Her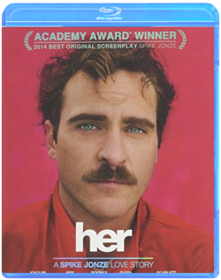 Spike Jonze
Her (Blu-Ray+DVD+Digital HD+UltraViolet Combo Pack)
Inside Llewyn Davis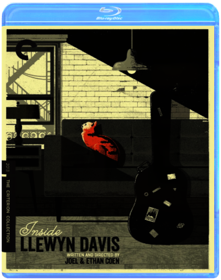 Ethan Coen, Joel Coen
INSIDE LLEWYN DAVIS follows a week in the life of a young folk singer as he navigates the Greenwich Village folk scene of 1961.LLEWYN DAVIS (OSCAR ISAAC) is at a crossroads. Guitar in tow, huddled against the unforgiving New York winter, he is struggling to make it as a musician against seemingly insurmountable obstacles-some of them of his own making. Living at the mercy of both friends and strangers, scaring up what work he can find, Llewyn's misadventures take him from the baskethouses of the Village to an empty Chicago club-on an odyssey to audition for a music mogul -and back again.
Mood Indigo
Michel Gondry
Nymphomaniac - Volume 1 and Volume 2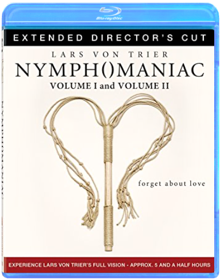 Lars von Trier
EXTENDED DIRECTOR'S CUT VOL. I is the story of Joe (Charlotte Gainsbourg), a self-diagnosed nymphomaniac who is discovered badly beaten in an alley by an older bachelor, Seligman (Stellan Skarsgård), who takes her into his home. As he tends to her wounds, she recounts the erotic story of her adolescence and young-adulthood (portrayed in flashback by newcomer Stacy Martin). VOLUME I also stars Shia LaBeouf, Christian Slater, Uma Thurman, Sophie Kennedy Clark, Connie Nielsen and Udo Kier. EXTENDED DIRECTOR'S CUT VOL. II continues with the story of the self-professed nymphomaniac Joe (Charlotte Gainsbourg) and her adulthood, during which her journey of self-discovery leads to darker complications. The film stars Jamie Bell, Willem Dafoe, Mia Goth and Jean-Marc Barr in addition to Stellan Skarsgård, Stacy Martin and Shia LaBeouf.
Only God Forgives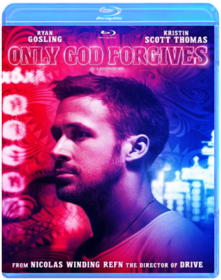 Nicolas Winding Refn
Julian (Ryan Gosling), an American fugitive from justice, runs a boxing club in Bangkok as a front for his drug business. His mother (Kristin Scott Thomas), the head of a vast criminal organization, arrives from the US to collect the body of her favorite son, Billy. Julian's brother has just been killed after having savagely murdered a young prostitute. Crazy with rage and thirsty for vengeance she demands the heads of the murderers from Julian. But first, Julian must confront Chang (Vithaya Pansringarm), a mysterious retired policeman - and figurehead of a divine justice - who has resolved to scourge the corrupt underworld of brothels and fight clubs.
Pacific Rim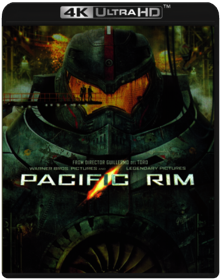 Guillermo del Toro
The Pervert's Guide to Ideology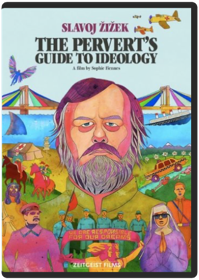 Sophie Fiennes
Cultural theorist superstar Slavoj Zizek re-teams with director Sophie Fiennes (The Pervert's Guide to Cinema) for another wildly entertaining romp through the crossroads of cinema and philosophy. With infectious zeal and a voracious appetite for popular culture, Zizek literally goes inside some truly epochal movies to explore and expose how they reinforce prevailing ideologies. As the ideology that undergirds our cinematic fantasies is revealed, striking associations emerge: What hidden Catholic teachings lurk at the heart of The Sound of Music? What are the fascist political dimensions of Jaws? Taxi Driver, Zabriskie Point, The Searchers, The Dark Knight, John Carpenter's They Live (one of the forgotten masterpieces of the Hollywood Left), Titanic, Kinder Eggs, verité news footage, Beethoven's Ode to Joy and propaganda epics from Nazi Germany and Soviet Russia all inform Zizek's stimulating, provocative and often hilarious psychoanalytic-cinematic rant.

DVD Special Features:

- HD transfer, enhanced for widescreen viewing

- Q&A with Slavoj Zizek and Sophie Fiennes

- U.S. theatrical trailer

- Optional subtitles for the deaf and hearing impaired (SDH)

The World's Most Unlikely Movie Star!
-The New York Times

A riveting and often hilarious demonstration of the Slovenian philosopher's uncanny ability to turn movies inside out and accepted notions on their head.
-Jordan Mintzer, The Hollywood Reporter
Stoker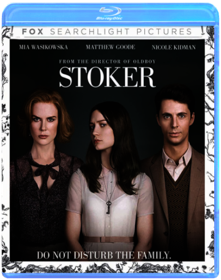 Park Chan-wook
Under the Skin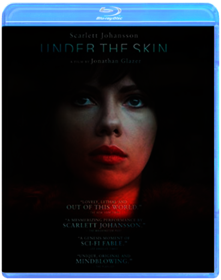 Jonathan Glazer
An alien takes on the form of a beautiful young woman and searches the streets of Scotland for men to seduce.
The Wolf of Wall Street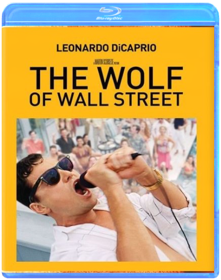 Martin Scorsese
Revered filmmaker Martin Scorsese directs the story of New York stockbroker Jordan Belfort (Leonardo DiCaprio). From the American dream to corporate greed, Belfort goes from penny stocks and righteousness to IPOs and a life of corruption in the late 80s. Excess success and affluence in his early twenties as founder of the brokerage firm Stratton Oakmont warranted Belfort the title – "The Wolf of Wall Street."

Sex. Money. Power. Drugs. Brace yourself for an outrageous true story from legendary filmmaker Martin Scorsese. Leonardo DiCaprio stars as a young stockbroker hungry for a life of non-stop thrills where corruption was king and more was never enough. His rise to power earned him the title The Wolf of Wall Street. Together Scorsese and DiCaprio deliver a story of American excess.
The Zero Theorem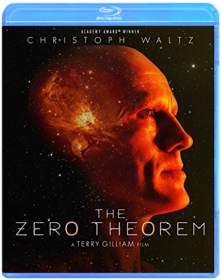 Terry Gilliam
Qohen Leth (2-time Academy Award© winner Christoph Waltz) is a computer genius plagued with existential angst. Eccentric and reclusive, he lives in a burnt-out church, toiling on a top-secret project personally assigned by Management (Matt Damon) to discover the meaning of life. If there is one. Witness a vision of the techno-philosophical future from Terry Gilliam, the visionary director of BRAZIL, 12 MONKEYS, and FEAR AND LOATHING IN LAS VEGAS, also starring Tilda Swinton, David Thewlis, and Melanie Thierry.

DVD EXTRAS
Behind the Scenes
Visual Effects
Trailer
Birdman or (The Unexpected Virtue of Ignorance)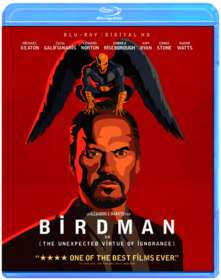 Alejandro González Iñárritu
BIRDMAN or The Unexpected Virtue of Ignorance is a black comedy that tells the story of an actor (Michael Keaton) — famous for portraying an iconic superhero — as he struggles to mount a Broadway play. In the days leading up to opening night, he battles his ego and attempts to recover his family, his career, and himself.
Black Sea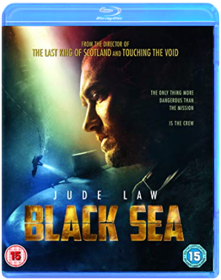 Boyhood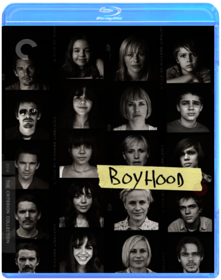 Richard Linklater
Boyhood (The Criterion Collection) [Blu-ray] [Blu-ray] [2016] ...
Citizenfour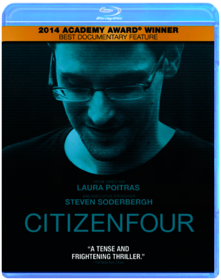 Laura Poitras
2014's Academy Award winning documentary CITIZENFOUR is a real life international thriller that unfolds by the minute. With unprecedented access, this gripping behind-the-scenes chronicle follows award winning director Laura Poitras (My Country, My Country) and journalist Glenn Greenwald's remarkable encounters with whistle-blower Edward Snowden in a hotel room in Hong Kong, as he hands over classified documents that provide evidence of mass indiscriminate and illegal invasions of privacy by the National Security Agency (NSA). The documentary not only shows the dangers of governmental surveillance, but makes audiences feel them. After seeing the film, viewers will never think the same way about their phone, e-mail, credit cards, web browser or digital footprint again.
Ex Machina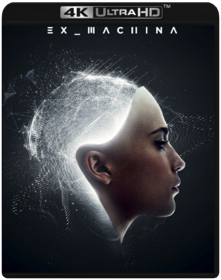 Alex Garland
Available for the first time on 4K Ultra HD Combo Pack comes the Academy Award®-winning ''Best Visual Effects'' sci-fi thriller from the writer of 28 DAYS LATER and DREDD.
Fury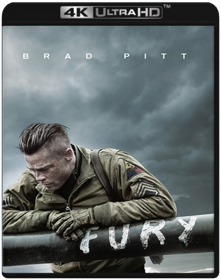 David Ayer
April, 1945. As the Allies make their final push in the European Theatre, a battle-hardened army sergeant named Wardaddy (Brad Pitt) commands a Sherman tank and her five-man crew on a deadly mission behind enemy lines. Outnumbered and outgunned, and with a rookie soldier thrust into their platoon, Wardaddy and his men face overwhelming odds in their heroic attempts to strike at the heart of Nazi Germany.
Gone Girl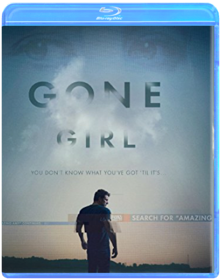 David Fincher
The Grand Budapest Hotel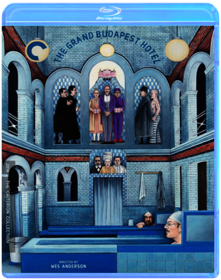 Wes Anderson
THE GRAND BUDAPEST HOTEL recounts the adventures of Gustave H, a legendary concierge at a famous European hotel between the wars, and Zero Moustafa, the lobby boy who becomes his most trusted friend. The story involves the theft and recovery of a priceless Renaissance painting and the battle for an enormous family fortune — all against the back-drop of a suddenly and dramatically changing Continent.
Herzog: The Collection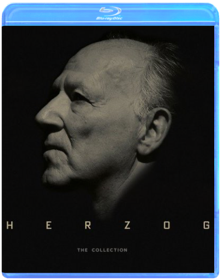 Werner Herzog
Inherent Vice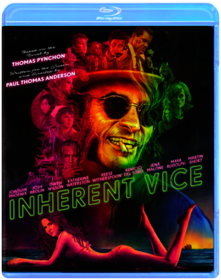 Paul Thomas Anderson
Interstellar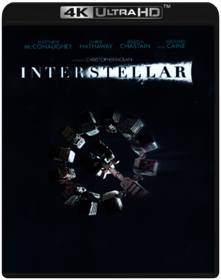 Christopher Nolan
It Follows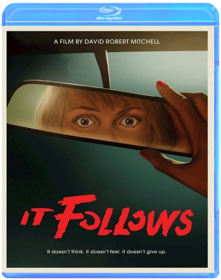 David Robert Mitchell
For 19-year-old Jay, fall should be about school, boys and weekends out at the lake. But after a seemingly innocent sexual encounter, she finds herself plagued by strange visions and the inescapable sense that someone, or something, is following her. Jay and her teenage friends must now find a way to escape the horrors that seem to be only a few steps behind in this critically-acclaimed chiller that Bloody Disgusting calls the scariest movie of 2015.
Life Itself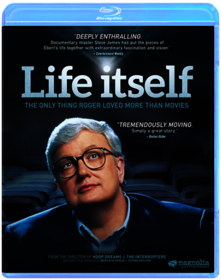 Steve James
Acclaimed director Steve James (Hoop Dreams) and executive producers Martin Scorsese (The Departed) and Steven Zaillian (Moneyball) present LIFE ITSELF, a documentary film that recounts the inspiring and entertaining life of world-renowned film critic and social commentator Roger Ebert a story that is by turns personal, funny, painful, and transcendent. Based on his bestselling memoir of the same name, LIFE ITSELF, explores the legacy of Roger Ebert's life, from his Pulitzer Prize-winning film criticism at the Chicago Sun-Times to becoming one of the most influential cultural voices in America.
Lucy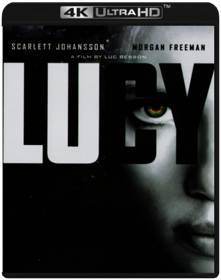 Luc Besson
From the visionary director of La Femme Nikita and The Fifth Element and starring Scarlett Johansson and Academy Award-winner Morgan Freeman, comes an action-thriller about a woman named Lucy who accidentally gets caught in a dark deal, but turns the tables on her captors. Altered by a dangerous new drug allowing her to use 100% of her brain capacity, Lucy transforms into a merciless warrior evolved beyond human logic.
Maps to the Stars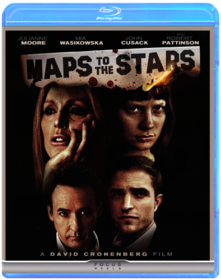 David Cronenberg
Academy Award nominee and Golden Globe winner Julianne Moore stars with Mia Wasikowska, John Cusack and Robert Pattinson in this unforgettable, darkly comic thriller from acclaimed director David Cronenberg. Hollywood actress Havana Segrand (Moore) is unraveling as her career flounders. Her therapist (Cusack) and his wife are busy managing the career of their child-star son. But when a mysterious young woman named Agatha (Wasikowska) befriends a limo driver (Pattinson) and ties all their lives together, nothing will ever be the same as they try to survive a world of money, fame, envy and relentless hauntings.
Nightcrawler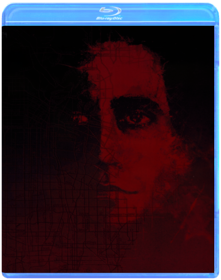 Dan Gilroy
Nightcrawler is a thriller set in the nocturnal underbelly of contemporary Los Angeles. Jake Gyllenhaal stars as Lou Bloom, a driven young man desperate for work who discovers the high-speed world of L.A. crime journalism. Finding a group of freelance camera crews who film crashes, fires, murder and other mayhem, Lou muscles into the cut-throat, dangerous realm of nightcrawling - where each police siren wail equals a possible windfall and victims are converted into dollars and cents. Aided by Rene Russo as Nina, a veteran of the blood-sport that is local TV news, Lou blurs the line between observer and participant to become the star of his own story.
Noah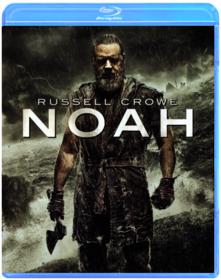 Darren Aronofsky
Russell Crowe stars as Noah in the film inspired by the epic story of courage, sacrifice and hope. Directed by visionary filmmaker Darren Aronofsky. The film is inspired by the story of Noah. While artistic license has been taken, we believe that this film is true to the essence, values and integrity of a story that is a cornerstone of faith for millions of people worldwide. The biblical story of Noah can be found in the book of Genesis.
Shame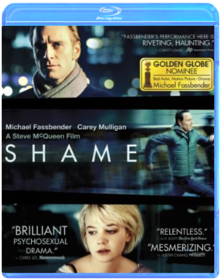 Steve McQueen
Congress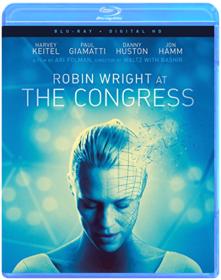 Ari Folman
#Horror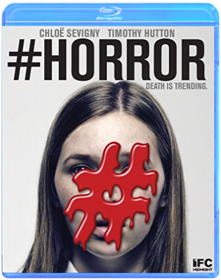 Tara Subkoff
You've got followers... Cyberbullying goes offline during one deadly night. Inspired by a shocking true story, #Horror follows a group of preteen girls living in a suburban world of money and privilege. But when their obsession with a disturbing online game goes too far, virtual terror becomes all too real. Chloe Sevigny leads an ensemble cast that includes Natasha Lyonne, Taryn Manning, and Timothy Hutton in Tara Subkoff's directorial debut.
Bone Tomahawk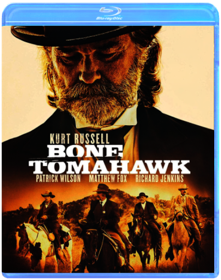 S. Craig Zahler
When a group of cannibal savages kidnaps settlers from the small town of Bright Hope, an unlikely team of gunslingers, led by Sheriff Franklin Hunt (Kurt Russell), sets out to bring them home. But their enemy is more ruthless than anyone could have imagined, putting their mission – and survival itself – in serious jeopardy. Kurt Russell (The Hateful Eight, Tombstone) leads an all-star cast, including Patrick Wilson (Insidious), Matthew Fox ("Lost") and Richard Jenkins (The Visitor) in this gritty, action-packed thriller chronicling a terrifying rescue mission in the Old West.
Crimson Peak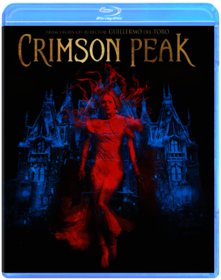 Guillermo del Toro
When her heart is stolen by a seductive stranger, a young woman is swept away to a house atop a mountain of blood-red clay— a place filled with secrets that will haunt her forever. Between desire and darkness, between mystery and madness, lies the truth behind Crimson Peak. From the imagination of director Guillermo del Toro (Pan's Labyrinth) comes a gothic romance masterpiece starring Tom Hiddleston, Jessica Chastain, Mia Wasikowska and Charlie Hunnam.
Hardcore Henry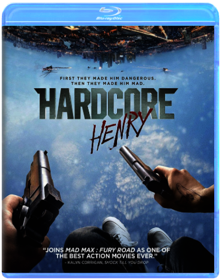 Ilya Naishuller
You remember nothing. Mainly because you've just been brought back from the dead by your wife who tells you that your name is Henry. Five minutes later, you are being shot at, your wife has been kidnapped, and you should probably go get her back. You're also in an unfamiliar city of Moscow, and everyone wants you dead. If you can survive the insanity and solve the mystery, you might just discover your purpose and the truth behind your identity. Strap in for a wild ride that critics are calling "a revolutionary movie experience." – Indiewire
The Hateful Eight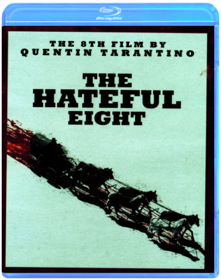 Quentin Tarantino
Blu-ray SteelBook packaging
The Hateful Eight - Extended Verion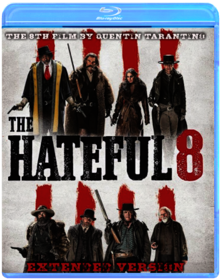 Quentin Tarantino
Hitchcock/Truffaut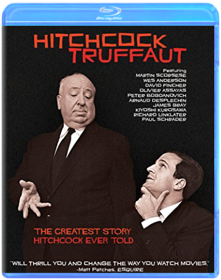 Kent Jones
In 1962 Hitchcock and Truffaut locked themselves away in Hollywood for a week to excavate the secrets behind the mise-en-scène in cinema. Based on the original recordings of this meeting—used to produce the mythical book, Hitchcock/Truffaut—this film illustrates the greatest cinema lesson of all time and plummets us into the world of the creator of Psycho, The Birds, and Vertigo. Hitchcock's incredibly modern art is elucidated and explained by today's leading filmmakers: Martin Scorsese, David Fincher, Arnaud Desplechin, Kiyoshi Kurosawa, Wes Anderson, James Gray, Olivier Assayas, Richard Linklater, Peter Bogdanovich and Paul Schrader.
Knight of Cups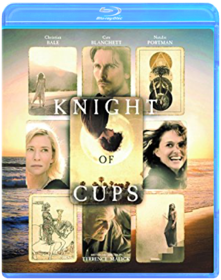 Terrence Malick
The Lobster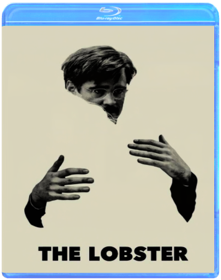 Yorgos Lanthimos
Love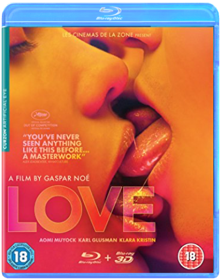 Gaspar Noé
From the controversial diretor of Irreversible and Enter the Void comes a sexual melodrama about a boy and his two girls. It's a love story, which celebrates sex in a joyous way.
The Lure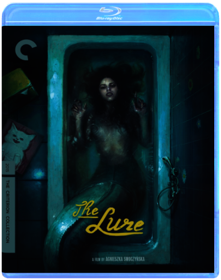 Agnieszka Smoczynska
This genre-defying horror-musical mash-up the bold debut of Polish director Agnieszka Smoczynska follows a pair of carnivorous mermaid sisters drawn ashore to explore life on land in an alternate 1980s Poland. Their tantalizing siren songs and otherworldly auras make them overnight sensations as nightclub singers in the half-glam, half-decrepit world of Smoczynska s imagining. The director gives fierce teeth to her viscerally sensual, darkly feminist twist on Hans Christian Andersen's 'The Little Mermaid,' in which the girls' bond is tested and their survival threatened after one sister falls for a human. A coming-of-age fairy tale with a catchy synth-fueled soundtrack, outrageous song-and-dance numbers, and lavishly grimy sets, The Lure explores its themes of emerging female sexuality, exploitation, and the compromises of adulthood with savage energy and originality.

DIRECTOR-APPROVED BLU-RAY SPECIAL EDITION FEATURES
- High-definition digital master, supervised by director of photography Kuba Kijowski, with 5.1 surround DTS-HD Master Audio soundtrack
- New program about the making of the film, featuring interviews with director Agnieszka Smoczynska, actors Marta Mazurek and Michalina Olszanska, screenwriter Robert Bolesto, Kijowski, composers Barbara and Zuzanna Wronski, sound designer Marcin Lenarczyk, and choreographer Kaya Ko odziejczyk
- Deleted scenes
- Aria Diva (2007) and Viva Maria! (2010), two short films directed by Smoczynska
- New English subtitle translation
- PLUS: An essay by writer Angela Lovell
Mad Max: Fury Road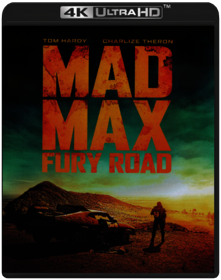 George Miller
Martyrs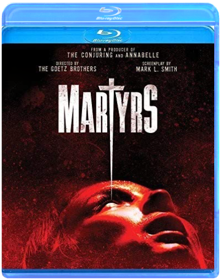 Michael Goetz, Kevin Goetz
The Revenant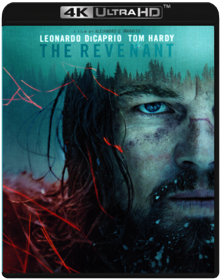 Alejandro González Iñárritu
Leonardo DiCaprio gives an OSCAR® WINNING performance in OSCAR® WINNER Alejandro G. Iñárritu s cinematic masterpiece. Inspired by true events and the winner of 3 OSCARS®, The Revenant follows the story of legendary explorer Hugh Glass (DiCaprio) on his quest for survival and justice. After a brutal bear attack, Glass is left for dead by a treacherous member of his hunting team (Tom Hardy). Against extraordinary odds, and enduring unimaginable grief, Glass battles a relentless winter in uncharted terrain. This boldly original (Calvin Wilson, ST. LOUIS POST-DISPATCH) epic adventure captures the extraordinary power of the human spirit in an immersive and visceral experience unlike anything you have ever seen (Jake Hamilton, FOX-TV).
Steve Jobs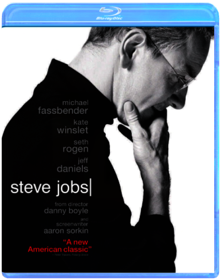 Danny Boyle
Directed by Academy Award winner Danny Boyle and written by Academy Award winner Aaron Sorkin, Steve Jobs paints an intimate portrait of the brilliant man.
Tale of Tales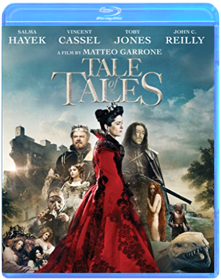 Matteo Garrone
Sea monsters, monarchs, ogres, and sorcerers collide in this epic film from the visionary director of Gomorrah.

Based on three spellbinding stories of magic and the macabre by 17th-century folklorist Giambattista Basile, Tale of Tales unleashes a barrage of mind-bogglingly gorgeous and fantastical imagery as it brings to life the misadventures of three kings.

In the kingdom of Longtrellis, the King (John C. Reilly) and his Queen (Salma Hayek) attempt to conceive a child through very unusual means. Meanwhile, in Highhills, the none-too-bright monarch (Toby Jones) marries his daughter off to a brutal ogre while developing a strange obsession with breeding a giant flea. At the same time, the sex-obsessed ruler of Strongcliff (Vincent Cassel) is in for a shock when the woman with whom he falls in love is not quite what she seems. Overflowing with surreal, dazzling surprises, this intoxicating cinematic spectacle is a delirious excursion into the dark heart of fairy tales.
The Witch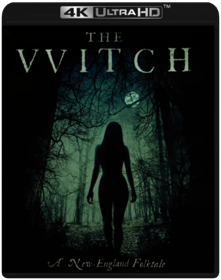 Robert Eggers
10 Cloverfield Lane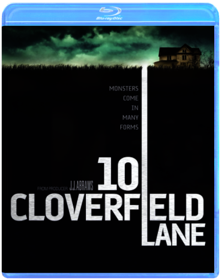 Dan Trachtenberg
After surviving a car accident, Michelle (Mary Elizabeth Winstead) wakes up to find herself in an underground bunker with two men. Howard (John Goodman) tells her that a massive chemical attack has rendered the air unbreathable, and their only hope of survival is to remain inside. Despite the comforts of home, Howard's controlling and menacing nature makes Michelle want to escape. After taking matters into her own hands, the young woman finally discovers the truth about the outside world.
31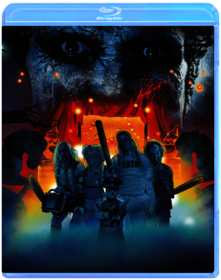 Rob Zombie
Antibirth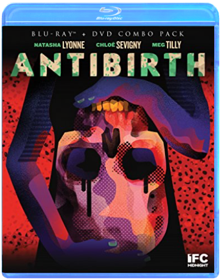 Danny Perez
Hard-drinking, pill-popping, bong-ripping Lou (Natasha Lyonne, Orange In The New Black) and her best friend Sadie (Chloe Sevigny, #Horror, Love & Friendship) spend their days adrift in a druggy haze. But one wild night out becomes a bad trip that never ends when Lou wakes up with symptoms of an unexplained, highly abnormal pregnancy. Who (or what) is growing inside her? As her due date approaches with alarming swiftness, the fear, paranoia, and conspiracy theories begin to pile up. Spiked with blasts of hallucinatory color, surreal shocks, and subversive comedy, the audacious feature debut from Danny Perez is a no-holds-barred descent into delirium. This "Weird, messy and oddly fascinating", (Maitland McDonagh, Film Journal International) film also stars Meg Tilly (Psycho II) and Mark Webber (Green Room).
Arrival
Denis Villeneuve
When mysterious spacecrafts touch down across the globe, an elite team - lead by expert linguist Louise Banks (Amy Adams) - is brought together to investigate. As mankind teeters on the verge of global war, Banks and the team race against time for answers - and to find them, she will take a chance that could threaten her life, and quite possibly humanity.4K Ultra Blu-Ray edition
Creepy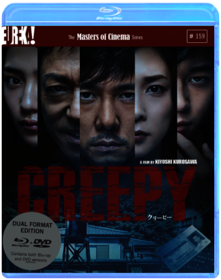 Kiyoshi Kurosawa
NOTICE: Polish Release, cover may contain Polish text/markings. The disk DOES NOT have English audio and subtitles.
De Palma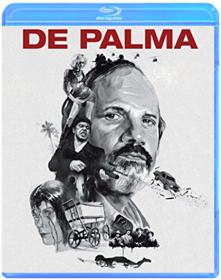 Noah Baumbach, Jake Paltrow
Don't Breathe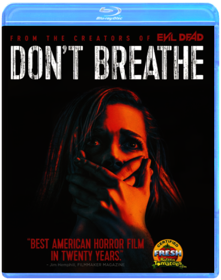 Fede Alvarez
From the twisted minds behind EVIL DEAD comes a new terrifying experience. Three young thieves (Jane Levy, Dylan Minnette, Daniel Zovatto) fight for their lives after breaking into the home of a blind man (Stephen Lang) who has a dark side.
Elle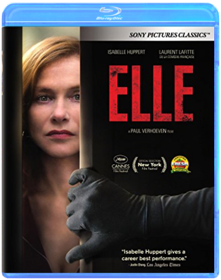 Paul Verhoeven
Michèle seems indestructible. Head of a leading video game company, she brings the same ruthless attitude to her love life as to business. Being attacked in her home by an unknown assailant changes Michèle's life forever. When she resolutely tracks the man down, they are both drawn into a curious and thrilling game - a game that may, at any moment, spiral out of control.
Everybody Wants Some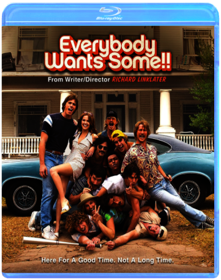 Richard Linklater
Hail, Caesar!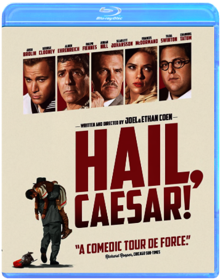 Joel Coen, Ethan Coen
Four-time Oscar-winning filmmakers Joel and Ethan Coen (No Country for Old Men,Fargo) write and direct Hail, Caesar!, an all-star comedy set during the latter years of Hollywood's Golden Age. Starring Josh Brolin, George Clooney, Alden Ehrenreich, Ralph Fiennes, Jonah Hill, Scarlett Johansson, Frances McDormand, Tilda Swinton, and Channing Tatum, Hail, Caesar! follows a single day in the life of a studio fixer who is presented with plenty of problems to fix.
The Handmaiden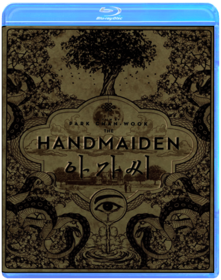 Park Chan-wook
From PARK Chan-wook, the celebrated director of OLDBOY, LADY VENGEANCE and STOKER, comes a ravishing new crime drama. PARK presents a gripping and sensual tale of two women - a young Japanese Lady living on a secluded estate, and a Korean woman who is hired to serve as her new handmaiden, but is secretly plotting with a conman to defraud her of a large inheritance. Inspired by the novel Fingersmith by British author Sarah Waters, THE HANDMAIDEN borrows the most dynamic elements of its source material and combines it with PARK Chan-wook's singular vision to create an unforgettable viewing experience.
Love & Friendship
Whit Stillman
LOVE & FRIENDSHIP is an adaptation of Jane Austen's novella Lady Susan in which a beautiful young widow Lady Susan Vernon (Kate Beckinsale) visits her in-laws' estate while waiting for social chatter about her personal indiscretions to pass. While there, the intelligent, flirtatious, and amusingly egotistical Lady Vernon decides to secure a husband for herself and her rather reluctant daughter, Frederica. Enlisting the assistance of her old friend Alicia (Chloe Sevigny), Lady Vernon attracts the simultaneous attention of the young, handsome Reginald DeCourcy, the rich and silly Sir James Martin and the divinely handsome, but married, Lord Manwaring, complicating matters severely.
Moonlight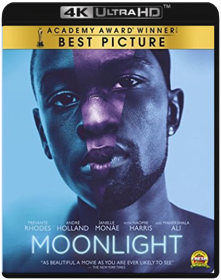 Barry Jenkins
The Academy BEST PICTURE beautifully remastered for the first time on 4K Ultra HD!

A timeless story of human connection and self-discovery, Academy Award® ''Best Motion Picture'' Winner MOONLIGHT chronicles the life of a young black man from childhood to adulthood as he struggles to find his place in the world while growing up in a rough neighborhood of Miami. Anchored by extraordinary performances from a tremendous ensemble cast, MOONLIGHT is a profoundly moving portrayal of the moments, people, and unknowable forces that shape our lives and make us who we are.
Neon Demon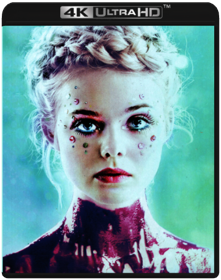 Nicolas Winding Refn
When aspiring model Jesse moves to Los Angeles, her youth and vitality are devoured by a group of beauty-obsessed women who will use any means necessary to get what she has.
Passengers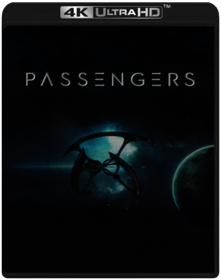 Morten Tyldum
Jennifer Lawrence and Chris Pratt star in a high-stakes adventure about two passengers, Jim and Aurora, onboard a spaceship transporting them to a new life on another planet. The trip takes a deadly turn when their hibernation pods mysteriously wake them 90 years before they reach their destination. As they try to unravel the mystery behind the malfunction, they begin to fall for each other only to discover that the ship itself is in grave danger. With the lives of 5000 sleeping passengers at stake, only Jim and Aurora can save them all.
Rogue One: A Star Wars Story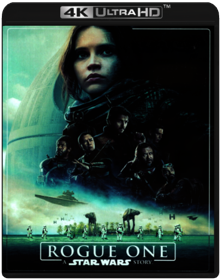 Gareth Edwards
Silence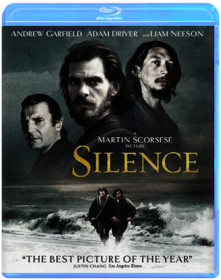 Martin Scorsese
Swiss Army Man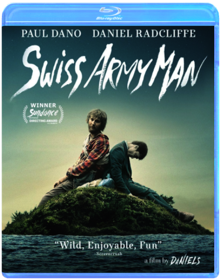 Daniel Scheinert, Daniel Kwan
The Age of Shadows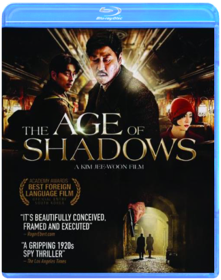 Jee-woon Kim
The Wailing
Na Hong Jin
In this unbelievably tense supernatural thriller, a foreigner s mysterious appearance in a quiet, rural village causes suspicion among the locals - suspicion which quickly turns to hysteria as the townspeople begin killing each other in brutal outbursts for seemingly no reason. As the investigating officer watches his daughter fall under the same savage spell, he agrees to consult a shaman for answers - unknowingly escalating the situation into something far more dangerous.
Over six years in the making, director Na Hong-jin s meticulously crafted follow-up to the globally acclaimed THE YELLOW SEA and THE CHASER (his third to premiere at the Festival de Cannes) smashed box office records upon its debut in South Korea, where fans are already making return viewings to catch new clues and debate what s sure to be the most talked-about ending of 2016.

EXTRAS
Making of THE WAILING
The Beginning of THE WAILING
Trailer

Language: Korean (original)
Subtitles: English
Warcraft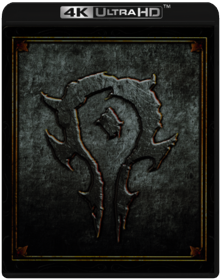 Duncan Jones
The peaceful realm of Azeroth stands on the brink of war as its civilization faces a fearsome race of invaders: orc warriors fleeing their dying home to colonize another. As a portal opens to connect the two worlds, one army faces destruction and the other faces extinction. From opposing sides, an unlikely set of heroes are set on a collision course that will decide the fate of their families, their people and their home. So begins a spectacular saga of power and sacrifice in which war has many faces, and everyone fights for something.
Alien: Covenant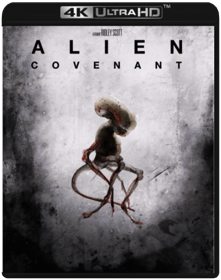 Ridley Scott
Ridley Scott returns to the universe he created with the next Alien adventure! The crew of the colony ship Covenant uncovers a deadly threat and must attempt a harrowing escape.
The Before Trilogy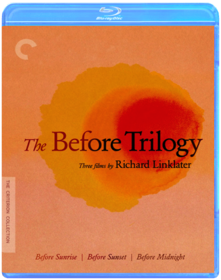 Richard Linklater
Blade Runner 2049
Denis Villeneuve
Brawl In Cell Block 99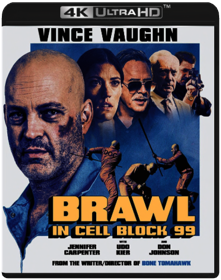 S. Craig Zahler
A former boxer named Bradley loses his job as an auto mechanic, and his troubled marriage is about to expire. At this crossroads in his life, he feels that he has no better option than to work for an old buddy as a drug courier. This improves his situation until the terrible day that he finds himself in a gunfight between a group of police officers and his own ruthless allies. When the smoke clears, Bradley is badly hurt and thrown in prison, where his enemies force him to commit acts of violence that turn the place into a savage battleground. From the director of Bone Tomahawk, Brawl in Cell Block 99 stars Vince Vaughn (Hacksaw Ridge), Jennifer Carpenter ("Dexter"), Udo Kier (Blade) and Don Johnson ("Miami Vice").
David Lynch: The Art Life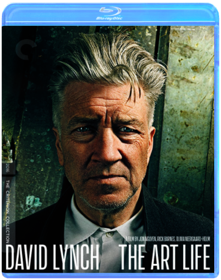 Jon Nguyen, Rick Barnes, Olivia Neergaard-Holm
A rare glimpse into the mind of one of cinema s most enigmatic visionaries, David Lynch: The Art Life offers an absorbing portrait of the artist, as well as an intimate encounter with the man himself. From the privacy of his home and painting studio in the Hollywood Hills, a candid Lynch conjures people and places from his past, from his boyhood in Idaho and Virginia to his experiences at art school in Boston and Philadelphia to the beginnings of his filmmaking career in Los Angeles in stories that unfold like scenes from his movies. This remarkable documentary by directors Jon Nguyen, Rick Barnes, and Olivia Neergaard-Holm reveals the story behind Lynch's early years as a painter and director drawn to the phantasmagoric, while also illuminating his enduring commitment to what he calls the 'the art life :' You drink coffee, you smoke cigarettes, and you paint, and that s it.'

BLU-RAY SPECIAL EDITION FEATURES
- High-definition digital transfer, with 5.1 surround DTS-HD Master Audio soundtrack
- New interview with codirector Jon Nguyen
- PLUS: A new essay by critic Dennis Lim
Dunkirk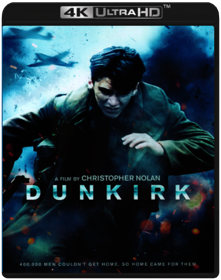 Christopher Nolan
Get Out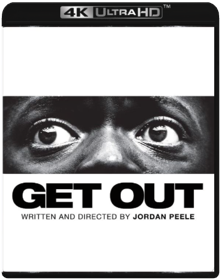 Jordan Peele
When Chris (Daniel Kaluuya), a young African-American man, visits his white girlfriend's (Allison Williams) family estate, he becomes ensnared in the more sinister, real reason for the invitation. At first, Chris reads the family's overly accommodating behavior as nervous attempts to deal with their daughter's interracial relationship, but as the weekend progresses, a series of increasingly disturbing discoveries lead him to a truth that he could have never imagined. This speculative thriller from Blumhouse (producers of The Visit, Insidious series and The Gift) and the mind of Jordan Peele (Key & Peele) is equal parts gripping thriller and provocative commentary.
It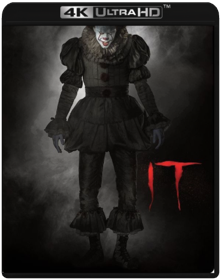 Andrés Muschietti
The Killing of a Sacred Deer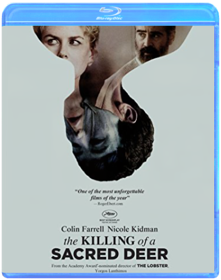 Yorgos Lanthimos
Golden Globe® winner Colin Farrell and Oscar® winner Nicole Kidman star in an unforgettable thriller about the sacrifice one man has to make in order to protect his family.
Life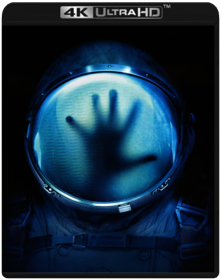 Daniel Espinosa
Life is a terrifying sci-fi thriller about a team of scientists aboard the International Space Station whose mission of discovery turns to one of primal fear when they find a rapidly evolving life form that caused extinction on Mars, and now threatens the crew and all life on Earth.
Mother!
Darren Aronofsky
academy award® winners jennifer lawrence (silver linings playbook) and javier bardem (no country for old men) deliver unforgettable performances in academy award nominated darren aronofsky's (black swan) praised opus. the film shattered audiences and critics around the world. it s been called darkly exhilarating (justin chang, los angeles times) and aronofsky's most daring film yet (ben croll, indiewire). experience the visually arresting psychological thriller that will leave your heart pounding and your mind blown!
Phantom Thread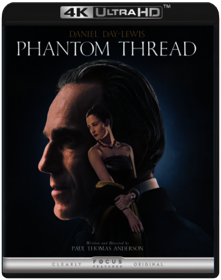 Paul Thomas Anderson
Set in the glamour of the 1950's post-war London, renowned dressmaker Reynolds Woodcock (Daniel Day-Lewis) and his sister Cyril (Lesley Manville) are at the center of the British fashion, dressing royalty, movie stars, heiresses, socialites, debutants and dames with the distinct style of The House of Woodcock. Women come and go through Woodcock's life until he comes across a young, strong-willed woman, Alma (Vicky Krieps), who soon becomes a fixture in his life as his muse and lover. Once controlled and planned, he finds his carefully tailored life disrupted by the scariest curse of all…love. And so begins a Gothic Romance of twists, turns and power struggles of "pure, delicious pleasure"* that is "devilishly funny and luxuriantly sensuous."** * Peter Bradshaw, THE GUARDIAN ** Dana Stevens, SLATE
The Shape of Water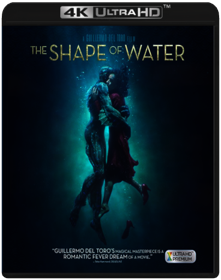 Guillermo del Toro
Thoroughbreds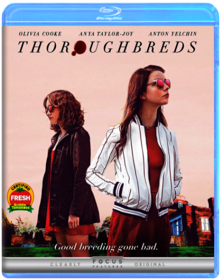 Cory Finley
Childhood friends Lily (Anya Taylor-Joy) and Amanda (Olivia Cooke) reconnect in suburban Connecticut after years of growing apart. Lily is now a polished, upper-class teenager at a fancy boarding school; Amanda has turned into a sharp-witted outcast with an attitude. Though they seem at odds, the pair bonds over Lily's contempt for her oppressive stepfather, and they begin to bring out one another's most destructive tendencies. Their ambitions lead them to hire a local hustler and take matters into their own hands to set their lives straight.
Three Billboards Outside Ebbing, Missouri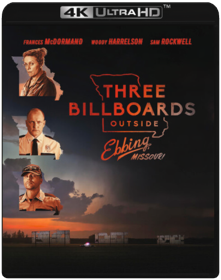 Martin McDonagh
Valerian and the City of a Thousand Planets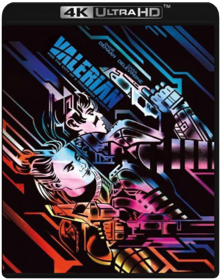 Luc Besson
Based on the groundbreaking comic book series which inspired a generation of artist, writers, and filmmarker, VALERIAN AND THE CITY OF A THOUSAND PLANETS is the visually spectacular new adventure film from Luc Besson.

In the 28th century, Valerian (DeHaan) and Laureline (Delevingne) are a team of special operatives charged with maintaining order throughout the human territories. Under assignment from the Minister of Defense, the two embark on a mission to the astonishing city of Alpha an ever-expanding metropolis where species from all over the universe have converged over centuries to share knowledge, intelligence, and cultures with each other. There is a mystery at the center of Alpha, a dark force which threatens the peaceful existence of the City of a Thousand Planets, and Valerian and Laureline must race to identify the marauding menace and safeguard not just Alpha, but the future of the universe.
The Wild Boys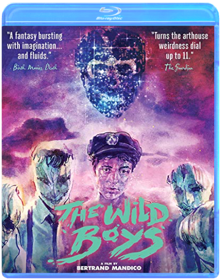 Bertrand Mandico
Altered Innocence Presents THE WILD BOYS - "A heady, sexually charged take on LORD OF THE FLIES…" - The Los Angeles Times

The debut feature from Bertrand Mandico tells the tale of five adolescent boys (all played by actresses) enamored by the arts, but drawn to crime and transgression. After a brutal crime committed by the group and aided by TREVOR - a deity of chaos they can't control - they're punished to board a boat with a captain hell-bent on taming their ferocious appetites. After arriving on a lush island with dangers and pleasures abound the boys start to transform in both mind and body. Shot in gorgeous 16mm and brimming with eroticism, genderfluidity, and humor, THE WILD BOYS will take you on journey you won't soon forget.

Special Features:

English and Spanish subtitles.
Behind the Scenes.
Deleted Scenes.
Foldout Poster Insert.
Reversible Artwork.
Original Theatrical Trailer.
Teaser Trailer.
Other Trailers.
Feels like a Guy Maddin production by way of early Todd Haynes, with an unabashed erotic streak. Katie Walsh, Los Angeles Times A… intoxicating miracle of a film: a weird, erotic coming-of-age fantasy adventure that probes dark, dank regions of the human psyche. Andrew Todd, Birth. Movies. Death. It's all a rush, thrilling and shocking and overwhelming, as THE WILD BOYS opens itself up to limitless possibilities under Mandico's vision. Ken Bakely, Film Pulse
You Were Never Really Here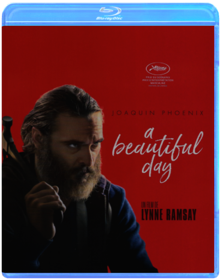 Lynne Ramsay
Annihilation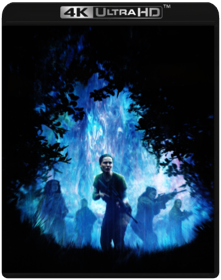 Alex Garland
Annihilation 4K UHD Blu-Ray + Blu-Ray + Digital HD
Burning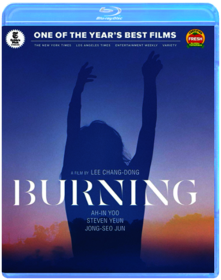 Lee Chang-dong
Based on a story by international best-selling author Haruki Murakami, BURNING is the searing examination of an alienated young man, Jongsu (Ah-in YOO, The Throne), a frustrated introvert whose already difficult life is complicated by the appearance of two people into his orbit: first, Haemi (newcomer Jong-seoJUN), a spirited woman who offers romantic possibility, and then, Ben (Steven YEUN, The Walking Dead, Sorry to Bother You), a wealthy and sophisticated young man she returns from a trip with. When Jongsu learns of Bens secret fetish of burning down greenhouses and Haemi suddenly disappears, his confusion and obsessions begin to mount, culminating in a stunning finale.

Language: Korean (original)
Subtitles: English
Climax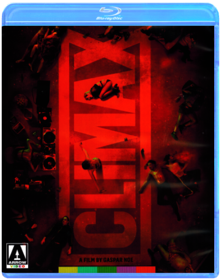 Gaspar Noé
Birth and death are extraordinary life experiences.

Life is a fleeting pleasure.

Following a successful and visually dazzling rehearsal, a dance troupe celebrates with a party. But when it becomes apparent that someone has spiked the Sangria, the dancers soon begin to turn on each other in an orgiastic frenzy.

Special Features TBA
Dragged Across Concrete
S. Craig Zahler
The Favourite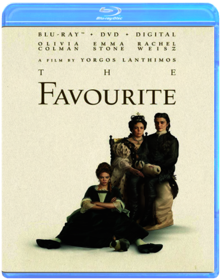 Yorgos Lanthimos
Nominated for 10 Oscars(r) including Best Picture, this wildly entertaining account of Queen Anne's retinue deftly combines comedy and drama as it brings to light the scandal that rocked early18th century England. While Queen Anne (Olivia Coleman) is ill and unable to govern, Lady Sarah (Rachel Weitz) leads the country in its war with France. Sarah's impoverished younger cousin, Abigail (Emma Stone), arrives in search of employment, and soon supplants Sarah as the Queen's closest confidante. 2 hrs, 1 DVD or Blu-ray disc.
Hereditary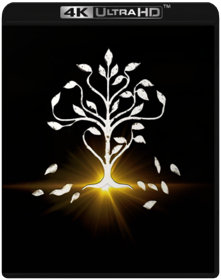 Ari Aster
High Life
Claire Denis
Holiday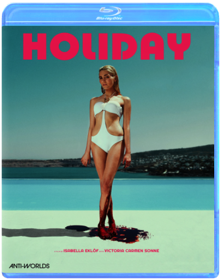 Isabella Eklöf
A love triangle featuring the trophy girlfriend of a petty drug lord, caught up in a web of luxury and violence in a modern dark gangster tale set in the beautiful port city of Bodrum on the Turkish Riviera.
The House that Jack Built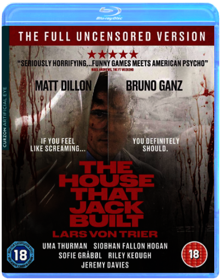 Lars von Trier
Lars von Trier's upcoming drama follows the highly intelligent Jack (Matt Dillon) over a span of 12 years and introduces the murders that define Jack s development as a serial killer. We experience the story from Jack s point of view, while he postulates each murder is an artwork in itself. As the inevitable police intervention is drawing nearer, he is taking greater and greater risks in his attempt to create the ultimate artwork.
INDUSTRIAL ACCIDENT: The Story of Wax Trax! Records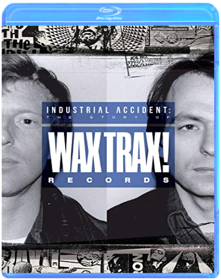 Ingmar Bergman's Cinema
Ingmar Bergman
Insect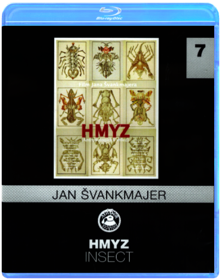 Jan Švankmajer
Mandy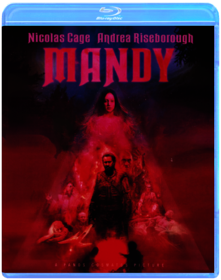 Panos Cosmatos
The quiet life of devoted couple Red (Nicolas Cage, Leaving Las Vegas) and Mandy (Andrea Riseborough, Birdman) takes a dark and bizarre turn when a nightmarish cult and their maniacal leader (Linus Roache, "Vikings") seek to possess Mandy…body and soul. A shocking assault on the innocent pair leads to a spiraling, surreal, bloody rampage of all out, mind-altering vengeance. "Certainly not for the faint of heart" (The Hollywood Reporter), Mandy is "a primal, psychedelic rage-scream of a movie" (Slash Film).
The Nightingale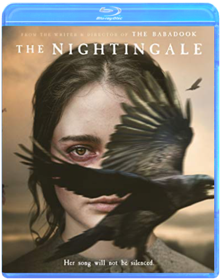 Jennifer Kent
Shadow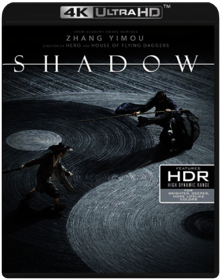 Zhang Yimou
With SHADOW, director Zhang Yimou (HERO, HOUSE OF FLYING DAGGERS) once again pushes the boundaries of wuxia action to create a film like no other, masterfully painting a canvas of inky blacks and greys punctuated with bursts of color from the blood of the defeated. In a kingdom ruled by a young and unpredictable king, the military commander has a secret weapon: a shadow , a look-alike who can fool both his enemies and the King himself. Now he must use this weapon in an intricate plan that will lead his people to victory in a war that the King does not want.

Language: Mandarin, English Dub
Subtitles: Chinese, English
Violence Voyager/The Burning Buddha Man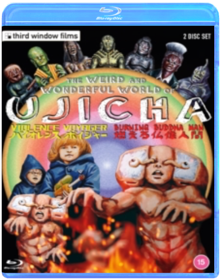 Ujicha
Ad Astra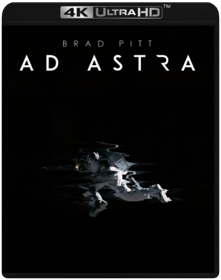 James Gray
Astronaut Roy McBride (Brad Pitt) travels to the outer edges of the solar system to find his missing father and unravel a mystery that threatens the survival of our planet.
Alita: Battle Angel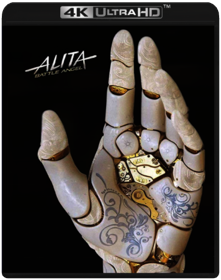 Robert Rodriguez
Apollo 11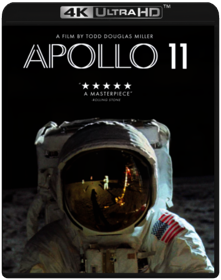 Todd Douglas Miller
The Beach Bum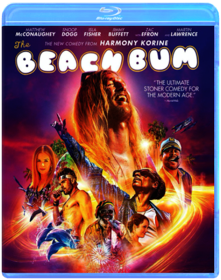 Harmony Korine
The Beach Bum follows the hilarious misadventures of Moondog (Matthew McConaughey), a rebellious rogue who always lives life by his own rules. Co-starring Snoop Dogg, Zac Efron, and Isla Fisher, The Beach Bum is a refreshingly original and subversive new comedy from director Harmony Korine (Kids, Spring Breakers).
The Films of Jan Švankmajer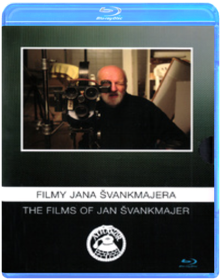 Jan Švankmajer
Ford v Ferrari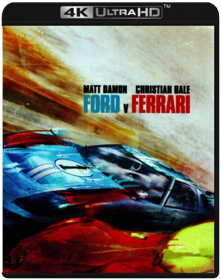 James Mangold
American car designer Carroll Shelby and driver Ken Miles battle corporate interference and the laws of physics to build a revolutionary race car for Ford in order to defeat Ferrari at the 24 Hours of Le Mans in 1966.
The Irishman
Martin Scorsese
Jojo Rabbit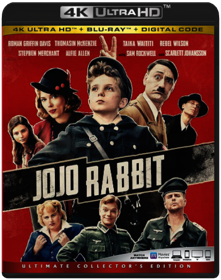 Taika Waititi
The Lighthouse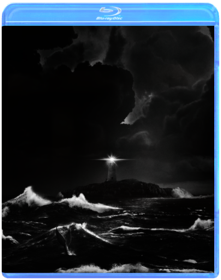 Robert Eggers
Lux Æterna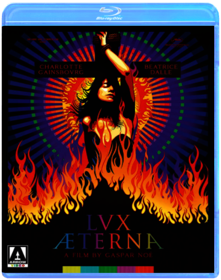 Gaspar Noé
Midsommar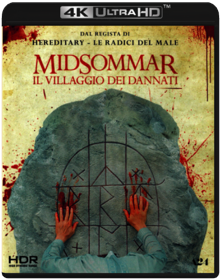 Ari Aster
NOTICE: Polish Release, cover may contain Polish text/markings. The disk has English audio.
Once upon a Time in Hollywood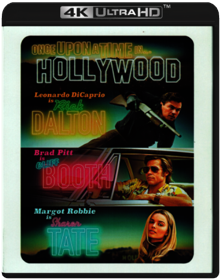 Quentin Tarantino
Quentin Tarantino's Once Upon a Time... in Hollywood visits 1969 Los Angeles, where everything is changing, as TV star Rick Dalton (Leonardo DiCaprio) and his longtime stunt double Cliff Booth (Brad Pitt) make their way around an industry they hardly recognize anymore. The ninth film from the writer-director features a large ensemble cast and multiple storylines in a tribute to the final moments of Hollywood's golden age.
Only the Animals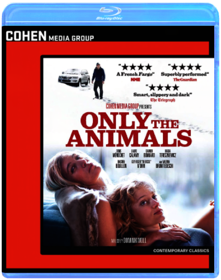 Dominik Moll
Parasite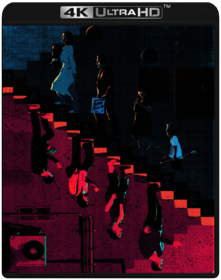 Joon Ho Bong
Portrait of a Lady on Fire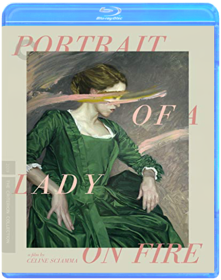 Celine Sciamma
Us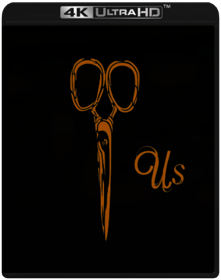 Jordan Peele
-2020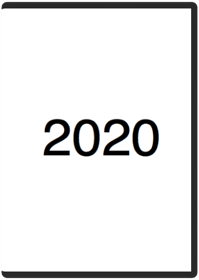 Essential Fellini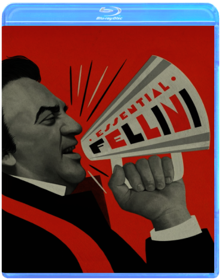 Federico Fellini
First Cow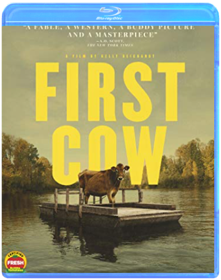 Kelly Reichardt
Possessor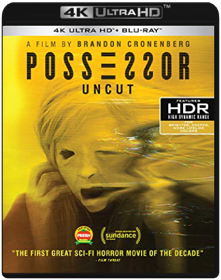 Brandon Cronenberg
Soul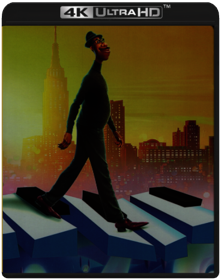 Pete Docter
Tenet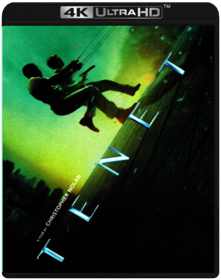 Christopher Nolan
Underwater Blu-ray
Benedetta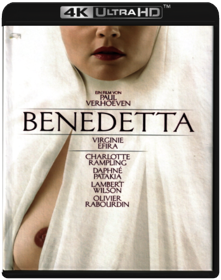 Paul Verhoeven
Dune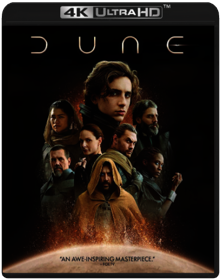 Denis Villeneuve
Licorice Pizza
Paul Thomas Anderson
Pleasure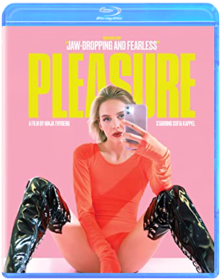 Ninja Thyberg
Titane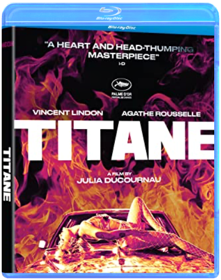 Julia Ducournau
The Worst Person in the World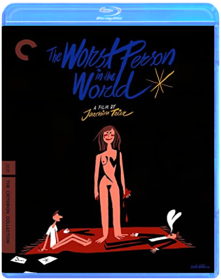 Joachim Trier
Men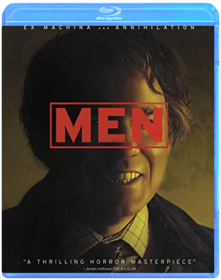 Alex Garland
Neptune Frost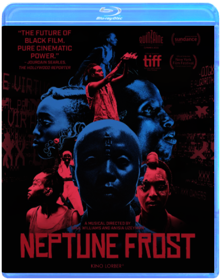 Saul Williams, Anisia Uzeyman
The Northman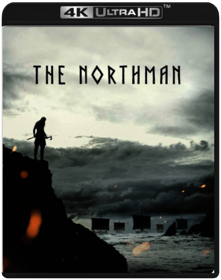 Robert Eggers
Interspecies Reviewers Blu-Ray Collection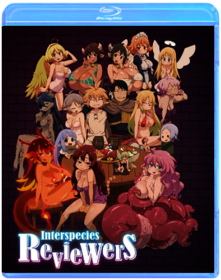 -
-2030