Accatone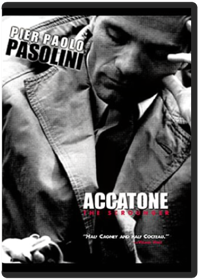 Pier Paolo Pasolini
The first of Pier Paolo Pasolini's highly acclaimed films, and the winner of numerous film festival prizes, ACCATONE uses a talented cast to present a vivid picture of the Roman slums. Based on one of the filmmaker/poet's novels, this story of a pimp, his friends, his enemies and his girls is realism at its earthiest. It is brutal, realistic, unsentimental and bustiling with life. Particularly effective is the use of Bach on the soundtrack which provides ironic counterpoint to the world of pimps, prostitutes and street fighters.
Mamma Roma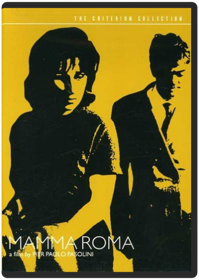 Pier Paolo Pasolini
Anna Magnani is Mamma Roma, a middle-aged prostitute who attempts to extricate herself from her sordid past for the sake of her son. Filmed in the great tradition of Italian neorealism, Mamma Roma offers an unflinching look at the struggle for survival in postwar Italy, and highlights director Pier Paolo Pasolini#s lifelong fascination with the marginalized and dispossessed. Though banned upon its release in Italy for obscenity, today Mamma Roma is considered a classic: a glimpse at a country#s most controversial director in the process of finding his style and a powerhouse performance by one of cinema#s greatest actresses.
The Gospel According to St. Matthew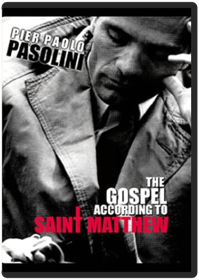 Pier Paolo Pasolini
The birth, life, teachings, and death on the cross of Jesus Christ presented almost as a cine-verite documentary. Pasolini's second feature seemed a strange choice for such a revolutionary director, but it is an attempt to take Christ out of the opulent church and present him as an outcast Italian peasant. Applying Neo-Realist methods, the director shot the film in Calabria, using the expressive faces of the non professionals including that of his motoher as the Virgin Mary. THE GOSPEL ACCORDING TO ST. MATTHEW is considered the greatest screen version of the 'greatest story ever told' and this freshly remastered version brings the film to life in a way that has never been seen before.
Love Meetings
Pier Paolo Pasolini
LOVE MEETINGS is a Cinema Verite investigation in Italy, including impressive appearances by famed author Alberto Moravia and noted psychologist Cesare Musatti. Pasolini, the poet turned filmmaker, appears as the interviewer and asks a wide range of individuals to share their tales of love, prostitution, homosexuality, marital and non marital liaisons. The film is full of wit and sensuality, and is as topical as today's headlines.
The Hawks and the Sparrows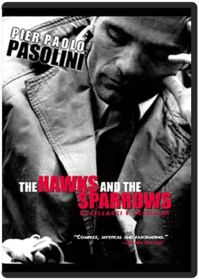 Pier Paolo Pasolini
THE HAWKS AND THE SPARROWS, a wild comic fable, stars the beloved stone faced clown Toto as an Italian everyman, and Ninetto Davoli as his good natured but empty headed son. Pasolini uses a comic crow, which philosophizes amusingly and pointedly about the passing scene, as a counterpoint to the performers, representing humanity, as they progress down the road of life. Pasolini presents a tragic fable which shows two delightful innocents caught, like many Italians, between the Church and Marxism.
Oedipus Rex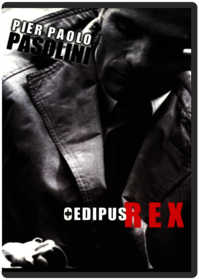 Pier Paolo Pasolini
Teorema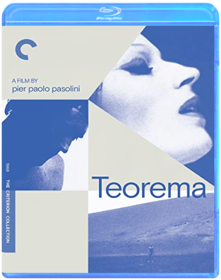 Pier Paolo Pasolini
Medea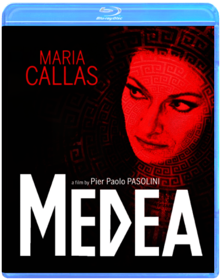 Pier Paolo Pasolini
Based on the Greek classic by Euripides, Pasolini's Medea tells the tale of Jason, the leader of the invincible army, and his quest for the Golden Fleece. Meeting the priestess of the Flees, Medea (Callas), Jason falls in love with her and takes her home as she sacrifices everything to be with him, including dismembering her own brother. Years later he spurns her for a new love, the young and beautiful Glauce. Medea, using her witch-craft powers, exacts a terrible revenge upon Jason leading to a terrifying climax where loyalty and betrayal are tried before the altar of human sacrifice. Opera legend Maria Callas stars in her only dramatic film role ever. Restored and re-mastered from a new 35mm film-to-tape transfer.
Porcile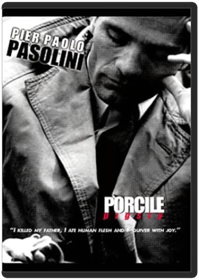 Pier Paolo Pasolini
Porcile, (Pigsty) the story of a cannibal in a medieval wasteland is interwoven with that of the son of an ex-Nazi industrialist in modern day Germany. The young German, who is more attracted to pigs than his fiancee, and the cannibal become sacrificial victims of their different societies. This strange, grotesque and thought provoking parable is filmed with such a calm beauty and underlying disgust that it gains a deep significance as an attack on the middle classes of the 20th century.
Trilogy of Life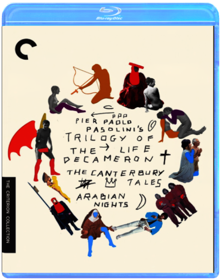 Pier Paolo Pasolini
In the early 1970s, the great Italian poet, philosopher, and filmmaker Pier Paolo Pasolini (Salò, or The 120 Days of Sodom) brought to the screen a trio of masterpieces of premodern world literature—Giovanni Boccaccio's The Decameron, Geoffrey Chaucer's The Canterbury Tales, and The Thousand and One Nights (often known as The Arabian Nights)—and in doing so created his most uninhibited and extravagant work, which he titled his Trilogy of Life. In this brazen and bawdy triptych, the director set out to challenge consumer capitalism and celebrate the uncorrupted human body while commenting on contemporary sexual and religious mores and hypocrisies. His scatological humor and rough-hewn sensuality leave all modern standards of decency behind; these are physical, provocative, and wildly entertaining films, all extraordinarily designed by Dante Ferretti (Hugo) and featuring evocative music by Ennio Morricone (Days of Heaven).

The Decameron Pasolini weaves together stories from Giovanni Boccaccio's fourteenth-century moral tales in this picturesque free-for-all. The Decameron explores the delectations and dark corners of an earlier and, as the filmmaker saw it, less compromised time. Among the chief delights are a young man's exploits with a gang of grave robbers, some randy nuns who sin with a strapping gardener, and Pasolini's appearance as a pupil of the painter Giotto, at work on a massive fresco. One of the director's most popular films, The Decameron, trans­posed to Naples from Boccaccio's Florence, is a cutting takedown of the pieties surrounding religion and sex.

1971 111 minutesColorMonauralIn Italian with English subtitles1.85:1 aspect ratio

The Canterbury Tales Eight of Geoffrey Chaucer's lusty tales come to life on-screen in Pasolini's gutsy and delirious The Canterbury Tales, which was shot in England and offers a remarkably earthy re-creation of the medieval era. From the story of a nobleman struck blind after marrying a much younger and ultimately promiscuous bride to a climactic trip to a hell populated by friars and demons (surely one of the most outrageously conceived and realized sequences ever committed to film), this is an unendingly imaginative work of merry blasphemy, framed by Pasolini's portrayal of Chaucer himself.

1972 111 minutesColorMonauralIn Italian with English subtitles1.85:1 aspect ratio

Arabian Nights Pasolini traveled to Africa, India, and the Middle East to realize this ambitious cinematic treatment of a handful of the stories from the legendary The Thousand and One Nights. This is not the fairy-tale world of Scheherazade or Aladdin or Ali Baba—instead, the director focuses on the more erotic tales, ones of desire, betrayal, and atonement, framed by the story of a young man's quest to reconnect with his beloved slave girl. Full of lustrous sets and costumes and stunning location photography, Arabian Nights is a fierce and joyous exploration of human sensuality.

1974 130 minutesColorMonauralIn Italian with English subtitles1.85:1 aspect ratio
Salò, or The 120 Days of Sodom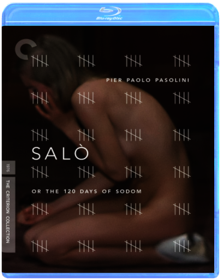 Pier Paolo Pasolini
The notorious final film from Pier Paolo Pasolini (Mamma Roma), Salo, or the 120 Days of Sodom, has been called nauseating, shocking, depraved, pornographic . . . It's also a masterpiece. The controversial poet, novelist, and filmmaker's transposition of the Marquis de Sade's eighteenth-century opus of torture and degradation to Fascist Italy in 1944 remains one of the most passionately debated films of all time, a thought-provoking inquiry into the political, social, and sexual dynamics that define the world we live in.