Cowboys From Hell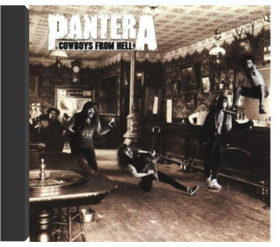 Pantera
Certified platinum by the RIAA. (7/97)
Vulgar Display of Power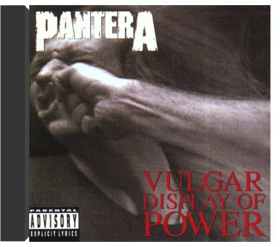 Pantera
Certified platinum by the RIAA. (11/97)
Far Beyond Driven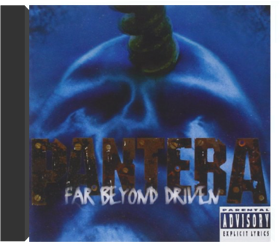 Pantera
Certified platinum by the RIAA. (11/97)
NOLA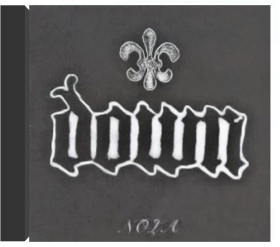 Down
Korea Edition / 13 Tracks CD / Jewel Case / Distributed by Warner Music Korea / A Warner Music Group Company / Manufactured by SKC in Cooperation with Hwa Eum Records / Made in Korea Oct. 1995 / Track List: 01 Temptation's Wings 02 Lifer 03 Pillars Of Eternity 04 Rehab 05 Hail The Leaf 06 Underneath Everything 07 Eyes Of The South 08 Jail 09 Losing All 10 Stone The Crows 11 Pray For The Locust 12 Swan Song 13 Bury Me In Smoke
Stone the Crow (Promo)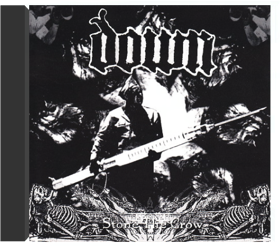 Down
Great Southern Trendkill
Pantera
Certified gold by the RIAA. (6/96)
Official Live: 101 Proof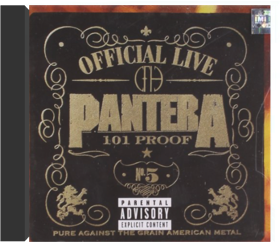 Pantera
Certified Gold by the RIAA. (5/99)
Holocausto de la Morte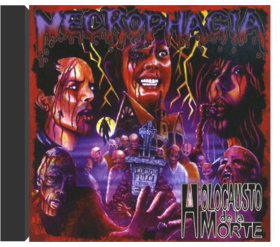 Necrophagia
Features Phillip Anselmo from PANTERA on guitar and songwriting! Prepare for eye gouging, throat slashing and head stabbing! Total cannibal ferrox Death Metal! Blood spraying, brain pulling violence filled with crushing power! Flesh ripping and soul tearing projectile vomit riffs and whore gutting vocals! Holocuasto De La Morte is a completely oppressive, chaotic, repulsive slab of music that makes the skin crawl.
Black Blood Vomitorium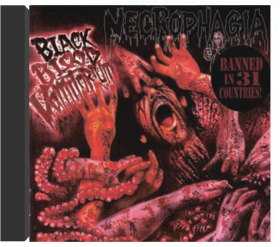 Necrophagia
Reinventing the Steel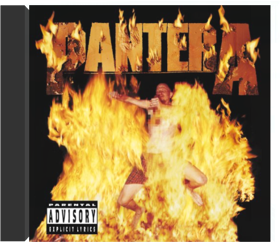 Pantera
Ounce for ounce, decibel for decibel, few bands can even approach the fury that is Pantera. For years they have been unleashing their anger in front of rabid crowds who have helped them sell millions of albums without MTV or heavy radio airplay, and now they are back with a new album of their most dynamic, fierce and unruly rock to date. Certified at 500 thousand by the RIAA. (2/01)
Southern Isolation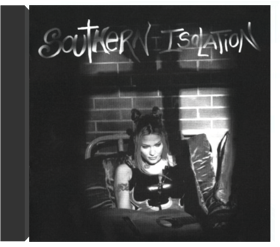 Southern Isolation
Banished Rhythmic Hate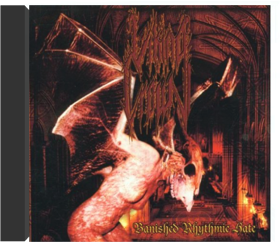 Viking Crown
Cannibal Holocaust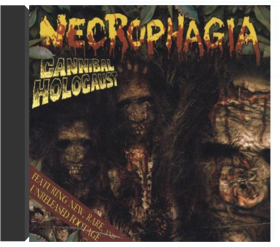 Necrophagia
Down II: A Bustle in Your Hedgerow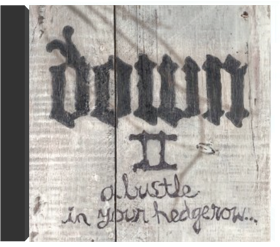 Down
No Description Available
No Track Information Available
Media Type: CD
Artist: DOWN
Title: DOWN II
Street Release Date: 03/26/2002
Domestic
Genre: HEAVY METAL
Superjoint Ritual: Live in Dallas, Texas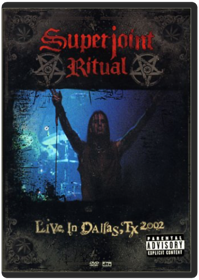 Superjoint Ritual
After taking the world by storm with their debut album "Use Once and Destroy", Superjoint Ritual embarked on a US tour that was nothing short of amazing. For the lucky fans who attended these gigs, it will be something they speak about for years. On a hot night in Dallas, the cameras rolled and the intensity, brutality and fury that is Superjoint was unleashed. With behind-the-scenes footage, the full concert and 5.1 surround sound, this video is a must have for heavy music fans everywhere!
Use Once & Destroy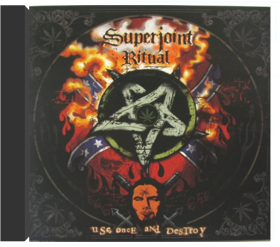 Superjoint Ritual
Pedro Conga ~ Use Once & Destroy
A Lethal Dose of American Hatred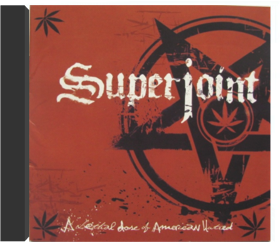 Superjoint Ritual
The Best of Pantera: Far Beyond the Great Southern Cowboy's Vulgar Hits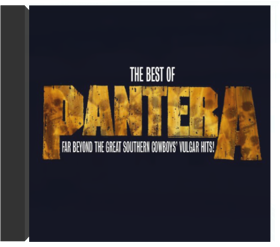 Pantera
The scorched-earth roar of Dallas-based Pantera blasted the unsuspecting masses on their monster 1990 major-label debut, Cowboys From Hell , forever changing the face of metal thereafter. Its follow-up, 1992's pulverizing Vulgar Display Of Power , is an all-time metal masterpiece, and '94's Far Beyond Driven is widely considered the heaviest album ever to enter Billboard 's Top 200 at #1. In a genre often dictated by trends, the unassailable Pantera are revered for uncompromising allegiance to their self-described "power groove" and extreme metal mission, and for paving the way for others brave enough to follow. Album Facts

*Bonus DVD, only available with this CD, includes 12 music videos!

*The first career-spanning complilation of their blistering hits.

*Totally almost 80 minutes, including 16 signature studio and live tracks from 1990-2000.

*Completely remastered for maximum sonic blast!

*Liner notes by Village Voice contributor Don Kaye.
Superjoint Ritual: Live at CBGB's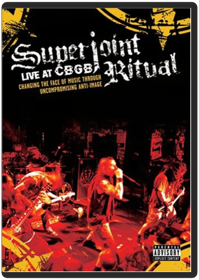 Superjoint Ritual
This 2004 concert at New York City's CBGB was everything the fans have come to expect: unbridled chaos, raw energy, and pure metal delivered only the way Superjoint can. It's the closest you can get to being there without actually jumping in the circle p
Pantera - 3 Vulgar Videos from Hell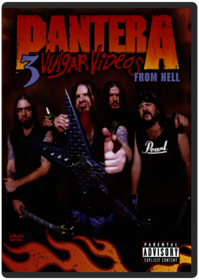 Pantera
Over The Under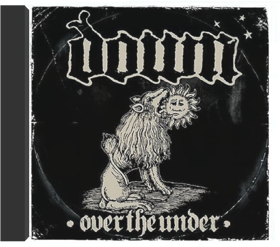 Down
1st full-length in 5 years from heralded hard rock pioneers, Down. Featuring Philip Anselmo, Rex Brown, Pepper Keenan, Kirk Windstein and Jimmy Bower, 'Over The Under' is 60 minutes plus of groundbreaking music combining elements of Black Sabbath, Lynyrd Skynyrd and everything in between that sets the group apart from anything in the marketplace today. This record documents the lives of these New Orleans natives through the last 5 years of catastrophe, tragedy and ultimately triumph.
Arson Anthem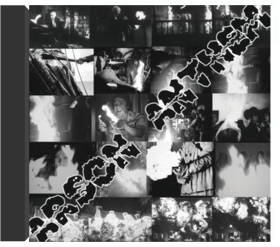 Arson Anthem
Arson Anthem, the band and the album, is a knuckle-scraping punch of aggression and hostility. This is Phil Anselmo's (ex-Pantera, Superjoint Ritual, Down) first record on his own label, Housecore Records. Arson Anthem also features Mike IX Williams (EyeHateGod, Outlaw Order), (Assjack, Superjoint Ritual) and Collin Yeo. The project was actually born and completed in the aftermath of Hurricane Katrina when Williams moved in with Anselmo and they spent hours listening to Anselmo's collection of early hardcore bands. Their mission is to re-introduce the roots of painful amplification, raw production, and an attitude to a movement within a new generation that's lost the meaning of less complicated ventures. Phil Anselmo isn't even the vocalist for his latest project - he's the guitarist. He left the front man duties to Eyehategod's fresh-from-prison Mike Williams. 8 tracks. Housecore Records. 2008.
Christ Inversion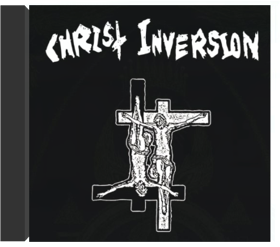 Christ Inversion
The Crow
The Crow
1 x CD Album
Europe 1994 1 Cure, The , Burn 6:39 2 Machines Of Loving Grace , Golgotha Tenement Blues 3:58 3 Stone Temple Pilots , Big Empty 4:55 4 Nine Inch Nails , Dead Souls 4:52 5 Rage Against The Machine , Darkness 3:41 6 Violent Femmes , Color Me Once 4:10 7 Rollins Band , Ghostrider 5:44 8 Helmet , Milktoast 3:59 9 Pantera , The Badge 3:53 10 For Love Not Lisa , Slip Slide Melting 5:45 11 My Life With The Thrill Kill Kult , After The Flesh 2:58 12 Jesus And Mary Chain, The , Snakedriver 3:39 13 Medicine , Time Baby III 3:50 14 Jane Siberry , It Can't Rain All The Time 5:34
Diary of a Mad Band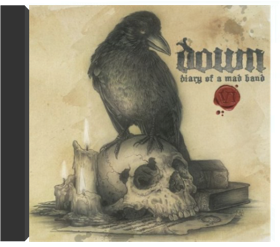 Down
This release from Down is a double Live CD featuring the band Live in London AND a DVD documenting the 2006 return of DOWN from the practice room through their first European tour! Based in New Orleans, LA Down has a rabid fan base both domestically and internationally.
Insecurity Notoriety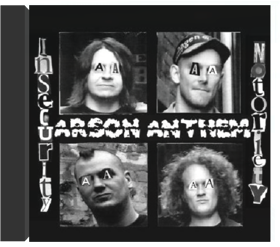 Arson Anthem
Philip H. Anselmo's Housecore Records' hardcore punk act Arson Anthem is pleased to announce the release of their first ever full-length release, entitled Insecurity Notoriety.
Arson Anthem is comprised of metal greats Philip H. Anselmo (Pantera, Down, Superjoint Ritual), Hank Williams III (Superjoint Ritual, Assjack), Mike IX Williams (Outlaw Order, Eyehategod), and Collin Yeo (Ponykiller).
'I'm not sure what it is...but when Hank III, Colin, Mike and I get into 'Arson' mode, time stops. We know the mission is to write unforgiving hardcore, inspired by a slew of 80s bands...but the result is its own animal, yet not too terribly removed from the genuine article,' describes Anselmo.
'With that said, Insecurity Notoriety is like listening to an old favorite blast from the skanking past...vicious, snotty, grating and anthemic! I know it's typical to call a modern-day hardcore band 'fresh' or 'different,' especially when it's your band but...it is! This effort make our first EP sound like child's play, as it should. Play it over and over! Piss everyone off!'
Down IV Part I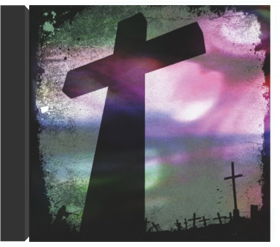 Down
Hard rock pioneers Down present their first new studio tracks in 5 years. The aptly titled EP One is the first in a series of four EP's planned for release, and marks the band's first studio release since 2007's Down III: Over the Under. Hailing from New Orleans, Down features Philip Anselmo, PepperKeenan, Kirk Windstein and Jimmy Bowery. Down's ground breaking music combines elements of Black Sabbath, Lynyrd Skynyrd, andeverything in between, setting them apart from anything in the market today.
War of the Gargantuas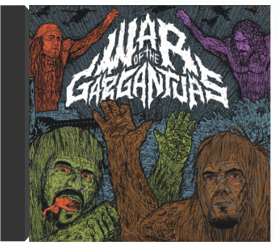 Philip H. Anselmo & The Illegals, Warbeast
2013 split EP from Pantera/Down vocalist Phil Anselmo and Metal warriors Warbeast. War Of The Gargantuas includes two songs from each artist. This album serves as the first release of any solo work by Philip Anselmo during the span of his nearly 30-year legacy. Also, the two Warbeast tracks on the split feature former bassist Alan Bovee before his amicable departure from the band.
Walk Through Exits Only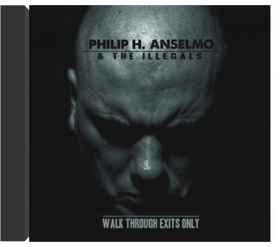 Philip H. Anselmo & The Illegals
Produced by Philip Anselmo and Michael Thompson, and recorded over the past couple of years at his New Orleans studio, Nodferatu's Lair, with his band The Illegals - Marzi Montazeri/guitar, and drummer Jose Manuel 'Blue' Gonzales, Walk Through Exits Only is abrasive, aggressive,
anthemic and 100% Anselmo. The album's eight songs are as unstrained as it gets, from 'Battalion of Zero' to 'Usurper's B*stard Rant,' to the album's title track that goes
against the grain and right through the exits. Brash, brutal guitars cut through punishing percussion as Anselmo screams with uncompromising ferocity and uncontainable
fire.

'It wasn't about doing a paint-by-numbers thrash or heavy metal record,' Anselmo explained about the project. ''It's an angry album that only I could do. I don't see anybody else out there screaming about the same sh*t I'm screaming about. On this album, there isn't any wordplay, there isn't any hidden message, it's all right there in front of you.''

Anselmo and the Illegals will support the new album with a major North American tour planned for this summer. Anselmo, who is up for Best Vocalist at this year's Revolver Golden Gods awards, will make a special appearance at that event.

On Walk Through Exits Only and over his entire career, Anselmo hasn't just paved his own path, he's bulldozed it with his bare hands.
Down IV Part II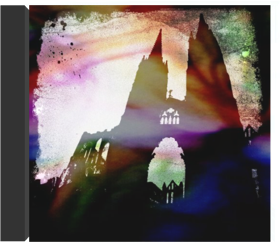 Down
With a collective resume encompassing Pantera, Corrosion of Conformity, and Eyehategod, Down puffed out its first haze of sonic smoke on the 1995 platinum-selling classic, Nola, followed by the critically revered offerings of Down II (2002), Down III (2007), and Down IV Part One (2012). Their shows built a certain live lore with unforgettable runs alongside Metallica, Heaven & Hell as well as coveted spots on Download, Soundwave, & Ozzfest. On 2014's Down IV - Part II, the boys once again deliver passionate, powerful, and pure heavy music.
Caught Up In the Gears of Application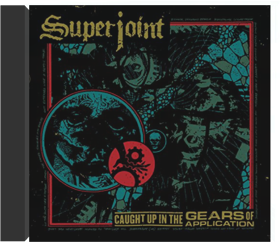 Superjoint Ritual
Members of Pantera, DOWN, Eyehategod, Warbeast, 16 Horsepower, etc. Formerly Superjoint Ritual The new Superjoint, Caught up in the Gears of Application is true to the bands style musically, whilst lyrically it is a palpable bird-finger to anything and everything that stifles freedom of expression, especially in music.
Choosing Mental Illness as a Virtue
Philip H. Anselmo & The Illegals
Philip H. Anselmo hasn't just paved his own path. he's bulldozed it with his bare hands. His primal, powerful presence led Pantera to Grammy Award nominations, sales of 20 million albums worldwide, legions of diehard fans, and an indisputable heavy metal legacy. Simultaneously, Down carved out a distinct niche with a gold-selling debut and three more critically acclaimed releases, most recently, 2012's Down IV Part I The Purple EP. Instead of treading the same ground, Anselmo and his band mates ''The Illegals'' Jose Manuel ''Blue'' Gonzalez [drums], Stephen Taylor (moved from bass to guitar), & new extreme additions ''Metal'' Mike DeLeon (guitar), & Walter Howard (bass) open up another doorway altogether with their 2018 Sophmore release, Choosing Mental Illness as Virtue, available through the vocalist's very own Housecore Records. It's extreme, abrasive, aggressive, and anthemic. In other words, it's purely Anselmo.