Ludovico Einaudi: Portrait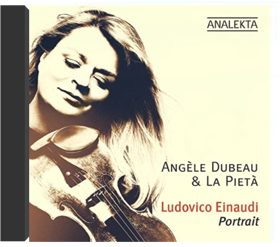 ANGELE / LA PIETA DUBEAU
Album of the Week (April 13, 2015) on Classic FM (UK)

Download of the Week on KDFC (San Francisco)

Portrait is a string of recordings presenting contemporary composers with a unique musical signature. Ludovico Einaudi is one of them. This grand and prolific Italian composer creates works that dwell within us for a long time. A music which captivates the listener, a sonic landscape to discover. Starting from the original versions starring this composer and brilliant pianist, I wished to explore these works with my violin, surrounded by the wonderful musicians of my string orchestra La Pietà. This is a revisit of his music, changing its texture, rethinking its character while bringing a new sonic dimension. I am happy to share with you my latest musical highlight. Enjoy the music! - Angèle Dubeau
Alessandro
George Frideric Handel
Handels ninth major opera for London, Alessandro was written as a showcase for the Rival Queens, the two famous Italian sopranos Francesca Cuzzoni and Faustina Bordoni whose supposed enmity, both personal and professional, not only generated good publicity for Handels latest opera but also added extra dramatic frisson to the two divas jealous clashes on stage.

Still something of a rarity even in this heyday of the Handel revival, Alessandro has only ever been recorded twice before over the past 30 years, and never previously with such a starry trio of singers in the three lead roles.

Marking the start of an exciting new partnership with the sensational Croatian counter-tenor Max Emanuel Cencic (and his company Parnassus Arts) that will involve both solo and ensemble recordings, this new recording stars Cencic himself as Alexander the Great (a role originally sung by the legendary castrato Senesino), with acclaimed French Canadian soprano Karina Gauvin as the Scythian princess Lisaura, and the sensational young Russian soprano Julia Lezhneva making her debut appearance as Deccas latest exciting solo signing in the role of Roxana, the Persian princess who finally wins the conquerors heart.

Recorded at the Megaron concert hall in Athens, this new recording of Handels classical epic features the period instruments of Armonia Atenea conducted by George Petrou, the brilliant young Baroque specialist whose previous recordings of Handel operas (Oreste, Arianna in Creta, Tamerlano, Giulio Cesare and the pasticcio Alessandro Severo) have won numerous international awards.
Arianna in Creta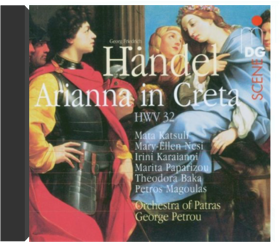 George Frideric Handel
Handel: The Great Oratorios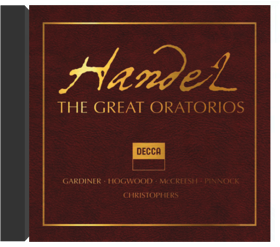 George Frideric Handel
This 41CD set presents the 16 oratorios that form George Frideric Handels greatest legacy in renowned period-instrument performances, all presented at an exceptional level.

These are the masterpieces that inspired the succeeding generation, most notably Haydn, Mozart and Mendelssohn.

The recordings selected for this collection represent some of the greatest Handel interpretations ever set down, featuring icons of the historically-informed performance movement such as Christopher Hogwood, Sir John Eliot Gardiner, Trevor Pinnock, Harry Christophers and Marc Minkowski.

Within the lift-off box with its gold-foil detailing, each work is housed in its own individual gate-fold wallet.

The accompanying 3-language booklet presents detailed track lists, session photographs and a new article by Lindsay Kemp exploring the composers musical genius beyond Messiah.

PACKAGING:
41CD lift-off box with Gold foil
Each work housed in an individual gate-fold wallet
100-page three-language booklet featuring track lists, artist photos and a new article by Lindsay Kemp

CD1-2 LA RESURREZIONE, HWV 47
CD3-4 ACIS & GALATEA, HWV 49 (First version)
CD5-6 ESTHER, HWV 50 (First version)
CD7-8 ATHALIA, HWV 52
CD9-10 ALEXANDER S FEAST, HWV 75
CD11-13 SAUL, HWV 53
CD14-15 ISRAEL IN EGYPT, HWV 54
CD 16-17 MESSIAH, HWV 56
CD 18-20 SAMSON, HWV 57
CD 21-23: SEMELE, HWV 58
CD 24-26 HERCULES, HWV 60
CD 27-29 BELSHAZZAR, HWV 61
CD 30-32 JUDAS MACCABAEUS, HWV 63
CD 33-35 SOLOMON, HWV 67
CD 36-38 THEODORA, HWV 68
CD 39-41 JEPHTHA, HWV 70
Royal Fireworks Music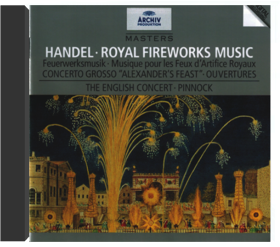 George Frideric Handel
Water Music
George Frideric Handel
Symphony No.5
Gustav Mahler
Mahler said the symphony must be like the world; it must embrace everything! and his Fifth Symphony, from its opening funeral march to the exuberance of the finale, certainly does just that. The use of its haunting Adagietto in Viscontis film Death in Venice, brought Mahlers music to the attention of a much wider public, 60 years after his death.
Divenire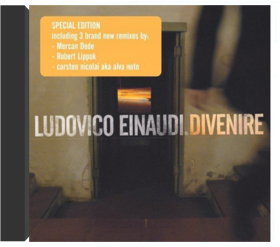 Ludovico Einaudi
Paysages: Debussy | Fauré | Messiaen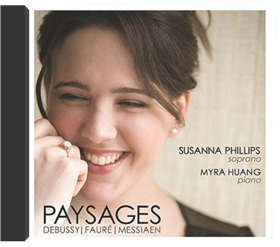 Susanna Phillips, Myra Huang
Opera Baroque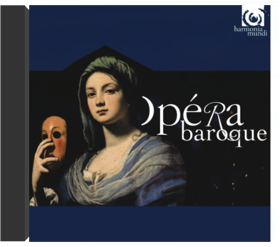 Various Artists
This set is truly a marvel, both in its musical excellence and in the quality of its presentation. Through superb performances of works both famous and rare, it offers the listener a comprehensive, country-by-country guide to the world of opera in the Baroque period. It features 39 compact discs and three DVDs comprising over 47 hours of music, including seventeen complete operas performed by some of the world's finest singers under the direction of Rene Jacobs and William Christie. Several of the recordings in this set have been award winners, and some have been unavailable on CD for many years. Housed in packaging of the highest quality, the set also includes four richly detailed booklets and a supplementary CD with sung texts and translations. For anyone interested in music of this period, this is a release to treasure for a lifetime.