Audition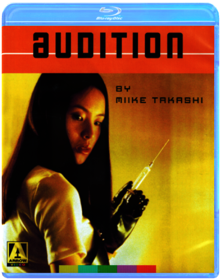 Takashi Miike
One of the most shocking J-horror films ever made, Audition exploded onto the festival circuit at the turn of the century to a chorus of awards and praise. The film would catapult Miike to the international scene and pave the way for such other genre delights as Ichii the Killer and The Happiness of the Katakuris.

Recent widower Shigeharu Aoyama is advised by his son to find a new wife, so he seeks the advice of a colleague having been out of the dating scene for many years. They take advantage of their position in a film company by staging an audition to find the perfect woman. Interviewing a series of women, Shigeharu becomes enchanted by Asami, a quiet, 24-year-old woman, who is immediately responsive to his charms. But soon things take a very dark and twisted turn as we find that Asami isn t what she seems to be...

Pulling the audience into a story that will lead to one of the most harrowing climaxes in cinema history, Miike twists and turns us through delirious editing and shocking visuals for one of the most depraved nightmares of all time!

Special Edition Contents Brand new 2K restoriation of original vault elementsOriginal 5.1 Dolby Surround AudioOptional English subtitlesAudio commentary with director Takashi Miike and screenwriter Daisuke TenganBrand new commentary by Miike biographer Tom Mes examining the film and its source novelIntroduction by MiikeTies that Bind A brand new interview with Takashi MiikeInterviews with stars Ryo Ishibashi, Eihi Shiina, Renji Ishibashi and Ren OsugiDamaged Romance: An appreciation by Japanese cinema historian Tony RaynsTrailersReversible sleeve featuring original and newly commissioned artwork by Matthew GriffinFIRST PRESSING ONLY: Illustrated collector's booklet featuring new writing on the film by Anton Bitel
The Happiness of the Katakuris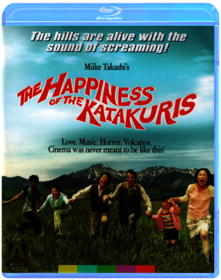 Takashi Miike
From Takashi Miike, the prolific director of such shocking hits including Audition and Ichi the Killer comes "The Sound of Music meets Dawn of the Dead"!

The Katakuris are a family trying to run a peaceful country inn but with a lack of guests there is much excitement for their first visitor, until they wind up dead! As each guest in turn dies in strange circumstances the family agree to hide the bodies but will the coverups come back to haunt them...

In The Happiness of the Katakuris scenes of grotesque stop motion animation, surreal musical numbers and zombies combine to make one of the finest horror-comedies ever made.
Ichi the Killer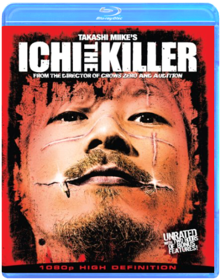 Takashi Miike
When a yakuza boss is murdered and his money is stolen, both truth and revenge are brutally sought. Leading the charge is Kakihara (Tadanobu Asano), the bleach-blonde pain junky whose interrogation methods are fetishistically sadistic. As the layers of the sordid tale are peeled back, it appears that someone is trying to turn rival gangs against each other. The centerpiece of this strategy is Ichi the Killer (Nao Omori), a mysterious and completely unhinged master of slaughter. When the final showdown comes, it's a psychologically cataclysmic event. This one-of-a-kind, over-the-top, stomach-churning, live-action cartoon from Takashi Miike (VISITOR Q, IZO) remains an extreme and influential modern classic.
Gozu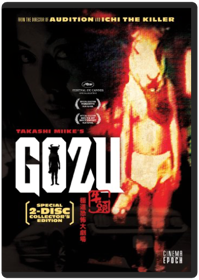 Takashi Miike
This wildly bizarre Japanese horror movie from master Takeski Miike (AUDITION) follows the mysterious disappearance of Brother, a gangster who was accidentally killed by one of his Mafia cohorts, Minami. Searching for Brother's body—which vanished minutes after he was shot—Minami stumbles into a strange secluded inn and gets a room. He is instantly aware that something fishy is going on, and as he gets to know the innkeepers more intimately, that feeling is backed up by evidence. Given to loud, rambunctious sessions of pumping her own breast milk, the innkeeper is certainly a spectacle. Meanwhile, the violent sadomasochistic relationship (read: whipping) shared between the innkeeper and her brother is quite another. Nothing, however, can top Miike's grand finale for GOZU which combines some very important Givenchy crotchless panties, an old man who has a unique solution for his anal fixation, and an extremely gelatinous, odds-defying birth.
Three... Extremes
Chan-wook Park, Fruit Chan, Takashi Miike
Three Extremes is a bracing triptych of horror stories uniting three of East Asia's most compelling directors — Japanese cult figure Takashi Miike, Hong Kongs Fruit Chan, and Koreas award-winning Park Chan-Wook. Using distinctive cinematic styles that span dream-like minimalism, savage comedy and baroque horror, these cutting-edge directors penetrate the dark heart of desire, examining the ghastly urges that transform ordinary people into monsters. Stylish, twisted and laced with haunting imagery, Three Extremes breaks the bounds of genre cinema, confirming the visionary talent of three master directors.
13 Assassins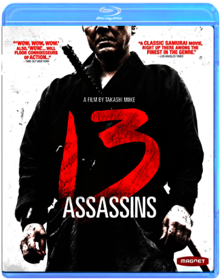 Takashi Miike
Cult director Takashi Miike (Ichi the Killer, Audition) delivers a bravado period action film set at the end of Japan's feudal era. 13 Assassins - a masterful exercise in cinematic butchery (New York Post) is centered around a group of elite samurai who are secretly enlisted to bring down a sadistic lord in order to prevent him from ascending to the throne and plunging the country into a war torn future.
Hara-Kiri: Death of a Samurai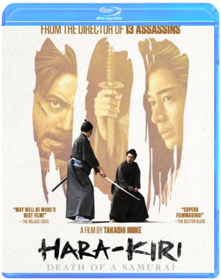 Takashi Miike