It Happened One Night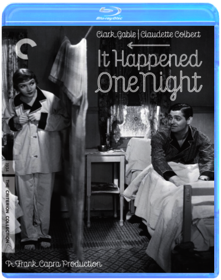 Frank Capra
Frank Capra Academy Award winning classic, starring Clark Gable and Claudette Colbert for your enjoyment.
Rebecca
Alfred Hitchcock
Romance becomes psychodrama in Alfred Hitchcock s elegantly crafted Rebecca, his first foray into Hollywood filmmaking. A dreamlike adaptation of Daphne du Maurier's 1938 novel, the film stars the enchanting Joan Fontaine as a young woman who believes she has found her heart's desire when she marries the dashing aristocratic widower Maxim de Winter (played with cunning vulnerability by Laurence Olivier). But upon moving to Manderley her groom s baroque ancestral mansion she soon learns that his deceased wife haunts not only the home but the temperamental, brooding Maxim as well. The start of Hitchcock's legendary collaboration with producer David O. Selznick, this elegiac gothic vision, captured in stunning black and white by George Barnes, took home the Academy Awards for best picture and best cinematography.

TWO-BLU-RAY SPECIAL EDITION FEATURES
- New 4K digital restoration, with uncompressed monaural soundtrack
- Audio commentary from 1990 featuring film scholar Leonard J. Leff
- Isolated music and effects track
- New conversation between film critic and author Molly Haskell and scholar Patricia White
- New interview with special effects historian Craig Barron on the visual effects in Rebecca
- Documentary from 2007 on the making of Rebecca
- Screen, hair, makeup, and costume tests including actors Joan Fontaine, Anne Baxter,
Vivien Leigh, Margaret Sullavan, and Loretta Young
- Casting gallery annotated by director Alfred Hitchcock and producer David O. Selznick
- Television interviews with Hitchcock and Fontaine from 1973 and 1980
- Audio interviews from 1986 with actor Judith Anderson and Fontaine
- Three radio adaptations of Rebecca, from 1938, 1941, and 1950, including Orson Welles s version for the Mercury Theatre
- Theatrical rerelease trailer
- PLUS: An essay by critic and Selznick biographer David Thomson and selected production correspondence, including letters between Hitchcock and Selznick
Casablanca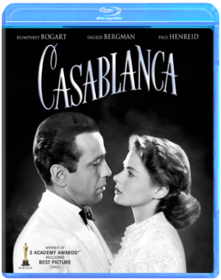 Michael Curtiz
Hamlet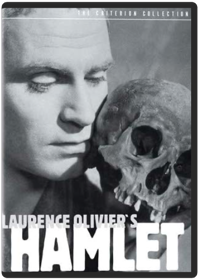 Laurence Olivier
Laurence Olivier directs himself in this classic rendition of Shakespeare's tale of the brooding Danish prince who decides to exact revenge on his uncle for the murder of his father.
The Bridge on the River Kwai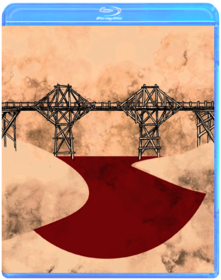 Peter Taylor, David Lean
Spectacularly produced, and the winner of seven Academy Awards® (1957), including Best Picture, Best Director, and Best Actor (Alec Guinness), The Bridge on the River Kwai continues to be one of the most memorable cinematic experiences of all time. Now, for the first time on Blu-ray, following an extensive all-new 4K digital restoration from the original negative, with newly restored 5.1 audio, experience director David Lean's masterpiece as you never have before.
Ben-Hur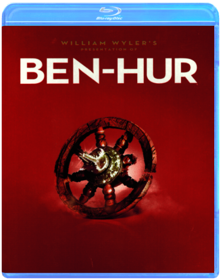 Lew Wallace, William Wyler
Ben-Hur: 50th Anniversary Edition (BD)
Lawrence of Arabia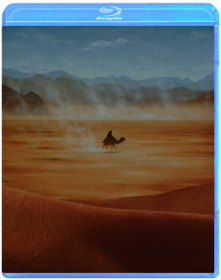 David Lean
LAWRENCE OF ARABIA 50TH ANNIVERSARY EDITION Winner of 7 Academy Awards® including Best Picture of 1962, LAWRENCE OF ARABIA stands as one of the most timeless and essential motion picture masterpieces. The greatest achievement of its legendary, Oscar®-winning director, David Lean (1962, Lawrence of Arabia: 1957 the Bridge on the River Kwai), the film stars Peter O'Toole — in his career-making performance — as T.E. Lawrence, the audacious World War I British army officer who heroically united rival Arab desert tribes and led them to war against the mighty Turkish Empire. Newly restored and re-mastered at 4K resolution, the massive scope and epic action of the Director's Cut of LAWRENCE OF ARABIA can now be experienced like never before in this landmark 50th Anniversary Edition.
Patton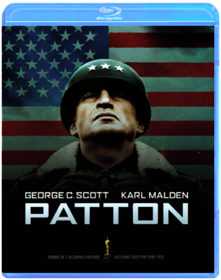 Franklin J. Schaffner
The French Connection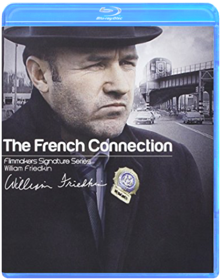 William Friedkin
Popeye Doyle and Buddy Russo get wind of a big shipment of Heroin and begin a tail of the suspects; and their French Connection; two French nationals who are the european link. As money troubles begin for the hoods they decide to kill Popeye and Buddy to give them enough room to bring in the Heroin. A combination of police procedural and action/car chase.
Godfather Collection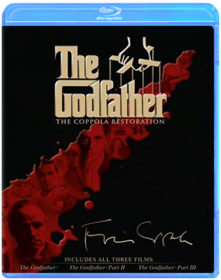 Francis Ford Coppola
THE GODFATHER: Popularly viewed as one of the best American films ever made, the multi-generational crime saga The Godfather (1972) is a touchstone of cinema: one of the most widely imitated, quoted, and lampooned movies of all time. Marlon Brando and Al Pacino star as Vito Corleone and his youngest son, Michael, respectively. It is the late 1940s in New York and Corleone is, in the parlance of organized crime, a "godfather" or "don," the head of a Mafia family. Michael, a free thinker who defied his father by enlisting in the Marines to fight in World War II, has returned a captain and a war hero. Having long ago rejected the family business, Michael shows up at the wedding of his sister, Connie (Talia Shire), with his non-Italian girlfriend, Kay (Diane Keaton), who learns for the first time about the family "business." A few months later at Christmas time, the don barely survives being shot by gunmen in the employ of a drug-trafficking rival whose request for aid from the Corleones' political connections was rejected. After saving his father from a second assassination attempt, Michael persuades his hotheaded eldest brother, Sonny (James Caan), and family advisors Tom Hagen (Robert Duvall) and Sal Tessio (Abe Vigoda) that he should be the one to exact revenge on the men responsible. After murdering a corrupt police captain and the drug trafficker, Michael hides out in Sicily while a gang war erupts at home. Falling in love with a local girl, Michael marries her, but she is later slain by Corleone enemies in an attempt on Michael's life. Sonny is also butchered, having been betrayed by Connie's husband. As Michael returns home and convinces Kay to marry him, his father recovers and makes peace with his rivals, realizing that another powerful don was pulling the strings behind the narcotics endeavor that began the gang warfare. Once Michael has been groomed as the new don, he leads the family to a new era of prosperity, then launches a campaign of murderous revenge against those who once tried to wipe out the Corleones, consolidating his family's power and completing his own moral downfall. Nominated for 11 Academy Awards and winning for Best Picture, Best Actor (Marlon Brando), and Best Adapted Screenplay, The Godfather was followed by a pair of sequels.

THE GODFATHER PART II: This brilliant companion piece to the original The Godfather continues the saga of two generations of successive power within the Corleone family. Coppola tells two stories in Part II: the roots and rise of a young Don Vito, played with uncanny ability by Robert De Niro, and the ascension of Michael (Al Pacino) as the new Don. Reassembling many of the talents who helped make The Godfather, Coppola has produced a movie of staggering magnitude and vision, and undeniably the best sequel ever made. Robert De Niro won an Oscar®; the film received six Academy Awards, including Best Picture of 1974.

THE GODFATHER PART III: One of the greatest sagas in movie history continues! In this third film in the epic Corleone trilogy, Al Pacino reprises the role of powerful family leader Michael Corleone. Now in his 60's, Michael is dominated by two passions: freeing his family from crime and finding a suitable successor. That successor could be fiery Vincent (Andy Garcia)... but he may also be the spark that turns Michael's hope of business legitimacy into an inferno of mob violence. Francis Ford Coppola directs Pacino, Garcia, Diane Keaton, Talia Shire, Eli Wallach, Sofia Coppola, Joe Montegna and others in this exciting, long-awaited film that masterfully explores the themes of power, tradition, revenge and love. Seven Academy Award® nominations, including Best Picture.
The Sting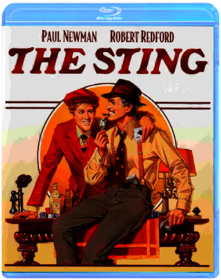 George Roy Hill
Winner of 7 Academy Awards, including Best Picture, The Sting stars Paul Newman and Robert Redford as two con men in 1930s Chicago. After a friend is killed by the mob, they try to get even by attempting to pull off the ultimate 'sting.' No one is to be trusted as the twists unfold, leading up to one of the greatest double-crosses in movie history. The con is on!
Rocky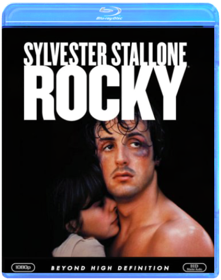 Richard Halsey, Scott Conrad, John G. Avildsen
Nominated* for 10 Academy Awards(r) and winner for Best Picture, it's the film that inspired a nation! Audiences and critics alike cheered this American success story of an "everyman" triumphing over all odds. Featuring a dynamic musical score, a thrilling fight sequence and four Oscar(r) - nominated* performances, this rousing crowd-pleaser will send spirits soaring. Fighting for love, glory and self-respect, Rocky(r) scores an exultant knockout! Rocky Balboa (Sylvester Stallone) is a Philadelphia club fighter who seems to be going nowhere. But whena stroke of fate puts him in the ring with a world heavyweight champion, Rocky knows that it's his one shot at the big time - a once-in-a-lifetime opportunity to go the distance and come out a winner! *1976: Actor (Stallone), Actress (Talia Shire), Supporting Actor (Burgess Meredith, Burt Young), Director (won), Original Screenplay, Original Song, Editing (won), Sound
The Deer Hunter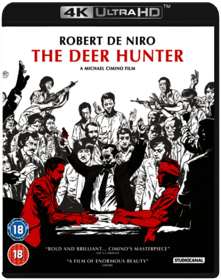 Peter Zinner, Michael Cimino
Winner of five Academy Awards®, including Best Picture and Best Director, and one of AFI's Top 100 Films of All Time, The Deer Hunter follows a group of Pennsylvania steelworkers from their blue-collar lives, hunting in the woods of the Alleghenies, to the hells of Southeast Asia during the Vietnam War. Academy Award® winners Robert De Niro and Christopher Walken star in this unforgettable saga of friendship and courage. Experience the brutality of war and the depths of emotional strain on the human spirit in this extraordinarily powerful film classic.
Platoon
Oliver Stone
Winner* of 4 Academy Awards®, including Best Picture, and based on the first-hand experience of Oscar®-winning director Oliver Stone, Platoon is powerful, intense and starkly brutal. "Harrowingly realistic and completely convincing" (Leonard Maltin), it is "a dark, unforgettable memorial" (The Washington Post) to every soldier whose innocence was lost in the war-torn jungles of Vietnam. Chris Taylor (Charlie Sheen) is a young, naive American who, upon his arrival in Vietnam, quickly discovers that he must do battle not only with the Viet Cong, but also with the gnawing fear, physical exhaustion and intense anger growing within him. While his two commanding officers (Oscar®-nominated Tom Berenger and Willem Dafoe) draw a fine line between the war they wage against the enemy and the one they fight with each other, the conflict, chaos and hatred permeate Taylor, suffocating his realities and numbing his feelings to man's highest value life.
The Last Emperor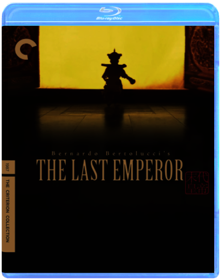 Bernardo Bertolucci
Bernardo Bertolucci s The Last Emperor won nine Academy Awards, unexpectedly sweeping every category in which it was nominated quite a feat for a challenging, multilayered epic directed by an Italian and starring an international cast. Yet the power and scope of the film was, and remains, undeniable the life of Emperor Pu Yi, who took the throne at age three, in 1908, before witnessing decades of cultural and political upheaval, within and without the walls of the Forbidden City. Recreating Ching-dynasty China with astonishing detail and unparalleled craftsmanship by cinematographer Vittorio Storaro and production designer Ferdinando Scarfiotti, The Last Emperor is also an intimate character study of one man reconciling personal responsibility and political legacy.

DIRECTOR-APPROVED BLU-RAY EDITION FEATURES:
Restored, high-definition digital transfer, supervised and approved by cinematographer Vittorio Storaro
DTS-HD Master Audio stereo surround soundtrack
Audio commentary by director Bernardo Bertolucci, producer Jeremy Thomas, screenwriter Mark Peploe, and composer-actor Ryuichi Sakamoto
The Italian Traveler: Bernardo Bertolucci, a 53-minute film by Fernand Mozskowicz, tracing the director s geographic influences, from Parma to China
Video images taken by Bertolucci in China
The Chinese Adventure of Bernardo Bertolucci, a 52-minute documentary that revisits the film s creation
A 47-minute documentary featuring Storaro, editor Gabriella Cristiana, costume designer James Acheson, and art director Gianni Silvestri
A 66-minute documentary exploring Bertolucci s creative process and the making of The Last Emperor
A 30-minute interview with Bertolucci from 1989
Interview with composer David Byrne
Interview with Ian Buruma examining the historical period of the film
Theatrical trailer
PLUS: A booklet featuring an essay by critic David Thomson
The Silence of the Lambs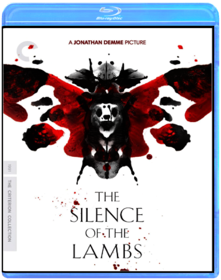 Jonathan Demme
In this chilling adaptation of the best-selling novel by Thomas Harris, the astonishingly versatile director Jonathan Demme crafted a taut psychological thriller about an American obsession: serial murder. As Clarice Starling, an FBI trainee who enlists the help of the infamous Hannibal 'the Cannibal' Lecter to gain insight into the mind of another killer, Jodie Foster subverts classic gender dynamics and gives one of the most memorable performances of her career. As her foil, Anthony Hopkins is the archetypical antihero cultured, quick-witted, and savagely murderous delivering a harrowing portrait of humanity gone terribly wrong. A gripping police procedural and a disquieting immersion into a twisted psyche, The Silence of the Lambs swept the Academy Awards (best picture, best director, best screenplay, best actress, best actor) and remains a cultural touchstone.

TWO-BLU-RAY SPECIAL EDITION FEATURES
- New 4K digital restoration, approved by director of photography Tak Fujimoto, with 2.0 surround DTS-HD Master Audio soundtrack
- Alternate 5.1 surround DTS-HD Master Audio soundtrack
- Audio commentary from 1994 featuring director Jonathan Demme, actors Jodie Foster and Anthony Hopkins, screenwriter Ted Tally, and former FBI agent John Douglas
- New interview with critic Maitland McDonagh
- Thirty-five minutes of deleted scenes
- Interview from 2005 with Demme and Foster
- Inside the Labyrinth, a 2001 documentary
- Page to Screen, a 2002 program about the adaptation
- Scoring 'The Silence,' a 2004 interview program featuring composer Howard Shore
- Understanding the Madness, a 2008 program featuring interviews with retired FBI special agents
- Original behind-the-scenes featurette
- Trailer
- PLUS: A book featuring a new introduction by Foster; an essay by critic Amy Taubin; an account of the origins of the character Hannibal Lecter by author Thomas Harris; and a 1991 interview with Demme
Unforgiven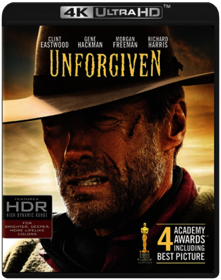 Clint Eastwood
Schindler's List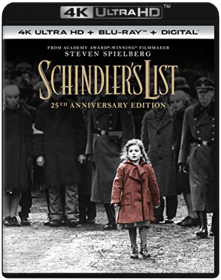 Steven Spielberg
Commemorate the 25th Anniversary of Steven Spielberg's cinematic masterpiece, Schindler's List, one of the most historically significant films of all time. Winner of seven Academy Awards including Best Picture and Best Director, this incredible true story follows the enigmatic Oskar Schindler (Liam Neeson), who saved the lives of more than 1,100 Jews during the Holocaust. It is the triumph of one man who made a difference and the drama of those who survived one of the darkest chapters in human history because of what he did. Meticulously restored from the original film negative in pristine 4K resolution and supervised by Steven Spielberg, Schindler's List is a powerful story whose lessons of courage and faith continue to inspire generations.
Braveheart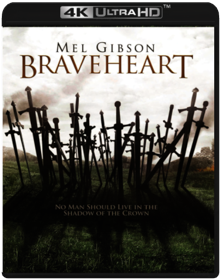 Mel Gibson
Shakespeare in Love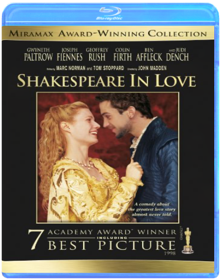 John Madden
Triumphant winner of 7 Academy Awards(R) — including Best Picture — this witty, sexy smash features Oscar(R)-winning Best Actress Gwyneth Paltrow (SLIDING DOORS, THE ROYAL TENENBAUMS) and an amazing cast that includes Academy Award-winners Judi Dench (Best Supporting Actress), Geoffrey Rush (Best Actor — SHINE), and Ben Affleck (GOOD WILL HUNTING, PEARL HARBOR). When Will Shakespeare (Joseph Fiennes — ELIZABETH) needs passionate inspiration to break a bad case of writer's block, a secret romance with the beautiful Lady Viola (Paltrow) starts the words flowing like never before! There are just two things he'll have to learn about his new love: not only is she promised to marry someone else, but she's successfully impersonating a man in order to play the lead in Will's latest production! A truly can't-miss motion picture event with outstanding critical acclaim to match its impressive collection of major awards — everyone will love this funny behind-the-scenes look at the writing of the greatest love story ever told!
Gladiator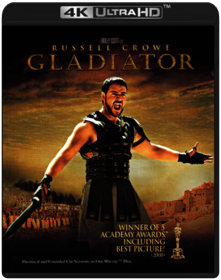 Ridley Scott
The Lord of the Rings: The Two Towers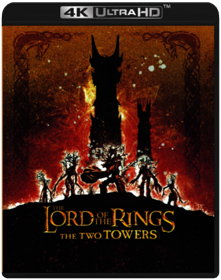 Peter Jackson
The Departed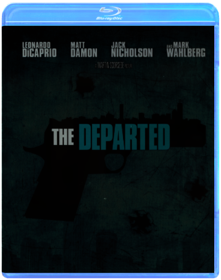 Martin Scorsese
Departed, The (BD)
No Country for Old Men
Joel Coen, Ethan Coen
UPC:786936750034
DESCRIPTION: Violence and mayhem erupt after a man stumbles upon a bloody crime scene, a stash of heroine and $2 million in cash in Miramax Films No Country For Old Men. Acclaimed filmmakers The Coen Brothers deliver their most viscerally compelling and ambitious film yet in this gripping crime saga in which money is as irresistible as bad choices are inevitable, and where every decision has potentially catastrophic consequences. Adapted from the novel by Pulitzer prize-winning author, Cormac McCarthy and starring an acclaimed cast led by Academy Award® winner Tommy Lee Jones, this mesmerizing game of cat and mouse will have you on the edge of your seat until the nail biting end.
Slumdog Millionaire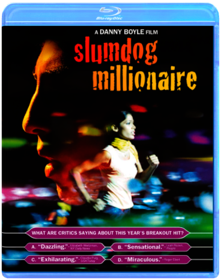 Danny Boyle
Jamal Malik (Dev Patel) is just one question away from winning a fortune on India's version of "Who Wants To Be A Millionaire?" But how has this uneducated young man from the slums succeeded in providing correct responses to questions that have stumped countless scholars before him? And will he ultimately win it all or lose everything, including his true love?
The Artist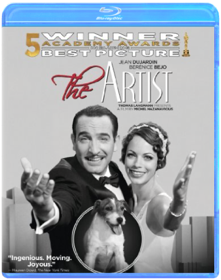 Michel Hazanavicius
Hollywood 1927. George Valentin (Academy Award Winner Jean Dujardin) is a silent movie superstar. The advent of the talkies will sound the death knell for his career and see him fall into oblivion. For young extra Peppy Miller (Berenice Bejo), it seems the sky's the limit - major movie stardom awaits. THE ARTIST tells the story of their interlinked destinies.
Birdman or (The Unexpected Virtue of Ignorance)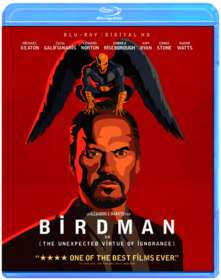 Alejandro González Iñárritu
BIRDMAN or The Unexpected Virtue of Ignorance is a black comedy that tells the story of an actor (Michael Keaton) — famous for portraying an iconic superhero — as he struggles to mount a Broadway play. In the days leading up to opening night, he battles his ego and attempts to recover his family, his career, and himself.
Moonlight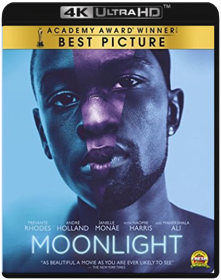 Barry Jenkins
The Academy BEST PICTURE beautifully remastered for the first time on 4K Ultra HD!

A timeless story of human connection and self-discovery, Academy Award® ''Best Motion Picture'' Winner MOONLIGHT chronicles the life of a young black man from childhood to adulthood as he struggles to find his place in the world while growing up in a rough neighborhood of Miami. Anchored by extraordinary performances from a tremendous ensemble cast, MOONLIGHT is a profoundly moving portrayal of the moments, people, and unknowable forces that shape our lives and make us who we are.
The Shape of Water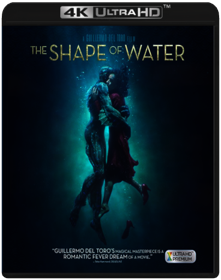 Guillermo del Toro