Bullitt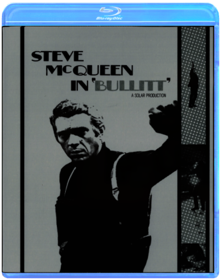 Peter Yates
Bullitt (BD)
Vanishing Point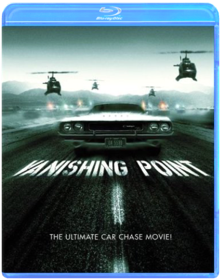 Richard C. Sarafian
During the 1970s, car delivery driver Kowalski delivers hot rods in record time but always runs into trouble with the highway cops.
Superman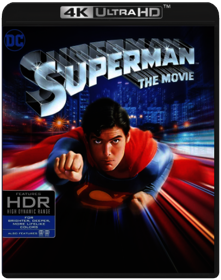 Richard Donner
Mad Max
George Miller
The Warriors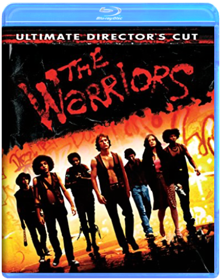 Walter Hill
The Blues Brothers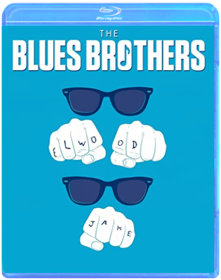 John Landis
The story of Jake and Elwood Blues, two hoodlum brothers searching for redemption, who set out to locate and re-enlist the members of their defunct rhythm and blues band in order to earn some honest money.
The Road Warrior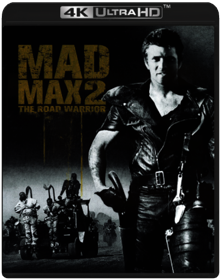 George Miller
Quick Shipping !!! New And Sealed !!! This Disc WILL NOT play on standard US DVD player. A multi-region PAL/NTSC DVD player is request to view it in USA/Canada. Please Review Description.
First Blood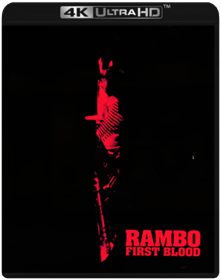 Ted Kotcheff
Academy Award-nominee Sylvester Stallone stars as war hero, ex-Green Beret John Rambo in the one that started it all! FIRST BLOOD is an explosive action-thriller that will keep you on the edge of your seat until the final, powerful frame.
Diamonds of Kilimandjaro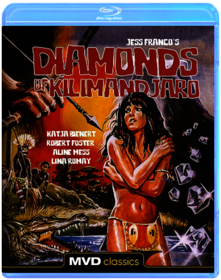 Jesús Franco
Conan the Destroyer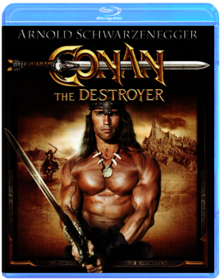 Richard Fleischer
Commando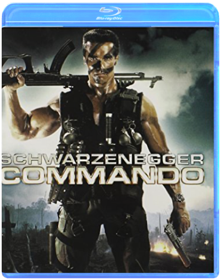 Mark L. Lester
A human killing machine and an airline hostess take on an ousted dictator's private army.
Mad Max Beyond Thunderdome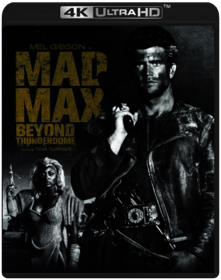 George Miller
Quick Shipping !!! New And Sealed !!! This Disc WILL NOT play on standard US DVD player. A multi-region PAL/NTSC DVD player is request to view it in USA/Canada. Please Review Description.
Big Trouble in Little China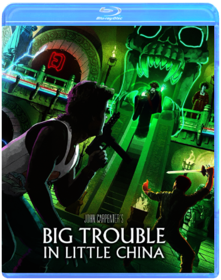 John Carpenter
A trucker and a lawyer become trapped in a sorcerer's empire beneath San Francisco's Chinatown.
Top Gun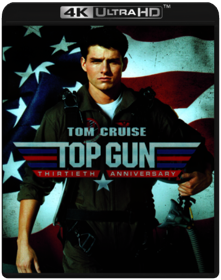 Tony Scott
Top Gun takes a look at the danger and excitement that awaits every pilot at the Navy's prestigious fighter weapons school. Tom Cruise is superb as Pete "Maverick" Mitchell, a daring young flyer who's out to become the best of the best. And Kelly McGillis sizzles as the civilian instructor who teaches Maverick a few things you can't learn in a classroom.
The Running Man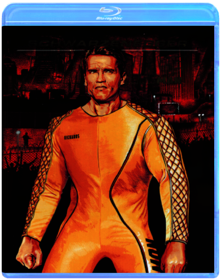 Paul Michael Glaser
The year is 2019. Television is now ruling people's lives. The most popular "audience participation" game show is "The Running Man"— where convicts can win pardons instead of "parting gifts" by defeating murderous henchmen known as "stalkers." The stalkers haven't had much of a challenge lately...until Ben Richards (Schwarzenegger) comes along. Wrongly convicted of slaughtering 1500 innocent people, Richards is the next contestant to fight for his life...and his freedom. When "Running Man" host Damon Killian (Dawson) says, "Come on down!", be prepared to pay with your life! But Ben Richards isn't going down without a fight. Off Richards goes into the burned-out sections of Los Angeles to face four of Killian's ace stalkers: Subzero, wielding his razor-sharp hockey sticks; Buzzsaw, the mechanical motorcycle- riding slasher; Dynamo, practicing his deadly electric shock treatment; and Fireball with his mighty flame-throwing arsenal. Now, the entire country is glued to the tube in a heart-pounding "sudden death" battle!
Die Hard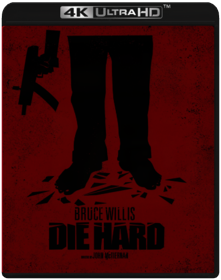 John McTiernan
BRUCE WILLIS IS JOHN McCLANE, a New York cop who flies to L.A. on Christmas Eve to visit his wife at a party in her company's lavish high-rise. Plans change once a group of terrorists, led by Hans Gruber (Alan Rickman), seize the building and take everyone hostage. McClane slips away and becomes the only chance anyone has in this beginning-to-end heart-stopping action thriller.
Die Hard 2: Die Harder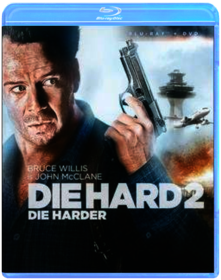 Renny Harlin
BRUCE WILLIS RETURNS AS JOHN McCLANE, an off-duty cop who is the wrong guy in the wrong place at the wrong time. On a snowy Christmas Eve, as he waits for his wife's plane to land at Washington's Dulles International Airport, terrorists take over the air traffic control system. It's now up to McClane to take on the terrorists, while coping with an inept airport police chief, an uncooperative anti-terrorist squad, and the life of his wife and everyone else trapped in planes circling overhead.
The Last Boy Scout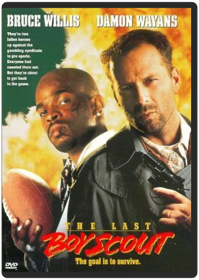 Tony Scott
A WORLD-WEARY PRIVATE INVESTIGATOR AND A FORMER PRO QUARTERBACK TEAM UP TO TRACK DOWN A HIGHLY-PLACED KILLER.
Point Break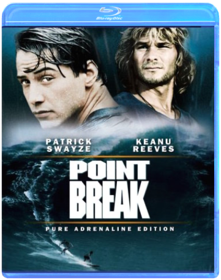 Kathryn Bigelow
Young FBI agent Johnny Utah (Reeves) goes undercover at the suggestion of his partner (Gary Busey) to learn if a group of wild surfers is actually a gang of bank robbers. He soon comes under the dangerous spell of the surfers' charismatic leader, Bodhi (Swyaze), a mystical mastermind who'll do absolutely anything for a thrill - and expects his followers to do the same.
Roadracers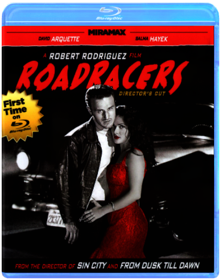 Robert Rodriguez
Acclaimed director Robert Rodriguez delivers more action-packed thrills with Roadracers, the story of a rockin' rebel named Dude (David Arquette), racing through life with a fast car, a loud guitar, a sexy girlfriend (Salma Hayek) and a big mouth. But when a confrontation ends with deadly threats, Dude finds himself speeding head-on toward a showdown that will settle the score for good. With hot stars and an energetic style all its own, Roadracers is fast-paced entertainment that never slows down.

Special Feature(s): Director's Commentary; 10-minute Film School with Robert Rodriguez
The Rock
Michael Bay
Sean Connery and Nicolas Cage join forces to avert unspeakable carnage as The Rock explodes onto Blu-ray Disc! Co-starring Ed Harris, this spectacular! (NBC-TV) thrill ride will rock your world in this astonishing format. When a vengeful ex-general seizes control of Alcatraz Island and threatens to launch missiles loaded with deadly poison gas, only a young FBI chemical weapons expert and a notorious Federal prisoner have the skills to penetrate the impregnable fortress and take him down. Catch every instant of rapid-fire action in eye-popping 1080p, while the phenomenal 5.1 48 kHz, 16-bit uncompressed audio puts you smack dab in the middle of the mayhem. Prepare to experience the awesome power of Blu-ray High Definition!
Face/Off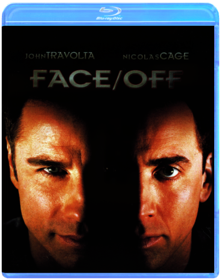 John Woo
John Travolta, Nicolas Cage. An FBI agent and a murderous psychopath switch identities-and faces-in John Woo's riveting action/adventure film. 1997/color/140 min/R.
Lock, Stock, and Two Smoking Barrels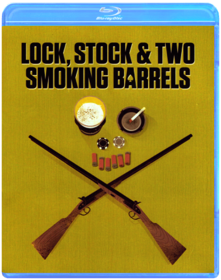 Guy Ritchie
Streetwise charmer Eddie (Nick Moran) enters the biggest card game of his life with the savings of his three best friends: Tom (Jason Flemyng), Bacon (Jason Statham) and Soap (Dexter Fletcher). But he leaves the table owing his underworld boss Hatchet Harry half a million and has a week to come up with the money. Now Eddie and his friends must outsmart and outgun all types of lowlifes on their way to pay off Harry before time runs out.
The Fast and the Furious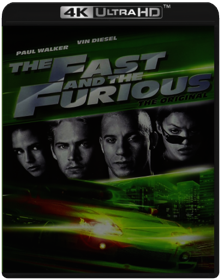 Rob Cohen
They've got the adrenaline rush and the mean machines, but most of all, they've got the extreme need for speed. On the turbo-charged streets of Los Angeles, every night is a championship race. With nitro-boosted fury, Dominic Toretto (Vin Diesel), rules the road turning all his challengers into dust. He and his rival, Johnny Tran (Rick Yune) are the boldest, the baddest and the best. But now, there's new rage on the road. They know he's tough, they know he's fast, but what they don't know is that he's a speed demon detective (Paul Walker) with enough drive and determination to come out the winner. With intense full-throttle action, awesome high-speed stunts, and full-on pedal to the metal intensity, this fast and furious assault puts you in the driver's seat and dares you to exceed all limits.
Ichi the Killer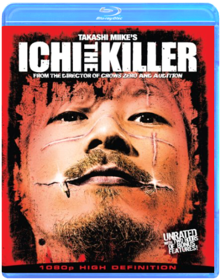 Takashi Miike
When a yakuza boss is murdered and his money is stolen, both truth and revenge are brutally sought. Leading the charge is Kakihara (Tadanobu Asano), the bleach-blonde pain junky whose interrogation methods are fetishistically sadistic. As the layers of the sordid tale are peeled back, it appears that someone is trying to turn rival gangs against each other. The centerpiece of this strategy is Ichi the Killer (Nao Omori), a mysterious and completely unhinged master of slaughter. When the final showdown comes, it's a psychologically cataclysmic event. This one-of-a-kind, over-the-top, stomach-churning, live-action cartoon from Takashi Miike (VISITOR Q, IZO) remains an extreme and influential modern classic.
Another Day In Paradise
Larry Clark
Mel and Sid are a couple of scheming thieves who "adopt" two young lovers into their renegade family to teach them the art of conning and take them on a cross-country crime spree.
The Hire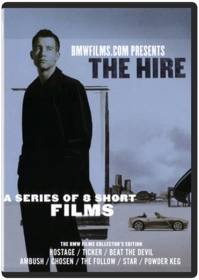 John Frankenheimer, Ang Lee, Wong Kar-wai, Guy Ritchie, Alejandro G. Iñárritu, John Woo, Joe Carnahan, Tony Scott
The Hire: A Series of 8 Films The 8 films included are: Hostage: Stars: Clive Owen. Director: John Woo Ticker: Stars: Clive Owen, Don Cheadle, F. Murray Abraham. Director: Joe Carnahan The driver rescues a mysterious messenger carrying an even more mysterious briefcase after an ambush on a rural highway. As a helicopter gunman relentlessly pursues them, a game of political intrigue plays out, with an unforeseen ending. Beat the Devil: Stars: Clive Owen, Gary Oldman, James Brown. Director: Tony Scott Decades ago, the legendary James Brown sold his soul to the devil for fame and fortune. Now he wishes to renegotiate. Hired to take Mr. Brown to a rendezvous with the devil (Gary Oldman), the driver soon finds himself entangled in fiendish plans. Ambush: Stars: Clive Owen, Tomas Milian. Director: John Frankenheimer Chosen: Stars: Clive Owen, Mason Lee. Director: Ang Lee The driver meets a ship carrying an eight-year-old Tibetan boy at a dark, deserted New York shipyard. But he's not the only one waiting. The Follow: Stars: Clive Owen, Mickey Rourke, Forest Whitaker. Director: Wong Kar-wai The cunning and tactics of trailing another car quickly evolve into a mystery rife with deceit, as The Driver is hired to follow a woman accused of cheating on her famous husband. Star: Stars: Clive Owen, Madonna. Director: Guy Ritchie The driver faces perhaps his most perplexing challenge: Coming face-to-face with a hugely talented and successful rock star. But beneath her beauty lies a problem she always gets what she wants. Powder Keg: Stars: Clive Owen, Stellan Skarsgard. Director: Alejandro González Iñárritu
Reign of Fire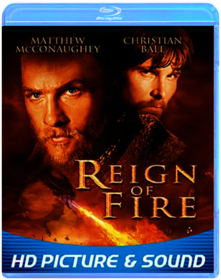 Rob Bowman
Matthew McConaughey and Christian Bale battle terrifying beasts — and each other — in REIGN OF FIRE on Blu-ray Disc. Packed with action, this thrilling adventure is hotter than ever in this explosive new format! All hell breaks loose when an unearthly creature is awakened after centuries of slumber. Twenty years later, "fire chief" Quinn (Bale) tries to keep a group of refugees alive with ferocious dragons dominating the air and burning the land. But tempers also flare when Quinn clashes with a hotshot American militia leader (McConaughey). Gasp at the bone-charring special effects in spectacular 1080p and cower as fire-breathing dragons roar in thunderous 5.1 48 kHz, 16-bit uncompressed audio. Feel the heat with Blu-ray High Definition!
The Transporter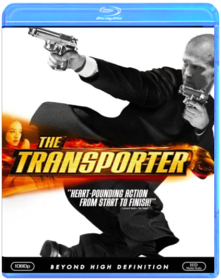 Corey Yuen, Louis Leterrier
Frank Martin (Jason Statham) is the best as what he does: transporting dangerous or illegal goods with no questions asked. But his last shipment, a beautiful young woman kidnapped by international slave traders, brings deadly complications to his delivery plans. Now Frank must kick into overdrive in a nonstop action-packed fight to save his precious cargo - and his life.
Kill Bill - Volume 1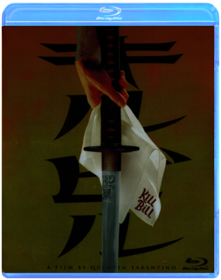 Quentin Tarantino
UPC:786936715545
DESCRIPTION: Kill Bill: Volume 1, the critically acclaimed film from groundbreaking writer and director Quentin Tarantino (Pulp Fiction, Jackie Brown), now packs even more of a punch in high definition on Blu-ray disc! Uma Thurman (Pulp Fiction), Lucy Liu (Charlie s Angels, Chicago) and Vivica A. Fox (Two Can Play That Game) star in this astonishing, action-packed motion picture about brutal betrayal and an epic vendetta. Four years after taking a bullet in the head at her own wedding, The Bride (Thurman) emerges from a coma and decides it s time for payback...with a vengeance! Determined to finish the kill-or-be-killed fight she didn t start, she hunts down her former boss, Bill (David Carradine), and the deadly squad of international assassins who perpetrated the bloody attack. END
Oldboy
Park Chan-wook
After a drunken night on the town, Oh Dae-su wakes up in the morning to discover he has been locked up, without explanation, in a mysterious prison - his home for the next 15 years. Suddenly, Dae-su finds himself freed, a voice on a cell phone taunts him into discovering who kept him imprisoned. Dae-su plunges into a world of competing vengeance, his own drive for revenge matched by the equally implacable and considerably more Byzantine scheming of his mysterious nemesis.
Batman Begins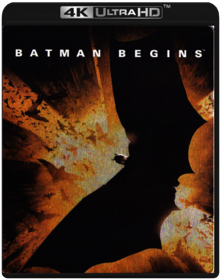 Christopher Nolan, Bob Kane
Transporter 2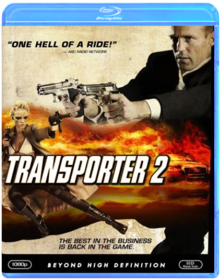 Louis Leterrier
Crank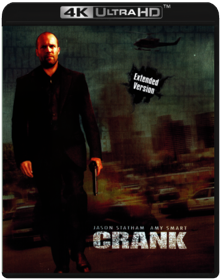 Brian Taylor, Mark Neveldine
A professional hit man (Jason Statham) is poisoned and has only hours to live. He has some big tasks to accomplish before the grim reaper arrives.
Death Proof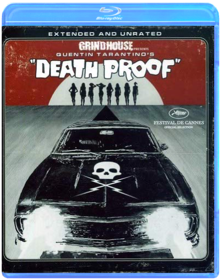 Quentin Tarantino
Director Quentin Tarantino delivers an adrenaline shot to the heart with Death Proof, "a tribute to balls-out pedal-to-the-metal car chases" (Pete Hammond, Maxim). Featuring exhilarating high-speed action, jaw-dropping stunts, and some of the most quotable lines since Pulp Fiction, Death Proof "goes faster, and funnier, than you thought possible...and then it goes further" (Ty Burr, Boston Globe). Kurt Russell stars as a sociopathic stuntman whose taste for stalking sexy young ladies gets him into big trouble when he tangles with the wrong gang of badass babes. Their confrontation escalates to a hair-raising, 18-minute automotive duel with one of the girls strapped to the hood of a thundering Dodge Challenger that "earns a place of honor among the great movie car chases" (Scott Foundas, LA Weekly).
The Dark Knight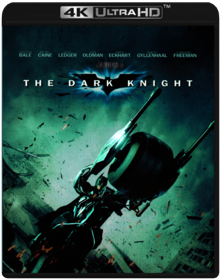 Christopher Nolan
Transporter 3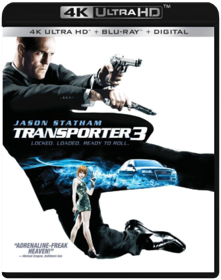 Olivier Megaton
Crank 2: High Voltage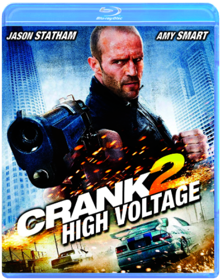 Brian Taylor, Mark Neveldine
You can't keep a good man down. Jason Statham is back as Chev Chelios – this time to retrieve his stolen heart (that's right, he's running on battery power). High-octane and truly electrifying!
Inception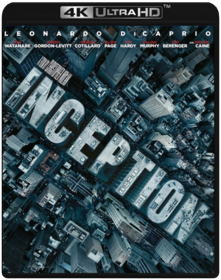 Christopher Nolan
Fast Five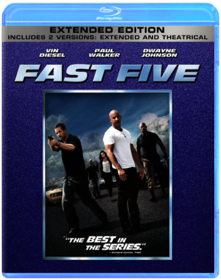 Justin Lin
The Dark Knight Rises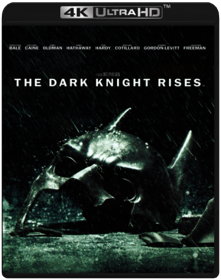 Christopher Nolan
Dredd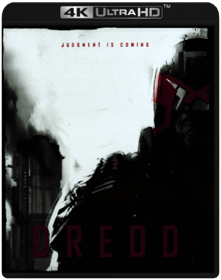 Pete Travis
Available for the first time on 4K Ultra HD Combo Pack comes the popular comic book character Judge Dredd, who is brought to life in this high-octane, sci-fi action movie starring Karl Urban.
Hardcore Henry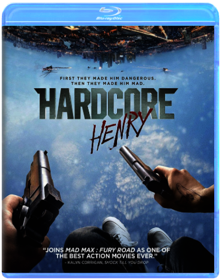 Ilya Naishuller
You remember nothing. Mainly because you've just been brought back from the dead by your wife who tells you that your name is Henry. Five minutes later, you are being shot at, your wife has been kidnapped, and you should probably go get her back. You're also in an unfamiliar city of Moscow, and everyone wants you dead. If you can survive the insanity and solve the mystery, you might just discover your purpose and the truth behind your identity. Strap in for a wild ride that critics are calling "a revolutionary movie experience." – Indiewire
Mad Max: Fury Road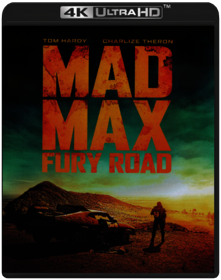 George Miller