Adaptation.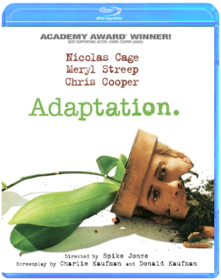 Spike Jonze
Director Spike Jonze delivers a stunningly original comedy that seamlessly blends fictional characters and situations with the lives of real people: obsessive orchid hunter John Laroche (Cooper), New Yorker journalist Susan Orlean (Streep), Hollywood screenwriter Charlie Kaufman (Cage), and his twin brother, Donald (also Cage). As Charlie struggles to adapt Orlean's best-selling book "The Orchid Thief," he writes himself into his own movie. The various stories crash into one another exploding into a wildly imaginative film. Adaptation, the year's most talked about movie, is at once a hilarious drama and a moving comedy.
Airplane!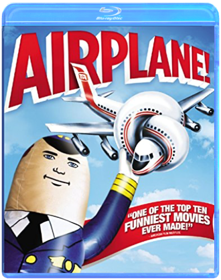 David Zucker, Jim Abrahams, Jerry Zucker
The persons and events in this film are fictitious - fortunately! A masterpiece of off-the-wall comedy, Airplane! features Robert Hays as an ex-fighter pilot forced to take over the controls of an airliner when the flight crew succumbs to food poisoning; Julie Hagerty as his girlfriend/stewardess/co-pilot; and a cast of all-stars including Robert Stack, Lloyd Bridges, Peter Graves, Leslie Nielsen, Kareem Abdul-Jabbar... and more. Their hilarious high jinks spoof airplane disaster flicks, religious zealots, television commercials, romantic love... the list whirls by in rapid succession. And the story races from one moment of zany fun to the next.
Babel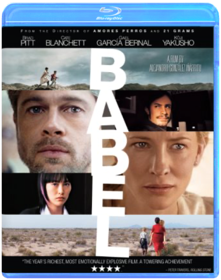 Alejandro González Iñárritu
In Babel, a tragic incident involving an American couple in Morocco sparks a chain of events for four families in different countries throughout the world. In the struggle to overcome isolation, fear, and displacement, each character discovers that it is family that ultimately provides solace.

In the remote sands of the Moroccan desert, a rifle shot rings out— detonating a chain of events that will link an American tourist couple's frantic struggle to survive, two Moroccan boys involved in an accidental crime, a nanny illegally crossing into Mexico with two American children, and a Japanese teen rebel whose father is sought by the police in Tokyo. Separated by clashing cultures and sprawling distances, each of these four disparate groups of people are nevertheless hurtling towards a shared destiny of isolation and grief. In the course of just a few days, they will each face the dizzying sensation of becoming profoundly lost – lost in the desert, lost to the world, lost to themselves – as they are pushed to the farthest edges of confusion and fear as well as to the very depths of connection and love.

In this mesmerizing, emotional film that was shot in three continents and four languages – and traverses both the deeply personal and the explosively political — acclaimed director Alejandro González Iñárritu (21 Grams, Amores Perros) explores with shattering realism the nature of the barriers that seem to separate humankind. In doing so, he evokes the ancient concept of Babel> and questions its modern day implications: the mistaken identities, misunderstandings and missed chances for communication that— though often unseen— drive our contemporary lives. Brad Pitt, Cate Blanchett, Gael García Bernal, Kôji Yakusho, Adriana Barraza and Rinko Kikuchi lead an international ensemble of actors and non-professional actors from Morocco, Tijuana and Tokyo, who enrich Babel's take on cultural diversity and enhance its powerful examination of the links and frontiers between and within us.
Bad Lieutenant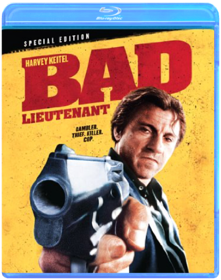 Abel Ferrara
Harvey Keitel is a nameless New York cop, hopelessly addicted to drugs, gambling, and sex. As he makes his way to various crime scenes, he is concerned only with taking bets from his fellow cops on the outcome of the ongoing National League playoffs. As his bad decisions drive him deeper into debt, his life becomes a surreal hell, with a constant intake of crack, coke, heroin and booze eroding what remains of his sanity. An investigation into the rape of a nun leads to his spiritual breakdown at the church crime scene, where he sees Jesus and the road to his salvation. This gutsy, highly original tale is one of Ferrara's most perfectly realized films and a pinnacle in the career of Keitel, whose performance transcends the screen in its sheer bravery.
Black Hawk down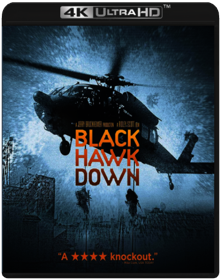 Ridley Scott
From acclaimed director Ridley Scott (Gladiator, Hannibal) and renowned producer Jerry Bruckheimer (Pearl Harbor, Armageddon) comes a gripping true story about bravery, camaradarie and the complex reality of war. Black Hawk Down stars an exceptional cast including Josh Hartnett (Pearl Harbor), Ewan McGregor (Moulin Rouge!), Tom Sizemore (Saving Private Ryan), Eric Bana (Chopper), William Fichtner (The Perfect Storm), Ewen Bremner (Snatch) and Sam Shepard (All The Pretty Horses). In 1993, an elite group of American Rangers and Delta Force soldiers are sent to Somalia on a critical mission to capture a violent warlord whose corrupt regime has led to the starvation of hundreds of thousands of Somalis. When the mission goes terribly wrong, the men find themselves outnumbered and literally fighting for their lives.
Good Morning, Vietnam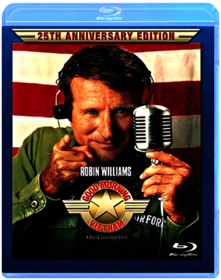 Barry Levinson, Peter Sova
For the first time in stunning Blu-ray High Definition, Academy Award(R) winner Robin Williams (Best Supporting Actor, GOOD WILL HUNTING, 1997) delivers a tour-de-force performance in the 25th Anniversary Edition of the hit comedy GOOD MORNING, VIETNAM! Enjoy the unsurpassed digital sound quality of Blu-ray Hi-Def as military deejay Adrian Cronauer (Williams) spins a red-hot soundtrack of '60s hits. His sidesplitting comedy and rapid-fire wit make him a hero to the troops, but quickly get him in hot water with his by-the-book superiors. Featuring a behind-the-scenes look at Williams's hilarious radio monologues, GOOD MORNING, VIETNAM remains the quintessential Robin Williams comedy.
Good Night, and Good Luck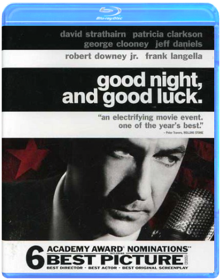 Stephen Mirrione, George Clooney
"Good Night, And, Good Luck." takes place during the early days of broadcast journalism in 1950's America. It chronicles the real-life conflict between television newsman Edward R. Murrow and Senator Joseph McCarthy and the House Un-American Activities Committee. With a desire to report the facts and enlighten the public, Murrow, and his dedicated staff - headed by his producer Fred Friendly and Joe Wershba in the CBS newsroom - defy corporate and sponsorship pressures to examine the lies and scaremongering tactics perpetrated by McCarthy during his communist 'witch-hunts'. A very public feud develops when the Senator responds by accusing the anchor of being a communist. In this climate of fear and reprisal, the CBS crew carries on and their tenacity will prove historic and monumental.

DVD Features:
Audio Commentary:with George Clooney and Grant Heslov
Documentary:Good Night, and Good Luck companion piece
Theatrical Trailer
Kalifornia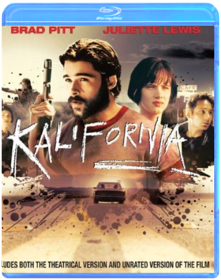 Dominic Sena
Excitement, adventure and unimaginable terror await on the road to Kalifornia. "Brad Pitt is outstanding" (Rolling Stone) and "Juliette Lewis is utterly, heartbreakingly convincing" (Boxoffice) in this chilling psychological thriller co-starring David Duchovny and Michelle Forbes. When urban intellectuals Brian (Duchovny) and Carrie (Forbes) set out on a cross-country trip to research a book about serial killers, they share the ride with a couple they barely know, Early Grace (Pitt) and his girlfriend, Adele (Lewis). Locked in a car hurtling westward, the four travelers struggle to find some common ground. But when they finally do connect, Early's violent nature abruptly emerges, and the terrified Brian and Carrie realize that they don't need to go very farto learn about ruthless killers...because they're already face to face with one!
The Last Boy Scout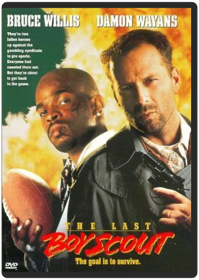 Tony Scott
A WORLD-WEARY PRIVATE INVESTIGATOR AND A FORMER PRO QUARTERBACK TEAM UP TO TRACK DOWN A HIGHLY-PLACED KILLER.
The Leather Boys
Sidney J. Furie
Mood Indigo
Michel Gondry
Patton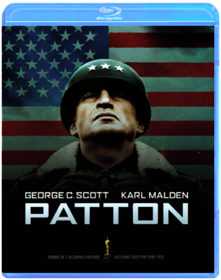 Franklin J. Schaffner
Sade
Benoit Jacquot
Sade, based on the Serge Bramly novel of the same title, is an account of how the famous philanthropist and infamous pornographer met, befriended and fell in love with a young woman during his incarceration.
Slumdog Millionaire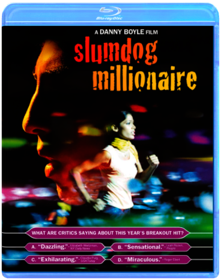 Danny Boyle
Jamal Malik (Dev Patel) is just one question away from winning a fortune on India's version of "Who Wants To Be A Millionaire?" But how has this uneducated young man from the slums succeeded in providing correct responses to questions that have stumped countless scholars before him? And will he ultimately win it all or lose everything, including his true love?
Step Brothers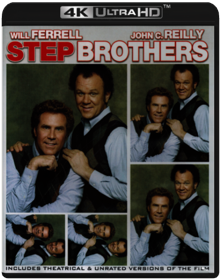 Adam McKay
Brennan Huff, a sporadically employed thirty-nine-year-old who lives with his mother, Nancy. Dale Doback, a terminally unemployed forty-year-old who lives with his father, Robert. When Robert and Nancy marry and move in together, Brennan and Dale are forced to live with each other as step brothers. As their narcissism and downright aggressive laziness threaten to tear the family apart, these two middle-aged, immature, overgrown boys will orchestrate an insane, elaborate plan to bring their parents back together. To pull it off, they must form an unlikely bond that maybe, just maybe, will finally get them out of the house.
This Film Is Not Yet Rated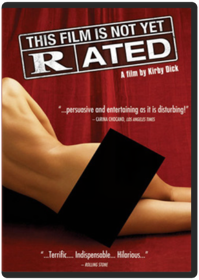 Kirby Dick
You Were Never Really Here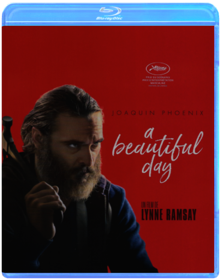 Lynne Ramsay