Knife in the Water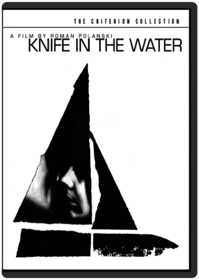 Roman Polanski
On their way to a sailing trip, an aging husband and wife invite along an emphatic young hitchhiker.
Knife in the Water
Roman Polanski
A husband, a wife, a stranger, a knife: Roman Polanski sets them all adrift on a weekend filled with simmering resentments and gut-churning suspense in his seminal psychological thriller, still one of the greatest feature debuts in film history. With Knife in the Water, Polanski revealed his delight in exploring sexual and class boundaries with ruthless precision.
Knife in the Water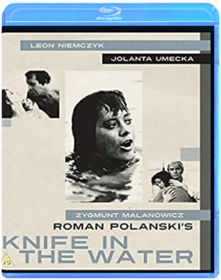 Roman Polanski
Repulsion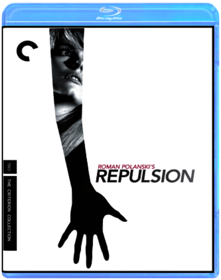 Roman Polanski
Roman Polanski followed up his international breakthrough, Knife in the Water, with this controversial, chilling tale of psychosis, starring Catherine Deneuve as Carole, a fragile, frigid young beauty cracking up over the course of a terrifying weekend. Left alone by her vacationing sister in their London flat, Carole is haunted by specters real and imagined, and her insanity grows to a violent pitch. Thanks to its unforgettable attention to disturbing detail and Polanski's unparalleled adeptness at turning claustrophobic space into an emotional minefield, Repulsion remains one of cinema's most shocking psychological thrillers.

SPECIAL EDITION FEATURES:

• New, restored high-definition digital transfer with uncompressed monaural soundtrack

• Audio commentary featuring director Roman Polanski and actress Catherine Deneuve

• A British Horror Film (2003), a documentary on the making of Repulsion, featuring interviews with Polanski, producer Gene Gutowski, and cinematographer Gil Taylor

• A 1964 television documentary filmed on the set of Repulsion, featuring rare footage of Polanski and Deneuve at work

• Theatrical trailer

• PLUS: A booklet featuring an essay by film scholar and curator Bill Horrigan

Stills from Repulsion (Click for larger image)
Cul-de-sac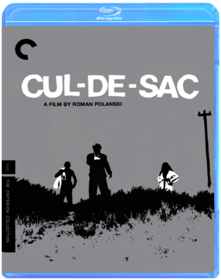 Roman Polanski
Roman Polanski (Repulsion) orchestrates a mental ménage à trois in this slyly absurd tale of paranoia from the director's golden 1960s period. Donald Pleasance (Halloween) and Françoise Dorléac (The Soft Skin) star as a withdrawn couple whose isolated house is infiltrated by a rude, burly American gangster on the run, played by Lionel Stander (Unfaithfully Yours). The three engage in a game of shifting identities and sexual and emotional humiliations. Cul-de-sac is an evocative, claustrophobic, and morbidly funny tale of the modern world in chaos.
The Fearless Vampire Killers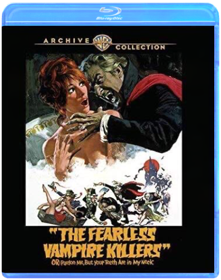 Roman Polanski
Its the living end, a fancy-dress ball for blood fiends in Count Von Krolocks Transylvanian castle. Surely no mortal would be foolish enough to infiltrate this hemogobbling horror of a soiree. But partygoers notice something in the ballroom mirrors: the reflections of humans vampire killers dancing among them. Director/cowriter Roman Polanski (The Pianist, Rosemary s Baby, Chinatown) spoofs vampire movies with this droll balancing act of shocks and laughs. He also portrays Alfred, mousy apprentice to a doddering researcher of vampirism (Jack MacGowran)...and the lovestruck defender of gorgeous Sarah (Sharon Tate) when the Count (Ferdy Mayne) tries to make her the ghoul of his dreams. It s all fang-tastic fun!
Rosemary's Baby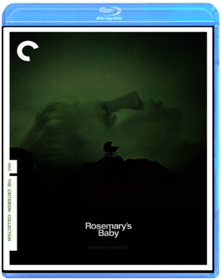 Roman Polanski
Terrifying and darkly comic, Rosemary's Baby marked the Hollywood debut of Roman Polanski (Repulsion). This wildly entertaining nightmare, faithfully adapted from Ira Levin's best seller, stars a revelatory Mia Farrow (Hannah and Her Sisters) as a young mother-to-be who grows increasingly suspicious that her overfriendly elderly neighbors, played by Sidney Blackmer (High Society) and an Oscar-winning Ruth Gordon (Harold and Maude), and self-involved husband (actor and filmmaker John Cassavetes) are hatching a satanic plot against her and her baby. In the decades of occult cinema Polanski's ungodly masterpiece has spawned, it's never been outdone for sheer psychological terror.
Macbeth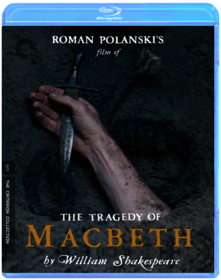 Roman Polanski
An 11th-century Scottish general's wife drives him to murder in Shakespeare's tragedy.
What?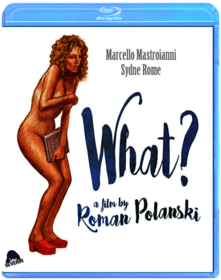 Roman Polanski
Roman Polanski described it as the ribald adventures of an innocent girl. More than four decades after its controversial release, it remains the most butchered, debated and least-seen film of the Oscar-winning director's entire career. The succulent Sydne Rome stars as an oft-naked American girl lost inside a Mediterranean villa inhabited by priests, pianists, perverts and a pimp (a deliciously bizarre performance by Marcello Mastroianni) while indulging in madcap acts that even include ping-pong. Hugh Griffith (Tom Jones), Romolo Valli (Boccaccio 70) and Polanski himself co-star in this surreal and sexy comedy, now finally restored to its original running time from a vault print reportedly stolen from the wine cellar of producer Carlo Ponti!

Special Features:Featurette: Sydne In Wonderland - Interview With Star Sydne RomeFeaturette: Memories Of A Young Pianist - Interview With Composer Claudio GizziFeaturette: A Surreal Pop Movie - Interview With Cinematographer Marcello GattiTheatrical Trailer
Chinatown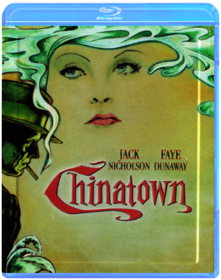 Roman Polanski
The Tenant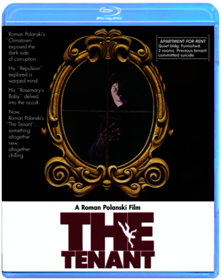 Roman Polanski
After the triumph of Chinatown, Roman Polanski's The Tenant marked an unsettling return to the horrifying psychodrama of Repulsion and Rosemary's Baby. As in those previous films, Polanski explores a descent into madness with s
Tess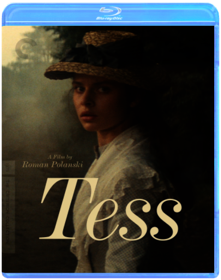 Roman Polanski
New in the factory-sealed shrinkwrap. Tracking is included for U.S. orders.
Frantic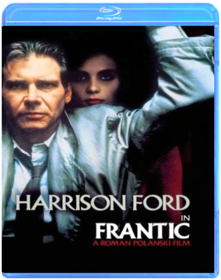 Roman Polanski
Germany released, Blu-Ray/Region A/B/C : it WILL NOT play on regular DVD player. You need Blu-Ray DVD player to view this Blu-Ray DVD: LANGUAGES: Czech ( Mono ), English ( Dolby Digital 2.0 ), English ( Dolby Surround ), French ( Dolby Digital 2.0 ), German ( Dolby Digital 2.0 ), Italian ( Dolby Digital 2.0 ), Polish ( Mono ), Portuguese ( Mono ), Spanish ( Dolby Digital 2.0 ), Bulgarian ( Subtitles ), Chinese ( Subtitles ), Czech ( Subtitles ), Danish ( Subtitles ), English ( Subtitles ), Finnish ( Subtitles ), French ( Subtitles ), German ( Subtitles ), Greek ( Subtitles ), Italian ( Subtitles ), Norwegian ( Subtitles ), Polish ( Subtitles ), Portuguese ( Subtitles ), Romanian ( Subtitles ), Spanish ( Subtitles ), Swedish ( Subtitles ), WIDESCREEN (1.78:1), SPECIAL FEATURES: Interactive Menu, Scene Access, SYNOPSIS: While in Paris attending a conference, Dr. Richard Walker's wife Sondra mysteriously disappears. When the French police prove to be of little help, he begins the search by himself. What he finds is a confusing mix-up, but one that could prove to be extremely dangerous and would perhaps be even more so if the police got involved. ...Frantic (1988)
Bitter Moon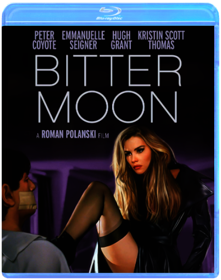 Roman Polanski
Legendary filmmaker Roman Polanski (Chinatown, Rosemary's Baby, Repulsion) explores the sexy side of obsession and the wild side of romance in this outrageous look at the dark side of love. Starring Peter Coyote (Heart of Midnight), Emmanuelle Seigner (Frantic), Hugh Grant (Notting Hill) and Kristin Scott Thomas (The English Patient). A mild-mannered man (Grant) attempts to rekindle the sexual fire in his marriage while on a cruise, but he develops an irresistible infatuation with an eccentric paraplegic's wife (Seigner). Offbeat and original, this voyage of wild obsession puts a whole new twist on the concept of marital bliss. Featuring dazzling performances and nasty comic moments, Bitter Moon is a hilarious walk on the wild side. Stunningly shot by Tonino Delli Colli (Once Upon a Time in America) with a beautiful score by Vangelis (Blade Runner). Co-starring Victor Banerjee (A Passage to India).

Special Features:
-NEW Interview with star Peter Coyote
-NEW Audio Commentary by Film Historian Troy Howarth
-Theatrical Trailer
Ninth Gate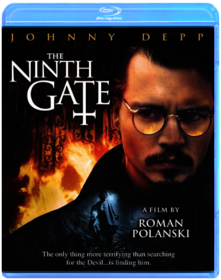 Roman Polanski
Release Date: 8/11/2009 - Format:Blu-ray- Rating: R - Running Time: 93 Minutes
The Ghost Writer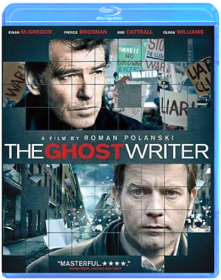 Roman Polanski
Carnage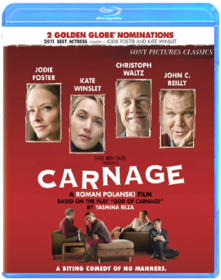 Roman Polanski
CARNAGE is a razor-sharp, biting comedy centered on parental differences. After two boys duke it out on a playground, the parents of the "victim" invite the parents of the "bully" over to work out their issues. A polite discussion of childrearing soon escalates into verbal warfare, with all four parents revealing their true colors. None of them will escape the carnage.Directed by Roman Polanski (The Pianist), Carnage stars Academy Award®-winner Kate Winslet (Best Actress, The Reader, 2008) and Academy Award®-winner Christoph Waltz (Best Supporting Actor, Inglourious Basterds, 2009) as husband and wife Nancy and Alan Cowan, opposite Academy Award®-winner Jodie Foster (Best Actress, The Silence of the Lambs, 1991; Best Actress, The Accused, 1988) and Academy Award®-nominee John C. Reilly (Best Supporting Actor, Chicago, 2002) as Penelope and Michael Longstreet.