Business Is Business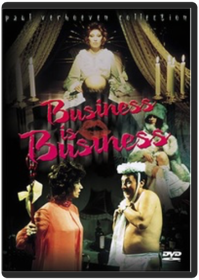 Paul Verhoeven
Turkish Delight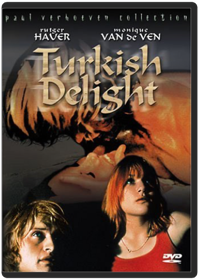 Paul Verhoeven
Katie Tippel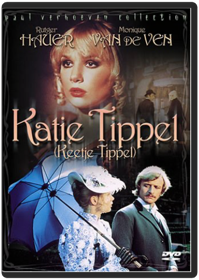 Paul Verhoeven
Soldier of Orange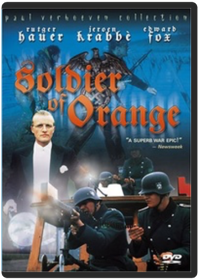 Paul Verhoeven
Spetters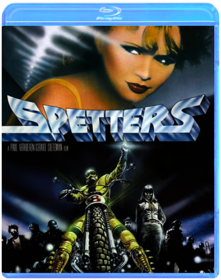 Paul Verhoeven
The 4th Man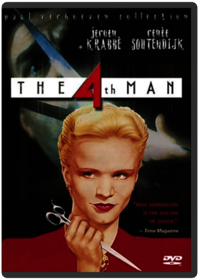 Paul Verhoeven
Flesh + Blood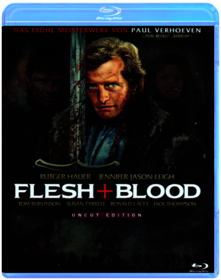 Paul Verhoeven
Betrayed by power. Corrupted by love. Bound by honor. In the battle between good and evil, only the strong survive! From visionary director Paul Verhoeven (Robocop) comes this 'vivid and muscular' (Variety) epic adventure of medieval bravery and blood lust starring Rutger Hauer (Blade Runner) and Jennifer Jason Leigh (Rush). In the chaotic, morally bankrupt Europe of 1510, a cold-hearted warrior named Martin (Hauer) leads his motley crew of mercenaries into battle to reclaim the castle of an ousted nobleman. But when the despot betrays them, Martin and his band of ruffians strike back by kidnapping the innocent young maiden (Leigh) betrothed to the nobleman's son - a fearless Renaissance man who must risk life and limb to rescue the woman he loves! The Stellar cast includes Tom Burlinson, Jack Thompson, Susan Tyrrell, Bruno Kirby and Brion James.

Special Features:
-Audio Commentary by Director Paul Verhoeven
-Composing Flesh + Blood Featurette
-Original Theatrical Trailer
Robocop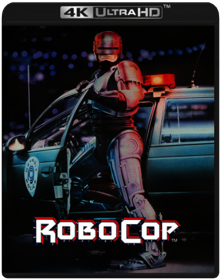 Paul Verhoeven
PART MAN, PART MACHINE, ALL COP.

RoboCop, from Orion Pictures, marked director Paul Verhoeven's (Flesh + Blood) Hollywood debut and now the future of law enforcement is back in a definitive Blu-ray presentation packed with hours of brand new bonus features & exclusive collectible Steebook packaging.

STEELBOOK CONTENTS

4K restoration of the film from the original camera negative by MGM, transferred in 2013 and approved by director Paul Verhoeven
Director s Cut and Theatrical Cut of the film on two High Definition (1080p) Blu-rayTM discs
Original lossless stereo and four-channel mixes plus DTS-HD MA 5.1 surround sound option on both cuts
Optional English subtitles for the deaf and hard of hearing on both cuts
Limited edition collectors' booklet featuring new writing on the film by Omar Ahmed, Christopher Griffiths and Henry Blyth

DISC ONE DIRECTOR S CUT

Archive commentary by director Paul Verhoeven, executive producer Jon Davison and co-writer Ed Neumeier (originally recorded for the Theatrical Cut and re-edited in 2014 for the Director s Cut)
New commentary by film historian Paul M. Sammon
New commentary by fans Christopher Griffiths, Gary Smart and Eastwood Allen
The Future of Law Enforcement: Creating RoboCop, a newly filmed interview with co-writer Michael Miner
RoboTalk, a newly filmed conversation between co-writer Ed Neumeier and filmmakers David Birke (writer of Elle) and Nick McCarthy (director of Orion Pictures The Prodigy)
Truth of Character, a newly filmed interview with star Nancy Allen on her role as Lewis
Casting Old Detroit, a newly filmed interview with casting director Julie Selzer on how the film s ensemble cast was assembled
Connecting the Shots, a newly filmed interview with second unit director and frequent Verhoeven collaborator Mark Goldblatt
Composing RoboCop, a new tribute to composer Basil Poledouris featuring film music experts Jeff Bond, Lukas Kendall, Daniel Schweiger and Robert Townson
RoboProps, a newly filmed tour of super-fan Julien Dumont s collection of original props and memorabilia
2012 Q&A with the Filmmakers, a panel discussion featuring Verhoeven, Davison, Neumeier, Miner, Allen, star Peter Weller and animator Phil Tippett
RoboCop: Creating a Legend, Villains of Old Detroit and Special Effects: Then & Now, three archive featurettes from 2007 featuring interviews with cast and crew
Paul Verhoeven Easter Egg
Four deleted scenes
The Boardroom: Storyboard with Commentary by Phil Tippett
Director s Cut Production Footage, raw dailies from the filming of the unrated gore scenes
Two theatrical trailers and three TV spots
Extensive image galleries

DISC TWO THEATRICAL CUT

Archive commentary by director Paul Verhoeven, executive producer Jon Davison and co-writer Ed Neumeier (originally recorded for Theatrical version of the film)
Two Isolated Score tracks (Composer s Original Mix and Final Theatrical Mix) in lossless stereo
Edited-for-television version of the film, featuring alternate dubs, takes and edits of several scenes (95 mins, SD only)
Split screen comparison of Theatrical and Director s Cuts
RoboCop: Edited For Television, a compilation of alternate scenes from two edited-for-television versions, newly transferred in HD from recently-unearthed 35mm elements
Total Recall
Paul Verhoeven
Basic Instinct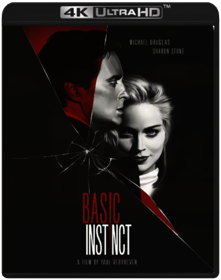 Frank J. Urioste, Paul Verhoeven
Michael Douglas, Sharon Stone. A San Francisco police detective, while investigating a brutal ice-pick murder, has a scorching affair with one of the three prime suspects. She's a beautiful murder mystery writer whose stories seem to dictate real-life crimes that have yet to be committed and the victim in her next story is a cop. 1992/color/123 min/R.
Showgirls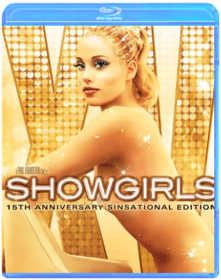 Paul Verhoeven
SHOWGIRLS 15TH ANNI SINSATIONA ED - Blu-Ray Movie
Starship Troopers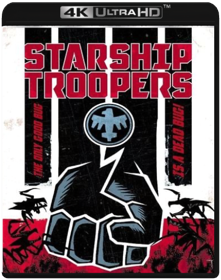 Paul Verhoeven
From the bridge of the Fleet Battle-station Ticonderoga, with its sweeping galactic views, to the desolate terrain of the planet Klendathu, teeming with shrieking fire-spitting,brain-sucking creatures, acclaimed director Paul Verhoeven,crafts a dazzling epic based on Robert A. Heinlein's classic sci-fi adventure. Casper Van Dien, Dina Meyer, Denise Richards, Jake Busey, Neil Patrick Harris, Patrick Muldoon and Michael Ironside star as the courageous soldiers who travel to the distant and desolate Klendathu system for the ultimate showdown between the species. Celebrate the 20th anniversary of this visceral action classic with an all-new 4K restoration.
Hollow Man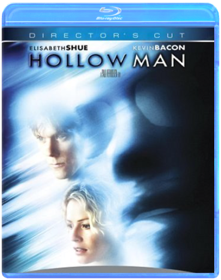 Paul Verhoeven
What would you do if you were invisible? How far would you go? After years of experimentation, Dr. Sebastian Caine, a brilliant but arrogant and egotistical scientist working for the Defense Department, has successfully transformed mammals to an invisible state and brought them back to their original physical form. Determined to achieve the ultimate breakthrough, Caine instructs his team to move on to Phase III: human experimentation. Using himself as the first subject, the invisible Caine finds himself free to do the unthinkable. But Caine's experiment takes an unexpected turn when his team can't bring him back. As the days pass, he grows more and more out of control, doomed to a future without flesh as the HOLLOW MAN. Kevin Bacon, Elisabeth Shue and Josh Brolin star in this intense thriller filled with extreme suspense, terrifying twists and incredible special effects.
Black Book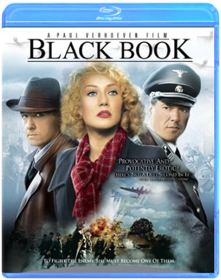 Paul Verhoeven
In the darkest days of World War II, Jewish fugitives attempt to escape occupied Holland — only to face a Nazi ambush. Rachel Stein (Carice van Houten) alone survives the attack and joins the Dutch Resistance to avenge her family. She soon confronts the ultimate test: she must infiltrate German headquarters by tempting Captain Ludwig Mÿntze (Sebastian Hoch). In the heat of passion, he uncovers her duplicity...but keeps her secret. Then Rachel's espionage reveals that a murderous traitor lurks within Resistance ranks. Unable to fully trust anyone, Rachel navigates a minefield of deception and becomes an enemy to both sides. Epic, passionate, breathtaking, Black Book relates an untold story of World War II where the distinctions between good and evil become blurred by the complexities of human nature.
Elle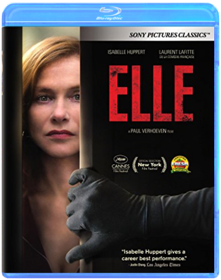 Paul Verhoeven
Michèle seems indestructible. Head of a leading video game company, she brings the same ruthless attitude to her love life as to business. Being attacked in her home by an unknown assailant changes Michèle's life forever. When she resolutely tracks the man down, they are both drawn into a curious and thrilling game - a game that may, at any moment, spiral out of control.
Benedetta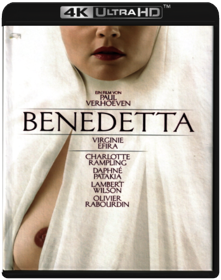 Paul Verhoeven