The Circus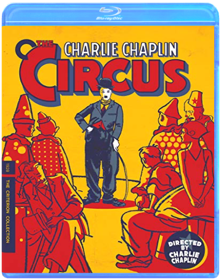 Charlie Chaplin
Häxan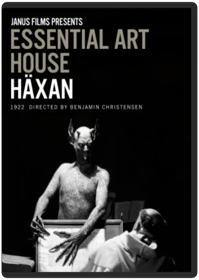 Benjamin Christensen
Grave robbing, torture, possessed nuns, and a satanic Sabbath: Benjamin Christensen's legendary film uses a series of dramatic vignettes to explore the scientific hypothesis that the witches of the middle ages suffered the same hysteria as turn-of-the-century psychiatric patients. But the film itself is far from serious-instead it's a witches' brew of the scary, gross, and darkly humorous. The Criterion Collection is proud to present two versions of this genre-defying "documentary," for the first time ever on DVD.
The Passion of Joan of Arc
Carl Dreyer
Spiritual rapture and institutional hypocrisy come to stark, vivid life in one of the most transcendent masterpieces of the silent era. Chronicling the trial of Joan of Arc in the days leading up to her execution, Danish master Carl Theodor Dreyer depicts her torment with startling immediacy, employing an array of techniques including expressionistic lighting, interconnected sets, and painfully intimate close-ups to immerse viewers in her subjective experience. Anchoring Dreyer's audacious formal experimentation is a legendary performance by Renée Falconetti, whose haunted face channels both the agony and the ecstasy of martyrdom.

TWO-DVD SPECIAL EDITION FEATURES
- New high-definition digital restoration of the film by Gaumont, presented at 24 frames per second
- Alternate presentation of the film at 20 frames per second with original Danish intertitles
- Three scores: Richard Einhorn's VOICES OF LIGHT, a choral and orchestral work performed by vocal group Anonymous 4, soloist Susan Narucki, and the Netherlands Radio Philharmonic and Choir; another by Goldfrapp's Will Gregory and Portishead's Adrian Utley; and the third composed and performed by pianist Mie Yanashita
- Audio commentary from 1999 by film scholar Casper Tybjerg
- New interview with Einhorn
- New conversation between Gregory and Utley
- New video essay by Tybjerg exploring the debate over the film's frame rate
- Interview from 1995 with actor Renée Falconetti's daughter and biographer, Hélène Falconetti
- Version history
- Production design archive
- New English subtitle translation
- PLUS: An essay by critic Mark Le Fanu, a 1929 director's statement by Carl Theodor Dreyer, and the full libretto for VOICES OF LIGHT
The Lodger: A Story of the London Fog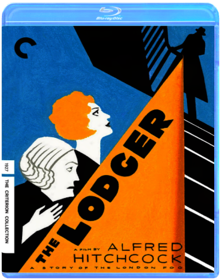 Alfred Hitchcock
With his third feature film, The Lodger: A Story of the London Fog, Alfred Hitchcock took a major step toward greatness and made what he would come to consider his true directorial debut. This haunting silent thriller tells the tale of a mysterious young man (matinee idol Ivor Novello) who takes up residence at a London boardinghouse, just as a killer who preys on blonde women, known as the Avenger, descends upon the city. The film is animated by the palpable energy of a young stylist at play, decisively establishing the director s formal and thematic obsessions. In this edition, The Lodger is accompanied by Downhill, another 1927 silent exploration of Hitchcock s wrong man trope, also headlined by Novello making for a double feature that reveals the great master of the macabre as he was just coming into his own.

BLU-RAY SPECIAL EDITION FEATURES
-2K digital restoration, with a new score by composer Neil Brand, performed by the Orchestra of Saint Paul s
-Downhill, director Alfred Hitchcock s 1927 feature film starring Ivor Novello, in a 2K digital restoration with a new piano score by Brand
-New interview with film scholar William Rothman on Hitchcock s visual signatures
-New video essay by art historian Steven Jacobs about Hitchcock s use of architecture
-Excerpts from audio interviews with Hitchcock by filmmakers François Truffaut (1962) and Peter Bogdanovich (1963)
-Radio adaptation of The Lodger from 1940, directed by Hitchcock
-New interview with Brand on composing for silent film
-PLUS: Essays on The Lodger and Downhill by critic Philip Kemp
Metropolis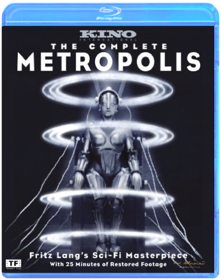 Fritz Lang
Nosferatu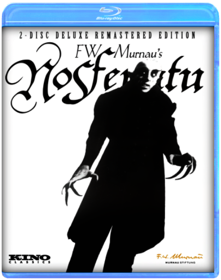 F. W. Murnau
An unauthorized adaptation of Bram Stoker's Dracula, Nosferatu is the quintessential silent vampire film, crafted by legendary German director F. W. Murnau (Sunrise, Faust, The Last Laugh). Rather than depicting Dracula as a shape-shifting monster or debonair gentleman, Murnau's Graf Orlok (as portrayed by Max Schreck) is a nightmarish, spidery creature of bulbous head and taloned claws — perhaps the most genuinely disturbing incarnation of vampirism yet envisioned. Nosferatu was an atypical expressionist film in that much of it was shot on location. While directors such as Lang and Lubitsch built vast forests and entire towns within the studio, Nosferatu's landscapes, villages and castle were actual locations in the Carpathian Mountains. Murnau was thus able to infuse the story with the subtle tones of nature: both pure and fresh as well as twisted and sinister. Remastered in high definition for the first time and making its Blu-ray debut exclusively from Kino Classics.

BONUS FEATURES: Two-disc set features two versions of the film, the original German Intertitles (with optional English subtitles) or English Intertitles, Han s Erdmann s original 1922 score in 5.1 Surround or 2.0 Stereo, The Language of Shadows a 52 minute documentary chronicling the early career of F.W. Murnau, a series of clips and highlights from other F.W. Murnau films, Photo Gallery
Diary of a Lost Girl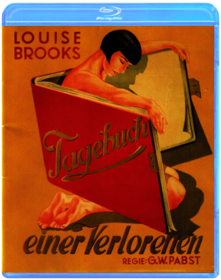 Georg Wilhelm Pabst
The second and final collaboration of actress Louise Brooks and director G.W. Pabst (Pandora's Box), DIARY OF A LOST GIRL is a provocative adaptation of Margarethe Böhme's notorious novel, in which the naive daughter of a middle class pharmacist is seduced by her father's assistant, only to be disowned and sent to a repressive home for wayward girls. She escapes, searches for her child, and ends up in a high-class brothel, only to turn the tables on the society which had abused her. It's another tour-de-force performance by Brooks, whom silent film historian Kevin Brownlow calls an actress of brilliance, a luminescent personality and a beauty unparalleled in screen history.

Special Features: Mastered in HD from archival 35mm elements, and digitally restored, Audio commentary by Thomas Gladysz, Director, Louise Brooks Society, Windy Riley Goes Hollywood (1930, 18 Min., featuring Louise Brooks)
Pandora's Box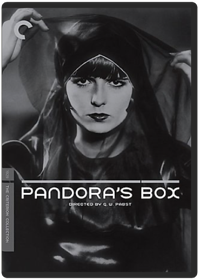 Georg Wilhelm Pabst
One of the masters of early German cinema, G. W. Pabst had an innate talent for discovering actresses (including Greta Garbo). And perhaps none of his female stars shone brighter than Kansas native and onetime Ziegfeld girl Louise Brooks, whose legendary persona was defined by Pabst's lurid, controversial melodrama Pandora's Box. Sensationally modern, the film follows the downward spiral of the fiery, brash, yet innocent showgirl Lulu, whose sexual vivacity has a devastating effect on everyone she comes in contact with. Daring and stylish, Pandora's Box is one of silent cinema's great masterworks and a testament to Brooks's dazzling individuality.