Lars von Trier's Europe Trilogy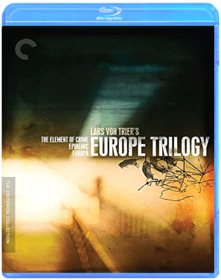 The Element of Crime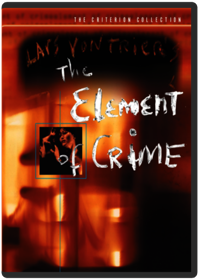 Lars von Trier
Lars von Trier's stunning debut film is the story of Fisher, an exiled ex-cop who returns to his old beat to catch a serial killer with a taste for young girls. Influenced equally by Hitchcock and science fiction, von Trier (Zentropa, Breaking the Waves, The Idiots) boldly reinvents expressionist style for his own cinematic vision of a post-apocalyptic world. Shot in shades of sepia, with occasional, startling flashes of bright blue, The Element of Crime (Forbrydelsens Element) combines dark mystery and operatic sweep to yield a pure celluloid nightmare.
Epidemic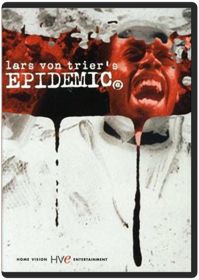 Lars von Trier
Medea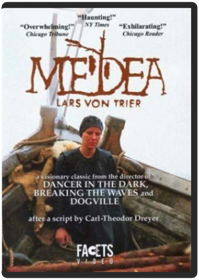 Lars von Trier
Europa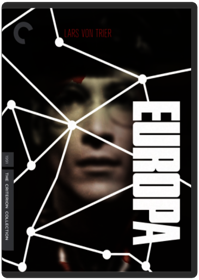 Lars von Trier
Breaking the Waves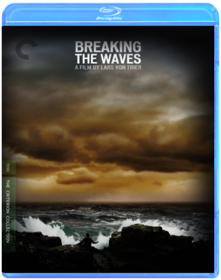 Lars von Trier
Lars von Trier (Antichrist) became an international sensation with this galvanizing realist fable about sex and spiritual transcendence. Emily Watson (Punch-Drunk Love) stuns, in an Oscar-nominated performance, as Bess, a simple, pious newlywed in a tiny Scottish village who gives herself up to a shocking form of martyrdom after her husband (Insomnia's Stellan Skarsg†rd) is paralyzed in an oil-rig accident. Breaking the Waves, both brazen and tender, profane and pure, is an examination of the expansiveness of faith and of its limits.
The Idiots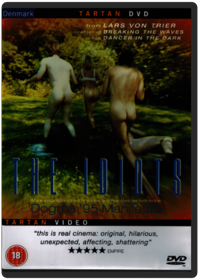 Lars von Trier
The second of the controversial Dogma 95 films. Set in present-day Denmark, it begins with a chance encounter between the timid Karen and a group of drop-outs engaged in a strange, informal experiment where they pretend to be mentally disabled. Initially shocked, Karen finds herself compelled to stay and eventually joins them in the experiment. However, as the group's acts of 'idiocy' grow more extreme, and the reality of the outside world becomes more intrusive, the border between liberation and self-destruction begins to blur.
Dancer in the Dark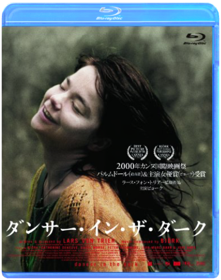 Lars von Trier
Dogville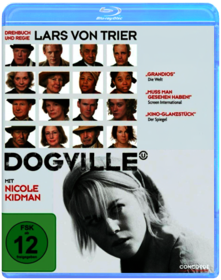 Lars von Trier
Grace arrives in the isolated town of Dogville, on the run from gangsters. The townspeople agree to hide her. However, when outsiders start looking for the fugitive, the locals make demands of Grace in exchange for the risk of harboring her. But Grace has a secret and it is a dangerous one. Dogville may regret it ever decided to bare its teeth.
The Five Obstructions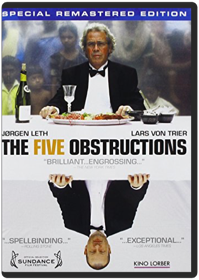 Lars von Trier, Jorgen Leth
Once upon a time—1967, to be precise—Danish director Jørgen Leth released The Perfect Human. In The Five Obstructions, fellow countryman Lars von Trier (Breaking the Waves) challenges his "hero" to remake the short five times and provides a different set of "obstructions" for each. Because Leth likes cigars, von Trier suggests the first be made in Cuba. For the second, however, he sends Leth to "the worst place on earth"—Bombay's red light district. The obstructions keep coming, interspersed with conversation and clips from the original film, in which actors engage in a variety of activities, like eating and dancing, while the narrator posits oblique questions like "Why is joy so whimsical?" (Von Trier claims to have watched it "at least 20 times.") In the end, the two Danes have whipped up an unclassifiable concoction that plays less like documentary and more like a duel between friendly adversaries.

Digitally remastered.
English, Danish, French & Spanish languages with English subtitles.
Antichrist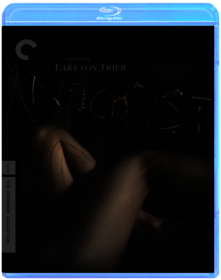 Lars von Trier
Melancholia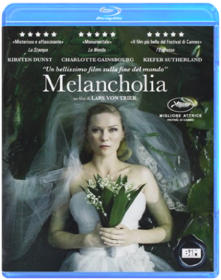 Lars von Trier
justine e michael stanno per sposarsi, il ricevimento si terra' nella casa della sorella di justine, ma proprio in quei giorni un evento catastrofico minaccia la terra ed i suoi abitanti...
Nymphomaniac - Volume 1 and Volume 2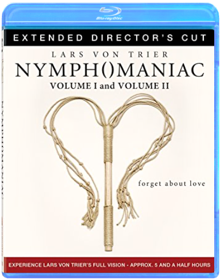 Lars von Trier
EXTENDED DIRECTOR'S CUT VOL. I is the story of Joe (Charlotte Gainsbourg), a self-diagnosed nymphomaniac who is discovered badly beaten in an alley by an older bachelor, Seligman (Stellan Skarsgård), who takes her into his home. As he tends to her wounds, she recounts the erotic story of her adolescence and young-adulthood (portrayed in flashback by newcomer Stacy Martin). VOLUME I also stars Shia LaBeouf, Christian Slater, Uma Thurman, Sophie Kennedy Clark, Connie Nielsen and Udo Kier. EXTENDED DIRECTOR'S CUT VOL. II continues with the story of the self-professed nymphomaniac Joe (Charlotte Gainsbourg) and her adulthood, during which her journey of self-discovery leads to darker complications. The film stars Jamie Bell, Willem Dafoe, Mia Goth and Jean-Marc Barr in addition to Stellan Skarsgård, Stacy Martin and Shia LaBeouf.
The House that Jack Built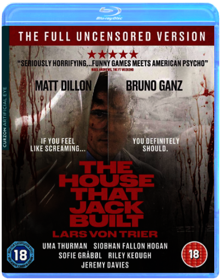 Lars von Trier
Lars von Trier's upcoming drama follows the highly intelligent Jack (Matt Dillon) over a span of 12 years and introduces the murders that define Jack s development as a serial killer. We experience the story from Jack s point of view, while he postulates each murder is an artwork in itself. As the inevitable police intervention is drawing nearer, he is taking greater and greater risks in his attempt to create the ultimate artwork.